July, 11, 2012
7/11/12
12:49
PM ET
Chael Sonnen
has revealed he will give himself 30 days before deciding whether he will continue to fight in the UFC.
More »
June, 8, 2012
6/08/12
6:42
AM ET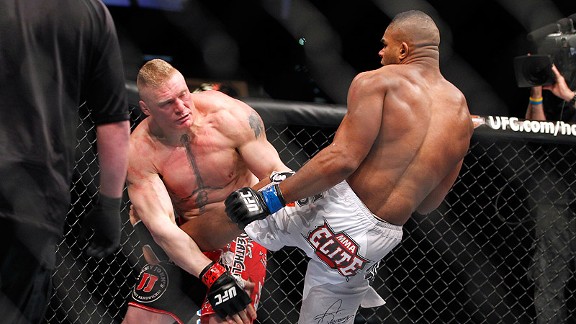 Ric Fogel for ESPN.comBrock Lesnar, left, hardly looked the part of a bona fide tough guy in his last UFC bout.
The only thing we know for sure is that
Brock Lesnar
didn't show up at UFC 146 by accident.
To hear promoters tell it, dislodging Lesnar from the friendly confines of his home in Alexandria, Minn., is akin to moving heaven and earth. The former UFC and WWE champion has a misanthropic streak a mile wide and given his druthers, he'd probably drive his sensible Chevy Aveo to and from the gym, take his 1989 Dodge Ram on the occasional hunting trip and go absolutely nowhere else.
As a result, eyebrows were raised industry-wide when Lesnar unexpectedly appeared in Las Vegas two weeks ago during the UFC's all heavyweight extravaganza. Dana White himself fanned the flames, implying the recently retired pay-per-view juggernaut was in fact considering a return to the Octagon. This week, when a series of semi-cryptic tweets from an internet radio host reportedly claimed Lesnar would make a comeback to the UFC by the end of the year, speculation began in earnest.
Is Lesnar really thinking about reviving his MMA career, or is this all part of a carefully orchestrated professional wrestling angle designed to draw attention to his current WWE run? Has he gone rogue, in an attempt to play the two organizations off each other? To paraphrase one of his ProGraps cohorts:
Is he serious, bro?
Now for the cold shower. At this stage, we have no choice but to file a Lesnar comeback in the "We'll Believe It When We See It" folder, alongside Bigfoot, UFOs and that new Dr. Dre album.
It's not likely, nor would it be particularly smart for Lesnar to return to the Octagon, and the big fella is nothing if not a calculated businessman.
Last we heard, he was locked into a new, sugar-sweet contract with WWE and as of this week the wrestling company was still referencing him by name on its flagship Monday Night Raw TV show. That's not something it typically does if it's planning to wash its hands of an individual talent.
Reports that Lesnar's relationship with WWE became strained almost immediately upon his return have been fast and furious online, but Vince McMahon's company has been surprisingly good at blurring the lines between fact and fiction as part of its so-called "reality era" during the past few months. The "truth" (such that it really exists) could be anything in between.
[+] Enlarge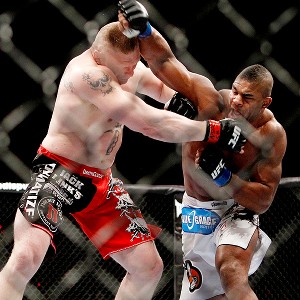 AP Photo/Eric JamisonAnother one-sided pummeling wouldn't do much good for Brock Lesnar's aura.
Smart money says the Lesnar-WWE marriage is probably legitimately tense -- go ahead, name one of his business relationships that hasn't been -- but not irreconcilable. In all likelihood the company's plans for a SummerSlam PPV bout between Lesnar and Triple H will come to fruition and Lesnar will end up fulfilling the terms of his current deal. Whatever they are.
As for an eventual UFC return, it would probably turn out to be more damaging -- both to his person and reputation -- than anything else for the 34-year-old heavyweight.
Lesnar's marketability as an athlete hinges on his status as a legitimate tough guy and that standing has already suffered significant hits after back-to-back losses to
Cain Velasquez
and
Alistair Overeem
. At this point, WWE can still bill Lesnar as the pro-wrestler who conquered the UFC, but how many more losses could that mystique endure?
How many more times could fans watch him get overwhelmed by Velasquez's punches or see him crumple against the cage after an Overeem body shot before their suspension of disbelief evaporates entirely? Not too many more times, certainly.
The things Lesnar accomplished in the UFC were, frankly, remarkable but even before those losses there were warning signs that the division's elite were catching up to him. Despite his ridiculous athletic gifts, the learning curve was just too steep, especially after his highly publicized bouts with diverticulitis. He came to the fight game too late in life to truly round out his skills, a fact only exacerbated by his choice to do the bulk of his training at home in his private gym, surrounded by handpicked teammates.
As Lesnar continues to age and the UFC heavyweight division continues to deepen, those factors obviously won't become any less pronounced, or the consequences any more forgiving.
Lesnar had an outstanding run in the Octagon but, even though the UFC would probably leap at the chance to get him back, it's over now.
At least, it should be.
October, 30, 2011
10/30/11
1:44
AM ET
LAS VEGAS -- We already knew one high-profile retirement was coming at UFC 137, as
Mirko Filipovic
had all but confirmed the end of his legendary career in the days leading up to the event.
On Saturday night,
B.J. Penn
unexpectedly made it two, announcing in the aftermath of his hard-fought unanimous decision loss to
Nick Diaz
that this could well be the last time we also see "The Prodigy" inside the Octagon.
Citing the upcoming birth of his second daughter to go with a 10-and-a-half-year, 26-fight career, Penn said he could no longer keep up with the physical toll that fighting in MMA had begun to exert on his body. He left the Octagon with his left eye discolored and swelling and went straight to the hospital without making an appearance at the postfight media conference.
UFC president Dana White said he hadn't had a chance to speak with Penn after the fight and sounded equally unsure as everyone else about Penn's future.
"In the 10 years we've all seen B.J. Penn perform and fight, you've never seen B.J. Penn get busted up ...," White said. "He got busted up tonight, let me tell you. To give B.J. credit where credit is due, I didn't know if he was going to be able to answer the bell after the second round. … He says he wants to retire. We'll see how that plays out."
Just 1-3-1 in his last five bouts -- including a pair of losses to
Frankie Edgar
in 155-pound title bouts -- Penn decamped from lightweight for the welterweight division last year, hoping to make yet another improbable run at 170 pounds. His loss to Diaz effectively derailed any immediate chance that he could earn a shot at his second welterweight title reign and meant an uncertain outlook for the 32-year-old veteran in a division that recently has undergone an injection of new contenders.
Of course, the million-dollar question is: Can we believe him? Is this really it?
[+] Enlarge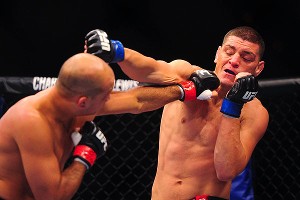 Mark J. Rebilas for ESPN.comB.J. Penn, left, had his moments against Nick Diaz, but he tired as the fight wore on.
It can be difficult to take this kind of declaration as gospel. Fighters often say things they don't mean in the cage after fights, when emotions are running high and the sting of defeat is still at its sharpest. Penn has made statements like this before, saying after his February draw with
Jon Fitch
that he wasn't sure how long he could soldier on in MMA.
Yet there is at least some evidence to suggest that Penn could be serious this time. After being the picture of calm during the week leading up to the fight, he appeared on the verge of tears as he made his way to the Octagon. Before this bout, Penn also had made what is fast becoming a standard admittance on the part of aging former UFC champions -- that he was no longer strictly motivated by the title and that he just wanted to take "big fights, win them and see what happens."
His performance against Diaz on Saturday likely can be best described as vintage Penn, for better and worse. The former multidivisional UFC champion started like a house of fire, finding a home for his powerful strikes during the first five minutes and taking the opening stanza on all three judges' scorecards. Just as he has throughout much of his career, however, Penn lost the cardio game as the fight wore on, and Diaz's strenuous pace became unmanageable.
Diaz scored repeatedly with his high-volume punches in the second and third rounds, seemingly putting Penn on the verge of a stoppage on a couple of occasions. Penn, who had been stopped only twice in his career, weathered the storm for the final 10 minutes.
If it was indeed Penn's final 10 minutes in the Octagon, they were difficult ones. The epic nature of the fight, however, was befitting the swan song of a celebrated career.
"B.J. is a warrior, man," White said. "What he's thinking tonight, he might not think eight weeks from now; who knows."
August, 9, 2011
8/09/11
5:22
PM ET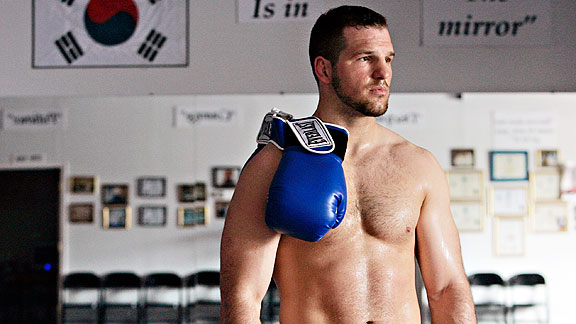 AP Photo/Mike GrollMatt Hamill, the only deaf fighter to ply his trade in the UFC, served the sport well over the years.
Matt Hamill didn't look like a man beset by injury against Alexander Gustafsson at UFC 133 on Saturday night, nor did he look like a man who knew the end was at hand.
Maybe that's the point.
After taking the fight on a bit less than a month's notice and admitting afterward he didn't have much of a game plan, Hamill largely held his own against the 24-year-old Swedish up-and-comer before a final exchange that saw him succumb to a TKO three minutes, 41 seconds into the second round.
You could argue he didn't do any worse than the average late-replacement fighter who climbs in the cage just planning to wing it, so it was a mild surprise on Monday when Hamill announced his retirement in a prepared statement on his official website, citing a years-long accumulation of injuries and what sounded like psychological exhaustion.
"I just don't have it in me to fight anymore and my last two performances have shown that …," Hamill said in the statement. "I can't continue to fight without having the hunger and desire to do so."
You know what? Good for him.
[+] Enlarge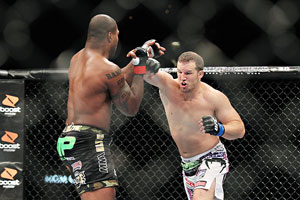 Ed Mulholland for ESPN.comMatt Hamill, right, has seen his fair share of grueling battles over the years.
Hamill clearly knows he still has things to accomplish in life. Autumn will see the official release of his self-titled biopic, a film that's already netted a handful of awards at regional film festivals and garnered decent advanced reviews from people in fight circles. As the first deaf fighter to compete in the UFC and a decorated amateur wrestler, he'll no doubt have more than his fair share of business opportunities coming his way, so it's admirable that he's decided to try to take advantage of them now, before the fight game exacts any further toll.
His MMA career likely isn't one for the history books, anyway, and even if Hamill looked fairly capable on Saturday night -- moving around the cage well and marking Gustafsson's face with a lunging jab -- his best days in the UFC were surely behind him. After back-to-back losses to Quinton Jackson and Gustafsson and that embarrassing "win" against Jon Jones back in December 2009, it felt as though a gulf was widening between Hamill and the top of the light heavyweight division. That gap wouldn't get any narrower moving forward.
Instead, Hamill opts for the smart way out, taking with him a 9-4 record in the UFC, three of the company's incentive-based postfight bonuses and a list of opponents that includes four past and present world champions.
No, Hamill may never have won a title in the Octagon, but in retiring at age 34 with most of his physical and mental faculties intact, he pulled off a much more important feat. He got into the fight game, he left his mark with 14 career fights (all but one in the UFC), he made a little bit of money and he got out. You can't play it much better than that.
August, 9, 2011
8/09/11
6:36
AM ET

By Josh Gross
ESPN.com
Archive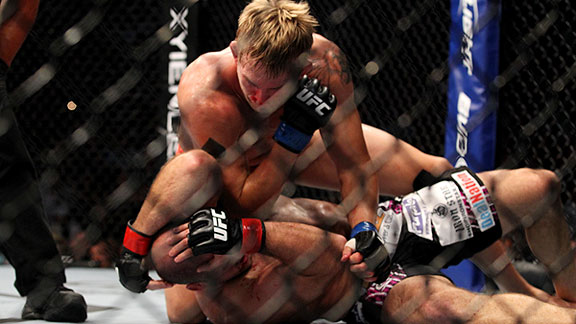 Ed Mulholland for ESPN.comMatt Hamill, bottom, admitted he "doesn't have it anymore" after UFC 133.
Matt Hamill
, the only deaf fighter to compete in the Ultimate Fighting Championship, announced his retirement from mixed martial arts on Monday.
The end of his six year career comes after Hamill, who turns 35 in October, was stopped by
Alexander Gustafsson
at UFC 133.
"I have not been kind to my body and it has nothing left after 28 years of nonstop competition," Hamill said in a statement published on his Web site. "It's time to finally give it a rest."
After nine knee surgeries, a chronically bad left shoulder, which was decimated in a fight against
Jon Jones
in 2009, and other injuries, the light heavyweight's will to compete, ably captured in "Hamill," a biopic feature film about his life that's set for a November theatrical release, simply dried up.
"I can't continue to fight without having the hunger and desire to do so," Hamill said. "I can't let my performances reflect on my coaches who are the best in the world and the reason I've made it this far."
Hamill admitted to being ready to retire following a listless decision loss to
Quinton Jackson
in May, "but my friends, family coaches and most importantly my daughter encouraged me to give it one last chance."
"I think she motivated him enough to go through with it," Holmes said of Hamill's daughter. "We thought, well maybe this is the way to do it. Take a fight on short notice, no game plan, go in there on instinct and maybe the killer in him will come out. It's not coming out because he's beaten down physically."
Sitting in his the locker room after succumbing to Gustafsson, Hamill, (10-4, 9-4 in UFC competition) looked at Holmes and conceded it was time to walk away.
"That's it," Hamill said. "That's all I got."
He leaves behind an amazing tale of perseverance. Born deaf in Loveland, Ohio, Hamill eventually found wrestling and earned a spot at Purdue University. It turned out not to be the right fit, and Hamill transferred to Rochester Institute of Technology, which features the National Technical Institute for the Deaf. At RIT, Hamill continued to wrestle and earned his nickname, "The Hammer," while capturing three Division-III NCAA championships.
Hamill entered MMA in 2005, and rose to prominence during Season 3 of "The Ultimate Fighter." He earned victories over
Mark Munoz
,
Keith Jardine
and
Tito Ortiz
. Hamill also owns a costly disqualification victory against Jones, the current UFC light heavyweight champion. Jones slammed Hamill to the canvas causing a 12-millimeter tear in his AC joint, shoulder dislocation, and pulled trapezius and deltoid muscles.
"He's a guy who they said shouldn't have fought," Holmes said. "You don't see boxers or deaf mixed martial artists."
Among other ventures, Hamill and Holmes are partners in a fight gym in Utica, N.Y., where they will continue to work with mixed martial artists seeking a shot at the UFC.
"The UFC has been extremely good to me and given me an opportunity to make a great living," Hamill said. "That exposure has allowed me options outside the Octagon as well. I just don't have it in me to fight anymore and my last two performances have shown that."