January, 24, 2013
1/24/13
12:00
PM ET

By Franklin McNeil
ESPN.com
Archive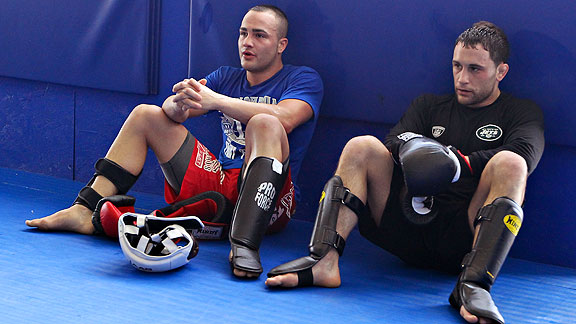 Ed Mulholland for ESPN.comTime spent training with Frankie Edgar, right, has helped Eddie Alvarez take his mind off litigation with Bellator.
Free agency should have been the most exciting time of
Eddie Alvarez
's professional career. Unfortunately for Alvarez, it has been everything but that.
Alvarez is in the middle of a legal tug-of-war between UFC and his former promoter, Bellator. The fighter wants to compete in UFC; Bellator, however, isn't ready to relinquish his services.
But on Friday, Alvarez's future could become a little clearer. His attorneys and those representing Bellator will appear before United States District Court judge Jose L. Linares at the Martin Luther King Federal Building in Newark, N.J., to argue whether Alvarez can compete at an upcoming UFC event in April.
UFC 159 is scheduled for April 27 at Prudential Center in Newark, just blocks from where Friday's hearing takes place. Light heavyweight champion
Jon Jones
defends his title against former top middleweight contender
Chael Sonnen
.
Alvarez will walk into the courtroom hopeful, but his emotions will be tempered -- just in case the ruling doesn't go his way. These are difficult times for Alvarez; his future is at stake.
But he is prepared for a long, hard fight.
"I'll be very relieved [when the Friday hearing concludes]," Alvarez told ESPN.com. "Hopefully, they will come to a judgment this Friday. But I'm not setting my expectations too high; I'll just be setting myself up for disappointment.
"I just want to take things as they go; I'm not trying to control things that are not in my control. If we manage to get this thing settled this weekend I will be very happy. If not, then me, my management team [Authentic Sports Management] and the attorneys who are working this on my behalf are patient; we'll wait and get the result that we want."
If Linares rules in his favor, Alvarez says he is prepared to compete in a UFC 159 main-card bout against a high-ranking lightweight. Alvarez has been training regularly at Ricardo Almeida's gym in Hamilton, N.J.
Whether he is allowed to fight at UFC 159 or not, Alvarez will continue his vigorous training sessions, which serve as a way to keep his mind off the legal issues.
"

If we manage to get this thing settled this weekend I will be very happy. If not, then me, my management team [Authentic Sports Management] and the attorneys who are working this on my behalf are patient; we'll wait and get the result that we want.

"

-- Eddie Alvarez
"Sometimes when you don't have a fight yourself, you can live vicariously through your training partners. It helps you stay competitive and work on different things.
"I tried to take my mind off this court thing after the first couple of weeks because it was really bothering me. It affected my training. I've come to grips with the fact that there is really nothing that I can control, except for my training. So, that's what I'm concentrating on -- getting better and learning some new things here at Ricardo Almeida's with my training partners.
His training partners include former UFC lightweight champion
Frankie Edgar
(who makes his featherweight debut Feb. 2 against titleholder
Jose Aldo
in Las Vegas) and fast-rising lightweight
Edson Barboza
.
Going through intense sparring sessions regularly, against high-caliber fighters, has Alvarez ready for live competition.
"I can do three five-minute rounds this weekend. A championship fight, I can be ready for in 6-8 weeks," said Alvarez, a former Bellator lightweight champion. "We've been really competitive in here [at Almeida's gym].
"I'm in shape right now."
Alvarez is 29 years old and in his physical prime. And as far as he is concerned this legal dispute probably represents the final opportunity for a shot at fully testing his skills and maximizing his financial earnings.
He has no personal animosity toward Bellator, but believes UFC offers the best chance to achieve his personal and professional goals. It's just business.
"I think everybody knows where I want to go without me saying," said Alvarez, who is 24-3. "I want to fight the best guys in the world. I want to compete at the highest level. And I want to make as much money as I can in this sport in the few years that I have left.
"The thing is I want to see how far I can push myself, how far I can take this, how good I can become at this -- for my kids, my family."
April, 30, 2012
4/30/12
5:43
PM ET

By Franklin McNeil
ESPN.com
Archive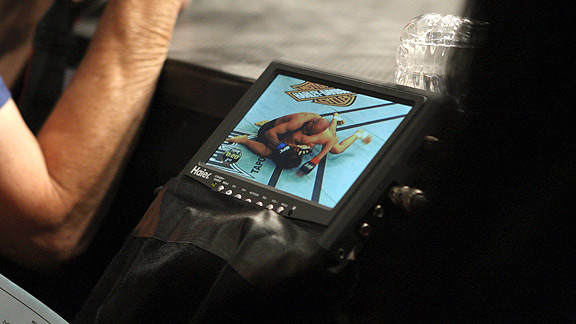 Ed Mulholland/ESPN.comMonitoring the action: Ricardo Almeida's first real test as an MMA judge comes Saturday.
As soon as the judges' scorecards were read,
Ricardo Almeida
knew it was time to end his fighting career.
Almeida still believed he could compete against UFC's top welterweights. What he could no longer do was defeat some of the sport's questionable judging.
Fighting in his home state of New Jersey on March 19, 2011, at UFC 128, Almeida came out on the short end of a unanimous decision to
Mike Pyle
.
"As a fighter, I've been on the wrong end of a couple of bad decisions, fights I thought I'd won but lost," Almeida, who spent most of his mixed martial arts career at middleweight, told ESPN.com. "The one closest to my heart is the last fight in Jersey.
"It was close, but I thought I won that fight."
Rather than be victimized by another "bad" decision, Almeida decided to take off his gloves for good. He might have lost to Pyle, but he wasn't done fighting. Almeida was just getting started.
You know the saying, "if you can't beat 'em, join 'em"? Well, Almeida took that saying to heart and, shortly after his loss to Pyle, became an MMA judge with the New Jersey State Athletic Control Board.
The experience has been satisfying and eye-opening for Almeida, who has a newfound appreciation for some of the obstacles judges must overcome while scoring fights.
"Personally, it's just giving back to a sport that has given a lot to my life," Almeida said. "[NJSACB attorney] Nick Lembo invited me and I've had a great relationship with the New Jersey State Athletic Control Board and I accepted right away.
"What people don't understand is that the view a judge has watching the fight isn't the same view fans have watching on TV. It's hard; it's a different perspective."
A judge's vision can sometimes be obstructed by poles, referees and poor seating angles, which strengthens Almeida's belief that former fighters are best equipped to score today's action.
[+] Enlarge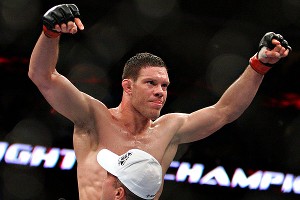 Noah K. Murray/US PresswireRicardo Almeida has seen his fair share of success -- and bad decisions.
"There is always going to be controversy, but the more we can get guys who understand what's going on inside the Octagon, the results are going to be a little more consistent," Almeida said. "Another side of it is that the sport is evolving so quickly that a lot of fans don't even understand the sport now."
For a little more than a year, Almeida has been fine-tuning his skills as a professional MMA judge. On Saturday night he gets to show off what he's learned on the sport's grandest stage --UFC on Fox at the Izod Center in East Rutherford, N.J.
Almeida will score several bouts on that card, including the co-main event which pits welterweight
Johny Hendricks
against
Josh Koscheck
.
His presence as a judge has already garnered support from the fighters.
"He's going to know a little bit more about the sport," Hendricks said during a recent conference call. "He'll know what position really means, and he'll know when a strike actually lands."
Koscheck added: "It's good for the sport. It gets the perspective of a fighter, someone who's been in the Octagon and knows jiu-jitsu and knows wrestling and understands the sport.
"As this sport grows we're going to see more ex-UFC fighters become judges. It's a good start."
This will be the biggest night of Almeida's young career as a judge. While he is judging the fighters' performances, others are sure to judge his.
[+] Enlarge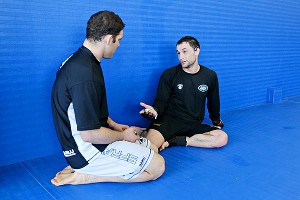 Ed Mulholland for ESPN.comRicardo Almeida has spent time with training with Frankie Edgar -- so don't expect to see him judging a fight involving Edgar.
But with several events under his belt -- among them, Cage Fury Fighting Championships, Ring of Combat and Bellator Fighting Championships -- Judge Almeida is fully prepared for his UFC debut.
"It will be pretty intense, but I will be on my toes with this UFC event, because I know all eyes are going to be on me," Almeida said.
"Yeah, I'm going to be nervous. It'll be like I'm walking into a fight myself. But the spotlight only makes me want to be sharper and do a better job."
In addition to his knowledge of MMA, Almeida also brings his high level of integrity. Some might question if having Almeida judge fights is a conflict of interest. He still runs his gym in Hamilton, N.J., where several high-profile fighters train, including former UFC lightweight champion
Frankie Edgar
.
No worries; Almeida will never be assigned to judge a bout that has a direct impact on one of his fighters.
"Obviously that is not going to happen," Lembo told ESPN.com. "There are disclosure forms and conflict of interest forms that every official has to fill out. If anything, Ricardo has voluntarily disclosed some things that I didn't even think, as the commission attorney, disqualified him.
"That's one of the reasons why he's not on that [
Nate Diaz
-
Jim Miller
] fight. Diaz has a [Cesar] Gracie connection and Miller's side [American Martial Arts] also has a connection to
Renzo Gracie
."
Miller and Diaz are competing in a lightweight bout that could land the winner a shot at the title. Champion Benson Henderson is tentatively slated to face Edgar in a rematch on Aug. 11 at UFC 150. Almeida and Edgar are closely affiliated with Renzo Gracie.
"I don't want to be part of a fight where there is any conflict of interest of any kind," Almeida said. "I've trained with Jim Miller and we're very close with Nate Diaz."
Knowledge, enthusiasm and integrity: Almeida will bring it all with him as a judge Saturday. Besides, he's developed into a solid judge, according to his superiors.
"He's been very good or we wouldn't use him," Lembo said. "We're not using him because he's Ricardo Almeida; that doesn't do use any good.
"We're not in the business of selling tickets or getting media attention; we're in the business of trying to assure the health and safety of the fighters, and provide the best officiating that we can."