April, 15, 2011
4/15/11
12:35
AM ET
By Mike Whitman/Sherdog.com
ESPN.com
Archive
Nick Diaz is seriously contemplating a move to professional boxing, and possible opponents are starting to materialize.
However, former two-time boxing world champion Fernando Vargas, originally mentioned as a likely opponent in an interview with HDNet's "Inside MMA" by Diaz's manager, Cesar Gracie, told Sherdog.com that he has not been approached with the proposed contest.
"Nobody has contacted me or my team about a fight with Nick Diaz for a supposed September fight," said Vargas. "I have not been in the gym but I have been running and keeping myself in shape. If they're serious about fighting me then put the money where their mouth is and let's see what they're talking about."
On Thursday afternoon, Gracie told Sherdog.com that former IBF super middleweight champion Jeff Lacy is the frontrunner for Diaz's potential 2011 boxing debut.
"We've already signed on with [boxing promoter] Don Chargin to take the fight. He's contacting [Lacy's camp]," said Gracie. "[Lacy] is a scrapper. I think he and Nick could [put on a great show]."
According to Gracie, Diaz's contract with Strikeforce allows him to fight one boxing match in 2011. Though Lacy is at the top of Gracie's list, there are several other potential opponents in the mix.
"There are a couple of names. There's [Ring Magazine middleweight champion] Sergio Martinez. I don't know if he even knows about this," said Gracie. "[Ricardo] Mayorga isn't out of the question. I think Don King has his contract. But we're looking at big names. Guys with name recognition."
Diaz is often quoted as expressing dissatisfaction with his paydays in mixed martial arts, citing boxing salaries as a reference. Gracie agrees with the sentiment, asserting that the MMA pay scale is far too low, especially for a fighter as dynamic as Diaz.
"A lot of people get on Nick for his comments about not making a lot of money. And yes, you could take a guy who works nine to five for one year and it's still not as much as what Nick makes in one day, and Nick understands that," said Gracie. "But you also can look at a boxer who [is not at the same level as Diaz is in MMA], and he's making $1 million [per fight]. Or take a baseball player who isn't even getting hits, and he's making [millions of dollars]. Nick is one of the most technical fighters on the planet, and he's fighting for peanuts."
However, this does not represent the entirety of why Diaz may make the move to the sweet science. As Gracie tells it, Diaz is disenchanted with the sport of mixed martial arts itself, a sport which requires tireless dedication and a high pain tolerance if one is to make a serious living as a fighter.
"You've got to understand that it's hard to keep these guys motivated when they've been fighting for so long. Nick's been doing this for like 10 years," said Gracie. "So we might have to get Nick out of MMA for a while. Maybe we'll do some jiu-jitsu tournaments."
According to a release from HDNet, Gracie has stated that unless UFC President Dana White offered Diaz a bout with UFC middleweight champion Anderson Silva, Diaz's next bout would take place in a boxing ring. When asked if bouts with the UFC's top welterweight contenders might sway Diaz to postpone his boxing bout, Gracie was frank in his response.
"Remember when Anderson Silva wanted to fight GSP at a catchweight? Why not fight Nick Diaz at a catch-weight? Nick will go up to 178 tomorrow," said Gracie. "GSP would be the guy [Diaz would want to fight at welterweight]. But GSP is fighting [Diaz's teammate] Jake Shields [at UFC 129], and Nick thinks that Jake is going to beat him. So why would Nick be in the welterweight division?"
Gary Randall contributed to this report.
May, 16, 2010
5/16/10
5:11
PM ET
By Jake Rossen/Sherdog.com
ESPN.com
Archive
Two tales of the weekend: Alistair Overeem flew into the States, suffered repeated questions about his impossible physique, assaulted an American citizen, then flew back to Holland, settling into a role as a legitimate threat to Fedor Emelianenko's status as the best heavyweight.
In North Carolina, several fighters arrived prepared to fight but left emotionally drained with nothing to show for it.
There is always a winner and a loser. It's not always decided in the ring.
Strikeforce prevailed Saturday, with Overeem's presold reputation as a destroyer on full display against a curdling Brett Rogers. The man who gave Emelianenko a rough first round in '09 had virtually nothing for Overeem -- not even the hyped right hand that promised to at least keep Overeem honest. Now, only two obstacles remain in Strikeforce assembling their best chance at a high-profile heavyweight match: Emelianenko getting past Fabricio Werdum and Strikeforce getting past Emelianenko's notoriously difficult management.
Both are problems, but nothing compared to what might have been the most spectacular meltdown of a burgeoning promotion to date. Shine Fights spent most of Friday and Saturday in court answering charges that its contract with eccentric boxer Ricardo Mayorga violated Mayorga's promotional agreement with Don King. Shine's game from the beginning was to stick its head in the sand and presume that King would somehow roll over for its stunt casting of Mayorga as an MMA fighter. (Mayorga had filed suit against King last year, but dropped it without explanation. That should've been the first clue.) It ended the only way it was going to, with Mayorga sitting on the sidelines and Shine trying to assign blame to the North Carolina boxing authority and King.
In fact, the show's cancellation is 100 percent a result of its building an event around the toothpick-supported premise of Mayorga's breaching a valid contract. We're a long way from the ninjitsu experts of the 1990s, but this business will always be home to amateurs.
Next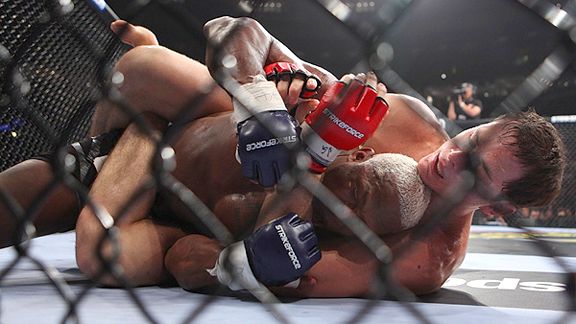 Dave Mandel for Sherdog.com Roger Gracie's ground game might be top notch but his striking still needs work.
Next for Overeem: Probably risking his hypothetical shot at Emelianenko with gift-packaged fights in Japan.
Next for Rogers: A loser-leaves-town match with Andrei Arlovski, who traded one problem (a suspect chin) for another (decayed boxing ability) against Antonio Silva.
Next for Antonio Silva: The winner of Bobby Lashley-Ron Sparks in June.
Next for Ronaldo "Jacare" Souza: Filling a vacated middleweight belt for a departing Jake Shields against Dan Henderson.
Next for Roger Gracie: 3-0 is a start, but his stand-up might get him murdered against a brawling light heavyweight. Mike Kyle could test his chin without the added pain of takedown defense.
New questions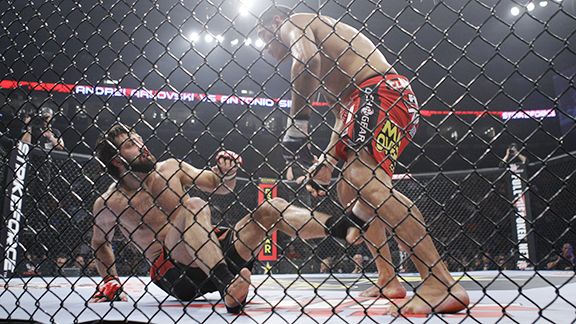 AP Photo/Jeff RobersonAndrei Arlovski, left, is still picking up the pieces after losing to Fedor Emelianenko in '09.
Q: Who played who in the Shine/Mayorga meltdown?
A: From day one -- when Mayorga claimed no contract with Shine was in place even as Shine swore the opposite -- the idea of using a Don King-owned boxer in an MMA fight was very expensive wishful thinking.
At the time of the signing, Mayorga was upset King hadn't offered him the agreed-upon number of fights (three per year). Suddenly, he's interested in MMA. Was it because he had a genuine curiosity, or because he wanted to stomp his foot to get King's attention?
Mayorga, even in his semi-retired state, is a high-profile boxer who has advisers -- and no counsel would ever tell him it's in his best interests to be choked out by a veteran fighter in Din Thomas. (If he wound up fighting, getting mounted might have been enough to get him tapping.) Shine's blazing incompetence cost a lot of fighters a lot of lost time and income. That level of aggressive stupidity shouldn't earn it any second chances.
Q: Are we fully sold on Overeem?
A: Inflated to proportions that would make Mattel proud, Overeem made Rogers look like a child Saturday, tossing him around and punishing him on the mat. But Rogers' reputation comes primarily from knocking out Arlovski, a fighter who continues to fade; Overeem's new body hasn't seen a second round in MMA yet. If he can maintain a cardio output for three or five rounds, he'll remain dangerous. If not, he'll wilt just like anyone else.
Q: What happened to Arlovski?
A: Arlovski had a few key minutes in the winter of 2009 when he looked like he was going to dethrone Emelianenko. One unfortunate flying-knee attempt later, he was getting a chalk outline.
The post-Fedor experience has not been kind to Arlovski: He took a late-notice fight with Brett Rogers and paid the price. Saturday, he was outboxed by a faster, bigger man in Antonio Silva in a three-round loss that held no bright spots. Arlovski commands a high asking price in the sport, but his results are no longer worth the investment. If he cannot find confidence in a rematch with Rogers or against someone else, his own personal recession is coming.
Q: Is Overeem-Emelianenko big enough for pay-per-view?
A: Fedor Emelianenko drew a rumored 100,000 households for each of his Affliction pay-TV experiences against Arlovski and Tim Sylvia, impressive by non-UFC standards. While it would appear Overeem is more marketable than either, he lacks the UFC exposure that made both of those men familiar faces to the omnipresent "casual fan." Strikeforce may still want to capitalize on the interest of the bout by making it a premium attraction, but its relationship with CBS would benefit mightily with the ratings appeal of the fight.
What do you do?
What Strikeforce lacks is the harmonious deal the UFC has struck with Spike: using a channel as pay-per-view barker programming. The best of both possible worlds would be to secure a two-hour CBS slot from 8-10 p.m. to broadcast a premium under
card with an inexpensive, high-profile main event -- any combination of Kimbo Slice, Herschel Walker or Jose Canseco would do. You'd use as much of that time as possible to hype the 10 p.m. start of the Emelianenko/Overeem pay-per-view. It's synergy rather than a lopsided transaction.
CBS could balk -- it's not in the Strikeforce business. But it should be. And partnerships involve concessions.
Etc.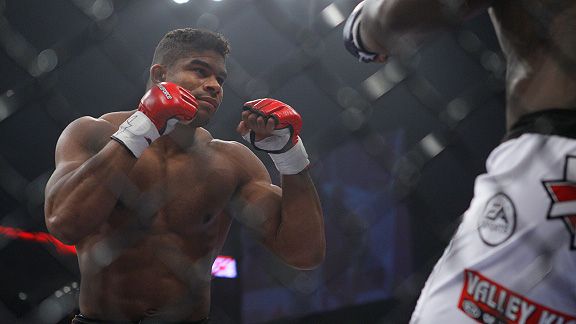 AP Photo/Jeff RobersonAlistair Overeem will be put through the ringer before he's allowed anywhere near Fedor.
• Shine Fights CEO Devin Price is already making the mea culpa rounds, telling MMAJunkie.com that he feels "badly for the fighters" and that "it's not fair the commission to have denied them that opportunity" following his event's cancellation Saturday. I'm surprised Junkie could reach him, considering the poor cell phone reception found in other dimensions. He's threatening to run another Shine show over the summer.
• Junkie also snagged a quote from M-1's Evgeni Kogan on the desired Emelianenko-Overeem bout, saying the only holdup would be Werdum on June 26. Encouraging, but there's no reason for M-1 to play hardball until it sits down to negotiate the fight.
• Strikeforce drew a respectable 8,000-plus in St. Louis.
• Lost in the weekend's Shine disaster/Strikeforce event was a battle between aging attractions Gary Goodridge and Pedro Rizzo in Washington, D.C. Goodridge, 44, failed to answer the second-round bell after damaging his MCL. It might have been his last bout.
• Overeem continued to field questions in the week leading up to his fight about steroids. The only way to rest that accusation is to have him submit to a random blood test prior to the Emelianenko fight. In that respect, M-1 is probably going to take their cues from Floyd Mayweather. Let's hope it ends differently.
May, 13, 2010
5/13/10
3:21
PM ET
By Jake Rossen/Sherdog.com
ESPN.com
Archive
How remarkable is Alistair Overeem's physique? The former 205-pound fighter -- who has ballooned to more than 250 pounds while competing in the freewheeling fight culture of Japan -- is so awesomely proportioned that most of this week's dialogue revolves around whether or not his urine sample cup should be stainless steel. Handicapping his fight with Brett Rogers has become an afterthought.
That kind of extracurricular drama is shared by the other major show of the weekend. In employing professional boxer Ricardo Mayorga, the Florida-based Shine Fights promotion has invited the wrath of Don King Productions, which has filed an injunction claiming sole ownership of Mayorga's athletic career. Against Din Thomas, a mixed-fight veteran who could manipulate Mayorga's arms and legs in new and interesting directions, Mayorga had better hope King gets his way.
What: Strikeforce: "Heavy Artillery," a 12-bout card from the Scottrade Center in St. Louis (9 p.m. ET, Showtime); Shine Fights: "Mayorga vs. Thomas," an eight-bout card from the Crown Coliseum in Fayetteville, N.C. (9 p.m. ET, pay-per-view)
Why you should care: Because for all his controversies, Overeem is a man who combines K-1 level striking with Brock Lesnar's horsepower; because Andrei Arlovski with head movement is going to be a scary prospect for anyone in the heavyweight division; because light heavyweight Roger Gracie is good enough on the mat to give anyone in his division problems -- if he can drag them there; and because Mayorga's rejection of his reputation in boxing to take a huge risk in MMA has to be appreciated.
Fight of the weekend: Strikeforce's Ronaldo "Jacare" Souza versus Joey Villasenor, which will probably be a longer struggle than the Overeem-Brett Rogers tree-chopping contest; Shine's Luiz Azeredo and Charles Bennett picking up where Bennett and Chute Boxe left off in a backstage brawl in Japan years ago.
Hype quote of the weekend: "Your family needs to get dressed in black … I'll be the man and you'll be the woman … you have the hands of a little girl and I have the hands of a man." --
Mayorga, respectfully handicapping his fight/predicting Thomas' demise during an April news conference
Four questions: Strikeforce and Thomas-Mayorga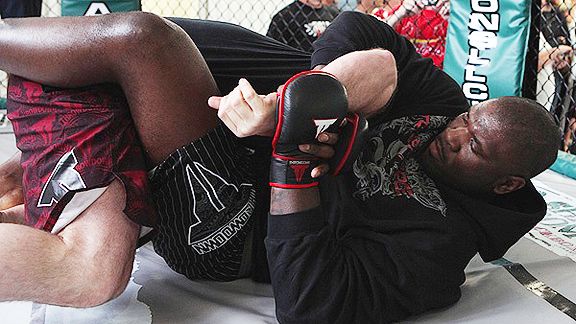 Dave Mandel/Sherdog.comThings will look up for Brett Rogers if he can take Alistair Overeem into Round 2.
Q: Is Mayorga just picking up a check?
A: At 1993's UFC 1, ranked boxer Art Jimmerson accepted a five-figure offer to get into a vaguely worded, no-rules fight with Royce Gracie. Considering that Jimmerson panicked and tapped at the first inkling of trouble, it was clear that he was more interested in money than bragging rights.
Seventeen years later, ranked boxer Mayorga is accepting what has to be a semi-decent monetary offer to face Thomas. Considering that Mayorga has no ground training of any note and likely no defense for when Thomas clinches with him, he may choose to find a quick exit from the cage if things don't go his way. (Unless Thomas shows up sedated, they won't.)

Q: Is Overeem as formidable as believed?
A: Overeem's inflated presence and a largely successful stint in K-1 have made him a much-discussed threat for Fedor Emelianenko. But he has yet to go past the first round in any of his MMA fights since 2007. Controlling a 250-pound body in kickboxing is one thing, but tolerating the acidic buildup when you're grappling/clinching/defending takedowns is another. Brett Rogers may find his best ally is Round 2.
Q: Is Arlovski mentally recovered?
A: Arlovski suffered back-to-back KOs in 2009, one to Fedor Emelianenko and another to Brett Rogers. Heavyweights like to hit and hit hard, so suffering losses is nothing unusual -- but the constant talk over Arlovski's "glass chin" may make him a little more reluctant to take chances. The only thing worse than two consecutive knockout losses? Three.
Q: Is Roger Gracie dedicated to MMA?
A: After an impressive debut against a house-sized Ron Waterman in 2006, Roger Gracie -- one of the few heavyweights in the family -- slid back into teaching, training and grappling. Like Rickson and Ralek, he's presented himself as more a dabbler in the sport than a full-on circuit fighter. That's obviously his prerogative, but sporadic appearances against threatening competition don't usually end well. Against Kevin Randleman, he has a clear submission advantage but will have to get through Randleman's bursts of striking and wrestling defense to make any use of it. While inconsistent, Randleman may still wind up educating Roger that MMA is not good hobby material.
Red Ink: Overeem-Rogers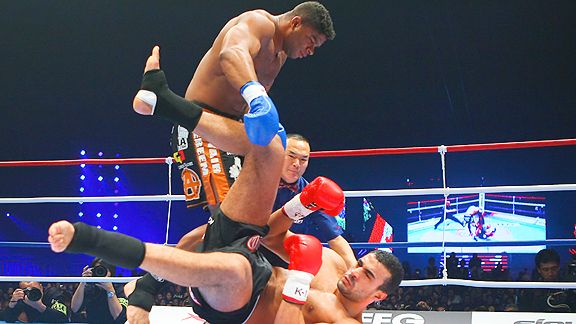 Daniel Herbertson/FightWireImages.com Ahead of an MMA fight with Brett Rogers, how much stock can be put into Alistair Overeem's success in K-1?
From the beginning, only one fight has really mattered for Emelianenko in Strikeforce: Alistair Overeem, the hulked-out kickboxer who's gotten as much press for alleged steroid use as for his actual results.
Through business paralysis too unfortunate to go into, Emelianenko fights Fabricio Werdum in June while Overeem fights Rogers on Saturday. If the idea is to build anticipation for their meeting, it's a foundation made of Jell-O: Rogers is a well-conditioned and heavy-hitting brawler who can put Overeem at serious risk, particularly if the fight goes past the five-minute mark. (Overeem would need an oxygen tank to power his 240-250 pounds of mass.)
It's Rogers who has fought the stiffer competition in MMA in recent memory, including Emelianenko. It's also Rogers who is under no scrutiny for any pharmaceutical help. Until Overeem is subject to a random test like the one installed in Nevada, his results -- including any possible advantage over Rogers -- will continue to be debated.
What it means: For Overeem, an opportunity to wrap up a date with Emelianenko; for Rogers, completely suffocating Strikeforce's biggest shot at big ratings.
Wild card: Overeem's celebrated run in K-1: While it has some application to what he can do in MMA, there is significant difference in being able to open up with strikes when you can parry with bigger gloves and don't have to worry about someone scooping out your legs.
Who wins: Rogers is tough, but limited. If Overeem can avoid sucking wind, he'll either knee Rogers into a diaphragm spasm or sew him up on the ground. Overeem by TKO.