January, 18, 2013
1/18/13
4:39
PM ET

By Josh Gross
ESPN.com
Archive
IRVINE, Calif. -- Because sport always trends this way, it won't be long before a discussion brews around which mixed martial artist is Bellator's best.
If Bellator CEO Bjorn Rebney is to be believed, and thus far there's no reason to doubt him, the promotion featured its top two talents Thursday night at Bellator 85.
Michael Chandler
dominated
Rick Hawn
by second-round submission, and
Pat Curran
slugged his way to a split decision over
Patricio Freire
.
Following the post-event news conference, the champions sat alongside one another, posing for photos behind their respective belts. Given the chance, I wondered aloud who was Bellator's top dog.
Chandler, 26, uncharacteristically demurred, smiled, pointed to Curran, 25, and turned his attention elsewhere.
"It's hard to say. You can't ask that question," Curran said.
But when Rebney says stuff like "I think we'd be hard-pressed to get anybody who would rank higher than Pat Curran and Michael Chandler right now in this organization" and "I think you're looking at two of the best mixed martial artists in their respective weights here tonight," it's reasonable to wonder, no?
Part of this, of course, is Rebney doing what a promoter is supposed to do, but more to the point there will be questions about the quality of the fights and fighters as Bellator MMA moves week to week across North America.
How good are these guys, really? How much of our time are they worth?
Should they be included among denizens of Zuffa fighters who have for so long populated MMA rankings?
ESPN.com ranks Chandler No. 8 at 155 pounds. Curran, rather remarkably, is third at 145. The promotion's welterweight titleholder,
Ben Askren
, resides in ESPN's "others receiving votes" trough.
Curran's opponent, "Pitbull" Freire, came in tied for ninth in ESPN.com's last featherweight poll.
Eduardo Dantas
, the promotion's champion at 135, remains ranked at No. 9 at bantamweight despite a shocking upset in August against
Tyson Nam
.
Eric Del Fierro helped groom UFC champion
Dominick Cruz
and contenders like
Phil Davis
and
Alexander Gustafsson
, along with a crew of respected Octagon-bound fighters across multiple weight divisions. He worked Chandler's corner in Irvine. Asked point-blank if the former University of Missouri wrestler could compete with UFC lightweight champion
Benson Henderson
, Del Fierro, usually honest even in the face of an obvious bias, quickly answered "yes."
"[Chandler's] intense," Del Fierro said. "All the similarities are there between him, Dominick Cruz,
Ronda Rousey
,
Jon Jones
. They're intense people. He's intense in training. He's a great kid. I love his enthusiasm for fighting and training.
[+] Enlarge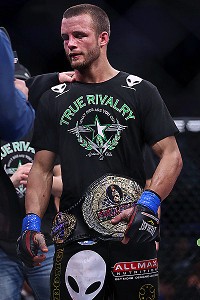 Keith Mills for Sherdog.comBellator featherweight champion Pat Curran, 25, believes he's years away from peaking as a mixed martial artist.
"He's a monster."
Superlatives make for easy copy. Credit Chandler, though, for expressing a deep desire to prove his supporters right. This is not someone who wants to be handed his spot in life.
"I don't know where my style is going to continue to go and grow," Chandler said. "All I know is I want to be the best lightweight in the world, and however I get there that's how it's going to be."
Chandler is always talking about improving, and it was the first thing that came out of his mouth after beating Hawn. He must be "more conscious and cognizant" of what's going on in the cage, Chandler said, and that should happen as he spends more time in there.
"I want to keep that pressure, style, hard-nosed mentality and literally break people," he said.
Such was Hawn's fate. An Olympic judoka for the U.S. and a quality source when it comes to talking about guys who just beat him up, Hawn complimented Chandler's strength and ground-and-pound ability.
"We all knew he was a great collegiate wrestler," Hawn said. "When I was at the Olympic training center we had a lot of wrestlers in there, and they're tough bastards. I know what I was going to face and I got outwrestled."
Curran is less a wrestler than a well-rounded fighter, with a penchant for clean defense and counter-striking.
"I'm only 25 now and don't plan on peaking until my late 20s, into my 30s, so I got a few more years to really jump levels," Curran said.
Is that possible -- perceptually and in reality -- via Bellator's tournament format? Only time will tell.
January, 16, 2013
1/16/13
12:40
PM ET

By Josh Gross
ESPN.com
Archive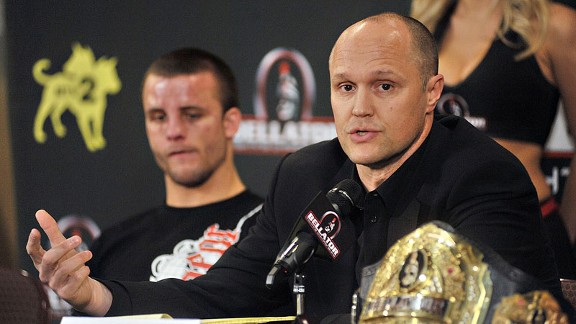 Henry S. Dziekan III/Getty ImagesBellator CEO Bjorn Rebney has had success with fighters staying healthy despite a grueling format.
HUNTINGTON BEACH, Calif. -- He might not like to be reminded of it, but that doesn't change the fact that
Renato "Babalu" Sobral
has entered his 16th year as a professional mixed martial artist.
A sport that paid him well and, to his chagrin, provided a whisper of fame, MMA has changed in so many ways since Sobral represented Rio de Janeiro in his pro debut against Sao Paulo in 1997 by winning an eight-man tournament via leg kicks, punches and stomps, and will-breaking, respectively. Yet through all the rubble, one component has remained a familiar element for Babalu and MMA: tournaments.
Few fighters are more steeped in the concept. Sobral won three of the five tournaments he entered, and came in second to
Dan Henderson
during a mammoth event in Japan in 2000.
On Thursday, the 37-year-old light heavyweight meets Russian
Mikhail Zayats
to begin his first multi-fight quest since 2003 (
a classic one-nighter
promoted by Paul Smith in Denver that featured, among others,
Forrest Griffin
and
Chael Sonnen
. Sobral went the distance with
Trevor Prangley
before guillotining
Mauricio "Shogun" Rua
and decisioning
Jeremy Horn
in the finals. The prize was $50,000 -- before taxes. Sobral hadn't considered that Uncle Sam might want his cut, and anyone walking the bowels of the Pepsi Center heard his frustration).
The prize for beating Zayats (19-6) and two others on Spike TV pays $100,000, plus a Bellator title shot. It won't need to be done on a single evening, yet the Brazilian sized up the challenge as the most difficult tournament format he's faced.
"On one night you can throw all yourself into it. After the fight it's a bucket of ice on the face, a bucket of ice on the hands and then you fight again," Sobral said. "But now, if you go home next day you're going to swell. And you have to be healthy for next time and get back into the gym to train. It's not possible to get beat up and rest. You have to train."
Into its eighth season, Bellator has almost been blessed when it comes to winners staying healthy enough to move to the next round a month later.
Asked about this, Bellator founder Bjorn Rebney knocked on wood.
"We've done, on average, four to five tournaments per season," Rebney said. "I think we've lost four or five guys total who have been declared the winner and been unable to proceed. So the numbers have been really, really good."
Bellator's good luck is rather remarkable considering the injuries that piled up around the Octagon in 2012.
While he was building out Bellator in his mind in 2006 and 2007, Rebney said he spoke with doctors and ringside physicians across the country, trainers and other players in the sport, to get "inside everyone's head" about how to avoid pushing fighters past their limit. Taking into account the typical arc of a television show, Rebney asked, "How many? How long? What could be done?"
"The consensus opinion was you could go one fight a month for three months," Rebney recalled. "You couldn't go longer. There were a lot of parameters. But it worked. The new tag line 'The Toughest Tournament in Sports' is well-founded. Hopefully those odds keep working for us."
Again, he knocked on wood.
Rebney created a scenario in which fighters, if they're good enough to make it to the final round, must maintain grueling training camps for a third of a year, if not longer.
"When you sign that Bellator contract you know that's what you're signing up for," said
Michael Chandler
, the promotion's lightweight champion. "There can't be any excuses. Three fights in one night sounds bad because you're taking more damage in one night. But when you're talking about training two months just for the first fight, then you have another fight and another fight, you're in camp for four or five months -- and that's a long time to be in training camp -- in the gym two times a day, six days a week, getting punched in the face and going through that many workouts and dieting that much and going through the ups and downs of emotions. It is a grueling thing, and it was something I knew I would excel at.
"It's definitely not asking too much, but it's adding a cool little spice to the mix."
During tournaments there's no such thing as a favorite, Sobral said, because "luck" has as much to do with advancing as hours spent toiling in the gym. He believes he's done well in these things because, as Renzo Gracie once told him, "when you choke somebody out, you don't get an injury in the hands."
Chandler and featherweight
Pat Curran
simply outclassed the competition en route to tournament crowns and Bellator belts. The mid-20-something fighters "exemplify what we're all about," Rebney said. "Using that tournament structure to go from unknown to top of the world."
Curran's upset victory over high-priced
Roger Huerta
, whom everyone earmarked for a fight with
Eddie Alvarez
, prompted Rebney to "put all my trust into the fact this tournament would give rise to the best fighters. They're the ones that are going to get through."
Hawn ready for his close-up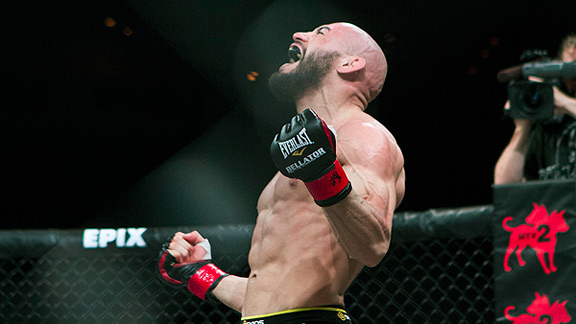 Andrew Hemingway for Sherdog.comAt 36, a rejuvenated Rick Hawn has reinvented himself in Bellator as a power-punching lightweight.
For the next 48 hours,
Rick Hawn
might best be known as
Ronda Rousey's
Olympic judo teammate. But if the 36-year-old Massachusetts fighter upends Chandler in the first headliner of the Bellator on Spike TV era, the power-punching lightweight won't feel that he's been overlooked any longer.
Since shedding 15 pounds after dropping a split decision in 2011 to welterweight
Jay Hieron
, Hawn (14-1) has looked like the real deal.
"My technique and size weren't ready yet, but now I'm coming together as a striker -- as a well-rounded fighter," Hawn said. "With technique comes speed; with speed comes power."
While earning the shot against Chandler, Hawn took two of his three tournament bouts by knockout, capped by a highlight-reel straight right on
Lloyd Woodard
.
"Hawn has looked unbelievable in his last few fights for us," Rebney said. "So few guys are able to go '85 to '70, or '70 to '55, or even '55 to '45 and bring the power with them because they lose so much when they make the cut. But this guy, as an Olympian and world-class athlete, did it. He brought all that power with him."
After years of competing at the highest level in judo, the ability to drop bombs came easily.
"I've heard people say that not everyone has power or can create it," Hawn said. "Some people are just gifted with it and apparently ... I don't know. I don't know if I really buy that or it's something you learn in the gym.
"Judo is all about explosive power in the hips and being able to toss someone who doesn't want to get thrown. All that power generates in the hips, so maybe it's because of my lifetime in the other thing."
All his work has led him to Chandler.
"He can take a punch," Hawn decreed. "It's a tough fight. He's a grinder. I believe I am as well. You just have to get that perfect shot. That's all you need, right? It could be the end of the fight for him. Everyone he's fought he's destroyed or made a great fight out of it. Tall task at hand, but I'm ready to go."
News and notes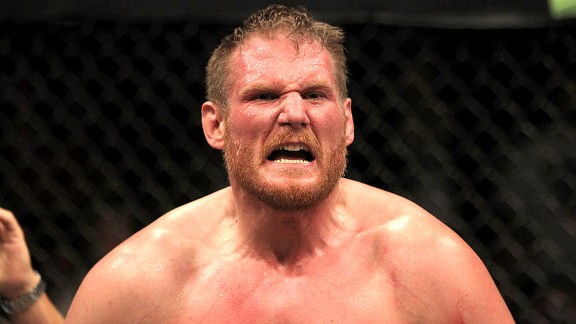 Josh Hedges/Getty ImagesVeteran heavyweight Josh Barnett doesn't appear to be on Bellator's radar right now.
• In the wake of Strikeforce's demise, several fighters will hit the open market. Heavyweight
Josh Barnett
is a free agent with a following, but Rebney said Bellator doesn't plan to make any offers at the moment. "There aren't guys off that roster that I go, 'Oh, we've got to get him and make the move.'" He left the door open to scouring through whatever the UFC passed on, but demurred on the inclination of the tournament format as a divining rod for talent. "In this format, there's no big
Kimbo Slice
-esque superfight," Rebney quipped. "If you're not good enough to compete you're going to get blown out in the first or second round." Barnett is a classy enough heavyweight to have won any of the previous Bellator tournaments, that's for sure. Still: "Josh is a great character and he's had some great fights," Rebney said, "but he's not really on our radar."
• A couple of hours before Bellator held open workouts at
Tito Ortiz's
gym in Huntington Beach, the UFC held a conference call to promote next weekend's Fox card featuring
Demetrious Johnson
defending the flyweight belt against
John Dodson
. Also on the card is one
Quinton "Rampage" Jackson
, who continues to scream bloody murder about the mistreatment he apparently feels he's been subjugated to under a tyrannical Zuffa regime. Basically, he's making it sound like he wants to leave, and, as an example of why, pointed to an inability to flaunt his sponsorship with Reebok. Zuffa, he said, would not allow him to wear it into the cage. Zuffa collects a sponsor tax, which they are well within their rights to do and have done for years. Bellator has not yet. Rebney said fighters are free to wear what they want and the promotion will not impose its own tax. He also said that when Jackson is free, he'd be a fighter that might be worth making a play for.
•
Jeff Curran
, pioneering lighter-weight fighter that he is, is intently focused on his cousin Pat's title defense against
Patricio "Pitbull" Freire
. But he hasn't lost the urge to fight and promises to return this year at 125 pounds. "Big Frog" set as his goal a contract to fight in the UFC as a flyweight.
• Thursday's card at the Bren Center on the campus of UC Irvine is scaled for around 4,000 seats. Bellator expects it to be full. "I think that's where we'll be," Rebney said.
October, 25, 2011
10/25/11
5:46
PM ET

By Franklin McNeil
ESPN.com
Archive
Lyman Good
returns to action Nov. 26 against Michael Costa in a Bellator Season 6 welterweight tournament qualifier at Caesars Atlantic City, N.J.
The fight will be Good's first bout since April 2, when he suffered a split-decision loss to
Rick Hawn
. Good (11-2) has lost two of his three most recent bouts and is eager to regain his winning touch.
"Coming off of that last fight, it really made me go back to the drawing board and start fresh," Good said. "I felt like I got away from some things that made me who I was as a fighter, and I needed to get back to my roots."
Costa will make his Bellator debut against Good. He will enter the cage with a pro mark of 10-5-1.
Good-Costa is part of the Bellator 59 card that includes a lightweight tilt between
Kurt Pellegrino
and
Patricky Freire
.
May, 6, 2011
5/06/11
6:12
AM ET

By Brett Okamoto
ESPN.com
Archive
Cliff Welch/Icon SMIBloodied, not broken: Jay Hieron channels his frustrations with positive results.
Jay Hieron
takes pride in his belief that other men, if put through the kind of frustration he's endured the last couple of years, would have quit a long time ago.
The 34-year-old could write a book on his hard luck in the sport. Not to open old wounds, but a quick recap:
He had a first-round knockout win over Jason High at an Affliction event in January 2009 dropped from the main card due to time restraints. He was expected to face
Paul Daley
at Affliction later that year, but didn't get the chance when the promotion suddenly ceased operations.
He went on to sign a deal with Strikeforce under the assumption his first fight would be against
Nick Diaz
for the first-ever welterweight title. That fight fell through when Diaz skipped a prefight drug test. Instead of rescheduling the title matchup, Strikeforce paired Hieron with Joe Riggs five months later as an untelevised prelim fight in a Miami show.
Hieron (21-4) did nothing but win during that stretch, but the fact that none of the fights made television has undoubtedly cost him in terms of notoriety and sponsorship money. He'd be lying if he said he never thinks about it.
"I'm fuming," Hieron told ESPN.com. "That kind of stuff can make or break somebody's career. It could force somebody to pack it in and say, 'This s--- ain't for me anymore.'
"But I believe the man upstairs has a bigger path for me. He's just making me take the long road. I'm a fighter that's been through everything negative you can go through in a career and I'm still here."
In many ways, joining the Bellator welterweight tournament this year has been the perfect opportunity for Hieron to start feeling good about his career again.
For one thing, it's got him fighting with regularity again. After sitting out for more than a year while his contract issues were sorted out, his tournament finals bout against Rick Hawn this weekend will be Hieron's third fight in as many months.
"It's a grind, but at the end of the day I feel blessed," Hieron said. "I had that year off and now this is what I signed up for -- a lot of fights in a short period of time. I want to get back on the scene and show everybody the real Jay Hieron. I've been out of the game but it's time to get back in the rankings."
As eager as Hieron is to get back in the public eye, especially after watching the careers of his Xtreme Couture teammates like
Gray Maynard
,
Martin Kampmann
and
Mike Pyle
take off during the past two years, he's constantly reminding himself to do it one step at a time.
Immediately following the announcement he had signed with Bellator, Hieron received questions regarding a possible matchup with champion
Ben Askren
, an undefeated wrestler with hype building.
But Hieron has seen too many opportunities fall apart on their own to overlook an opponent and mess things up himself. This week his focus is Hawn. Then he'll start thinking Askren.
"I can't wait for May 7," Hieron said. "[Askren] is a great wrestler. I don't think he's well-rounded but he has a good foundation and I hope he does keep winning. We'll meet up soon. But one thing at a time. I work on my mind as much as my body just because of all the stuff I've been through. I'm not looking past anyone."