July, 24, 2012
7/24/12
11:06
AM ET
August, 28, 2011
8/28/11
11:04
PM ET
Eleven months ago, Rousimar "Toquinho" Palhares' decision to stop fighting mid-bout cost him dearly in a knockout loss to Nate Marquardt. Saturday night in Rio de Janeiro, history very nearly repeated itself.
According to the Brazilian middleweight's trainer, however, Palhares' actions in the first round of his UFC 134 contest with Dan Miller have been misinterpreted.
Unlike his September 2010 defeat at the hands of Marquardt -- which saw Palhares punched out after the submission specialist turned to referee Herb Dean and complained that Marquardt's leg was slippery -- Brazilian Top Team leader Murilo Bustamante explained Sunday that Palhares' premature celebration against Miller actually came as a result of mercy.
Saturday night at Rio's HSBC Arena, a heavy right head kick from Palhares felled Miller with 40 seconds remaining in the opening frame. The dazed New Jersey fighter covered up as Palhares connected with half a dozen punches from above before coolly striding away, his arms raised in victory. Palhares leapt atop the Octagon fence to soak in the adoration from his hometown crowd, but there was one problem: the referee -- Dean, coincidentally -- never called a stop to the bout.
[+] Enlarge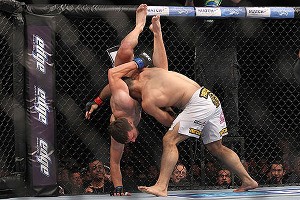 Ed Mulholland/ESPN.comRousimar Palhares was in control when he suddenly halted his attack on Dan Miller.
"Just to clarify what happened during Toquinho's fight," Bustamante wrote on his personal Twitter account, "he told me that he stopped because his opponent said 'stop, stop' when he was punching him hard. Then, he stopped [hitting] him and thought that the fight was over and went to celebrate. Who can say now that 'Toko' isn't a fair fighter? He is just too naive, but he has a big heart."
Despite Bustamante's claim, Miller's manager and trainer, Mike Constantino of AMA Fight Club, asserted Monday that his fighter never asked out of the match.
"Dan assures me he did not say a word during that exchange," Constatino wrote in an email to Sherdog.com. "Needless to say that with the loud crowd, the language barrier, the adrenaline rush and every other factor involved -- including 'do not stop until the ref pulls you off' -- I do not believe that Toquinho pulled up because of Dan murmuring 'stop, stop.' The fact remains that Dan Miller did not say 'stop, stop' -- there is no need to argue the toughness and mettle of Dan Miller, however I just have to put the facts on the table after hearing this."
While Miller did not appear to protest the "stoppage" as he stood back up and walked to his corner, Constantino said that was only because he believed the fight had actually been stopped.
"He could not see and by Toquinho's reaction, Dan assumed Herb stopped the fight," wrote Constantino. "Once he heard us screaming to turn around and the fight wasn't stopped, he ran across the Octagon to continue fighting."
Review of the fight video by Sherdog.com proved inconclusive: If Miller did verbally submit, it was drowned out on television by the roar of the Rio audience. But, as beckoned Palhares down from the cage, referee Dean's words were loud and clear: "I did not stop the fight. You have to keep fighting."
And keep fighting they did. In a surprising turn, moments after touching gloves and resuming action, Toquinho found himself in a bad way, knocked down by a Miller combination. The Brazilian would regain his composure to finish the round with a takedown, though, and followed up with a dominant second period and a closer, but slower, third.
On Sunday, Bustamante offered no complaints about the non-stoppage, nor the extra 10 minutes of work his charge allegedly had to put in. However, the former UFC middleweight champion did take issue with the company naming a lightweight scrap between Edson Barboza and Ross Pearson the evening's best bout.
"I think, as [with] everyone that watched the fight, that Toko should have won 'Fight of the Night.'"
August, 28, 2011
8/28/11
1:28
AM ET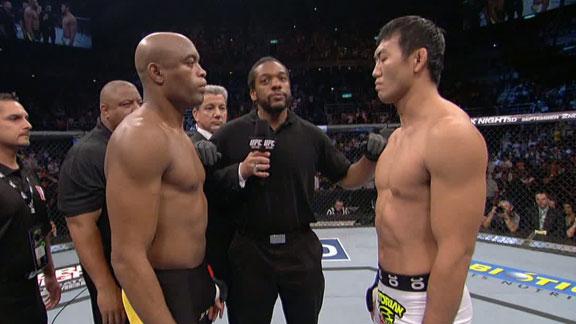 RIO DE JANEIRO -- When you hear the words "It's time!" at the start of the UFC's main event, it's usually only from Bruce Buffer's lips. At UFC 134 on Saturday, some 14,000 people -- most Brazilian -- added their voices to the silver-haired MC's catchphrase.
This was just one of the many unique things about the crowd at UFC 134.
There was one recurring comment from everyone in attendance, and it was that this was the loudest, craziest crowd in UFC history. Though a quarter of the size of UFC 129 in Toronto (55,000+), they won an international shouting match and earned the title "most raucous MMA fans in the world."
Take the match-up between Sao Paulo's part-time police officer
Paulo Thiago
and the American
David Mitchell
. A member of the infamous SWAT-style police squad BOPE (Operacoes Especiais da Policia Brasileira), Thiago came out to a blasting hip-hop track taken from Elite Troop, one of Brazil's highest grossing films. The crowd sang along to every word, and spent the 15 minutes of their countryman's fight singing a medley of soccer chants and popular songs.
The Thiago fight was the best example, but this behavior went on all night. They vociferously booed any foreign fighter, and heartily cheered every local. It wasn't malicious -- they did allow a smatter of applause for Nedkov, the sole victorious non-Brazilian of the evening -- it was just part of the game.
Brazil boasts a rich culture of sport and music, and they overlap plenty. Soccer games are carnival affairs, and teams of samba musicians and dancers face off in regular competitions.
And of course, there's the passion. Brazilians are a fiery people. They celebrated
Antonio Rodrigo Nogueira
,
Mauricio Rua
and Silva's wins by sending showers of beers and plastic cups toward the Octagon. Can you imagine what they would have done had the locals lost?
If 14,000 Brazilians can create such a stir, what will 100,000 be like? Dana White is promising a trip to the city of Manaus in Northern Brazil. He says they intend to sell out the Sambadrome, a giant structure that will dwarf any previous UFC live event. But are they really ready for that kind of energy?
One thing's for sure -- I'll definitely be packing my ear plugs.
August, 26, 2011
8/26/11
5:47
AM ET
As the Ultimate Fighting Championship prepares for its return to Brazil, a flood of memories returns to the men who competed at its first Brazilian event 13 years ago, including Frank Shamrock,
Jeremy Horn
and Pedro Rizzo. "Ultimate Brazil" was held on Oct. 16, 1998 and gives the promotion a glimpse into the passion it can expect at UFC 134 on Saturday at the HSBC Arena in Rio de Janeiro, Brazil.
More »
August, 24, 2011
8/24/11
7:32
AM ET
By Mauricio Rua
Special to ESPN.com
Archive
In this ESPN.com blog, former light heavyweight champion Mauricio "Shogun" Rua discusses what went wrong against Jon Jones, dealing with his brother Murilo's retirement, and operating on all cylinders ahead of UFC 134 in Rio.
Rio de Janeiro: I'm now in the host hotel for UFC 134 this Saturday night. It is the first time the UFC has run a card in Brazil since the late 1990s and this is an epic show. It's the hot ticket in Brazil right now and everybody wants to be part of it.
For me it's great to be part of this card, this moment in history and to be able to fight for my fans here in Brazil, near my family and friends. I just wished my friends could have gotten tickets, as it was almost impossible to buy one due to the huge interest! All the tickets went immediately; Brazil is very hot for the UFC.
For me to fight on this historical card, it means a lot. It is part of history and people will remember this card for a very long time. But I also have a very hard fight to win. My rematch with
Forrest Griffin
is very important for my career, and after losing my UFC light heavyweight title to Jon Jones in my last fight I know it will do a lot of good for my career to come right back and beat Griffin.
There has been more attention from Brazilian media than for a lot of other fights, and I know I will enjoy the press conference and fight week, but when it's time to fight -- when Saturday comes--- things are the same for me as they always are. It's a fight with two guys inside the cage and that's the only thing I have to focus on -- winning the fight against Forrest -- no matter where it is.
But I am not saying there's more pressure for me to win because it is in Brazil. I think the pressure is pretty much the same, because I try not to focus on any extra pressure whether it is a title fight, a title defense or anything else. Really, I think besides having fun during fight week, the only real difference with this UFC fight to any other is that this time I won't be jetlagged.
The reality is that anytime you are fighting, only a win does any good for you and there's endless pressure there already.
It's very tough to move up the rankings in the UFC 205-pound division -- you have to beat tough guy after tough guy and sometimes winning isn't good enough; you must look good in winning to separate yourself from the rest of the pack. But it is very easy to move down if you lose -- as there are no easy fights in the UFC in this weight class. Being a top MMA fighter is a tough way to be a sportsman, but it's what I love.
You can follow Rua on Twitter at shogunrua and watch him battle Forrest Griffin at UFC 134 Saturday on pay-per-view
May, 15, 2011
5/15/11
6:27
AM ET
By Gleidson Venga/Sherdog.com
ESPN.com
Archive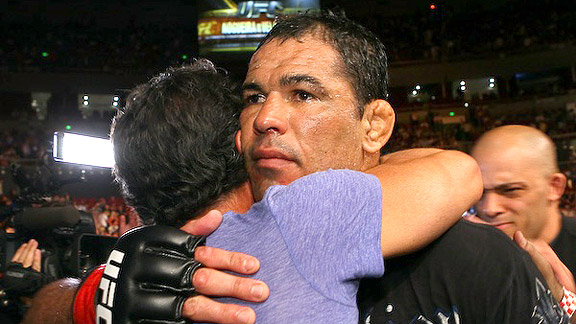 Daniel Herbertson/Sherdog.comSee you in Rio: Antonio Rodrigo Nogueira is all set to fight at UFC 134 in Brazil.
Former interim UFC heavyweight champion Antonio Rodrigo Nogueira revealed Saturday on Brazilian TV show "Globo Esporte" that he will fight at UFC 134 "Rio" on Aug. 27.
Nogueira was discussing the surgeries he underwent last year -- including one on his hip and a reconstructive procedure on his knee -- when he declared that he will compete on the card, which takes place at the HSBC Arena in Rio de Janeiro.
"The biggest MMA promotion in the world will be back in Brazil after 14 years and I'll be there, steady and strong."
Nogueira did not disclose his opponent, but made clear his desire to co-headline the event, which is currently a slot expected to be filled by Mauricio "Shogun" Rua vs. Forrest Griffin.
"Anderson Silva will fight in the main event [against Yushin Okami] and I'm looking forward to fighting in the co-main event."
The 34-year-old Brazilian jiu-jitsu black belt last saw action in a February 2010 knockout loss to now-UFC heavyweight champion Cain Velasquez.
Colin Foster contributed to this report.