August, 12, 2014
Aug 12
6:23
AM ET
Weird as it may sound,
Ross Pearson
says "the decision" in his last fight has actually been a blessing in disguise.
Two months ago, Pearson (15-7) outclassed
Diego Sanchez
in a three-round contest at a UFC Fight Night in Albuquerque, New Mexico. To just about everyone watching, Pearson won all three rounds and earned what would have been his third win in four fights.
[+] Enlarge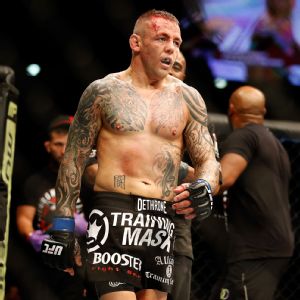 Ross Dettman for ESPNIn his last fight, Ross Pearson found himself on the wrong end of a controversial decision to Diego Sanchez.
And then the worst decision in mixed martial arts this year happened. Judges
Chris Tellez
and
Jeff Collins
somehow scored the bout in favor of Sanchez (25-7) -- Collins by a score of 30-27, no less -- awarding the hometown fighter the split decision.
Pearson, 29, filed an appeal with the New Mexico Athletic Commission to no avail. Officially, the bout will always be a loss on his record.
Unofficially, however, it has been anything but. The UFC paid Pearson his win bonus and booked him against
Abel Trujillo
, who is on a win streak, in his next fight. Injury ultimately knocked Trujillo out of the bout and Pearson will now fight
Gray Maynard
on this weekend's UFC Fight Night event in Bangor, Maine.
The scoring of the Sanchez fight was so egregious, Pearson says, it has garnered him more attention than he believes a win would have. Attention in MMA is never bad.
"I think it's had a positive effect on my career," Pearson said. "I've built a lot of fans based on it. The media has been talking about it. The only negative effect is that it's a loss on my record."
Prior to his 155-pound fight opposite Maynard (11-3-1) on Saturday, Pearson spoke to ESPN.com more about the Sanchez decision, where he feels he's at 12 fights into his UFC career and the opponent ahead of him this weekend.
ESPN.com:
You spent your entire camp for this fight in England, rather than travel to Alliance MMA in San Diego as you usually do. How did it work out?
Pearson:
The last time I held a camp in England was the
Spencer Fisher
fight, so that would have been Feburary 2011. It was only a four-week training camp. Travel to San Diego is a 12-to-15-hour flight for me. Then travel six hours back to Maine -- it would have been a lot of travel time. It's actually been a great camp and [Alliance coach] Eric del Fiero will still be in my corner.
ESPN.com:
You've had back-to-back unfortunate results in your last two fights, with the no contest against
Melvin Guillard
and the Sanchez decision. What's that done to your sense of momentum going into the Maynard fight?
Pearson:
Right now, I feel unbeaten since I signed to fight
George Sotiropoulos
. I feel like I haven't lost a fight since then, even though my record speaks differently. I have a lot of momentum, going in there and beating Diego convincingly. I know what it feels like to outclass a guy and that's exactly what I felt that night.
The only thing I could see is it's made me more eager to get a finish. I need to finish. Going into the Diego fight, we knew it was going to be tough. He doesn't get taken out in the first round. We had to outthink him, outsmart him. I did that, but it goes to show two people can see a fight differently than the rest of the world.
ESPN.com:
More eager for a finish - - but at the same time, you did intelligently beat Sanchez according to most. So, you don't want to change dramatically off that, right?
Pearson:
Yeah, I've been in this sport a long time and the harder I try to finish a fight, the more it doesn't come. That's kind of the balance I'm having with myself. Want the finish, but let it come to you. I just want to flow in this fight. I want to look classy and look comfortable against a ranked guy.
I know for a fact if I land the shots that we've been practicing, I'll take Gray out. His defense is nonexistent. I have to use angles, set it up and land that shot.
ESPN.com:
Maynard has been known as a durable fighter throughout his career, but he's been knocked out in three of his last four fights. You think miles have caught up on him and affected his chin or has he just been hit by clean shots lately?
Pearson:
I think it's a little bit of both. I think he's questioning his own abilities and his chin. When I fight, I have no fear of, "this guy might knock me out." I think Gray is worrying about it. He's stressing about his ability to weather a storm.
ESPN.com:
You hit your five-year anniversary in the UFC this year. You're 7-4 with the promotion. Are you happy with where you're at five years in?
Pearson:
I definitely feel like I'm hitting my prime. I guess I'm a bit of a slow learner as far as getting comfortable in the cage -- feeling confident. When I started off in the UFC I was 24 years old. I doubted my ability in wrestling, jiu-jitsu, even stand-up. All I ever watched as a young kid was the UFC, these great knockouts. I felt thrown into the deep end.
Fighting a guy like
Aaron Riley
with 90 fights.
Dennis Siver
, ranked No. 1 in Europe for so long. Spencer Fisher, a guy I looked up to. I feel like I didn't get to warm up.
ESPN.com:
Past Maynard, you have any ideas for the rest of the 2014? Any specific card you'd like to fight on or certain opponent?
Pearson:
I would definitely love to fight in November. The first half of this year was pretty s-----. I was injured and had to pull out of a fight. I definitely plan on using the second half to make this a big year. I'm getting married in September and I'd love to fight in Australia in November. If I beat Gray impressively, I should get an opponent ranked in the top five.
May, 29, 2013
5/29/13
7:19
PM ET
The UFC lightweight division is the deep end of the pool. It's nondebatable.
According to the new ESPN.com rankings, a well-rounded talent like
Jim Miller
no longer cracks the Top 10. Same for
Nate Diaz
-- and he fought for the title six months ago. Athletic knockout artist
Melvin Guillard
is facing potential unemployment.
With as loaded as the division is, it's pretty unbelievable
Benson Henderson
has already tied
BJ Penn
's record for all-time wins in a UFC lightweight title fight. Breaking that record in his next fight against
TJ Grant
is far from a given.
In 2011, I wrote a similar column to this, laying out the qualities it would take to beat
Frankie Edgar
. I ultimately said Henderson was the guy. I feel about 75 percent correct today. Edgar won that rematch, but you know. Spilled milk.
Question now is, who beats Henderson -- if anyone? Here are the lightweight contenders and pretenders, revisited.
The best of the rest:
Mark Bocek
, Guillard,
Joe Lauzon
, Miller,
Ross Pearson
.
These guys deserve to be in the conversation, but stars would really have to align for them to go all the way. Miller is terrific, but the evidence is there: When he runs into big, athletic lightweights he can't push around, he struggles. I'd love to see him take his style to the featherweight division, which could use a mean, durable, bearded former lightweight willing to wear a farmer's tan around. But Miller has long resisted the idea. We know Guillard is good for a handful of knockouts and an equal number of face palms Pearson could still develop, but he's been beaten at his own game twice in his past five fights. Never a good sign.
That somebody that you used to know:
Nate Diaz
Someone should probably stage an intervention for Diaz. Going back to his title fight against Henderson in December (not that long ago!), Diaz has tanked in back-to-back fights, talked about a return to welterweight (makes sense, given his vulnerability to bigger, stronger opponents) and been suspended for using a gay slur in a tweet (which he then said he wasn't sorry about). How confident are you right now the Diazes aren't at least thinking about a future WAR MMA card headlined by Nate? Not very, right?
The fantasy keeper league:
Edson Barboza
, Rafael Dos Anjos,
Rustam Khabilov
,
Jorge Masvidal
,
Khabib Nurmagomedov
Every one of these guys is under 30 years old. Say you set up a fantasy keeper MMA league, where wins are worth one point and title wins are worth three. What order are you drafting these guys in? Tough call.
Barboza, Khabilov and Nurmagomedov are the Andrew Luck, Robert Griffin III and Russell Wilson of the UFC lightweights. Of the three, there's something I really like about Khabilov. Even without the first-round finishes, you can just tell this guy does everything well and he's on opponents from start to finish. Barboza has made that weird jump from slightly overrated to underrated, thanks to a TKO loss to
Jamie Varner
. It seemed like everybody wanted to talk about this guy, despite the fact he barely, barely squeaked by
Anthony Njokuani
and Ross Pearson. Now, I don't think we're talking about him enough. It's tough to pick a future champion in this very young group, but I like Khabilov's chances the best, then probably Barboza.
The head case:
Donald Cerrone
It's possible nobody beats Cerrone when it comes to looking awesome in a win and then fairly terrible in a loss. Cerrone referenced a sports psychologist after his latest win over
KJ Noons
-- if you're unaware, that's been going on for a while now. When he's on, he's similar to other Greg Jackson fighters
Jon Jones
and
Cub Swanson
. He mixes it up, he reacts, he doesn't think. Other times, it's like he's trying to solve for "x" out there and he seizes up.
At this point, I admit I'm skeptical of Cerrone ever holding the belt. He doesn't fight particularly well in the big moments and quite frankly, he's never been that guy who expresses a burning desire to be a champion anyway. Worth mentioning though, I thought he beat Henderson at WEC 43 in 2009. As far as controversial Henderson decisions go, that's right up there.
The threats:
Grant,
Pat Healy
,
Gray Maynard
,
Gilbert Melendez
,
Josh Thomson
These guys are somewhat close to a title shot (with the exemption of Maynard, but I'm not willing to count him out). Thomson is going to make a lot of noise. He's not afraid to ask for things right now because at 34, his window at a title is smaller than it used to be. Melendez will be around. He's well-rounded, consistent, mentally tough and we know he can go five rounds, let alone three. I like Grant a lot. He's got the power to hurt Henderson and change the fight. As good as Healy is, and I like the welterweight-to-lightweight move right now, he's not quite as good as Grant, so if Grant falls to Henderson, it'd be tough to pick Healy over him. Interesting that these are some of the bigger guys at 155. Did small ball pack up and leave with Edgar?
The future champ:
Anthony Pettis
What just happened? Pettis had been waiting around for a title shot forever. For various reasons, mostly Edgar rematches, it never happened.
So in a move to speed up his title hopes, he called Dana White and asked to drop to 145. He fights
Jose Aldo
on Aug. 3. It's possible (not official) Henderson will defend the lightweight title against Grant 14 days later in Boston on Aug. 17. So basically, Pettis agreed to drop to a weight class he's never fought in to earn a title shot just two weeks sooner, and the UFC signed off on it. Seems like we all could have handled that better.
Anyway, win or lose, I don't think Pettis is long for 145 pounds. He has always seen 155 as his division and he's confident he has Henderson's number. I've always believed Henderson's claim he got caught up in the moment of the last WEC fight ever and strayed from his game plan against Pettis. I think that's real. I just don't think it matters. Even if Henderson goes into a rematch with a strategy more reliant on his size and pressure, Pettis beats him. Bold prediction time: Pettis is your UFC lightweight champion at some point in the next 12-18 months.
April, 16, 2013
4/16/13
7:16
AM ET
Ross Pearson
has put his name forward to be on the next UK UFC card, and promised to put on a show if selected to headline against a top-10 lightweight opponent.
More »
June, 19, 2012
6/19/12
11:23
AM ET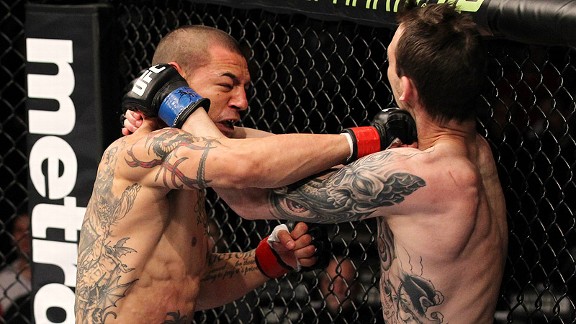 Nick Laham/Zuffa LLC/Getty ImagesCub Swanson, left, is eager to punch his way into the spotlight, starting with a Friday showdown against Ross Pearson.
When
Cub Swanson
was in recovery from a training injury in 2011 that broke his jaw, caved in his cheekbone and shattered his orbital bone, he questioned if he should return to the sport that caused it all.
For family members who watched him undergo a surgery that inserted multiple steel plates into his face and wired his jaw shut -- performed simultaneously by a plastic surgeon and an oral specialist -- retirement seemed like an easy call.
In Swanson's mind though, it kept coming back to the same question, over and over.
"I was like, 'Am I satisfied with my career? If I stopped now, would I be happy?'" Swanson told ESPN.com. "It was always a very quick, 'No.' That's driven me since."
Swanson (16-5) has a big opportunity to point his career in the right direction on Friday, when he'll meet fellow featherweight
Ross Pearson
on the main card at a UFC on FX event in Atlantic City, N.J.
Since returning from that devastating facial injury, Swanson is 1-1 in the UFC. The win came in the form of a fairly major upset over
George Roop
in January.
Currently in his eighth year as a professional mixed martial artist, Swanson has never had a problem staying relevant, but he's also never made a ton of noise. It's something the California-based fighter says he takes personally and wants to fix.
"It's always been a little bitter for me," Swanson said. "I feel like I put on great fights but I don't get mentioned with the top people or in the top fights. That's always bothered me and I take it personal.
"I see the names at the top of the lists and I'm like, 'Ah. I could beat those guys.'"
At this point in his career, it's time for Swanson to prove that. He couldn't ask for a better chance to earn more of the spotlight than this fight against Pearson.
Stylistically, the featherweight bout should be an action fight, as each fighter will be fully confident in his own boxing skills. The Brit will be labeled as the boxer, but a little-known fact about Swanson is he works in the same gym and under the same trainer as welterweight world champion Timothy Bradley and has even considered stepping into a boxing ring professionally.
"

I see the names at the top of the lists and I'm like, 'Ah. I could beat those guys.'

"

-- Featherweight Cub Swanson, who fights Ross Pearson at UFC on FX 4
"If I just needed a break, I'm still young, I would definitely try it out," Swanson said. "My coaches have been trying to get me to do it for a long time. I hang with all those guys just boxing and I know I would do well. I've seriously considered it."
Like his last fight against Roop, Friday's bout will be one that few expect Swanson to win. Most oddsmakers list Pearson as a 2-to-1 favorite.
Those who have watched Swanson's career, though, know this is a very winnable fight if he's at his best. The knock on the 28-year-old is that he's capable of looking either absolutely spectacular or spectacularly flat at any given moment.
Swanson is familiar with that assessment and believes he's figuring out how to always be at his best. He does the bulk of his training under Greg Jackson and Mike Winkeljohn in Albuquerque, N.M.
The focus currently for Swanson is to get him to flow inside the cage. Stop thinking. Have fun. It sounds a lot like what teammate and current UFC light heavyweight champion
Jon Jones
constantly refers to. Swanson wants to get to a similar place.
"I definitely feel like fans have not seen the best of me," Swanson said. "Greg is really helping me on feeling comfortable and free and not getting stuck in one style.
"My biggest thing has always been that I need to be consistent as a fighter -- and when that happens I'll go on a tear. That's my main goal."
The road won't end for Swanson if he's unsuccessful against Pearson. Losses to talent like Pearson,
Ricardo Lamas
,
Chad Mendes
and
Jose Aldo
aren't the type that gets a guy cut from the UFC.
After contemplating the end of his career one year ago, though, Swanson ultimately returned because he had to reach the next level. He'll look to possibly do so here.
May, 4, 2012
5/04/12
8:48
PM ET
UFC president Dana White has vowed to stand by
Ross Pearson
following the Brit's arrest on the suspicion of driving under the influence.
More »
April, 3, 2012
4/03/12
5:35
AM ET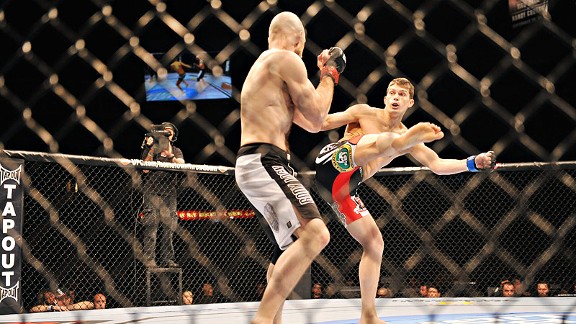 Rod Mar for ESPN.comIf you're like most MMA fans, you probably can't wait to see Stephen Thompson in the cage again.
If you're a mixed martial arts fan, things are about to get crazy.
The UFC, Strikeforce and Bellator have announced 17 shows scheduled to take place within the next 17 weeks. That's nearly 200 confirmed fights, not including the ones airing on (either version of) "The Ultimate Fighter."
How are you going to catch all that?
Let's be real: You probably aren't. As it is with all sports, it's tough to watch absolutely everything.
Going out on a limb, I'm guessing the highly anticipated
Anderson Silva
-
Chael Sonnen
rematch in June won't get lost in the summer shuffle. Ditto for the heavyweight title fight between
Junior dos Santos
and
Alistair Overeem
in May.
Certain other fights, however, might; and that's a shame. Hanging out in the shadows of these monster headliners are more than a handful of potentially memorable scraps.
Here's a quick list of some of the best under-the-radar fights confirmed for the next 17 weeks. In addition to excluding UFC main and co-main events, bouts expected to generate significant interest weren't considered.
No. 10 -- Matt Brown (13-11) versus Stephen Thompson (6-0), UFC 145: April 21
Why you should care
: All anyone could say after Stephen Thompson's UFC debut in February was, "Uhhhh, how soon can we see that again?" The highly touted kickboxer won "Knockout of the night" at UFC 143 for the stunning head kick he landed on Dan Stittgen in the first round. Honestly, I'm not ready to proclaim him the next big thing at welterweight based on that performance alone, but it proved beyond a doubt that this guy can finish a fight at any time. Brown, though, isn't one to back down from a standup war and I bet you didn't know he's never been knocked out in his entire career. Not bad ingredients for a free prelim fight.
No. 9 -- Jim Hettes (10-0) versus Steve Siler (20-9), UFC on FX 4: June 22
Why you should care
: Everyone went crazy for Jim Hettes after watching him own
Nam Phan
at UFC 141. But step back, calm down and you'll see this is anything but an easy fight for him. We all underestimated Siler in his last matchup against
Cole Miller
, probably because the memory of his 30-second knockout loss on TUF was still fresh. Siler has a strong grappling base and while he's not that flashy on his feet, he's technical and he
can
actually take a punch. The masses will be on Hettes going into this fight, so if Siler has his moments early it will feel like an upset -- and everyone loves an upset. These two will make each other work and I think when all is said and done, we'll have a gutsy, close fight on our hands.
No. 8 -- John Dodson (12-5) versus Darren Uyenoyama (7-3), UFC on Fox 3: May 5
Why you should care
: The UFC's decision to add the flyweight division to its roster this year has already generated a lot of buzz, but for how long? Everybody is high on
Joseph Benavidez
,
Ian McCall
and
Demetrious Johnson
but six months from now we're inevitably going to be asking, "So ... who's got next?" Most would say that answer is Dodson. Like others in this division, he's finally fighting consistently at his comfortable weight. He's on a terrific hot streak, knocking out three of four opponents during TUF -- all of whom were bigger than him. Watch this so you can still be excited about the flyweight belt after the tournament dust settles.
No. 7 -- Diego Brandao (14-7) versus Darren Elkins (13-2), UFC 146: May 26
Why you should care
: Brandao is wickedly violent. If you opted to skip the 14th season of TUF, you missed out on Brandao. This kid fights with emotion, for better or worse. He can be a ton to deal with, which is what makes him so fun to watch, but that aggressiveness might get him into trouble against the elite competition he's about to face in the UFC. Elkins would be well advised to not stand at all here. Get this to the ground, control the position and then set up his submission. If he's successful, this fight won't be "Fight of the night", but even so, it should still be a fun battle to watch on the ground if that's where it ends up.
No. 6 -- Zach Makovsky (14-2) versus Eduardo Dantas (13-2), Bellator 65: April 13
Why you should care
: Everybody likes a prospect and at the age of 23, Dantas (13-2) is one of the best in all of MMA. The Brazilian will record more than his share of highlight-reel finishes (see the flying knee finish over
Wilson Reis
) -- but more importantly, the sky really is the limit considering how polished he is at such a young age. He'll face one heck of a test in Makovsky (14-2), who is eager to defend the 135-pound belt for the first time since winning it in October 2010. Both guys are well-conditioned and difficult to finish. This will be a good one.
No. 5 -- Michael McDonald (14-1) versus Miguel Torres (40-4), UFC 145: April 21
[+] Enlarge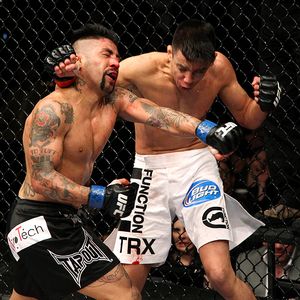 Jed Jacobsohn/Zuffa LLC/Zuffa LLC via Getty ImagesWe'll know soon enough how much Miguel Torres, right, has left in the tank.
Why you should care
: What is Torres at this point in his career? Is he still a legitimate bantamweight contender or has he, on the verge of entering his 45th (documented) professional fight, lost a step? It's unclear. One thing we
do
know is he'll be crazy motivated for this one. No one doubts the former champ at the age of 31, but things have never quite been the same for him since that
Brian Bowles
right hand. If he wishes to return to the glory days, Torres needs this one. Add in the fact he and McDonald are naturally aggressive, and this could be a headliner-quality fight.
No. 4 -- Leonard Garcia (15-8) versus Matt Grice (14-4), UFC on FX 3: June 8
Why you should care
: It's Leonard Garcia. Even if you hate on the way he fights, you can't hate on the action that comes because of it. Why do kids crowd around a fight in the schoolyard? Because it's going to look like a Leonard Garcia fight. No feinting the jab to set up the double leg to set up the ground-and-pound to set up the decision victory. This is "let's go, my will versus yours, hit me so I can smile and hit you back." Would you want a full card of this? Probably not. But if you're a UFC fighter, do you want to compete on the same card as Garcia? No. Because that's one less bonus available at the end of the night. And even if Grice isn't willing to fight a Garcia-type fight, there's always the good chance he'll get sucked into it. Garcia's opponents usually do.
No. 3 -- Alexandre Bezerra (13-1) versus Marlon Sandro (21-3), Bellator 64: April 6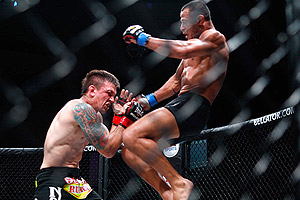 Al Quintero/Sherdog.com Win or lose, Marlon Sandro always brings it.
Why you should care
: This is just an awesome fight. These two Brazilians are fun to watch and either one would be a good future opponent to featherweight champ
Pat Curran
. Sandro is dialed in after that loss to Curran last August and is bent on a rematch, which everyone must earn the hard way in Bellator's tournament format. Standing in his way is a very confident Bezerra, who is looking for easily the biggest win of his career. These guys move well around the cage and are offensive minded, which can, at times, lead to defensive lapses. A finish is likely, but not before what should be some terrific back-and-forth action.
No. 2 -- Edson Barboza (10-0) versus Evan Dunham (13-2), UFC 146: May 26
Why you should care
: You're about to watch five straight heavyweight fights on pay-per-view and that's either really awesome or really scary. Get a lightweight appetizer before hitting the heavyweight buffet. Terrific matchmaking by the UFC here. Barboza is a bright prospect, but he's not invincible. He's managed to squeak out decisions when he's had to, but he hasn't had to do it against anyone as crafty or well rounded as Dunham. On the other side, Dunham has pretty much lost just one fight -- to
Melvin Guillard
-- where he was overwhelmed by speed, which Barboza has. They are perfect tests for each other.
No. 1 -- Ross Pearson (13-5) versus Cub Swanson (16-5), UFC on FX 4: June 22
Why you should care
: This is not just my favorite "under the radar" fight, this is one of my favorite fights of the entire summer. Period. Swanson has his swagger back, completely, for the first time since the eight-second loss to
Jose Aldo
in 2009. Not to say he had become shy in the cage, but in his last few fights you can see him visibly enjoying himself out there and he's stringing together some insanely fluid offense because of it. He figures to be the quicker man, but Pearson, a former lightweight, is a bull. He'll walk Swanson down, go to the body and set a furious pace -- all to slowly break down his opponent's speed advantage. I don't see this being anything but a standup fight. Swanson will dazzle with flash here and there, but Pearson will wear it and respond with his own combinations. This has the makings of a special fight and I think it will be largely ignored during that week.
January, 4, 2012
1/04/12
7:34
AM ET
England's
Ross Pearson
is ready to do anything to prove he is worthy of a UFC title shot, even if it means officially welcoming Diego Brandao to the featherweight division.
More »
December, 21, 2011
12/21/11
7:34
AM ET
The UFC is braced for a brand new version of
Ross Pearson
on Dec. 30, a version that is 10 pounds lighter and obsessed with earning a title shot.
More »
July, 1, 2011
7/01/11
8:19
AM ET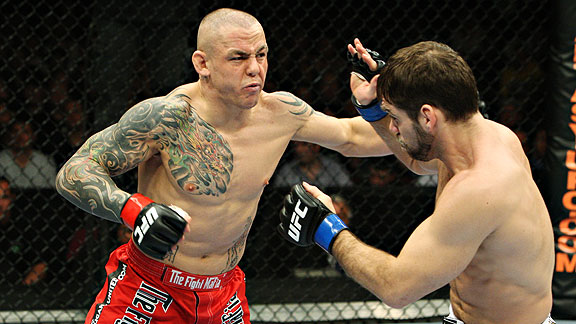 Josh Hedges/Getty ImagesYou can count Ross Pearson as one of Dominick Cruz's believers.
Ross Pearson
has sent a chilling warning to
Urijah Faber
ahead of the UFC 132 main event, warning him that
Dominick Cruz
is "an absolute machine" whose physical capabilities are "unbelievable."
More »