July, 9, 2013
Jul 9
11:35
AM ET

By Chuck Mindenhall
ESPN.com
Archive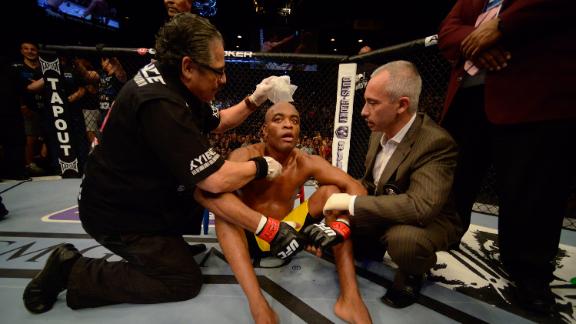 There was a long moment after
Chris Weidman
became the UFC's new middleweight champion that Ed Soares, the longtime manager and friend of
Anderson Silva
, stood staring at the cage at MGM Grand. He looked devastated. Crestfallen. The empire he had lorded over had just crumbled before him, and just like that, it all became merely a dream. Only it was a dream that now belonged to somebody else.
It wasn't just the fact of it happening, because Silva one day losing was a long enduring inevitability. We all knew at some point he'd fall. He wasn't going to win forever.
It was the
how
.
Silva rolled out the red carpet for Weidman to come forward and touch his chin under the lights for everyone to see. Only thing Weidman could do was oblige. He wasn't falling for the hocus-pocus like so many who went before him. He was bent on wresting that belt from Silva's grip.
And he did just that.
In a sequence that will forever go down as one of the most bizarre, intense and humiliating in UFC history, the 38-year-old Silva dropped his hands and dodged bullets in the second round. The showman in him trusted his reflexes to steer clear of danger, as he'd done plenty of times before. He postured and egged the challenger on, and strafed Weidman with the occasional fast-twitch jab. "Come on," he kept saying, waving Weidman in. Was he psyching Weidman out, or psyching himself up? Like Muhammad Ali, there's no distinguishing between the two. UFC president Dana White later said all that was just "Silva being Silva."
[+] Enlarge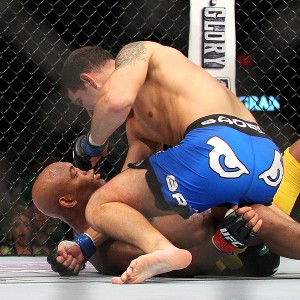 Ed Mulholland for ESPNThough they had seen him through fire before, Anderson Silva's antics fell flat against Chris Weidman.
Yet everyone knows that Silva being Silva is more complicated than it should be. He is, after all, duplicitous. He pretended his knees buckled when a left rolled off his brow. Mockery. What he was saying was clear: "That's all you got?"
Weidman, the intended target of the humiliation, kept forward.
Seconds later he clipped Silva, and down went the boogeyman of the division. Who'd have thought that Silva would cough up his belt to something as awkward as this:
antics that backfired spectacularly
. It wasn't the way people imagined it might happen. Seven years of reign and myth all came down with him. The centerpiece to the "superfight" drama of the past couple of years went down, too. So did the stadium shows and a streak for the ages. Weidman cleared out the superfight division with an engraved left.
Everything else evaporated before our eyes. Like water.
So what do we make of the whole thing, a couple of days later? It's open season for opinions.
Maybe it was hubris that caused the showboat to capsize. Maybe it was Weidman's cool, his refusal to be baited into something dumb. Maybe Silva is finally his age, getting too old for adjectives such as "sublime." Maybe he knows it. Maybe he knew Weidman was a greater threat the whole time, and was carrying self-doubt into the Octagon. Maybe the wig-out was pressure coming to the surface, or he was thinking about
Roy Jones Jr.
sitting cageside. Then again, maybe Weidman is just
that good
. Maybe Weidman never loses again, or he just has Silva's number. Maybe he just got caught, as
Mark Munoz
said after the fight.
The plain fact is this: It was hubris that got Silva knocked out, and it's hubris that will bring him back in. You think a champion of his ability and legacy is going to go out like that? No way. Moments after the fight, he said he had no pressing need for a rematch. That rare moment is no time to take a man at his word.
Wait until the whole thing sinks in. That he got clubbed after all but sending out an embossed invitation for Weidman to do it. That had he presented himself as a "ballet of violence," as Joe Rogan once famously said, instead of a willing participant to his own downfall. That he could have run his streak to 17-0 in the UFC, and made Weidman look as green as they said he was.
No, it won't take long for pride to report, even if Silva does take some time off. That might be what's needed after suffering his first loss in 17 UFC fights. In the time it takes him to realize he wants his belt back, there will be a new landscape to think about. All of the guys who lost to Silva and had little chance of getting another shot at the belt have been reinvigorated overnight. The new sheriff has so little history. He barely has an ounce of Silva's mystique -- even if he's carrying that mystique around Long Island today in his back pocket.
One thing is certain, though. Silva losing has its own fascination. How does he respond? Does he come back in no-nonsense form like when he was downing
Chris Leben
and
Rich Franklin
? Or was UFC 162 the dreaded day that began Silva's undoing?
These are all of the new narratives. And we'll have to contemplate them along with Ed Soares until they come together again. When they do, it'll be Silva who walks out first. And that in itself is very strange indeed.
July, 5, 2013
Jul 5
10:15
AM ET

By Brett Okamoto
ESPN.com
Archive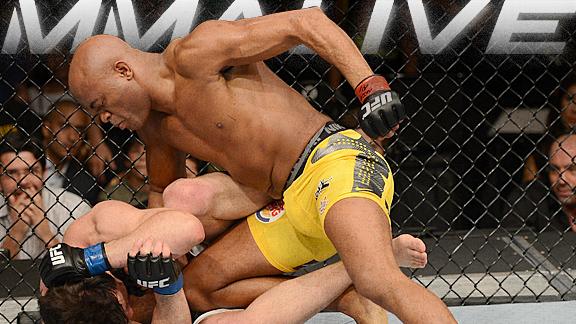 LAS VEGAS -- There is no rematch clause in the fight contract between
Anderson Silva
and
Chris Weidman
, as far as anyone knows -- at least not officially.
Weidman has become a popular pick among the MMA community to hand Silva his first UFC loss at UFC 162 this weekend. Since signing with the promotion in 2006, Silva has won 16 consecutive fights, including 10 title defenses -- both records.
If that streak comes to an end at the MGM Grand Garden Arena, UFC president Dana White says an immediate second fight between the two is a done deal.
"The rematch is a no-brainer," White said. "Should Anderson Silva lose his first ever in the UFC since 2006, you're damn right we'll do the rematch.
"If he loses on Saturday, you guys can go out and print: The rematch will happen. I don't know what date, but it's coming."
Silva (33-4) signed a new 10-fight deal earlier this year. He's 38, so there is a strong possibility he'll never finish that deal, a scenario even White acknowledges.
At this stage in Silva's career, White says, the middleweight champion is most interested in big-money fights. While an instant rematch with Weidman is guaranteed if Silva loses, the options open up considerably if he wins.
White and Silva have made no secret the top choice is welterweight champion
Georges St-Pierre
. White initially wanted that fight booked in November, but St-Pierre opted to take a title defense against
Johny Hendricks
instead.
White says he's tried to make Silva-versus-St-Pierre enough to say with confidence St-Pierre doesn't want it.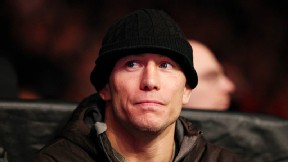 Ed Mulholland for ESPN.comGeorges St-Pierre will be watching on Saturday, but don't expect him to fight Anderson Silva next.
"There's no doubt about it. That's a fact," White said. "If that was the case, [St-Pierre] would say, 'I'll take that fight. I think Weidman is going to beat him and I don't want Weidman to have that fight. I want to beat him.'
"At the end of the day, [St-Pierre] weighs 170 pounds. If he weighed 185 pounds [middleweight] and felt that way, I'd be real pissed."
Previously, White has hinted that any fight between champions would take place within a weight class with a title on the line, but he has since softened that stance, opening the door for a potential catchweight fight.
"It was always, for me, a pound-for-pound fight -- a huge legacy fight," White said. "Who is the greatest of all time? They could both hold their titles. Georges St-Pierre could do this fight and still be the champ at 170.
"What's crazy to me is St-Pierre opted to take a very dangerous fight at 170 without trying to take a dangerous fight at 185."
Roy Jones attending UFC 162, still a Silva target
Amazing as it sounds, a nonsensical fight between Silva and former world champion boxer Roy Jones Jr. actually might have legs.
For years, Silva has publicly stated his desire to get in a boxing ring with Jones. In a recent interview with MMAjunkie.com, Silva said he'd actually prefer that fight to a UFC superfight against fellow champions St-Pierre or
Jon Jones
.
Picturing Silva getting into the ring with Roy Jones Jr., 44, is difficult. Silva's UFC deal prevents him from doing so on his own. And certainly the promotion would never be interested in having it in the Octagon -- would it?
"Roy and I are talking," White said Thursday. "Roy is coming here on Saturday."
Jones, 56-8 as a professional boxer, hasn't fought since a 10-round split-decision victory over Pawel Glazewski in June 2012. He serves as a commentator for HBO and has been involved with the camp of Canadian light heavyweight Jean Pascal.
In 2010, the UFC promoted a light heavyweight bout between
Randy Couture
and former world champion boxer
James Toney
at UFC 118. Toney was embarrassingly unprepared, losing via submission in the first round.
White wouldn't go into details on what, if any, agreement might be reached to make Silva's wish a reality. He acknowledged, though, how serious Silva is about it.
"It makes no sense to me," White said. "These guys, when they grew up they had their heroes or whatever their deal is. It's something they want to accomplish. This is something Anderson Silva wants to do."
White says a Vitor Belfort rematch is a tough sell to Silva
Vitor Belfort, who likes to point out he doesn't ask for fights, has asked for a fight.
This week via Twitter, Belfort sent a message to White requesting either Silva or Weidman, adding, "I deserve the winner!"
Belfort (23-10), who is on a four-fight winning streak in the 185-pound division, is unlikely to get his wish.
If Weidman wins, White already has said there will be an immediate rematch. If Silva wins, well, Belfort had his shot at that fight. It didn't go well.
"The hard position Vitor is in, [Silva] went out and kicked him in the face in one of the most devastating knockouts of all time," White said.
"So when you go back to Anderson Silva in the twilight of his career and say, 'Hey, what about Vitor?' 'I annihilated Vitor. I want to fight other people.' "
White wouldn't rule anything out when it comes to Belfort's future, even adding, "I'm not saying Vitor can't get the next shot or get a shot soon," but in terms of what's next in Silva's career, it's clear Belfort doesn't top the list.
April, 22, 2011
4/22/11
6:20
AM ET

By Franklin McNeil
ESPN.com
Archive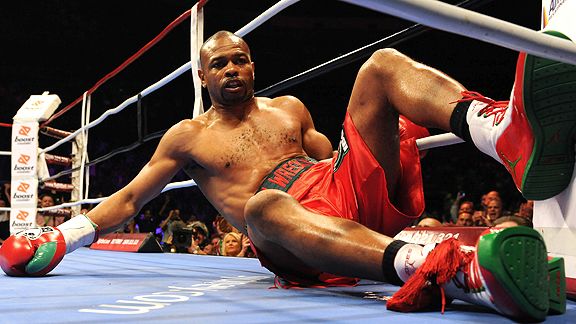 Torsten Blackwood/AFP/Getty ImagesRoy Jones proved even the most talented fighters should make careful decisions with their weight.
It's time to tone down the volume on any talk of UFC welterweight champion
Georges St. Pierre
moving up middleweight.
He isn't close to making a decision on that matter. Besides, St. Pierre refuses to think of exiting the 170-pound class until he defeats
Jake Shields
.
The two meet April 30 at UFC 129 in Toronto. St. Pierre has prepared diligently for this showdown, but isn't guaranteeing victory. He expects to win, but in case things don't go his way, St. Pierre already has a Plan B in place. And it doesn't involve fighting current UFC middleweight titleholder
Anderson Silva
.
"If Jake Shields is a better fighter than me, I don't control that," St. Pierre said on Thursday during the UFC 129 conference call. "The fight will happen, and the best man will win.
"I did my best. The things I can control, I did everything so that I can be at the top of my game. I claimed that [belt] twice before, and if I have to claim it a third time, I will do it."
If St. Pierre successfully holds off Shields, it won't be enough to force him out the welterweight door. He has stated previously that a move to 185 pounds would be permanent.
The reason: St. Pierre must add muscle to compete at 185, but would have to cut that muscle to fight again at welterweight. St. Pierre has given no indication he is willing to completely abandon the welterweight division. And he's seen the devastating impact cutting muscle had on the careers of other great fighters.
"Right now, I am a 170-pounder," St. Pierre said. "If I were to fight at 185 pounds, it would be a complete reorientation of my career.
"We've seen [it] in the past with boxers like Roy Jones Jr. In my opinion, what ended Roy Jones' career-winning streak, was when he went up in weight and tried to go back down. It's not the fact that he went up; it's when he tried to go back down that messed him up.
"For me, it's a good example because Roy Jones was known as one of the best of all time before he started losing. It makes me think twice sometimes [about changing] weight; it's not really going up that hurts you, sometimes it's to go [back] down."