December, 24, 2013
12/24/13
11:12
AM ET
By Andrew R. Davis
ESPN Stats & Information
Archive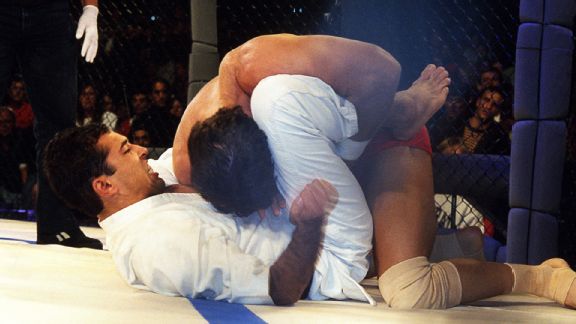 Nagao SusumuThe "Gracie challenge" laid the groundwork for what became the Ultimate Fighting Championship.
The UFC was to crown its first ever superfight champion on April 7, 1995, at UFC 5.
Royce Gracie
, the three-time tournament champion against
Ken Shamrock
, whose only loss was to the Brazilian jiu-jitsu master at UFC 1 in just 57 seconds. The two men fought for 36 minutes, with Shamrock gaining a takedown shortly into the fight and holding top position for the remainder of the 31-minute period. A five-minute overtime settled nothing and the fight was declared a draw. Despite being in top position, Shamrock landed 10 significant strikes (98 in total). And so began the legacy of the UFC rematch.
Over its 20-year history, the UFC has had more than 100 rematches. Some bouts such as Gracie versus Shamrock have changed the course of UFC history.
Battles that Changed History
UFC 52: Couture vs. Liddell 2
[+] Enlarge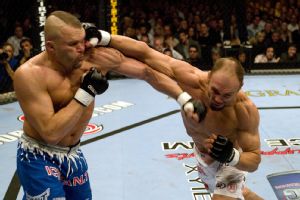 Josh Hedges/Zuffa LLC/Zuffa LLC/Getty ImagesChuck Liddell, left, stopped Randy Liddell in the 1st round to win the UFC light heavyweight title in their rematch.
After coaching the first season of the Ultimate Fighter,
Randy Couture
versus
Chuck Liddell
2 took place almost two years after their first matchup, won by Couture. Couture was poked in the eye early on, but after being checked by the doctors, the fight continued. Couture went on the offensive, but it was Liddell who would counter and knockout "The Natural" at 2:06 of the first round to win the UFC light heavyweight title. Liddell would avenge another loss in his first defense against
Jeremy Horn
, then defeat Couture,
Renato Sobral
and rival
Tito Ortiz
before falling to
Quinton "Rampage" Jackson
at UFC 71. Both Liddell and Couture would be inducted into the UFC Hall of Fame.
UFC 65: Hughes vs. St-Pierre 2 (aka Bad Intentions)
Matt Hughes
had defended his UFC Welterweight Title twice when he fought
Georges St-Pierre
for the second time at UFC 65. Hughes won the first matchup at UFC 50 by way of armbar, with one second remaining in the opening round. In the rematch, St-Pierre dominated, outstriking Hughes 45-10 and landing a brutal head kick and punches to dethrone the champion. Hughes would fight St-Pierre at UFC 79 and lose again, his last shot at a UFC title.
UFC 77: Silva vs. Franklin 2 (aka Hostile Territory)
[+] Enlarge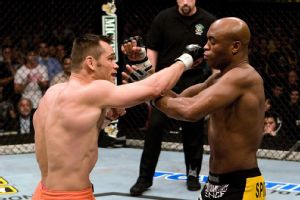 Josh Hedges/Zuffa LLC/Getty ImagesAnderson Silva, right, destroyed Rich Franklin in their rematch, finishing him in the 2nd round to keep the UFC middleweight title.
In 2006,
Anderson Silva
was relatively unknown to the UFC audience when he UFC fought
Rich Franklin
, who was making his third title defense. Silva destroyed "Ace" in the clinch, landing 26 of 28 strikes, ending with a devastating knee at 2:59 of the first round. The rematch would take place in Franklin's hometown of Cincinnati, Ohio, and the result was just the same. Silva was 27 of 29 from clinch position, ending the fight with knees to the body at 1:07 of Round 2. Silva would defend the title eight more times before being knocked out by
Chris Weidman
at UFC 162, leading to Saturday night's rematch.
UFC 100: Lesnar vs. Mir 2
By November 2008,
Brock Lesnar
had become the UFC heavyweight champion. But there was one man who had his number:
Frank Mir
. Mir defeated Lesnar by heel hook at UFC 81, and after Mir became interim champion, it set up the rematch at the UFC's century mark event. Lesnar would control the action from the opening bell, bloodying Mir and outstriking the interim champ 47-4 in significant strikes. Lesnar would make one more title defense before health issues and losing the title led to his departure from MMA in 2011.
UFC 100 would be a night of redemption for Lesnar, much like these rematches.
Battles of Redemption
UFC 49: Belfort vs. Couture 2 (aka Unfinished Business)
Randy Couture was the UFC light heavyweight champion when he defended his title against
Vitor Belfort
at UFC 46 in January 2004. The end of the fight was marred in controversy when the doctor halted the bout just 49 seconds into the opening round because of a cut on Couture's eyelid from a Belfort punch. Belfort was awarded the title because of the doctor stoppage, resulting in an immediate rematch in August. In the rematch, Couture gained two takedowns and damaged Belfort on the ground, ultimately leading to a doctor's stoppage after the third round. Couture landed 33 of his 50 significant strikes on the grounded Belfort.
UFC 63: Hughes vs. Penn 2
UFC 46 also saw another title change in the co-main event when
BJ Penn
submitted Matt Hughes to win the UFC welterweight title. Penn would leave the UFC because of contractual issues, but would return in March 2006. He would again fight Hughes at UFC 63, but the result was much different. Hughes was the UFC welterweight champion, and proved why in defeating Penn by TKO stoppage in the third round. They would rematch once more in 2010 with Penn winning by KO 21 seconds into the fight.
UFC 83: Serra vs. St-Pierre 2
[+] Enlarge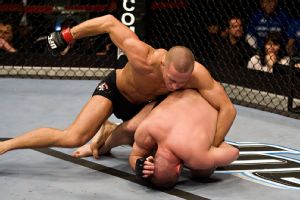 Josh Hedges/Zuffa LLC/Getty ImagesAfter losing to Matt Serra at UFC 69, Georges St-Pierre stopped Serra in the rematch a year later to regain the UFC welterweight title.
There's something about UFC upsets and guys from Long Island. Long before Weidman and Silva, there was
Matt Serra
. Serra won season 4 of the Ultimate Fighter, meaning he would get a crack at Georges St-Pierre and the UFC welterweight title. Serra would pull the upset, but eventually would face St-Pierre again at UFC 83. The rematch was again one-sided, this time to "GSP" as he took Serra down four times and landed 42 significant strikes to Serra's three en route to a second round stoppage due to knees. St-Pierre would remain the UFC welterweight champion until vacating the title on Dec. 13.
UFC 148: Silva vs. Sonnen 2
The matchup against Weidman will be Silva's third rematch in his MMA career. In his second set of rematches in 2010 and 2012, Silva fought
Chael Sonnen
and picked up two victories. But the first fight was three minutes away from going to Sonnen. At UFC 117, Sonnen gained takedowns in each of the first three rounds and had Silva on his back in the final round up on the cards when Silva forced a tap out with a triangle choke and armbar. Many thought Sonnen had Silva's number when the two would rematch at UFC 148, but the Brazilian had other ideas. Sonnen landed 76 total strikes on Silva while the champion threw just two, missing both. But Silva battled in Round 2, eventually striking after a Sonnen slip and finishing the fight with knees against the cage.
All of those battles took place over time, but some rematches remain timeless for their bad blood and exciting results.
Timeless Rematches
UFC 61: Ortiz vs. Shamrock 2 (aka Bitter Rivals)
While
Ronda Rousey
-
Miesha Tate
may be the preeminent feud of today's MMA, it all started with Ortiz and Ken Shamrock. The two fought at UFC 40 in 2002, at the time the most watched UFC PPV of all time. The fight was one-sided as Ortiz dominated Shamrock for three rounds before the fight was stopped. The rematch took place 3 1/2 later at UFC 61 after the rivalry reignited on Season 3 of the Ultimate Fighter. Ortiz, in the middle of his career, beat the aging Shamrock with strikes 68 seconds into the first round. They would rematch in October 2006, and again Ortiz pounded Shamrock into a stoppage. But the rivalry and the bad blood is what kept the feud going for almost 10 years.
UFC 66: Liddell vs. Ortiz 2
[+] Enlarge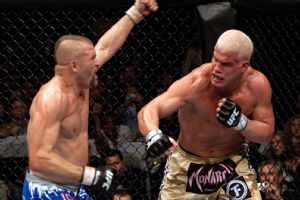 Josh Hedges/Zuffa LLC/Getty ImagesTito Ortiz, right, wasn't able to avenge his defeat to Chuck Liddell, falling again in the rematch 2 and a half years later.
Ortiz made another enemy in Liddell in 2004 when the two met at UFC 47. Liddell outlanded Ortiz in both rounds of the fight, eventually putting the "Huntington Beach Bad Boy" down with strikes at 38 seconds into Round 2. The rematch would take place almost 2 1/2 years later at UFC 66 for Liddell's light heavyweight title. Liddell's striking was again on display, landing 49 significant strikes to 21 for Ortiz. The end came in the third round with Liddell in mount position raining strikes down on Ortiz. The two were scheduled to fight at UFC 115 after coaching Season 11 of the Ultimate Fighter, but Ortiz was injured and replaced by Rich Franklin.
UFC 71: Liddell vs. Jackson 2
In 2003, Liddell was sent to Japan by the UFC to represent the company in the PRIDE Middleweight Grand Prix. Liddell would face "Rampage" Jackson in the semifinals and the winner was expected to face
Wanderlei Silva
in the final. Jackson would defeat Liddell by TKO due to corner stoppage in the second round. Fast forward to 2007, and Jackson became the No. 1 contender to Liddell's UFC light heavyweight title. Once again, Jackson would catch Liddell with big punches, putting him to the mat and winning the bout 1:53 into the first round.
UFC 125: Edgar vs. Maynard 2 (aka Resolution)
The rivalry between
Frankie Edgar
and
Gray Maynard
began in April 2008, when Maynard beat Edgar by unanimous decision. Edgar would go on to win the UFC lightweight title from Penn in April 2010 and would defend it against Penn in August. After winning that rematch, it was time for UFC 125 and a rematch against Maynard, the only man to beat him. Edgar was knocked down three times in the opening round and Maynard looked to be on his way to another win. But Edgar battled back, outstriking Maynard 95-71 in significant strikes and earning a split decision draw. The two men would fight one more time in October 2011, but this time the clear winner was Edgar by fourth-round knockout.
This Saturday night, UFC 168 is headlined by not one, but two of these rematches. Will they be battles of redemption for the challengers, Silva and Tate? Or will Weidman and Rousey continue to cement their places as champions and put their foes out of the title picture for good? Either way, these fights will become part of the ever growing legacy of the UFC rematch.
June, 10, 2013
6/10/13
12:07
PM ET
LOS ANGELES -- On Saturday night, it took UFC on Fuel 10 -- a card where the martial arts were very much mixed -- exactly 1:52 to produce its first submission. On Sunday, it took Metamoris II, a no-points jiu-jitsu showcase specifically geared toward submissions, approximately 108 minutes before anybody tapped.
Oh, the irony.
The "anybody" who tapped in this case was none other than
Shinya Aoki
, who fought aggressively against Kron Gracie in the main event yet got caught at the edge of the apron with a guillotine. Gracie was aided by a spectator who came over, stood at the lip of the elevated platform just as the fighters were about to topple over and presented his back as a barrier.
[+] Enlarge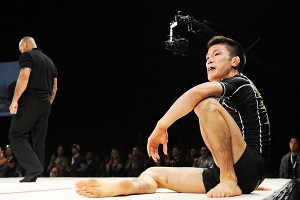 Courtesy James LawDespite a losing effort, Shinya Aoki brought recognition and a top-quality MMA product to Metamoris II.
Was it legal? Who knows. The referee was watching the choke. It looked like Aoki might have been trying to drag the action out of bounds to temporarily get rid of the lock around his neck. But it worked out for Kron Gracie, who finished the match seconds later. Now he's 2-0 in Metamoris (his first victory came over Otavio Souza at Metamoris I). As for Aoki, the spectators appreciated that he passed guard and went for submissions. He played the game the right way (aggressively).
Which was sort of the whole point, exactly how it's supposed to work and just the way everybody imagined it.
The second Metamoris event was well-run and pretty interesting. Part of the allure was names like the UFC's
Brendan Schaub
and Dream's Aoki -- people with followings in MMA -- to direct some crossover appeal to what amounts to a Brazilian jiu-jitsu exhibition. In that way, Metamoris is the full-circle return to what the Gracie family introduced to the UFC 20 years ago, stripped of all the violent frills.
The legend himself,
Royce Gracie
, was on hand to accept a lifetime achievement award at UCLA's Pauley Pavilion. It was him who ruled UFC's 1-4 and proved the old Gracie Academy flagship that jiu-jitsu is a "triumph of human intelligence over brute strength." Now he and his nephew
Ralek Gracie
have made Metamoris all about that jiu-jitsu in its purest form. And instead of eight matches going on simultaneously (how traditional jiu-jitsu events are normally executed), it was one match, front and center, where the game of "kinetic chess" could play out for all to see.
How did it come off? One curious onlooker said it's like "watching a couple of the NBA's sharpshooters play Horse rather than compete in a game." A description like that hardly justifies the $19.95 asking price of the Internet pay-per-view. As tempting as it is to agree with an assessment like that, it also feels a little extreme. ESPN.com's Josh Gross, who was on hand, said it better -- "for MMA fans it's like going to the opera."
There was something operalike going on with Metamoris, right down to the cathedral hush that came over things as each fight started.
In fact, it almost felt the like the exact opposite of your typical MMA event. It was so quiet through fights that you could hear the zip of the bare feet on the mat. The audience -- made up of Gracie students, Gracies themselves, celebrities of many stripes, and plenty of the hardcore curious -- was thoroughly tuned in to the technical side of what was playing out. When somebody tried to advance their position or pass guard, the cheers were passionate and informed. When
Andre Galvao
and Rafael Lovato Jr. toiled relentlessly for inside grip, the keener eyes knew. Ditto when Rodolfo Vieira finally passed Braulio Estima's guard 10 minutes into the project.
People were several steps ahead, watching the set-ups, seeing the intentions unfold and be thwarted. As it should be with a fluid sport. The idea is to educate the eye. Jiu-jitsu's tension ebbs and flows through anticipation.
Yet, when the UFC's Brendan Schaub refused to go to the ground with Roberto "Cyborg" Abreu, the hecklers came alive in the tense quiet and let him know. Schaub, who forced Abreu to butt-scoot for nearly 20 minutes (and occasionally drift off in siestas, it seemed), said he was playing it smart.
"I make my living in the UFC," he said. "If he takes my leg, I'm not going to be able to make a living. I'm not letting the crowd pressure get to me. If I do that, he's taking home my leg."
Abreu left empty-handed, but was given the decision. Schaub got a workout in ahead of his UFC fight with
Matt Mitrione
in July (Mitrione was in attendance, too). In the six bouts, two were draws, three were black-and-white decisions, and only the last one ended in a tap. Four of the battles were in gi, and two without.
Did Metamoris II achieve what it wanted in drawing more attention to the technical battle of the ground game? Probably. At least for those who watched. If you go in for bloodsport, this might have been a little too specific, but it couldn't help but inform MMA fans just how many layers an MMA practitioner must have to be a complete fighter. For the hardcores in attendance (and there were plenty), the slick jiu-jitsu on display further distanced what they already know to be true from the casuals who have no idea.
All in all, not a bad second showing by Metamoris. The matinee setting with the ominous red lighting gave the thing the right feel. The final "bell" to each fight sounded like a baby grand crashing to the ground from eight stories. That couldn't help but jar the onlookers. And really, it was necessary from the trancelike state that comes with watching a 20-minute battle between two honed specialists in the very specific field of Brazilian jiu-jitsu.
At some point, Metamoris believes, more people will know exactly what they're watching.
June, 1, 2013
6/01/13
12:15
PM ET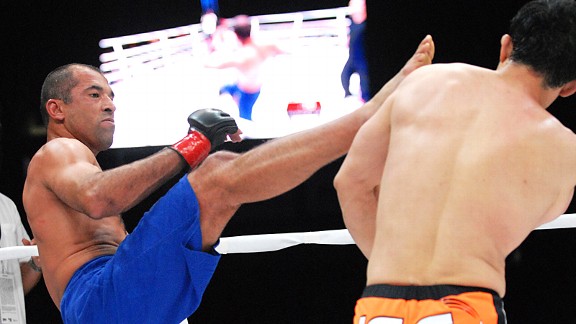 Bob Riha Jr/Getty ImagesMMA pioneer Royce Gracie is hoping to resurrect the spirit of the old UFC/limited rules days.
In the sheer spectacle days of those first UFCs, when things were barely above ground and still so merrily ominous,
Royce Gracie
struck a chord with the everyman. He was, at first blush, nothing more than a very unimposing skinny dude in a gi. He was any of us.
Yet, unlike most of us, he entered a tournament of strongmen and brutes in 1993 and wrecked them all. This was very easy to admire. He did the same thing in the spring of 1994, at UFC 2. In fact, UFC's 1-4 were all about the cult of Royce and, in turn, his father, Helio, and all Gracies. At UFC 5, Royce fought a 36-minute round with
Ken Shamrock
.
To this day, that remains the UFC's most unbeatable record (even seven five-minute rounds doesn't get there). Yet, even then, it wasn't the most unthinkable. For that, he battled Japan's
Kazushi Sakuraba
for 90 minutes in PRIDE, which made Andy Bowen's 111-round boxing match with Jack Burke back in 1893 seem somehow less fictional.
These feats are part of the reason 46-year-old Royce Gracie is an icon in MMA. Half the UFC's current roster wouldn't be fighting if Royce hadn't shattered our notions of what's effective in a "no holds barred" fight. Most discovered him through VHS and morbid curiosity. Many discovered Brazilian jiu-jitsu -- that game of "kinetic chess" -- at the same time. Here was Royce Gracie, forgoing the violent impulse through the world's bloodiest assembled bracket, presenting a trump card to bullydom with superior technique.
His secret has long been out, but in a roundabout way, Metamoris II --happening June 9 at UCLA's Pauley Pavilion -- is a return to the spirit of the early UFCs. It's trying to get at the original muse, as filtered through the Gracie lineage. Only, rather than being a proving ground for the gamut of opposing disciplines, it's been honed to take the training wheels off of grappling tournaments specifically. Royce's nephew
Ralek Gracie
came up with the idea. And that idea, in its relative infancy, is this: Metamoris seeks to bring Brazilian jiu-jitsu closer to "as real as it gets."
That means getting rid of points.
"Ralek and I talked a lot ... about it, and the thing is, martial arts in general were not built for points," Royce told ESPN.com. "Martial arts in general, besides maybe tai chi -- which is more for meditation -- were built for self-defense. It was for a street fight situation, not to score a point. Sometimes you watch a tournament with a point system, and it's not the best fighter that wins. It's the guy who scores more points and then he runs away and hides. So Ralek took away all the points. There's no point system."
In a nutshell, Metamoris combines the totality of a fight with the technical side of grappling. Stalling strategies, so common to BJJ tournaments, aren't rewarded. As Ralek points out, "submissions are the only goal." If a submission can't be pulled off in a single 20-minute round, the three judges -- all of them known Brazilian jiu-jitsu practitioners, whom Ralek refers to as "curators" -- conspire to pick a winner. There are no draws.
"That's how it should be," Royce says. "The three referees watch the match like a spectator would. Like a fan. Just observing. And, since there's no points, they'll decide who controlled the fight the most."
Metamoris II, a PPV event being offered on the Metamoris site for $19.95, will feature some brand names in MMA and will split six bouts between gi and no-gi action. UFC heavyweight
Brendan Schaub
will face Roberto Abreu, and the main event pits DREAM and OneFC lightweight champion
Shinya Aoki
against Kron Gracie, also in a no-gi fight.
"Aoki is a very tough opponent," Royce says. "He finishes all his fights by submission, so he likes to submit people. And not just submit them but break them. He's always breaking people's arms, and people tap and he keeps hanging onto it."
[+] Enlarge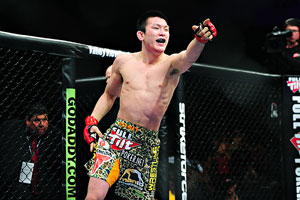 Mark J. Rebilas for ESPN.comFighters like Shinya Aoki will likely benefit from Metamoris' pro-aggro/no-points approach.
And here, Royce laughs a little sadistically. "It'll be good."
The other three fights are gi matches:
Braulio Estima
versus Rodolfo Vieira, Mackenzie Dern against Michelle Nicolini and
Andre Galvao
against Rafael Lovato Jr. -- heavy hitters in the jitz world. All fighters will weigh in the morning of the show, yet there aren't strict weights that a fighter must adhere to. It'll be ballpark. Very loose and negotiable. Very Gracie.
"In the future, we'll have weight classes and belts, but we might also have an open-weight division, too, where a guy who's 250 pounds could fight a guy who's 150 pounds."
Ring a bell? That sort of matchmaking harks back to Royce's heyday. Yet Royce, 20 years after making his mark, just wants to see his bread-and-butter discipline in a more realistic context.
"If somebody comes up and pinches your girlfriend on the behind, you're not going to say, 'Hey, hold on, honey, I'll take care of this,' then turn around and say, 'How much do you weigh?' Royce says. "In a street fight situation, there's no weight division, there's no time limits."
There is a time limit in Metamoris, but the design is to show off the entire game within the game of Brazilian jiu-jitsu. Striking is prohibited, which allows the many branches and dialects of grappling to stand out.
"What I personally love is that each competitor can come in with his or her own style, and use that style to best of their ability, and not get judged for things like being on bottom," Ralek says. "I like that we're going to see a full spectrum of jiu-jitsu. Points systems can't help but create the style that people come in with, which makes it one-dimensional. And that's all backwards because jiu-jitsu is multidimension."
That's a lot of high-minded concepts under one roof. Here is a promotion in which judges go off of general gut feeling and the eye-test -- the way a seasoned fan might -- and practitioners are asked to do away with the tactical conservatism of normal BJJ competitions all at once. Crazy? Maybe.
Then again, Metamoris could help educate fans and officials alike with the many intricacies of the ground game -- the one area in MMA where more education is needed.
"Or it could be a disaster and not work at all," Ralek laughs. "But we've got to try."
May, 2, 2013
5/02/13
11:06
AM ET

By Jake Rossen
ESPN.com
Archive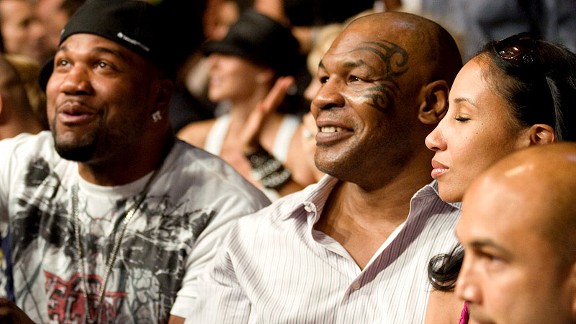 Josh Hedges/Zuffa LLC/Getty ImagesMike Tyson is a fan of mixed martial arts since the early days of Royce Gracie and Ken Shamrock.
Seven years ago, Mike Tyson did what prizefighters are rarely willing or able to do: recognize when their time is up.
A mercurial figure of the '80s and '90s who often courted as much trouble outside the ring as he did inside of it, Tyson walked away from boxing after consecutive losses, telling spectators he refused to disgrace the sport with subpar performances.
"

That'd be an awesome fight from the fans' standpoint. All the fans want to see two invincible fighters from two different weight divisions. It would be very interesting.

"

-- Mike Tyson on a possible Jon Jones-Anderson Silva matchup.
Based on his past indiscretions, many expected him to implode. Retirement, however, had a strange effect on Tyson: Instead of feeling cast adrift, he appeared ecstatic at the prospect of leaving the fight business behind. Cameos in "The Hangover" films and viral videos turned public perception around; removed from the mindset of having to try to tear a man down with his fists, there was little trace of the savage behavior that made him famous.
The story of that transformation is part of "Mike Tyson: Undisputed Truth," a one-man stage show Tyson is currently touring. As he prepares for his final dates in Atlanta, Newark, New York and Wilkes-Barre, Pa., Tyson -- an unabashed fight fan who recently appeared on "The Ultimate Fighter" -- spoke with ESPN.com about the past, present and future of mixed martial arts.
Jake Rossen: You've been touring the show for a few months now. When you started, was the idea of public speaking more nerve-wracking than fighting?
Tyson:
Absolutely. I'm not the most didactic guy when it comes to my linguistics skills. Spike [Lee, the show's director] hired a voice coach, a speech teacher, so I could pronounce the words in a proper fashion. I still sometimes garble my G's and R's, though.
They're ready to film this for television, it's gotten so good. Spike has hinted at it. Though I might talk too much and then he'll say, "Hell, no, we're not going to do it now."
Rossen: You were one of the first boxers to acknowledge mixed martial arts as a legitimate combat sport. Do you remember when you first watched the UFC?
Tyson:
My friends were all at my house one day, and we see these guys promoting these cage fights, right? When everybody was over, people were normally inebriated, so we said, "We're putting this on. We're gonna watch this!" Next thing you know, we're watching
Ken Shamrock
and someone fight. Bang! I'm saying, "This is real, man. This is on!"
We started watching it every time we got the chance. We've been following the guys since [Royce] Gracie, Shamrock, [Dan] Severn. It just kept evolving and evolving.
Rossen: At those early shows, sometimes people in the crowd would hold up signs saying, "Tyson vs. Gracie." What would you think when you saw that?
Tyson:
Yeah! That was so awesome. I love all kinds of fighting. To say I only love two guys putting on gloves and only punching, I would be a moron to say that.
Rossen: Did you ever seriously consider an offer to fight MMA when you were active as an athlete?
Tyson:
Not really, because by the time it took off, I was already doing boxing. This is something you have to start when you're 12 or 13. It has to be a passion. That's the problem with boxing: There's no passion. People want to be record producers, rappers. In MMA, you see that passion.
Georges St-Pierre
, this is all he wants to do. That's why he's so successful.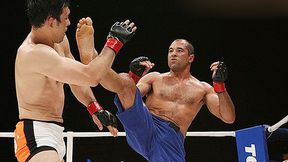 Dave Mandel/Sherdog.comRoyce Gracie changed the face of MMA in the eyes of Mike Tyson.
Rossen: But back in those days, it wasn't so refined. I know it's a hypothetical, but what do you think would've happened if someone had put up enough money for you to fight Royce Gracie? He was a much smaller man.
Tyson:
It doesn't matter. If I hit him with a good punch, OK, but if he gets hold of me and in a position I'm not familiar with, I'm not going to win the fight. I would have to be equipped with grappling skills as well. Gracie changed the whole game around. To be involved in this kind of fight, you have to know that style right off the bat.
Everyone learned his style of fighting. Everything we have now is because of the Gracies taking it to the next level. Their name isn't on it, but that's what it is. It's Gracie Fighting.
Rossen: Have you ever grappled?
Tyson:
Never in my life, no. Unless I had a street fight where I had to grab someone and slam them. [Laughs]
Rossen: There's always talk MMA is set to "replace" boxing. Do you think the two will continue to coexist?
Tyson:
I think there's room for both [MMA] and boxing, but boxing just has too many black eyes. It doesn't have a good image. In MMA, even though people are fighting, they have a good image. Very few of them get into tragic troubles where they're beating people up and stuff.
Rossen: Do you see Jon Jones versus Anderson Silva as MMA's version of Manny Pacquiao versus Floyd Mayweather Jr.?
Tyson:
That'd be an awesome fight from the fans' standpoint. All the fans want to see two invincible fighters from two different weight divisions. It would be very interesting.
Rossen: As a fighter, though, when you have a lucrative win streak going, do you think it makes either of those guys reluctant to do it?
Tyson:
The essence of fighting is this: to push yourself to the limit. Say you get defeated. Do you push yourself to another limit to overcome that defeat? This is what fighting is about. That's why it's such a metaphor for life. Even though you're going to lose and you know you're going to lose, you still have to fight and fight to win.
Rossen: Are you more of a boxing or MMA fan now?
Tyson:
I love MMA and love boxing, but I'm always watching the MMA stuff. With boxing, you don't know if the guy's going to get a [good] decision, you know? In UFC, there's the Ultimate Fighter house -- you cultivate the fighters spiritually, work with them, it's a team effort. In boxing, it's like, "The hell with you." The fighters dislike everybody. The MMA fighters are killing each other and they're friends!
Rossen: You seem to have a good relationship with the UFC. Would you ever consider doing commentary for them if asked?
Tyson:
Absolutely. I would also work in boxing if I could get a chance to clean it up, get it organized and government-operated. It has to be. Look at all the atrocities that have happened in the history of boxing.
Rossen: You've spoken before about being a huge fan of Fedor Emelianenko. Is there one fighter in the UFC you love to watch compete?
Tyson:
It has to be Jon Jones. But I like Anderson Silva, too. And
Cain Velasquez
! He showed what a champion is. He took a humiliating defeat, came back focused and beat
Junior dos Santos
[in the rematch].
I look at MMA totally differently from how the fans look at it. I look at people overcoming adversities. Most guys being knocked out the way Cain was would've lost all of their spirit. He could've come back for a payday and gotten knocked out in one round. Instead, he examined his loss and changed the outcome.
Rossen: There are some parallels there to your own life. You have a charity now, Mike Tyson Cares. What gave you that initiative?
Tyson:
My wife and I were piggybacking on other established charities. We were so happy we were able to put smiles on so many faces, get medication into hospitals, get people educated. We've gotten 7,000 homeless kids medical supplies, school supplies, by piggybacking with these other organizations. It gave us great satisfaction.
I just want to continue to be of service, continue to help people, and do good things in life. I want to have moral achievements more than tangible, physical ones.
January, 31, 2012
1/31/12
12:17
PM ET
Since we're in the business of musing over the clay perceptions of casual fans, you have to wonder how lay viewers took in the
Demian Maia
/
Chris Weidman
fight that opened a national television broadcast on Saturday night.
For instance, if you'd tuned in and saw Maia gassing though parts of the second round and the entirety of the third, you might have thought it was he who had to cut 31 pounds in 11 days to make weight. You might have also suspected that Maia's only chance of beating Weidman was a simple puncher's. After all, he was winging that left with hopes of a homerun.
Maia looked like a one-dimensional fighter, whose single dimension wasn't all that imposing.
Now, if you are anything more than the casual fan, the performance against Weidman begged the question that's been looming since the 21-second knockout at the hands of
Nate Marquardt
in 2009 -- what happened to the Maia of old? Who is this imposter that walks out to "Vida Bandida?" Wasn't Maia the best Brazilian jiu-jitsu practitioner in the game, who for a while there people began referring to as
Royce Gracie
2.0?
Maybe the hackers who have plagued the UFC all week have greater reach than we know. Maybe they have the ability to hack into UFC fighters now, and redirect them from world-class jiu-jitsu players into vague kickboxers. Or maybe Maia was hurt, or sick, or confused. It's possible he was disenchanted that
Michael Bisping
became Chris Weidman. It must be something, but the former No. 1 contender has gone from being 5-0 in the UFC with five ridiculously fluid submissions to 9-4 in the UFC with five ridiculously fluid submissions.
It started by getting knocked out by Marquardt in Portland at UFC 102, and since then in seven fights he's gone the distance seven times. In all of them we've been applauding the slow evolution of his stand-up. Somewhere along the way Maia took criticism of his stand-up to heart, and became obsessed with doing something about it. This seemed obvious. When he surprised
Mark Munoz
a couple of times at UFC 131, we began to think him more than capable on the feet. And he is.
But the problem is Maia has forgotten who he is. A timely reminder on Fox would have been a welcoming relief, but the nonpareil jitz master has changed focus.
It used to be that if you went to the floor with Maia it became a matter of time until you tapped.
Chael Sonnen
,
Ed Herman
,
Jason MacDonald
,
Nate Quarry
-- these guys caught hell for mistakes, for over-aggressiveness, for simply finding themselves on the ground. If Maia was on his back, he would sweep. He was mean in a scramble. He was quick to snatch limbs. If he got your back, it was a matter of time. Maia made guys feel paranoid about being on the ground. He wasn't just good at triangles, he was a Bermuda triangle, where contenders -- wrestlers, boxers and otherwise -- disappeared.
Now Maia's jiu-jitsu has gone AWOL, and it's curious. Even the threat of it has vanished.
[+] Enlarge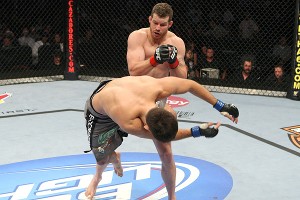 Josh Hedges/Zuffa LLC/Getty Images Is it possible that Nate Marquardt knocked the jiu-jitsu out of Demian Maia?
Against the wrestler Weidman, Maia was officially 0-7 on takedowns, but they all played out as half commitments. Truth is, it didn't look like he really wanted to go to the ground. Weidman, also a solid BJJ player, wasn't afraid to take it there, and did so a couple of times late in rounds. For a jiu-jitsu superior like Maia, who had uncanny Octagon control in his arsenal at one point in the career, it's become OK to allow opponents to dictate terms. Which is not OK for sustaining a career.
Weidman did it. And so did Munoz. Against
Jorge Santiago
at UFC 136, Maia had things in his realm but settled on ground-and-pound. Maia at 34 looks less wise than the one who fought at 30. This is not an ideal trajectory.
What happened to the quiet contortionist that capitalized on every misstep? In those first five UFC fights, Maia took home "submission of the night" honors four times. That's a lot of extra cash. Since then he has not been awarded a single end of the night bonus. If his stand-up has improved, that's great; but all new elements should be working toward the one element that made him special -- his jiu-jitsu. Otherwise, the admission seems to be that either people have caught up to him, or that jiu-jitsu and Maia are no longer on speaking terms, or that he doesn't trust jiu-jitsu to get the job done anymore.
Whatever the case with Maia is, it's mysterious. And you get the feeling that if he doesn't rediscover his roots soon, he'll be done in the UFC.
November, 13, 2011
11/13/11
2:11
PM ET

By Josh Gross
ESPN.com
Archive
Eighteen years ago, a slender Brazilian wearing white gi tied off with a black belt introduced himself, his family and his sport to the world.
Not many people watched on Nov. 12, 1993, as
Royce Gracie
won three times in a matter of hours to capture the Ultimate Fighting Championship's first tournament, but those that did likely chose to do so again. Soon enough, Gracie was the most important name in martial arts and UFC was its hottest commodity.
Inside the cage, Gracie's success dictated that either you learned to fight on the floor, or you simply couldn't fight at all. That hasn't changed. Outside the cage, a growing audience was amazed by the way he could handle himself against brutes. With the advent of weight classes, at least that part of the experience happens to be a relic.
The sport's original, brutal form helped popularize and demonize the UFC. Just four years into it, David "Tank" Abbott, perceived at the time to be the organization's roughest customer, was featured on a smash network sitcom. The fights. The money. The violence. The budding pop culture relevance. All of it led to a place of attention, scrutiny and misunderstanding. Mixed martial arts soon fell on hard times. Sitcom writers stopped adding cameos for cage fighters. And as a fan, you were considered fortunate to own a big-dish satellite. Without one, good luck finding a television broadcast to watch.
Living in a small corner of Brazil, Junior dos Santos was 9 years old when Gracie first schooled tough guys in the art of tapping out. Who could have imagined that two decades later, he'd win the UFC heavyweight title with 60 million of his countrymen watching back home, and many millions more tuning in around the globe to watch him dethrone
Cain Velasquez
.
But that's exactly what happened Saturday when a voting-aged UFC hit the mainstream.
[+] Enlarge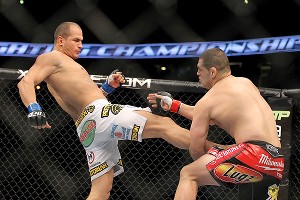 Ed Mulholland for ESPN.comYou can't please everyone: A 64-second knockout was anything but bad for MMA.
For as much as things have changed, and never was that displayed more prominently than Saturday's spectacle on Fox, there's an element to MMA that will remain true for as long as these fights are allowed to continue. The community that exists around MMA willingly operates with a small-time mindset. It's based around insecurity, really. The notion that a 64-second knockout is somehow bad reeks of a mentality that for so long permeated thinking among this sport's inner circles. It's the kind of thought process that prompted workers to step in the Octagon and spray paint over bloodstains prior to the start of the network broadcast on Saturday. It's this idea that while nothing will satisfy the detractors, every effort must be made to try. That the innumerable reasons so many people love the sport aren't good enough for those who don't yet. It's in the unwanted residue of an apology that comes when a kid like
Dustin Poirier
feels as if needing a round and a half to finish
Pablo Garza
with a slick D'Arce choke -- something that only recently came into fighters' collective conscious -- isn't up to par.
Forget for a moment about pleasing others, about tweaking and cajoling to make something that needs neither more "fan friendly." MMA arrived on this stage 18 years after its birth for one reason. The product is appealing. To a large segment of people, it's hard not to watch after they've been exposed.
That's great, worthy of embracing. Instead, people find themselves crazed and questioning whether or not a 64-second knockout during a bout featuring two extremely talented, young heavyweights is bad for the sport. Bad for the sport! You know what's bad for the sport? Acting as if MMA is something it's not. Acting like airing only one fight on network television is somehow a travesty. The hurdles and traps and moats that slowed MMA from meeting its widest possible audience, they don't matter anymore. Truth be told, they haven't mattered for a long time. They stopped nothing. It's been this way for nearly 20 years.
I mention all of this because for perspective sake, they're worth remembering.
It's fun recounting the lean years of the cable television ban. Even better, the disastrous -- so it was labeled at the time -- return to TV when pay-per-view ran long and Tito Ortiz's bout at UFC 33 against
Vladimir Matyushenko
was cut off about halfway through.
Through the ups and downs, there was one constant: pressing forward. That is the direction this sport has headed, even in the darkest of times. Why? Because it engendered passion and emotion. MMA is the definition of an outsider, probably always will be, even as it's allowed to touch mainstream for the first time.
The question Gracie and his family set out to answer in 1993 -- Which style is most effective for winning fights? -- helped spur a revolution in combat sports. That's how dos Santos, who never wrestled a day in his life before trying his hand at mixed martial arts, can stand his ground against a collegiate All-American like Velasquez. Gracie didn't do it like that, but his impact influenced MMA to move from a game of attrition to one of adaptation, and, finally, acceptance.
The latter stage happens to be where the sport exists today. There is an increasing acceptance about MMA. It's covered by major media outlets and compared to other blue chip sports. It's here to stay, even if people remain confused about what it is and why it's reached this measure of popularity. Either they'll come around or they won't. Regardless, it's time to accept MMA for the grown-up sport it is. These things can happen fast, you know. In this case, right before our eyes.
Mixed martial arts.
Take it or leave it.
September, 25, 2011
9/25/11
12:43
AM ET
DENVER -- It was nearly 18 years ago that the first UFC was held in Denver. And on the day it came back to the Mile High City, one of the sport's pioneers fought in his last bout. The company's sweet homecoming turned into a sayonara of sorts.
Maybe,
that is.
Matt Hughes
did what he could against
Josh Koscheck
. It didn't go the way he had hoped, but it ended up how many expected. He lost. Hughes was game, but in the end he didn't have the speed or athleticism to match Koscheck's. The two-time welterweight champion/current UFC Hall of Famer went down via a first-round knockout. This part was fairly predictable.
What he'll do next isn't. It was only the ninth loss in a career that spans 54 fights. Nearly five years ago to the day -- Sept. 23, 2006 -- Hughes defended the 170-pound belt for the last time against
B.J. Penn
. Not long after he came to from being knocked out Saturday -- the second time in a row, the previous time against none other than Penn at UFC 123 -- he smiled, shook his head, and treated it as he has everything in his career.
As a professional who left it out there.
Yet with the microphone in his face, just when everyone expected him to announce his retirement and give the "it's been a crazy run" speech, he went all anticlimactic in front of the 16,000 people on hand at the Pepsi Center.
"I'm not retiring," he said. "I'm going to tell the UFC to put me on a shelf and we'll see what happens after that."
Leading up to the fight, Hughes talked about retirement as a virtual certainty. He said his wife was the one pushing the notion, and he didn't have much defense left to fight that fight. Yet at an obvious moment to walk away, he kept the door slightly ajar. It might be that he wants to take time and think about it. Or it might be that he wants to just sort of fade out without all the hoopla. That would be Matt Hughes' style.
And that's what UFC president Dana White said at the postfight newser.
"I think he's going to retire," he said. "I just don't think that Hughes wants to say the word 'retire.' There was a lot of talk that this was the last fight of his contract, and I don't know whether that's true or not. He's a guy I've never worried about, last fights or whatever. I was just talking to him out in the hallway and he's going to fly out to Vegas in a month or so and sit down and talk. I'm pretty sure he's going to hang it up ... without saying 'retiring.'"
If Hughes does choose to call it a career, it will go down as one of the most storied in the UFC's history. Hughes defended the welterweight belt seven times between 2002 and 2006. The Fertitta brothers and White bought the UFC in 2001. Hughes and Zuffa's UFC are synonymous. They have been linked together the whole way, through thick and thin (Hughes fought twice under the UFC banner prior to Zuffa). He's an old-school carryover. And therefore, if he wants to fight again -- and remember, he won three out of four heading into the bout with Koscheck -- he will be granted a fight.
It's easy to imagine him going either way. With
Royce Gracie
asking for a rematch against Hughes for a swan song of his own, there will be dangling carrots out there for him to look at. He's still a fan favorite, he can still fight, and the UFC can still market him.
And if this does happen to be it for the country boy?
Matt Hughes will always be a part of the scaffolding that made the UFC what it is today, and all the fighters he helped pave the way for -- including Koscheck, who was very grateful in victory -- should doff their caps for the service.
(Not that he'd ask for it.)
August, 27, 2011
8/27/11
3:45
PM ET
RIO DE JANEIRO -- You had to be invited, but the Shooto event that happened on Thursday on a local Rio hillock was fireworks.

Yes, Marvin Eastman was knocked out by Glover Teixeira in the first round, but that in itself was not altogether unexpected if you look at Eastman's professional record in recent years. The fireworks were literal, as there was a lot of heat being packed from the perimeter down in. After the Brazilian national anthem was sung, 200 special forces officers on hand fired their semi-automatic weapons into the soft earth at their feet with total aplomb. If you asked Clay Guida, Urijah Faber or Joseph Benavidez about it afterwards, they didn't hear you but for the ringing in their ears.

In other words, Shooto put on one hell of a show. As the card was held outdoors, there were flying bugs to swat and acai to eat. Will Ribeiro was judging ringside. George Thorogood's "Bad To the Bone" was piping in whenever convenient. It was a crazy if cryptic event held for the B.O.P.E. (Batalhao de Operacos Policiais Especials) -- the special police immortalized in the slightly-but-not-overly fictional portrayal in Jose Padilha's "The Elite Squad."

And since this is a Rio journal, I can ask the question that's been bugging me ever since. Why wasn't I there? I knew I'd be kicking myself for missing that. Let's try this again. Hopefully UFC 134 is half as interesting (minus firearms, flying ants and Thorogood).

9:14 a.m.: Bruce Buffer grew up splitting time between Philadelphia and Dallas before moving to Malibu as a teenager. Yet it was in Malibu that he led a rough and tumble existence as a surfer due to a nasty case of "native territorialism." Yet, if he hadn't be forced to scrap back then, would he have ended up in Royce Gracie's gym getting choked unconscious in the early 1990s? Would he have found his long lost brother Michael Buffer? Would he have become the voice of the Octagon, who is probably flanked by two very decent looking Rio women while his tuxedo is being pressed right this second?

The answer is of course: Maybe.

10:18 a.m.: Not sure how it looks up there in the States, but down here in Rio this UFC event is tabbed UFC Rio and not UFC 134 -- there's no trace of 134. With the city of Rio sponsoring the event, it was obviously part of the deal to do away with anything that would suggest chronology (like the number progression). This is a destination. We have arrived. Nothing stood before it or and nothing quite as real will after. (Note: This makes it two in a row for events in Rio that have a strange vortex feel to them. The first one was UFC Brazil. I refuse on principle to call that 1998 event UFC 17½ as precisionists might).

11:33 a.m: Rio is a city that's been building on top of itself for 450 years. Nobody I've talked to understands the layout here after several days of trying. You can be going in any direction for an hour and the Christ the Redeemer statue is still to the left or right. It's all circles. Most roads are paved. Many forked. All of them curved, some to dead ends. One false move, favela. Somebody described the street layout like spaghetti. This seems too comprehensive.

12:45 p.m.: For the first time I am going to grab the media shuttle from the Praia Ipanema to the HSBC Arena which is, depending on whom you ask, an hour to an hour-and-a-half from Ipanema. The weigh-ins don't start until 4 p.m., but there is a Q&A session with Vitor Belfort and friends beforehand. My cab driver on the way to the hotel says "Oh, UFC." Then he does some air punches and makes some fun sounds and says "Minotauro, yeah?" Sometimes the language/cultural barrier is perfect.

1:30 p.m.: MMA Junkie's John Morgan has his computer out as we wend along the beach towards the arena. This of course means everything is exactly as it should be. Meanwhile, other journalists contemplate acai. The idea of an impromptu UFC 13 ... err, UFC Rio roundtable en-route is briefly discussed but never materializes. The Japanese reporters in the very back of the van let out groans with every turn and dip (of which there are plenty). If this van crashes, coverage of UFC Rio would never make it back above the Equator. (Or so we like to kid ourselves).

2:12 p.m.: Just under an hour-and-a-half to the arena, through Barra. Along the beach, men and women always seem to be doing pull-ups on very generously distributed gym equipment. No wonder there is such a thing as Rousimar Palhares.

2:31 p.m.: The Q&A is underway. Vitor Belfort is an old hand at it. Problem is, everything he's saying is in Portuguese. Luckily, there's a German writer right next to me named Tobias Bunnenberg, who now lives in Sao Paulo. He translates for me in a thick German accent. Apparently Vitor is riling the crowd up by asking who follows which soccer team. He is a Flamengo man himself. He played for that club back in the day. Crowd likes where he's going. Yushin Okami has been seen in Flamengo gear, too, trying to curry favor with fans (not sure it's worked). Belfort can't help sobering the crowd by saying that his real team is the UFC. There's a "save us the details" sigh among the faithful.

2:40 p.m.: Full stage now, with Junior dos Santos, Lyoto Machida, Jose Aldo and Royce Gracie. Gracie says that 26 years ago he arrived in North America when nobody had heard of jiu-jitsu. He equates this to a scenario where Michael Jordan arrives in Brazil when nobody has heard of basketball. Inference is that he's sort of the Michael Jordan of jitz. Wonder if T.R. Dunn could shut down his omoplata the way he kept Jordan from penetrating the paint in 1987?

2:55 p.m: Jose Aldo -- "Flamengo!" Crowd roars.

Junior Dos Santos -- "I promise I will knock Cain Velasquez out!" Crowd roars some more.

3:11 p.m.: Lyoto Machida tells a long-winded story that I will now relate through broken German translation. He used to run with his father and brother on the shore, and they would sprint to touch a distant tree. One day his father was sick, but he and his brother went about continuing this very cinematic activity. Lyoto pulled up maybe 50 meters short of his mark, and turned back. Why did he stop? This lazy moment became a sort of parable among the Machida's. If you climb a tree to the top, you can see the other side. If you climb halfway, you can't. Hopefully this conveys the gist. Bottom line of the message, go the whole way. (As relayed through German-English).

3:18 p.m.: MMAFighting's Ariel Helwani is sitting next to me, and we're both eating acai. This is a cold sludgy very sweet purple plop of goodness (with plenty of vitamins and metaphysical reach). We are meant to regret the experience for not having a banana to chop into the acai by the natives sitting around us. Helwani has been watching the whole Q&A. What's got his attention? Belfort's ability to handle himself with a microphone. "He is a natural at this," he says. "He is really good." I don't have the heart to tell him that Belfort is bagging on his beloved Montreal Expos. (Unless I'm misunderstanding what Vitor's going on about).

3:43 p.m.: There's a popular show in Brazil called "Panico na TV," which is hosted by two-time Playboy centerpiece Sabrina Sato. She's here, and the crowd appreciates it. But her sidekick, Tucano Huck, is the marvel. He wears a long rubber nose. I first saw him in Las Vegas in this guise. If he follows suit, we can expect at least one ridiculous question directed at Dana White afterward. At least one, but not limited to one.

3:45 p.m.: Gracie says he has one fight left in him, and that's Matt Hughes. Crowd likes it.

4:20 p.m.: Brendan Schaub is treated to a chorus of "voce vai morrer!" as he takes the scale. The translation is "You will die!" Ominous. Forrest Griffin gets the same chant, then Okami. Maybe it won't be a Shooto atmosphere, but it will be an interesting one. After hearing countless "U.S.A" chants in arenas across America, it's a strange thing to catch the tables being turned.

4:35 p.m.: Everybody makes weight, and some guys by a couple of pounds. Okami weighs in at 183, and Silva at 184. Makes you wonder if the scale was a little off. Some media note the similarities between Marc Ratner and Keith Kizer as they go about reading the scale. This tells you how exciting weigh-ins can be.

6:01 p.m.: All the formalities are over. Now it's time to go to Copacabana Beach and find souvenirs.

9:47 p.m.: The story within the story is, of course, how Bruce Buffer will handle himself after tearing his ACL at UFC 129 in Toronto. He was guts and brawn all the way through UFC 132, where went about his business with that bunk knee. Now he has a new tendon -- well, a replaced one taken from a cadaver -- and is as right as rain. His first show back was in Philadelphia at UFC 133, and he suffered no setbacks. Will he get his usual "three to four feet of air" (his words) in introducing Anderson Silva? Only if the tendon he has in his reconstructed knee was a basketball player.

This is what you think about when the Brahma is flowing in Rio.
August, 23, 2011
8/23/11
7:32
AM ET
Royce Gracie
has confessed that his UFC 60 loss to
Matt Hughes
still haunts him, and he admits he is finding it difficult to end his fighting career.
More »