January, 10, 2014
Jan 10
12:39
PM ET

By Brett Okamoto
ESPN.com
Archive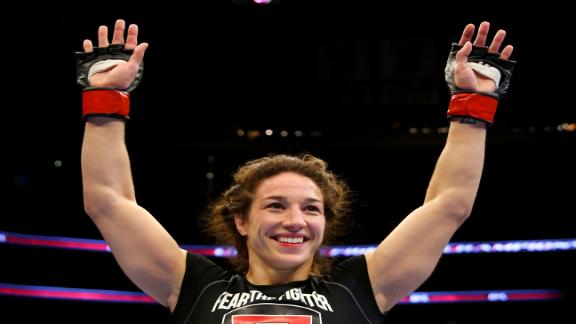 It's difficult not to see flashes of
Royce Gracie
in
Ronda Rousey
.
In November 1993, an undersized Gracie mowed through a field of competitors at UFC 1 behind Brazilian jiu-jitsu skills his opponents simply did not understand.
Rousey (8-0) has accomplished a similar feat in female mixed martial arts through 2013, finishing all eight of her professional fights in the same fashion -- arm bar. It's not the exact same thing Gracie did 20 years ago, but there is a common theme.
As a U.S. bronze medalist in judo in the 2008 Olympics, Rousey has an ultraspecific, unique skill. Her opponents are forced to catch up, cramming judo sessions and defense of the arm bar into their preparations, and it's an extremely wide gap to make up.
"

I think that every other girl in the division has a very hard and long road to learning how to stop a high-level throw. I don't have that same problem.

"

-- Sara McMann,
on Ronda Rousey's judo skills
It is for this reason that Rousey's next fight against the virtually unknown
Sara McMann
at UFC 170 on Feb. 22 deserves your attention. That wide gap, finally, won't exist.
"I think that every other girl in the division has a very hard and long road to learning how to stop a high-level throw," McMann said. "I don't have that same problem."
McMann (10-0) is free to roam the United States with her 4-year-old daughter and go unrecognized. She has fewer than 16,000 Twitter followers and has never been hailed as the face of women's MMA.
What she has done is take a silver medal at the 2004 Summer Olympics as a member of the U.S. wrestling team. She has spent her life on a wrestling mat and was introduced to judo in the late 1990s, well before she ever heard the name Rousey.
"My best friend in college my freshman year, when I was 17, had done judo before she started wrestling," McMann said. "She used to put on a highlight tape, and we would sit and watch it and say, 'Wow, that is so beautiful.'
"She would show me different things and apply her judo to wrestling. I would see other judo girls do it too. I knew about judo long before this."
That background contrasts sharply with other Rousey opponents.
Sarah Kaufman
began her career in her late teens in kickboxing classes.
Liz Carmouche
played noncombat sports in high school before starting to train MMA in the Marine Corps.
Miesha Tate
, considered a strong grappler in her own right, fought Rousey in March 2012 and last month at UFC 168. She began wrestling in high school. She was taken down six times by Rousey in the rematch and submitted in the third round.
McMann, who watched that fight with the knowledge she would face the winner, said she saw nothing significantly wrong with Tate's technique. It was even worse -- she was using the wrong technique to begin with.
"I don't think there was anything technically wrong with the double leg she was hitting. It was more the technique she selected," McMann said. "When you feel a person who can throw you, it's a lot smarter not to load yourself on them.
"Single and double legs, they absolutely load you onto their hips. Some of the times when [Tate and Rousey] locked up, I was closing my eyes. But it takes years of experience [to know that], going against people who are trying to throw you."
Many will write off McMann's chances in the fight based on name recognition alone. Others might say the title opportunity has come too quick and she's simply not ready for it. Oddsmakers have opened Rousey as a more than 4-to-1 betting favorite.
Without question, there are reasons to predict a third title defense for Rousey, but the suggestion McMann isn't ready is a loaded one.
On one hand, more time to develop is never a bad thing. On the other, you might argue that her competitive background actually makes her the only woman in the world ready for Rousey.
"When Ronda grabs Sara, she's going to feel something she hasn't felt since the Olympic Games," said
Daniel Cormier
, UFC light heavyweight and former U.S. Olympic wrestler. "She's going to feel somebody who is a lifetime athlete, as she is.
"Ronda's biggest advantage is that she's a lifetime athlete. I'm not saying all these girls aren't athletes, but Ronda hit the nail on the head when she told Miesha, 'You wrestled for your high school team, and I went to the Olympic Games.' Well, Sara went [to the Olympics], and she placed too."
February, 15, 2013
2/15/13
6:19
AM ET

By Franklin McNeil
ESPN.com
Archive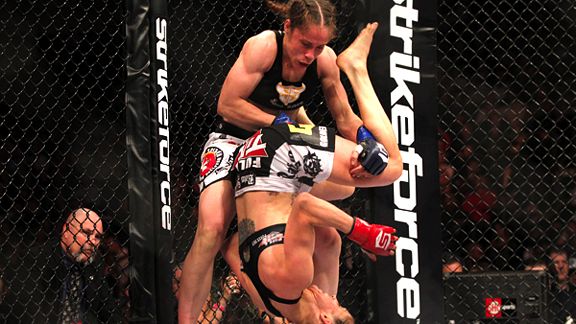 Ric Fogel for ESPN.comLiz Carmouche, standing, gave Marloes Coenen all she could handle before being submitted.
There will be no cooperation from
Liz Carmouche
on Feb. 23 at UFC 157 in Anaheim, Calif.
She will not walk into the cage, extend her arm and allow bantamweight champion
Ronda Rousey
to lock onto it. The six previous pro fighters who faced the arm-bar submission expert played that game -- Carmouche won't.
Carmouche has something a little different up her sleeve: She intends to put up a fight.
Carmouche would be wise to keep the fight standing, which would make it difficult for Rousey to grab an arm. But she isn't afraid to fight Rousey, even if they go to the ground. If this fight had taken place in 2010 or 2011, Rousey would have won in a cakewalk. Carmouche was a very green fighter back then, physically and mentally. Not so in 2013.
"I've changed significantly as a fighter," Carmouche told ESPN.com. "With each fight, I have adapted and grown and evolved into a better fighter and person. I'm constantly evolving, and you can see that as each fight progresses.
"I don't just focus on one form and one art. I make sure that I'm giving all my energy to everything equally. As a result, each part grows: my jiu-jitsu's grown, my judo's grown, my wrestling, my boxing, my Muay Thai, you name it; everything's improved.
"I'm going into this fight to become champion. If not, I wouldn't be going into it."
"

Everybody does have a lot of confidence in Ronda and they're holding her up to high esteem because of that. I also think people doubt me. But every single time that people doubt me I step up to the plate and show them that they are wrong, and I'm going to do the same in this fight with Ronda.

"

-- Liz Carmouche, on facing Ronda Rousey
For those who haven't followed Carmouche closely the past couple of years, it is easy to dismiss her. She fought then-Strikeforce bantamweight champion
Marloes Coenen
on March 5, 2011, for the title and came up short -- and Rousey is regarded as a much better fighter today than Coenen was two years ago.
But you'd have an inaccurate understanding of what took place that evening at Nationwide Arena in Columbus, Ohio, if you simply looked at the bout result and concluded Carmouche couldn't hang with the best 135-pound fighter at that time.
The fact is that Carmouche more than held her own against Coenen. She was beating the champion for much of the fight before making a defensive error and got submitted at 1:29 of the fourth round.
That loss changed Carmouche's perspective on being a professional fighter.
"I learned from that experience," Carmouche said. "When I faced Coenen it was on very short notice, and up to that point, I doubted if I really belonged in Strikeforce, if I deserved to be ranked among the top women like Marloes Coenen and
Sarah Kaufman
.
"During that fight, while I did lose it, I dominated for four rounds up until I made a mistake that cost me. That fight gave me the confidence I needed to keep going -- and I'm going to use that confidence in this fight as well."
The mistake Carmouche made against Coenen was getting caught in a triangle choke. She has not made that mistake again.
And while she'd come up short in her next outing -- a unanimous decision loss to Kaufman in June 2011 -- Carmouche was no longer questioning her abilities or standing as a fighter.
She immediately returned to the gym and worked on fine-tuning her skill set. No stone was left unturned -- every aspect of her game received full attention; many alterations have been made.
Whether standing or on the ground, Carmouche is now a force to be reckoned with.
Carmouche (8-2) has won two fights in a row -- one by TKO, the other by submission. She likes the type of fighter she's developed into and won't be lacking confidence on Feb. 23, despite being given little chance of leaving the cage victorious.
There will be many people rooting for Carmouche -- some folks just don't like all the hype Rousey is receiving. Few, however, expect her to pull off the monumental upset.
But Carmouche wouldn't have it any other way. She has been counted out before a fight so often that she fully embraces the underdog role. She relishes the thought of proving the doubters wrong.
"Everybody does have a lot of confidence in Ronda, and they're holding her up to high esteem because of that," Carmouche said. "I also think people doubt me.
"But every single time that people doubt me, I step up to the plate and show them that they are wrong, and I'm going to do the same in this fight with Ronda."
Rousey (6-0) has been such a dominant fighter in her brief professional career, it's appropriate that she's listed as a heavy favorite. But Carmouche should not be fully counted out, either.
She has improved too much in all areas as a fighter to be taken lightly. Carmouche plans to make life in the cage uneasy for Rousey, and that's all fight fans can reasonably ask for.
August, 24, 2012
8/24/12
3:37
PM ET

By Brian Campbell
ESPN.com
Archive
In just six professional fights, Ronda Rousey has taken the world of women's MMA by storm.
A 2008 Olympic bronze medalist in judo, Rousey (6-0) defended her Strikeforce women's bantamweight title against former champion Sarah Kaufman in just 54 seconds. Each of her professional fights has ended in first-round submission by armbar, including all three of her amateur bouts.
Rousey sat down with ESPN.com during a recent visit to the Bristol, Conn., headquarters to talk about how her life has changed outside of the cage, and what she hopes to accomplish inside of it.
You've become the face of women's MMA in a very short period of time. Was there a specific moment when it hit home just how famous you've become?


I try not to think about the expectations and the pressure and just try and do my job the best that I can. But me and my friend were walking around Whole Foods; I always make fun of him because he thinks everyone is [someone famous.] Our thing to do is say, "Ooh, is that so and so? Is that Jamie Lee Curtis? Is that Christina Aguilera's ex-husband?" We'd always play that game and say, "Oh look, it's Fabio!" and play spot the celebrity. Then one day I got spotted at Whole Foods and we suddenly just looked at each other like, "Oh my God! I'm that guy at Whole Foods. I'm the dude!" That was when it really hit us. We got Whole Foods recognition. Hell yeah!
Has it surprised you how quickly you've destroyed the competition? Is there a part of you that almost welcomes some adversity just to see how you would respond?


No. I'm happy with the way things have been going. I expect a lot out of myself and I knew I was capable of doing this well. I knew watching women's MMA for the first time that I could armbar all of these women right away. I swear. And everyone was like, "You're crazy. You don't know about the striking." And I told them to just watch. The very first fight I watched I knew I could beat all of these girls just doing judo and nothing else. It's when I started coming into MMA and learned the striking and all of that, I found out there was a lot more to this sport than I originally saw. I'm not surprised at my success now. I was prepared for more. Every time I go to a fight, I am prepared for the worst-case scenario. It's just that I have a very good camp and we do all of our work before the fight. We prepare very well and I go in there completely capable of beating these girls right away or completely capable of going five rounds.
The armbar has become your signature finishing move, sweeping women's MMA with the same impact as Royce Gracie's rear-naked choke in the early days of the UFC. Has this been by design or has the opportunity simply presented itself each fight?


No, it just opens up. I literally make up everything as it goes along in the fight. For every action that I do, I feel like I have memorized every possible reaction to it. I'm like constantly ticking down options in my head. So when I'm going for a trip in the beginning, I'm not thinking about an armbar, only what my options are to react in that moment.
You recently called out Cris "Cyborg" Santos -- even calling her "Cyroid" -- and have been outspoken about her recent failed drug test. How much of what she has accomplished do you believe has been artificially enhanced?


I believe all of it has been artificial. You don't see athletes have successful careers and then suddenly start doping in their prime. Why would they do something like that? The people that dope are a certain kind of people that have a certain kind of mentality and it really just comes from insecurity and thinking that they're not good enough without it. There's nothing that's going to suddenly change a person's mindset in the middle of their career. Either you have that mindset or you don't. I feel like if you are a doper, than you are always a doper. I have never tried any performance-enhancing drug in my life. Ever. And there is nothing that can change my mind about that. People that are inclined to do things like that are always inclined to do things like that. It's not like there is some switch that makes you decide to be a cheater someday.
Santos said she is unable to make 135 pounds, but would be willing to drop down to 140 in order to meet you in the cage. Would you accept the fight at anything other than the bantamweight limit?


I don't owe her anything and I think it's wrong to reward someone like that with a title fight and with all of the considerations they want after they disgrace the sport and their country like that. If, while she was doping, she could get down to 145, I don't think it's unreasonable to think that if she's not doping, she could be lighter. When have you ever heard of somebody taking a bunch of steroids and then stopping and maintaining the same muscle mass? It's a flawed argument. She's come into fights overweight and comes into fights on steroids. She obviously has no respect for the people she is fighting. She's never had a fair fight once in her life and I'm going to put my foot down once and for all and give her a fair fight. I can see why she is scared to death with it and completely against it. I'm the strongest competitor that she's ever going to come across. She's not going to have any of those advantages. For someone to be so mentally weak that they need to do that to get by, of course she is going to do everything she can to resist it. It's going to reveal her as the fraud that she truly is.
A fight between the two of you would easily be one of the most anticipated in the sport. How would you plan on dealing with her relentless striking?


Cris "Cyborg" is not a technical striker. The way that she strikes plays very well into my style of fighting. When she fought Gina [Carano], she got mounted three times in a round. She's very wild and just uses a lot of strength. But all of the principles of judo is using the strength and momentum of a person against them. So a lot of times, the more that she is flailing around and resisting, the more that it is going to help me out. I don't feel like she has the awareness of distance or is technical enough and I intend to piss this girl off so much that there's no way in God's green earth that she is going to be able to have any kind of game plan. She is just going to come in there and see red and I'll be in there calm, cool and collected.
It seems that athletes get into combat sports for different reasons, from the money and fame to the pure addiction of competition. Why does Ronda Rousey fight for a living?


I think it's just that this is what I was born to do. I tried getting away from judo and bartending for a while and being normal. It just wasn't for me. I'm not the kind of person that was meant to sit behind a desk. Even in school, it just wasn't my environment. I need to be the running, jumping and climbing trees kind of person. After the Olympics, you get used to this lifestyle of being pushed to the absolute extremes in the emotional and physical spectrum all of the time. If you start living at a plateau, it doesn't feel right anymore. So I feel like this is the only way that I can feel like I can make sense of the world. I feel like it's more pure. This is real people, real interactions and real fights instead of dealing with office politics. Or having a boss or a co-worker you don't like, but you never get to say anything about it. Instead you are just like sitting in traffic and yelling at everyone around you from inside your car, but when you are actually face-to-face with people you can't say what is on your mind. Everything is just so calculated all of the time in the outside world; I get to be so much more real and myself in this setting and not be blamed or punished for it.
You've been very open in the past about the impact of losing your father at a young age. What do you think he would say about all that you have accomplished today?


I think he would be tripping out over it. When I first started swimming, he bought a swimming handbook and read all the rules about swimming. He would sit there for every practice and watch me and he would get super into it. So I imagine if he was around right now that he would buy every book on MMA and [be] researching it and coming to all of the training. He would be totally all about it and would be extremely proud.
March, 4, 2012
3/04/12
8:46
AM ET

By Chuck Mindenhall
ESPN.com
Archive
COLUMBUS -- Heading into the fight, Strikeforce's women's bantamweight champion
Miesha Tate
said that wrestling trumps judo nine out of 10 times. She was speaking from experience, and experience also happened to be an x-factor against an opponent with only two minutes, 18 seconds of cage time. Experience was also supposed to trump a green challenger.
Funny how the fight game works.
By the time it was over,
Ronda Rousey
proved more than ready to bust theories, and if need be, the more experienced fighter's arm. In what was being hailed as the biggest women's MMA event since
Gina Carano
versus
Cristiane Santos
, Rousey emerged as a star in just her fifth fight, while proving that she could back up the audacity of her prefight talk.
Rousey submitted Tate the same way she did her previous four opponents -- via a first-round armbar. And, though she more than doubled her total time in the cage this time out, it was again the judo that delivered her to the moment. Rousey used a brilliant hip toss to get Tate down, transitioned to mount, and then punched away until she could pry the arm away to set up her signature submission. The crowd at Nationwide Arena cringed as she hyper-extended the limb into an unnatural position, torquing it for the tap. It finally came at the 4:36 mark of the first round.
And even though you'd have trouble finding a list of big viable challenges for Rousey right this second, she became the future of women's MMA with a clear-cut challenge ahead in Sarah Kaufman, who won an equally memorable back-and-forth war with Alexis Davis. With Santos' suspension, the retirement of Carano and the state of women's MMA in flux, this played out as the best-case scenario for Strikeforce.
Or as a case of perseverance, to hear Strikeforce president Scott Coker tell it.
"Strikeforce has been supportive of female mixed martial arts since 2006 when we started," he said during the postfight news conference. "Gina Carano versus Elaina Maxwell in December of '06 was the first [female MMA] fight that was licensed in the state of California. We've always believed in female martial arts fighting. Before that we were a kickboxing league.
"We had many great fights in the female division and, personally, for myself, I believe these ladies that grew up in a martial arts school, or in a wrestling program, they should always be allowed to compete. And I think tonight justifies those feelings of the past. And we talk about fighting at the highest level, I think tonight we saw it. We had four amazing athletes fighting in the female division at the highest level. And we're going to continue moving forward. I think a star was born tonight, and it's onward and forward for the female division."
[+] Enlarge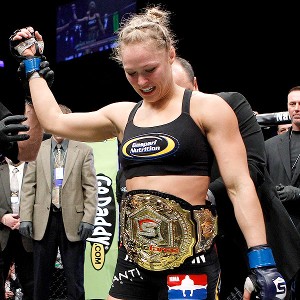 Esther Lin/Getty ImagesBy battering Miesha Tate, newly crowned champ Ronda Rousey proved she can back up the talk.
Afterward, Rousey dedicated her new 135-pound title to her late father. Yet when asked if she could quash her beef with Tate, which reached a crescendo at the weigh-ins when Rousey headbutted Tate, she chose not to. In regard to the armbar that looked like it did some serious damage, she said, "I don't feel bad about it," which sent the crowd into raptures. Part of the reason Rousey got a title shot in the first place was by telling it like it is and causing waves in the media. She wasn't about to back down after achieving her goal as being a champion at 25 years old.
And it looked like she might end the fight as early with an initial armbar attempt.
"I didn't feel like I really had it," she said. "The second [armbar attempt], I knew for sure I could get it, and that's why I abandoned the dominant position. The first one I just kind of fell into it; it didn't feel that secure."
Now the new champion can set her sights on former champion Kaufman, who has contended all along that it's still her belt. Just as you'd expect, she already thinks she spots a weakness in Rousey's game.
"I thought overall that Ronda looked good," Kaufman said. "There's definitely something's that she doesn't like that I do really well. It's going to present a really interesting fight and a really good fight for the fans and for myself as well."
Asked to elaborate, she added, "clearly I like to strike ... and based on my face, I also like to get hit. But Ronda hasn't been challenged by somebody who can strike like I am able to strike."
It was a good night for women's MMA, and everybody involved knew it. The women stole the show in Columbus, and a star was born in Ronda Rousey.
January, 6, 2012
1/06/12
2:07
PM ET

By Chad Dundas
ESPN.com
Archive
If anyone had cause to be upset this week by reports that Strikeforce is on the verge of signing a women's 135-pound title match between
Miesha Tate
and
Ronda Rousey
, it was surely Sarah Kaufman.
Having put the memory of her October 2010 loss to Marloes Koenen behind her with two consecutive victories, Kaufman had every reason to believe she would be back in the pole position for a shot at Tate's championship. Herself a former titlist, Kaufman already owned a 2009 win over the current champ and at 14-1, it would be difficult to find a female fighter with a better résumé.
No doubt about it, losing out on an immediate opportunity to regain her Strikeforce bantamweight crown is a bad beat for Kaufman, who described learning of the organization's plans to have Tate fight Rousey instead as "terrible news ... frustrating ... [and] ridiculous," in an interview with
MMA Fighting.com
.
Unfortunately for her, it's also the right next move for the women's division.
In most measureable ways, Kaufman is right about this matchup. Rousey hasn't beaten anyone "of a high caliber" and hasn't beaten anyone at all at 135 pounds. Kaufman is also correct that Rousey has essentially talked her way into this title fight, calling out Tate and then confronting her on Ariel Helwani's popular
MMA Hour talk show
. She has 10 fewer professional fights than Kaufman does and can't compete with her in terms of cage time or dues paid.
What Rousey
does
bring to the table is something that can't be measured on a stat sheet. It's also the very thing the female ranks need most of all right now: Excitement.
[+] Enlarge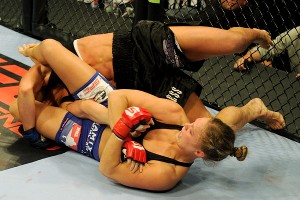 Kari Hubert/Forza LLC via Getty ImagesRonda Rousey's aggressive style helped her leapfrog Sarah Kaufman for a title shot.
Through her first seven MMA fights (three of them as an amateur) nobody has managed to last even a minute with Rousey. No one has been able to avoid her Olympic-quality judo game or "steer clear of her nasty" arm bars, even though everyone knew both were coming by the time she turned pro. As we learned when she and Tate appeared on Helwani's show in November, nobody has yet been able to hang with her in a moderated debate, either.
Rousey has the chance to be transformative figure in women's MMA. To do that, though, she needs to prove she can back up all her talk. Giving her an immediate shot at Tate gives her that chance in a sink-or-swim, high-stakes gambit that will be attractive to fight fans, assuming Strikeforce spends any time at all promoting it. Tate versus Rousey feels fresh and compelling (two other things Strikeforce in general and the women's division in particular need to strive for) and comes steeped in bad blood. The fact that some people don't think Rousey deserves it only makes it all the more interesting.
In a nutshell: this fight makes sense. Unlike this weekend's Stikeforce event, where we still don't know exactly why
Keith Jardine
is fighting
Luke Rockhold
for the middleweight title, Tate-Rousey reads as a step forward for the women's bantamweight division. It doesn't feel like treading water or desperation matchmaking -- it feels right.
It's a shame the decision had to come at the expense of Kaufman, who is an outstanding fighter and a fine ambassador for the sport. Here's hoping she can be first in line for the winner, in a title fight which will be all the better and itself more exciting for the longer wait.