April, 10, 2013
4/10/13
1:25
PM ET

By Franklin McNeil
ESPN.com
Archive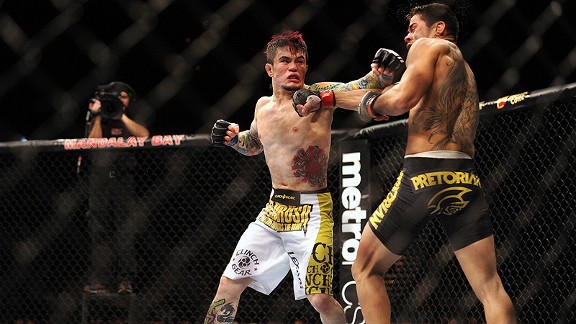 Rod Mar for ESPNScott Jorgensen will check his friendship with Urijah Faber at the cage door on Saturday.
It finally comes to an end Saturday night.
Scott Jorgensen
won't have to answer any more questions about his longtime friendship with upcoming opponent
Urijah Faber
.
When this fight was announced in February, Jorgensen knew he'd get bombarded with questions about the close relationship between Faber and himself. The former WEC featherweight champion played a key role in encouraging Jorgensen to become a mixed martial artist.
In the beginning Jorgensen was okay with the questioning and answered them without a hitch. It was easy, routine: Jorgensen just provided the same answers to the same questions. But the friendship questions never stopped, and soon Jorgensen started struggling to keep a straight face and his cool. Thus far, he has persevered. Just a few more days and Jorgensen can finally address the real issue surrounding this bout -- that this contest is potentially a fight-of-the-year candidate.
These are two highly skilled, highly aggressive bantamweights. And Jorgensen intends to give fight fans a performance they will not soon forget.
This TUF 17 Finale main event isn't about friendship; it's about a style matchup that likely will have every spectator inside Mandalay Bay Events Center on their feet.
"There are a lot more dynamics to this fight than the fact we are friends," Jorgensen told ESPN.com. "We're both very aggressive. We're both very mentally tough.
"He has great submissions. I hit hard from the bottom, from guard. He's got vicious elbows; I've got elbows. Our striking's dynamic, and we don't hesitate.
"These are the things that a lot of people are missing. This is a god matchup, style-wise, for excitement, for the fans. You have two guys who know what's exactly at stake. I'm not going to back down and he's not going to back down."
It's business as usual for two wrestlers who have stuffed their bank accounts with several "Fight of the night" and "Submission of the night" bonuses. Jorgensen and Faber rarely come up short in the excitement department.
This is the message Jorgensen has been trying to get across for weeks. But no one seemed to listen.
If he it was up to Jorgensen, he would have stopped answering those friendship-with-Faber questions a long time ago. But being the consummate professional, he continues to conduct himself appropriately and put on his best I-am-happy-to-answer-your-latest-friendship question.
Jorgensen's patience, however, is wearing thin. But in a few days it will finally come to an end -- no more questions about his friendship with Faber.
[+] Enlarge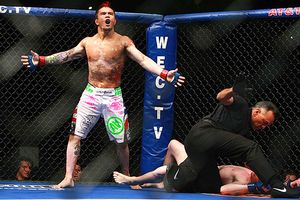 Dave Mandel/Sherdog.comJorgensen's hard-charging approach should make for great fight against Faber.
It doesn't mean that Jorgensen will have rid himself of answering single-topic questions. A win over Faber and Jorgensen might have to address a slew of inquiries regarding his thoughts on possibly fighting for the title.
It's a subject Jorgensen would prefer to avoid. He is a man who will take on anyone placed in front of him. If that opponent happens to hold the UFC bantamweight title, so be it.
Jorgensen just prefers not to talk much about potentially landing a title shot.
"It doesn't matter," Jorgensen said. "The title shots come when they come and the only way to get them is to continue putting up W's. I just go out there to fight; it's what I love to do."
Jorgensen also would love to win his second fight in a row. He defeated
John Albert
by first-round submission on Dec. 8 to end a two-fight skid.
Getting past Faber, who is ranked No. 2 among 135-pound fighters by ESPN.com, won't be easy. These two are very familiar with one another, having trained together in the past.
Each man will have a fight plan in place, but neither is likely to be married to it. There will be a lot of improvising in the cage Saturday night -- Jorgensen almost guarantees it.
"Come fight night he will bring his A game, I will bring my A game and we will put on a damn show and make ourselves proud," said Jorgensen, who is the ESPN.com seventh-ranked bantamweight. "I'm going to go in there and through my fists around until one of them hits him.
"I've got my game plan; he's got his game plan. I'm very bull-headed; he's very bull-headed."
Sounds like fight fans are in for a treat. This is a bout you might want to watch with a friend.
February, 27, 2013
2/27/13
4:23
PM ET

By Josh Gross
ESPN.com
Archive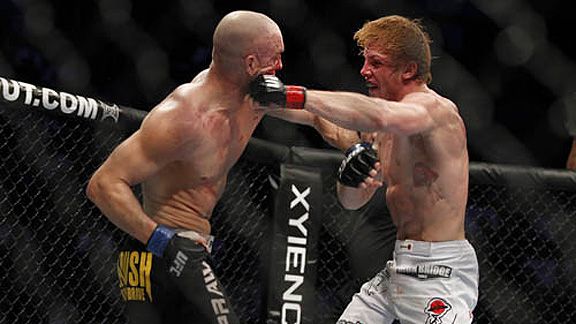 Ric Fogel for ESPN.comWelterweight Matt Riddle, right, saw his second failed drug test lead to his release from the UFC.
I'm not going to defend
Matt Riddle
, who seems intent on messing up a good thing after being popped a second time for pot in three fights.
The massive welterweight will likely lose another hard-earned win to marijuana, meaning rather than riding a four-fight win streak and a record of 9-3 into the upper echelon of the division, the 27-year-old is 7-3 (2 NC) and a free agent after having his contract terminated by the UFC.
We can argue all day whether or not testing for weed and classifying it a performance enhancer (or a Schedule 1 drug alongside the likes of heroin) makes sense. But forget that for now. Bottom line is Riddle, a self-described medical marijuana user who hasn't fought outside the Octagon as a pro, couldn't stay clean based on UFC's testing in London.
As a result, he fell prey to bad timing (with all of these cuts) and UFC's inconsistency in matters such as these. The timing issue, well, that's life. Arbitrary lines in the sand from UFC? Well, I guess that's life, too. But at least that's something that can be improved upon, and based on a statement the promotion put out Wednesday, it may have already.
"The UFC organization is exercising its right to terminate Riddle for breach of his obligations under his Promotional Agreement as well as the UFC Fighter Conduct Policy," according to a statement published on the UFC web site. "The UFC organization has a strict, consistent policy against the use of any illegal and/or performance-enhancing drugs, stimulants or masking agents."
I have long advocated for something similar when it comes to steroid users in the Octagon. Hey, even if a cut is sure to happen after two steroid-related episodes, it would send an urgently needed message: Use this stuff anywhere but here. Instead, UFC has selected who to stick by and who to dump, which basically makes it impossible for fighters to draw any conclusions.
Maybe that day is done. Maybe the takeaway from Zuffa's response to Riddle is that screw-ups, even screw-ups that might win -- dare I say screw-ups who are also great fighters -- don't have much room to operate in the UFC right now.
We'll see how the next one is handled. But heads up to
Dave Herman
(twice popped for pot offenses in the UFC),
Nick Diaz
(pot and press conferences),
Jon Jones
(the DWI),
Chris Leben
(steroids and drugs and DUIs),
Jeremy Stephens
(alleged to have participated in the beating of a man in a parking lot) and the rest.
Maybe your time has come.
Injury bug attacks flyweights, too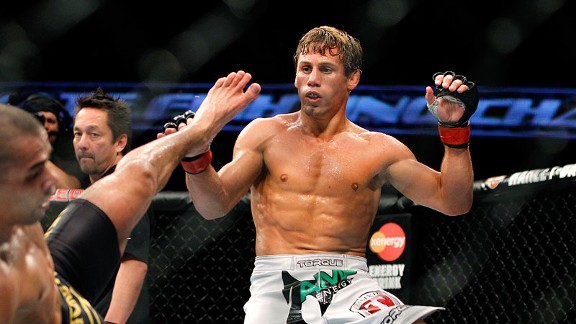 Ric Fogel for ESPNAn injury to Demetrious Johnson allowed Urijah Faber a chance to take over an April 13 main event.
If you were under the impression that flyweights were immune to the injury bug, it's best to just forget that.
Demetrious Johnson
won't fight
John Moraga
at The Ultimate Fighter 17 Finale after it was learned the UFC 125-pound champ, Johnson, had been injured. With no reason to keep Moraga on the card, UFC churned out an interesting bantamweight contest that should pique some interest.
Urijah Faber
, fresh off an impressive win over
Ivan Menjivar
, takes on his old pal
Scott Jorgensen
in the new main event on April 13 in Las Vegas.
"[Two] buds punching each other!" chimed in Faber on Twitter.
"Crazy, I wouldn't be fighting if he [hadn't] talked me into [it] in college!" tweeted Jorgensen.
With the recent roster trimming, the ability for friends and training partners to avoid fighting one another is likely to dwindle. It will be interesting to see how things play out if guys like Faber and Jorgensen aren't willing to step in the cage. More will be, but not all. Those that refuse could pay a heavy price.
As for the fight, give me Faber, but it won't be easy. Also, beating Jorgensen wouldn't be enough, I don't think, for fans to demand "The California Kid" receives yet another title shot. Though it would move him down that path.
Shamhalaev deserving of Bellator title shot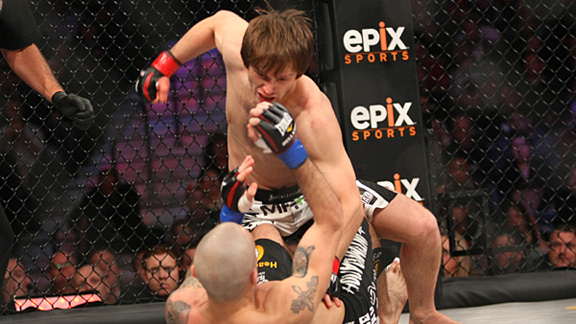 Keith Mills/Sherdog.comShahbulat Shamhalev benefitted from an injury to Daniel Straus to gain a shot at Pat Curran's title.
Injuries, obviously, aren't restricted to the UFC. On Tuesday, Bellator lost its next featherweight title fight when it was revealed
Daniel Straus
injured a hand while training to fight 145-pound champion
Pat Curran
.
The tournament format that delivered Straus also produced
Shahbulat Shamhalaev
after the 29-year-old Russian knocked out
Rad Martinez
in the second round last Thursday. Shamhalaev appears to be a legit contender to Curran's title and I'm glad Bellator slotted him into the fight, which they did Wednesday.
Shamhalaev wrapped an especially grueling tournament thanks to two postponements. There was some concern he wouldn't have time to put in a proper camp, which he obviously deserves after bowling through last season's 145 field. But the heavy-handed featherweight agreed to take the bout. That's good news because another option for Bellator was a rematch between Curran and
Patricio "Pitbull" Freire
. While their five-round fight on Jan. 17 was good, it wasn't memorable enough for fans to clamor for an immediate rematch. Not from what I've seen, anyhow.
Curran-Shamhalaev should make for a high-paced, well-contested title contest, which despite Curran's ability, could result in another Russian staking his turf in Bellator. I wouldn't put it past Shamhalaev as featherweight ranks among Bellator's best weight classes.
If there's a debate to be had about that, the light heavyweight division would not find many supporters. Thursday at the Santa Ana Star Center in Rio Rancho, New Mexico,
Christian M'Pumbu
defends his light heavyweight belt against
Atilla Vegh
.
More interesting, perhaps, is the next leg of the 155-pound tournament, which includes top prospect
Will Brooks
.
Saad Awad
will try to rip his head off. Also,
David Rickels
appears to have gained an advantage on the field by fighting alternate
Jason Fischer
, whom "The Caveman" out-pointed in November.
Brooks is the guy to beat, especially after
Alexander Sarnavskiy
was injured.
February, 6, 2012
2/06/12
2:36
PM ET

By Franklin McNeil
ESPN.com
Archive
Though
Nick Diaz
didn't leave Mandalay Bay Events Center in Las Vegas with Saturday night's most-coveted honor -- the UFC welterweight interim title -- he did go home with a nice consolation prize.
The Nevada State Athletic Commission revealed on Monday that Diaz earned $200,000 for his five-round unanimous decision loss to
Carlos Condit
, making UFC 143's highest-paid participant.
Condit made $55,000 for the fight. Besides the bout purse, Condit pocketed an additional $55,000 for his victory, which gave him the welterweight interim belt and a shot at current 170-pound titleholder
Georges St. Pierre
.
Welterweight contender
Josh Koscheck
received a check for $146,000. He was paid $73,000 for participating on the card and another $73,000 for his split decision win over
Mike Pierce
-- who was paid $20,000 for the fight.
Heavyweight
Fabricio Werdum
, who looked impressive en route to a unanimous decision over rugged
Roy Nelson
, took home $100,000. A win bonus was not part of Werdum's fight agreement. Nelson was paid $20,000.
Highly ranked bantamweight contender
Renan Barao
earned $22,000 -- he picked up $11,000 for the fight and an additional $11,000 after defeating
Scott Jorgensen
by unanimous decision. Jorgensen made $20,500 for his effort.
Rounding out the payment compensation for UFC 143 main card participants were middleweights
Ed Herman
($62,000, which included a $31,000 win bonus) and
Clifford Starks
($8,000). Herman won the fight by rear-naked choke in the second round.
Additionally, the UFC has officially asked the Nevada State Athletic Commission for the dates of May 26 and July 7. The promotion intends to hold events on those dates at MGM Grand Garden Arena. UFC has not yet revealed any details as to which fighters are slated to participate at those events.
December, 17, 2010
12/17/10
1:34
AM ET

By Jake Rossen
ESPN.com
Archive
Yeah. That kick.
Going into Thursday's final WEC event, Anthony Pettis was not the name that received the same heavy rotation as his opponent, champion Benson Henderson: It was Henderson who discussed facing the UFC champion in a unification bout, Henderson who was thought to present problems for everyone in his new home, and Henderson who had gotten preference with bookmakers.
For a round, it all seemed reasonable, with Henderson scoring two takedowns and enjoying control. But for the rest of the fight, Pettis scrambled, landed thudding rights, took Henderson's back -- once for minutes at a time -- and then closed out Round 5 by pushing off the cage with his right foot and then propelling his body into a kick that flattened Henderson. It was the kind of move that would take Jackie Chan at least a few takes to get right.
It's also the kind of effort that typified the WEC as one of the most satisfying programming choices in the sport. The fights were tremendous, but the promotion's smaller audience meant smaller rewards. Athletes like Pettis and Henderson aren't fighters: They're prizefighters. Big difference. And under the WEC's model, their exact same dedication to the sport as bigger men earned them only a fraction of the prize.
An April 30 card featuring Jose Aldo had a disclosed payroll of $336,500 for all 22 fighters; four months later, James Toney got paid a disclosed $500,000 to get stretched in the UFC. Merging is the answer.
To see Pettis again probably means spending $50. After Thursday's performance, I doubt we'll see anyone complaining.
Next for Pettis: The winner of Jan. 1's Gray Maynard/Frankie Edgar bout; becoming a YouTube celebrity.
Next for Dominick Cruz: The UFC's pick of high-profile fights against either Urijah Faber, Miguel Torres, or Norifumi "Kid" Yamamoto.
New questions: WEC 53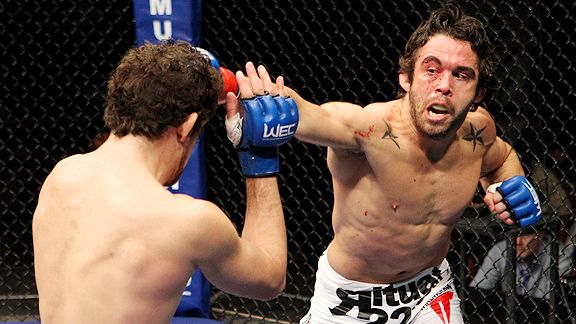 Josh Hedges/Zuffa LLC/Getty ImagesJamie Varner did himself no favors in losing for the third time in 2010.
Can Cruz ever be as big a draw as Urijah Faber?
Given the volume of exposure afforded to Faber during Thursday's broadcast -- Amp commercials, sneaker commercials, a ringside seat interview, in a lab coat and mixing a compound that could cure hip dysplasia in dogs -- it's obvious whom they consider the prize import.
Cruz, who defended his 135-pound belt against Scott Jorgensen in a lopsided decision, has a style that invites a pretty even split of admiration and disgust: He looks like Baryshnikov from below the waist, pedaling around the ring and deflecting blows while hustling to score himself. It's impressive, but it's also a style made for judges. Six of his seven WEC wins went the distance. If he's the guy, it'll be along the Lyoto Machida blueprint, with an eccentric style getting attention by long winning streaks and being debated.
Faber, win or lose, continues to have an "It" factor that touches only a handful of combat athletes; the "It" Cruz has is the UFC belt, though, and that's a proven attractor.
How does Pettis match up with Edgar or Maynard?
There's not much debate over Pettis' striking acumen: He had Ben Henderson backpedaling, trains with Duke Rufus, and can deliver technical strikes with power. The question isn't whether he can trade with Edgar or Maynard -- though Edgar's movement might prove to be as irritating to him as he has everyone else -- but whether he can avoid either man from wearing him out in the clinch or on the ground.
In Pettis' favor: He confused three-time All-American Shane Roller in August, avoiding takedowns and finally submitting him. It doesn't mean he can do the same to the UFC contenders, but it does allow him to walk into the Octagon with more confidence.
Should he root for Maynard or Edgar? Either one is a headache, but no one should ever hope to have to chase down Edgar in a 32-foot cage.
Is Jamie Varner out the door?
The problem with chasing wins to erase the bad taste of a loss is that you run the risk of compounding the problem. Thursday, Varner made an ill-advised decision to tackle a fourth fight in 2010 after going 0-2-1; Shane Roller needed less than four minutes to lock on a choke.
It's a radical change from when Varner entered the year on a four-fight win streak, and it comes as his promotion is being dissolved into the UFC. Roster trims are coming. Whether management considers his aggression over his results is something he might have to sweat out through the holidays.
Was that kick one of the top-five greatest moments ever in MMA?
I'd love to pop off some obscure reference to a 1998 show in Guatemala that only four people have on VHS and how someone pulled off a pressure-point attack or got a flying headbutt win a la "Bonk's Adventure" -- but I can't. Pettis' kick is top-three for sure, blemished only by Henderson's refusal to stay flattened from it. A lot of people are going to hurt themselves in the gym this weekend.
December, 16, 2010
12/16/10
6:28
AM ET

By Jake Rossen
ESPN.com
Archive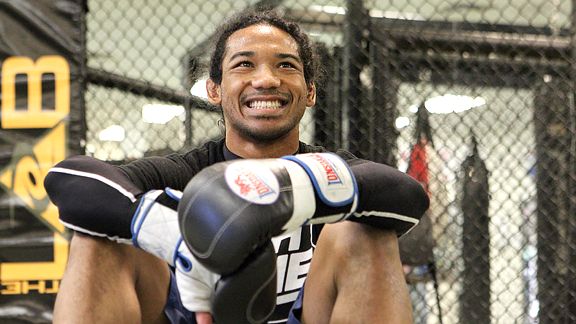 Mike Roach/Getty ImagesLast call: Benson Henderson helps close the show for WEC when he meets Anthony Pettis.
Thursday night will be the final time Zuffa will promote fights under the World Extreme Cagefighting banner. It marks the end of a foundation built almost exclusively for 155-pound and under fighters, traditionally the most talented (and least recognized) in combat sports.
They'll now have to pack up their things and do their best to stand out in the UFC, where the competition involves a lot of pageantry and swollen physiques. At least their ring is being retired in style. See below.
What: WEC 53, an 11-bout card from the Jobing.com Arena in Glendale, Ariz.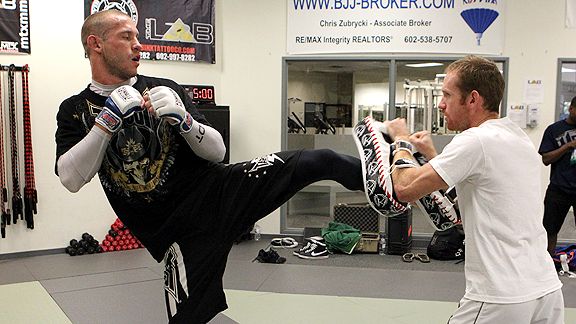 Mike Roach/Zuffa LLC/Zuffa LLC via Getty ImagesExpect action galore when Donald Cerrone takes to the cage.
When: Thursday, Dec. 16, at 9 p.m. ET on Versus.
Why you should care: Because Benson Henderson might surprise a lot of people in the UFC's lightweight division -- providing he can hold on to his WEC belt against Anthony Pettis; because Dominick Cruz is probably going to wind up in the way of Urijah Faber's 135-pound title hopes; because Kamal Shalorus seeks and destroys; and because Tie Quan Zhang continues to raise hopes for China's MMA exports.
Fight of the night: Donald Cerrone versus Chris Horodecki, the fight least likely to be decided by decision.
Hype quote of the show: "But there was a chip on our shoulder. Not getting quite the recognition that we felt we deserve with the UFC as like a bigger brother or bigger sister company organization. Nothing that they've done personally but, yeah, I've got that chip on my shoulder. So I'm definitely going to be here to leave that legacy for the WEC." -- Henderson, summing up how a lot of people felt about the WEC, to the Federal Way Sports Mirror.
Questions: WEC 53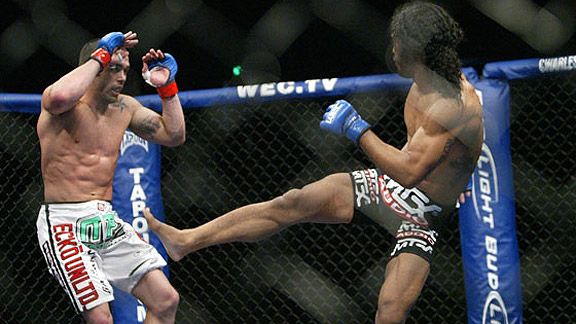 Jeff Sherwood for Sherdog.comWhen it comes to gauging Ben Henderson's level of competition, Jamie Varner, left, isn't exactly Frankie Edgar.
Is the winner of Henderson-Pettis ready for the UFC's champion?
A victory at the top of Thursday's card would put either Henderson or Pettis directly in sight of UFC 125's Gray Maynard-Frankie Edgar winner to unify the WEC and UFC belts. While many have credited Henderson with enough skill to contend in the deeper division, ability can really only be measured against your opposition -- and Henderson hasn't yet fought anyone on the level of Edgar, B.J. Penn, Sean Sherk or any of a dozen UFC athletes that could make his night a miserable one.
Is Jamie Varner's quick turnaround a good idea?
Like everyone in the 155-pound division, former champion Jamie Varner wants some momentum heading into the UFC merger. But after going 0-2-1 in 2010, Varner elected to take a seven-week turnaround and accept a fight with credentialed wrestler Shane Roller near Varner's hometown. The home-field advantage is always nice; burning out is not.
How will the WEC be remembered?
Promotions with folding instructions are nothing new to MMA, but it's rare to see a successful, well-managed event make a calculated decision to close doors. The WEC successfully ran 52 events, kept costs under control, secured ownership from Zuffa, made a star out of Urijah Faber, popularized lighter weight divisions and became the most-ordered non-UFC MMA pay-per-view in history.
Red Ink: Henderson-Pettis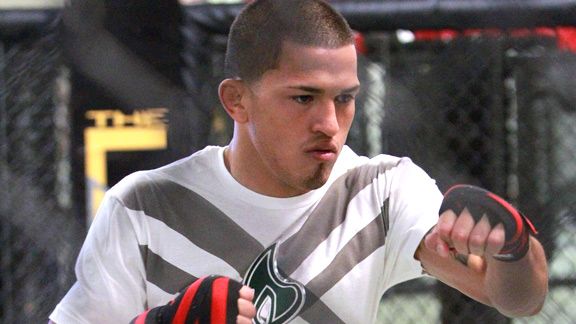 Mike Roach/Zuffa LLC/Getty ImagesAnthony Pettis' striking is on par with his wrestling ability.
Nicknames don't always have the meaning they're intended to assign, but Henderson's "Smooth" label is as close to truth in advertising as you'll get: There's not much of a loading delay in his transitions from stand-up to ground work, and there's rarely a moment when he seems confused as to what to do next. It's the composure of someone with twice his 13 fights.
Pettis' biggest problem Thursday will be the same issue that has led to Henderson's five-fight undefeated streak in the WEC: figuring out where Henderson is coming from next. What's unique about Pettis' threat is that Henderson might experience the same problem: Pettis, a very good striker, out-scrambled standout wrestler Shane Roller.
What it means: A chance to both retire the WEC title and contend for the UFC's lightweight title in 2011.
Wild card: Wrestling -- Henderson is terrific, but Pettis has put in time with Ben Askren.
Who wins: With a UFC title shot on the line, neither guy can be too happy about what he'll have to go through to get there -- but Henderson has faced better competition and puts up a pace that might eventually irritate even Edgar. Henderson by decision.
Red Ink: Cruz-Jorgensen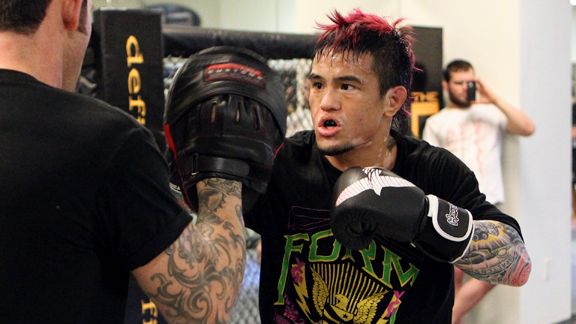 Mike Roach/Zuffa LLC/Zuffa LLC/Getty ImagesWill Scott Jorgensen's aggression work for or against him when he meets Dominick Cruz?
In 17 fights, only Faber has been able to put a blemish on Cruz's record. On the heels of that loss, Cruz dropped to 135, rattled off six victories -- including two to Faber teammate Joe Benavidez -- won a title and is now faced with the prospect of challenging Faber again.
That's a lot of pavement to lay down and it makes for a terrific story, but Cruz's immediate problem is Scott Jorgensen, a very capable Division 1/Pac-10 wrestling champion who likes attrition fights and has never been stopped in the WEC. Jorgensen sits down on his punches; Cruz tends to float. It's a match between aggression and deflection.
What it means: An opportunity for the winner to wear a bantamweight belt with a UFC emblem on it; riding the wave of attention that comes with facing Faber down the road.
Wild card: Jorgensen's aggression; it can kill the defensive game of someone like Cruz, but it also leaves his neck (literally) stuck out in scrambles.
Who wins: Cruz isn't getting anything gift-wrapped, but his busy style will probably influence judges more than Jorgensen's risk-taking. Cruz by decision.