November, 21, 2011
11/21/11
4:45
PM ET

By Chad Dundas
ESPN.com
Archive
As is almost always the case,
Cung Le
seemed to be in good spirits, as he took to his Twitter account on Sunday to show fans the aftereffects of Wanderlei Silva's fists and knees.
"Here's a picture of my face you wanted to see," Le wrote, attaching a photo of himself with a blackened right eye, swollen lower lip and a gash across the bridge of his nose.
The morning after, his gaze had taken on that "what happened last night?" air we so often see on defeated fighters. But, at least, Le's sense of humor appeared intact. And at least his nose was back where it should be.
A suddenly resurgent Silva had pounded said nose almost comically flat on Saturday night while scoring a career-saving second-round TKO win at UFC 139. It was a victory that temporarily put off questions surrounding "The Axe Murderer's" future, while simultaneously raising them about where Le goes from here.
At 39 years old, isn't it impossible to imagine he finishes out the six-fight deal he signed with the UFC earlier this year? With two new movies coming out during the first quarter of 2012, will he lapse back into the fits and starts that have typified his five-year MMA career? Does working two jobs leave him the kind of time and focus necessary to be successful at the highest level of this sport?
And, anyway, will he even want to soldier on if people keep busting up his nose with such alarming regularity? I mean, first
Scott Smith
in Strikeforce in 2009, and now Silva. That can't be good for your movie star good looks.
[+] Enlarge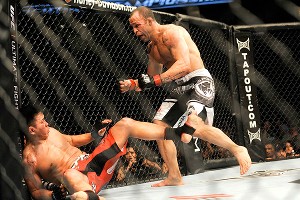 Rod Mar for ESPN.comDown and out: It's hard to imagine Cung Le choosing this line of work going forward.
"I felt great -- 'til I got caught," Le wrote at the end of his Twitter message and, yes, in all honesty there were a few positives to take away from his performance against Silva.
The former Strikeforce middleweight champion's promotional debut was good enough to earn "Fight of the night" honors and he looked pretty capable through his first 9 minutes, 49 seconds as a bonafide UFC fighter. In the early going, he twice stunned Silva with spinning back fists; and, for much of the first round, he was able to keep his opponent at the proper range for his unorthodox arsenal of strikes.
Had Le been able to land flush with any of his powerful spinning kicks -- like the partially-blocked wheel kick he clocked Silva with two minutes in -- we'd be having a much different conversation today. Instead, by the second, he was visibly slowing down and Wanderlei was able to start working his way inside for the eventual endgame.
It seems unfair, but as reasonably good as Le's performance was in this fight, our final impression was of him losing to a guy unilaterally assumed to be on his last legs. What's worse, Silva's win provided a fairly comprehensive game plan for how to beat Le: Close the distance to smother his attacks, wait for him to tire himself out, and then finish.
Le's style and his personality will continue to make him a fairly marketable fighter. And it seems likely we'll probably see him in the cage at least one more time before it's all said and done. At this stage, though, his age, inactivity and other career options all raise doubts about how much he'll actually be able to accomplish in MMA moving forward.
July, 30, 2011
7/30/11
11:22
PM ET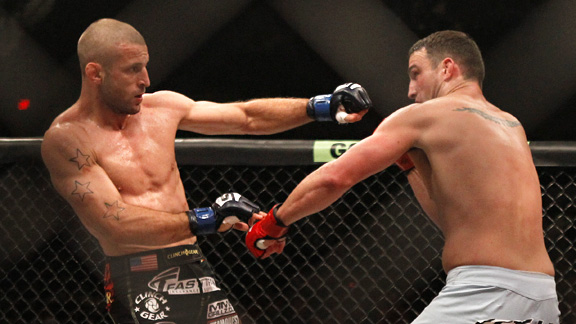 Ross Dettman for ESPN.comScott Smith's standup routine proved easy pickins' for Tarec Saffiedine, left.
HOFFMAN ESTATES, Ill. -- Scott Smith's ability to withstand just enough punishment to make for an improbable comeback held up -- only this time, he took all the punishment and stayed behind. In fighting as in the NFL, come backs make for lively entertainment, but -- as the old adage goes -- good teams don't fall behind to begin with. Smith fell behind and the route was on. There was no Hail Mary Pete Sell, but there was a macabre seen on his face. This becomes the new constant.
Smith's commitment to movement (and in particular head movement) was only marginally in evidence tonight against Tarec Saffiedine, and even then only early on. After that Smith was easy pickins'. Ganyao Fairtex, his striking coach, can teach technique but unfortunately not reflexes. Smith stood totem still as Saffiedine changed levels and stances to find the mark. Several times Saffiedine telegraphed shots right down the pipe that landed square. He landed some head kicks late, and Smith ate them gallantly. Problem is gallantry isn't rewarded here. Saffiedine won by unanimous decision 30-27, 30-27, 30-26.
For Smith, it's three losses in a row and likely the end of his run in Strikeforce. Will be a hard row back to relevance for "Hands of Steel." His next come back to save his career, should he continue on.
July, 30, 2011
7/30/11
10:50
AM ET
HOFFMAN ESTATES, Ill. – With last night's news of Strikeforce heavyweight champion Alistair Overeem's release, you have to wonder about the timing. Inside MMA broke the news just 24 hours before one of the promotion's most intriguing match-ups in
Fedor Emelianenko
and
Dan Henderson
, which is -- depending on if you are a conspiracy theorist or not -- either mere coincidence or motivated coincidence.
The reason for Overeem's sudden boot? Zuffa officials aren't saying, but one assumes insubordination, defiance and attitude. These are not the hallmarks of a Zuffa champion -- titles are not necessarily meant to be entitlements.
It's a lot to get used to in a hurry. Overeem was considered one of the favorites to win the Strikeforce heavyweight GP just a couple of weeks ago before things started going south. He was removed from the grand prix with a sort of injury/bad timing parlay, which he said would prevent him from competing in the semifinals on Sept. 10. This bummed just about everybody out. Then he started talking about boxing Vitali Klitschko, which had a madcap flavor to it, just before signing on for a Glory World Series event in October days later. The sum of these parts added up to something like a slap in Zuffa's face.
If there's one constant in Overeem's career it's that he likes to do it his way, and he likes to stray. Bottom line is, Zuffa didn't like the direction he was straying, and now he's gone.
And what they played, was a masquerade
Did you catch the strangely inappropriate comment that Scott Coker made to MMA Fighting's Ariel Helwani when asked why
Marloes Coenen
wasn't at the prefight news conference? "I'm not sure -- I hear that she was running late, a makeup issue or a wardrobe malfunction or something like that," he said. "Nothing serious." This was uncharacteristic for Coker. One for taking a stab at being funny (refreshing), and two because the last thing you want to do when part of your company's goal is to legitimize women's MMA is to stereotype the subjects. To his defense, there's a lot on his mind this weekend, and not all of it pleasant.
End of an era
Scott Smith
openly acknowledges this could be it for him in Strikeforce after losing two in a row, so he'd better bring it. In other words, Smith is going in there with the mindset of Smith. He gets a lot of heat for keeping the head stationary while flinging overhands in hopes that the exchange works out. We call his fights "wars." More practiced eyes might call it roulette. Either way, this is likely Smith's last play at relevancy before he becomes the comeback kid not in a fight, but in his career.
What did she just say?
During their stare down at the weigh-ins yesterday, Dutch fighter Marloes Coenen said something to
Miesha Tate
.
What was it?
"I have no idea," said Tate afterwards. "I couldn't figure it out, but she seemed to be shaking. Whatever it was it didn't seem friendly. But that's great; I love it. I'm evidently in her head."
25:1 -- Odds-off favorite
Flashing back to the beginning of 2011, when the Strikeforce GP was getting set to kick off with eight of the most dangerous big guys going,
Daniel Cormier
wishes he'd stopped by a Vegas sportsbook to play his own odds.
"Before, I guess in January, if you bet $100 [on Cormier] you could win $2,500," he said. "But I was kind of outside of the tournament as an alternate, so it didn't really matter. God -- I wish I would have [thrown] some money down back then. I could have made some cash on this thing."
July, 28, 2011
7/28/11
8:38
AM ET

By Chad Dundas
ESPN.com
Archive
Strikeforce executive vice president Scott Coker said this week he believes Saturday's card has the potential to be the best show his organization has ever done. Meanwhile, the rest of us stand around whispering about how long the embattled fight promotion can even survive.
In that regard, maybe it's fitting that the future of several of this weekend's competitors appears inexorably tied to the prospects of Strikeforce itself. With the fate of fighters like
Fedor Emelianenko
,
Dan Henderson
and
Paul Daley
-- not to mention the entire women's division -- looking more and more unstable as Strikeforce trends closer to an assumed eventual absorption into UFC, it goes without saying that a lot could be on the line Saturday.
Here's a glance at who has the most to gain and the most to lose at Strikeforce: Fedor versus Henderson:
Most to gain:
1. Miesha Tate:
As
noted earlier this week
, Tate appears to have all the makings of a breakout star in a Strikeforce women's division hurt by the absence of its two biggest stars --
Gina Carano
and
Cristiane Santos
. To fulfill that promise, she'll have to beat
Marloes Coenen
for the 135-pound title. Tate and Coenen have said they hope their performance goes a long way to showing Zuffa brass that female MMA can be a valuable future part of the company. That, along with an opponent whose submission ability could pose a threat to Tate's takedown-oriented style, seems like a lot to heap on a 24-year-old who hasn't fought in almost a year. It'll be pretty impressive if she can pull it off.
2. Tyron Woodley:
Imagine how Woodley's career might have been different had he not reportedly been one of the final cuts prior to filming season nine of "The Ultimate Fighter." Instead, James Wilks won that season's welterweight crown and has since put up an underwhelming 2-2 record in the Octagon. Meanwhile, Woodley has had to build his reputation without a ton of help, netting six straight victories in Strikeforce dating to June 2009. With the welterweight championship vacant after
Nick Diaz
became the first to cross (back) over to the UFC, a win over Daley could do double-duty -- providing his career its first real signature moment while also putting him on the doorstep of a title shot.
3. Dan Henderson:
Henderson could just as easily fall into the "most to lose" category if things get ugly for him against Emelianenko. Especially considering those troubling reports that Zuffa might cut him loose from his bloated contract if he doesn't come out on top. Still, the rewards might outweigh the risks for Hendo against a former heavyweight great considered by most to be in rapid decline. Even with our doubts about Fedor's future in the sport, moving up a weight class and capturing a win over him would still look great on Henderson's already extensive resume. Considering the victory would give him three in a row after back-to-back knockouts over
Renato Sobral
and
Rafael Cavalcante
, it would also put a good bit of distance between him and his loss to
Jake Shields
in April 2010, when it looked like Henderson didn't really want to fight any longer than five minutes.
Most to lose:
1. Fedor Emelianenko:
It won't be unexpected if Fedor loses to Henderson, then retires, but it'll still be sad. After going nearly 10 years and 28 fights without a loss, Emelianenko built an almost mythic reputation in a sport where he is still arguably the greatest all time. Without overstatement, if this weekend is the last time we see him in the cage, it'll mark the end of an era in the hearts and minds of longtime fans. Just goes to show, the adage is true: Time, too much ice cream and a complete refusal to ever alter your approach even as the rest of your industry passes you by will make a fool out of all of us.
2. Paul Daley:
Daley is 8-2 in his past 10 fights, but you still get the feeling Zuffa is just waiting around to fire the guy, don't you? Since severely limiting his career options by punching
Josh Koscheck
after the bell at UFC 113, each of the 28-year-old Daley's moves takes on added significance. The fight against Woodley could mean the difference between a shot at the Strikeforce 170-pound title and having the only thing in his future to look forward to be an as-yet unscheduled BAMMA main event against
Nate Marquardt
. If those are Daley's options, he better hope he's got the wherewithal to choose the former.
3. Robbie Lawler and Scott Smith (tie)
: It seems like a lifetime since a rematch between these two drew an estimated 2.6 million viewers to EliteXC's second show on CBS almost exactly three years ago. Lawler won the doomed company's middleweight strap that night but has since gone 2-3 and faces what amounts to a must-win against the very tough
Tim Kennedy
on Saturday. Likewise, Smith has lost three of his past four and conceded this week he likely won't have a job with Strikeforce if he can't get past 24-year-old prospect
Tarec Saffiedine
. It'd be a shame to see these guys hit the unemployment line, but that could be the reality if either suffers another loss.
July, 27, 2011
7/27/11
5:01
PM ET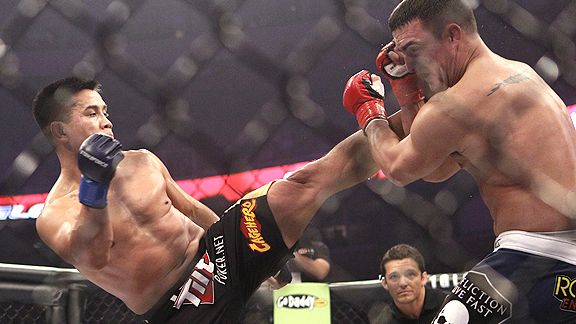 AP Photo/Jeff ChiuCung Le, left, wants in on the UFC's San Jose card -- or he wants out of MMA.
In mixed martial arts,
Cung Le
has a pair of nouns that he traditionally lives by --
Scott Smith
and San Jose.
His world in MMA is just that focused, while his work as an action-oriented actor spans continents. What does this information tell us? Reading between the lines, possibly that he has a superstition against packing his bags before a fight.
The 39-year-old Le -- a kickboxer-turned-highly entertaining sanshou menace -- has fought all eight of his professional MMA bouts in Strikeforce's long-time operational hub of San Jose, and he's went 7-1 there. Two of those -- the only fights he's been involved with since 2008 -- were against Scott Smith. He even played along by losing the first one improbably. At any rate, it's no wonder he has joined the chorus of AKA fighters lobbying Joe Silva to fight on the UFC 139 card, which will be held right there in the Silicon Valley on Nov. 19. Though Le can do without a trilogy versus Smith, this is one party he doesn't want to miss.
And the UFC should make sure he gets the invitation.
Le recently commented that if he fights again it would be in a UFC showcase, which he sees as feasible since his part-time gig at Strikeforce is now a part-time gig with Zuffa. As for the pesky little Showtime contract that could hold things up? Surely there's a paper-shredder somewhere in Zuffa's offices. At least that's what Le is insinuating.
Obviously it wouldn't be as easy as all that, but he's got a point -- if the UFC is willing to meddle it can figure out a way to bring Le into the fold for that card. Here's a guy who is more than a novelty act, less than a serious contender, perfect for at least one good intrigue fight in its middleweight division (
Yoshihiro Akiyama
would be colorful). And yet the bigger issue is that Le's shelf life is running out. While he closes in on 40 years old, the window in which he is willing to fight in nonfictional bouts closes too. If the only way we'll see the "Human Highlight Reel" fight again is in the UFC, then it should be in San Jose. Wouldn't it be better to see him (at least) once more in the cage than never again?
Le has at least three movies coming out in the next year -- "The Man With Iron Fists," "Dragon Eyes" featuring Jean-Claude Van Damme, and "The Grandmasters" -- and is digging his new profession. There's less and less incentive for him to continue fighting into his forties, and yet interest in seeing him compete hasn't waned. Le sent in a note to Lorenzo Fertitta and Dana White asking for a spot on the card, and they might want to at least listen to their employee here.
Why? If for no other reason than it might be the last time he asks.
December, 5, 2010
12/05/10
6:34
PM ET
Among Mike Goldberg's usual duties -- sponsor plugs, broadcast generalship, tanning -- is reciting the standard "rules of the Octagon" narration over a graphic, which states points will be awarded "based on striking, grappling, aggression and Octagon control." At 10 seconds in length, this will never be mistaken for an instructional video, but it's become very obvious that Nevada judges in attendance Saturday haven't even bothered watching that much.
After handling Leonard Garcia for three rounds, pushing Garcia backward, landing punches while Garcia whiffed in open-mouthed "offense" and even taking a round with a conceivable 10-8 work effort, two judges ignored Nam Phan and scored the bout 29-28 Garcia. (The third saw it 30-27 Phan, cementing his status as human with two functioning corneas.) It stands next to New Coke, "The Phantom Menace" and the Hula burger as one of the worst decisions of all time.
In typically boorish bureaucratic fashion, these judges will never be asked to explain their scorecards, will never be asked to provide evidence of their competency and will probably not be reprimanded in any meaningfully way -- all expected outcomes of virtually every other botched job on the planet.
Nothing can suffocate the enthusiasm of fans more quickly than something purported to be "As Real as it Gets" burdened by the inexplicable presence of officials who use a fictitious set of standards to oversee fights. Athletic commissions are assumed to be competent; as we saw with Chael Sonnen's hearing Thursday, some members can't even tell the difference between a mixed martial artist and a boxer. At this point, it's becoming impossible to tell the difference between a fight judge and a brick.
Next for Phan: Several drinks; head-shaking; more drinks.
Next for Garcia: Providing a green energy source with his punches.
Next for Dan Henderson: Rafael "Feijao" Cavalcante.
Next for Robbie Lawler: Cung Le, if Le feels like tempting fate; Tim Kennedy.
Next for Jonathan Brookins: Not quite ready for prime time; maybe the winner of January's Cole Miller/Matt Wiman bout.
Awards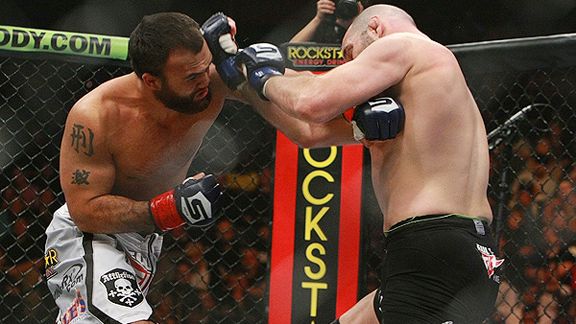 Dave Mandel/Sherdog.com Robbie Lawler brought a new look and the same old power to the cage Saturday.
The look at me award: The anonymous spectator at the Palms who kept screaming out lines from "The Karate Kid" during the Johny Hendricks/Rick Story fight. This was funny in 1995. Briefly. The moment has passed.
The Mr. Rogan goes to Washington award: Joe Rogan, for publicly taking the Nevada commission to task for their ridiculously apathetic attitude toward the state of judging in MMA.
Verbal vomit award: Mauro Ranallo, for his use of "fistic fireworks" and claiming Henderson "has rung more bells than a monk in a monastery." Ranallo could be calling the action between Superman and Muhammad Ali on a space station and it would still feel like too much.
College try award: Mike Kyle, for taking a fight on short notice against Antonio Silva and nearly knocking him out in the first.
The James Lipton award: Lawler, for growing a beard that would make Fidel Castro (and his many decoys) proud.
New questions: UFC/Strikeforce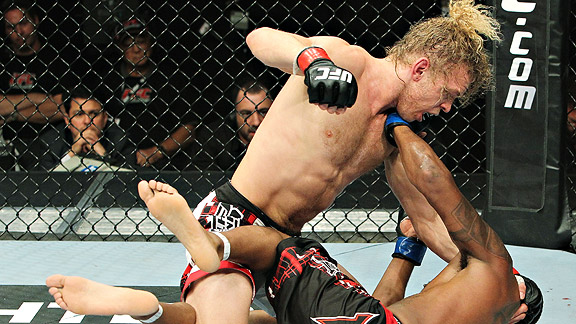 Josh Hedges/Getty ImagesJonathan Brookins, top, isn't quite ready for the UFC's top fighters.
Who can take commissions to task?
Accountability is what keeps most of us competent. If there's no one who can audit our behavior, we might begin to behave in a manner that keeps life easy without sweating the consequences. No one in sports is held less accountable than a fight judge -- appointed by the commission, sometimes out of cozy cronyism, and spared any process that could call into question their competency. As Saturday's Phan/Garcia fight proved, several of these people might need help making sure their chairs are facing the right direction.
Many commissions, like Nevada's, have members appointed by the state's governor; once those appointments are in place, upper levels of government pay them little attention. You could appeal to the department of state business that typically has ties with the commission, but you again deal with parties of lopsided interest. Hitting them all where it hurts -- the wallet -- would only injure promotions who count on revenue from busy regions. What's it going to take? Fighters picketing the offices?
Between the weekend's judging in Las Vegas and Thursday's chaotic Sonnen hearing before the California board, MMA's supervisors have never looked less impressive. The commissions are crafted to keep fighting sports honest. Who keeps the commissions honest?
Is Henderson still a threat?
Henderson, 40 years old and looking every bit the nail-studded club he was 10 years ago, snuffed out Renato "Babalu" Sobral quickly Saturday, which brought up talk of a title bout with "Feijao." It was also enough to dim the memory of a poor performance against Jake Shields last April; a weary Henderson, after dropping Shields early, was ground out over five rounds.
But it's worth noting that most of Henderson's career-best performances came at 185 pounds, where his imposing wrestling and bullet-forward strikes were a threat. At 205, he's dropped decisions to Quinton Jackson, was submitted by Antonio Rogerio Nogueira and had a difficult time with Rich Franklin. Capturing a title in that division shouldn't be a foregone conclusion.
Is Brookins going to survive?
Brookins won the 12th season of "The Ultimate Fighter" on Saturday, but only after a very rocky start: Michael Johnson controlled the pace in the first round, only to fall off the cliff in the lat
ter two. It was a sturdy performance, but not the kind that makes anyone optimistic for Brookins' chances in one of the deepest divisions of the sport. He'll need very small, very incremental steps.
Should Matt Lindland hang it up?
Matt Lindland had one of the all-time poor game plans during the Strikeforce program, settling into the pocket with the younger, faster and more violent Lawler. Bad things were anticipated, and bad things happened: Lawler landed a right hook and one punctuating ground strike that put Lindland out cold. (Lawler even straightened out the stiffness in his legs, which is a little like a serial killer helping police with a body bag.)
Much is being made over Lindland's current fight IQ, but two big knockouts -- Vitor Belfort did the same thing to him in January 2009 -- over a two-year period isn't as harsh a run as other fighters have suffered. Bad matchups are bad matchups; Lawler was awful for him. It doesn't necessarily mean he's no longer fit for duty.
Notes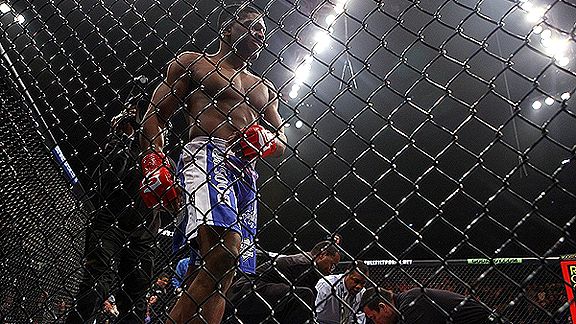 Dave Mandel/Sherdog.com Paul Daley, above, wants another crack at K.J. Noons.
• After making Scott Smith look like an amateur, Paul Daley told the St. Louis crowd he was interested in a fight with K.J. Noons. It's easy to see why -- both are disinterested in wrestling -- but Noons doesn't have a lot of business as a 170-pound fighter. Daley against Nick Diaz is far more interesting.
• More from the bad strategy department: After knocking down Silva and then getting nowhere with hammerfists, Kyle might have been best served by allowing Silva to struggle back to his feet and trying to capitalize on his pre-rung bell.
• To help ease the pain of a ridiculous decision loss, Phan split a $60,000 "Fight of the Night" bonus with Garcia. Leonard's heart is impressive, but his method -- swinging in comically overcommitted offense -- is a poor representation of technique. I'm not sure it deserves acknowledgement.
• Strikeforce CEO Scott Coker told MMAJunkie.com that he's optimistic a deal will be reached with Fedor Emelianenko soon. How negotiations can drag out for this long after Emelianenko lost much of his mythical status in a spring loss to Fabricio Werdum is beyond me, particularly when he brings little additional revenue to North American box office or ratings. He's a great fighter, but not a deity. Enough already.
December, 2, 2010
12/02/10
9:59
AM ET
Saturday marks the first time the UFC and Strikeforce have aired live programming opposite one another, but there's really not much to be made of that: Showtime airs in only a fraction of the homes Spike does, making any real comparison of viewership a mess of semantics, demographics and relative numbers. Dave versus Jay is a pretty fair ratings match; this one requires a lot of handicapping.
If anything can be figured out, it'll be based largely on the drawing power of promotional names, not athletes: Strikeforce lost a draw in Herschel Walker last week, while the UFC is dealing primarily with ungroomed "Ultimate Fighter" participants and a well-liked headliner in Stephan Bonnar. The Strikeforce card has more intriguing and rankings-relevant bouts, but its top draw -- Dan Henderson rematching Renato "Babalu" Sobral -- may be a somewhat muted affair. Unless Sobral can catch Henderson in something, there's not a lot of breaking news to anticipate.
What's really remarkable Saturday: Fredson Paixao and Pablo Garza will mark the first time featherweights have competed under the UFC banner; Will Campuzano and Nick Pace introduce bantamweights the same night. Athletes who work every bit as hard as the rest and who helped bolster an entire company have earned the platform the UFC provides. More than anything, we'll probably remember the event as the night they finally got what they deserved.
What: "The Ultimate Fighter 12" finale, from the Pearl at the Palms in Las Vegas; Strikeforce: Henderson versus "Babalu," from the Scottrade Center in St. Louis.
When: Saturday at 9 p.m. ET on Spike ("TUF 12" Finale); 10 p.m. ET on Showtime (Strikeforce)
Why you should watch: Because Demian Maia against Kendall Grove is a nice puzzle of Maia's jiu-jitsu against Grove's rubber limbs; because Paul Daley against Scott Smith is one of the sport's few money-back guarantees of a knockout; because fights taken on short notice -- as in the case of Mike Kyle's bout with Antonio Silva -- usually mean explosive, strategy-free action; and because Bonnar is rarely in a boring fight.
Fight of the night: Daley-Smith, for as long as it lasts.
Hype quote of the show: "Even some of my closest friends, when I told them who I was fighting, they were like 'oh Maia, oooohhh,' ... it kinda p---es me off, and what a lot of people don't know is that I asked for this fight." -- Grove, on making life harder on himself, to UFC.com
Questions: UFC/Strikeforce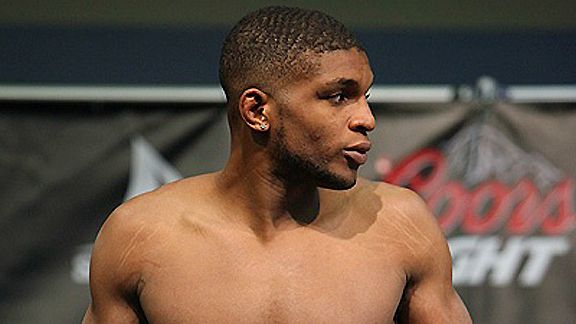 Dave Mandel/Sherdog.comPaul Daley's reward for sucker punching Josh Koscheck is being the new Josh Koscheck.
Can 'The Ultimate Fighter' still create stars?
The first season of Spike's "Ultimate Fighter" was initially seen as a free pass into UFC contention. "Regular" fighters had to come up the hard way, while the reality stars got there faster; winners weren't celebrated so much as resented.
If the show was planned as stunt work, it worked better than anyone could've expected: Forrest Griffin, Chris Leben, Josh Koscheck and others went on to become champions or contenders. But in its 12th season, the show might finally be arriving full circle -- as a vehicle for prime-time programming over actual recruiting. Recent winner Efrain Escudero was cut; Ross Pearson had a good run interrupted by Cole Miller; and no contestant since Season 3 winner Michael Bisping has approached a level that impacts box office revenue. The winner of Saturday's Michael Johnson/Jonathan Brookins bout might discover that they haven't necessarily earned relevance -- just the chance at it.
Can Matt Lindland still create problems?
It was only a few years ago that some observers lobbied the conspiracy theory that UFC brass were so nervous smothering wrestler Matt Lindland would beat marketable Rich Franklin that they found a reason to oust him from the promotion. Lindland reportedly wore a sponsor shirt that was not allowed, and was subsequently fired. Truth to the explanation? Who knows.
The 40-year-old has struggled since, dropping fights to Vitor Belfort and Ronaldo "Jacare" Souza. Beating Robbie Lawler on Saturday might reintroduce the idea that Lindland is no particular picnic for anyone he fights.
Is Daley the new go-to villain?
The moment he struck Josh Koscheck after the bell during a May UFC event, Daley became the poster child for impropriety. (He was fired the same night.) Fans have good memories: When Sean Sherk was alleged to have tested positive for banned substances, he returned to boos. Whether Daley plays that up or tries to be contrite is something the audience might wind up helping him decide.
Red ink: Henderson versus Sobral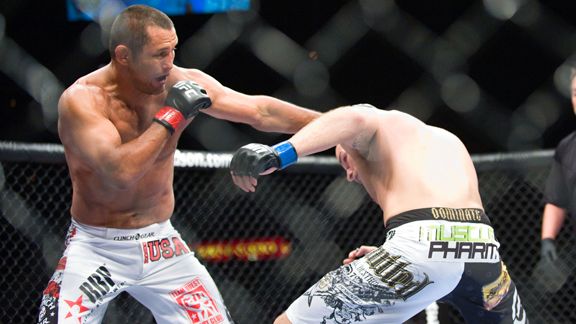 Martin McNeil for ESPN.comAn older, wiser Dan Henderson should have little trouble with Renato Sobral.
Think you can get a handle on Saturday's Strikeforce rematch between Sobral and Henderson by watching their February 2000 fight? Forget it: So much time has passed that the footage is irrelevant. An overweight Sobral scored with leg kicks and even took Henderson down. But under Rings rules, no one was able to strike to the head on the ground. With both men exhausted from prior fights the same night, it's not much more help than camcorder footage from a tough sparring session.
The only thing unlikely to change is Henderson's ability to muscle Sobral around in the clinch: He hasn't gotten any less dangerous there or elsewhere, while Sobral has had a hot-and-cold career in the years since. A second win over Sobral is not going to be one of the more notable marks on Henderson's résumé, but following a loss to Jake Shields in the spring, it's a fair test of what the 40-year-old former Pride champion has left.
At stake: A possible title shot against Rafael "Feijao" Cavalcante; for Henderson, enough juice for a higher-profile fight against Fedor Emelianenko.
Wild card: Were Henderson's problems against Shields attributable to a hard weight cut -- as he claims -- or simply a war-torn body finally showing its age?
Who wins: Henderson tends to struggle more as a light heavyweight, but Sobral probably isn't looking at many chances to win outside of a submission during a scramble. The Big Right Hand, the pace and the clinch work are all still enough to put away just about anybody in the sport. Henderson by decision.
June, 27, 2010
6/27/10
10:02
PM ET
Added to Fedor Emelianenko's considerable accomplishments during a 10-year MMA career: breaking the Internet.
Emelianenko, 33 and with a 32-1 record heading into Saturday's fight with Fabricio Werdum, has spent the past three years as one of the sport's best fighters and its most divisive personality. The mystique of his undefeated record made him the UFC's priority acquisition -- yet he and his management team rejected their advances, an arrogance that pleased fans irritated at the UFC's monopoly and annoyed others who wanted to see him butt heads with the 280-pound wrestlers.
For fans, his disinterest was an example of a fighter who refused to become a commodity; for Dana White, he was a fading champion who didn't deserve the respect shoveled on him. It is probably not unreasonable to say that significant ad space was sold on sites that got bumper-to-bumper traffic based on the debate. Strikeforce and Emelianenko got plenty of press. The only person it didn't benefit was White, who was chastised in media for not being able to close a deal.
White's consolation was that Emelianenko losing was only a matter of time. Everyone does, sometimes to an athlete most would overlook. (Georges St. Pierre and Anderson Silva, the UFC's two best fighters, lost to Ryo Chonan and Matt Serra, respectively -- Washington Generals-level underdogs.) But what made Fedor special was his inexplicable ability to defy the odds for so long. In a sport in which just one mistake can cost you a loss -- or a broken arm, or worse -- he had somehow navigated through a decade without suffering a freak occurrence, injury or mental lapse.
Until this weekend. Emelianenko rushed Werdum, who fell to his back more out of a loss of balance than punishment. Then Emelianenko made a horrible error: He willingly tumbled into Werdum's guard, a position representing his biggest danger of the fight. Without the sweat of a long fight to help him, a dry Emelianenko was forced to tap to a triangle choke. Message boards, busy for so long with arguments over his abilities, froze from the congestion.
In a sport in which you're only as good as your last fight, getting tied and tapped by a triangle in just over a minute leaves Emelianenko open to some revisionist history. But reputations are built on the sum total of efforts: To date, no heavyweight has dominated his division as thoroughly, consistently and for as long as Emelianenko has. He may not be the best heavyweight competing today, but he is easily the most accomplished.
There will probably be a rematch with Werdum, and a chance to re-establish the claim that Emelianenko has beaten every man he's ever faced. There may also be a softening on demands from M-1, his squad of contract negotiators, who can no longer twist promoters with the promise of delivering a superhuman. The loss may even provide the best result possible for his fans: a career-ending trip in the UFC. And with it, a chance to break the Internet one more time.
Next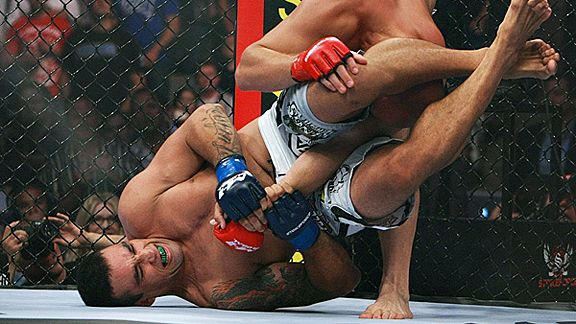 Dave Mandel/Sherdog.com By forcing Fedor Emelianenko to tap, Fabricio Werdum turned the MMA world on its head.
Next for Emelianenko: Werdum, or Antonio Silva.
Next for Werdum: Emelianenko, or Alistair Overeem; a locker-room bonus from an ecstatic White.
Next for Cung Le: Recognition that, at 38, he has only a sliver of time left as a competitive athlete and should take the fights he wants sooner rather than later.
Next for Cristiane "Cyborg" Santos: More '80s-Tyson-level squash matches.
Next for Josh Thomson: Continuing to be underrated; Lyle Beerbohm.
New questions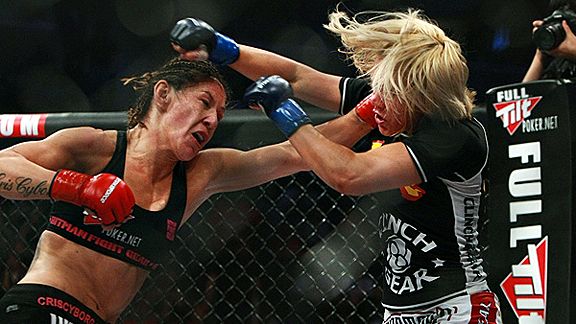 Dave Mandel/Sherdog.com It was all downhill for Jan Finney, right, the moment the bell rang to begin Round 1.
Q: What happens to Werdum?
A: Werdum had a defibrillator effect on the industry by tapping Emelianenko on Saturday, becoming the first man ever to decisively stop the Russian. With that will come loads of sponsorship and endorsement opportunities -- but Werdum's window closes fast if Emelianenko gets his rematch in short order.
The debatable question is whether Werdum should be ranked No. 1 for beating the world's No. 1 heavyweight. Or should that be Junior dos Santos, who beat Werdum nearly two years ago? Or the winner of Saturday's Brock Lesnar-Shane Carwin bout? White, fans and media will get plenty of mileage in figuring it out.
Q: Can Emelianenko recapture his status?
A: While he was respected for being an excellent, well-rounded fighter, much of Emelianenko's recognition came from his undefeated record -- a feat nearly impossible in a sport as unpredictable and varied as MMA. Without that armor, the drawing power of a monosyllabic foreigner with central obesity takes a hit.
Emelianenko could restore much of his appeal with a decisive, bloody bit of revenge against Werdum. But the days of considering Emelianenko the Rocky Marciano of this sport are over.
Q: Does Strikeforce take the biggest hit?
A: Unlike the UFC, which can count on its brand to deliver a bottom-floor level of business, Strikeforce is largely dependent on the appeal of its matches. Owning Emelianenko was their biggest resource for media and legitimacy. Now that he's lost, depreciation is going to follow.
In the short term, they've lost potential pay-per-view revenue in a fight with Overeem: worse, Fedor's conqueror in Werdum isn't particularly charismatic or a crowd draw. Long-term, other lost attractions like Gina Carano (doing movies), Herschel Walker (probably good for one or two more fights), Frank Shamrock (retired) and Le (aging) aren't going to be there to deliver box office.
Emelianenko's comeback story will get a lot of play. If he can beat Werdum and resurrect interest in a fight with Overeem, it'll be a happier scene than the one Saturday.
Q: Was referee Kim Winslow in the wrong?
A: Winslow, the sport's only female referee at the televised level, drew sharp words for her officiating of the Cristiane Santos-Jan Finney fight. Santos scored four knockdowns in the bout, most of which she followed up with a barrage of punches from the top. Winslow was complacent until a knee to the body dropped Finney in the second.
Finney defended well, covering her face and deflecting most of the major blows on the ground. But a fighter getting repeatedly knocked down is a fairly obvious indication of scrambled brain function: Even a sport as cruel as boxing often prohibits a fighter from continuing after three knockdowns in a round. While Finney may have seemed game, what amounted to a 9-7 round (Santos was deducted a point for a foul) should have been cause for Winslow to step in. If not, her corner should have. Taking a beating is admirable, but it's one seriously misguided compliment.
Etc.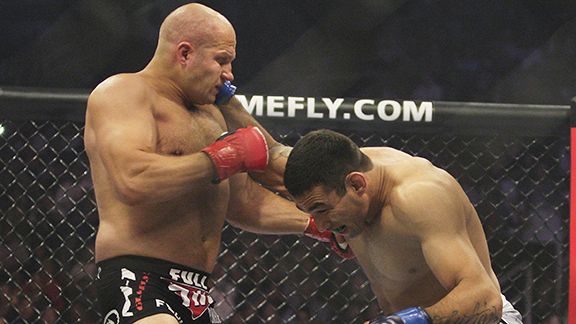 AP Photo/Jeff ChiuExpect Fabricio Werdum and Fedor Emelianenko, left, to meet again; just hope it isn't on PPV.
• Josh Thomson, who squeaked out a win against a dangerous and underrated Pat Healy, suffered two broken ribs in the bout, according to MMAJunkie.com. Before a choke by Thomson in the third, it looked like Healy bettors were going to have a profitable night.
• Strikeforce chair Scott Coker told media after the bout that Erin Toughill would be on tap for Cristiane Santos later in the year. Toughill signed with the promotion earlier this year but has yet to make her debut. At this point, recruiting solid female judoka or wrestlers to test Santos' jiu-jitsu might be the only way to make her division competitive.
• Coker also said that a Werdum-Emelianenko rematch was a possibility for pay-per-view, which would be a big mistake. That's a CBS attraction, and if they want to deliver eyeballs for the network, that's where it should be scheduled.
• Frank Shamrock, one of the biggest talents in an era when no one was watching, announced his retirement Saturday. While his attitude put some people off, he was one of the first athletes to understand the psychology of fighting (and fight promoting). His omission from the UFC's Hall of Fame remains that promotion's most immature decision.
June, 24, 2010
6/24/10
6:31
PM ET
There are fighters who invite interest only depending on their opponent, and there are fighters who can attract a crowd for the simple reason of being.
No one paid to see Mike Tyson against Frank Bruno because Bruno could sell a fight or because his style could make a puzzle out of the match: they paid because Tyson, who pointed this out in one of his lapses into eloquence, could sell out a theater just by reading a phone book (actually, while doing something else, but it's not a picture you want; trust me).
There is plenty of curiosity attached to Fedor Emelianenko's second fight for Strikeforce on Saturday, but it's more for his presence as a real-time legend than anything he could accomplish in the fight. Fabricio Werdum doesn't have a style or reputation that would add anything significant to Emelianenko's résumé: He's already beaten an all-time great heavyweight jiu-jitsu artist in Antonio Rodrigo Nogueira on multiple occasions. And even if Werdum does pose any exceptional problems, no one seems able to anticipate them. It's hard to be nervous over facts you don't have.
Because of the card's place further down the dial -- on Showtime, not CBS -- and because the quiet Werdum doesn't have an engine of hype behind him, it's probably going to be one of Emelianenko's more muted appearances. At age 33 and with retirement on his mind, there's increasing immediacy to his schedule: We don't want his time or abilities wasted. Facing Werdum might be a fight, it but doesn't feel much like an event.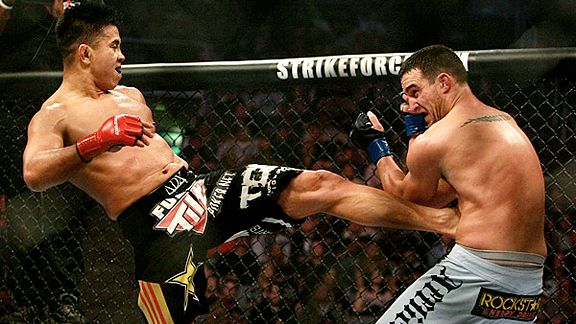 Dave Mandel/Sherdog.comCung Le and Scott Smith can't possibly combine to make a bad fight.
What: Strikeforce: Fedor versus Werdum, an announced four-fight card from the HP Pavilion in San Jose, Calif.
When: Saturday, June 26 at 10 p.m. ET on Showtime
Why you should care: Because the intrigue surrounding Emelianenko is now partially made up of how well his body and skills are holding up after a long career, because Cung Le and Scott Smith delivered one of 2009's best fights and a rematch is more than welcome, because Cristiane "Cyborg" Santos has a guaranteed wildlife attack scheduled against 8-7 Jan Finney, and because Mauro Ranallo never fails to find new and interesting ways to make the show all about him.
Fight of the night: Le-Smith, a perfect match of Le's dynamic stand-up and Smith's unbelievable constitution. He could be the car industry's first live crash test dummy and not be any worse off for it. This is intended to be a compliment.
Hype quote of the show: "Good for Fedor; I hope he does retire. … He's the greatest champion of all time. He's the greatest champion ever, of all time, in his own little world. Good for him." -- 4-1 Brock Lesnar, straining to tow the company line on the 31-1 Emelianenko, during a conference call.
Five questions: Strikeforce edition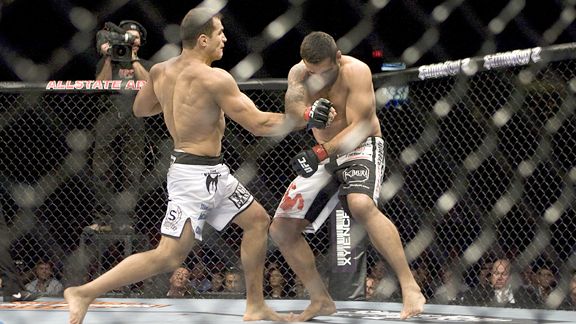 Ross Dettman for ESPN.comJunior dos Santos, left, made it look easy against Fabricio Werdum. Can Fedor do the same?
Q: Can Emelianenko finish Werdum?
A: Once his MMA career got its wheels in the early part of the '00s, Emelianenko finished virtually every fighter he faced -- the only two exceptions being Mirko Filipovic and Antonio Rodrigo Nogueira. Nogueira was resolute over three fights, absorbing huge strikes from the bottom; Filipovic was a little too dangerous on the feet to get carried away with.
Against Werdum, it's possible the threat of submission could keep Emelianenko from staying busy enough on the mat to get a stoppage: Werdum has only been finished once in an eight-year career.
Q: Does Werdum have a chance?
A: Emelianenko's flashes of humanity have come on the feet, where he's been staggered, outboxed and cut. Werdum isn't known as a striker, though he looked sharp beating Antonio Silva to the punch in the fall. Defeating Emelianenko at this point might involve tagging the tissue-paper skin on his forehead and nose and hoping the ring doctor has a quick trigger finger.
Q: Does Finney devalue the women's title?
A: "Cuddles" Finney, who sports a near-.500 record, will be getting a title shot against Santos despite having no history with Strikeforce and no particular achievements to warrant the opportunity. (Finney is 4-0 in recent memory, but only one opponent sported a winning record; two were making their pro debuts.) While it's impractical to shelve Santos until a deserving contender can be found, it's an unfortunate reminder that the females of MMA have a serious equality issue when it comes to depth of talent.
Q: Will Le be worse for the wear?
A: Le, 37, suffered his first defeat in a long combat sports career against Smith in the fall, erasing the typical fighter trait of a teenager's sense of invincibility. The reality check might compel Le to ditch his flashier style in favor of a more conservative -- and defense-oriented -- game.
Q: Does Strikeforce benefit from the UFC's smear campaign?
A: Barely five minutes can go by during one of the UFC's media conferences where the Russian elephant of the room isn't mentioned: Emelianenko's absence from the promotion is often more prominent than athletes under their employment, a slight that usually results in White's discussing -- at length -- both Strikeforce and its star attraction. While virtually none of it is flattering, White's prominence as the sport's most heavily quoted personality gives his competition several mentions it wouldn't otherwise receive. "No comment" are two words White should practice.
Red Ink: Fedor versus Werdum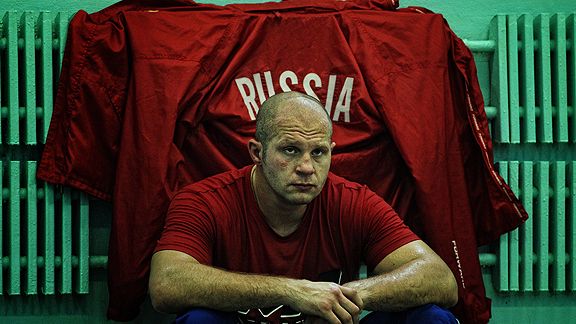 Showtime/Strikeforce Fedor has looked stiff in recent bouts, but does Fabricio Werdum have the power to test his chin?
There are two things that would make Dana White's face crack from happiness in the next week: Lesnar retaining his title -- and immensely profitable pay-per-view appeal -- against Shane Carwin, and Werdum handing Emelianenko his first legitimate loss in mixed martial arts.
Werdum, 32, went 2-2 in White's promotion in 2007-08, with the only stoppage loss of his career coming against current hot prospect Junior dos Santos. If Werdum is able to take full advantage of the 15 minutes he's been allotted, there isn't a bullet train faster than White would be in getting to a microphone and crowing about it: Werdum, the UFC's cast-off, defeating the alleged pound-for-pound best fighter. He might even pass out.
Unfortunately for both White and Werdum, there isn't much in the fighter's skill set that can threaten Emelianenko. Brett Rogers and Andrei Arlovski put the Russian on his heels a bit, but Werdum doesn't have that power; Nogueira survived with his back on the ground, but Werdum doesn't have that kind of constitution. When your best opportunity for winning is in a submission against a fighter who's never been submitted, you shouldn't go spending your win bonus.
Werdum can win, of course: Emelianenko is human, no matter what the message-forum forensics indicate. Anyone can be caught. But it'll probably take a big power puncher to do it. And that's not Werdum's game.
What it means: For Emelianenko, a chance to continue a nearly flawless career; for Werdum, a chance to win and then get a big money offer to get beat up by Lesnar.
Of note: Werdum choked out Emelianenko's brother Alexander -- and while Alistair Overeem would probably be the more anticipated fight for Emelianenko, Werdum beat him in 2006.
Wild card: Emelianenko's stand-up has looked increasingly stiff in recent bouts, while Werdum looked sharp outboxing Silva.
Who wins: Emelianenko hits harder, feet or ground, and has shown very little vulnerability in the grappling department. Werdum survives but doesn't celebrate. Fedor by decision.
March, 11, 2010
3/11/10
11:20
AM ET
AP Photo/Jeff ChiuCung Le wants another crack at Scott Smith, and he wants it as soon as possible.
Picking fights is a 50/50 proposition in which I somehow find a way to be wrong a mathematically implausible percentage of the time. I'm better at figuring which fights get made rather than who wins them. The minute Cung Le lost his legs at the hands of Scott Smith in December, I figured Le wasn't going to waste time asking for rounds 4, 5 and 6.
Now Le tells MMATorch.com that he'd be "ready to go next month" if promoters wanted the rematch. "I'll be ready for whatever Strikeforce gives me, and hopefully it will be another shot against Scott Smith," Le said. "I believe that's the one fight I want right now."
It took Le nearly two years to return to fighting after beating Frank Shamrock, but it's evident that Smith catching him with a buzzer-beater has completely soured the milk in Le's Wheaties. These are the kinds of losses that bother you long after you've healed.
January, 26, 2010
1/26/10
11:29
AM ET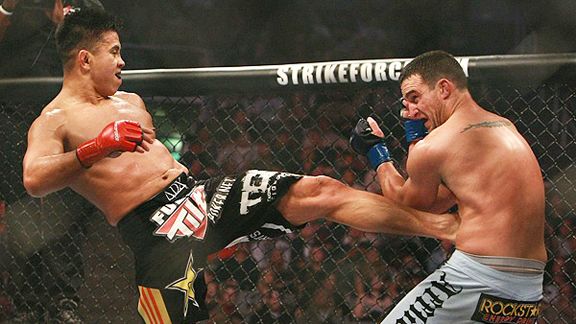 Dave Mandel/Sherdog.comCung Le wants to waste no time getting back to training and lining up a rematch with Scott Smith.
A professional fighter with any measure of celebrity being asked how he got started fighting is usually my cue to stop reading -- or watching -- whatever interview is unraveling. It's the kind of pained, so-what stock question that practically guarantees nothing of consequence is going to be unearthed.
Tweet, tweet
Don't miss a moment of the latest MMA coverage from around the world. Follow us on Twitter and stay informed.
Join »
The Sports Courier's interview with Cung Le at last weekend's Philadelphia MMA Expo is an entry into that pile, but I hung in there because I was interested in hearing Le's mindset following an upset loss to Scott Smith last month. Some fighters dig their aura of invincibility, and when it's taken away, they can grow pretty apathetic about the whole thing.
"Get back in there, train smart, hard, fight as soon as possible and get a rematch," Le told the Courier. "… I believe this rematch will happen sooner than later."
Seems like Le is more angry than stunned. And why not? He batted Smith like a tee ball for two-plus rounds before tiring out and getting clocked. A loss is a loss, but it wasn't a grave-digging one. Anything that gets Le in the ring before age forces him out has to be seen as a positive.
December, 20, 2009
12/20/09
4:00
PM ET
Prior to Saturday's fight with Cung Le -- one in which he was expected to lose colorfully -- Scott Smith was told by a concerned corner that he needed to stop taking such significant punishment in his fights.
He went out and spent nearly 15 minutes getting knocked on his rear.
Smith is an accidental storyteller: taking a sustained beating is part of Screenwriting 101, with the protagonist suffering horribly before coming out on top. After being knocked down multiple times and with a Le decision seemingly inevitable, Smith snuck in a left hand, then swarmed in for the kill.
It was Le's first defeat in 24 career combat-sport fights.
There were better matches this weekend -- WEC's Brandon Visher/Courtney Buck horn-ramming, Strikeforce's Josh Thomson/Gilbert Melendez rematch -- but none with that kind of resonance.
Smith's ability to snatch victory from the jaws of defeat -- jaws, to really extend the metaphor, which usually have bitten off an arm and have begun to partially digest his lower body -- has become the new norm. In 2006, nearly ready to keel over from a body shot, he launched a desperation bomb from his hip that dropped Pete Sell; earlier this year, he battled back from a beating to put down Benji Radach in the third round. You could make a lot of money bottling the guy's constitution. And if he could learn to pull these things off earlier in a fight, he might enjoy his 40s.
Next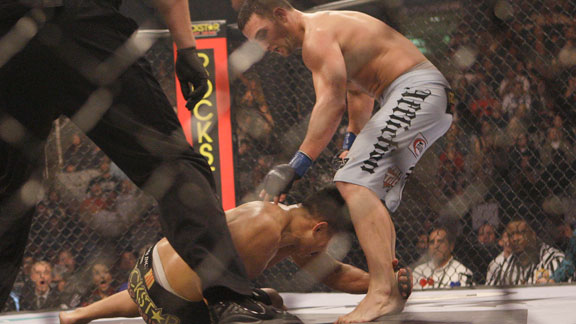 AP Photo/Jeff ChiuDon't expect Cung Le to get back on his feet any time soon.
Next for Le: Likely another long layoff to film movies with highly dubious award potential; a Smith rematch would sell, though, and provide him with a chance to rub out his one blemish.
Next for Smith: Motrin; then eventually Tim Kennedy or Evangelista "Cyborg" Santos.
Next for Donald Cerrone: The winner of January's Ben Henderson/Jamie Varner title bout.
Next for Ronaldo "Jacare" Souza: Settling his issues with Jason "Mayhem" Miller before meeting the winner of the expected Dan Henderson/Jake Shields title bout.
Next for Gilbert Melendez: Hoping that Shinya Aoki has his passport in order.
Next for Chris Horodecki: 145.
Awards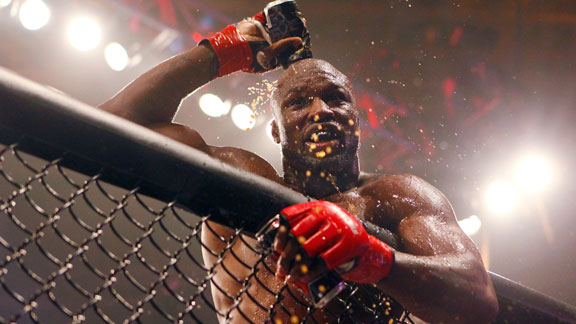 AP Photo/Jeff ChiuMuhammed Lawal's postfight celebration made a mess of the cage.
The can't-help-himself award: Mauro Ranallo, for suggesting that it took Scott Smith's "'Hands of Steel' to steal this fight." Nyuk, nyuk. And etc.
The insulation award: Versus, for promoting a program called "The World MMA Awards" on Jan. 6 that is guaranteed to consist of nothing but WEC and UFC nominations.
The look-both-ways-before-crossing-the-mat award: Chris Horodecki, for the absurd decision to jog away from Anthony Njokuani with his back turned. (Lesson No. 1 in any introductory self defense class: Don't fall on your head. Lesson No. 2: Don't turn your back.)
The petition-to-put-Muhammed Lawal-on-last award: Lawal, for shaking and then spraying energy drink solution all over the canvas. Maybe sticky, carbonated water might be better for traction, but it's doubtful anyone wants to experiment during a title fight.
New questions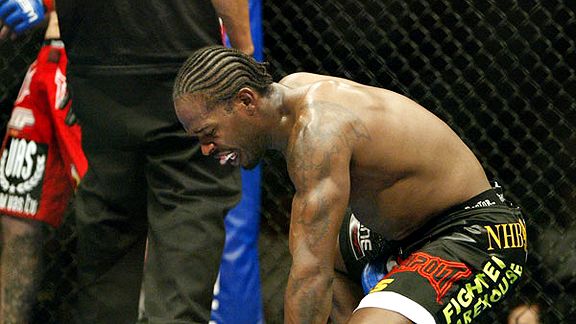 Jeff Sherwood/Sherdog.com Illegal blows to the groin seemed to the most damage to Ed Ratcliff.
Q: Where does Muhammed Lawal belong?
A: Lawal looked like a fighter cast in bronze next to a gelatinous Mike Whitehead, and the 40-pound weight differential didn't seem to matter. Strikeforce could use free-roaming athletes like Lawal and Dan Henderson to jump around their medium-weight rosters, but it doesn't create much consistency -- and doesn't do any favors to casual fans confused by the skipping. Lawal is a credible threat as a heavyweight, but once he runs into men who know how to use their size -- Brett Rogers, even Bobby Lashley -- he might realize he's in over his head.
Q: Who can handle Ronaldo Souza on the Strikeforce mat?
A: Souza began his MMA career with the sympathies normally given to outstanding grapplers making the transition: of course he's trouble on the mat, but he'll be a mess standing. Instead, De Souza has shown proficiency in all ranges, developing his hands into something to worry about. How Jake Shields or Nick Diaz would approach him -- and where -- is worth exploring.
Q: Can Cung Le still pack a house?
A: Le has fought in MMA seven times at the HP Pavilion: each time, the crowd had some belief that his San Shou background was so unique that his opponents wouldn't have answers. That changed after Scott Smith took advantage of a break in Le's guard, following him to the mat and scoring (another) unlikely victory. Le die-hards will point out that, until that reversal in the closing two minutes, Le was making Smith look foolish.
Everyone loses: A focused Le with more training time, especially in a bid for redemption, might prove to be more popular than ever.
Q: What are athletic commissions going to do about groin shots?
A: If there's one thing worse than suffering a blow to the groin, it's suffering two: Donald Cerrone nailed Ed Ratcliff three times in the basket Saturday, prompting a point deduction and a bit of a tainted victory over a clearly aching Ratcliff; Josh Thomson ate a shot against Gil Melendez. These are fouls with real consequences in the fight, yet no athletic commissions have any particular policies beyond use of a solid-material cup. No material -- even the steel Thai bowls -- can make a fighter totally immune to the shock, but some protection is better than others. Time for regulatory bodies to investigate, then mandate, better shields.
This and that
• Dan Henderson appeared to get the loudest reaction of any Strikeforce spectator Saturday; all the promotion invested by the UFC appears to be paying off …
• Following a TKO over Mike Whitehead, "Mo" Lawal is making noise about a fight with Fedor Emelianenko. If he can score that fight without beating one (or three) ranked heavyweights, it's a sorry state of affairs …
• The WEC offered up a bizarre contradiction by awarding "Fight of the night" honors to both Donald Cerrone/Ed Ratcliff and Takeya Mizugaki/Scott Jorgensen. I'm not advocating that Ratcliff should've been stiffed, but why award Cerrone with a bonus when he spent half the night fouling his opponent?