September, 22, 2012
9/22/12
8:36
PM ET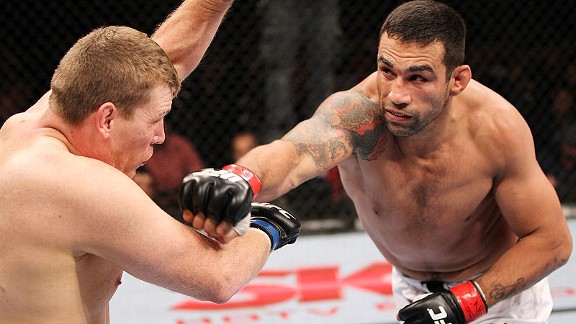 Josh Hedges/Zuffa LLC/Getty ImagesWith Daniel Cormier still without an opponent, Fabricio Werdum, right, could make perfect sense.
Frank Mir
is out of his cross-promotional fight with
Daniel Cormier
, which falls right in with the injury vortex of 2012.
Incredulous? We shot right past incredulous in April or May. In September, we are numb to injury dropouts (or at least should be).
The sad truth is that the UFC as an entity, for all its swagger coming into the year with broadcast deals and global inundation, is limping along. And the Joe Silva/Sean Shelby matchmaking duo have become expert revisionists, a distinction they'd rather not have.
But this one hurt in different ways. It was a barrier-buster UFC/Strikeforce event that felt a little like back when
Chuck Liddell
made his cameo in Pride. Mir as interloper. Cormier as wrecking ball. One a game ex-champ, the other a foreboding wind that raises arm hair.
Yet all that's just the hype play. The bigger storyline that went away: Finally an intriguing fight in Strikeforce
not
involving
Ronda Rousey
. That felt good to think about, at least while it lasted.
Cormier, who wrestled at Oklahoma State, wants to stay on the card since it's a return to his collegiate roots. In the dearth of viable heavyweight opponents -- particularly in Strikeforce, which just underwent an "everything must go" clearance sale on big men -- who will Zuffa stick in there to face Cormier? Anybody?
Surely we're not back to
Tim Sylvia
. He was the guy -- the original guy -- then he wasn't. And that was telling.
Booking Sylvia meant simply passing the time. When Mir was introduced as the guy to cross the line, we knew Zuffa meant business. We weren't doing retreads against Cormier; we were doing true life impositions.
Mir's knee shut business down. And with no other viable top ten opponent available -- yet Cormier still ready/willing to fight on Nov. 3 -- why not ring up
Fabricio Werdum
? He's in Colombia right now doing ambassador work for the UFC, trying to get events into theaters.
Right now he's a pitchman in Bogota. In other words, he's idle.
Better yet, he's willing.
Werdum's been looking for a bump-up in competition since beating
Mike Russow
at UFC 147. Why are we collectively sleeping on Werdum?
Over his last six fights, he's won five times. Of those five casualties, most are onto bigger and better things while Werdum bides his time, just as quiet as humanly possible for somebody right in the thick of things.
There's
Roy Nelson
, who got hammered for three brutal rounds by Werdum at UFC 143, coaching opposite
Shane Carwin
for the new season of the "Ultimate Fighter". There's
Antonio Silva
, who is a main event in Minneapolis in October. Werdum defeated him, too. It was a stevedore's effort, but he nicked up "Bigfoot" pretty good.
There's
Fedor Emelianenko
, whose myth hissed out of him like a punctured tire when Werdum duped him to the ground in San Jose. Werdum pulls one of the greatest upsets in MMA history, and yet it's Fedor being linked to rumors of a Lesnar superclash (even if it's mostly fantasy).
[+] Enlarge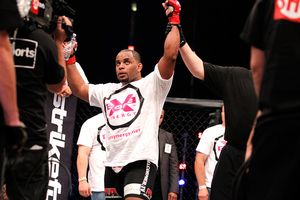 Ric Fogel for ESPN.comUnbeaten Daniel Cormier was a late replacement added to the Strikeforce Heavyweight Grand Prix. Now he awaits a replacement opponent of his own due to Frank Mir's sudden injury.
It's arguable that Werdum's lone loss in the last three years -- against Overeem in the Strikeforce grand prix quarterfinals -- was actually a victory. He outstruck Overeem on the feet, but made the mistake of pleading with Overeem for a ground game which sat bunk with the judges. Had he just continued to nickel and dime on the feet with the trust in his hands he had with Nelson, maybe Cormier -- who replaced Overeem -- never finds his way to the tournament.
And in all of this, the heavyweight division's most accomplished jiu-jitsu player has shown he's developed some formidable hands. Silva, Overeem, Nelson and Russow (whom he TKO'd) have been alerted. If Mir could crossover with no better options, then surely Werdum can, too.
Werdum told ESPN.com that he's ready for that Cormier fight, if it's offered to him. He's made it public with other outlets, as well. The Zuffa brass appreciates enthusiasm of this kind. They have traditionally rewarded guys who step up when needed.
And isn't Werdum the meanest kind of volunteer? Cormier, with all the tailwind and hype, would find himself in a fight that he could feasibly lose. What more could you ask of the matchmaking in this latest predicament?
September, 17, 2012
9/17/12
6:38
AM ET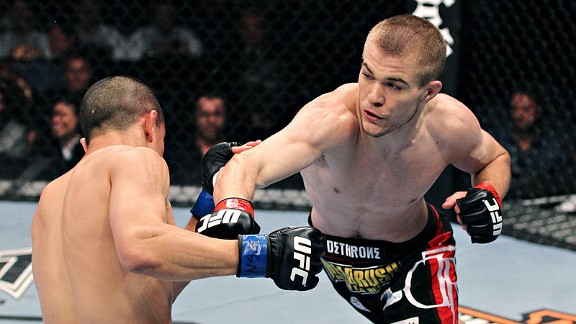 Al Bello/Getty ImagesSpring to action: Michael McDonald is itching to get back into the Octagon.
Michael McDonald
won't be 22 years old until January. There's a chance -- if the cards fall in his favor, and his hand is healthy enough to chin-hunt,
and
UFC matchmakers throw him a bone -- that by the time "Mayday's" birthday rolls around, he'll be accessorizing with UFC gold.
It's a lot of "ifs," and a few asterisks -- but it's possible, and the scenario isn't all that hard to fathom.
Jon Jones
was 23 years and 8 months old when he defeated
Mauricio Rua
for the light heavyweight belt. If Mayday gets a fight with bantamweight interim titleholder
Renan Barao
in December -- which is the month McDonald has circled for his return -- he could usurp Jones' feat of becoming the youngest fighter to be a UFC champion. By a full year and a half, no less.
Yeah, yeah -- even if it's a placeholder belt that is mostly illusion, while the genuine article remains off-limits until
Dominick Cruz
returns from his ACL injury.
But first things first. The only jones McDonald is dealing with is the one to crush a heavy bag without wincing.
"I'm dying to start punching something again," McDonald told ESPN.com this week. "I was going to get permission to start punching again about a month ago, but my doctor wanted to go a more conservative and safe kind of route. Just to make sure it was 100 percent. But I feel great. It's hard for me to go into the gym and watch everyone else train, and just grapple, and not being able to spar with the guys."
McDonald has been rehabbing his hand, which for the past couple of years has been nagging him. After defeating
Miguel Torres
at UFC 145 in April, a fight in which his fists did plenty of the work, the hand wasn't healing properly for him to begin training again. So rather than perpetuate the situation, he decided to call the UFC and let them know what was going on.
So, what exactly was going on?
"I don't know the correct terminology, but there's almost like a protective film over the back of your hand," he says. "What I did, was I hit somebody in the gym and it split right down the middle between my ring and my middle finger [on the right hand]. And every time I make a fist, that protective film rolls over and exposes my bone. So my bone was unprotected, and I was punching literally with nothing protecting my bone by skin, and the tendon was rolling over, so the whole thing was screwed up but I was punching with it for about two years. After Miguel Torres, it just wasn't going down at the rate I wanted it to, and I wasn't able to punch."
"

I'm dying to start punching something again. ... It's hard for me to go into the gym and watch everyone else train, and just grapple, and not being able to spar with the guys.

"

-- Michael McDonald, who is itching to return to training
It was off to surgery for McDonald, but as of the middle of next week, he should be cleared to punch again. And that means able to train, and available to be booked by the UFC's smaller division matchmaker, Sean Shelby.
With champion Dominick Cruz still out with a bum knee, and
Urijah Faber
coming off a loss to Renan Barao, and Barao in limbo holding the interim title waiting to find out how this all plays out ... well, McDonald and Barao might dovetail nicely into a title fight.
Should that happen, McDonald -- who is 15-1 in MMA, and began fighting when he was 16 years old -- would have a chance at history.
"It has crossed my mind, but it's not something I dwell on," he says. "Me, I just focus on what matters. A lot of people will say this is what I'm going to do, that I'm going to be the champ, and they say I'm the greatest, and they say all these things that really don't matter. The only thing that truly matters in my opinion is just ability as a martial artist -- who's a better martial artist is going to win.
"I think that's the only thing that matters, and I try and keep my mind centered on that. It does cross my mind, 'Oh, these are the possibilities.' It is possible if everything goes as planned, I could be the youngest champion. Things like that do cross my mind, but I can't dwell on them, because it would just take my mind away from what really matters, and what really matters is just being the best martial artist I can be."
McDonald threatening to win the belt at 21 years old is one thing, even if he's only indulging glorified speculation just to be polite. But the surprising thing is that this 21-year-old is powered by a sense of Zen-like bearings, and he comes off as honest, direct, non-sanctimonious, practical and, of all things,
wise
. Having two brothers who compete in MMA -- younger brother Brad McDonald, and older brother Jason Smitley -- helps him stay rooted in the gym.
Yet there's more to it. If McDonald has the big picture in his mind, he doesn't wear rose-colored glasses when looking it over. He doesn't comb the rankings. He doesn't even keep up with what's happening in the bantamweight division, nor any of the divisions.
"To put it very bluntly, I really don't care," he says. "I learn everything about my career through other people. My friends will tell me, 'Dude, you're in the paper,' and I'm like, 'What?' I didn't talk to anybody. I don't keep up with anything that happens. I just stick to myself."
Just what's sticking to oneself does depend on the person. But for McDonald, he's become a priority man at a tender age. In fact, he's got his priorities straight before priorities would seem to have time to mature into an order. It's simplistic, really.
"My love is in training, in the gym, in martial arts," he says. "That's my love. Fighting as a job is a very hard thing to do. And I've had times where I've questioned whether I wanted to do it, I've had times where I didn't want to do it.
"But I've never once questioned whether I wanted to be a martial artist. There's things about being a fighter as a job that I don't exactly like. Sometimes I don't want to have to get up and put on a happy face and meet people and be really jolly when I just had a really bad day. There's things about being a fighter that are very difficult. Missing out on holidays ... not being able to eat food on Thanksgiving. These seem small, but they wear on you.
"Being a fighter is not where my love is. Being a fighter's my job. But my love is being in the martial arts, and I'm going to be doing martial arts until the day that I die. When it comes to the aspects of being a fighter and the fight game, I'm a fan of fighting, but I'm not a fanatic of fighting."
So let's rephrase this: There's a chance -- if the cards fall in his favor, and his hand is healthy enough to chin-hunt, and UFC matchmakers throw him a bone -- that McDonald could become the youngest
martial artist
to ever be champion in the UFC.
It's an important distinction for a young guy on the verge of something so distinctive.
March, 6, 2012
3/06/12
12:10
PM ET
The UFC's flyweight division was exactly one fight old when things went haywire at the top.
That's so 2012 in the UFC. When title belts are in play, all paths look more like construction zones with detours.
This time,
Ian McCall
appeared as if he'd won a back-and-forth fight to advance in the shudder-speed flyweight tournament. Then the scorecards were read and it was actually
Demetrious Johnson
who won a majority decision, turning "Uncle Creepy's" maestro swagger off as fast as it came on.
His depression didn't last long.
To the chagrin of flyweight matchmaker Sean Shelby, who was in Columbus for Strikeforce some 10,000 miles away, the Australian athletic commission miscalculated the scorecards on McCall/Johnson. The result should have been a majority draw, and somewhere in the bowels of Allphones Arena in Sydney they informed Dana White, whose only response could be the obligatory tirade of profanity. They weren't. And the disheartening thing for the UFC was that this was an eventuality it had prepared for by introducing a sudden victory round -- à la "The Ultimate Fighter" format -- to resolve any draws at the end.
But there's no accounting for human error, and nothing much can be done in that situation except adopt the common shoulder-shrugger's refrain: it is what it is.
Now
Joseph Benavidez
-- who TKO'd Yasuhiro Urushitani -- will wait for a rematch that most will be stoked to see and yet shouldn't have to see. Flies in the Vaseline, they are. Sadly, the UFC's newest division adds to the already algebraic complications going on with the UFC's title pictures.
Go back a week and start there. Benson Henderson defeated
Frankie Edgar
at UFC 144 in a close fight to take home the lightweight strap. Seeing that it was a close fight, one that could be interpreted either way, Edgar asked for an immediate rematch. Problem is that
Anthony Pettis
, who knocked out
Joe Lauzon
the same night, wants his shot at the belt, too. He was the last man to defeat Henderson, and was at one point the solid No. 1 contender (a position he fancies himself in again).
Jim Miller
and
Nate Diaz
are operating with the understanding (delusion?) that their May 5 fight in New Jersey is a title eliminator.
It's complicated.
Of everyone, Edgar is the unignorable here. The UFC wants him to challenge
Jose Aldo
for the featherweight belt, but Edgar doesn't want to. He rematched
B.J. Penn
and
Gray Maynard
without quibbling, and he wants some return love. It's hard to argue. Before his fight with Henderson, the UFC romanticized Edgar as a Rocky-esque figure in the hype process. Yet not even Rocky was Rocky coming off of wins. He was Rocky because of how he responded to losses. First with Apollo Creed, then with Clubber Lang. And later, after losing the vainglorious Creed to a killing machine from Russia, against Ivan Drago.
[+] Enlarge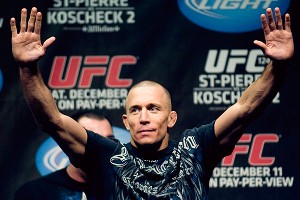 AP Photo/The Canadian Press, Graham HughesHold it right there: No one is going anywhere so long as Georges St. Pierre remains on the shelf.
How can the UFC draw upon a man's heart and not give him the chance to show its full dimensions? Having lost to the bigger, stronger Henderson sets the table for a truer representation of his nonfictional Rocky story.
As an extension of the uncertainty at 155 pounds and Edgar, the featherweight division is in limbo. What next for Aldo? Then you glance at the welterweight title picture, and
that's
way out of focus.
Georges St. Pierre
is recovering from ACL surgery, and is either way ahead of schedule or possibly right on schedule or something else. He is tentatively looking at a November return. Interim titleholder
Carlos Condit
is waiting to see something definitive in that timetable before deciding what to do next.
Jake Ellenberger
is waiting to see what Condit does, and now so is
Martin Kampmann
(the last man to defeat Condit). It's possible we don't see an "actual" title defense at 170 pounds this year.
By slotting
Dominick Cruz
against
Urijah Faber
as the coaches on "The Ultimate Fighter" Season 15, that means Cruz won't defend his bantamweight belt until the summer. And that means any challengers beyond Faber -- guys like super-sensation
Renan Barao
-- are out of luck until winter.
As for middleweights,
Anderson Silva
is finally going to fight again in June after recovering from bursitis in his shoulder. There's a chance we see just one middleweight title fight in 2012.
With eight weight divisions, and a conservative average of two fights per year, there should be in the neighborhood of 16 title fights. That won't be the case in 2012. There might be 10, if we're lucky.
Can you imagine if
Jon Jones
had made good on his request to take a few months off? Light heavyweight is the closest the UFC has to a normally functioning division right now. And it looks like
Junior dos Santos
is ready to go, if
Alistair Overeem
can avoid injuries and conflicts beforehand.
Otherwise, title fights are scarce to come by this year. Which means we'll be watching a lot more PFC (Penultimate Fighting Championship) than UFC (the Ultimate variety).
July, 28, 2011
7/28/11
12:29
PM ET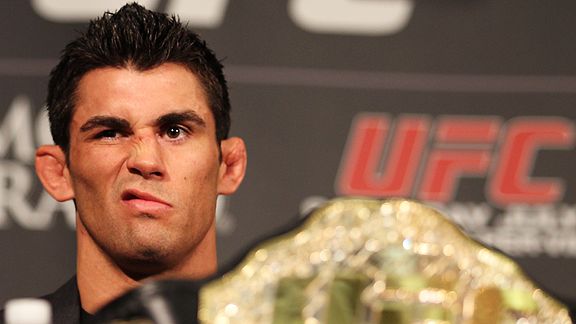 Ed Mulholland for ESPN.comBantamweight champ Dominick Cruz is one of several lighter-weight pugs taking center stage this autumn.
This fall will be the UFC's season of the diminutive fighter.
First, the "Ultimate Fighter 14" will air in mid-September and showcase the bantam and featherweights, and then
Dominick Cruz
will defend his 135-pound title live on Versus (meaning tape-delay on the West Coast) on Oct. 1 for those with modest cable packages. If you've watched the lighter weight classes over the years, then you know the dueling banjo nature of these match-ups. The UFC knows that you know and suspects that if you don't, you'll catch on quick. The little dudes are being dropped into your living rooms for free because they are infectious to watch. It's all coils and springs.
And yet the bottom line is that, if
Urijah Faber
isn't involved, neither Cruz nor featherweight champion
Jose Aldo
is big enough to market as a viable pay-per-view event headliner. That's why Aldo is defending against
Kenny Florian
as a co-main event at UFC 136 in Houston behind the
Gray Maynard
/
Frankie Edgar
re-rematch for the 155-pound strap. The UFC has been slowly building up to showcasing its lighter divisions since integrating the WEC's roster in early-2011, and the fall is when the true unveiling starts to happen.
The airing of Cruz's title defense against
Demetrious Johnson
in Washington, D.C. is strategically smart. Cruz is one of the most exciting non-finishers in the sport, with a style that's very busy and full of blurry nuances. He gets hit less than any professional fighter. He is equal parts frustrating and fascinating with his head movement and striking. There are no lapse moments. And most importantly, he's one of the best pound-for-pound fighters to ever be as anonymous.
Former WEC matchmaker matchmaker Sean Shelby and UFC President Dana White are brushing off the gem, so to speak.
"You put [Cruz] on free TV because I believe in that model," White recently told Tim Marchman of SI.com. "I believe that you put great fights with great fighters on free TV. And you build these guys up, and you build the fan base, and you get more and more people to know who they are and want to see them fight in the big fights."
As for what TUF 14 will do for the bringing out the smaller weigh classes? Lots.
Admittedly, when Dana White first did the "holy s---" thing right after watching the fights to get in the TUF 14 house, this seemed like a ploy to augment the distance between the thud-like TUF 13 and the new season. But there is some evidence that he could be telling it like it is. For one thing, Jeff Hougland -- who debuted successfully against Donny Walker at UFC 132 -- was a reject from this season's tryouts. So was the recently signed British fighter Vaughan Lee, who is set to fight
Chris Cariaso
in England at UFC 138. It speaks to the intrigue of TUF 14 that some of its rejects are finding their way into the UFC the old-fashioned way -- through the back door. This bodes ever better for the guys that stuck.
It also means that this season's coaches --
Michael Bisping
and
Jason Miller
-- are more incidental to the big idea. The true stars being trumpeted are the crop of smallies that they're coaching, and more pointedly the divisions that need our attention.