March, 8, 2012
3/08/12
1:52
PM ET
The biggest heavyweight fight in UFC history between
Junior dos Santos
and
Cain Velasquez
lasted a minute and four seconds. It was so brief that the coveted casual fan that tuned in to FOX that night was left with these four lonely words -- wait, so that's it?
On the other hand, the biggest heavyweight grand prix in history has stretched on for 15 long, meandering months. When it started, Strikeforce was still a rival of the UFC's.
Fedor Emelianenko
was still formidable.
Antonio Silva
was constructed from body parts unknown.
Fabricio Werdum
was still a castoff, and
Brett Rogers
was free of legal isues.
Josh Barnett
had single handedly shut down Affliction, and
Andrei Arlovski
was still believable in fangs. You might remember that The Reem wasn't yet viral, and
Sergei Kharitonov
was still unspellable.
It was a different era when the tournament started. In fact,
Daniel Cormier
, who is in the grand prix final against Barnett, was the eleventh man in the field of eight. How, exactly, did we get here?
Just about all the elite Zuffa heavyweights (and
Roy Nelson
) will be making appearances in a seven-day span in May. The roads to spring 2012 have been very different, but between May 19-26, everybody will finally get on the same page. Schedules will sync up for matchmaking, guys who have been cordoned off from each other will be at liberty to poke their fingers in whoever's chest they please, and the division will become one massive melting pot.
[+] Enlarge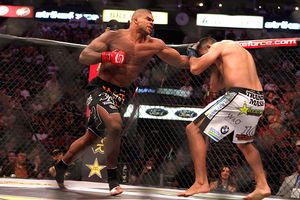 Ric Fogel for ESPN.comSeven top-10 heavyweights, including Alistair Overeem, will see action in May.
It starts with Strikeforce's heavyweight swan song in San Jose, Calif.; and ends with the UFC's big man extravaganza in Las Vegas. On May 19, Cormier-Barnett goes down at long, long last, before one or both head to the UFC. On May 26,
Frank Mir
against Velasquez, Nelson versus Antonio Silva,
Alistair Overeem
in a title fight with Junior dos Santos. Seven of those names belong in ESPN.com's top 10 Power Rankings.
That's a lot of firepower. Forget about the biggest fight or biggest grand prix in heavyweight history -- this will be the biggest single week of consolidating big men we've ever seen. And a week after that, we'll be in a state of musical opponents, matching up winners with winners and losers with losers, and pitting re-emerging bodies like
Shane Carwin
and
Antonio Rodrigo Nogueira
with each other.
What does it really mean, though? That we'll finally have a division that captivates the imagination like the others, with a little more matchmaking wiggle room and a lot more overall possibility. It's a relaunch of something, only this time something whole. Now the best heavyweights in the world are gathering under one roof. And as everybody knows, heavyweights have always carried a little extra clout in the minds of fight fans. The bigger the man, the more likely people are to stop what they're doing to watch. It's what happens when guys like Alistair Overeem walk around weighing two Ian McCall's.
And Zuffa is smart to roll out this broadened division en masse like this.
If you're going to reimagine something, do it big.
December, 21, 2011
12/21/11
1:18
PM ET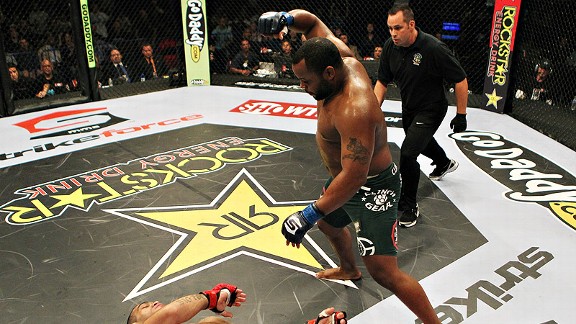 Josh Hedges/Getty ImagesKnock, knock: Daniel Cormier might be taking his act to the UFC in the very near future.
So, Strikeforce is running a clearance on its once vaunted roster of heavyweights, and everyone between 207-266 pounds must go. What a difference a year makes.
In January of this year, the eight big guns on Strikeforce's heavyweight roster stood on a New York City stage and looked like the most imposing ingredients to a nonfictional tournament since the Pride days. Even the alternates -- guys like
Daniel Cormier
, who defied odds by sneaking in and making it to the finals, and the mutton-chopped
Chad Griggs
-- were lively enough understudies.
The subtext of the grand prix? That Strikeforce had more depth in the most glamorous weight class than the UFC. It wasn't the elephant in the room -- these were eight elephants in a room.
Dana White snickered. By spring, Zuffa bought Strikeforce. By summer,
Alistair Overeem
was on his way to the UFC. By winter, the wrecking ball assembly that made up the grand prix is being rapidly consolidated with the UFC's roster.
[+] Enlarge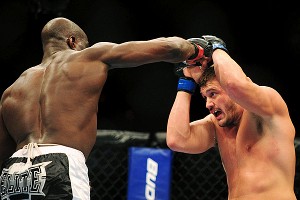 Mark J. Rebilas for ESPN.comUFC heavyweights like Matt Mitrione either didn't develop quickly enough or, in some cases, didn't develop at all.
Zuffa is closing down the Strikeforce heavies to deepen the UFC's. This, of course, is a good thing. The UFC's heavyweight landscape will finally be on par with its other weight classes. How timely is
that
?
Not long ago (as in August),
Brendan Schaub
began to look like a top-flight heavyweight in the UFC. Not out of merit, but out of necessity.
Antonio Rodrigo Nogueira
, in the twilight of his career, shut things down. Then it was
Matt Mitrione
, before he was Jenga'd by
Cheick Kongo
. Even UFC newbie
Stipe Miocic
began to look like "promise," well before he stepped in the Octagon. All this time we've been playing at the dearth.
But now reinforcements are arriving. Reigning Strikeforce champion Alistair Overeem was first, and he'll fight
Brock Lesnar
next week at UFC 141 in a title eliminator.
Fabricio Werdum
came next, and he'll take on
Roy Nelson
at UFC 143. With the news of Strikeforce shutting its heavyweight division down in total, the carpet is rolling out for others now, too.
Lavar Johnson, who also fought in the WEC back in 2005 and 2006, has signed to fight
Joey Beltran
at UFC on FOX: "Davis vs. Evans." And MMA Weekly reported that Griggs -- who foiled overly idealistic plans for
Bobby Lashley
by obliterating him -- also signed a contract with the UFC, and will debut in the Octagon in 2012.
Antonio Silva
is expecting a call soon, and
Sergei Kharitonov
would like to join his training partner
John Olav Einemo
in the UFC.
Of all the grand prix participants, only a few will likely be left out --
Andrei Arlovski
, the former UFC champion, who is on (what he hopes) a comeback trail;
Brett Rogers
, whose personal life is in shambles; and Fedor Emelienenko, whose management would like to skip the process and pencil in a date with
Cain Velasquez
.
[+] Enlarge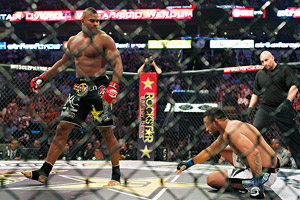 Ric Fogel for ESPN.comAlistair Overeem, left, was the first heavyweight to come to the UFC's rescue.
Once Daniel Cormier and
Josh Barnett
finish up the afterthought-ish grand prix in March, one or each will make their way to the UFC. (There is still a bonus heavyweight fight for the winner, which is short on details right now). When that happens, which could be as early as April or May of 2012, matchmaking in the UFC's heavyweight division becomes more fun. With the reemergence of
Frank Mir
, there are now five legit bigs at the top --
Junior dos Santos
, Velasquez, Overeem, Lesnar and Mir.
Shane Carwin
will be back in mid-2012, as well. Cusp fighters like Roy Nelson, Kongo and
Travis Browne
are still there, and green-but-emerging guys like Schaub and Mitrione are hovering.
But when you stack Werdum, Bigfoot Silva, Barnett, Cormier, Kharitonov, Shane del Rosario and Griggs in there? This thing about finding out who the best heavyweight in the world is becomes legit.
At the beginning of 2011, the questions centered around what happens if there wasn't a partition between Strikeforce and the UFC, if guys like Overeem fought in the UFC? The partition is coming down, and we'll find out soon enough.
September, 9, 2011
9/09/11
2:12
PM ET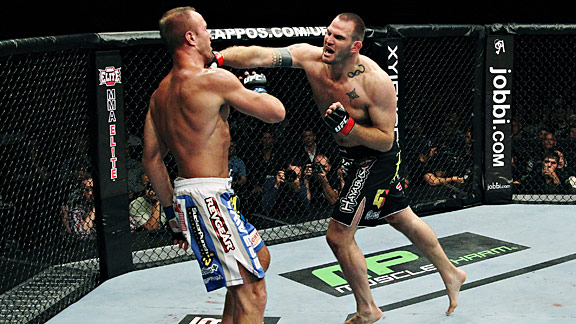 Donald Miralle/Getty ImagesSergei Kharitonov will have a very big supporter in the form of John Olav Einemo on Saturday.
CINCINNATI -- Heavyweight
John Olav Einemo
, one of the casualties in the Golden Glory cuts of a several weeks back, is in town to corner his training partner
Sergei Kharitonov
, who's hoping to be the triumphant dark horse in the Strikeforce GP.
Einemo was cut after one fight in the UFC -- a loss to
Dave Herman
that earned fight of the night honors at UFC 131 -- due to discrepancies between the UFC's policy on fighter pay and how Golden Glory handles accounting matter. Einemo says he's pretty optimistic that he'll be fighting again soon, and he foresees repairing his relationship with the UFC.
"At the moment I don't really know because we're just focused on Sergei's training and getting him ready for the fight," he said. "I think my management is very busy. My feeling is that it's going the right way. I really hope and believe that this thing with Zuffa [is being worked out]. I don't think it's going to be any problem anymore; I think it's already fixed."
Einemo was scheduled to face
Shane Carwin
in June at UFC 131, but when Carwin was bumped up to the main event slot to face
Junior dos Santos
, he was dealt "Pee-Wee" Herman. The fight was back and forth, and Einemo came close to finishing Herman at one point. In the end he lost the fight, but picked up $70,000 in bonus money for making a good showing of it.
With fellow Golden Glory member
Alistair Overeem
having signed a deal with the UFC, indications are that Einemo could end up back with the promotion soon. There is a relative lack of depth in the UFC's heavyweight division, and it's one of the reasons why Einemo thinks he can make some waves.
"It's a very exciting division for me to go to," he said. "My last fight, I feel I have a lot more capability than that. It was five years since I fight the last time; the first time in a big show again. So I think I [can] make some trouble in that division."
[+] Enlarge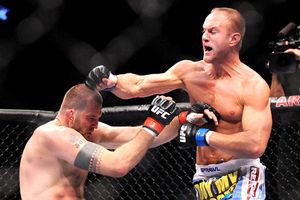 Rod Mar/ESPN.comJon Olav Einemo, left, was that close to a successful UFC debut -- before Dave Herman struck.
Einemo spent those five years raising his son, working to support his family and rehabbing from lingering injuries. If he had ring rust in Vancouver, it didn't show. Presuming he does end up back in the UFC, there are a lot of guys that would make for fun fights. Einemo says that he'd be fine with seeing his original opponent, Carwin, whom he feels he'd have fared well against.
"I think that it was a better match-up for me than Pee-Wee Herman, actually," he said.
We could soon find out. And as for his prediction on who wins between Kharitonov and
Josh Barnett
in tomorrow night's main event?
"Sergei by knockout, maybe in the second round."
September, 9, 2011
9/09/11
10:26
AM ET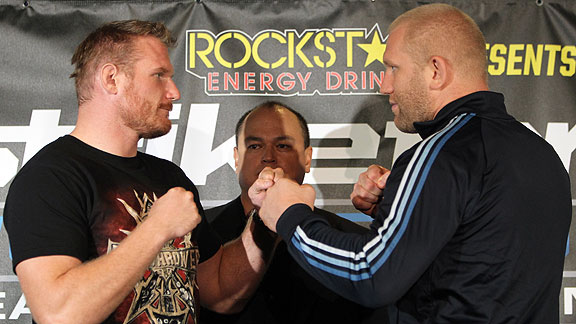 Josh Hedges/Forza LLC/Zuffa LLC/Getty ImagesIf two of MMA's best heavyweights meet and no one's there to cover it, does it really matter?
CINCINNATI -- It's the deepest card in Strikeforce's history, and yet it's one of the stranger atmospheres you'll find leading up to an event. For starters, the
Nick Diaz
/
Carlos Condit
/
Georges St. Pierre
drama is playing out at the same time, as is the announcement that
Brock Lesnar
and
Alistair Overeem
have agreed to a colossal heavyweight battle in a week that colossal heavyweight battles were supposed to belong to Strikeforce. These things don't help.
In fact, those two storylines have sort of exhausted the hype quotient for the week. The mood matches the rain and drizzle in Cincinnati.
But the main reason for the strangeness is that Strikeforce, as a brand, is sort of teetering on the brink of disappearing. Everybody knows this, and it's become elephant in the room. No microphones made their way around the small media contingency at the prefight newser today, and none were needed. Scott Coker asked more questions of the fighters in attendance than the press. If he didn't have to, he would have just as happily skipped opening things to the floor where dreaded topics might be brought up. In the end, they weren't, because most of the media is to the point where they know he has no answers (and if he does, he isn't likely to share them).
Regardless of everything surrounding the card, the fights themselves remain compelling. The three primary bouts have the same situational feel -- American wrestlers against guys who are good-to-excellent in other areas (read: non-wrestlers). It's easy to pick out the biases. People who see wrestling as an always playable trump card are picking
Josh Barnett
over
Sergei Kharitonov
,
Daniel Cormier
to upset
Antonio Silva
, and
Muhammed Lawal
over
Roger Gracie
. The sight of wrestlers neutralizing talented jiu-jitsu players and great kickboxers has become all too common over the years. It's easy to imagine Barnett taking Kharitonov down, just as he did
Brett Rogers
, and keeping things there. And keeping things there. And possibly pounding him out while he's keeping him there.
Listening to Barnett, you know he's weary of the Russian's hands, and he promises the fight won't go the distance. "I know he's going to bring a never say die attitude, and we're going in there with our shields and coming out either on them or on our own two feet," he said. "So, it'll be a good tussle. But being the type of fighters we are, I think we're going to finish one another within that three-round limit. I don't think there's going to be any extra rounds, no decisions here."
As Barnett also mentioned, it could be a main event-worthy scrap. But the fight that could steal the show is between middleweight champion
Ronaldo Souza
and
Luke Rockhold
. This is wizard jiu-jitsu player against the card's sleeper.
"I think I've got the best jiu-jitsu credentials that Jacare's ever fought," Rockhold told ESPN.com. "My jiu-jitsu's no slouch. I thought that jiu-jitsu was going to be my career for a long time. I thought I was going to be the best guy in the world, but I realized real quick that if you want to be the best at something, you can't be the best at everything. And when I switched over [to MMA], I decided to be the best MMA fighter I could be, not the best jiu-jitsu guy."
Besides that, you've got former light heavyweight champion
Rafael Cavalcante
on the undercard, as well as
Evangelista Santos
and
Mike Kyle
. Pat Healy is fighting Maximo Blanco on the fifth main card fight. It's the deepest Strikeforce card ever, and for whatever reason, its timing couldn't be worse.
Keeping it real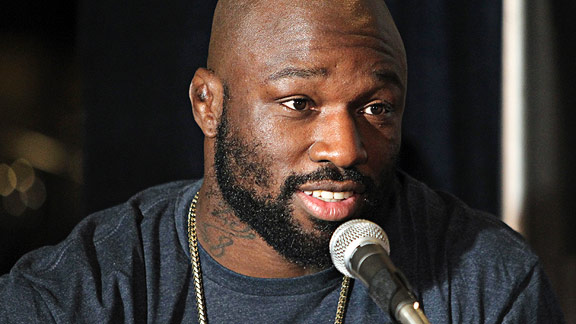 Josh Hedges/Forza LLC/Getty Images Muhammad Lawal is none too pleased with the turnout to Strikeforce's event in Cincy.
To further voice the general air of preoccupation, just turn to Muhammed Lawal.
"I don't even know what to say; I'm just ready to fight on Saturday," he said. "I was hoping for more people out here, more media and more questions, but I guess you guys don't care about Strikeforce. Me and Roger are going to put on a good fight; it's going to be a good card, and I think people are going to miss out on it, because everybody is worried about other issues instead of the fights this weekend. I'm just being real."
Keeping it even realer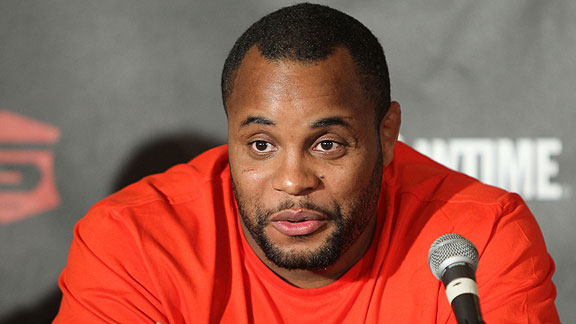 Josh Hedges/Forza LLC/Zuffa LLC/Getty ImagesLet's keep it real because Daniel Cormier said we're keeping it real.
Want to be real? How about Cormier on his expectations against Silva?
"I'm excited for the fight," he said. "Josh [Barnett] said that [he] and Sergei [Kharitonov] are going to finish each other. Just to put it out there, I'm fine to win a decision. Is that OK?"
Of course it is, but if Cormier wins a decision, we can almost guess at the type of fight it will be -- and that sort of forward-thinking doesn't make it sound as fun.
Kharitonov, the Russian wrestler stifler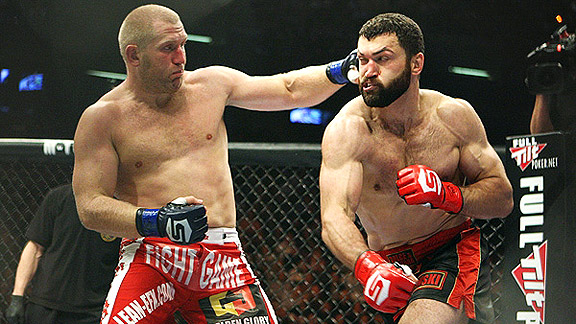 Dave Mandel for Sherdog.com Stand and deliver: Sergei Kharitonov, left, has no plans to take matters to the mat.
Kharitonov made his game plan clear for Barnett.
"I'm going to try and have a stand-up fight," Kharitonov told ESPN.com. "I'm going to try and put on a good defense against getting taken down, and that's my main strategy," he said. "I'm ready for anything. If it's on the ground, or if it's a stand-up fight, wherever it is, I'm ready." (Subtext? I'd really, really like to knock him out on the feet).
From Russia with fists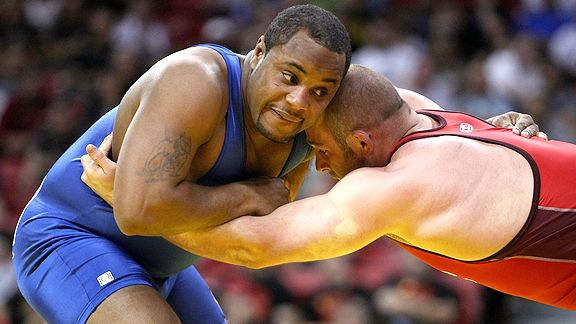 Jonathan Ferrey/Getty ImagesWrestling competitions had a way of getting ugly when Daniel Cormier was involved.
More Cormier, this time about him and King Mo knowing what time it is when it comes to wrestling and fighting.
"We fought thousands and thousands of times," he said. "In wrestling competitions, and not only wrestling but fighting Russians over there [in Russia]. We'd get into actual fistfights when we'd go wrestle Russians. You can find mine on YouTube, and Mo is fighting the guy right before on YouTube; we've had a thousand fights."
Wonder if he's had any experience fighting behemoth Brazilians?
September, 5, 2011
9/05/11
10:01
PM ET
Known for his witty anecdotes, Josh Barnett is all business as he approaches his meeting with Sergei Kharitonov in the Strikeforce heavyweight grand prix semifinals on Saturday in Cincinnati. The 33-year-old former UFC heavyweight champion and 2006 Pride Fighting Championships open weight grand prix finalist has rattled off seven consecutive victories and has not lost in nearly five years.
More »
September, 2, 2011
9/02/11
12:39
PM ET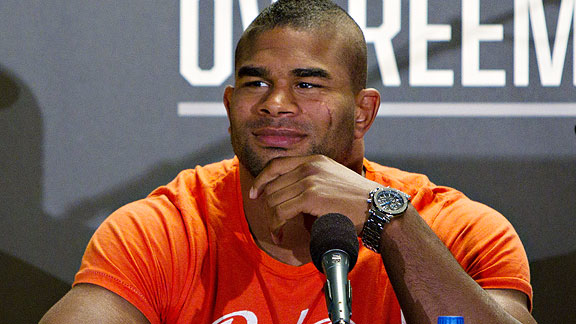 Esther Lin/Getty ImagesSitting pretty: Alistair Overeem is in a position to entertain offers.
The UFC will roll out its as of yet "non-mainstream" heavyweight stars on the inaugural FOX card on Nov. 12. That's champion
Cain Velasquez
against the definitive No. 1 contender
Junior dos Santos
.
Dana White said during Friday's news conference that it made sense to put "our best foot forward" for this colossal showcase. It's a great first step, but the UFC might not want to look backwards after they take it. At least, not the way things stand now in the heavyweight division.
That's because the UFC's current heavyweight division is hardly the deep reservoir that its other divisions are. In fact, it's only knee deep. The world can tune in to watch the two best heavyweights go at it, but behind JDS and Velasquez there's a gulf which has yet to be filled.
The one guy who can fill this gulf?
Alistair Overeem
. Here's guessing that his signing is the next announcement made.
Had
Brendan Schaub
defeated
Antonio Rodrigo Nogueira
-- as just about everybody outside of Brazil expected -- there would at least be a fresh body scaling toward contention in the heavyweight division. Turns out, he didn't beat Big Nog. In fact, Schaub lost so emphatically that the word "exposed" was being tossed around. Not so much directed at Schaub, who is young and raw and realistically exactly where he should be today, but at the overall state of the heavyweight division in the UFC.
There was plenty of banter leading up to UFC 134 about Schaub becoming the No. 1 contender with a victory over what was thought to be a fading star in the sport in Nogueira. That's the big red flag right there. To have been talking about Schaub being that close to a title shot at all was to admit that there's a dearth of believable contenders at the top of the division.
[+] Enlarge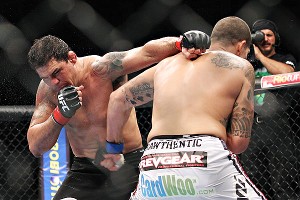 Ed Mulholland for ESPN.comPart of the UFC's heavyweight plans went up in smoke when Brendan Schaub lost to Antonio Rodrigo Nogueira.
That's why it'll not only big news when the UFC signs Strikeforce champion Overeem, but an act of necessity. The UFC needs somebody in the on-deck circle for Junior dos Santos and Cain Velasquez. As of right now, you would never confuse what's going on at the top of the heavyweight division with a logjam. What's going on is the exact opposite of the UFC's lightweight division, which is flush with contenders.
Check out what's below dos Santos and Velasquez currently:
There's
Brock Lesnar
, whose future is uncertain as he continues his ongoing battle with diverticulitis. If he returns, the question mark then becomes in what form?
There's
Frank Mir
, whose star is sinking a little with lackluster performances (even in victory). He's viable, but not coveted -- and besides, his next fight will likely be against Big Nog.
There's
Shane Carwin
who has lost two in a row,
Roy Nelson
(ditto), and guys like
Cheick Kongo
,
Matt Mitrione
,
Travis Browne
and
Stefan Struve
, the last one who's a stretch and all the rest of whom aren't there yet.
By bringing in Overeem, there's at least an immediate third to the JDS/Velasquez party, which only magnifies the singular main event on Nov. 12. As with all sports, people have a tendency to play things forward. A marquee that reads "Champion versus Champion: Cain Velasquez versus Alistair Overeem" will do big business. Just about everything else would require blinders and gullibility to get stoked about for the winner of this big fight.
Once the Strikeforce GP wraps up and contracts can be navigated through, the UFC can stock its shelves with heavyweights for days. Guys like
Antonio Silva
,
Fabricio Werdum
,
Josh Barnett
,
Sergei Kharitonov
and
Daniel Cormier
. By 2012, the UFC's land of bigs will look completely different. Out of the aforementioned names, guys like Mitrione could emerge into the top ten as well. A couple of names on the current UFC roster will certainly make cases for their contention. Only then do you have a true division where mixing and matching the top eight guys or so becomes an exercise in frustrating parity. That's the right kind of frustration.
But, for now at least, the UFC can use some of Overeem's muscle.
June, 19, 2011
6/19/11
7:07
AM ET

By Josh Gross
ESPN.com
Archive
Down to four and the field is wide open.
Antonio Silva
and
Sergei Kharitonov
can situate their minds on
Alistair Overeem
and
Josh Barnett
respectively after the second leg of Strikforce's heavyweight grand prix quarterfinals on Saturday. The semifinals most fans pined for -- Overeem versus
Fedor Emelianenko
or the Russian against
Fabricio Werdum
-- didn't materialize. But so what? At a minimum, the tournament has unveiled two bouts that could be considered tossups between highly accomplished fighters.
For as much as people will attempt to find fault with the Final Four, let's not forget the facts. The winner of the tournament will be the lineal heavyweight champion in mixed martial arts. That may or may not mean much to you, but it is a tidy piece of MMA history and, I think, important. The UFC titleholder has not been considered MMA's lineal champ since October 1998, when
Randy Couture
traveled to Japan and lost to Enson Inoue. It's part of the reason I suspect that when the tournament concludes, Zuffa won't have a choice but to match the grand prix winner against the UFC champion. The tournament king would likely be considered No. 2 in the world, and, whether he physically holds the belt or not, Strikeforce's heavyweight champion.
Beyond the "what's it worth" component, tournament brackets reveal fights we haven't seen before featuring two Europeans, a Brazilian and American. This event could also take on extra significance in the nationalism department, which would be welcome as far as I'm concerned.
Which fight makes for the best final?
From most to least interesting (there isn't a wide gap -- no matter the final, it will be worth watching):
1. Barnett vs. Overeem -- Once Emelianenko was ousted, Barnett-Overeem became the sexiest remaining possibility. Two impressive fighters with a long history in the sport.
2. Silva vs. Barnett -- As we were so ridiculously reminded of on Saturday, Barnett is a pro wrestler; so anything he says regarding a potential rival must go through some loudmouth reverse osmosis treatment. Having done that, it seems -- and I stress seems -- they don't like each other so much. Real animosity. High stakes. Sign me up.
3. Kharitonov vs. Silva -- Promotionally this is worst-case scenario for Zuffa and Showtime. Neither guy moves tickets. They don't speak English well, if at all. The only hope for attention comes if both fighters repeat their opening round experiences and win convincingly in the semis. A good heavyweight fight is always worth something.
4. Overeem vs. Kharitonov -- Overeem hanging around for the finals is good for everyone, but Kharitonov is a teammate and that may take off some of the edge. I've no doubt that both men would attempt to destroy the other, but the promotion might be awkward.
How does it play out?
Prior to the start of the tournament I pegged Overeem as the favorite. I'm going to stick with that, though I don't feel nearly as positive about his chances.
It's rare that Overeem is the smaller man. He will be against "Bigfoot" Silva. A resurgent Kharitonov is dangerous and has the game to stop Barnett. But just as easily Overeem could paste Silva like
Mike Kyle
did. And Barnett might have no problem using his size and smarts against the Russian everyone tends to forget about.
Barnett-Kharitonov is a true tossup.
Barnett gets hurt to the body, and we've seen Kharitonov dig to the ribs and abs. Can the Russian stay off his back? I think he can make it difficult, at least. The Russian is familiar with submissions, and should have enough skill to avoid Barnett's subs. Don't expect him to apply any, though. Kharitonov wins by boxing with Barnett, while the former UFC champion will have to play a top game. That means takedowns and control. That's how I envision the fight transpiring -- Barnett, on top, grinding down Kharitonov to a decision.
Overeem versus Silva is wonderfully dangerous for both. Silva took advantage of his size and surprisingly nimble movement to dominate Emelianenko. Overeem is a different beast and Silva will pay a stiff price for standing in front of him. I'm tempted to take Silva -- I think there's a good chance he can put Overeem on his back -- but the current Strikeforce champ is the play here.

And the finals ...
How about choice No. 1? Overeem fights Barnett. We don't know when or where, but that's my selection for the Strikeforce grand prix heavyweight finals.