January, 23, 2014
Jan 23
9:08
AM ET
By Michael Huang
ESPN.com
Archive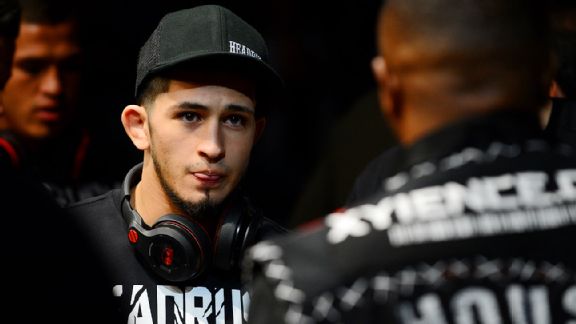 Al Powers for ESPNWith brother and UFC champ Anthony over his shoulder, bantamweight Sergio Pettis is on the rise.
Just call it brotherly love.
Fans of UFC featherweight
Clay Guida
might recall a head-shaking prefight ritual between him and brother
Jason Guida
. Before every one of Clay's fights, in the prefight prep point, Jason would slap his younger -- and significantly smaller -- brother in the face, seemingly to prepare Clay for his fight.
Whap! Whap! Whap!
Whether this was the key to Clay's success is debatable, but he certainly has had a solid and fruitful career in the UFC, which is really what any older brother would want for his younger sibling. Clay first got into MMA because Jason was fighting on a local card in Illinois. They needed a volunteer to fill in for an injured fighter, so Clay jumped in and the rest is history.
There's always a little sibling rivalry between brothers. Younger brothers often look up to their older brothers, using them as yardsticks for their own success or motivation to succeed.
This Saturday,
Sergio Pettis
, the younger brother of UFC lightweight champ
Anthony Pettis
, faces
Alex Caceres
in a bantamweight bout on the undercard of
UFC on Fox 10
. Expect a smorgasbord of athleticism. Both young fighters are technically skilled strikers with a lot of bounce and speed. For Sergio, it can't get better having his UFC champion and world-class athlete brother to help in training.
"I've got a lot of good people around me, my coaches, training partners, and I have Anthony," Sergio Pettis said. "I can learn from his mistakes. Eventually I want us to be the first pair of brothers to have UFC belts at the same time."
And who better to give him championship advice than his champion older brother.
"Anthony's always said just have fun with it," Sergio Pettis said. "Before my first fight I was starting to get some bad thoughts and hearing too many of the comments people were making. He just said to forget all that and just have fun. So I'm much more relaxed for this fight."
[+] Enlarge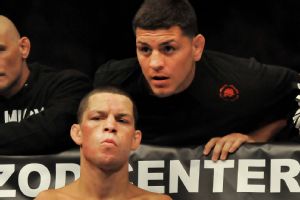 David Dermer/Diamond Images/Getty ImagesNate and Nick Diaz have become one of the UFC's more notable brother combinations with each becoming a top contender in recent years.
Mixed martial arts boasts a formidable list of brothers-in-arms. Some of the more notable sets of siblings include the Nogueiras --
Antonio Rodrigo
and
Antonio Rogerio
-- as well as the Ruas --
Mauricio
,
Murilo
and Marcos -- have long histories of success dating back to early PRIDE days. Likewise, the Overeems --
Alistair
and
Valentijn
-- have enjoyed success across fight leagues, and the Millers --
Jim
and
Dan
-- and Diazes --
Nick
and
Nate
-- have been top contenders in the UFC for the last half decade.
Perhaps it's the fraternity of the gym or the brotherhood of combat sports that strengthens the bonds between these sets of siblings, but -- like the Guidas -- it's the older brother who usually introduces the younger brother to MMA. Likewise, Valentijn Overeem brought Alistair to a gym to learn how to defend himself.
But often it's the younger brother who outperforms the older brother. Heck, even Eli Manning has two Super Bowl rings, but Peyton only has one.
While Dan Miller is a UFC veteran respected as one of the best BJJ practitioners, Jim has probably experienced more career success than Dan. He doesn't see that as a feather in his cap, however. The brothers take the wins and losses together.
"It's not something I'm really happy about," Jim Miller said. "I want all the success in the world for Dan. He's capable of so much. But because he's the 185-pounder, I'm the one who benefits from our size difference. Fighting one of the best 185-pounders makes fighting 155-pounders easy. If it was reversed, and I was the bigger one, I'm sure he'd be doing better than me."
At 10-0, Sergio Pettis is one of the new breed of young fighters who have trained in multiple disciplines from an early age. After watching Anthony's first three fights, Sergio was bit by the MMA bug. Both have deep backgrounds in taekwondo, with Sergio starting at age three. They even owned their own dojo in Milwaukee at one point with their eldest brother.
Does he think he can eventually eclipse Anthony's success? That's a tall order considering the flash with which Anthony shot up the ranks and captured the UFC lightweight title. "Showtime" might be his brother, but Sergio isn't interested in the spotlight. Is doing better than his brother just a side effect of any success or an objective?
[+] Enlarge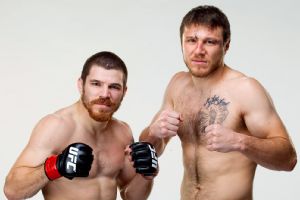 Mike Roach/Zuffa LLC/Getty ImagesHaving brother Dan, right, two divisions above him to spar against has only helped the growth of lightweight Jim Miller.
"I'm still really new to the UFC, just starting out my career," said Sergio Pettis, who had posted a 9-0 record in MMA feeder league Resurrection Fighting Alliance. "I have a lot of expectations for myself. But there's that possibility that I could be better than Anthony. I'm shooting for that!
"But right now it's about me just finding my way through the UFC and continuing to win. I want to stay active and fight four times this year. I'm still in Anthony's shadow and eventually I'm sure I'll step out from under it, but right now I'm just focused on winning as many fights as I can."
Duke Roufus, coach of the Pettis brothers, has said Sergio has the potential to be even better than Anthony. With Anthony sidelined with a knee injury, Sergio is the reigning Pettis right now. And against Caceres, fans should expect lots of leather flying.
"I know he likes to move around a lot and likes to use some flashy moves," Sergio said. "But I train with Anthony so there's plenty of flashy moves to practice against."
Perhaps for any younger brother, it might be most important to simply live up to the bar standard any older brother might set. That's a tough enough fight.
"Anyone who wants to learn how a man really holds himself with class and composure should watch my brother Dan," Jim Miller said. "I always try to live up to that."
July, 28, 2013
7/28/13
9:47
AM ET

By Josh Gross
ESPN.com
Archive
The worst idea coming out of UFC's eighth card on Fox is
Demetrious Johnson
already ran out of 125-pound guys to fight.
But how can a champion clean out a division if its foundation hasn't even set?
Flyweight is "not like 145 or 155, where you can have 10 fights, win nine of them, and still not be anywhere close to a title shot," seventh-ranked
Darrell Montague
told ESPN.com earlier in the week.
Montague is the only competitor ranked in the top 10 not featured among the 15 flyweights currently signed to fight in the UFC.
"Maybe my first fight could be against one of their top guys," said "The Mongoose." "I win that, then the next one is for the belt. Who knows?"
John Moraga put himself in position to pull it off. So can the 25-year-old Montague. Same with 19-year-old
Sergio Pettis
. And 26-year-old Olympic wrestling champion
Henry Cejudo
. Or, perhaps, a kid we haven't heard of before. This is why it's silly to say Johnson has done the yeoman's work of clearing out a weight class after only two title defenses.
"There's quite a few flyweights out there because it's not a weight they have a ton of options of where they can go," said Ed Soares, speaking on behalf of the Resurrection Fighting Alliance, a feeder organization for the UFC that promotes flyweights because the UFC does. "So, we're definitely trying to build up lighter weights and hopefully get them up into the UFC."
Many people expect Pettis to rise to Johnson's level over the next year. Montague, currently paving parking lots for a living, got an offer on Tuesday to fight in Japan -- he's considering it but doesn't sound crazy about fighting just to fight. Cejudo has all the hallmarks of a bankable star, so long as he doesn't embrace a safety-first style.
Throw in guys working their way through the UFC ranks, like hard-hitting
John Lineker
or green-haired
Louis Gaudinot
. Plus the guys we already know, like
Joseph Benavidez
.
[+] Enlarge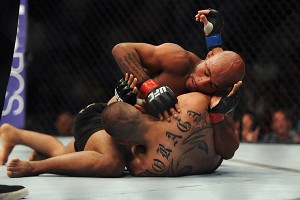 Rod Mar/ESPNDemetrious Johnson, top, is proving to be a tough champ to dethrone -- but not exactly a titlist who resonates with the masses.
Simply put, there's more than enough available 125-pound talent to threaten for the belt on a regular basis. And considering how impressive a champion Johnson has been so far (try "very"), chances are he'll be in position to take challenger flak for some time to come. At the moment, though, expecting him to match the dominance of established titleholders isn't fair. The weight class he fronts isn't mature enough. Moraga went from the first bout on Facebook to a championship main event on network television. Unknown to widespread.
This says a ton about the unpredictable mobility of flyweights, and why prospects might not be in a tremendous hurry to hit the UFC.
Several fighters that might give Johnson a run for his money aren't on the table yet because (1) the curbed 125-pound UFC roster is tough to crack, or (2) they're simply not prepared.
Fretting over talent is the wrong way to think about this. Instead, the true battle will hinge on whether or not fans dare to care about the smallest fighters on the UFC roster. Until the answer is a chest-thumping "yes," flyweights will struggle to receive the attention they need to flourish.
"No one really paid attention to 125 until the UFC brought them in," said Soares. "[The UFC is] the biggest, they're the best, so as soon as they decide to do something, everyone pays more attention to it. That goes for everything. Not only flyweights, but when they brought women in. They're the leaders. As soon as they start doing something, everyone is going to pay attention."
Flyweight men and bantamweight women made their UFC debuts nearly a year apart, and their respective impacts on the promotion's business couldn't be more different.
Ronda Rousey
is the most media-requested fighter on the roster and women have energized the UFC. Meanwhile, a hometown title defense for Johnson -- the only fighter to wear the promotion's flyweight belt -- was overshadowed coming into the event by a welterweight co-main between
Rory MacDonald
and
Jake Ellenberger
.
No surprise then that as women and the UFC bask in Rousey's glow, flyweight during the Johnson era has been slow to catch on. The UFC entered female MMA because of Rousey's magnetism. There wasn't an equivalent for men at 125, which is why the promotion held a four-fighter tournament to crown a champ. Out of that jumble emerged a bantamweight convert, "Mighty Mouse," a heck of a competitor who's yet to connect with the audience -- proving again it takes more than being a terrific mixed martial artist to become a UFC star.
Foregoing a showman at the top of the weight means flyweight could take longer to develop than its supporters want. But don't make the mistake of pinning a slow response on the fighters' diminutive size.
After all, many of boxing's most influential and entertaining stars over the years waged war at 126 pounds.
November, 2, 2012
11/02/12
6:46
AM ET

By Josh Gross
ESPN.com
Archive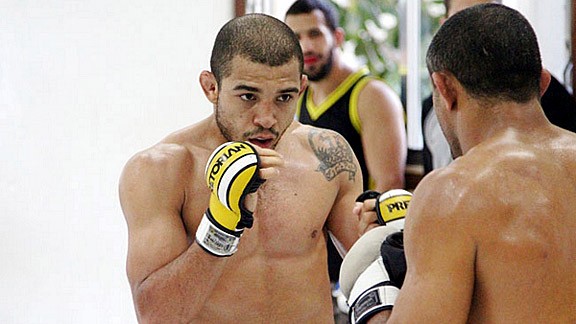 Sherdog.comJose Aldo's mix of speed, accuracy and power make him an early favorite against Frankie Edgar.
Here are five things about the week in mixed martial arts that stand out to me.
Aldo-Edgar back on
Reaction was muted on the news that
Jose Aldo
and
Frankie Edgar
were signed to fight Super Bowl weekend in Las Vegas. The featherweight title fight had to be rebooted after Aldo was forced off UFC 153 following a motorcycle accident, one of many big bouts lost to injury over the past few months.
I'm really looking forward to the fight. Aldo is incredibly talented, but hasn't been asked to reveal his true potential yet. Edgar seems capable of at least pushing the Brazilian champion to places he's never been, and for that reason, among many others, Feb. 2 is circled on the calendar.
Zuffa obviously feels strongly enough about the contest to have it headline one of the promoter's biggest dates of the year. It was one thing for Aldo-Edgar to be set in Brazil, where the champion can draw no matter whom he fights. But for the featherweight contest to reset as a major Las Vegas event, well that says plenty about the future of the division. Some will view Aldo-Edgar as the first of a potential string of "super fights." I don't know if it can be successfully sold this way, but I'm guessing that's how UFC will package the bout.
As for an early prediction, I'm leaning Aldo's way. Speed, accuracy and power, plus he could fight at lightweight if he wanted.
Bye, bye, Bonnar
Stephan Bonnar
retired this week, and I believe the man will make good on his word.
In announcing his departure from the game, Bonnar told fans all he ever wanted to do was "bring y'all some fun." He lived up to that, no question about it.
How will he be remembered?
During a chat on ESPN.com Wednesday with Brett Okamoto, a question came up about Bonnar's consideration for the UFC Hall of Fame. I put little stock in the UFC HOF because of the way inductions are handled (totally the promoter's call), but it's an interesting question.
Bonnar played an important role in arguably the most important fight in UFC history. He lost to
Forrest Griffin
, but he brought the fun, y'all. And man, did he bring it. I was cage-side that night and wrote afterward that what we witnessed was the start of something special, a rise of an outlaw sport. And it was that, no question. But does that make Bonnar Hall of Fame worthy? I don't think so. Certainly Griffin-Bonnar 1 will always be commemorated in some fashion by the UFC, but putting Bonnar in the same class as
Royce Gracie
,
Ken Shamrock
,
Randy Couture
and others is a step too far.
Bonnar is getting out at just the right time. He has his wits about him and probably will enjoy broadcasting opportunities. He's good in the booth and can be better if he calls it as he sees it. Bonnar will always have a home in the UFC, that you can bank on.
Update:
News broke Friday that Bonnar tested positive for steroids following the Anderson Silva beatdown -- the second time he was popped for anabolics. If nothing else, it's a reminder that I should have mentioned his first positive result since UFC 62 (when he tested positive for boldenone). Thing is, this happens so often it's easy to forget, or gloss over, or I don't know.
Bottom line on this guy, he had one awesome fight that came at the perfect time while a bunch of people watched. Then he didn't do much with the rest of a career that included two positive tests for anabolic steroids.
Don't let the cage door hit you on the way out.
P.S.: Gracie and Shamrock tested positive for steroids, too ... I remember.
Coach Hendo
In case you're not keeping up with TUF news, MMAJunkie.com reported that
Chael Sonnen
brought in
Dan Henderson
to serve as an assistant coach. Quite the consolation prize.
Henderson confirmed this week what we already knew. He was planning to fight
Jon Jones
in February. He could have easily been ready to meet Jones in April. And he would have, had it been offered to him, gladly sat in Sonnen's seat. Hey, maybe Henderson could have offered Sonnen an assistant coaching slot.
Now wouldn't that have been fun?
Watch these guys
The first weekend of November is strong with MMA and offers a bit of everything. Topping my list of things to follow are the fates of three unbeaten prospects:
Sergio Pettis
,
Steve Mocco
and
Tyrone Spong
. True enough, Mocco and Spong haven't had a pro MMA bout yet, but they're still interesting.
Pettis, of course, is younger brother to Anthony, perpetrator of the "Showtime" kick and current UFC lightweight contender. The 19-year-old "Phenom" hasn't lost in five fights (two TKOs due to head kicks, two submissions with different chokes, and a decision).
Pettis meets 4-1 Jimmy "Rabbit" Jones Friday night in Las Vegas on Resurrection Fighting Alliance 4, which also hosts Mocco's debut.
The heavyweight was a powerhouse wrestler, winning the Dan Hodge Trophy in 2005. Google his name and one of the first photos you'll see is of Mocco sporting a shiner. That's the kind of wrestler he was. He made the 2008 Olympic team and finished just out of the medal hunt. Now at the age of 31, Mocco is stepping into the cage. He would seem to have a great temperament for this sort of thing, and we'll have a better idea if 1-0
Tyler Perry
is any kind of test.
Spong fights Saturday, also in Las Vegas, on the debut card of World Series of Fighting. He's one of the best kickboxers on the planet, and at the age of 27 is looking for a new challenge. That's MMA. He trained about a year with the Blackzillians, where Spong also doles out plenty of kickboxing advice, before stepping in the cage for the first time. Spong could have signed anywhere, including the UFC, but he chose WSOF because the upstart promotion allowed the Dutchman to remain under contract to kickbox for Glory. For now, MMA is his focus. If he can fend off takedowns and/or play an active offensive guard, watch out.
A look at November
This weekend, as noted, is loaded. RFA and Bellator grace TV sets on Friday night. Saturday, WSOF makes its time-buy debut on NBC Sports Network.
It's a good start to a serious month, culminating with UFC 154 in Montreal. Georges St-Pierre returns for the first time in forever to take on a real threat,
Carlos Condit
. That's the fight everyone will discuss over the next few weeks, though from now until December, when things go absolutely crazy, there's plenty to watch.
Here are my top five probably-slip-under-the-radar contests to watch.
Wagnney Fabiano
vs.
Rad Martinez
-- Bellator, Hollywood, Fla., Nov. 9: Fabiano is a solid fighter, the best Martinez has faced to this point in his career.
John Lineker
vs.
Yasuhiro Urushitani
-- UFC, Macau, Nov. 10: Both flyweights vie for their 20th win, respectively; and a boost in the UFC's newest division.
Kenny Garner
vs.
Guram Gugenishvili
-- M-1, St. Petersburg, Russia, Nov. 15: No one could blame you if you skipped this one, yet I'm curious if the hyped Gugenishvili can redeem himself against the crafty American.
Francis Carmont
vs.
Tom Lawlor
-- UFC, Montreal, Nov. 17: Carmont has looked terrific in the Octagon so far, and Lawlor makes for a stylistically pleasing opponent.
Lyman Good
vs.
Andrey Koreshkov
-- Bellator, Mt. Pleasant, Mich., Nov. 30: The welterweight tournament final is legit, as unbeaten Koreshkov takes on a fighter whose only losses are to
Rick Hawn
and
Ben Askren
.
September, 8, 2011
9/08/11
6:53
AM ET

By Chuck Mindenhall
ESPN.com
Archive
Duke Roufus has turned a small contingency of Midwestern fighters into his own personal "Ong Bak." Though he's got
Erik Koch
,
Pat Barry
and Danny Downes around on a regular basis, Roufus's flagship student is Milwaukee native
Anthony Pettis
, whose Hong Kong action cinema style makes up just about everybody's perception of what's being taught there. Roufusport MMA is right now synonymous with an exciting brand of fighting and Pettis ensures it.
That's why it's with a small amount of intrigue that we turn to Anthony's brother, Sergio Pettis, who turned 18 on Aug. 18. He has his first professional MMA fight Saturday at the Winnipeg Convention Centre as part of a CFC event. So how does he get ready for a pro MMA fight? By fighting in his first pro muay Thai fight just a few weeks beforehand.
"Yeah, I actually had my first pro muay Thai fight [in August]," he told ESPN.com. "I was more conservative in that fight, though. I won by decision, but the guy was one of them brawler-types so it was harder than I thought it would be. In my next fight coming up, I'm going to let it go and just have fun with it."
Pettis debuts against Kyle Vivian (0-3), and he'll enter the cage with an expectation -- some might say burden -- of delivering excitement. Not just to live up to billing as a Pettis, but as a Roufus fighter. It may fly under most people's radar, but it's a big deal for those in that sector of the 414 to see their youngest prospect get off to a solid start in what he hopes is a long MMA career.
"I am used to it now," the younger Pettis says of his brother, who'll be working his corner on Saturday. "It's not a bad thing, but obviously my competition's going to be a lot harder now; they see the last name and they're obviously going to expect a challenge. There's a lot of pressure, but it's alright, I think I can pull through and make the best of it.
"Anthony's the only one at the gym that knows me personally. He's my brother, so he knows when I'm having a bad day and when I'm having a good day. He helps me not get frustrated during training camp when I'm having an up and down week. But he makes me have fun with it."
The Pettis brothers both got involved in taekwondo when they were five years old, and each segued into kickboxing in their teens. Sergio has followed in his brother's footsteps the whole way, and is now looking to build up a name of his own. He might want to start with a more original alias, especially given the Roufus fighter's penchant for originality in nicknames. Anthony "Showtime" Pettis. Pat "Hype of Die" Barry. Danny "Boy" Downes. Erik "New Breed" Koch. These transcend your usual "Pitbull" handles.
So what's Sergio's?
"They call me the "Phenom" but that's Vitor Belfort's nickname, so I'm like, I don't know," he says. "He's pretty old, so I don't know if he can still be considered a phenom."
When you're 18, everybody is old, so he's got time to figure it out. For now, it's good enough that he's part of a burgeoning team that is making a name for itself similarly to how Greg Jackson built his team down in Albuquerque. In fact, Sergio says he sees the potential of Roufusport doing something Jackson-esque in the near future.
"That's the plan," he says. "[Greg] Jackson is known for winning fights and that's how it's going to be with Duke. Only, we're going to try to finish fights though."
It's the right kind of caveat, and it speaks to the mindset of Roufus fighters.