April, 17, 2014
4/17/14
9:46
AM ET

By Brett Okamoto
ESPN.com
Archive
Thiago Alves
believes he has built up credit with whatever forces control injuries in mixed martial arts. After four surgeries in the past two years, he's paid up for a while.
Finally healthy, Alves (19-9) will return to the UFC for the first time in 25 months to face
Seth Baczynski
at a UFC on Fox event this weekend in Orlando.
[+] Enlarge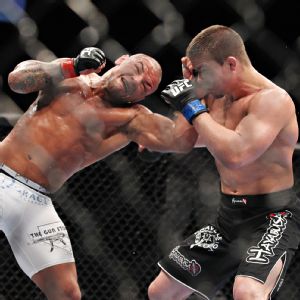 Ed Mulholland for ESPNThiago Alves, left, is 30 years old, and believes he still has years of fighting left in him.
Since a third-round submission loss to
Martin Kampmann
in March 2012, Alves, 30, has undergone surgery to repair damage in each of his pectoral muscles, the ACL/PCL in his left knee and his left biceps. He was forced to pull out of two fights in that span.
"I was angry at my body," Avles told ESPN.com. "I asked, 'Why you giving up on me? We've got a lot of fights left.' It never crossed my mind to quit, though. I'm young. In a weird way, it was a perfect time for everything to happen back-to-back.
"I think I'll be good now for six years; no injuries."
Forfeiting 25 months of competition (during his athletic prime) has been a tough pill to swallow for Alves -- but he's doing his best to give it a positive spin.
He was financially able to remain a full-time fighter during the past two years, even though he didn't collect a single fight paycheck. UFC fighter insurance helped; Alves said it covered the costs of three of his four procedures.
American Top Team owner Dan Lambert helped Alves pay for the fourth.
"I haven't gotten a significant paycheck in two years, but I've been able to maintain the same focus on getting better," Alves said. "I'm very blessed to be a part of ATT."
Even with the financial help, Alves was forced to prioritize his spending in ways he hadn't previously. In other words, there weren't as many discretionary dollars lying around to fund Alves' social life -- which he says has been a blessing in disguise.
Alves has admitted to having a taste for the party scene, but in the past two years, he couldn't be a part of it even when he wanted to -- he couldn't afford it.
"

All the partying, all the waste of money isn't happening anymore. Everything is precise and it feels really good.

"

-- Thiago Alves, on a change of lifestyle following a nearly two-year absence from the Octagon due to injury
"When you don't have income anymore, you can't spend that much money," Alves said. "That was one of the greatest things. I had to cut costs. It changed my lifestyle. I went to the gym, back to home, back to the gym. All the partying, all the waste of money isn't happening anymore. Everything is precise and it feels really good."
Maturity, really, is what it sounds like Alves has gained when listening to him. He has drastically changed his diet in recent years. After missing weight twice in four fights from 2008 to 2010, Alves was nearly forced by the UFC to move to middleweight.
These days, Alves is working diligently with well-known nutritionist
Mike Dolce
and expects his weight cut this week to be one of the easiest of his career.
He says his relationship with coaches has never been better and, during his long break from the cage, found time to get engaged. Everything about his personal life is vastly different than in 2009, when he fought
Georges St-Pierre
for the welterweight title at UFC 100.
"I wasn't ready for the title at that time," Alves said. "I'm glad I didn't get it. Maybe I wouldn't even be alive if I had become champion at that time because I was in such a wrong way."
It's pretty crazy when you consider Alves has already fought 17 times for the UFC, just sat out 25 months -- and is still just 30 years old.
Now that his body is cooperating again, Alves is confident big things lie ahead.
"I've been pushing my limit constantly since the surgeries to see how my body holds up and it's been great," Alves said.
"The welterweight division has always been competitive. There are so many guys at this weight. It doesn't mean the division is better now, though. The biggest threat has always been [St-Pierre] because he's such a smart fighter. I don't see other guys doing that. The guys you see in this division right now, once they get hit a few times they are going to go after you. The division is wide open. I see a big opening."
December, 24, 2011
12/24/11
9:45
AM ET

By Franklin McNeil
ESPN.com
Archive
Two more welterweight fights have been slated for UFC 143 on Feb. 4 in Las Vegas, the promotion announced on Thursday.
Veteran
Matt Brown
has verbally agreed to face Chris Cope, while Justin Edwards will tangle with Mike Stumpf. Each fight is expected to appear on the preliminary portion of UFC 143's card.
All four fighters will look to rebound from recent losses, and each man's performance could determine whether he remains on UFC's roster.
Brown (12-11) has struggled to find any consistency in the past year. He has dropped four of his five most recent fights, including a second-round submission loss to Seth Baczynski on Nov. 19 at UFC 139.
Cope (5-2) was the victim of a first-round TKO to Che Mills on Nov. 5. He is 1-1 inside the Octagon.
Edwards (7-2) has come up short in two of his three UFC appearances. John Maguire bested him by unanimous decision on Nov. 5 in Birmingham, England, at UFC 138.
In his UFC debut on Sept. 17, Stumpf was submitted in the first round by TJ Waldburger. But Stumpf (11-3) took that fight just six days before the scheduled event.
Former Strikeforce welterweight champion
Nick Diaz
faces ex-WEC titleholder
Carlos Condit
in the UFC 143 main event. They will compete for the UFC interim 170-pound belt.
Former No. 1 welterweight contender
Josh Koscheck
will face hard-hitting
Mike Pierce
on the co-feature. UFC 143 will be held at Mandalay Bay Events Center.
October, 18, 2011
10/18/11
5:27
AM ET

By Franklin McNeil
ESPN.com
Archive
Injuries have forced welterweight
John Hathaway
and heavyweight Oli Thompson off UFC 138, which is scheduled for Nov. 5 in Birmingham, England.
The announcement was made Monday on UFC's website. The nature of the injuries suffered by Hathaway and Thompson was not disclosed.
Hathaway is a native of Brighton Sussex, England. He was set to face
Matt Brown
.
With Hathaway unable to compete, Brown will instead face Seth Baczynski on Nov. 19 at UFC 139 in San Jose, Calif.
The man Thompson was scheduled to fight, Philip De Fries, has verbally agreed to face
Rob Broughton
on the UFC 138 preliminary card. De Fries and Broughton are both natives of England.