January, 21, 2012
1/21/12
3:04
PM ET

By Chuck Mindenhall
ESPN.com
Archive
Feel-good stories in MMA are hard to sustain, and even harder to get off the ground. As quick and cobbled as the story of the Blackzilians is being put together as a sort of wrecking crew/adoption agency, old tendencies are returning to its fighters.
This isn't a happy trend.
One week ago,
Anthony Johnson
failed to make weight (by a country mile) in Rio de Janeiro at UFC 142, marking the third time in two different weight classes he's showed up to the scale way over. He was cut for the third strike after losing to
Vitor Belfort
. Now
Melvin Guillard
, who recently relocated to Florida full-time to train with the Blackzilians, gets submitted in a round by
Jim Miller
.
If any of this looks familiar it's because he was tapped by
Joe Lauzon
in his previous fight at UFC 136, which was thought to be something of a winking aberration. Turns out it wasn't, and it never really was. The fact is that nine of Guillard's 10 losses have come via submission. The other fight he lost (against Jake Short in 2004) was a decision. Guillard has never been knocked out, but he dangles neck and limb out there to be snatched while pursuing knockouts.
[+] Enlarge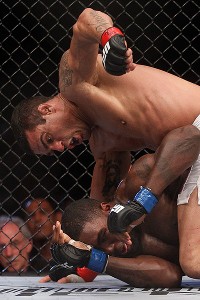 AP Photo/Felipe DanaMelvin Guillard's loss -- coupled with Anthony Johnson's defeat to Vitor Belfort -- made it one bad week for the Blackzilians.
His fixation is leaving him vulnerable. For as much as it's fun to watch Guillard's aggression, it plays out like roulette.
Yet the case of Guillard is interesting, because so many people -- coaches, fans, honchos at Zuffa -- see him as a fighter that's a few tweaks from being a champion. He has the quicks and athleticism to rival any lightweight, and arguably the strongest hands in the division. There's no doubting his explosiveness. In fact, he had Miller in trouble early by landing some big shots. Then again, lapses in judgment have always hindered him, both in and out of the cage. And those lapses in judgment in the cage put him in all kinds of hot water against smart grapplers, the kind who feast on mistakes.
Lauzon told me that he was leery of four offensive moves that Guillard presented, and he had them easily memorized before their fight. He saw all of them in the 47 seconds they stood across from each other. As for the defensive side of the equation? No worries at all -- Guillard trends offensively. He trusts his offense enough to override any specific holes in his submission defense.
And at this point that sort of thinking is the problem unless he's fighting somebody who accommodates him by not playing jiu-jitsu.
Against wrestlers (
Shane Roller
,
Evan Dunham
,
Waylon Lowe
), Guillard does fine. Against guys who like to stand and bang (
Jeremy Stephens
,
Dennis Siver
), he's right at home. But against submission specialists (
Nate Diaz
, Joe Lauzon, Jim Miller), guys who can force mistakes or at the very least pounce on them, he gets caught.
After the Miller choke, ESPN.com's Brett Okamoto suggested Guillard needed to be locked in a room with some black belts for a year, then he'd return a champion. Whether that's true or not, it couldn't hurt.
But the mistakes are the thing. Against Miller it was an ill-timed flying knee that allowed the grappler to get things to the ground. From there it was clinical -- just as Miller went to mount, Guillard scrambled and gave up his back. Seconds later, he was tapping.
[+] Enlarge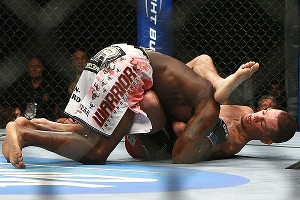 Dave Mandel/Sherdog.comFriday was hardly the first time Melvin Guillard's poor submission defense was exposed.
This has become a recurring theme for Guillard, who for just a little while at Greg Jackson's Academy in Albuquerque seemed to have found a balance in his game that might be described best as "smart aggressiveness." The thing that Jackson and striking coach Mike Winkeljohn were working on with Guillard was ultimately judgment, with a broader focus on his maturity. He was riding a five-fight winning streak when he left Jackson's for Boca Raton midway through training for Lauzon. Up until then, he was beating wrestlers and boxers.
Since then he's 0-2 against jiu-jitsu aces. Losing the way he did long before he got to Jackson's.
Would it have mattered if he'd stayed in New Mexico? Who knows. But Guillard is a work in progress, and it's been a pretty lousy week for the Blackzilians.
July, 6, 2011
7/06/11
11:17
AM ET

By Franklin McNeil
ESPN.com
Archive
UFC bantamweight champion
Dominick Cruz
might have to savor his unanimous decision win Saturday night over
Urijah Faber
for a while.
The Nevada Athletic Commission released its medical suspensions to ESPN.com on Tuesday for fighters who participated in UFC 132, which was held July 2 at MGM Grand Garden Arena in Las Vegas.
Cruz is required to have his right hand x-rayed. If the results are positive, Cruz must be cleared by an orthopedic doctor or he won't be allowed to compete until Dec. 30.
Faber must have his right hand, right wrist, right shoulder and chest x-rayed. If the results are positive, Faber must be cleared by an orthopedic doctor or he too will not be allowed to compete until Dec. 30.
Regardless, Faber can't compete until Aug. 17, and must not have contact until Aug. 2.
Wanderlei Silva
, who was knocked out in 27 seconds by
Chris Leben
, is suspended until Sept. 1. He can't have any contact until Aug. 17.
Dennis Siver
(forehead lacerations) is suspended until Aug. 17, and can't have contact until Aug. 2.
Ryan Bader
, who was submitted by
Tito Ortiz
, is suspended until July 24, and must avoid contact until July 17.
Both
Dong Hyun Kim
and
Shane Roller
must have right orbital fractures cleared by an ear, nose and throat doctor or ophthalmologist. Otherwise, neither can compete until Dec. 30.
Regardless, neither Kim nor Roller can compete before Sept. 1. They also must avoid all contact until Aug. 17.
Melvin Guillard
(cut under right eye) is suspended until July 24, and can't have contact until July 17.
George Sotiropoulos
, who was KO'd in the first round by
Rafael dos Anjos
, is suspended until Sept. 1. He can't have contact until Aug. 17.
Brian Bowles
must have his right hand X-rayed. If the results are positive, Bowles must be cleared by an orthopedic doctor or he will not be allowed to compete until Dec. 30.
He is under minimum suspension and can't have any contact before July 24 or compete until Aug. 2.
Donald Walker (laceration on right eyebrow) and Brad Tavares (laceration on left eyebrow) are suspended until Aug. 2 and neither can have contact before July 24.
Andre Winner
is suspended until Aug. 2, and can't contact before July 24 due to facial bruising.
Anthony Njokuani
, who defeated Winner by unanimous decision, must have a contusion on his lower left leg cleared by a physician or he can't compete until Dec. 30.
Njokuani also chipped a lower right tooth.
July, 1, 2011
7/01/11
6:35
AM ET
The preliminary portion of the UFC 132 lineup figures to have a significant impact on the lightweight division on Saturday at the Mandalay Bay Events Center in Las Vegas. There, the surging Melvin Guillard will meet Shane Roller, Australian submission specialist George Sotiropoulos will lock horns with Rafael dos Anjos and "The Ultimate Fighter" Season 9 finalist Andre Winner will take on Anthony Njokuani -- all at 155 pounds.
More »
June, 23, 2011
6/23/11
1:31
PM ET

By Chuck Mindenhall
ESPN.com
Archive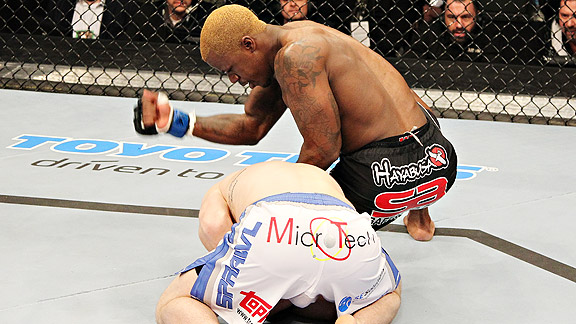 Josh Hedges/Getty ImagesGuess who's come knocking: Melvin Guillard wants in on the lightweight title sweepstakes.
With the fresh transfusion of WEC 155-ers, the UFC's lightweight division is deep enough that guys like
Melvin Guillard
can win seven of eight fights and barely register as a blip on the radar. The problem starts with the bottleneck situation at the top, with
Gray Maynard
and
Frankie Edgar
still with a score to settle and then a backfile of compelling cases like Guillard, his training partner
Clay Guida
,
Jim Miller
,
Ben Henderson
,
Anthony Pettis
,
Dennis Siver
and wild cards like Strikeforce's
Gilbert Melendez
.
What's the UFC to do? According to the always vociferous Guillard, it's time to break out the brackets.
"I honestly felt after the [Evan] Dunham fight that it was going to move me a lot higher," Guillard told ESPN.com ahead of his UFC 132 bout with
Shane Roller
. "But they're still ranking guys like Dennis Siver ahead of me, and I knocked this chump out in less than two minutes. He even called me out again, trying to fight me again.
[+] Enlarge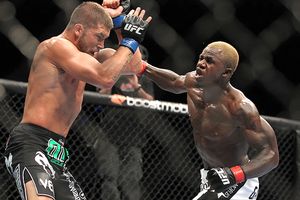 Ed Mulholland for ESPN.comThings don't usually end well for those who choose to strike with Melvin Guillard.
"But a lot of fights aren't making sense, and I don't really have a choice [but to fight Roller] because of the traffic jam with the weight class. Edgar and Maynard still haven't fought again, so right now everybody's at a standstill. The only solution I see is them doing a 155-pound grand prix tournament, and putting everybody in brackets and weeding the losers to giving a true No. 1 contender a fight here in the next year or so."
Guillard filled in for an injured
Kenny Florian
back in January at the UFC's Fight for the Troops card in Killeen, Texas, and soundly beat
Evan Dunham
via a first round TKO. He wanted to fight perennial contender Jim Miller next, but the fight didn't materialize. Then there was the thing with Florian calling him out before he defected to 145, which peeved Guillard enough that even now he welcomes that challenge in any weight class.
"I never thought it mattered to fight Kenny, because he has fought for the title a couple of times, and obviously he hasn't been the champion, so that tells you a lot about him as a fighter. He's a great guy, but as a fighter he kind of chokes in the big show. So at that point, if he was asking to fight me, obviously I must be doing something right. I was like, alright, I'll fight him. So I called Dana up and asked for the fight, but then Dana tells me, 'kid, I like your enthusiasm, but Kenny's going to 145.'
"

If that fight came back around and they asked me to fight Kenny [Florian] again and he came back up to 155 or I went down to 145 -- that's definitely a fight I'm going to be asking for in the future.

"

-- Melvin Guillard, on keeping Florian on his radar after being called out
"If that fight came back around and they asked me to fight Kenny again and he came back up to 155 or I went down to 145 -- that's definitely a fight I'm going to be asking for in the future."
So right now he has the heavy-handed Roller next, one of the WEC imports who is looking to declare himself against Guillard. Roller (10-3) is coming off a big knockout of
Thiago Tavares
in his UFC debut back in March and has that collegiate wrestling pedigree and a little twinkle to his name. The matchup is compelling insofar as any Guillard pairing is (the potential for flash knockout is there) -- but you can spare Guillard the chintzy details.
"Shane Roller likes to come forward and because he's a wrestler he reaches a lot, and that's the kind of guy that's tailor-made to be knocked out," he said. "But this Roller fight really doesn't make any sense for my movement, as far as moving me up the ladder," he said. "I'm going in there to knock Shane Roller out, but it does nothing for my stats.
"Honestly, you guys and all the fans are going to be like, 'well, we kind of knew that was going to happen ... why was Shane Roller even in the cage with Melvin?' So it's just one of those fights where, for me, it doesn't make any sense ... but it always makes sense when you're in there to make a paycheck. As far as I'm concerned that's all it's going to do for me is bless me with another paycheck. But as far as moving me up the rankings and making me more elite? I don't think that's going to do anything."
May, 12, 2011
5/12/11
7:07
AM ET

By Brett Okamoto
ESPN.com
Archive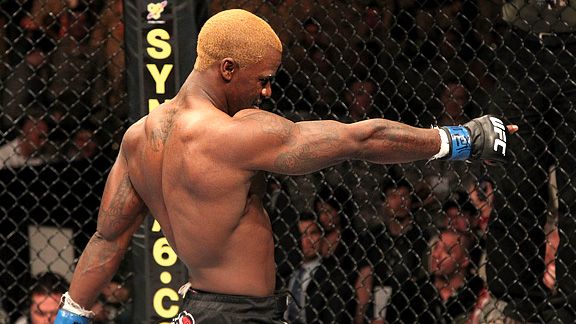 Josh Hedges/Getty ImagesLook out, lightweights: Melvin Guillard is coming for you.
Melvin Guillard
's title hopes were conceivably pushed back another three to four months this week when it was announced a lightweight title fight between
Frankie Edgar
and
Gray Maynard
was off due to injuries to both fighters.
But as much as Guillard is looking forward to his shot at standing atop the highly talented 155-pound weight class, he's willing to remain patient and would strongly oppose any notion for the promotion to dust off an interim belt while Edgar and Maynard heal.
"I don't have any kids, but if I did, I wouldn't want to take my interim belt out and say, 'Yes. Back in the day, your dad was the interim lightweight champion," Guillard told ESPN.com. "I'd rather not have a belt. I'd rather say, 'Son, I went out as a No. 1 contender.'
"I want to see [Edgar and Maynard] fight. Right now, they need to weed out champions. You have [WEC champion]
Anthony Pettis
and [Strikeforce champion]
Gilbert Melendez
still in line. We need one, dominant champion. That way me or
Jim Miller
can come along and beat the real champion."
It's the type of attitude a younger, less-mature Guillard might not have taken. As recently as two years ago, Guillard probably would have taken any belt he could get his hands on and immediately worn it out to the nearest nightclub.
But the 28-year-old lightweight underwent a well-documented turnaround last year, kicking his party habits and going a perfect 3-0 in the Octagon. That mindset has continued in 2011, as he finished
Evan Dunham
in the first round of their main event fight in January.
Guillard says even his approach to the UFC Fighters Summit in Las Vegas this week has been different than in years past. Whereas he used to look at it as a chance to hit the Strip's night scene, this year he's brought a tape recorder and a notebook.
His wife called him one night, just to make sure he was behaving. Guillard missed the call because he was already in bed.
"I want to go to bed, get a good night's sleep and go to these meetings," Guillard said. "I brought my tape recorder and I've been taking notes. I came prepared. I want to know how the UFC is going to help me in my future."
His approach has also helped eliminate any disappointment he might have felt from falling to the prelim card at UFC 132 after headlining an event in January. Guillard also says although he respects his opponent, Shane Roller, a win probably does nothing when it comes to his status in the division.
He's looking at the summer fight as a way to make a statement before meeting fellow top contender Miller, hopefully in October.
"[Beating Roller] doesn't elevate me," Guillard said. "I'd rather take that fight though and not wait until September or October for Jim Miller. I think the Miller fight will happen before the end of this year. I want it to happen in October on the Houston card. I'm not overlooking Shane Roller; he's tough. I have to make a statement and let Jim know I'm for real."