March, 3, 2014
Mar 3
11:22
AM ET

By Brett Okamoto
ESPN.com
Archive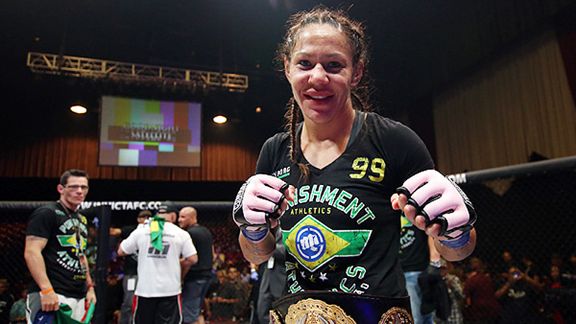 Dave Mandel/Sherdog.comCristiane "Cyborg" Justino has a calculated plan to cut weight and set up a fight with Ronda Rousey.
Invicta FC featherweight champion
Cristiane Justino
has a plan for 2014, which she hopes will lead to UFC bantamweight champion
Ronda Rousey
by December.
Justino (12-1) recently hired medical consultants to help her start shedding weight in an attempt to make the 135-pound bantamweight limit by midsummer.
The plan calls for Justino, aka "Cyborg," to defend her 145-pound Invicta title in late April or early May, most likely against
Ediane Gomes
. Justino would then fight for Invicta's 135-pound title in a quick turnaround, perhaps as early as July.
In previous interviews, the Brazilian fighter hinted she was entering the final fight on the Invicta contract she signed last year. Invicta president Shannon Knapp wouldn't offer details, but said the proposed two title fights wouldn't necessarily require Justino to sign a contract extension.
"I won't confirm or deny where she is on her contract, but I can tell you she would still be contractually under Invicta on her current deal [in that situation]," Knapp told ESPN.com.
A former Strikeforce champion, Justino publicly stated her intent to drop to 135 pounds last Saturday, hours before Rousey (9-0) was scheduled to defend her title against
Sara McMann
at
UFC 170
in Las Vegas. Rousey won the fight via first-round TKO.
Justino is scheduled to compete in a 145-pound muay Thai bout at Lion Fight 14 on March 28 in Las Vegas. According to her attorney George Prajin, Justino typically weighs approximately 170 pounds between fights and has a hard time even cutting to her current weight class.
The goal is for Justino to gradually drop, under a physician's supervision, over the next few months, which would make her next two cuts to 145 pounds easier. She would then make a practice cut to 135 before fighting for the Invicta bantamweight title this summer.
Earlier this month, Justino's manager, former UFC champion Tito Ortiz, stepped down from his involvement with her. UFC president Dana White has criticized Ortiz's handling of Justino's career in the past.
In February 2013, Ortiz held a news conference during which he said it was "impossible" for Justino to cut to 135 pounds. White has pointed to that admission as a major reason the fight hasn't been made -- and might never be made.
[+] Enlarge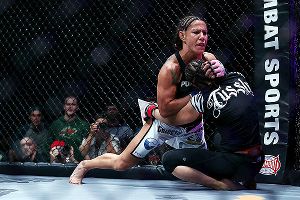 Dave Mandel/Sherdog.comWith former manager Tito Ortiz out of the picture, Cristiane "Cyborg" Justino's new representative are optimistic a deal with the UFC can be reached.
"It's not that I'm against Cyborg," White said last weekend. "It's that she has been put in this box. Tito built this box and stuffed her in there and it's really hurt her bad. [Ortiz said], 'If she goes to 135, she will die. A doctor said it.' Who wants her to fight at 135 then? Not me."
On Wednesday, Prajin told ESPN.com that the news conference White is referring to was "difficult" and admitted Ortiz was "nervous" during it. He disputes the claim, however, that anyone said she would "die" at 135 pounds.
With Ortiz out of the picture, Justino and her representatives are optimistic a deal with the UFC could be reached in time to see her fight Rousey by the end of the year.
Rousey is expected to return to the Octagon before then and will face No. 1 contender
Cat Zingano
, assuming Zingano has recovered from knee surgery. White has stated Rousey will fight three times in 2014.
Rousey, who hasn't fought at featherweight since November 2011, has maintained interest in a fight against Justino, but only at bantamweight. The UFC currently does not promote a female featherweight division.
"I still want that fight, but she seems hell bent on it not happening," Rousey told ESPN last week.
The fantasy fight might find an unlikely advocate in Knapp who, despite her stake in Invicta, says she's willing to be a liaison between Justino and the UFC.
"Ever since Tito stepped down, [Justino] doesn't have a manager so to speak, so she has been completely bombarded with people trying to represent her," Knapp said. "What Cris wants is someone to communicate and negotiate for her who she trusts. She has asked me to be a part of it.
"When I signed Cris, I knew this fight was out there and that she wanted it. As much as I'm a promoter with my own promotion, I want to see that fight. I would never hold an athlete back in that situation. I'll assist in whatever way I can."
April, 27, 2012
4/27/12
10:49
AM ET

By Josh Gross
ESPN.com
Archive
Is there a place in mixed martial arts for an all-female promotion? A "league of their own," as it were?
Shannon Knapp and Janet Martin believe the answer is "yes," and their quest begins Saturday in Kansas City, Kan., with the debut of Invicta Fighting Championships.
"For us, it's just about creating opportunities, because that's the one thing that is lacking [for women fighters]," Knapp said. "There is more than
Ronda Rousey
and
Miesha Tate
among the girls signed in Strikeforce. There are a ton of girls out there. [Strikeforce] is only hitting a couple of weight classes. There are lot of girls out there; they just don't have the platform to be seen. I think for us it's all about creating opportunities."
In certain cases it's proven that women can move the needle. As a longtime operator in MMA, Knapp, whose last position as a matchmaker and talent relations manager for Strikeforce ended when Zuffa purchased the company last year, knows firsthand how popular women can be when given the proper push and circumstance.
"I don't know that it's something I've wanted to do," Knapp said. "I never really sat back and said 'someday, I'll have my own promotion.' I was always content doing and helping and building. But I think you get to the point where you keep building it and it keeps either getting bought out or people make decisions and choices that end your job, and you keep finding yourself at the same crossroads. For me, when Zuffa purchased Strikeforce I was standing at the crossroads again."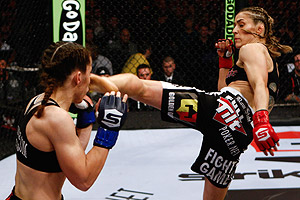 Esther Lin/Zuffa LLC/Getty ImagesMarloes Coenen, right, has shared the cage with the best women in MMA.
Will the individual success of a
Gina Carano
or the niche's latest star, Rousey, translate to fans taking the time to watch an event comprised entirely of women? If lessons learned over the years working for multiple promotions mean anything, Knapp says "yes," even if that means struggling against a strong headwind.
"I like fighting the fight," she said. "I can understand this fight. I've worked on the business side of this for so many years. You know how many times, because I'm a girl, I got passed up for something? Or the boy took the credit for the work that I did? So I can certainly identify with the struggles that [female fighters] have sometimes."
Saturday's event (invictafc.com, 8 ET), is headlined by former Strikeforce champion
Marloes Coenen
. The 31-year-old Dutch fighter said she believes so strongly in Knapp that she decided to put her name on a three-fight contract with the promotion.
"Shannon has the know-how and the power now to make this happen," Coenen said. "That's why I'm so happy to do this. I really believe Invicta is the next step, next evolution of the sport."
Having started in MMA at the age of 15, Coenen bristled at the concept of "women's MMA." The sport offers the same challenges, dangers, rules and structure regardless of gender, she said. However she conceded that an all-female organization offers unique marketing opportunities, including the possibility of introducing MMA to a wider world of women sports fans.
The prospect of success for Invicta and women fighting in MMA will be directly tied to this kind of crossover potential.
[+] Enlarge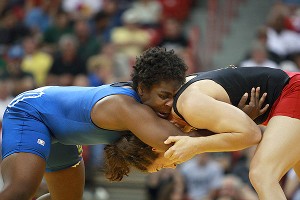 Marlene Karas/US PresswireRandi Miller, left, is hoping to find her calling inside the Invicta cage.
"I don't think there's a huge difference between marketing the males and females," Knapp said. "If anything, I've learned in this business to tell the story. That's it; tell the story. Put on good fights, but dive deeper."
Selling a story gives the viewer additional incentive to watch, there's no question about that. But Invicta can't rely on highly polished production pieces. As with any fight promotion, the key lies with the talent it holds. Coenen (19-5) is a terrific fighter; however, in her last bout she lost by submission to Tate, who subsequently tapped to Rousey. At best Coenen, who fights France's Romy Ruyssen (5-1), represents the present state of women in MMA. Invicta must cultivate the stars of tomorrow if it hopes to find staying power.
Twenty-eight-year-old Randi Miller, for example, makes her fighting debut on the card. The 2008 Olympic bronze medalist wrestler at 63-kilograms said Invicta has opened the door for athletes like herself to "transition well into MMA" and she is excited to play a part.
"It was something I was interested in but when my career ended as a wrestler I really wasn't sure what I wanted to do," said Miller, who fights 1-0 Mollie Estes. "If I wanted to coach, compete in MMA, get a job. I really didn't know what I wanted to do for a while. Eventually I decided I wanted to compete because I felt like I was still young enough. As you know in sports your time is very limited so as long as you feel you can, you should because you won't always be able to."
Miller has a point. Timing is everything.
Ten years after HooknShoot "Revolution," a lauded all-women card in Evansville, Ind., is this the right moment for a venture like Invicta?
"I hope it grows as much as the men's side," Miller said. "I hope people like what Invicta is doing and like watching me fight."