April, 29, 2013
4/29/13
10:34
AM ET

By Chuck Mindenhall
ESPN.com
Archive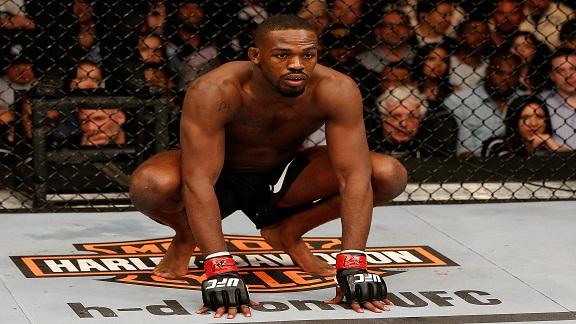 Heading into UFC 159, figuring out ways that
Chael Sonnen
could compete with
Jon Jones
required an active imagination. The leading idea on how to get it done was for Sonnen to put his chin down, stick the crown of his head into Jones' chest and drive him through the cage floor. Once there, things would become adventurous for all parties.
It didn't get there.
In fact, Jones turned the tables on Sonnen and shot in for a takedown of his own just a few seconds into the fight. It was Sonnen staring up at the lights, fending off oncoming elbows. He was able to get up, but Jones, out of a sense of pride and civic duty, became the kind of insistent wrestler who only Sonnen could appreciate. With half a minute to go in the first round, Sonnen's face battered and wits scattered, Jones was pried off of the "West Linn Gangsta" in what was ultimately the most predictable stoppage in the history of ground and pound.
But in a bizarre night where
Ovince St. Preux
won an abrupt technical decision with an eye poke of
Gian Villante
,
Michael Bisping
won a technical decision for an eye poke of the one man whose phobia is eye pokes,
Alan Belcher
, and Yancy Medeiros' thumb was rearranged into something from Picasso's brush, it was par for the course that Jones broke his toe somewhere along the way. By the end of the night, appendages at odd angles were all but the norm.
Now we can focus on "what does it all mean," which is one of MMA's favorite pastimes. Let's try to sort it out.
QUESTIONS ANSWERED
How does Sonnen compete?
Turns out our hunches were right -- he doesn't, not when fighting a stylistic nightmare who has the wingspan of a Cessna and a chip on his shoulder.
Last time we see Jones at 205?
Because he only
tied
Tito Ortiz's record of five title defenses, here's guessing no.
Lyoto Machida
has been promised a rematch, and
Alexander Gustafsson
still has a modicum of appeal on his way up. And if Jones fights
Daniel Cormier
, the likeliest scenario is it happens at light heavyweight.
Can Phil Davis break through?
Davis showed improved stand-up ability from that awkward version of himself a couple of years ago. But this was a one-sided beatdown of
Vinny Magalhaes
, a static fighter whose own stand-up won't swell the orchestra. Davis might be ready for a step up in competition, but he still seems light years away from challenging Jon Jones.
Is Cheick Kongo showing his 37 years?
Kongo is a dapper gentle giant outside the cage, and in his fight with
Roy Nelson
, he became one inside the cage, too. We didn't see any urgency or head-hunting or even any of that rare
joie de vivre
. What we did see was Roy Nelson go into his windup, as if from the pitcher's mound, and deliver a heater of an overhand right that dropped Kongo like a curtain sliding off the rod. In other words, yes, Kongo's days appear numbered.
NEW QUESTIONS
Does Sonnen retire?
Through the last three-year odyssey in which Sonnen has captivated the world of MMA and fought for the belt three times, he made it plain that winning a championship was his singular motivation. Does he want to stick around in a grudge-match capacity to fight the Vitor Belforts and Wanderlei Silvas of the world? (Answer: Hope so. Too many delicious vendettas lingering out there for Sonnen to just walk away.)
Is Pat Healy a top-10 lightweight?
If you subscribe to the theory that divisions are essentially a Netflix queue, where you can drag a title up from the bottom and replace something already in line near the top, then yes (and I know that speaks to more than half a dozen of you). Beating
Jim Miller
in Miller's native New Jersey was enough of a feat, but Healy's pressure game is starting to look scary. At nearly 30 years old, and with 46 professional fights, Healy is just now really coming into his own.
Is Nelson a heavyweight contender?
His right hand says "yes." His surprising agility to climb the fence and do the two-handed Buddha belly rub after victories says "yes." His popularity among fans and mullet connoisseurs says "yes." And realistically, yes. Now everybody is imagining Nelson against
Mark Hunt
, and Nelson against Daniel Cormier, and Nelson against
Alistair Overeem
, and that's a good thing.
What's next for Michael Bisping?
In hockey patois, Bisping was clutching his stick a little tight early against Belcher, but he began to get into a groove with his striking early in the second round. It was a victory that staves off ugly circumstances and gets him rolling toward something again. Bisping has mentioned fighting in October in Manchester, and here's thinking
Cung Le
would be a big draw.
THE FUTURE
For Sara McMann
-- Right now it's wide open, with the Armageddon she brought on
Sheila Gaff
. We know about the Olympic wrestling, but there's something about the
delight
she took in the elbows she was dropping from the crucifix position that has you wondering about how she'd fare against
Ronda Rousey
(and that's where McMann's headed -- but she'll have to stay busy with another fight or two).
For Jim Miller
-- Technically, getting put to sleep isn't a submission so much as a loss of consciousness, but losing a second time in New Jersey (the first to
Nate Diaz
) hurts Miller. Though he's flirted with the idea of moving up to 170 pounds in the past, he might consider a move down to 145. Pastures are always greener in other divisions after losses like the one to Healy.
For Jon Jones
-- He needs to get that toe better, but when that's all said and done, he can officially break Tito Ortiz's record of five light heavyweight title defenses. The dust has to settle, but the forerunners to become his next victim appear to be down to Alexander Gustafsson or Lyoto Machida (particularly if they fight each other while Jones heals to form a super-definitive, no-questions-asked No. 1 contender).
For Chael Sonnen
-- The television booth, at first. But eventually Wanderlei. And Belfort. And the whole block of peeved Brazilians who are smashing their fists in their hands waiting by their phones for Joe Silva to call.
For Roy Nelson
-- Daniel Cormier and great balls of fire!
Matches to make
Jon Jones versus Alexander Gustafsson
-- If you're an all-or-nothing fan, Jones should heal up and wait on Anderson Silva. But more realistically, dial up the Swede.
Chael Sonnen versus Wanderlei Silva
-- Sonnen's already dropping the subliminal tracks toward this fight.
Michael Bisping versus Cung Le
-- The two greatest verbs in MMA are "Cung Le."
Alan Belcher versus Hector Lombard
-- If 170 is too condensed for the Cuban, a run-in with Belcher at 185 might be fun.
Roy Nelson versus Daniel Cormier
-- Twitter wants it. Twitter is all that matters in matchmaking.
STOCK UP/STOCK DOWN
Up
Bryan Caraway
-- Only seven weeks removed from his split decision loss to
Takeya Mizugaki
, Caraway took out
Johnny Bedford
on a week's notice with poise and strength.
Phil Davis
-- He made it through the rebound portion of his career (the
Wagner Prado
series and now Vinny Magalhaes), and it's right back into the kitchen fire of light heavyweight elites.
Cody McKenzie
-- Hey, kudos to McKenzie for not engaging
Leonard Garcia
in a "Leonard Garcia" fight. His restraint was admirable.
Steven Siler
-- This would have been fight of the night had Healy/Miller not turned things into Grappler's Quest Gone Wild. Siler was too much for
Kurt Holobaugh
, and he weathered a big second-round storm to get the job done.
Down
Leonard Garcia
-- Five losses in a row, the latest coming against a fighter who was tailor-made for getting off the schneid? Not good.
Vinny Magalhaes
-- Here's yet another lesson of "be careful what you wish for." It was Magalhaes who called out Davis, but he had nothing for him.
Alan Belcher
-- The eye poke was scary, particularly after having surgery on that same eye not all that long ago. But when you're likely down 2-0 on the scorecards and you come out in the third with smiles instead of flurries? Not the way his corner drew it up.
April, 26, 2013
4/26/13
9:04
AM ET

By Brett Okamoto
ESPN.com
Archive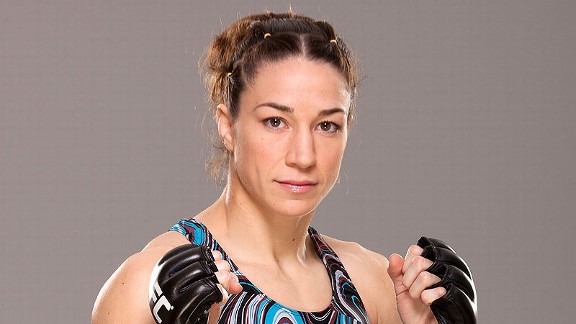 Jim Kemper/Zuffa LLC/Getty ImagesSara McMann thinks that female fighting in the UFC is good and entertaining.
Fans of the UFC who perhaps didn't paid attention to female martial arts before have all learned a little something in 2013 -- women fight pretty hard.
Two female bouts have taken place in the Octagon this year, and both stole the show.
Ronda Rousey
's armbar victory over
Liz Carmouche
proved vital after a rather dull co-main event at UFC 157. Earlier this month,
Cat Zingano
and
Miesha Tate
claimed Fight of the Night bonuses at The Ultimate Fighter 17 Finale in Las Vegas.
It may be hard to believe that all-female fights can be that entertaining.
Sara McMann
, who meets
Sheila Gaff
this weekend at UFC 159, says actually, yeah. They can.
"I think that is what women bring to the fight world," McMann told ESPN.com. "Everybody is like, 'Oh, I'm so surprised. They stole the show.' Every woman fight on the smaller cards I've fought on, they all do it.
"These girls will fight from the first bell to the last, and they are going 100 percent of their pace. You can't help but like that kind of fight. The UFC fan base is just now seeing why people have been saying women need to be in the UFC for years."
McMann (6-0) has made it clear she's not in the UFC to provide a good headline. When it comes to interviews, she'll only be herself. Turns out she's pretty interesting that way. Check out her conversation with ESPN.com below.
Seems like you're enjoying your first UFC fight week?
I am. I think that before, I kind of told myself there would be a lot of media and it would get on my nerves, and I thought I was going to have a tougher weight cut than I'm having. I just expected it to be a lot more horrible. Most of the media stuff has just been casual conversations.
What else were you expecting the media conversations to be?
I thought there would be more charged questions. A lot of them have talked to me about UFC jitters. That one kind of got to me a little. I thought, is this going to be like the Olympics? No, not a chance in the world. I probably will feel nervous, but I think these guys are trying to plant it in my head. Six interviews in one day and every one of them talked about it. I was like, 'Did you guys form a group that meets on Wednesdays? The UFC jitter group? Maybe the fight will be more nerve-racking than I think, but whatever it is, I'll work through it.
Have you thought about what media obligations would be like if you won the title?
I've considered it. Now, I just view it as part of my job. It would start to get difficult if it really interfered with my training. Having a 4-year old daughter [Bella] and having gyms farther away from me, I've had to do a lot of working around different schedules, so, I think I would be able to do it for quite a while without it being that bad. Then again, I don't know. I don't know if Ronda's [Rousey] schedule is more horrible than I think. Maybe I'd hate it, and if I do, I guess they'll have to find a new champion.
The UFC fan base has now gotten to see the aggressive style women fight with. Why do you think women are geared toward those types of fights?
I think it is a little instinctual. The women I wrestle against, these girls are mean. Some of them are dirty. They will smash your face into the mat and not bat an eye. They just have a natural meanness. I think for a lot of the women, it's not personal, but we'll do whatever it takes. Women have a very strong, combative survival instinct.
How has the financial aspect of being a female fighter been?
It's been tough, and I think some of that is because it's been nine months since I've fought. I wish I would have been able to fight once for Strikeforce and that would have bridged the gap more. It's growing. It's going to take time. The UFC is offering the pay people were getting with their Strikeforce contract. Strikeforce was a different beast. It had different viewership and different sponsors. All those contracts rolled over. When we renegotiate, once we've shown we are a brand to fans and that we're entertaining, I think the money will follow.
Are you able to not have a second job and train full time?
Yes. I also stay at home and take care of my daughter, and I have an awesome boyfriend who helps support my dreams. When I was first trying to get a pro fight, I had to work at Starbucks, and that was also for the health insurance. I couldn't get anybody to accept a pro fight, and the people who they would fight me had 13 fights, so no commission would approve it. I know other girls work at gyms or are personal trainers to make ends meet. Anybody thinks of fighter pay and they think of
Anderson Silva
and Georges St-Pierre. The reality is, there are other guys fighting for a lot less than that. It's very difficult to make it on just a fighter salary, but it's getting better, I think.
There are those out there who say, "Sara McMann will be the one to beat Ronda Rousey." Do you feel that pressure at all?
I don't really feel that pressure because since I started MMA, I automatically wanted to be No. 1. I've already been working to be No. 1 since the beginning. I don't do sports any other way.
If you fight Rousey tomorrow, do you beat her?
I don't know when that fight's going to be put together, but I wouldn't even be where I am now if I didn't think, 'Yes, you tell me tomorrow my next fight is Ronda, I will train for her and I will beat her.' That's just the way I operate.