June, 5, 2012
6/05/12
12:40
PM ET

By Josh Gross
ESPN.com
Archive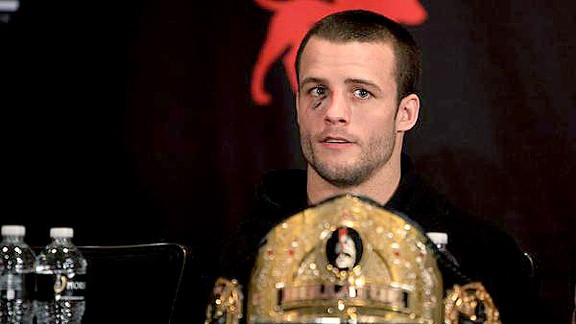 Dave Mandel/www.sherdog.comGolden boy: Champion Pat Curran has proven to be a valuable commodity for Bellator.
LOS ANGELES -- Two years ago, Michael Chandler was in the early stages of a transition that took him from collegiate wrestler at the University of Missouri to professional mixed martial artist. After three fights, the aggressive lightweight had done enough to receive meaningful contract offers from Strikeforce (which by all estimates at the time was on its way to becoming a major American promotion), and Bellator (which, like Chandler, was a baby in the MMA game).
Chandler took a gamble, departed Strikeforce for Bellator, and two years later the 26-year-old, top-10 ranked champion said it's paying off.
Take last weekend, for example. Chandler, Bellator featherweight champion
Pat Curran
and light heavyweight Mo Lawal, the promotion's recent high profile signee, were sent to Hollywood to walk the red carpet at Spike's Guys Choice 2012 awards and MTV's Movie Awards, spots once reserved for UFC-stamped fighters.
Spike, of course, was closely connected with the Ultimate Fighting Championship for seven years until the sport's most successful organization signed a long-term deal with FOX which began in January. That left a gaping hole in the network's programming and, more importantly, created an opportunity for entertainment conglomerate Viacom to own a piece of the sport rather than simply play the part of rights holder.
"There were people talking like Bellator was going to go under," the unbeaten Chandler recalled Monday. "It's cool to smack those people in the face. Bellator is on the map. Bellator is doing big things. Bellator is sending people out to big things like this. And they're coming through on their promises. Hey, we're on MTV2. We're on Spike. We're going to do things outside the cage getting me to where I'd like to be.
"I wasn't in the very first stage but I still consider myself one of the pioneers. When people talk about Bellator I want them to say, 'Remember when Chandler was just a wrestler from Missouri and he ended up being a superstar through Bellator?'".
Nothing is guaranteed in MMA. But with backing from a corporation like Viacom, Chandler, Curran and Lawal, who signed a unique deal last month that will see him simultaneously fight for Bellator and work in Spike's TNA Impact wrestling, all sung the same tune: things are looking up.
[+] Enlarge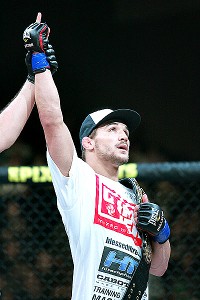 Keith Mills/Sherdog.comIn the right direction: Things are looking up for Michael Chandler since he signed with Bellator.
Curran, an unassuming 24-year-old from the Chicago suburbs, indicated that people are beginning to recognize him and acknowledge Bellator, which remains "like a family" behind the scenes.
"I never thought I'd be on the red carpet," he said. "To actually be out there and get a chance to walk down the same carpet as all the celebrities, all your favorite actors, it was unreal. All the cameras, interviews, sitting through the award shows, it was an amazing experience."
A couple hours before returning home, where Curran, the highest ranked fighter in Bellator, could again do what he likes most and focus on a tough August title defense against
Patricio Freire
, he fulfilled media responsibilities following a press luncheon. With the growth of a promotion comes more eyeballs and interviews and the sort of stuff he isn't crazy about.
But he's learning.
"Earlier in my career I didn't want to be in the spotlight," he said. "I just wanted to fight and train, see how far I can take it. Now I realize you have to do this media and be in front of the camera. You just have to do that as champion."
Lawal isn't so shy, and as Curran went to his room to hurriedly pack for a ride to Los Angeles International Airport, the former Strikeforce light heavyweight champion dominated the small gathering of reporters. Currently serving a nine-month suspension by the Nevada State Athletic Commission that was issued in March following a positive test for anabolic steroids, Lawal took swipes at Zuffa, which owns the UFC and famously purchased Strikeforce last year. Being loud is one of the major reasons Lawal scored the dual contract. He said his priority is MMA, and pro wrestling won't require more than two weekends on the road in any given month.
"I'm going to look to improve in MMA," said the 31-year-old amateur wrestler turned fighter, "but use pro wrestling to supplement my fun time. It's going to be hard work, but at the same time it's something I always wanted to do."
Lawal delivers something Bellator hasn't had: a character and headline maker. To this point, the promotion has gained attention on the strength of its action, which Curran suggested is a result of the tournament format Rebney established from the beginning. Lawal will enter a light heavyweight bracket at the start of next year when the promotion transitions from MTV2 to Spike, and he believes that success on the pro wrestling side will be directly tied to how well he does in the cage.
Curran and Chandler rose through tournaments to claim Bellator belts. As a result, both are ranked and regarded as among the best young fighters in their respective divisions. That's why a quiet kid from Illinois and God-fearing fighter from Missouri were picked to join a loud Texan for a weekend in the world's entertainment capital.
Curran suggested his fellow titleholder named most of the celebrities the group encountered over the last few days.
Chandler scoffed.
"Except for Jean Claude Van Damme," whom the crew ran into outside their boutique hotel in Westwood, "I didn't really know too many of them."
Maybe not, but more often these days they're moving in the same circles.
June, 9, 2011
6/09/11
5:48
PM ET
The UFC may not return to Spike TV in 2012, but the cable station may have a back-up plan to stay in the MMA business.
Reports from the New York Times and The Wall Street Journal have indicated that the UFC is currently engaged in talks to purchase a controlling interest in cable station G4, leaving their current deal with Spike TV on uncertain ground.
Sherdog.com learned on Thursday from multiple sources close to the situation that if the world's largest fight promotion opts not to renew its contract with Spike that Bellator Fighting Championships will likely serve as a replacement for the network's MMA-related content.
According to Sherdog.com's sources, much of the ongoing contract negotiations between the UFC and Spike is centered around money, though programming has also played a role in the talks.
The New York Times reported that Spike TV's current deal with the UFC earns the network $170 million per year for rights to broadcast the weekly "The Ultimate Fighter" reality show, as well as a number of live Fight Night events. The UFC's new offer to extend the contract -- which expires in six months -- was reportedly $325 million.
While a source told Sherdog that there is no animosity between Spike and the UFC, it is no secret that the promotion has been looking to acquire its own channel for some time, a fact not lost on Spike TV. As part of MTV Networks, Spike is a sister channel of MTV2 -- the current home of Bellator Fighting Championships.
As the networks fall under the same corporate umbrella, and Bellator's multi-year contract is with MTV Networks and not exclusive to MTV2, it is believed that in the event that Spike cannot come to terms with the UFC that Bellator would likely be transplanted to Spike in 2012. A source close to the situation noted that the promotion's weekly live events could present a viable alternative for the channel moving forward.
However, though alternatives are being discussed, sources informed Sherdog that by no means is the door shut between Spike and the UFC. The parties will likely continue to negotiate their contract depending on what comes of the UFC's talks with Comcast to acquire G4.