December, 11, 2014
12/11/14
7:49
AM ET
Ask
Junior dos Santos
what kind of fight he's expecting against
Stipe Miocic
this weekend, and he'll start off with a relatively predictable response.
"I believe he's going to try to stand up with me," dos Santos told ESPN.com. "But as soon as I start to hit him, he's going to try to take me down."
See? Predictable. Dos Santos (16-3) has essentially fought his entire career as a knockout-only specialist -- KO or bust.
But toward the end of his response, dos Santos, who faces Miocic (12-1) on Saturday's UFC on Fox card in Phoenix, raises his voice to emphasize a final thought.
"If he does take me down, I'm going to submit him," dos Santos said. "It will be Junior dos Santos' first submission win in the UFC. You like that, right?"
(For the record, dos Santos "submitted" Mirko Filipovic in September 2009 at UFC 103 -- but the submission was the result of punches.)
Whether the Brazilian actually does attempt a submission this weekend is anyone's guess. History suggests he won't. According to Fightmetric, dos Santos has averaged a whopping 0.10 submission attempts for every 15 minutes he's spent in the Octagon during a 12-fight career.
The mere mention of doing so, however, illustrates a potential change in the former heavyweight champion. Dos Santos has lost two of his past three fights -- both to current champion
Cain Velasquez
.
There is no shame in losing to Velasquez (13-1), who has solidified himself as the best heavyweight on the planet (and dos Santos has a knockout win over Velasquez from 2011).
The way the second and third fights went, however, produced a red flag for dos Santos. After suffering a one-sided loss to Velasquez in a five-round title fight in December 2012, dos Santos fought him a third time 10 months later in October 2013.
The second and third fights were near-mirror images of each another. None of the holes Velasquez exposed in dos Santos' game had been patched and the Brazilian was eventually finished in the fifth round.
Dos Santos, 30, admits he looked the same in both those fights and has addressed the issue by joining the highly regarded Nova Uniao camp in Rio de Janeiro ahead of his bout against Miocic.
"Yeah, I think I was the same," said dos Santos, on the two losses to Velasquez. "I had a different strategy for the third fight, but I wasn't able to show it and that's what I want to change. I'm a boxing guy and all the time I will try to use my boxing, but I have enough jiu-jitsu to submit people.
"

Even when things aren't going [well], I try to knock people out. It didn't work well against Cain Velasquez and I learned I needed to improve.

"

-- Former UFC heavyweight champion Junior dos Santos, on the need to round out his ground game
"Even when things aren't going good, I try to knock people out. It didn't work well against Cain Velasquez and I learned I needed to improve. Having strategy is one thing -- to put that strategy in action is another. I'm still a striking guy, but when I see I have to change my game plan I have to be able to do that -- not just physically but also mentally."
Dos Santos believes that working with Nova Uniao head trainer
Andre Pederneiras
has provided him a comfort level as mixed martial artist he's lacked before. He says he still maintains ties to his old camps, including Team Nogueira, and has continued working with boxing coach Luiz Dorea.
He says he's not a completely different fighter than he was before -- his skill set continues to be what it was -- but he's prepared, mentally, to use more of his tools now.
He says he doesn't count out interim heavyweight champion
Fabricio Werdum
's chances against Velasquez, but says, "If Werdum fights like he fought against
Mark Hunt
, that will not be good for him."
Reclaiming his title and fighting Velasquez a fourth time isn't something dos Santos can ask for now, but it's on his radar. He knows, however, this weekend's fight against Miocic comes first.
"For sure, people will see [another fight] against Cain Velasquez," dos Santos said. "He's already said he doesn't want to fight me and this fight does not interest him, but, man, I have a lot to show for my fans. I don't want anybody to give me that. I'm going to conquer that and sooner or later we're going to have to fight again. It doesn't matter what he wants or not.
"But right now, I don't have much to say about that because I'm just thinking about Miocic. But after my fight, I'm going to have a lot of things to say about this because I'm very disappointed by what he said."
May, 30, 2014
5/30/14
5:49
AM ET
Don't worry. UFC light heavyweight
Fabio Maldonado
has a plan for his short-notice heavyweight bout against
Stipe Miocic
on Saturday in Sao Paulo, Brazil.
It's the same plan he takes into all his fights: Be the tougher guy. OK, and worry a little.
Maldonado (21-6) has a major challenge on his hands this weekend, as he's set to face a surging Miocic (11-1) in the main event of the TUF Brazil finale on Saturday.
[+] Enlarge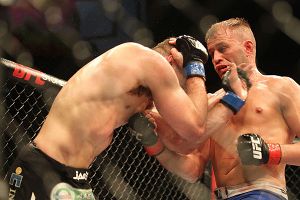 Gleidson Venga/Sherdog.comFabio Maldonado has a knack for absorbing punishment -- and dishing out some of his own.
The fight came together earlier this month, when Miocic's original opponent,
Junior dos Santos
, withdrew from the bout due to a hand injury. Maldonado agreed to fill in for Dos Santos in what will be his first heavyweight bout since June 2010.
It could be described as a relatively nightmarish matchup for Maldonado. Miocic is a former collegiate wrestler with an amateur boxing background and no reputation for gassing in fights. He'll also have about a 20-pound size advantage.
This would seem like an ideal time for a crafty game plan from a seasoned veteran, which Maldonado certainly is. Problem is, he doesn't do game plans.
"I've always liked the aggressive styles of [boxers] Joe Frazier or Ricky Hatton," Maldonado said through translator and manager Alex Davis. "I've always fought like that. I'm not going to be able to change it.
"I need to put pressure on [Miocic]. If he hits me 10 times and I hit him 10 times, he's going to tire out more than I will."
"

I need to put pressure on (Miocic). If he hits me 10 times and I hit him 10 times, he's going to tire out more than I will.

"

-- Fabio Maldonado, on his aggressive, hit-and-be-hit style
It's a risky attitude to carry into a fight -- especially at heavyweight -- but Maldonado has made it work as of late. He's riding a three-fight win streak and, as some will recall, nearly sent UFC commentator Joe Rogan into cardiac arrest when he hurt
Glover Teixeira
with a left hook in an otherwise one-sided fight in late 2012.
It's that kind of moment, even though it resulted in a loss, that Maldonado relies on. He honestly says he probably can't beat the champion of his weight class,
Jon Jones
, in a five-round technical fight. -- but anything can happen in a brawl.
"That's what works for me," Maldonado says. "Of course, Jon Jones has different qualities. He does other things better than what I do, but I work hard when I train and I don't take a lot of punishment when I train, so I can take more in a fight."
Surprisingly, Maldonado says he hasn't experienced the wear and tear of a brawler, despite years of being one. He guesses he's received only 25 total stitches, a hard-to-believe number if you've seen him fight, but admits he's broken his nose four times.
"I don't have any scars," Maldonado says. "The worst I've been damaged was in the fight everyone saw against Teixeira. The first time I got stitches was in 2014. I've maybe had 25 stitches, not more than that. I still have a baby face."
October, 15, 2013
10/15/13
12:55
PM ET
In the week leading up to Jon Jones' sixth UFC title defense last month, how many of you would have traded in
Alexander Gustafsson
for
Daniel Cormier
?
Fifty percent? Higher than that. Sixty percent? Seventy?
Despite being told about 7,849 times how tall and long-armed Gustafsson was, few predicted he would give Jones all he could handle through five rounds in Toronto. If you did predict it, a sincere congratulations. And safe flight back to Sweden.
[+] Enlarge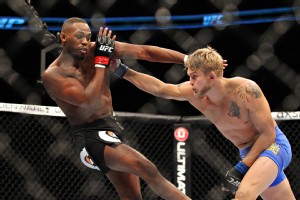 Ed Mulholland for ESPNDaniel Cormier wasn't exactly blown away by Jon Jones' performance at UFC 165.
Cormier, though -- he's an unflattering 0-0 at 205 pounds, but many had pegged the undefeated heavyweight as the most intriguing challenge to Jones' title reign.
At least, up until that Gustafsson performance. As much as Cormier enjoyed watching UFC 165 as a fan, the light heavyweight contender inside him knew what the close fight meant: He is most likely no longer the most attractive Jones opponent.
"You know what, man, after the way Gustafsson fought him, I think the interest has gone down a little bit," Cormier said, on a potential title fight against Jones.
"I think it's all a matter of who can challenge Jon. When a guy looks so dominant, people look for a guy who can challenge him. I was that guy. Now Gustafsson is that guy."
Nevertheless, Cormier (12-0) is headed to Jones' light-heavyweight world regardless of what happens in his next fight, a heavyweight tilt against
Roy Nelson
at UFC 166 this weekend.
As popular as Cormier has become, and in such meteoric fashion, he doesn't fit the description of a fighter who needs a dominant performance, but that's kind of the case here, considering Cormier's title aspirations.
Fact is, he's not a shoe-in to just immediately face Jones at light heavyweight anymore. On top of that, his UFC debut against
Frank Mir
earlier this year was, although one-sided, a little disappointing to Cormier and his fans.
"I could use an impressive fight," Cormier said. "For me, it would be great to go out and have the type of performance I expect out of myself.
"If I have the type of performance I hope to have next week, I'm going to get up there and ask for (a title shot) again. I'm going to continue knocking on that door and hopefully someone answers it. If not, I'm going to ask for a real important fight in the 205-pound division."
As a 5-to-1 favorite, Cormier is widely expected to get a win over Nelson (19-8) -- but making a huge statement against him becomes more difficult.
It's hard to say whose highlight DVD would sell better: Nelson's right hand's or his chin's.
He's only been knocked out once (and never in the UFC), a crazy feat considering the following: In Nelson's last fight,
Stipe Miocic
landed 106 strikes on him. The year before that,
Fabricio Werdum
tagged him 91 times. Prior to that,
Junior dos Santos
hit this man an astounding 130 times.
Cormier says he's mentally prepared to deal with an opponent who refuses to go down, but he also says a good chin is like a carton of milk. It eventually goes bad.
"Every person, every tough guy you've ever seen fight, whether it's in boxing or martial arts who is known for having a great chin -- there's an expiration date on that," Cormier said.
"There's a number these guys can take. What if the last one from Stipe Miocic was the one that was one too many? Maybe the expiration date on Roy's chin was up in Canada [Miocic fight]. Maybe mine are the ones he can't take."
June, 13, 2013
6/13/13
7:51
AM ET
Against better judgment, let's talk about UFC 149 one last time.
The pay-per-view event took place on July 21, 2012, at Scotiabank Saddledome in Calgary, Alberta. An interim bantamweight title bout between
Renan Barao
and
Urijah Faber
served as the main event.
It was, by most accounts, a terrible night. UFC president Dana White admitted he was "embarrassed" by the main card. It really was one awkward fight after another.
Cheick Kongo
and
Shawn Jordan
embraced in a tired hug for 15 minutes.
Brian Ebersole
resorted to a series of strange karate slaps to James Head's leg in a dull split-decision loss.
Hector Lombard
stood in place and ate jabs. By the time the main event started, the Calgary crowd had fallen in love with a "refund" chant.
[+] Enlarge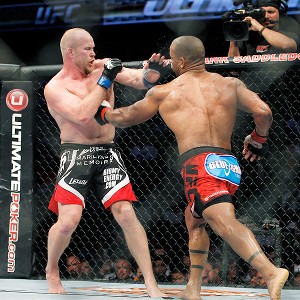 Ric Fogel for ESPN.comThe UFC's last foray into Canada wasn't exactly one for the time capsule.
To this day, White remains apologetic to the entire Canadian city for that event.
Well, meet the ill-fated UFC 149's brother, UFC 161. The similarities between these two events are eerie.
UFC 161 was originally headlined by an interim bantamweight title bout between Barao and
Eddie Wineland
, which fell through due to a Barao injury. Similarly, UFC 149 lost its main event, a featherweight title fight, when
Jose Aldo
was injured.
Mauricio Rua
was supposed to fight at UFC 149 and 161. In both cases, he was removed when his opponent suffered an injury.
Thiago Silva
withdrew from the contest last year. This time it was an injury to
Antonio Rogerio Nogueira
.
Speaking of Nogueira injuries, Lil Nog may have just been following the example of his twin brother. Antonio Rodrigo Nogueira was originally scheduled to fight Cheick Kongo at UFC 149, but he withdrew due to injury.
In both cases, a "name" fight was added by the UFC to give the card more value. At UFC 149, it was Lombard and
Tim Boetsch
serving as the co-main event. This weekend, it's
Roy Nelson
and
Stipe Miocic
serving as ... the co-main event.
Kind of weird, right? Hopefully, the similarities stop come fight night.
FIVE STORYLINES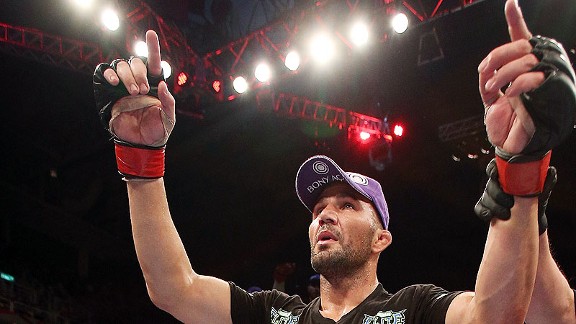 Josh Hedges/Zuffa LLC/Getty Images)If successful Saturday, expect Glover Teixeira to campaign for a bout against Alexander Gustafsson.
Roy Nelson's gamble.
Nelson has long considered himself an underpaid fighter. It's not hard to see why. During his UFC career, Nelson has typically been one of the lowest-paid athletes on PPV main cards. For instance, his purse against
Frank Mir
in the co-main event at UFC 130 was a paltry $15,000. To that point, Nelson reportedly turned down an extension offer by the UFC and will finish out his current contact at UFC 161. A loss would certainly affect his leverage in future contract negotiations.
Glover Teixeira's Twitter account.
It's nice and simple -- @gloverteixeira. You might want to keep an eye on it when the main event goes off. Teixeira has read the writing on the wall and it says "Alexander Gustafsson." Feeling one win away from a title shot, it wouldn't be shocking to see Teixeira comment publicly on the winner of Hendo, Evans.
Alexis Davis' party.
You see this from time to time -- Brazilian fights in Brazil or an Aussie fights in Australia. They don't just look good. They ignite the crowd and win in such a way that you don't forget about it when the next UFC card comes around.
Alexis Davis
is a dark horse in the women's division. She's well-respected, but few fans really know her yet. That could change here. She's fighting on home soil and has a type of charm that once cameras find her, they might stick on her.
The evolution of Stipe Miocic.
Miocic has the athleticism and the intelligence to turn into a legitimate heavyweight -- the question is when will it happen? He has good instincts and he comes with a game plan, but sometimes in martial arts you have to go off script. Can he surprise a guy like Roy Nelson? Miocic has the fundamentals. Has he added that element of unpredictability?
Seriously, don't be UFC 149.
UFC 160 was three weeks ago. UFC 162 isn't for another three weeks. If UFC 161 does end up being the second coming of UFC 149 we can't hide from it. The smell will linger.
FIVE QUESTIONS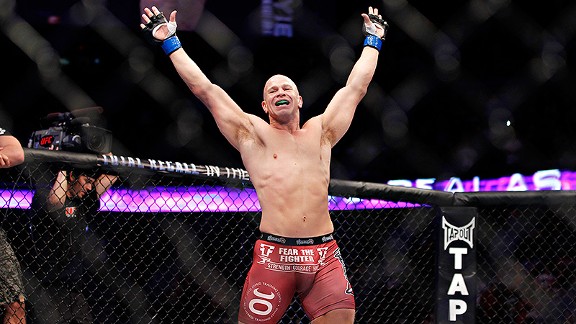 Ric Fogel for ESPN.comIn his last Canadian outing, Ryan Jimmo's celebration dance lasted longer than his bout.
Q: Is Rashad Evans still Rashad Evans?
He and his team would say yes. Certain critics would say he hasn't been the same dating way back to the knockout loss to
Lyoto Machida
in 2009. That might be a stretch, he did dominate
Phil Davis
with three cracked ribs as recently as last year, but no doubt about it, this fight will answer questions about Evans after he didn't look like himself in February.
Q: Is Dan Henderson still Dan Henderson?
It was hard to tell in his last fight. Machida stayed on the outside and refused to really engage with him. Henderson's too smart to just sprint after him, so we were kind of left with a points fight that Henderson came out on the short end of. One right hand is all it takes for Henderson to get right back into title talk -- an opportunity many still feel he deserves. Can he still land it against the elite 205ers?
Q: How good is Tyron Woodley?
He's always been an eye-catching prospect. In the same way a loss to
Jon Fitch
might have gotten
Erick Silva
to turn a corner, maybe a loss to
Nate Marquardt
did the same for Woodley. He destroyed a tough veteran guy in
Jay Hieron
his first time out. If he looks half as good in his second UFC fight against a talent like
Jake Shields
, we might need to get this guy on the fast track.
Q: Can lightning strike twice?
The one saving grace of UFC 149 was Mr. Ryan Jimmo's seven-second knockout over
Anthony Perosh
, followed by a strikingly good robot dance. Perosh was knocked out instantly, so much so that Internet users started Photoshopping his knockout face onto pop-culture images. What will Jimmo do in his Canadian encore?
Q: Is Sam Stout good or just entertaining?
It's OK if it's the latter, but it seems he has potential for more. He's always good for a show. Six times he's taken home bonus money, but he's never set great expectations in terms of racking up wins with an overall 8-7 UFC record. That might be changing, as Stout has won four of his past six.
WHO'S ON THE HOT SEAT?
Jake Shields.
The UFC's acquisition of then-Strikeforce middleweight champion Jake Shields was a big deal in 2010 -- but it's failed to deliver much. Through five UFC appearances, Shields is 2-2 with a no-contest and a drug suspension last August. He can't seem to figure out what weight class he wants to compete in, and his fighting style is such that even when he's winning, he's getting booed. He has little room for error here.
WHY YOU SHOULD CARE
Because even though it's not the most stacked card in the world, it's still Evans and it's still Hendo ... because you don't know Alexis Davis and you should ... because Roy Nelson is rolling the dice on behalf of disgruntled employees everywhere ... because there are sure to be live shots of Winnipeg, Manitoba -- which is quite lovely this time of year ... because Game 5 isn't until Sunday ... because if it does turn into UFC 149 revisited, Dana White's head will turn a bright red that should be visible regardless of what camera angle is being used ... because the H-bomb will be there.
October, 25, 2012
10/25/12
1:01
PM ET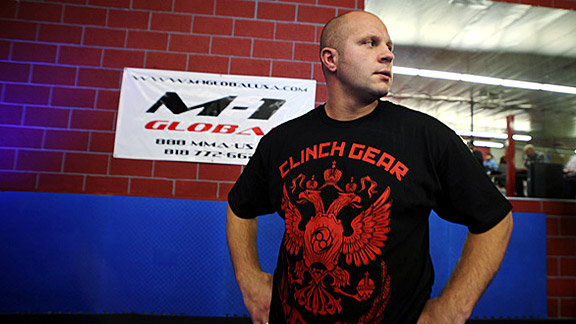 Sherdog.comGone for good; Fedor Emelianenko is retired, and he isn't planning a comeback.
It took some time and liquidation, but the UFC's heavyweight division is finally made up of beasts. It's to the point that there's a legitimate top pairing (
Cain Velasquez
versus
Junior dos Santos
) with a behemoth flexing in the wings (
Alistair Overeem
). The latter is worth his weight in asterisks alone.
Just those three names would have seemed like unfathomable depth back in Tim Sylvia's day. Now there's
Daniel Cormier
, who is still behind a partition for one more fight in Strikeforce, and
Shane Carwin
and
Fabricio Werdum
and
Stefan Struve
. There's old warhorse
Frank Mir
hovering around, and young guns like
Stipe Miocic
. There's
Antonio Silva
, and -- perhaps waiting by the phone right now as you read this, maybe wondering why the UFC hasn't come calling -- there's
Josh Barnett
.
At long last it's a real division.
So why do we want to see
Brock Lesnar
against
Fedor Emelianenko
, two thirty-something past glories who've had their myths leaked out of them in recent years?
In short ... because we do. Because we did. Because it should have happened already. Because there was optimism that it could happen now. Because it never did. And because it never did, it won't leave the imagination alone.
It was Dana White himself who fueled the flames of the matchup long after people had stopped thinking (and caring) about it. He went on the Underground forum and posed the question: "Is this the fight you guys want to see?"
The hard-cores raised their hands. The casuals? We know they'll pay to see any "name." So the antennae went up, and people began wondering if White was in the process of luring both backwoodsmen from their fishing holes.
A couple of months later, with the speculation simmering on a low blue flame that the fight could happen, White quashed the whole thing on Wednesday on the Dave and Mahoney Radio Show.
"There are so many new up-and-coming guys right now, which is very exciting," he said. "'Bigfoot' Silva looked good in his last fight so yes, the heavyweight division looks awesome. [Lesnar]'s done. He called me a couple of days ago. He's never coming back. He just said he can wrestle, but he can't fight. He was contemplating coming back [but he's not]. Neither is Fedor. They're both retired."
"

[Brock Lesnar] was contemplating coming back [but he's not]. Neither is Fedor. They're both retired.

"

-- UFC president Dana White, on the retired Brock Lesnar and Fedor Emelianenko
So much for thawing out the Cold War.
When White reflirted with the idea of Lesnar/Emelianenko, the fight still looked like the biggest non-title fight in UFC history. That was the lure. Fedor, the terse Stary Oskol man, so private and reclined in his foundation that we never really knew him in the tabloid sense. Lesnar, the Alexandrian wrestler, who doesn't necessarily like media or traveling or the fight game circus, yet who likes money enough to build up his tolerances.
One who packs a devastating punch; the other who doesn't take punches well. One who hauls rocks and lumber in training, the other who enacts the running the bulls when the bell rings. Lesnar, the pro wrestler who's impossible to separate the fictional parts from; Fedor the sportsman who is soberingly nonfiction.
Both guys have dropped from the ranks. Fedor was caught up to by fighters who punished his aggression; Lesnar by evolved fighters who punished his aggression, as well as diverticulitis. Yet the idea of pitting them was completely riveting. It was Fedor, who many would argue is the G.O.A.T., against Lesnar, who looks like he crawled out of Frank Frazetta's imagination.
Coming out of retirement to fight each other.
It wasn't just a megaclash between former champions, it was a megaclash between two of the more transcendent figures in the game.
And for that reason, it's a little sad to hear it's never (likely) going to happen. But it's good to know it didn't
need
to happen, too -- that there's enough going on in the UFC's heavyweight division to make the fight seem like gravy.
That's how far we've come in the short time since Emelianenko and Lesnar were most relevant. So far that the idea of two or the world's most glorified heavyweights never trading punches leaves us only with the slightest pang.
October, 3, 2012
10/03/12
1:39
PM ET

By Josh Gross
ESPN.com
Archive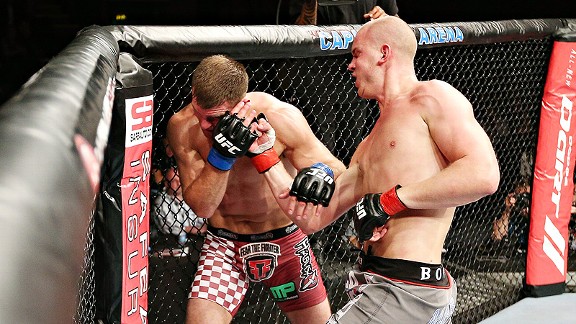 Josh Hedges/ Getty ImagesQuick learner: It didn't take long for Stefan Struve to figure out and eventually dissect Stipe Miocic.
AMSTERDAM -- By the time
Stefan Struve
sat in the lobby of my hotel in Rembrandt Square to rewatch his second round stoppage of
Stipe Miocic
, he's clear about what's next.
This marks his third viewing of a fight that, at least among punditry and fans, planted the 24-year-old Dutchman among the 10 best heavyweights in mixed martial arts. Struve had already diagnosed the events leading to Miocic's first loss, and he happily recounts them.
The seven-foot-tall fighter credits Miocic with good footwork through much of the opening stanza. He also dissects his own start; it's not slow, just measured -- a "warming up round," he states.
"You see pretty much the entire first round, he's moving back with me putting pressure on him because I saw he was having trouble with pressure," Struve said.
During the few hours I spent with Struve on Tuesday in the wake of his definitive victory in Nottingham, England, he spoke often of his growth in the cage. Of taking his time, because he has plenty. Of being utterly comfortable with his progression in a division that is increasingly laden with talent and, therefore, parity.
As an example, he points to an attempted knee after cracking Miocic midway through the first. A couple years ago, he might have attacked Miocic to force a finish. Not now. Not when he sees an opponent moving less like a fencer and more like a tourist in the Red Light District.
"He starts walking instead of moving," Struve points out. "That's experience -- seeing someone slow down."
To a fighter coming into his own, the realization that his opponent is fatiguing; that movement is forsaken for breathing, essentially signals he's not focused like he should be and that the end will come.
"I knew he won the first round. I knew he scored a little more but to be honest with you I don't care about a 10-9 round in his favor,"
Struve said. "I knew I did some damage. I saw his face getting more red and swollen when I hit him with a jab or whatever. I knew the second round was coming up and I know for myself that I can do a good second round. I had two or three more gears to step on, add pressure and keep going."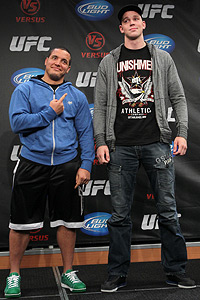 Josh Hedges/Zuffa LLC/Getty ImagesFinding jeans that fit is proving a tough task for the 7-foot Struve.
Struve is on a mission today, one not so difficult as winning a UFC championship, but nonetheless challenging. He needs new jeans. Or, at least, he wants a pair or two, length 36 or 38. He was nice enough to join me in Amsterdam, where he rarely visits despite living 20 kilometers away in the seaside town of Beverwijk, and some of Saturday's $65,000 bonus for fight of the night is burning a hole in his pocket.
As we drove through the city he pointed to places where he worked over the years. He spent weekends at Schiphol Airport around a time most American kids get their driver's license. (This, by the way, is also when he started fighting.) At 18, at the Apollo Museum Hotel, he first became a bouncer -- tall and skinny, he was, yet easily recognizable as someone not to mess with. There was Escape, a club situated in Rembrandt Square where he bounced with fellow fighter
Antoni Hardonk
. (Struve spoke glowingly of the club's newest peacemaker, apparently a mountain of a man, and wouldn't be surprised to see the guy end up in the UFC.)
Fighting, of course, has been Struve's focus (save family and friends) since he was 14. It's also why he can drive into the ritziest part of Amsterdam and not feel entirely out of place walking into a store that sells 1,000 euro Dolce & Gabbana shoes. He wouldn't purchase anything here because he's frugal, but he can still admire and, hey, maybe someday there's a size 12.5 waiting for him.
The first time he was awarded a bonus in the UFC, a triangle finish of Chase Gormley in 2009, he used the money to buy a house five minutes from his parents, whom he visits daily. Other bonuses (three performance-based) have been tucked away, same with fight purses.
Struve echoes a friend that tagged along with us, sounding not too fond of fighters that choose to burn through their cash. It's a stupid thing to do, they agreed.
Struve is enjoying this short spell after his latest win. On Sunday he and his girlfriend gorged themselves on McDonald's. Struve admitted he ate way too much (he's been known to order 10 or more cheeseburgers at one time) and awoke several times that night, parched. He blows up to 280 pounds between fights, but he'll return to the gym soon enough.
[+] Enlarge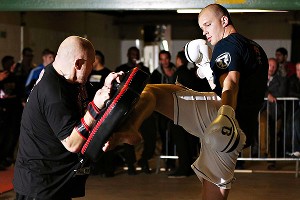 Josh Hedges/Getty Images There's not much time for Stefan Struve to celebrate his latest victory. He'll return to the gym soon with a new goal in mind.
Working with fighter turned trainer Bob Schreiber, who threw Struve into the deep end from the beginning, as well as a new group of trainers, has helped mold the young heavyweight into a potential force.
Struve had no luck with jeans, so it's off to a mall, which, more importantly he said, is near the best ice cream place in the city. It's excellent, a rich yet light mix of vanilla and whip cream. This is all Banketbakkerij serves. When he can, which is to say when he's not in training camp, Struve always gets three scoops. He finishes in less than five minutes. It takes me about 30, but I manage to will my way through. In two hours' time, Struve said, he'll make another trip to McDonald's.
It took some doing, thousands of additional calories notwithstanding, and Struve found two pairs of jeans. He won't go shopping again for months if he has anything to say about it.
Right now, these simple pleasures are enough for a young man whose life the next few weeks will be a reminder of things not so joyous. His father, a longtime smoker, is battling throat, tongue and mouth cancer -- which Struve compared to the plague -- and the fighter's energy will be devoted here. The second round of chemotherapy really took a toll.
Sitting with his fellow fighters in Nottingham, Struve listened to UFC president Dana White offer an impassioned speech about what the night meant for all of them. The aptly dubbed "Skypscraper" appreciated White's comments, but dismissed them as unnecessary. Motivation has never been a problem, he said, especially not since he followed his older brother Nick and encountered martial arts.
Following one round with Miocic, Struve's corner, which always includes his brother and and Schreiber, told him to kick more. He appeased them early, but soon enough Struve went head hunting.
"It's cool to outbox a Golden Gloves boxer," he said.
Jabs landed with increased frequency as Struve's footwork and movement settled down. He was in rhythm -- "in my game," he called it -- and the fatigue that betrayed Miocic in the first was more pronounced.
"I wanted to keep my reach but also, when I got closer, he didn't really like pressure," said Struve, leaning forward while watching the closing sequence. "I really start chasing him. I have him hurt. From this moment on I really put the pressure on him. See that I come in closer. I abandoned my reach a little bit but the only reason I did was because in my opinion he was starting to slow down and I was really starting to hit with the hooks and uppercuts.
"I knew I had to get him up against the fence because he was slowing down. He was moving away every single time I got him hurt. I had to get him there so he couldn't move away."
To the fence went Miocic. Struve unloaded. Referee Herb Dean moved in.
"I was really calm. As calm as I've been on the ground my entire career," he said. "I'm starting to get that on the feet now too. I felt that I was really dragging the fight to me. I saw him with every shot I hit him with; he didn't like that."
Struve's increased confidence is warranted. He knows his game. He's fine with a stronger grappler taking him down, yet at the same time felt Miocic wanted no part of him on the floor. Thus the knockout. He's aware of the advantages (and potential limitations) of his reach and height. But, he made clear, length will never betray him.
"I'm 24. All the time in the world," Struve said. "Look at all the other guys in the top 10. Can I say that I'm in the top 10 in the world? All the other guys are in their late 20s, 30s or late 30s. All the time in the world."
October, 1, 2012
10/01/12
6:31
AM ET

By Chad Dundas
ESPN.com
Archive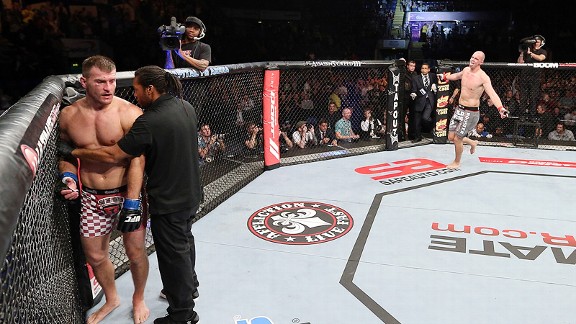 Josh Hedges/Getty ImagesWas Saturday's display a sign of things to come from Stefan Struve or merely a one-off thing?
A funny thing happened to
Stefan Struve
on Saturday en route to his second-round TKO victory over
Stipe Miocic
at UFC on Fuel TV.
After an uneasy first round where Struve ate a succession of overhand rights and hard body shots while looking poised to do what he seemingly always does -- fight small -- he suddenly started acting like a genuine 7-foot giant.
Struve's first really good jab snapped Miocic's head back with 3:48 left in the second and it appeared to burst whatever psychological block had been inhibiting his offense in the early going. He landed another, then another, lashing his much smaller opponent with exactly the kind of go-go-Gadget strikes that ought to be the calling card of the tallest fighter in UFC history.
It was as if each long-distance punch further convinced him of what we'd all been thinking (and in some cases shouting at our televisions) during the first three-plus years of his career in the big show: that if he ever learned how to properly use his height, he could be a monster.
With the jab finally working, Struve opened up with a series of uppercuts, one of which sent Miocic stumbling and slipping into the laser right hand that signaled his demise. Roughly two minutes after the "Skyscraper" began living up to his nickname, he was jogging across the cage in celebration, leaving Miocic to do a weird zombie tango in the arms of Herb Dean.
This made it an even dozen fights in the Octagon for the 24-year-old Dutchman, an almost unthinkable number for someone so young and still such a work in progress. The win over Miocic was Struve's fourth in a row, pushed him to 9-3 in the UFC and should comfortably ensconce him in the lower half of the heavyweight top 10.
Whether it signals some greater epiphany for him very much remains to be seen.
The popular narrative on Struve has always been one of untapped potential. He has been good, but not great so far in the UFC, struggling at times to cash in on the obvious advantage of his outlandish stature. Too often, he gets suckered into playing the shorter man's game and the first round of this latest outing was no different.
[+] Enlarge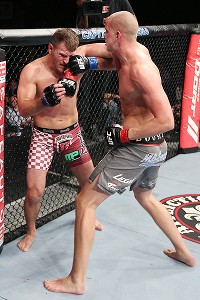 Josh Hedges/Zuffa LLC/Getty ImagesWhen Stefan Struve got going, Stipe Miocic lacked the experience and skills to deal with the stronger, taller fighter.
The second round? That was more like it.
After oddsmakers saw fit to install him as an underdog to the undefeated but inexperienced Miocic -- a talented prospect who fits the mold of the smallish, athletic heavyweights who've thus far ruled the post-Lesnar era -- this was probably the defining victory of Struve's career to date.
Then again, it's only one win. It could be a sign of things to come or it could just be the high watermark for a fighter who will continue to be one of the sport's most frustrating projects. Doubly frustrating because we won't know anything definitive for some time to come.
After it was all over, Struve said his slow start here was by design, that he wanted to pace himself during the first five-round fight of his life. If that's true, it was a dangerous strategy and one that only forced him to reaffirm his reputation as an exciting fighter who can take a beating and still battle back to win.
Fact is though, Struve knows that's not the kind of fighter he should ultimately be. His mix of solid striking, submissions, fitness and heart make for a potent skill set in a division that hasn't exactly been synonymous with well-rounded cardio machines in the past. Couple all that with his size and reach and it's clear he shouldn't have to play the role of comeback kid.
This is something both he and his team have talked about at length (no pun intended) throughout his UFC stint: that he ought to be dominating people, smothering them from a mile away. That when he reaches out and touches someone, they shouldn't be able to touch him back. That when he leaves the cage, the only scratches on him ought to be on his knuckles.
Saturday's win was a good start, but Struve's not quite there yet. Luckily for him, at his age he's still got time to grow.
September, 28, 2012
9/28/12
8:54
AM ET

By Franklin McNeil
ESPN.com
Archive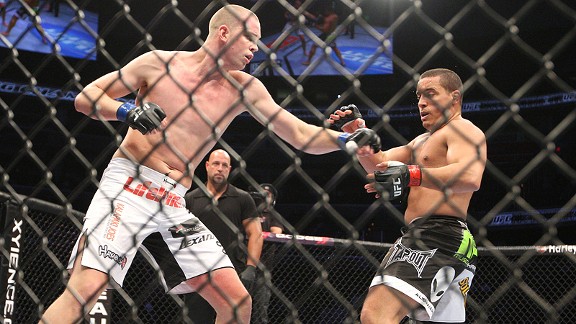 Ed Mulholland for ESPN.comIt's official: Stefan Struve has declared he's out of the unnecessary slugfest business.
As UFC light heavyweight champion
Jon Jones
has proven numerous times, having an 84½-inch reach can be very beneficial inside the Octagon -- but only when used properly.
Heavyweight contender
Stefan Struve
also has an 84½-inch reach, but he has yet to fully use it to his advantage. And that can't continue if Struve is to have any shot at becoming a serious title challenger. No one knows this better than Struve.
With a height of 6-foot-11½ to go along with that exceptionally long reach, Struve should be a difficult target for any opponent. Too often, however, Struve finds himself in a slugfest. Regular participation in slugfests might make one popular with fans, but it isn't a good recipe if the ultimate goal is to have an extended fighting career.
The 24-year-old Struve wants to compete in mixed martial arts for a long time. He also envisions himself one day claiming the title. In an effort to improve his chances of attaining both, Struve has worked diligently in recent training camps on better utilizing his reach advantage.
There is more pop in his jab, his lateral movement has advanced and he's much better at catching guys coming in. On offense and defense Struve, who has strong submission skills off of his back, has taken his standup game to a higher level.
"I'm evolving as a fighter with every fight," Struve told ESPN.com. "I'm starting to use my reach; I'm starting to fight from a distance. But it's my distance and not their distance.
"They have to step in now to throw something. But when they step in, I can throw something to keep them from stepping in again."
Improved striking and defensive elusiveness is the area of Struve's standup game that he expects will be most noticeable Saturday night when he faces undefeated
Stipe Miocic
in Nottingham, England.
Miocic is a dangerous striker who has knocked out seven of the nine mixed martial artists he has faced in his professional career.
None of Miocic's opponents had the technical skills or experience that Struve will carry into the Octagon. Knowing he represents a step up in competition for Miocic provides Struve with a little extra boost of confidence.
Struve (24-5) is riding a three-fight win streak and is in a rhythm unlike any he has felt in the past. It's a rhythm that Struve believes, if maintained against Miocic, will put him squarely in the title picture.
"Stipe is a great opponent," Struve said. "He's 9-0; he's a great wrestler and he's got a lot of hype around him. He's undefeated but I really don't care about that. I'm definitely good enough to beat him.
"The winner of this fight will be between the top 5 and top 10 of the UFC heavyweight division."
When talking about this fight, Struve makes it a point to include the importance of how he must look winning it. Getting into another slugfest and eking out a difficult victory isn't part of the plan. Struve wants to be taken seriously as a contender and the best way to do that is to win impressively. He plans to deliver a dominant performance Saturday night.
"With all the new things I'm learning, the fights are getting easier. It's a lot easier to defend; it's a lot easier to attack," Struve said. "Fighting itself is becoming a lot easier.
"Taking a shot, I've already shown I can do that, but with all the improved techniques controlling the fight is beginning to get a lot easier. If you don't have to take punishment it's a lot easier to give punishment. I didn't have to tear up my face in my last three fights and I'd like to keep that streak going.
"I want to show that I can dominate a fight from the first minute until the last."
May, 25, 2012
5/25/12
12:26
PM ET
The flyweights debuted in the UFC in February, though the concept of high-octane little dudes had existed for a long time. Long before then, Tachi Palace Fights was the North American home to 125 pounders, and it always felt like the Central California town of Lemoore was in on a secret. Not anymore.
As for the heavyweights?
That's the dinosaur division in the UFC. It goes back to MMA's prehistoric times. It's gone through periods, times of near dormancy. In the beginning, a heavyweight of 500 pounds was allowed entrance into the eight-sided cage, and he'd take on Gi-donning fighters the size of thimbles. In those days, there were talks of moats that thankfully never came to be.
In the middle times, when weight classes were better designated, a guy barely over the minimum weight of 206 pounds became king. Twelve pounds of it were heart, the same weight as the belt.
This was known as the Couture Era. It was revisited, but always short-lived.
Then came
Brock Lesnar
and the rift of perceptions. He was a circus, a bull, a collegiate wrestler, a bona-fide martial artist, a charlatan, a mercenary, a hermit and a comic book character with a sworded thorax all into one. He couldn't take a punch; he had more heart than we knew. He was a novelty; he is a future hall of famer.
We still have no idea how to assess him.
[+] Enlarge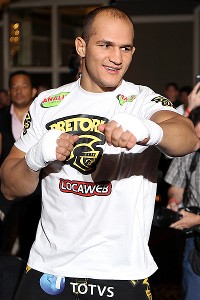 Josh Hedges/Zuffa LLC/Getty ImagesChampion Junior dos Santos and his peers offer a range of depth not seen before in the UFC.
That's part of the reason that, as we arrive at UFC 146, there's a feeling of something inaugural going on even though the division has always been. Something like the "Modern Era" of the UFC heavies is finally upon us.
This is the era of
Junior dos Santos
and his level-changing boxing quicks and heavy hands, and
Cain Velasquez
and his legit wrestling. This is
Antonio Silva
, and the resilient
Frank Mir
. It's
Alistair Overeem
, so long as Lorenzo Fertitta stands behind him when his suspension is up. It's Lavar Johnson and
Stipe Miocic
and beanstalk fighters like
Stefan Struve
and returning fighters like
Shane Carwin
.
It's a lot of guys, rather than a few. And for once we are about to have a consolidated idea of where the heavyweight division stands. The division has gotten so hot that
Chad Griggs
had to get out of the kitchen. Soon
Daniel Cormier
and
Josh Barnett
will enter the mix.
Jon Jones
will be there before we know it, but right now the division has newfound depth. And it's deep enough that when MMA Fighting's Ariel Helwani asked Dana White about Cormier's future, White replied that he wouldn't mind seeing Cormier as a
light
heavyweight.
When the Strikeforce heavyweight grand prix champion looks like a spare piece to the company president, you know the division has arrived.
[+] Enlarge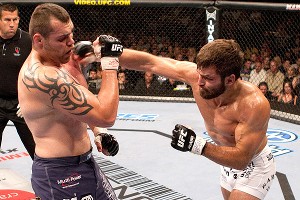 Josh Hedges/Zuffa LLC/Getty ImagesRemember (or try not to) when Andrei Arlovski, right, and Tim Sylvia ruled the roost?
Saturday night's fight card is historic in that way. Gone are the days of
Andrei Arlovski
and
Tim Sylvia
and a deck of middling hopefuls. Depending on how things play out in Las Vegas, the next title fight could be anything. It could be Velasquez/dos Santos II. It could be Mir/Velasquez, the fight that was supposed to happen anyway. It could be Bigfoot/JDS, or Cormier/JDS, or Mir/Cormier. This is the first time ever that not just one scenario makes sense, but they
all
do. Better yet, people would be excited to see any of those match-ups. In other words, UFC 146 in all its historical significance is hardly the culminating point.
For once, there is a broad horizon. This feels more like the beginning than the usual pitch. For once, heavyweights have something in common with the lightweights and the welterweights. The 265-pound division has the feeling of an ongoing story playing out, rather than one wrapping up.
The novelty isn't an ageless wonder like Couture beating guys half his age and size, or a pro wrestler turned fighter who froths at the mouth and tramples people like it's the running of the bulls. The novelty is that the division has the funny feeling of something complete.
And that can't help but be anything other than exciting for fans of big boy MMA.
May, 25, 2012
5/25/12
6:34
AM ET
LAS VEGAS --
Shane Del Rosario
could have died.
That's what the 28-year-old reminded himself during the darkest times of his long recovery from several herniated disks he suffered in a car accident in April 2011.
Del Rosario was in sitting in the passenger seat of his own car at a stoplight near his home in Southern California when a drunk driver collided with it after ricocheting off a nearby barrier.
For three months, Del Rosario says it was difficult to engage in any activity, even something as simple as playing with his nieces and nephews. After six months, he saw progress -- but not much. Doubt started to creep in.
"I started getting scared, like, 'What am I going to do?'" Del Rosario said. "Should I go back to school?"
It was during those times Del Rosario forcibly told himself it could always be worse. Keep progressing, keep rehabbing, and make the most of whatever happens.
"I had some dark times not knowing if I was going to be able to get back to where I was," Del Rosario said. "But I put it in perspective. There are people out there doing a lot worse.
"I could have died in that accident. I have some friends battling cancer. It put it all in perspective. My [problems] were not that bad."
The one-time Strikeforce prospect is all smiles this week as he prepares to return to the cage against
Stipe Miocic
at UFC 146.
It's been 15 months since Del Rosario last fought, but it appears the layoff has done little to slow down his progression in the sport. At the time of the accident, he was an alternate in the since-completed Strikeforce heavyweight Grand Prix.
Now fully recovered, he's set to make his UFC debut on the first-ever all heavyweight card in the promotion's history.
"We're in a dangerous sport and you can get hurt at any point, but to have it happen outside of fighting is just, oh man, it threw me for a spin," Del Rosario said.
"But it wound up being a blessing. I feel like a stronger fighter now and my first fight back is at UFC 146, one of the biggest [cards] so far this year."
Del Rosario (11-0) draws a tough opponent in Miocic (8-0), who has opened eyes with back-to-back dominant wins over
Joey Beltran
and Philip De Fries in his first two appearances in the Octagon.
In many ways, although Miocic is relatively inexperienced, he may prove to be a tougher opponent than
Gabriel Gonzaga
, who was originally scheduled to fight Del Rosario but was reassigned to another fight.
"People ask, 'Is this going to be an easier fight?'" Del Rosario said. "Although Gonzaga is the bigger name, I think Stipe is younger and more athletic. We're both hungry and trying to make a name for ourselves."
Truthfully though, it's likely Del Rosario would be happy fighting anyone on the UFC roster on Saturday, as long as he's in the cage. It's been a long road back.
"I'd spent six years nonstop training," Del Rosario said. "This past year with the injury has felt longer than my total career.
"This is great. This is what I've put all the work in the gym for. I'm just happy to be here."
October, 31, 2011
10/31/11
1:03
PM ET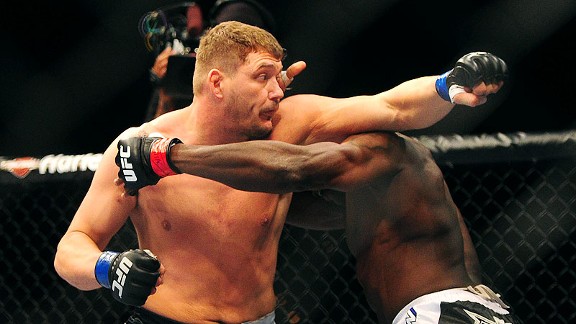 Mark J. Rebilas for ESPN.comOff the mark: Matt Mitrione failed to hit his target of breaking into the heavyweight upper-echelon.
Before
Matt Mitrione
fought
Cheick Kongo
, there were directional advisories. Mitrione said he was going to come forward and put Kongo on his heels, even though Kongo is traditionally the one doing the advancing. Kongo warned that he would not be made to back peddle.
Storm clouds.
What we had was a potentially explosive impasse, where the two would collide in the middle of the cage and one would drop trailing a line of zzz's. If only things had worked out that way.
It ended up being an anticlimactic co-main event -- instead of a coming-out party for Mitrione -- where both guys struggled to open up. It was the previously unbeaten Mitrione who ultimately went backwards with the loss, while Kongo came forward with the usual smoke and mirror suspicions. The thing that refused to budge in all of this was the UFC's heavyweight division. It remains exactly as it was -- that is, bottom heavy.
This has been the way things go of late. Prospects like Mitrione can't get over the last hurdles to heavyweight contention, and the gulf widens between the rarified top --
Cain Velasquez
,
Junior dos Santos
,
Brock Lesnar
and
Alistair Overeem
-- and the rock-paper-scissors middle, which is everybody else. The everybody else boils down to the round robin being played between
Roy Nelson
,
Frank Mir
and the now-retired
Mirko Filipovic
.
Shane Carwin
was there, but he's now shelved until 2012 after another surgery (and he'll be 37 when he does come back, riding a two-fight losing streak).
Antonio Rodrigo Nogueira
needs a time machine.
Stefan Struve
and
Pat Barry
, the technology to morph.
[+] Enlarge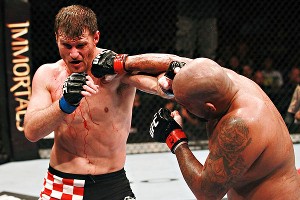 Nick Laham/Getty ImagesIs Stipe Miocic a promising heavyweight, or just other pretender waiting to flop?
That's why we're raising our eyebrows at what
Travis Browne
might do and building
Stipe Miocic
into a Cleveland State chimera. There aren't a lot of threats waiting in the wings behind those big four on Zuffa's varsity roster. Strikeforce's
Josh Barnett
and
Daniel Cormier
are out there, but they are off-limits currently (mostly), with Dana White now on fraternity terms with Showtime to negotiate a deal. Had Mitrione walked right through Kongo, we'd have at least
that
guy bleeping on the radar beneath the others, a sort of
Donald Cerrone
for the heavyweight class. An undeniable.
But Mitrione was the latest to lose his bearings, and there isn't really another someone right now behind him.
As the heavyweight division showcases on network TV in a couple of weeks, with a huge bout between Dos Santos and Velasquez, we'll be watching the undisputed best in the class. Then there's Overeem and Lesnar, each of whom have their question marks. They are the definitive next best. After that, it's a little murky. If Mir loses to Big Nog at UFC 140, it gets a little more murky. Whatever's compelling beyond that is hard to find.
And it might stay that way until the Strikeforce guys are brought in, or
Jon Jones
cleans out the light heavyweight division, both of which could happen -- or be made to happen -- sooner than we think.
September, 29, 2011
9/29/11
1:33
PM ET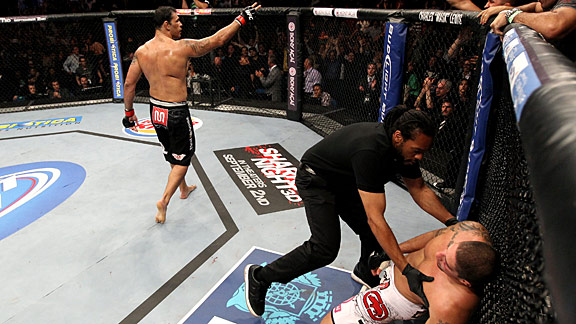 Al Bello/Getty ImagesBrendan Schaub was supposed to be the future of the heavyweight division -- then this happened.
The UFC's signing of former Strikeforce heavyweight champion
Alistair Overeem
swelled the total number of ready-made heavyweight contenders to right around three. After
Cain Velasquez
, there's
Junior dos Santos
,
Brock Lesnar
and The Reem. It doesn't help that the last two have question marks; one for health reasons, the other for being a smoke and mirrors fighter (allegedly).
After those names? It's a dark, dark hall. In fact, only Frank Mir's candle flickers at the end of it, and even that seems dangerously close to blowing out.
That's why it hurts when guys being groomed like
Brendan Schaub
fail to get by
Antonio Rodrigo Nogueira
, or when
Travis Browne
registers a yeomen's decision over
Rob Broughton
when a statement is needed, or when
Dave Herman
gets stricken from a card for coming up positive for illegal substances. Contenders are hard to come by in the heavyweight division right now.
Think about who's out there --
Pat Barry
,
Cheick Kongo
,
Stefan Struve
,
Mike Russow
,
Shane Carwin
,
Roy Nelson
, Big Nog. None of those guys are realistically close. Heath Herring is the most inactive fighter to ever exist on an active roster.
Mark Hunt
gets discussed for being salvaged from the garbage heap, but he's not a threat to contend. Carwin was right there, but he'll be 37 in January and has suffered two losses in a row. Who knows how much he has left. Ditto Nogueira, who has maybe two fights left in him. And that's a generous maybe.
[+] Enlarge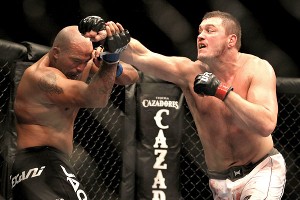 Al Bello/Getty ImagesMatt Mitrione, right, is one of the few heavyweight hopefuls showing promise in the UFC.
Which brings things around to
Matt Mitrione
. It points to the state of things that he looks like the lone buzz fighter coming up in the heavyweight division -- but the man has five total fights, with a casualty list that includes names like Kimbo Slice, Tim Hague and
Joey Beltran
. Besides, he's the first to downplay himself as an actual contender.
Should he get by Kongo, Mitrione at least enters the picture frame. Should he lose? There's going to be a major round robin between the top four guys in the division until reinforcements arrive.
Once the UFC begins bringing over more of the Strikeforce lot -- guys like
Josh Barnett
,
Daniel Cormier
,
Antonio Silva
-- it'll deepen. But at the moment there aren't a lot of heavyweights in the current pool making a big enough splash. In fact,
Stipe Miocic
looks a little like company gold right about now, which says it all for the prospects.