September, 5, 2011
9/05/11
10:01
PM ET
Known for his witty anecdotes, Josh Barnett is all business as he approaches his meeting with Sergei Kharitonov in the Strikeforce heavyweight grand prix semifinals on Saturday in Cincinnati. The 33-year-old former UFC heavyweight champion and 2006 Pride Fighting Championships open weight grand prix finalist has rattled off seven consecutive victories and has not lost in nearly five years.
More »
September, 5, 2011
9/05/11
6:07
AM ET

By Franklin McNeil
ESPN.com
Archive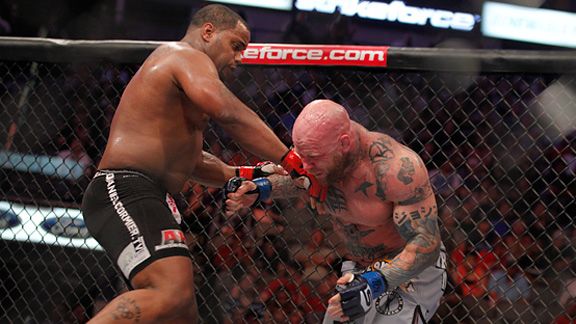 Ric Fogel for ESPN.comJeff Monson, right, can testify about Daniel Cormier's progress from wrestler to mixed martial artist.
Initially,
Daniel Cormier
wasn't deemed attractive enough to receive one of the eight invitations to Strikeforce's Heavyweight GP. The consensus was that he was too green and had too many blemishes in his standup game to warrant a ticket to the big dance.
Cormier, undefeated in the cage at 8-0, is a highly skilled wrestler who was adept at taking an opponent to the ground and control him. But his striking was lacking, both offensively and defensively. Too often, Cormier appeared indecisive on his feet. He threw punches from wide, awkward angles, his head wasn't always moving and footwork could oftentimes be an afterthought.
A flaw in just one of those standup techniques can prove disastrous against a top-tier Strikeforce heavyweight. Unfortunately for Cormier, he was struggling with all of those aspects. So, he began devoting extra attention to his standup game at American Kickboxing Academy in San Jose, Calif. The move immediately paid off when Cormier stepped in the cage June 18 against veteran
Jeff Monson
.
Cormier consistently moved his head, he never stopped moving his feet and there was the jab that regularly hit its mark. The former United States Olympic wrestler even showcased a crisp overhand right that found Monson's chin on a few occasions.
It was an impressive performance by Cormier, who earned a unanimous decision win. More importantly, Cormier proved that he was no longer a one-trick pony.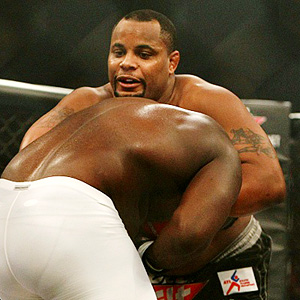 Dave Mandel/Sherdog.comNo one has ever questioned Daniel Cormier's competence as a wrestler, but his striking has been another story.
Cormier is now ready for Strikeforce's elite. And he won't have to wait long to prove he can compete against top heavyweights. In July, Strikeforce heavyweight champion
Alistair Overeem
was removed from the Grand Prix tournament due to a scheduling conflict; he'd later be released outright from the promotion.
Cormier was offered the chance to replace Overeem. He immediately accepted and is set to face
Antonio Silva
on Saturday night (Showtime, 10 ET) in Cincinnati.
"He was the first person under consideration [to replace Overeem]," Strikeforce CEO Scott Coker said. "He had a great performance against a seasoned veteran like Monson.
"And in that fight, his standup, he looked like a kickboxer actually and hardly wrestled at all. He showed he had the standup ability to take it to the next level."
Cormier will sacrifice a ton of experience to Silva, but the standup improvement he has shown in this camp has his AKA teammates confident their guy will be successful Saturday night and throughout the tournament.
"Daniel has an amazing wrestling background," UFC heavyweight champion
Cain Velasquez
told ESPN.com. "But he's also one of those guys who picked up this sport very quickly. He is definitely going to go out there and impress a lot of people.
"He's had a great training camp. There's no doubt in my mind that he is going to win the tournament."
"

He's had a great training camp. There's no doubt in my mind that he is going to win the tournament.

"

-- Cain Velasquez, on Daniel Cormier's growth as a fighter, and future success in the Strikeforce GP
While Cormier is comfortable standing these days, if things aren't going the way he'd like against Silva, expect him to turn quickly to his bread-and-butter skill: wrestling.
There is nothing like wrestling to turn a fight in Cormier's favor. And he intends to give Silva (16-2) a steady dose of it. Still, he has no plans of completely abandoning the newly acquired skills he's come to believe in recently. His jab, head movement, footwork and overhand right will play a significant role in this fight.
"I'm going to be quicker than he is, more athletic, more agile," Cormier said. "He's bigger, stronger, more experienced; he's got the standup advantage.
"He's got the jiu-jitsu advantage. That's fine. But the most dominant skill in MMA lately has been wrestling. And there is no bigger gap between skill sets in my wrestling over his wrestling. That will keep me in the fight if that's the path I take."
Cormier vows to pressure Silva throughout the fight, that's where his improved jab and footwork will come in handy. It allows him to transition from standup to takedown much easier.
Silva will face a new-look Cormier.
"I'm going to push the pace on him," Cormier said. "I'm going to get in his face, and I'm going to take him places he hasn't been so far.
"I've got to make him uncomfortable. And because of the way I fight, I have the ability to do all those things."
June, 23, 2011
6/23/11
1:46
PM ET

By Brett Okamoto
ESPN.com
Archive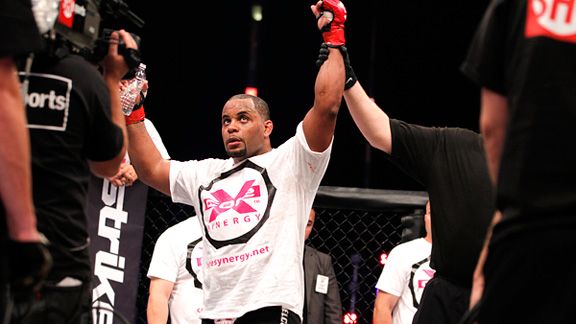 Ric Fogel for ESPN.comDaniel Cormier was fighting for more than just the "W" on Saturday.
To all those watching from inside American Airlines Center and across the United States on Showtime, there was definitely something special about Daniel Cormier's performance this past Saturday.
The night certainly meant a lot to the 32-year-old -- although for reasons far greater than simply adding another win to his perfect mixed martial arts record.
Saturday's Strikeforce event in Dallas came just four days after the eight-year anniversary of the tragic death of Cormier's three-month-old daughter, Kaedyn, who was killed in an automobile accident on June 14, 2003.
Cormier said it meant a lot to honor his daughter's memory Saturday, delivering the most impressive performance of his career in his most high-profile fight to date.
"It was definitely special," Cormier told ESPN.com. "My daughter passed away in 2003. So, four days after the anniversary of her passing, I was able to fight and do something positive. That means a lot to me."
A former member of the U.S. Olympic wrestling team, Cormier's unanimous decision win over long-time veteran Jeff Monson was arguably the most impressive victory of the weekend.
Successful thus far thanks mostly to his wrestling background, Cormier (8-0) dominated Monson with striking skills very few were aware he had. No one seemed caught off-guard more by it than Monson, who looked stiff and uncomfortable in an area of the fight many thought he'd dictate.
"Honestly, the game plan was to stand with him," Cormier said. "He's been fighting for so long and I've really only been fighting for 18 months, so his biggest advantage in his mind had to have been striking and jiu-jitsu.
"But we know what we do in the gym and I felt confident. I didn't want to wrestle. I'm not nervous standing with anyone."
When a fighter looks as good as Cormier did this weekend, expectations can blow through the roof. That's especially the case with Cormier, who carries the Olympic wrestling background and trains with a phenomenal, well-known camp in the American Kickboxing Academy.
Cormier says he's flattered with those high expectations but has held on to the grounded, realistic approach that's defined his MMA career thus far. One day at a time. One fight at a time.
He doesn't feel he's in a position to ask for fights, but admits he'd like the opportunity to distinguish himself as a top alternate for the ongoing Strikeforce Heavyweight Grand Prix. Currently, he's considered a top choice for an alternate spot along with Shane Del Rosario and Chad Griggs.
"My goal is to be the best in the world, but I'm not there now," Cormier said. "In reality, I think it should be me and Shane Del Rosario or have me fight Chad Griggs. We're both in this alternate tournament, it seems logical that we fight each other.
"There is no clear cut alternate right now. There's two or three. The alternate tournament hasn't settled anything let because there is still me, Shane and Chad. It seems logical that we fight each other next."
June, 19, 2011
6/19/11
7:07
AM ET

By Josh Gross
ESPN.com
Archive
Down to four and the field is wide open.
Antonio Silva
and
Sergei Kharitonov
can situate their minds on
Alistair Overeem
and
Josh Barnett
respectively after the second leg of Strikforce's heavyweight grand prix quarterfinals on Saturday. The semifinals most fans pined for -- Overeem versus
Fedor Emelianenko
or the Russian against
Fabricio Werdum
-- didn't materialize. But so what? At a minimum, the tournament has unveiled two bouts that could be considered tossups between highly accomplished fighters.
For as much as people will attempt to find fault with the Final Four, let's not forget the facts. The winner of the tournament will be the lineal heavyweight champion in mixed martial arts. That may or may not mean much to you, but it is a tidy piece of MMA history and, I think, important. The UFC titleholder has not been considered MMA's lineal champ since October 1998, when
Randy Couture
traveled to Japan and lost to Enson Inoue. It's part of the reason I suspect that when the tournament concludes, Zuffa won't have a choice but to match the grand prix winner against the UFC champion. The tournament king would likely be considered No. 2 in the world, and, whether he physically holds the belt or not, Strikeforce's heavyweight champion.
Beyond the "what's it worth" component, tournament brackets reveal fights we haven't seen before featuring two Europeans, a Brazilian and American. This event could also take on extra significance in the nationalism department, which would be welcome as far as I'm concerned.
Which fight makes for the best final?
From most to least interesting (there isn't a wide gap -- no matter the final, it will be worth watching):
1. Barnett vs. Overeem -- Once Emelianenko was ousted, Barnett-Overeem became the sexiest remaining possibility. Two impressive fighters with a long history in the sport.
2. Silva vs. Barnett -- As we were so ridiculously reminded of on Saturday, Barnett is a pro wrestler; so anything he says regarding a potential rival must go through some loudmouth reverse osmosis treatment. Having done that, it seems -- and I stress seems -- they don't like each other so much. Real animosity. High stakes. Sign me up.
3. Kharitonov vs. Silva -- Promotionally this is worst-case scenario for Zuffa and Showtime. Neither guy moves tickets. They don't speak English well, if at all. The only hope for attention comes if both fighters repeat their opening round experiences and win convincingly in the semis. A good heavyweight fight is always worth something.
4. Overeem vs. Kharitonov -- Overeem hanging around for the finals is good for everyone, but Kharitonov is a teammate and that may take off some of the edge. I've no doubt that both men would attempt to destroy the other, but the promotion might be awkward.
How does it play out?
Prior to the start of the tournament I pegged Overeem as the favorite. I'm going to stick with that, though I don't feel nearly as positive about his chances.
It's rare that Overeem is the smaller man. He will be against "Bigfoot" Silva. A resurgent Kharitonov is dangerous and has the game to stop Barnett. But just as easily Overeem could paste Silva like
Mike Kyle
did. And Barnett might have no problem using his size and smarts against the Russian everyone tends to forget about.
Barnett-Kharitonov is a true tossup.
Barnett gets hurt to the body, and we've seen Kharitonov dig to the ribs and abs. Can the Russian stay off his back? I think he can make it difficult, at least. The Russian is familiar with submissions, and should have enough skill to avoid Barnett's subs. Don't expect him to apply any, though. Kharitonov wins by boxing with Barnett, while the former UFC champion will have to play a top game. That means takedowns and control. That's how I envision the fight transpiring -- Barnett, on top, grinding down Kharitonov to a decision.
Overeem versus Silva is wonderfully dangerous for both. Silva took advantage of his size and surprisingly nimble movement to dominate Emelianenko. Overeem is a different beast and Silva will pay a stiff price for standing in front of him. I'm tempted to take Silva -- I think there's a good chance he can put Overeem on his back -- but the current Strikeforce champ is the play here.

And the finals ...
How about choice No. 1? Overeem fights Barnett. We don't know when or where, but that's my selection for the Strikeforce grand prix heavyweight finals.