October, 2, 2014
Oct 2
2:47
PM ET

By Brett Okamoto
ESPN.com
Archive
Shortly after
Rory MacDonald
defeated
Tyron Woodley
at UFC 174 in June, Firas Zahabi entered the Octagon and lifted MacDonald onto his shoulders.
After setting him down, Zahabi -- the head coach of Tristar Gym -- moved in the direction of UFC president Dana White, who mouthed something to him from his front row seat.
Zahabi couldn't hear over the arena noise. Was White trying to say MacDonald just earned a UFC welterweight title shot? Zahabi had to know -- like, immediately. So, instead of walking to the cage door and back around to White's seat, Zahabi vaulted himself over the fence.
"Rory had a great performance, and I said to Dana, I thought our next stop should be the title," MacDonald told ESPN.com. "He said something I didn't hear, so I jumped over to find out."
Unfortunately, what White was trying to relay to Zahabi was that no, the winner of a scheduled bout between
Robbie Lawler
and
Matt Brown
the following month was still next in line for the title.
In a way, the simple gesture of Zahabi launching over the Octagon wall to speak to White symbolizes where he and MacDonald are at. Both understood the UFC's decision to ultimately book a rematch between
Johny Hendricks
and Lawler for the title, but they're ready for the shot as soon as possible. Zahabi, clearly, can barely contain his enthusiasm.
[+] Enlarge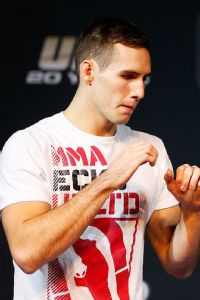 Josh Hedges/Zuffa LLC/Getty ImagesRory MacDonald and his team see Saturday's bout more as a learning experience than another step toward a title shot.
That potentially places a lot of pressure on MacDonald (17-2) headed into this weekend, when he'll face
Tarec Saffiedine
in the main event of UFC Fight Night in Halifax, Nova Scotia. He is already a clear candidate to face the winner of the Hendricks-Lawler fight Dec. 6. A win will basically hold his spot. A loss, obviously, would set him back.
MacDonald, 25, didn't necessarily consider that at UFC 174, when he said he was willing to accept another fight and not sit and wait for a title shot. He just wanted the UFC to know he deferred to them.
"I actually did ask to have a little break, but the UFC wanted me to fight and kind of felt like I needed to do it," MacDonald said. "So, I said yes, so I can make the UFC happy and fight for the belt. I'm doing what I have to do in my career to get to my goal.
"I definitely didn't ask for this fight, but I accepted it."
Despite the risk involved, Zahabi said he was a proponent of MacDonald fighting again before reaching a title fight. He referenced
Georges St-Pierre
's activity level when he recaptured the title in 2008 -- four fights in 12 months at the age of 26. This weekend will mark MacDonald's fourth fight in 11 months.
"I don't think of this fight as raising his profile," Zahabi said. "I think of it as a learning experience. It's going to give him something he can use one day as a champion. It's about feeding the monster. It's hard to train somebody who isn't motivated by a fight. When Georges won the title back, that was his fourth fight in a year. We generated a lot of momentum."
Even though MacDonald is likely next in line regardless of how he might beat Saffiedine (15-3), a finish would certainly put a stamp on this title run.
After recording finishes in three of his first five fights in the UFC, MacDonald has now gone nearly 30 months without one. His last four wins have come via decision -- and he admits a contingent of his fan base is starting to let him know about it.
"Once in awhile, some fans will say, 'You should try finishing a fight for once in your life,'" laughed MacDonald. "I don't take it too personal.
"I definitely care about finishing. That makes a statement that you're better than the other guy. Obviously, I want that. Fifteen minutes isn't a lot of time to finish top-level competitors. I think 25 minutes is way better. If you want to take risks at this level, you need to be prepared for the bad that comes with it. I really think risk needs to be worth the reward. I try to break my opponent down slowly, so that for sure the reward is there when I take my risk."
Well, in this particular fight, the risk was already evident the second MacDonald agreed to it. He's risking his spot in line against a dangerous opponent Saturday. The reward will be that hopefully, Zahabi won't have to jump over a cage to ask whether or not they're next.
"I don't think you ever completely know, because this business is always changing," Zahabi said. "But I think if Rory has a great fight and wins the heart of the fans, he'll get a title shot."
January, 13, 2013
1/13/13
9:05
AM ET
By Andrew R. Davis
ESPN Stats & Information Group
Archive
Most wins in Strikeforce welterweight division
With his victory over
Nate Marquardt
for the Strikeforce welterweight title,
Tarec Saffiedine
won his sixth fight in the organization, tying him with former champion
Nick Diaz
for second in wins all time in the promotion's 170-pound division.
Tyron Woodley
: 8
Tarec Saffiedine: 6
Nick Diaz: 6
Three others tied: 3
Most wins in Strikeforce history
Strikeforce Heavyweight Grand Prix winner
Daniel Cormier
defeated
Dion Staring
at the final event for the organization, finishing his Strikeforce career with eight wins, tied for fourth.
Gilbert Melendez
: 11
Josh Thomson
: 10
Luke Rockhold
: 9
Daniel Cormier: 8
Tyron Woodley: 8
Strikeforce champs in UFC debuts
The five Strikeforce champions who are signed or expected to sign with the UFC are heavyweight champion Cormier, middleweight champion Rockhold, welterweight champion Saffiedine, lightweight champion Melendez and women's bantamweight champion
Ronda Rousey
. They have a lot to live up to as former Strikeforce champions are 4-0 in their UFC debuts.
Alistair Overeem
KO1 Brock Lesnar (UFC 141)
Dan Henderson
W5 Mauricio Rua (UFC 139)
Nick Diaz W3 BJ Penn (UFC 137)
Jake Shields
W3 Martin Kampmann (UFC 121)
Pride/WEC champs in UFC debuts
In comparison, the incumbent Pride and WEC champions were 0-4 when taking on a UFC fighter in their debut fight:
WEC lightweight champion
Anthony Pettis
L3 Clay Guida (TUF 13 finale)
Pride light heavyweight champion Dan Henderson L5 Quinton Jackson (UFC 75)
Pride middleweight champion Dan Henderson L2 Anderson Silva (UFC 82)
Pride lightweight champion
Takanori Gomi
L3 Kenny Florian (UFC Fight Night 21)
January, 8, 2013
1/08/13
11:55
AM ET

By Franklin McNeil
ESPN.com
Archive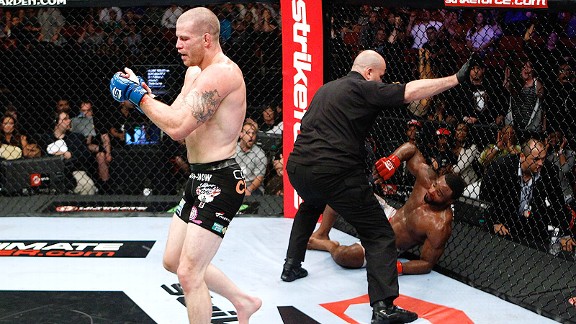 Esther Lin/Getty ImagesNate Marquardt, left, knocked out Tyron Woodley in July to win the Strikeforce welterweight title.
One element to being a successful professional athlete is learning how to handle the ups and the downs that periodically occur throughout one's career.
No mixed martial artist is more adept at placing the good in proper perspective and overcoming the bad than
Nate Marquardt
.
He has been to the mountaintop as the King of Pancrase middleweight champion. On the flip side, Marquardt has come up short several times in his attempt to claim the 185-pound belt in the UFC, whether in title bouts or eliminators.
He has also experienced shortcomings outside the cage -- testing positive for a banned substance after his UFC debut in 2005. In June 2011, Marquardt was removed from a UFC event that he was scheduled to headline after failing to receive medical clearance by the Pennsylvania State Athletic Commission when his testosterone levels exceeded the required limit.
Marquardt was released by UFC shortly thereafter. It marked the lowest point of his career.
But the 33-year-old Marquardt is a resilient man. He refused to give up on himself and began focusing on redemption.
It didn't take him long to accomplish his goal.
Marquardt rededicated himself in the gym and made the move from middleweight to welterweight. In July 2012, in his first appearance at 170 pounds, Marquardt knocked out
Tyron Woodley
to claim the vacant Strikeforce welterweight title.
It was the most impressive performance of Marquardt's pro career. At 170, he looked sharper, faster and stronger. While Marquardt has had solid performances at middleweight, against Woodley he looked unbeatable.
On that night, Marquardt put all his demons to rest. Regardless of any lingering negative feelings some people have of him, Marquardt likes the image he sees in the mirror each morning.
Now Marquardt is focused on taking his career to higher levels, starting Saturday night when he makes the first defense of his welterweight title against
Tarec Saffiedine
in Oklahoma City.
"I feel that happened in my last fight -- that was kind of like my redemption," Marquardt told ESPN.com. "So I'm not really holding on to that stuff. I'm moving forward and looking at getting bigger and better fights. I want to be the best that I can be in this sport, and I haven't had the opportunity to do that yet.
"So I can't wait for this upcoming fight and the one after that and the one after that."
With Saturday night's event marking the end of Strikeforce, Marquardt will be among those fighters moving to UFC. He knows that beating Saffiedine will place him one step closer to achieving his ultimate goal of becoming a UFC champion.
Despite his close relationship with UFC 170-pound champion
Georges St-Pierre
, Marquardt doesn't pull any punches when the topic of facing his friend for the belt comes up.
"I've trained with Georges since before he got the UFC welterweight title," Marquardt said. "I've trained with him for every one of his fights, and he's trained with me for every one of my fights. There's definitely a bond there."
Marquardt (32-10-2) wants to be UFC champion and won't let anything -- or anyone -- stand in his way.
"That's my goal [becoming UFC welterweight champion]," he said. "I'm not in position to turn down a fight, so I guess I'd have to fight whoever they put in front of me to fight for that belt."
If that fight were to materialize, it could mark the toughest of St-Pierre's career. In addition to the familiarity between the fighters, Marquardt might be in the best physical condition of his career.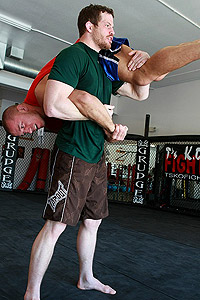 Dave Mandel/Sherdog.comNate Marquardt has no problem potentially challenging longtime training partner Georges St-Pierre for his UFC welterweight title.
"[Fighting at 170] is just better for my body, my build," said Marquardt, who has added gymnastics to his workout routine. "When my walking-around weight gets below 190, I just feel like I can perform a lot better. I have a lot more cardio, and my strength doesn't suffer and my explosiveness goes up. And my endurance just goes through the roof, and that's the biggest difference. I feel like a better athlete at 170."
Being in supreme physical condition with thoughts of winning a UFC title are all well and good, but it will fall by the wayside if Marquardt doesn't defeat Saffiedine on Saturday night.
Marquardt is confident heading into the fight, but he is wise enough not to take Saffiedine (13-3) for granted and expects a much different fight than the one he had against Woodley.
"The Woodley fight -- stylistically it's pretty much the opposite of Tarec," Marquardt said. "Tyron is more of a wrestler. Tyron is more explosive and quicker; Saffiedine is more of a setup guy who likes striking more than Tyron. Tarec's not as good on his offensive wrestling.
"But [Saffiedine] looks very tough. He looks resilient. He looks tough to hold down. Even Tyron couldn't hold him down. I think he's a very tough guy, a very skilled fighter. I really feel like anywhere the fight goes I have my own attacks that I can use and I can defeat him in certain areas. My thing is, wherever the fight goes, I am prepared to do damage."
Saturday night will serve as the latest example that Marquardt's career is back on the upswing.
July, 30, 2011
7/30/11
11:22
PM ET

By Chuck Mindenhall
ESPN.com
Archive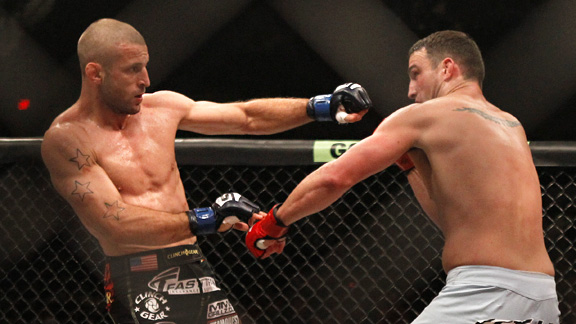 Ross Dettman for ESPN.comScott Smith's standup routine proved easy pickins' for Tarec Saffiedine, left.
HOFFMAN ESTATES, Ill. -- Scott Smith's ability to withstand just enough punishment to make for an improbable comeback held up -- only this time, he took all the punishment and stayed behind. In fighting as in the NFL, come backs make for lively entertainment, but -- as the old adage goes -- good teams don't fall behind to begin with. Smith fell behind and the route was on. There was no Hail Mary Pete Sell, but there was a macabre seen on his face. This becomes the new constant.
Smith's commitment to movement (and in particular head movement) was only marginally in evidence tonight against Tarec Saffiedine, and even then only early on. After that Smith was easy pickins'. Ganyao Fairtex, his striking coach, can teach technique but unfortunately not reflexes. Smith stood totem still as Saffiedine changed levels and stances to find the mark. Several times Saffiedine telegraphed shots right down the pipe that landed square. He landed some head kicks late, and Smith ate them gallantly. Problem is gallantry isn't rewarded here. Saffiedine won by unanimous decision 30-27, 30-27, 30-26.
For Smith, it's three losses in a row and likely the end of his run in Strikeforce. Will be a hard row back to relevance for "Hands of Steel." His next come back to save his career, should he continue on.