January, 2, 2013
Jan 2
12:01
PM ET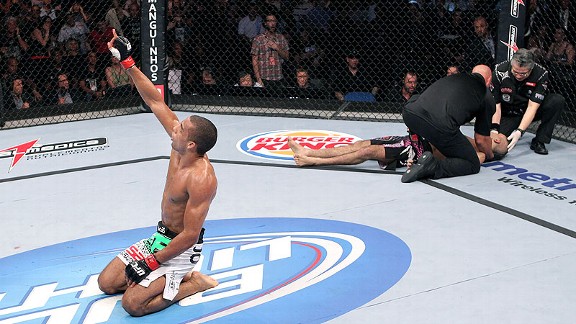 Josh Hedges/Zuffa LLC/Zuffa LLC/Getty ImagesEdson Barboza's unforgettable spinning wheel kick left Terry Etim down and out at UFC 142.
Remember the context here -- Liverpool's
Terry Etim
had rattled off five victories in his previous six fights, and his bout with
Edson Barboza
looked like a catapult into the top 10 of the lightweight division.
But a funny thing happened in Rio at UFC 142.
Midway through the third round of an otherwise well-contested fight, the Brazilian Barboza stood at the center of the Octagon and eyed an advancing Etim, who had his hands up at his chin in defense. Right when Etim trespassed inside the inner-Octagon line, Barboza planted his right leg, spun like a dervish 360 degrees and used his left leg as an Apache blade.
Boom!
As the unthinkable, out-of-the blue spinning wheel kick landed, Etim dropped backward as if he'd been shot, and referee Dan Miragliotta swooped in to signal the copters. Everybody else rubbed their eyes and wondered if they'd just seen what they thought they'd just seen.
Though it happened just two weeks into 2012, a week before Barboza would turn 26 years old, that spectacular knockout always looked like the KO of the year. Even in slow motion, the propulsion and composure of Barboza's kick barely registers -- you just don't see perfect execution of that kind of thing very often.
Know what was even more impressive? Barboza's demeanor afterward.
He saw Etim drop to the canvas, stiff as a mannequin en route and clearly done, and calmly walked to his corner as if he'd just done the most pedestrian thing imaginable.
Bravo, Edson Barboza. Bravo.
May, 29, 2012
5/29/12
1:12
PM ET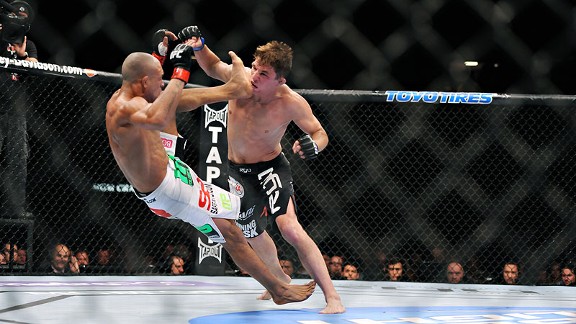 Rod Mar for ESPN.comTripped up: Diego Brandao's "can't miss" stock took a hit on Saturday.
At the end of April, prospects
Rory MacDonald
and
Michael McDonald
did work at UFC 145 in Atlanta. MacDonald's work was a showcase fight with an outmatched Che Mills, while bantamweight McDonald's was an eye-opening win over
Miguel Torres
.
Today, both are being speculated in title talks. That was April.
May has not been so kind for prospects and buzz names in the UFC. First it was featherweight
Dustin Poirier
, who was made a centerpiece for his UFC on Fuel fight with
Chan Sung Jung
. He was being groomed as the next in line for the
Erik Koch
/
Jose Aldo
winner, and was riding the wave of intrigue when the "Korean Zombie" happened. Who was this Jung, and where did he spring from? This version was light years removed from the stumblebum who traded with
Leonard Garcia
for three rounds back in the WEC.
The fight game is full of surprises. Suddenly, it's Jung closing in on a title crack instead of Poirier, who is forced to treat the whole thing as a set back.
And he wasn't the only fresh batch to be thrown out. At UFC 146 in Las Vegas, two more prospects went down.
There was 24-year old Diego Brandao, whom many people were talking about the first big talent to come off the "Ultimate Fighter" series in years, who lost to a resilient
Darren Elkins
. Extract the Brandao of the first round and spread it over three, and there's the star in wonder. But, as everybody knows, fights have moods. Elkins came roaring back. Brandao succumbed.
[+] Enlarge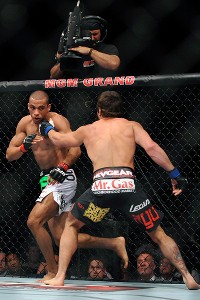 Rod Mar for ESPN.comEdson Barboza was on the fast track toward a title shot -- until this happened.
And then there was
Edson Barboza
, who scored what might be the knockout of the year against
Terry Etim
at UFC 142 with that spinning wheel kick. He lost to an opportunistic replacement in
Jamie Varner
in his follow-up.
Of all of the upsets to occur in May, this one stands out as the true thud. With Poirier, you knew Jung would be tough, and Brandao is still green enough to trip. But Barboza? He was undefeated and fierce and fighting a guy who was largely thought to be washed up and recycled out of necessity. He was fighting the replacement. Nobody saw Varner coming. Not many believed in Varner's second coming the first time through.
But Varner became to Barboza what
Charlie Brenneman
was to
Rick Story
a year ago, back when Brenneman took the fight on late notice when
Nate Marquardt
was plucked for high testosterone levels. He became a monkey wrench. Story was on pace for a title shot in the welterweight division and was calling out guys like
Jon Fitch
after dominating
Thiago Alves
. When Brenneman was dealt in just 24 hours before the fight, it felt like he was nothing more than a warm body being stuck in there to salvage the card.
On Saturday, Varner was thrown in there for the injured
Evan Dunham
-- and Varner made the most of it. Dunham has seen this stuff before. Remember when
Kenny Florian
got hurt, and
Melvin Guillard
stepped in to face Dunham? Same thing. Guillard heard the buzz coming off of Dunham's name, and muted it. It happened to Guillard later against
Joe Lauzon
. Lauzon did it to
Jens Pulver
back in the day.
Fighters have been linked by travesty forever.
If these outcomes tell us anything it's that A.) there's no such thing as a warm body in the UFC, and B.) the greatest motivation heading into a fight is to be counted out of it. It's what makes MMA fun. You can't pencil people into the title picture without using your eraser.
Now Varner is back. Elkins is mean. Jung is a contender. And those other guys, the ones they beat? It's back to their relative obscurities and rededications.
This is a sport where gimmies are hard to come by.
January, 10, 2012
1/10/12
12:53
PM ET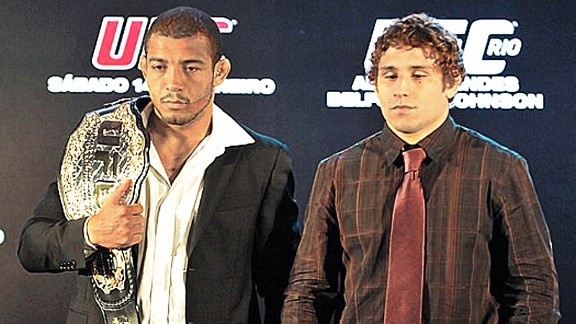 Sherdog.comNo one can blame Jose Aldo, left, and Chad Mendes if they feel lost in the shuffle.
It's fight week, and the most we're hearing about UFC 142 is coming from concerned third parties about how nobody's talking about UFC 142. It is a pay-per-view, after all, with a title at stake. It is happening only one time zone removed from eastern standard in Rio de Janeiro, so it can't be a hindrance to sleep schedules.
Yet this card is tiptoeing across the calendar. Even Dana White didn't exactly tweet out his traditional "It's Fiiiight Weeeek!" He merely wrapped quotes around Anthony Johnson's tweet to the same effect.
Maybe it's because of Stanislav Nedkov's visa problems.
But more likely it's something else, possibly what some western types are calling "inundation." How many fight cards can be promoted as "big events" in the space of a calendar year? How many fight cards can be promoted, period? How many can be completely cared about?
Zuffa is planning to roll out in the vicinity of 40 fight cards in 2012, hitting hot markets (Montreal), old ones (Sydney), barren ones (Omaha), familiar ones (Japan) and new ones (Stockholm) -- on Fox, FX, Fuel and PPV. There are only 52 weeks in 2012. With plans to run concurrent "Ultimate Fighter" shows in the States and in Brazil, plus the live coverage of the weekly fights on the reality show, that makes for a year of constant action. No offseason. Just fights after fights after fights.
That's not even factoring in Bellator's schedule. All told, MMA is requiring us to be obsessed to catch it all. (Note: In the quest to attract mainstream fans, has anybody thought about the casualization of existing diehards? Saturation does things to a man.)
But you know what gets lost in that many fight cards? Hype. And hype has been joined at the hip of the fight game for better than a century -- hype is White's raison d'etre. We need somebody to tell us that
Yushin Okami
is the best fighter to ever come out of Japan, because that sounds outrageous coming out of our own imaginations. We need healthy delusions, strong enough to make hard-earned income appear to us as disposable income. White's a master here. He can burst the seams of what looks otherwise ordinary. But in 2012, with the worldly takeover Zuffa is planning and the merciless globetrotting schedule, he can't possibly be the same circus barker. This year will have to involve inertia.
Which brings things back to this weekend's fight card. UFC Rio will have to go off without a lot of hype. In a roundabout way, that makes it perfectly hyped. There is nothing epic about the matchups. There's a featherweight fight between
Chad Mendes
and
Jose Aldo
, and if the wrestler Mendes has a say in things it could be a five-round toil where he eats a lot of punches in dogged pursuit of single-leg takedowns. It doesn't help that featherweights haven't yet caught up to the bigger weight classes in fetching PPV dollars.
[+] Enlarge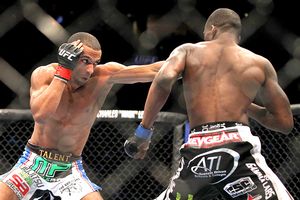 Ed Mulholland for ESPN.comEdson Barboza, left, is one to watch -- but not necessarily one who can carry a promotion.
The co-main event is intriguing, with
Anthony Johnson
debuting as a middleweight against
Vitor Belfort
, but then the night becomes about Brazil's own -- which is fine for a card that's realistically all about Brazil to begin with. If there was a fight that stood out like a
Donald Cerrone
versus
Nate Diaz
, it's got to be
Terry Etim
versus
Edson Barboza
. That's a lightweight clash of two highly explosive future stars.
Erick Silva
is also one to watch. But this weekend he's stepping into the Octagon almost anonymously against Carlo Prater (remember him?). There's some intrigue on the card, if you care to find it. It's not a
bad
night of fights, and it's not a spectacular one.
But from the promotional standpoint, you know a card is adrift when the biggest story heading into a main event is that
Gray Maynard
is helping train one of the participants. Things feel a little detached this week -- and it's a feeling that could become familiar going forward, particularly as the UFC breaks from being strictly America-centric. There will be more cards that sneak up on us in this way, more cards that feel like nonevents.
That's new terrain for the fight fan, at least when we're used to the buzz traditionally beginning with fight week. When we changed into 2012, it became something grander and less immediate, something like "fight year."
Now it's a matter of adjusting our enthusiasm.