MMA:

Testosterone replacement therapy
February, 8, 2013
2/08/13
7:30
AM ET

By Josh Gross
ESPN.com
Archive
A month ago, prior to knocking out
Michael Bisping
in Brazil,
Vitor Belfort
was asked a direct question
by ESPN.com's Brett Okamoto:
Had the 34-year-old Brazilian ever applied for or considered using testosterone replacement therapy?
Belfort rambled through a winding nonanswer. Something about public and private information that's all so controversial it's not worth saying anything at all. Well, it didn't take a genius to figure out what the deal was because odds are if you're not on TRT, you'd probably say so.
On Wednesday, UFC officials cleared the fog (at least a layer of it) by confirming Belfort was "diagnosed with hypogonadism, or low testosterone" and "had been on medically approved testosterone replacement therapy under the supervision of a medical doctor from the state of Nevada."
In the face of rumors that he either tested positive or was using a therapeutic use exemption for TRT, Belfort's display last weekend in Las Vegas to reporters now borders on ridiculous.
Responding to anyone that might have wondered what was up, Belfort said: "I think people get jealous when a guy of my age is destroying these people getting title shots."
A guy his age -- taking shots. Or rubbing in a cream. Or whatever.
We know now that Belfort -- challenged by anabolic steroid rumors even during his earliest days in the UFC, which were confirmed in 2006 by a nine-month suspension and a $10,000 fine payable to the state of Nevada after too much testosterone was found in his system (he blamed not knowing what a doctor had injected into him) -- is allowed to boost up his levels.
This raises questions.
[+] Enlarge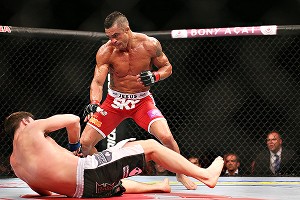 Susumu Nagao for ESPNShould fighters be notified when their opponents have been cleared for testosterone replacement therapy?
For instance, how does a guy who tested positive for steroids remain eligible for a therapeutic use exemption for testosterone?
It turns out this is possible. The Nevada State Athletic Commission, for instance, does not prohibit fighters who tested positive for PEDs from getting a script for testosterone.
"The issue would be if an applicant's condition was caused by PED usage," said NSAC executive director Keith Kizer. "The applicant's burden would be much higher."
One could also say the same about the body responsible for setting and enforcing that burden. It's unclear how it was handled by Zuffa, which essentially ran the event while reportedly showing a new Brazilian athletic commission the ropes.
"The purpose of a medically administered TRT regimen is to allow patients with hypogonadism to maintain testosterone levels within a range that is normal for an adult male," the promotion said in a statement.
The potential for abuse seems obvious, so it's fair to wonder whether or not Belfort was monitored during his camp. It doesn't seem adequate to only test TRT patients around the fight.
What role did the UFC have in monitoring Belfort, particularly for an overseas event in which it essentially acts as a regulator?
Should Michael Bisping, at 33 just a year younger than Belfort, have been notified that his opponent was under the care of a medical doctor for low testosterone? And that this care allowed him to inject testosterone?
As pointed out in different places, three of Bisping's last four losses have come against guys under the TRT therapy.
Does the public have a right to know before the fact? There is wagering happening. I imagine it would be helpful to know which fighters are augmented and which aren't.
TRT isn't going away anytime soon. It's a fact of life in the UFC, and needs to be managed the right way.
Cornered
Would dictating who works a corner during a fight be a step too far for the UFC?
Dana White, of course, recently banished
Randy Couture
to what the UFC president sees as the hinterlands of the MMA world. "The Natural" can't come close to the Octagon again, according to White. Maybe not even inside the building the cage is set up. And he can absolutely forget acting as the chief second for his son Ryan.
Seriously? There's no good reason one Couture shouldn't be allowed to help another, never mind some personal beef over business.
White should (re)read an article written
by Lorenzo Fertitta for the Las Vegas Sun
that was published the night of Couture's final fight.
If that doesn't make White back off, Fertitta should put his foot down and stand by comments like:
"To me, the term 'legend' applies to a good friend, mixed martial arts pioneer Randy Couture," whom the UFC chairman dubbed a "cornerstone" of their growth.
"Few people represent the sport better than Randy Couture."
"I'm sure through many endeavors, Randy will remain connected to the UFC and the sport for many years to come."
The connection, if it's to exist right now, can't be about business. But that also has to mean Couture can't work his son's corner?
That can't stand.
Middle-wait
Anderson Silva
has guys to fight at middleweight. He just needs to get going.
Chris Weidman
appears on deck, and the 9-0 fighter from New Jersey is doing his part to call out the Brazilian icon.
[+] Enlarge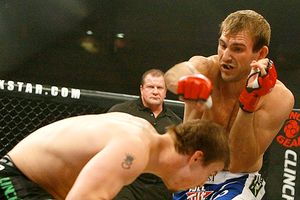 Dave Mandel for Sherdog.comRyan Couture will have to make do without his father in his corner -- at least for the near future.
The bout makes sense. It seems competitive, or at least as competitive as one can imagine a Silva fight to be. But don't get carried away by the idea that 185 pounds has nothing left to offer Silva if he disposes of yet another challenger.
Underneath the champion, middleweight is as wide open as any class in the sport right now.
Strikeforce champion Luke Rockhold's athleticism and hunger are promising.
Hector Lombard
could do something crazy on a good day.
Ronaldo Souza
just comes across as a tough test for "The Spider."
The division is producing worthy heirs, yet the king continues to comfortably do his thing.
Heavy heart
»The heavyweight division just got strange. What was setting up to be a monster stretch of fights has lost its direction some following UFC 156. Word from MMAFighting.com that
Josh Barnett
turned down a deal to fight in the Octagon doesn't come off as the best timing.
»UFC Primetime: Rousey vs. Carmouche was as heartfelt a half an hour of programming as the promotion has ever put together. It'll be shown a million times leading up to Feb. 23, so find it and watch it. Women fighters can turn into stars so much faster than men. That's been an amazing phenomenon to watch over the years. Rousey has all the makings of a superstar, so long as she continues to beat women perceived as real contenders and isn't driven bonkers by the cameras.
June, 17, 2012
6/17/12
8:46
AM ET
It's pretty out of character for the UFC's happy-go-lucky heavyweight champion to start making demands.
I guess when even
Junior dos Santos
stops smiling, you know you've got a problem.
To date, dos Santos' public image has been built on his blistering boxing skills and the childlike sense of wonder that seems to have stuck with the 27-year-old Brazilian nicknamed "Cigano" (or "gypsy," in his native Portuguese) through nine straight wins inside the Octagon.
As a child, when other kids in his neighborhood were turning to gangs and drugs, dos Santos sold ice cream on the street to earn extra money for his family, we were told in the first "UFC Primetime" TV special to spotlight him. When he learned how many millions of people in his home country reportedly watched him knock out
Cain Velasquez
to win the UFC title last November, dos Santos' responded like a grade schooler whose winning science project had just landed him in the local paper.
"Whoa," he exclaimed. "I'm famous!"
If dos Santos didn't seem like his optimistic, lighthearted self this week while suggesting to
ESPN Brazil
that
MMA needs ongoing and widespread blood testing
to stamp out the scourge of performance enhancing drugs, you couldn't blame him.
Dos Santos has unwittingly been cast into the middle of two of the UFC's most recent drug scandals. His proposed title defense against
Alistair Overeem
fell apart in April when a surprise drug test caught Overeem with off-the-charts levels of testosterone. Instead, dos Santos fought and easily defeated
Frank Mir
at UFC 146, only to later learn that Mir too was taking testosterone, after receiving a therapeutic use exemption for hormone replacement therapy from the Nevada State Athletic Commission.
[+] Enlarge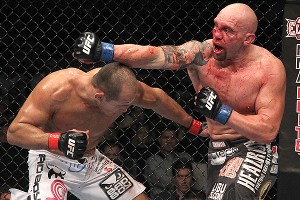 Donald Miralle/Getty ImagesJunior dos Santos, left, took out one heavyweight bigger than the next on his road to the top.
It bears mention that two fights before
that,
dos Santos defeated
Shane Carwin
, who in 2010 saw his name included on a list released by federal prosecutors of athletes who allegedly patronized an online pharmacy indicted for selling mail order steroids.
If you were Junior dos Santos, you might feel like the only clean fighter in the heavyweight division right now.
This week he took action, implying he won't sign to face Overeem in the future unless the former Strikeforce champion agrees to increased screening, including blood tests leading up to the fight.
"I think we both need to do that," dos Santos said. "I want a clean fight and he needs to prove he is not under any kind of substances ... When you have a fight with two 'clean' fighters, you will know after the fight who is the real champion. A guy who uses doping is a fake fighter."
Good for dos Santos for taking this step. No, better yet,
great
for him.
Fighters are putting their lives on the line each time they step into the Octagon to square off with the world's best trained and most successful unarmed combatants. Dos Santos routinely faces the biggest and strongest of those opponents, and he has a right to know beyond a reasonable doubt that the men he's fighting with his bare (or barely covered) hands aren't souped-up on chemical enhancements.
For the rest of us, PEDs in MMA may be be a complicated issue fraught with moral and ethical conundrums, but for JDS it's a cut and dried personal safety issue. If he doesn't feel the current testing is adequate, then he's well within his bounds to call for more. He is, after all, the industry's salable product. Without him, there is no show.
Frankly, more high-profile fighters ought to follow dos Santos' lead and go on record with similar requests. It'd be great, in fact, to see a significant collection of the sport's top stars all sign up for testing through the Voluntary Anti-Doping Association, and say they weren't going to fight anybody who didn't.
Short of comprehensive, company-wide testing from the UFC itself, it might be the best (read: only?) way to truly clean up this sport.
March, 14, 2012
3/14/12
3:09
PM ET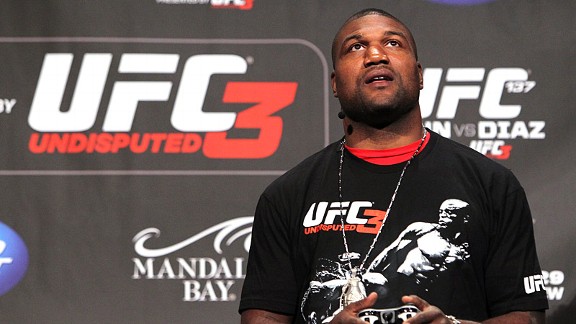 Josh Hedges/Zuffa LLC/Zuffa LLC/Getty ImagesIt might be fun and games now, but what happens when Quinton Jackson walks way from the UFC?
Good news, fight fans: Now that he's discovered the miracle of testosterone replacement therapy,
Quinton Jackson
says he can fight another 10 years.
The bad news? It looks like it won't be in the UFC.
In touching off a tornado of controversy by admitting he used testosterone leading up to his recent loss to
Ryan Bader
and then engaging in a contentious war of words with his current employer during the past week, Jackson has essentially taken a BA Baracus-style flamethrower to his career in the Octagon.
That means, if we set aside for a moment the obvious ethical and philosophical questions of an athlete using a doctor's prescription to tack an extra decade on to his career -- which Jackson himself seems perfectly happy to do -- the most pressing issue obviously becomes:
Where
?
Where exactly does a guy who has already retired once, has never seemed particularly motivated, has groused on and off about his pay and has made it clear that he doesn't like MMA fans (only
his
fans) think he's going to spend the next magical decade of his career fighting?
Clearly, if and when he becomes available, someone will sign Jackson, who is still talented and who (at least theoretically) retains a healthy base of fans.
In doing so, however, that person will also be taking a sizable risk.
If his first dozen years in MMA -- which includes at least one high-speed police chase, remember -- hadn't convinced you, the last couple of weeks should serve as conclusive proof. After the initial wave of bad press over his now notorious interview with Fighters Only Magazine, "Rampage" has spent the last few days likening his treatment from the UFC to "slavery," calling fans of the sport "sheep" and trumpeting TRT as pretty much the greatest thing to happen to him during the last few years.
In response, the UFC threw down its trump card, saying Jackson will finish out his contract with a bout against
Mauricio Rua
, the guy who TKOed him via soccer kicks the first time they met in Pride back in 2005.
After that, it seems Jackson will be on his own, and if his most recent outburst isn't enough to make independent MMA promoters think twice about signing him, well, that's amazing. At this rate, though, Jackson could well enter free agency around the same time he turns 34 and might be facing a market with fewer options than ever before for such an independently minded fighter.
[+] Enlarge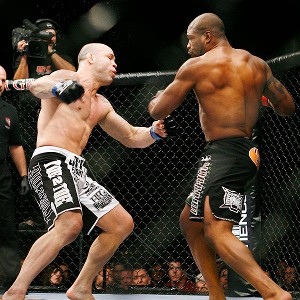 AP Photo/Eric JamisonQuinton Jackson, right, has given us our fair share of memories over the years.
There is Bellator, which allegedly passed on signing
Nate Marquardt
when the welterweight fighter was released from the UFC in a haze of testosterone last year. There is BAMMA, where Marquardt eventually signed, then unsigned after his promotional debut was continually delayed.
There is ProElite, which has yet to make waves through three shows since it was brought back to life, and there are a number of new-ish organizations in Asia, where Jackson has said he feels most comfortable fighting, but where the MMA market has been on the wane during the past few years.
That's about the size of the market and, frankly, none of it shapes up as a rosy future for "Rampage."
Clearly, MMA is a "never say never" industry and the possibility exists that Jackson and the UFC could bury the hatchet between now and his showdown with Rua.
If not, it's difficult (bordering on impossible) to imagine a scenario where Jackson thrives in a smaller organization quite the way
Dan Henderson
or
Nick Diaz
did. He's said he doesn't care if he ever "make[s] $500 again," but that seems like perhaps the most dubious claim of all, coming from a guy who's already walked away from the sport once to chase a big-money future in Hollywood.
Who will pay what is sure to be a hefty asking price for a fighter who has been so inconsistent, has so much baggage and has proved to be such a public relations nightmare?
Someone will, but how much and for how long is anybody's best guess.
March, 2, 2012
3/02/12
5:37
AM ET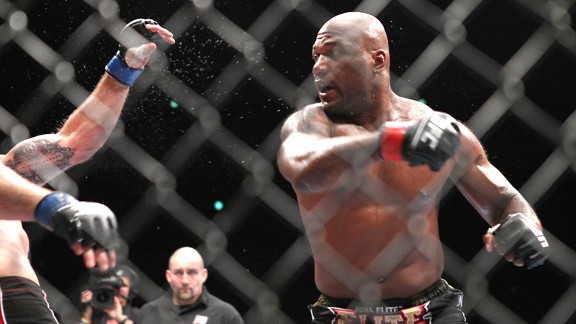 Susumu Nagao for ESPN.comUFC 144 might be in the books, but Quinton Jackson's bout with the media has just begun.
Credit
Quinton Jackson
for his honesty, I guess.
Whether he meant to or not, Jackson cast himself smack dab into the center of MMA's biggest brewing controversy this week when he admitted as part of
a wide-ranging interview with Fighters Only Magazine
that he used testosterone leading up to his UFC 144 loss to
Ryan Bader
.
To anyone who's been paying attention over the last year or so, this revelation is probably not overly shocking. Jackson, after all, merely joins a growing crop of 30-and-40-something fighters like
Dan Henderson
,
Chael Sonnen
and
Nate Marquardt
who've all gone on the record saying they have, or continue to undergo, testosterone replacement therapy.
Fact is, as long as any fighter has been granted a medical exemption by state regulators, gets a note from his doctor and keeps his hormone levels within legal limits come test time, it's not against the rules.
But by talking so openly, at length and seemingly sincerely about the boosts he felt from using testosterone -- and by otherwise appearing to be a perfectly healthy 33-year-old male -- Jackson revived and perhaps even deepened questions about the use of TRT in MMA.
Since he also sucked his employer into the conversation by commenting that his doctor "works for the UFC" and alleging that the fight company was aware of his use leading up to last weekend's show in Japan, it's bound to raise some eyebrows about situations where the organization acts as its own regulatory body at overseas events.
"I went to see the doctor and he told me to talk to an age-management doctor," said Jackson, explaining that he sought medical help after injuring his knee before the Bader fight. "So I went and talked to them and they tested me and said my testosterone was low; they prescribed me testosterone, to bring my testosterone levels back up ... so that I am the same as young people, like when I was 25, and it would help build my knee up. I hurt my knee like a month ago and I only did three shots of testosterone but it put a lot of weight on me, a lot of muscle on me but it healed my knee up good enough to where I could fight."
Again, it's perfectly legal for Jackson to do this and there is no problem with the UFC knowing about it. When done correctly, when the proper paperwork is filled out, TRT remains technically legal. On the other hand, many observers scoff at the notion that fighters could have legitimate medical reasons for seeking such treatment and continue to see it as a sort of approved cheating; a loophole being exploited by opportunistic guys looking for a leg up on the competition.
[+] Enlarge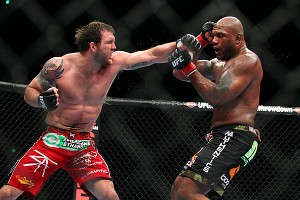 Susumu Nagao for ESPN.comShould it come as a surprise to Quinton Jackson that he isn't as nimble or as quick as he was at 25?
Most of Jackson's comments will only bolster that opinion, as the symptoms he described don't sound at all out of the ordinary for an aging athlete. Jackson says he gets hurt more now than he used to, that he has a tougher time healing from injuries and can't train like he could a few years ago.
He seems to think of that as a medical problem. The rest of us would probably just call it getting older.
Therein lie the trickiest questions regarding TRT.
Should
a 33-year-old man like Jackson really have the testosterone levels of a 25-year-old?
Should
he be able to compete at the same level he could as a younger man?
Should
he (or any fighter verging on middle age) be able to go to a doctor and essentially say, "Make me young again"?
After all, if Jackson's only real symptom is that he's not as good as he was eight years ago, that probably shouldn't warrant medical intervention.
So far, however, state regulatory bodies (and, according to Jackson, the UFC, when it is regulating itself) say that it does, as long as a fighter can find a doctor to sign off on it. Clearly, though, this issue will be debated at length moving forward and where the rules and regulations ultimately come down remains to be seen.
Right now, one of the only things we know for sure about testosterone replacement therapy is that Quinton Jackson seems to like it.
He seems to like it a lot.
"This was my first time ever using testosterone," Jackson said. "I took what the doctor prescribed to me and I went to the pharmacy ... I gave myself small doses and that s--- immediately changed me, that's why I am saying now I am not going to retire. I am not gonna retire no time soon ...
"I feel young again. I'm happy I did the testosterone; I wish I had known about it sooner."
February, 23, 2012
2/23/12
2:24
PM ET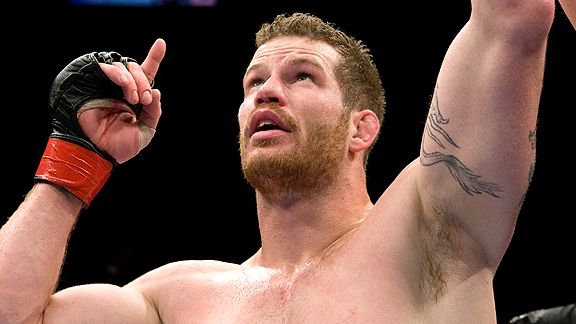 Josh Hedges/Zuffa LLC via Getty Images
The lesson here is a fairly simple one: Never say never.
There was a time, not so long ago, when it seemed like fans had a better chance of hitting the lottery than ever seeing
Nate Marquardt
fight in the UFC again.
Marquardt, we all recall, was released from the world's largest MMA promotion in June during a chaotic, whirlwind weekend that saw the Pennsylvania Athletic Commission yank him from a fight against
Rick Story
(who had already replaced the injured
Anthony Johnson
) when Marquardt's testosterone levels proved inappropriately high during prefight exams.
At the time, it all seemed very final. The news of Marquardt's firing was disseminated to the public via a succinct 12-second Internet video from Dana White. The UFC president later said he was "disgusted" with Marquardt's behavior and likened extending his time in Zuffa's employ to giving him a "fourth chance."
"Nate's done," White said in the days following. "I'm done with Nate."
Fast-forward eight months, after the former King of Pancrase signed and then worked his way out of a deal with the UK-based BAMMA organization without ever fighting there, and Marquardt is back. The middleweight contender turned theoretical welterweight will become the latest addition to the beleaguered Strikeforce roster and will reportedly fight self-proclaimed uncrowned 170-pound champion
Tyron Woodley
at an event to be named later.
A sliver of ambiguity White left surrounding Marquardt last summer -- "I don't know about Strikeforce," White said when asked if the newly unemployed fighter might find a home there. "Don't even ask me about Strikeforce." -- has blossomed into a whole new beginning. What once seemed like a lifetime ban has been duly downgraded to a simple demotion to Zuffa's slightly less popular broadcast platform. Fair enough.
What we don't know, exactly, is why.
We don't know what -- if anything -- has happened behind the scenes to change Zuffa's mind. We don't know if Marquardt has changed the particulars of his medical situation. We're not sure if he is still undergoing testosterone replacement therapy, which last June he credited with, among other things, saving his marriage, or if he's just promised to keep it within the legal limit this time.
Obviously, the circumstances of his dismissal haven't changed. "Facts are facts," White said at the time. Marquardt's history hasn't changed, either. He's still the guy who tested positive for steroids following a win over
Ivan Salaverry
back in 2005. He's still the guy who was already on notice in New Jersey for circumstances involving hormone therapy after his win over
Dan Miller
three months before he showed up to take on Story.
As of right now, we're left to assume the only thing that's changed is the passage of time.
It's eight months later. Everyone has cooled down from that initial burst of activity and anger and realized an MMA world where Marquardt is still under contract to Zuffa suits everyone in the equation better than the alternative.
That's nature of the fight game in 2012, of professional sports, really -- to be wholly uncompromising and yet incredibly transitory at the same time.
If there's one constant in this industry, it's that all things change. They change quickly, irreparably and forever.
Then, given enough time for everybody to get over it, they typically change back.
August, 3, 2011
8/03/11
6:09
PM ET
WASHINGTON, D.C. -- The Association of Boxing Commissions (ABC) met Wednesday morning in the nation's capital, wrapping up their five-day convention with a morning dedicated to mixed martial arts.
Tennessee Athletic Commission Executive Director Jeff Mullen, who also serves as the chairman of the ABC's committee on MMA scoring, discussed the past year of his unit's work to adopt a version of veteran official Nelson "Doc" Hamilton's half-point scoring system.
Backed by his fellow members, Mullen outlined some problems the committee had with a pair of planks in Hamilton's proposed plan.
Mullen stated that the idea of having a referee call "catches" -- the grappling equivalent of a knockdown -- would take away from his primary focus of ensuring fighter safety. Also, a plan to have a fourth "table" judge was shot down due to perceived redundancy, as well as staffing and cost implications.
Hamilton's reasoning for adding the fourth judge was the thought that there would be a greater number of draws under a half-point system. However, statistics from California and Florida amateur bouts which used the system have shown approximately four percent of fights ending in deadlocks.
Mullen asserted his belief that the half-point system is a superior method for scoring MMA and that, if eventually implemented, it will not only give judges a finer gradient with which to score short MMA fights, but also give the sport its own identity.
However, the chairman made it clear early on that the system is simply not ready to be introduced at this point in time. With less than a year of testing, statistics are still being gathered to back up Mullen's opinion that this will be a better fit for MMA.


"It is a better system but it's a more complicated system," said Mullen during Wednesday's presentation.
He went on to detail his reasoning for holding off on an ABC vote.
"It is more of a training issue than a system issue," he explained. "The most important thing for us at this point is to continue to educate our judges."
Dr. Sherry Wulkan was also on hand to give a presentation focused on licensure of fighters with missing limbs, pre-fight medical testing for fighters over the age of 36, and the protocols for granting therapeutic use exemption (TUE) by commissions.
Wulkan, whose home state of New Jersey dealt with Marquardt and ultimately denied his TUE application, walked commission members through the process and testing protocols an athlete must follow to be granted an exemption. In the wake of the Marquardt and Chael Sonnen situations over the past 11 months, it was a timely topic of discussion for the convention.
Also, on Monday, ABC President Tim Leuckenhoff was elected to another two-year term as head of the organization.
Editor's note: This item was updated at 9:32 p.m. ET to remove an error stating that TUE discussion was added to the ABC's docket following Marquardt's removal from a June Ultimate Fighting Championship card. In fact, TUE was placed on the committee's agenda in September 2010.
July, 22, 2011
7/22/11
11:26
AM ET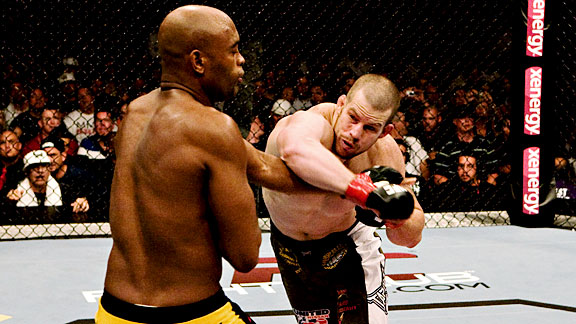 Josh Hedges/Getty ImagesCan Nate Marquardt reach the same heights he scaled in 2007?
It admittedly felt good to see things take a positive turn for
Nate Marquardt
when the embattled fighter inked an exclusive, multifight deal with the UK-based BAMMA organization, as first reported by ESPN.com's Josh Gross on Friday.
As positive as things can get, that is, for a guy who is still persona non grata in the UFC. A guy who, despite remaining the No. 5 middleweight in the world according to the ESPN.com rankings, appeared to have few good options left after Bellator and even the re-launched ProElite organization recently decided they weren't interested.
Marquardt and his controversial testosterone replacement therapy have been a hot topic of conversation among message board certified, comment section-approved medical experts ever since he was unexpectedly yanked from the main event of UFC Live 4 and subsequently fired from the company via 12-second internet video in June. Fact is, those of us who aren't doctors still have no real idea if Marquardt is a cheater or just a victim of his own naiveté, but seeing him at least temporarily close what must have been the most difficult four weeks of his professional career on Friday was a welcome sight.
As obscure as it is in the states, BAMMA appears on the rise after successfully staging six events in England since its debut in 2009. The promotion will undoubtedly move quickly to try to put Marquardt into a fight with
Paul Daley
for its vacant welterweight title and the middleweight championship currently held by
Tom Watson
also looks like easy pickings for a fighter the caliber of "Nate the Great." With the UFC still only committed to one or two shows per year across the pond, the potential exists for BAMMA to be at least a modest regional success (and a profitable one) with Marquardt as a star attraction.
[+] Enlarge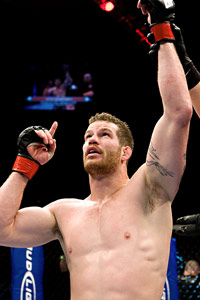 Josh Hedges/Getty ImagesAfter several rough weeks, things are starting to look up for Nate Marquardt again.
Yet, even as he finds a provisional home in the UK, it's hard to ignore the fact that Marquardt's long-term prospects remain pretty bleak so long as he's unwelcome in the UFC and/or Strikeforce. More and more in MMA, it feels like there are the Zuffa properties -- with their pay-per-view events and cable television deals and accident insurance -- and then everybody else.
It also won't help Marquardt's public image that his next fight will take place in England, where drug testing and regulatory efforts are largely left to promoters. Despite what BAMMA Vice President Liam Fisher told Gross about the promotion introducing "mandatory PED tests for title fights and random PED tests both pre- and post-event," some fans will no doubt see this move as Marquardt trying to avoid further run-ins with American athletic commissions, like the ones in Pennsylvania and New Jersey that contributed to his UFC ouster.
At 32 years old, he'll still be able to have some marketable fights and make a little money, but so long as Marquardt remains locked out of the UFC, he'll never again attain the heights he reached while making a run at the middleweight title in 2007 or as relevant as it appeared he was on the verge becoming again with a potential foray into the UFC welterweight division. Those are just the facts, stinging as they are.
Debate will no doubt continue to rage online about what Marquardt may or may not have done to bring about the end of his UFC career. What's that old saying about opinions? They're like web sites, everybody has one? Something like that.
In the long run, the only opinions that will matter about Marquardt belong to the guys who hold the keys to the Octagon and, so far, they appear unwavering in their declaration that the former middleweight No. 1 contender will never fight for them again.