September, 16, 2014
9/16/14
6:37
AM ET

By Brett Okamoto
ESPN.com
Archive
Joseph Benavidez
would love to believe 9-1 betting underdog
Chris Cariaso
has a chance to dethrone
Demetrious Johnson
at UFC 178 next weekend.
Oh man, would he love to believe that.
Benavidez (20-4) is in one of the more unfortunate spots in mixed martial arts. He is arguably the No. 2 fighter of his division, but he's lost twice to the man (Johnson) ahead of him -- in September 2012 and last December.
To get back to a UFC title opportunity, Benavidez needs one of two things to happen: A long, impressive win streak (his guess is it would need to reach four in a row) or a Johnson loss. He's operating under the assumption it will have to be the first option.
"It's funny," Benavidez told ESPN.com. "I'm not really wishing for [Johnson] to lose and I don't necessarily get excited when he fights because as of late, honestly, I know he's going to win. They get announced and I go, 'Oh. Another title defense.'
[+] Enlarge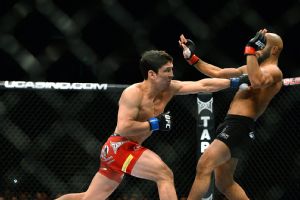 Al Powers for ESPNJoseph Benavidez, right, realizes he'll need to pull off another win streak if he's to earn a third title shot.
"I guess I just don't see another threat out there besides me and [John] Dodson and I had my chance to beat him. Every time he has a fight, I'm usually just, like, 'Damn. I messed this up. That should be my title defense.'"
Unfortunately for Benavidez, this is actually the second time in his career he has been in this position. Prior to the UFC's addition of a 125-pound weight class, he fought former bantamweight champion
Dominick Cruz
twice in the now-defunct WEC.
Like Johnson, Cruz defeated Benavidez both times and went on to hold the title until the UFC stripped him of it earlier this year due to injury. After losing to Cruz the second time in August 2011, Benavidez sort of wandered at bantamweight. He fought just three times in the next 19 months with no real rhyme or reason to the matchmaking.
The flyweight division finally debuted in early 2012.
A little more than two years later and Benavidez is in a similar spot. No fights seem to make sense. He hasn't fought since he submitted
Tim Elliott
at UFC 172 in April, even though he has been healthy and asked for a fight.
A UFC pay-per-view event came and went in Benavidez's hometown of Sacramento in August, but he didn't make the card. The UFC couldn't find the right opponent.
"I know I'm in an odd position," Benavidez said. "I think I'm the next best guy in the division after Demetrious, but I can't fight him. And on the other side, we're short on flyweight contenders and the UFC doesn't want me knocking off the few we have."
Benavidez might be forced into waiting for fights longer than usual, but the UFC actually has booked him two meaningful ones since the loss to Johnson in December.
Elliott (10-5-1) was on the fringe of a top-10 ranking when Benavidez tapped him in the first-round and anyone who follows the sport knows his next assignment,
Dustin Ortiz
on Nov. 22, is a legitimate test as well.
Ortiz (14-3) is 3-1 in the UFC and arguably should have been declared the winner of a split-decision loss to
John Moraga
in January.
"It's awesome that hard-core fans know how tough [Ortiz] is," Benavidez said. "I have to beat him in a way that makes a statement. We've seen him fight top-level guys, so I think there's something to gain in this fight.
"See the competition he's fought and how those fights went -- and now compare that to how my fight will go with him. There is pressure on me to beat him worse than anyone else has."
Ortiz, in fact, has never been finished in his professional career. If Benavidez can be the first to do so, he will have helped his cause in regards to a third UFC title shot. If he had to guess, no one else is going to help him with it.
January, 8, 2014
1/08/14
7:24
AM ET

By Brett Okamoto
ESPN.com
Archive
Telling people you called something to happen after the fact is a good way to lose all your friends.
No one wants to hear it. Living in Las Vegas, I get the worst version of this. "Man, I knew Auburn was going to jump out to a first-half lead in the BCS game, I just didn't get off work in time to lay money on it." Cool story, bro.
So, I want to tell you about all the UFC stuff I've correctly predicted in the past, but you and I both know you'll just resent me for it -- maybe enough to actually stop what you're doing and make sure you're not following me on Twitter.
Here's what I'll do, then: pick three UFC fighters to break out in 2014. That doesn't necessarily mean win a title -- it means turn heads. Much like
Cub Swanson
has done the last two years. (Which I predicted ... just kidding! But really, I did.)
No freebies either. Predicting a decent year for
Chad Mendes
in 2014 would feel like cheating. These are under-the-radar fighters who are better than you probably think they are.
Tim Elliott, (10-4-1), flyweight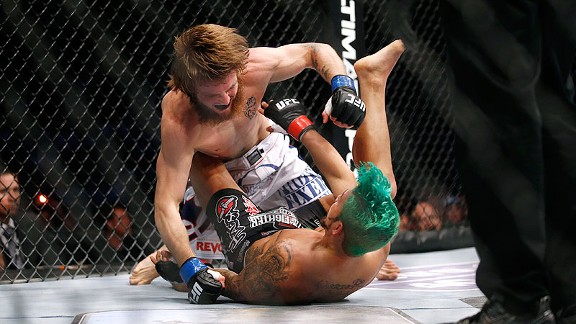 Ross Dettman for ESPNTim Elliott is effective -- if not always the most orthodox.
I don't know whether it's a good idea to start off this piece with an anecdote about a prediction I once made that turned out to be wrong -- but whatever. In November, a friend of mine watching UFC 167 asked for a couple of fights to bet on. I told him to take Elliott over
Ali Bagautinov
.
He texted me back one minute into that fight, asking what I had gotten him into. "He looks like a complete idiot." True, Elliott can look awkward, but it's effective awkwardness. He was thrown off by Bagautinov's strategy in that fight (by the way, Bagautinov is a potential breakout candidate, too) but Elliott is solid at everything, entering his prime and nobody is paying him any attention right now.
Michael Johnson, (14-8), lightweight
Ed Mulholland for ESPNMichael Johnson, left, has all the necessary tools to charter through the dangerous lightweight waters.
The secret is sort of out on Johnson, but I'm listing him anyway. I have been a longtime advocate of his potential. I swear, it's not out of blackmail based on some dirt Johnson has on me -- he's just got everything I look for in a breakout candidate: natural athleticism, solid wrestling, cardio, a good team around him.
He's about to be thrown to the wolves, of which there are many at 155 pounds, in 2014. I don't think it's more than he can handle at this point, though. If he pulls everything together, Johnson could be a title contender.
Gunnar Nelson, (11-0-1), welterweight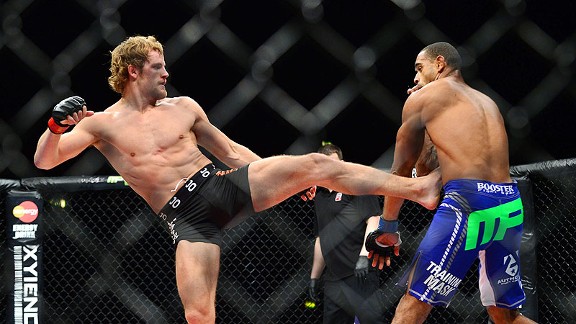 Martin McNeil for ESPNBetween his karate background and efficient ground game, Gunnar Nelson could be a stud in 2014.
When a UFC prospect looks like
Lyoto Machida
on his feet but actually better on the ground, you don't ask questions. You gamble religiously on him and enjoy the free money.
The truth is, beyond the karate stance, there isn't that strong of a similarity between Machida and Nelson -- although they both win a lot of fights. I wish Nelson would move to lightweight, but he'll win plenty as a welterweight this year.