July, 2, 2013
7/02/13
8:35
AM ET
LAS VEGAS -- In response to recent comments regarding low fighter pay, UFC president Dana White says the company is considering a change to its pay structure.
The primary change would do away with well-known "fight night" bonuses.
The UFC has issued "locker room bonuses" for years under Zuffa ownership that include cash bonuses for the top fight, knockout and submission of the night. Those bonuses are made public immediately after each event.
During a small luncheon with media members Monday, White announced he and UFC co-owner Lorenzo Fertitta were considering cutting the bonuses in favor of raising the base pay for undercard athletes.
"Let's do away with the bonuses," White said. "You don't like the structure? All right. We'll pay the lower level guys more money and no more f---ing bonuses.
"Yeah, it could happen. That's what I'm thinking about doing. All the lower level guys want their money boosted. That's easy to do."
Whether White is seriously considering cutting the bonuses, which typically range between $40,000 and $65,000, or making frustrated comments to the media is debatable.
White did downplay the significance of the recent criticisms of fighter pay, which have grown louder this year than in the past.
Now-retired lightweight
John Cholish
criticized the UFC pay structure following his last professional bout in May. The 29-year-old compiled an 8-3 record since 2007, including a 1-2 mark in the UFC, and claimed he actually lost money during his last bout with the company.
Welterweight
Jon Fitch
, who was released by the UFC earlier this year, posted a video outlining what the UFC paid him during his eight-year run in the Octagon. Most recently, middleweight
Tim Kennedy
, who fights this weekend at UFC 162, discussed the unknown costs fighters take on, adding he might make more money to "empty trash cans." Kennedy later apologized for the comments on his Facebook page.
White believes after Cholish made his comments in May, the media have zeroed in on the topic and are asking fighters loaded questions. Using UFC 162 as an example, he stated the top fighters on the card are all being paid handsomely.
"Frankie Edgar is going to make a lot money this week," White said. "Anderson Silva ...
Chris Weidman
is going to make a lot of money this week.
"No disrespect, but who gives a f--- about Tim Kennedy? Is he selling out venues? Are people buying tickets for Tim Kennedy? OK. There you go."
White also stated fighters have no idea what back-end costs the UFC incurs, citing offices in Las Vegas, Toronto, London, Beijing and Sao Paulo, Brazil.
"The bonuses is something we've been doing out of the kindness of our hearts," White said. "It's not something that's ever been structured. It was something we liked to do. We thought it was a cool thing to do.
"Apparently, people don't like it. They want the lower level guys to make more money."
June, 23, 2013
6/23/13
12:31
AM ET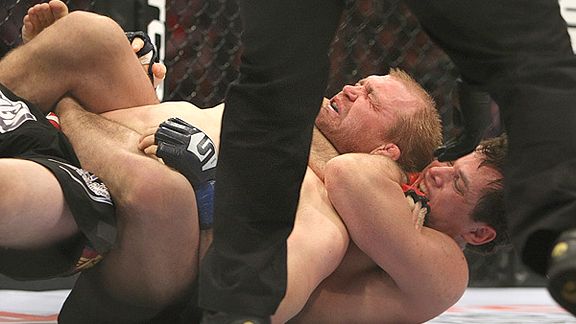 Courtesy Dave Mandel Roger Gracie is bringing his submission game to the UFC.
Roger Gracie
lives in a different world than the previous members of his family.
When Roger's grandfather, Carlos Gracie, helped found Brazilian jiu-jitsu with his brother Helio, there were, obviously, no tournaments to compete in. The only way to actually use their craft in competition was to test it against others.
That is, of course, what happened so famously at UFC 1 in November 1993 -- when another member of the Gracie family, Royce, submitted three men in one night to win the first UFC tournament.
While that might be the most well-known instance of a Gracie family member legitimizing the art of Brazilian jiu-jitsu, it was hardly the first. Royce showing off the rear-naked choke that night was just the latest detail in a long family tradition.
That tradition is what has led Roger (6-1) to the UFC, where he'll make his promotional debut against
Tim Kennedy
next month in Las Vegas.
Unlike other members of his family, Roger never "had" to fight. There are plenty of world grappling tournaments to compete in, and Brazilian jiu-jitsu has grown in popularity enough that his academy in London more than pays the bills.
To never compete in MMA, though, would have been un-Gracie -- in his mind at least. He discussed that and more with ESPN.com, heading into his UFC debut.
You seem like a fighter not really into MMA for the belt, just for the ride. Is that accurate?
I think that's pretty accurate. I don't have a goal to have the belt. My goal is to improve in every aspect of MMA. That's what I was doing in jiu-jitsu, and suddenly there was a moment like, "OK, now I need to do this in MMA."
Why was MMA always in your future? Why is jiu-jitsu alone not enough?
It goes back to the first Gracie, my grandfather Carlos. He had five younger brothers he taught jiu-jitsu, but back then, they were the only ones doing it. There wasn't a jiu-jitsu world championship. They had to fight to prove how good jiu-jitsu was. With the sport growing, suddenly there were jiu-jitsu tournaments -- but by then, that was how it had always been. Royce, when he was younger, he competed in jiu-jitsu, and then when they created the UFC, he did MMA. Renzo got his black belt and then boom, he was in MMA. I used to look at all of them and say, "That's what I have to do." Even before I got my black belt, I knew. If I really wanted to follow the Gracie way. It was never a conscious choice.
So there is an expectation in the family to eventually transition to MMA?
Not really. It's actually the opposite. I've had a lot of pressure in my family from uncles and cousins telling me not to do MMA because the sport now it not what it used to be. Now they have massive strong guys and everybody knows jiu-jitsu. They were telling me there is nothing more to prove -- everything has been proven already. But I think each one follows his own path and this is mine.
What does the future of the Gracie family in MMA look like? Are there more on the way after you?
I think the one thing we've proven is we have numbers. We're a pretty big family. So, I'd always expect there is a Gracie popping up somewhere. The family is very spread. It's not like everybody is in the same place. It may be a cousin in New York or somewhere in Brazil is becoming very good and suddenly, boom he is the next generation. I think that is what's going to happen forever.
You expect Kennedy to avoid grappling with you?
It's hard to say. I've seen his fight against "Jacare" [
Ronaldo Souza
], who, in my opinion, is a much better grappler than he is but he took Jacare down twice. That showed he's not really afraid to grapple with Jacare. If he tries to grapple with me, though, I will be very surprised. I wouldn't be surprised if he tries to take me down, but I don't think he'll try to grapple with me on the ground.
You're fighting on the same card as Anderson Silva versus Chris Weidman. Give us your thoughts on that fight.
I think [Weidman] is very, very dangerous. His grappling is at a very high level. He can submit any world-class grappler. I think he's really that good. He can tap anyone, even me. It's just a matter of if he can put Anderson in those situations. I would still put my money on Anderson but I think Chris Weidman is dangerous and can surprise him.
March, 5, 2013
3/05/13
7:35
AM ET
Four fights are in the works for forthcoming UFC events, most notably with
Roger Gracie
set to make his debut against
Tim Kennedy
at UFC on FX 8 on May 18, according to Porto de Vale Tudo.
More »
July, 14, 2012
7/14/12
10:40
AM ET

By Franklin McNeil
ESPN.com
Archive
Since claiming the middleweight title from
Ronaldo Souza
in September 2011,
Luke Rockhold
has worn his Strikeforce belt proudly. He'll continue to do so Saturday night in Portland, Ore., against
Tim Kennedy
. It will be the second title defense for Rockhold and likely his last, if all goes according to plan.
Rockhold envisions making quick work of Kennedy then resuming his most important mixed martial arts projects outside the cage -- campaigning for fights against the sport's best competitors. That includes a possible clash with UFC champion
Anderson Silva
.
"I'm definitely focused on Tim Kennedy," Rockhold told ESPN.com. "But you only live once and I live to be the best, and Anderson Silva is the best in the world. So, to be the best, you have to beat the best.
"That's what I need to do: fight Anderson Silva. That's what I want."
Rockhold knows that being in Strikeforce, and with several viable UFC 185-pound contenders positioning themselves for a title shot, his chances of landing a bout with Silva are slim. Still, he isn't counting himself out of the Silva sweepstakes yet. He intends to use Saturday night's title defense as a platform to showcase his skills -- and that means dominating Kennedy from pillar to post.
"I see a real tough guy, a smart fighter who knows how to fight to his strengths," Rockhold said of Kennedy. "He has strengths, but his strengths are my strengths.
"I'm a more-rounded fighter. I have a lot more weapons on the feet, so I will be able to nullify his takedowns, his submission threats and impose my will in the standup. I'm going to make him fight at a very high pace. The pace that he's going to have to fight at against me, he won't be able to keep that up for five rounds."
A dominating performance against Kennedy is certain to get the attention of the UFC front office, which might convince them to bring him over. It's Rockhold's best chance of getting into mixed martial arts' top promotion in the near future, and a match with Silva.
"If I fight Anderson Silva, I've got to fight him in the UFC," Rockhold said. "There's no other way of looking at it. They're not going to want the Strikeforce champion to beat the UFC champion and come back to Strikeforce. I certainly hope they can work it out, but I might be here for a while. I don't know. I hope things can be worked out and I can go over there and fight him."
[+] Enlarge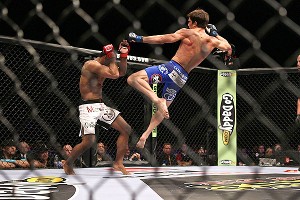 Ross Dettman for ESPN.comLuke Rockhold, right, is up for settling some unfinished business with Ronaldo Souza.
As much as Rockhold (9-1) would love to get his hands on Silva, that's just one reason he is eager to land in UFC. In just eight Strikeforce bouts, Rockhold has established himself as the promotion's best 185-pound fighter. And it doesn't appear anyone is close to knocking him off his perch; he's pretty much out of options.
"I just want to fight the top guys," Rockhold said. "It's no secret that we're running out of guys here in Strikeforce. There's only one other matchup that makes sence after Tim Kennedy and that's [Ronaldo] Jacare [Souza]. That fight needs closure and I can give it."
Rockhold has no doubt that he will handle Souza in a rematch. His only reason for wanting a second encounter is to give Souza same treatment others have experienced. He has finished every one of his opponents in the first round. Souza is the only one to go the distance with him -- Rockhold won by unanimous decision in capturing the title.
His agenda is simple: destroy Kennedy (14-3) on Saturday, then settle matters quickly with Souza. After those two are put to bed, Rockhold will begin pushing harder for a spot on UFC's middleweight roster and a possible fight with.
It's a fight Rockhold is confident he will win.
"The recipe to beat Anderson Silva is a strong wrestler who can take him down," Rockhold said. "Good jiu-jitsu and a good top game. And a guy who's not afraid to strike with him, I think most people are.
"I can tell you right now that I'm not afraid to strike with Anderson Silva. But I'd obviously fight to my strengths. I'm well-rounded. I can do a lot of things that not many people can. Against a guy like Anderson Silva, I can fight him everywhere."
January, 8, 2012
1/08/12
2:30
AM ET
LAS VEGAS -- Well. That proved nothing.
As expected, Strikeforce middleweight champion
Luke Rockhold
ran through
Keith Jardine
Saturday, posting a first-round TKO victory in his first title defense.
This is what happens when a legitimate contender in the prime of his career faces a tough, yet technically lacking veteran entering the twilight of his. Jardine had never fought as a middleweight until Saturday. The matchup was flawed from the beginning.
Immediately after the fight, Rockhold (9-1) begged for better competition, asking Zuffa, parent company to Strikeforce and the UFC, for a shot at UFC talent.
"I like fighting and I like getting paid, but I love competition," said Rockhold, on the televised broadcast. "Right now all the best guys are in the UFC. Those are the guys I want."
Rockhold's frustration is warranted, as are his comments. He's wrong though, in suggesting there are no challenges left for him in Strikeforce. That might hold true for lightweight champion
Gilbert Melendez
-- but Rockhold isn't there yet.
True, the win over Jardine didn't tell us anything we didn't already know. But Rockhold's next fight in 2012 will.
And it sounds like he knows that. Once the emotion of the fight with Jardine wore off, Rockhold admitted that Strikeforce middleweight
Tim Kennedy
(14-3) is a well-deserving challenger to his belt.
[+] Enlarge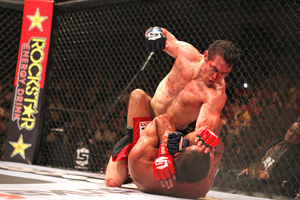 Ross Dettman for ESPN.comTim Kennedy, top, should provide a stiff test for Luke Rockhold.
He also said a rematch against
Ronaldo Souza
(14-3) would be of interest to him. Rockhold defeated Souza in a tight, but unanimous five-round decision in September.
"Tim Kennedy is the most valid challenger right now," Rockhold said. "I'd more than welcome that fight. Tim poses a lot of problems. He's a great wrestler and jiu-jitsu guy, but he lacks in the standup realm."
That he still has challenges at Strikeforce doesn't change the fact Rockhold is deserving of a shot against UFC talent. At this point in his career, he's demonstrated enough skill to hang with the likes of a
Chael Sonnen
,
Mark Munoz
and
Vitor Belfort
.
Fair or not, however, those fights are unlikely to materialize. Regardless of how many times Rockhold challenges a UFC contender to enter the Strikeforce hexagon, it's not happening right now.
"These fighters want to test themselves and prove they are No. 1," said Strikeforce CEO Scott Coker. "But Tim is going to be back shortly. Robbie [Lawler] is in the mix. We'll have a lot of fights for Luke moving forward."
Rockhold was terrific Saturday. He established his range immediately, which isn't necessarily easy against a durable brawler like Jardine. He controlled the pace of the fight, which is one of his greatest strengths and he finished it decisively.
Should he be fighting in the UFC? That case can be made. But has he, after Saturday, cleaned out the Strikeforce middleweight division? Not yet.
"If that's the plan, that's the plan," Rockhold said. "I'll make the most of what we've got here.
"I want to fight the guys who earn their shot."
January, 5, 2012
1/05/12
12:49
PM ET
LAS VEGAS -- When
Luke Rockhold
heard his first Strikeforce middleweight title defense would come against
Keith Jardine
on Jan. 7, he had the same reaction plenty others had. He was confused.
No disrespect to Jardine, but the champion had hoped his first opponent in 2012 would be a little more, well, deserving. Jardine (17-9-2) was released by the UFC in 2010 after losing four straight. Since then, he's 0-1-1 in Strikeforce.
And, oh yes, one more thing -- he's never even fought at middleweight.
"I was definitely dumbfounded," Rockhold said, on when the fight was announced. "It didn't make much sense. I started thinking outside the box. He has a big name, so it will bring eyes and ears to the card.
"Beating him will show me to the rest of the public -- I guess."
The unfortunate reality here is the public should already know him.
Rockhold (8-1) is the full package. He's a powerful kickboxer and solid grappler, offensively and defensively. His frame and athleticism have allowed him to control where virtually every one of his fights has gone.
And yet, when Rockhold defeated
Ronaldo Souza
for the Strikeforce title in September, the poorly attended Showtime event it aired on produced fairly miserable ratings, drawing less than 275,000 viewers.
Despite holding the Strikeforce belt, Rockhold admits he doesn't feel like much of a champion fighting on that type of stage. His teammate and fellow Strikeforce fighter
Muhammed Lawal
was especially critical of the Cincinnati-based show.
"When he was fighting [Souza], I thought it was the perfect time to promote this fight so the world can see the talent we have at Strikeforce," Lawal said. "When I saw the arena, I said, 'Man, this is a joke.'
"I was kind of mad. I knew Luke was going to win. It was a great fight and I wanted people to see what he went through."
Regardless of who's watching, the American Kickboxing Academy product would like to put together a big year in 2012.
[+] Enlarge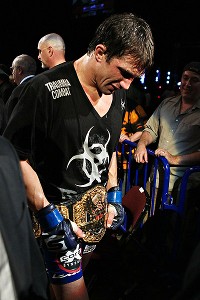 Ross Dettman for ESPN.comIt's hard to say if Luke Rockhold can shine while toiling in Strikeforce.
Depending on what happens Saturday against Jardine in Las Vegas, Rockhold could be in line for a highly anticipated fight against
Tim Kennedy
as well as a potential rematch with Souza.
Beyond that, he'd like to see a contender from the UFC thrown into the mix at Strikeforce within 12 months. Ultimately, his goal is the same as it would be if he were fighting in the UFC -- build a case that puts him in the Octagon with
Anderson Silva
.
"You definitely don't want to get distracted from what you're doing," Rockhold said. "But I've got to build those fights and let people know we're legit. I think the UFC needs fresh faces. I feel like they're running people around and putting on old fights.
"Vitor [Belfort] lost. Chael [Sonnen] lost. Everyone who could fight Anderson has already lost to him. I want to see a top contender come to Strikeforce. Then we can legitimize the sport."
Until Rockhold does get his shot at UFC gold, it's likely his name won't stray far from the headlining status in Strikeforce. Regarding those who don't consider him a true champion yet because of the name on the belt, Rockhold tries not to concern himself too much.
If he continues to take advantage of the opportunities given to him, that has to change eventually.
"I think I get overlooked a lot but that doesn't really bother me. I'm going to keep beating people," Rockhold said.
"I believe I can compete and beat anybody in the world, and that goes for Anderson. I'm not scared of anybody. I want a chance to prove it. Keep winning and catch Dana [White's] eye and get some publicity."
December, 2, 2011
12/02/11
2:47
PM ET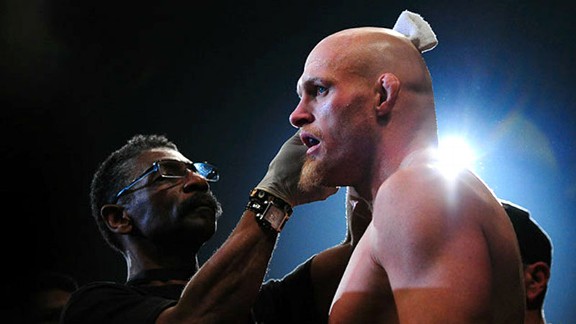 Mark Rebilas for ESPN.comKeith Jardine doesn't strike anyone as title material at this point in his career.
Somewhere between the process of reinvention, the many eulogies being read over his relevancy, and being cut from the UFC,
Keith Jardine
must have rubbed a talisman. Not only does he get a short notice fight against heavily favored
Gegard Mousasi
in Strikeforce (lucky timing) and end up in a fortunate draw (lucky point deduction), but now he's getting a title shot against
Luke Rockhold
for the middleweight strap (lucky circumstances) in his middleweight debut.
So much for the pretending to know what's going on in the Strikeforce war room.
As MMAFighting.com first reported, the "Dean of Mean" will fight Rockhold for the 185-pound strap on Jan. 7 instead of his Greg Jackson teammate,
Tim Kennedy
, who had to refuse the bout due to an undisclosed injury. Injuries happen, but this is a confusing choice. Somewhere, former champion
Ronaldo Souza
is looking up the Portuguese to English translation of "meritocracy." He and Rockhold engaged in a back-and-forth war back in September that had rematch written all over it. Only hitch in the idea was Kennedy, who had dutifully bided his time for a title shot while walking through Melvin Manhoef and
Robbie Lawler
to get it.
Yet with Kennedy hurt, Strikeforce dialed Jardine. Maybe they didn't have long distance on their phone. Not to take anything away from Jardine's star power and his recent swing of wins (and draws) -- he's 2-1-1 since being cut from the UFC -- but somebody's getting jobbed. Maybe
Paul Daley
would have been up for the task? Not having to cut to 170 pounds might have sounded like sweet music to him, especially with the holidays and all that figgy pudding.
Let's hope it's more complicated than we know. Maybe Souza was offered but couldn't accept the fight for his own set of reasons (such as five week's notice), though he recently tweeted something that tests such a theory ("Still waiting on Strikeforce to decide when I fight again, they always keep me on the side waiting for too long").
So how did Jardine, who lost five in a row between the spring of 2009 through the fall of 2010, hurdle "Jacare" for the shot?
Could be anything.
[+] Enlarge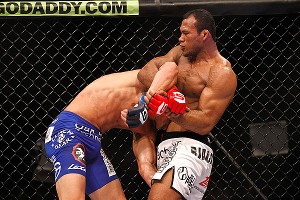 Ross Dettman for ESPN.comWas Ronaldo Souza, right, not available for a rematch with Luke Rockhold?
Could be that there's no depth in the middleweight ranks and Jardine at least is a name, reinvented as a middleweight. Could be that the idea is to bring Rockhold along slowly. Could be that Kennedy suggested to Scott Coker that Jardine stand in for him. Could be that Strikeforce had an unyielding date locked down at the Hard Rock Hotel & Casino that only Jardine was open for on that notice. If that's the case, it would seem like poor planning, even if the future of Strikeforce is unfurling in a corner of Zuffa's offices at warp speeds.
It could be that Souza didn't want to play back five rounds of hell with Rockhold, or vice-versa, or that somebody threw a dart at the wall and hit Jardine's grazing beard. Who knows.
But it looks funny. It's a fight that doesn't make a whole lot of sense to the usual title defense/challenger model in MMA. In boxing, maybe. But not in MMA. Either way, Jardine is lucky enough to be at the point -- and
the
point -- of contention. And, realistically, a win in January makes a strange-looking situation in early December look ... less strange.
December, 2, 2011
12/02/11
7:23
AM ET
LAS VEGAS -- Things are going to look and feel a lot different for
Jason Miller
on Saturday night.
In a small theater like the Pearl at the Palms, Miller will have about 14 feet of serviceable space to attempt one of his famous walkouts in his return to the UFC. As the UFC curtails accompanying girls and pyrotechnics, his walkout looks doomed from the start. Since it's a Spike show -- the final of its kind before the UFC takes its services elsewhere -- Miller might not even have a live camera on him when he does it. For a guy who just won "Ring Entrance of the Year" at the MMA Awards, he is coping with all of this best that can be expected. These are small prices to pay.
As for his forever in the making fight with
Michael Bisping
, his antagonist for the last several months on "The Ultimate Fighter," it'll be only the third time a non-title main event is slated for five rounds.
So much has changed or is changing or is about to change in the promotion that he returns to, that "Mayhem" can't help but feel right at home. He is used to flux. That's where he's been for the last six-and-a-half years through appearances with HDNet Fights, Dream, the WEC and Strikeforce (among others).
"I can't point to one single similarity, because it's such a vastly different time," he says of the difference this time through from 2005, when he fought his one and only UFC bout, versus
Georges St. Pierre
. "At that time, I was like, whatever, I'm fighting some French guy. I didn't care. I was like, he's handsome, I'm going to knock his face off.
"But it was a different time in my life, too. When I fought Georges, I was a kid not knowing what to do. I didn't understand life at all. I didn't understand what I was doing. I was trying to make 170 pounds. It was, all-around, a difficult time for me. Nowadays, I feel like I've grown up a lot. I got to go experience the whole world. I've got to see Brazil and Japan and all types of locales and meet different people. I grew up. And now grown up Mayhem gets to fight."
This version of Miller is a celebrity for reasons not entirely to do with fighting. In fact, plenty of people know him better from his "Bully Beatdown" show on MTV. He's charismatic enough to say he can smash two Jason Statham's on "Late Night with Jimmy Fallon" and come off as a lovable loon. For the last couple of months he was the coach on "the Ultimate Fighter," where he engaged in the usual hijinks and pranks with the ever-inflammatory Bisping, doing his lunatic eyebrow spike at each available chance.
If this is the grown up Miller we're seeing at 30 years old, you can guess at what he was like in his bygone younger days.
And yet, no matter how mischievious he gets, Miller rarely comes across as the heel in the situation. Remember the Nashville brawl, the one he incited by rather enforcedly requesting a rematch with
Jake Shields
, prompting the Diaz brothers, Nick and Nate, to get all up in his mug? Hey, he was just asking for a rematch, and things escalated. If anything, his timing could have been better.
In other words, Miller is a one-of-a-kind, and it's been a crazy jaunt back "home" to the UFC, one that Miller happily took his detours to arrive at.
"For all those crazy twists and turns, I don't know about phase two; this might be phase three or four," he says. "I don't know what phase this is
this
time.
"But I wouldn't change a thing. Sure, maybe I could have made more money somehow. Maybe I could have changed Coke to Pepsi, maybe I could have found my car keys. But, it doesn't matter. I'm really happy with the twists and turns it's taken."
For those who have followed his itinerant career through the various promotions, you know that his style is an aggressive one. Miller doesn't let his opponents get comfortable. He likes to be right in their face the whole fight. He's been like that against
Ronaldo Souza
, against Jake Shields, and against
Tim Kennedy
. He plans to come right at Bisping, too, whom he says is an overrated kickboxer who too often resorts to trying to outpoint opponents.
"I don't play that game. I come forward, I come forward, I come forward," he says. "I go for a finish. There's no way he's going to outpoint me. And he can't TKO me, because he doesn't punch hard enough. I'm just going to keep my hands up and keep moving forward. I'm not going to let him play that point game. It's silly. I'm too much of a veteran for that, and I'm too aggressive. He can't play that game for five rounds."
And after six weeks of hostile back-and-forth bantering with Bisping, whom he says there's genuine animosity toward, will the grudge outlast the rounds? Eh, Miller's a sportsman. He predicts that stuff (probably) ends after Saturday night.
"I think we can squash it after the fight," he says. "I would hope so. He lives really close to me. I don't want him burning my house down."
July, 22, 2011
7/22/11
7:48
AM ET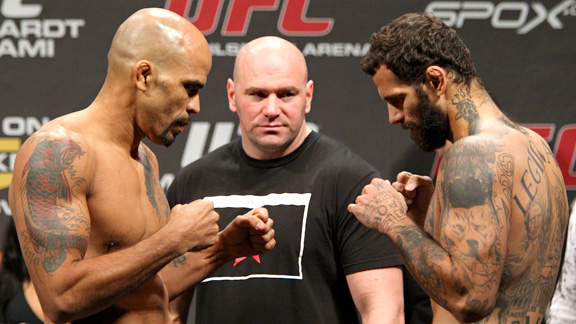 Josh Hedges/Getty ImagesFight fans should see a better side of Jorge Rivera, left, in his next outing.
Jorge Rivera
may be closing in on 40, but he's game to do hour-long runs up Albuquerque's Sandia Peak if he has to. And when he was working out with
Tim Kennedy
over the last couple of weeks -- in choking 100-plus degree desert heat -- turns out he had to.
Rivera just spent 11 days in New Mexico prepping for
Alessio Sakara
with Greg Jackson and his team. He trained with the Jackson collective in the mornings, but left it up to Kennedy to occupy his afternoons. That, he says, was a particularly dumb and masochistic thing to do.
"I was basically doing everything that Tim Kennedy did," he told ESPN.com. "Let me tell you, I've worked out with a lot of people, and I have yet to see anything quite like that man. I am being dead-honest when I tell you that. He is an animal of a different breed. It's unbelievable.
"I've done a lot of work with a lot of guys, and I've never done anything quite as intense as what he does. He's not one of these guys who's 'rah-rah' while you're doing it -- he's right there beside you doing the workout, motivating you with his own work. He really pushed me."
Rivera is mixing things up a bit for his UFC 133 fight with Sakara on Aug. 6, alternating camps between New Mexico and his usual digs in Massachusetts. It's the third time he and Sakara have signed on to fight one another, and this time it looks like the fight is actually going to take place (yet with the way the UFC 133 card has gone, you never know). As far as hype goes, this one couldn't be any different from the lead-up to his last fight with
Michael Bisping
at UFC 127, when Rivera was busy turning the Brit's pupils black with derisive videos beforehand.
[+] Enlarge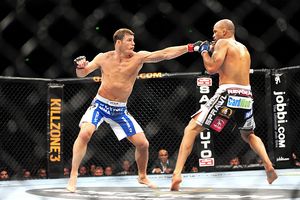 Martin McNeil for ESPN.comMichael Bisping, left, found a way to quiet Jorge Rivera when they met in the Octagon.
This time it's a quiet focus towards the Italian brawler Sakara, and, after more than a dozen years in this racket, Rivera's cool with "quiet" too.
"Man, I enjoy it all," he says. "I enjoyed the last fight -- if I said I didn't I'd be lying. I enjoyed making the videos, the good and the bad, all of it. That's life. I don't sit there and dwell on the negatives. I had a lot of fun getting underneath his skin, and watching him go nuts over silly things. Not only that, but [Bisping] set himself up to be tortured by anybody else who's going to be fighting him in the future. I had fun knowing that too.
"I realize we're in the business of entertainment, and people were entertained. More people wanted to see that fight due to those videos than anything else. They brought more attention to the fight."
The Bisping fight ended bitterly for Rivera, who took an illegal knee while still down that signaled the beginning of the end in a TKO loss. He says he wants to fight a couple of times before returning to that piece of "unfinished business," but right now he's going about preparing for a fight with Sakara in which he feels the outcome is all but certain. Somebody -- and Rivera concedes it might be him -- is going to require smelling salts by night's end.
"Yeah, I just don't see it going any other way," he says. "It's what the fans want. If a submission could happen, I'd take it. But that's not how I see it going. I see one of us getting knocked out."
July, 20, 2011
7/20/11
2:19
PM ET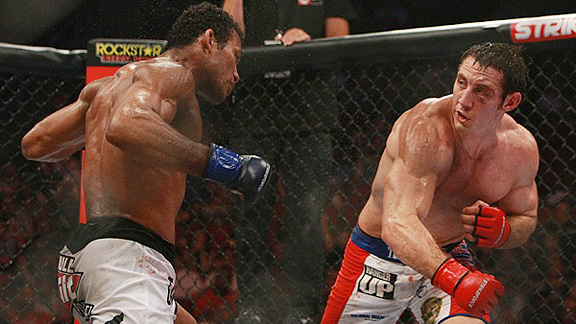 Dave Mandel for Sherdog.comJust you wait: Tim Kennedy, right, can't wait for another crack at Ronaldo Souza.
Was
Tim Kennedy
ever in serious consideration to coach opposite
Michael Bisping
for next season's "Ultimate Fighter" reality show? Yes, he was. And realistically, no he wasn't. Kennedy was a stand-by in the event
Jason Miller
couldn't take the gig, but even by his own admission it was a pretty far-flung proposition.
"Yeah, we talked, but it really came down to [the fact that] I don't have the name to push that show to the level it needed to," Kennedy told ESPN.com. "I have like 7,000 followers on Twitter. Jason Miller has 120,000. His name is much more recognizable internationally. A lot more different realms than just MMA. Yeah, everybody in MMA knows who I am. But he kind of goes .. across, um, some lines for his notoriety. I'm trying to say that nicely."
Kennedy didn't get the televised coaching job. Nor did he get another crack at Strikeforce's 185-pound strapholder
Ronaldo Souza
after manhandling Melvin Manhoef in March. Nor did he get a crossover fight against top-flight UFC fighters, which piqued his interest when Zuffa snapped up Strikeforce in March.
But he did get a ridiculously heavy-handed silver lining in
Robbie Lawler
for the July 30 card in Hoffman Estates, Ill. Kennedy is looking at Lawler as the gateway to better opportunities. If he beats him convincingly, he foresees at very least another chance at the middleweight title -- and in the abstract, bigger fights down the road with the UFC's brand names.
"The potential for these super-fights for the level of competitiveness in the 185-pound weight class right now is out of this room," he says about possible crossover fights with Zuffa's other half. "It's exciting. There are match-ups I really want to be a part of. Again, I have to go out there and win this fight and put on a good showing so that those can be considered."
"As far as a title shot, I sure hope so, but I don't know. I'm not the matchmaker, I'm not part of the promotion -- I'm just a fighter. So, I'm going to go out there and do the best thing that I can, which is to finish everybody that I fight. Everybody I beat, I finish. I can't remember the last time I beat somebody in a decision -- I think it was 1998 or something. I think I have 13 finishes. I've got to finish this guy. I can't go to a decision and be calling out the champ when I can barely get by the guy who just lost to him. I definitely need to make a statement."
As luck would have it, the last time Kennedy won via decision was against none other than Jason Miller, at an Extreme Challenge event in 2003. Lawler has had one fight go to the judges in that time frame, and that was against Ronaldo Souza in June '10. Souza beat Kennedy via decision in August 2010 – the only other time he's went the distance in a professional MMA bout. In other words, fights against anybody not named Souza usually result in a finish for both guys, and Kennedy likes the fact.
"Stylistically I think it plays into my strengths," he says. "Everybody underestimates his wrestling. His wrestling credentials are far superior to mine -- the level of competition that he wrestled [in college]. He's much more of an accomplished wrestler than I have ever been. So, I hear ignorant people say "you know, Tim's just going to try and take him down," and I'm like -- are you insane? Robbie's a really, really good wrestler. It's really hard. Like, if I don't score takedowns, the guy's going to murder me.
"It's not going to be that easy. It's going to be a back-and-forth battle, we're going to work in the clinch, we're going to be throwing big punches … so, it's definitely going to be a fight."
And very likely an early night for at least half of the competition.
May, 4, 2011
5/04/11
10:13
AM ET
Brian Stann
's story is well known by now.
He enrolled in the United States Naval Academy in 1999, when the world was nothing like it is now. Before Sept. 11, 2001, the kid out of Scranton, Pa., a hard-nosed middle linebacker for the Midshipmen, was, like the rest of his class, a future officer.
Post 9/11, Stann become something much more real, a future combat veteran.
"At that point, every single Midshipmen, once they graduated and moved on to their further training, knew they were going to deploy on combat operations," said Stann, square-jawed, straight out of central casting. "It wasn't going to be like they got deployed and went to Australia."
No one could have predicted he'd receive a Silver Star Medal from the President of the United States. But, for leading a platoon of men safely home, for accomplishing his task over a harrowing week in Iraq, he did. He served two tours before deciding it was time to focus on family, leaving the Corps in 2008 with the rank of captain.
Stann's mission these days is much more personal. He fights for himself, a middleweight contender in the UFC.
Following Sunday's historic mission to take out Osama bin Laden, ESPN.com asked the 30-year-old Stann, who is in Albuquerque training at Greg Jackson's camp for a bout May 28 against
Jorge Santiago
, for his perspective on the news.
Josh Gross:
The country was in a jubilant mood on Sunday night. I'm curious for your initial reaction to news of Osama bin Laden's death. And now that we're a couple days removed, how are you feeling about it?
Brian Stann:
I think it was an important war in the War on Terror, without a doubt. For me, I really hope that this can help continue the courses of action that have been taking place in the Middle East with what we saw that happened in Egypt, Bahrain, Libya, Syria and these other countries. I think the youth, young adults are sick and tired of the lack of freedoms that their current regimes and governments are providing them. They're actually starting to want and desire more freedoms like we see in the Western world. If they continue to move down that path I think you'll finally see a significant decrease in activity between the U.S. and some of those countries. I think we'll see terrorism go away. I really hope the death of Osama bin Laden is used appropriately by our media, by our country, by our CIA, by our military, etc., and we continue to help the people of Afghanistan and Iraq. And that's what we see happening in the Middle East, where we see countries moving towards governments allowing their people to live like we live here. Being over there for as long as I was, that was the first thing I noticed. I would never wish it upon a child to be born in Iraq. From the schools I saw. From the living standards. The daily life. It's just terrible when you compare it to some of the worst neighborhoods we have in our own country.
JG:
Aside from the geopolitical aspect of this -- and clearly it's an important one -- what about your visceral reaction as an American, as a Marine, as someone who was involved firsthand in being over there. What did you feel?
BS:
The bottom line is Osama bin Laden is a man who planned and helped execute attacks on innocent people. There are obviously people who are anti-America that said different things, but at the end of the day America, America's military and our allies do not plan and execute missions that specifically target innocent people, women and children. That's what terrorists do. That's why his death is significant. He is obviously a large figure in that movement. Those type of attacks. Things like that take place every day in the Middle East. We forget there hasn't been a terrorist attack on U.S. soil in about a decade. We're closing in on that. Knock on wood; hopefully that lasts. That's what Osama bin Laden did and that's why he had to be eliminated.
JG:
You served two tours in Iraq. Does part of you wish you were in Afghanistan? It seems like the conflict is a totally different one from in Iraq. The experience is different for Marines and troops there. Is there some yearning on your part to go participate?
BS:
There always is. I think anybody who serves specifically in a leadership role of some sort in a front line unit is always going to have survivor's guilt. It's something that I toy with every single day. It was a very difficult decision that I had to get out of the Marine Corps and stop leading Marines in combat. I certainly would have been in Afghanistan by now leading a company of Marines and it would have been an amazing opportunity to lead those men. But I chose to be a father and a husband first. Not that it's wrong to stay in the military; that was just my personal decision. I wanted to be around my kids as much as possible. It is definitely a decision that I will teeter-totter on for the rest of my life, but when I hold my daughters that always answers the questions for me.
JG:
The way this thing went down with the Navy SEAL Team Six, they seem to be as good as you get; did you have much interaction with the special operators? Was that something you considered going into and pursuing yourself?
BS:
Yes, I did have a lot of interaction with them in my first tour in Iraq. And a little bit in my second tour in Iraq. In fact,
Tim Kennedy
has become a very good friend of mine. We laugh about it. He operated with a unit that I interacted with a little bit in Al-Qa'im, Iraq, in 2005. We may have crossed paths and not even known it. It was something I considered. Every alpha male in the military always considered doing a tour with special operations. The Marine Corps has since come up with their own branch under the Special Operations Command. For me, my passion was more in leadership. When you go into special operations, officers in spec ops certainly don't have the same roles as they do in a typical infantry unit like they would in a Ranger unit or a Marine Corps infantry unit. So that's really the give up. Where I've had the opportunity to lead hundreds of Marines, in a special operations unit you're going to lead eight or 10 guys and they're all going to call you by your first name. It's different. It's something I considered. It's not something I got a chance to do. That said, the task force that is made up of Delta Force operatives and the best of the best of the SEAL community were certainly impressive when I worked with them.
JG:
I'm not a military person in that I've never been enlisted and I don't have family in the military. I've been around it because of MMA, but there seems to be a great disconnect between the military and the general population. Most Americans don't have someone in their lives that's connected to the military, so it's like watching from a distance. Do you think events like the bin Laden killing, or Army staff sergeant Salvatore Giunta being a living Medal of Honor recipient makes Americans more aware of the sacrifices that guys like you make? Or do you and the troops feels as if the outpouring of support is always strong?
BS:
No, I definitely feel the significant publicizing of these events helps. It reminds Americans who aren't affected by things that happening in the Middle East, that aren't being deployed and don't have family members being deployed. War is something that just by nature people don't want to think of. It's not even a fun thing to listen to on the news. If you don't have some kind of connection over there it's very easy for people not to think of the most horrible thing that takes place on this planet. I actually took comfort and would talk to my men about that. I said, "Listen guys, you do this so well that the American people don't have to focus on this as an everyday part of their lives. They don't have to worry about people coming onto our soil because you do your job so well." That's something I think is very rewarding for them. If you compare the American populace during the Vietnam war and the way they treated our troops to now, it's completely different. We still have many areas we need to improve on, but I think for the most part Americans are much more appreciative today than they were then of our troops, regardless of their thoughts on the conflicts overseas.
JG:
There was some incredible video circulating online of the reaction of Americans to the news on Sunday night, but a few stood out to me. The reactions in Annapolis and West Point seemed to be moments to cheer and shout and celebrate. What is the significance for the men and women in the military of bin Laden's death? How do you interpret that?
BS:
Well, it's a reaction like that because we're talking about a leader in a movement in a war that's cost the lives of many, many of their friends. Any military member who's enlisted on a base and any Cadet or Midshipmen who was located at an academy has friends that they no longer have anymore, that's not longer here, that's been killed. Especially those that are enlisted in our military, in many cases they've stood next to someone that's died in combat. When you experience a traumatic event like that it affects you for the rest of your life. I think that positive outpouring wasn't necessarily celebrating the fact that someone was just killed. It was more the significance of the moment. This leader, this person, this planner, this blow to al Qaeda and the Taliban, their way of life and their war on our way of life took a huge hit.
JG:
I know you can't speak for anyone else, but I imagine you have a good sense for the men and women on the front lines of Afghanistan and Iraq. How are they reacting to this news?
BS:
They're reacting very positive and the reason is this: In the war that we've experienced in Iraq and Afghanistan, with the tactics utilized of Improvised Explosive Devices, it makes it very difficult to encounter an enemy and go toe to toe with them. These frontline troops would love to have anybody from the Taliban or al Qaeda in a direct firefight, even if they have better terrain. The odds are most of the enemy encounters they'll make will be Improvised Explosive devices that will cause major damage to both our troops and civilians in that area. It's extraordinarily traumatic to be walking down the street one day, all of a sudden you're blown up, and when you come to three of your friends are gone or severely wounded. To see someone, and see a direct operation where it was straight conflict and we were able to eliminate some of the masterminds of these operations, it's very positive for those guys. When they're deployed for such a long time away from their families, even the slightest thing such as a piece of mail can increase their morale. So an event like this will fuel them for months to come.
JG:
You're preparing for your fight with Jorge Santiago. How is that coming along? It's not that far away. May 28 is coming up quick.
BS:
Things are going great. It's been the toughest camp I've ever had. Since I live away from Albuquerque, each time I come and do my camp I'm able to come in here, there's such great talent, and measure my skillset and measure my growth. These last two fights have really been a turning point where I've gone from a guy who came to the gym because I'm really still developing to where now I'm noticeably someone who's competing every single day with the top-level guys in the world and doing well. So I feel comfortable in all areas and my skills are finally catching up to my athletic abilities. I'm really anxious and very fortunate to fight a champion like Jorge Santiago and be the first one in the UFC to get to fight him [since 2006]. To be a guy who fights someone in the top 10 the last two years, I'm very lucky. The UFC certainly did not have to give me that fight. There are higher profile guys that could have gotten an opportunity to fight Jorge.