April, 3, 2013
4/03/13
6:23
AM ET

By Josh Gross
ESPN.com
Archive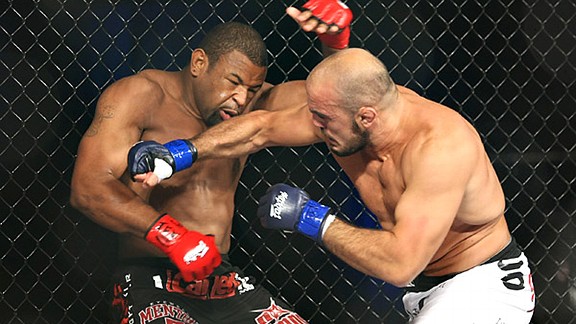 Keith Mills/Sherdog.comIlir Latifi, right, will play the role of "Rocky" in the UFC's upcoming card in Sweden.
It's easy to believe some mixed martial arts fans think of fighters a lot like racing fans regard the cars.
Just listen to them.
Lacerated under an eyebrow less than two weeks before a major fight? No big deal,
Alexander Gustafsson
. Head to the pits, glue that sucker up, voila, you're back on the track. If replacing a blown engine doesn't work, well, just hop in a prepped-and-tested backup car -- i.e., pull a fighter equal to Gustafsson's stature from a bountiful group of guys who are in shape, amenable to meeting a primed
Gegard Mousasi
on a week's notice, and are just fine cutting weight days after shuttling off to Scandinavia.
Sounds awesome, like everyone should jump at the chance to compete on Fuel TV -- UFC's least visible television platform -- against a killer, on short, short notice. Pay no attention to the fact that the vast majority of world-class fighters would never say yes in this situation, nor should they be expected to.
Judging by Tuesday's reaction to the news that Gustafsson was replaced by one of his training partners, an unknown UFC debutant, and based off similar reactions to this sort of thing in the past, there's clearly a segment among MMA fans who don't care about much beyond being entertained, even if that noble calling comes at the expense of the people they love to watch fight.
I couldn't digest most of what I read on Twitter after UFC president Dana White announced
Ilir Latifi
got the call against Mousasi. A lot of it was angry, selfish and cravenly out of whack. So I tweeted a request to anyone who decided to criticize the UFC for making Mousasi-Latifi. They needed to come up with a more appealing option. Right away. And "be happy Mousasi is fighting," I finished.
Most people weren't satisfied. Not even close. Hey, in some respect, it's easy to understand. Gustafsson-Mousasi looked like a terrific title eliminator, pitting the hometown fan favorite against an accomplished European making his UFC debut.
To go from that to a fight featuring Mousasi in the cage as a huge favorite over someone no one has heard of, well, that stinks. But that's all it does. Stink, and for no other reason than a fight we wanted to see on Saturday isn't going to happen. It's not some travesty. Not the end of the world or the beginning of the end of the UFC. This was a fight booked on a smaller card meant to capitalize off a local guy gunning to become the No. 1 contender at 205. Sometimes life doesn't go your way, which is why the card is always subject to change.
Why can't Gustafsson fight, @foote92 lamented?
Because he experienced
a serious gash underneath his left brow
on March 28, that's why. He's a human being, not a robot.
Several wondered why Gustafsson wasn't more careful during sparring sessions less than two weeks before the fight. Gustafsson wrote that he was injured while wrestling, so if you care to believe him, this had nothing to do with improper sparring too close to the fight.
Most of the contempt was aimed at the UFC's choice of Latifi.
@MiniKitson wanted "Shogun, Wanderlei, Manua [sic],
Tom Lawlor
,
Tom Watson
. Anyone."
"Shogun" [Mauricio] Rua has a fight lined up with
Antonio Rogerio Nogueira
in June. It's unlikely he's anywhere near fighting weight right now.
[+] Enlarge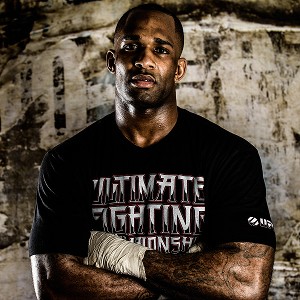 Martin McNeil for ESPN.comIt wouldn't have made sense for Jimi Manuwa to step up and fight Gegard Mousasi on such short notice.
Wanderlei Silva
, Mr. April Fool's Joke himself, just returned from vacation in Panama. He can claim he would have taken on Mousasi, but the UFC was smart enough not to offer it to him.
Jimi Manuwa
fought in February. While he doesn't have a bout lined up, Manuwa appears to be far too good a prospect to step in on short notice like this. It would be dumb for him to do so.
Tom Lawlor, a name mentioned as much as any I heard Tuesday, is a middleweight. His last fight was a bore, which he apologized for. For all his tweeting, Lawlor and his management didn't bother reaching out to UFC about the fight. That said, he presumably would have been in shape, because he's scheduled for the same card.
Who else?
Lyoto Machida
. Oh sure he'd do it, except he was too busy
tweeting photos of himself at Disneyland
over the weekend. I bet he's in the right mental frame of mind to fight.
Phil Davis
was mentioned a few times, as if training camps mean nothing. Davis is close to peaking for his fight against
Vinny Magalhaes
, whose style is the exact opposite of Mousasi's.
And on and on.
Perhaps YOU don't know Latifi, and so YOU assume the fight will suck and YOU won't be entertained. But if you're Swedish, then you have an underdog countryman to root for. Why would anyone in Stockholm want to watch Mousasi versus Lawlor?
If criticism can be found it's in the UFC's decision not to give Gustafsson until Friday to heal as it keeps Latifi ready on standby. Both fighters could have attended media day Wednesday. It would have been a different kind of story ahead of a card that could use some press. Instead, a decision was made, and Gustafsson won't get a shot at fighting no matter how much he coveted it. Another school of thought would suggest the full focus on Latifi over the next few days would give UFC a chance to build a story -- don't be surprised if he's passed off as a Swedish Rocky type.
Is that good enough to entertain fans, especially those who seem so desperate to be entertained? Keep it tuned to Twitter to find out, I suppose.
February, 16, 2013
2/16/13
10:30
PM ET
LONDON -- After a night of few finishes, but a number of exciting and entertaining bouts, UFC on Fuel TV 7 ended with a solid submission win from the interim bantamweight champ
Renan Barao
against
Michael McDonald
.
Though the Brazilian didn't at first appear as sharp or explosive as he had in his previous UFC fights, perhaps in part to McDonald's speed and skills, Barao turned up the heat when he saw the chance, defending his belt like a true champion and sinking in a bonus-winning arm-triangle choke in the fourth round.
"I'm a BJJ black belt. I know I have a good ground game and I knew he was feeling the pain," Barao said, explaining why he refused to give up on the choke even though his opponent seemed to be fine.
"I learned the difference between where I am now and where I want to be," McDonald said. "Today, Barao was the better martial artist," said McDonald.
While McDonald clearly proved he belongs at the top of the division, troubling the interim champ a few times with his power, it was Barao who really made a statement at Wembley Arena.
Showing a versatile skill set and an ability to evolve his strategy as the fight progressed, Barao's win streak extended to an impressive 20 victories. His submission over McDonald acted as both a proclamation to the rest of the division as well as a sharp reminder for the still injured
Dominick Cruz
.
"Dominick is terrified right now," UFC president Dana White said. "All you guys have been reporting that I said he's going to have to retire and that is not what I said so I've been having to explain to him what's going on. We're hoping that Dominick will be ready for the summer so he can face Barao. That's the plan."
Barao is a tough fight for anyone, especially as he continues to add to his already impressive set of skills, but it's an even tougher fight for Cruz returning from such a long layoff. There's no doubt it'll be a fantastic clash of styles, but against a fighter as determined as Barao has been to maintain his championship gold, Cruz's return to the Octagon will be a big ask.
Swanson happy just to entertain the fans
Cub Swanson
once again showed an aggression and passion for his work against
Dustin Poirier
as he fought his way to a well-earned unanimous decision. Sporting a pair of shades to the post-fight press conference, Swanson revealed that it's all about the fights at this point in his career.
[+] Enlarge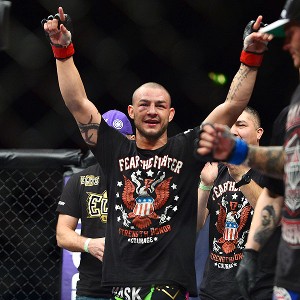 Martin McNeil for ESPNForget about rankings or title shots, Cub Swanson, who defeated Dustin Poirier by decision, believes it's all about providing entertainment.
"After my injury I realized all this could go away and be over just like that," Swanson said. "I'm not messing around anymore. Every fight I fight like it's my last."
While many are thinking Swanson's gritty victory over Poirier likely places him near the top of the title shot pile, the Team Jackson fighter wasn't fazed by the prospect.
"I am just happy to entertain the crowd," Swanson said. "I don't care where I am in terms of the title right now. I just want to go in and give the best performances I can and be the best fighter I can be."
It's an admirable principle for Swanson, but in terms of Joe Silva's matchmaking and the fans' desire to see
Jose Aldo
constantly tested, Swanson's hard work and aggressive instincts definitely have him on the radar as a potential challenger.
A tough night for the Brits
It was not the best night for the British fans and their native fighters. Well, all except one.
While the hugely popular
Paul Sass
and
Terry Etim
struggled to mount much offense in their respective bouts -- both losing by unanimous decision for their second straight defeat --
Tom Watson
stood up and stamped his mark on the middleweight division.
Displaying a fantastic strategy against
Stanislav Nedkov
, Watson took control early on in the fight. Though he was nearly stopped at the end of the first round, his reply brought the crowd to their feet. He shrugged off Nedkov's ground and pound and came out in the second with a renewed vigour, employing a brutal clinch game to take the victory deep in the second round.
"People who fight him are scared of him," Watson said. "I wanted to push the pace and show him that I'm not scared."
After a display that earned him two bonuses, Watson then set about calling out TRT users in his post-fight interview, explaining that he felt too many fighters were using it unfairly.
"You can't put TRT on your chin or in your heart," Watson said. "I've got a big heart and I'm happy to fight any one these guys."
While Watson's opinions chimed with White's thoughts on TRT, it was the British middleweight's rugged and tough performance that earned him the plaudits from the fans and the UFC itself. Watson laid out a marker for the rest of the up-and-coming 185ers.
Bonuses, Bits and Bobs
The UFC once again broke records in the UK, taking an impressive $1.3 million on the gate and seeing 10,349 die-hard fans pack Wembley Arena.
Watson took home honors for both fight and knockout of the night, earning him $100,000 in bonuses. Barao took home $50,000 for submission of the night.
Though there were only two finishes on the entire card, White said that "if the fans are happy, I'm happy. And the fans seemed happy tonight."
As usual, White fielded plenty of questions about more events, including both Brazil and the British Isles.
"Brazil is the hottest market right now, Lorenzo [Fertitta] will be spending a lot of time down there working on setting up the infrastructure," White said, before answering similar enquiries about the UK. "I keep telling you, Garry Cook is the man. He is buttoning up the TV deal here and we're looking at setting up a three-year plan for venues all over the country."
Clearly the UFC expansion is not slowing down anytime soon.
May, 21, 2011
5/21/11
7:29
PM ET
By Mick Bower/Sherdog.com
ESPN.com
Archive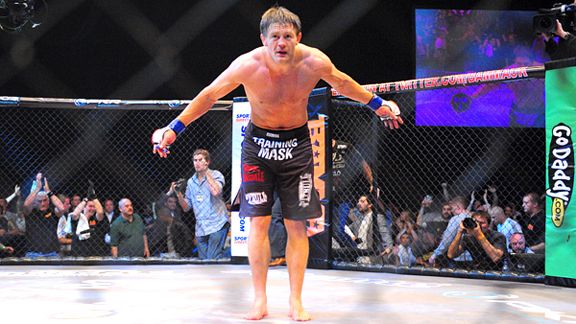 Martin McNeil for ESPN.comGrit Britain: Tom Watson survived a few rough spots in a Wembley thriller Saturday.
LONDON -- British Association of Mixed Martial Arts middleweight champion Tom Watson put on a career-best performance as he stopped Murilo Rua in the third round of the BAMMA 6 main event on Saturday at Wembley Arena.
Watson and Rua went to war in Round 1. Rua ate a brutal right hand that rocked him, but he stormed back into the fray. In the second, Watson stepped up his pace, as his chopping kicks to Ninja's lead leg caused the Pride Fighting Championships veteran to hobble uncomfortably. It looked like it was only a matter of time before the Englishman's attack caught up with him.
Round 3 followed the same script. A forlorn Ninja, urged on by younger brother and cornerman Mauricio Rua, went for one last takedown attempt. It failed, and his time was up. A crushing kick knocked the Brazilian's head back and left him staggering. Referee Marc Goddard intervened but not before a couple more punches hit their intended target.
"My coaches told me not to get into a brawl with him," Watson said. "Ninja's always dangerous. The first time I caught him, I wasn't sure if he was gone. It was tempting, but I bided my time. I knew I'd catch up with him in a five-round fight, so I waited for the opportunity. Then, when he was completely gone, I jumped on him."
In the co-main event, UFC veteran Frank Trigg took down John Phillips in their first engagement -- a wise move when fighting someone nicknamed the "White Mike Tyson." He went on to land some hellish elbows, one of which opened a cut above the eye and convinced the doctor to call a stop.
Trigg, who has won back-to-back bouts since being released by the UFC in 2010, insisted he was aiming to take out the Welshman on the feet.
"The plan was to take him into the later rounds," Trigg said. "He's got great power, but I have very straight, clean punches. We'd noticed a few holes appear the longer he goes, so I would have been able to take advantage of that."
Phillips was disappointed but understood the doctor's decision.
"I thought I could have gone on," he said. "When the ref came over, I thought he was just standing us up. I'm not going to complain, though. The doctor did his job. I'm not going to complain."
Boos and slow hand claps accompanied the middleweight contest between Ivan Salaverry and Matt Ewin, as the Brit took center cage and Salaverry circled for much of the match.
Ring rust may have been to blame for the lack of action, as the pair of 40-somethings failed to land much of anything of note. A first-round overhand right, a takedown against the fence, Salaverry's bloodied nose and a slightly more aggressive approach were likely the factors that swayed the judges to render a unanimous decision in Ewin's favor.
Salaverry, who came out of retirement for the bout, had not fought since submitting to a Rousimar Palhares armbar at UFC 84 three years ago.
May, 20, 2011
5/20/11
3:59
PM ET
By Brian Knapp/Sherdog.com
ESPN.com
Archive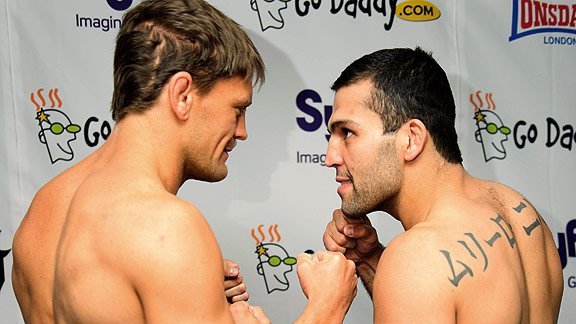 Martin McNeil for ESPN.comWeight's over: After hitting the scale successfully, Tom Watson and Murilo Rua are set to fight.
British Association of Mixed Martial Arts middleweight champion
Tom Watson
checked in at 184.5 pounds for his scheduled title defense against Pride Fighting Championships veteran
Murilo Rua
(185) in the BAMMA 6 main event on Saturday at Wembley Arena in London.
The two headliners hit the scales and met their mandated weight requirements without incident at Friday's official weigh-in.
Watson (13-4, 3-0 BAMMA) last appeared at BAMMA 4 in September, when he defended the promotion's 185-pound crown in a unanimous decision over Alex Reid at the National Indoor Arena in Birmingham, England. The 28-year-old has posted nine wins in his past 10 outings. Watson, who has spent time training at the Tristar Gym in Montreal and Jackson's Mixed Martial Arts in Albuquerque, N.M., owns notable victories against former International Fight League champion Matt Horwich and EliteXC alum Travis Galbraith.
Spawned by the Chute Boxe Academy, Rua (20-11-1) has not fought since October, when he lost a unanimous decision to Roy Boughton under the Warrior-1 MMA banner; the defeat snapped a four-fight winning streak for the well-traveled 30-year-old Brazilian. A Brazilian jiu-jitsu black belt and potent finisher, Rua has secured 18 of his 20 career victories by knockout, technical knockout or submission. He held the EliteXC middleweight championship for three months in 2007.
BAMMA 6 will also feature a pair of middleweight tilts, as UFC veteran
Frank Trigg
(184.5) meets John Phillips (186) and
Ivan Salaverry
(186) comes out of retirement to face Matt Ewin (184.5). The 40-year-old Salaverry last appeared at UFC 84 in May 2008, when he submitted to a first-round armbar from
Rousimar Palhares
at the MGM Grand Garden Arena in Las Vegas.
For Sherdog's full list of weigh-in results,
click here
.