March, 25, 2012
3/25/12
8:46
AM ET

By Chad Dundas
ESPN.com
Archive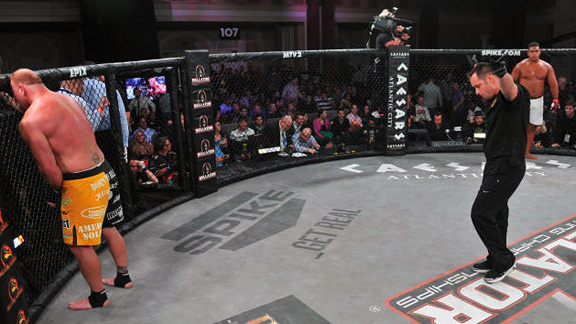 Courtesy BellatorThe Bellator heavyweight tournament hit a road block the moment this happened.
Throughout its first handful of seasons, the tournament format has been pretty good to Bellator Fighting Championships.
At the outset, Bellator's tournaments set it apart from the rest of the non-UFC MMA pack, giving fans an easily digestible concept to latch onto while effectively disguising a lack of organizational depth.
All of that was obviously to the company's benefit, but in light of recent events I can't help but wonder if Bellator has outgrown its current seasonal format and might be better off moving in a different direction when it takes up with SpikeTV next year.
Never has the need for change been more apparent than Friday, when Thiago Santos failed to make weight for his scheduled heavyweight tournament final against Eric Prindle. Santos' weigh-in snafu scuttled the already delayed end of Bellator's season five 265-pound draw and awarded victory to Prindle, who will now advance to face champion
Cole Konrad
at a later date.
For Bellator, it's about the worst outcome imaginable for a heavyweight tournament it spent the last six months trying to build. For nearly the last four of those months, we'd been waiting for the Santos-Prindle redux, after their original Nov. 26 bout was ruled a no contest when Prindle suffered a low blow that landed him the hospital.
Company brass tried to make it right last week, but were again forced to delay the fight because Prindle was reportedly suffering from the ever-popular "flu-like symptoms." On Thursday (which amounted to Bellator's third try with this pairing), Santos badly missed the 60-pound window proscribed to heavyweights -- checking in at a reported 276.8 pounds -- and the matchup was scrapped for good.
Prindle wins. Kind of. Not really.
In any case, the whole thing has been a lot of trouble for a tournament that will now never see it's conclusion.
[+] Enlarge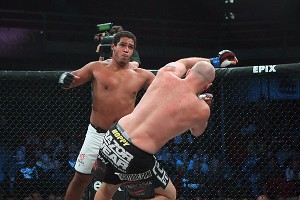 Sherdog.comThiago Santos, left, threw a wrench into the Bellator heavyweight tourney by showing up overweight.
You certainly have to feel bad for Bellator, an assumedly good-hearted organization made up of assumedly good people who all seem to be trying as hard as they possibly can to grow into a legitimate runner-up to the UFC. Unfortunately, marooned as it is on MTV2 until it can make the transition to Spike, Bellator continues to exist in a kind of strange suspended animation.
In this one instance, maybe that's a good thing. Had anyone been paying attention, the Santos-Prindle debacle would have been a major embarrassment. Fortunately, that doesn't necessarily seem to be the case. After last week's Bellator 61 drew a reported audience of just 108,000 -- the company's second-worst rating ever -- it's tough to argue that a significant number of people would've noticed even if Prindle and Santos had made it to the cage at Bellator 62.
As it stands, maybe all Santos' gaffe did was underline the flaws in Bellator's current format in a way few people saw, or will remember if the promotion goes on to find success on a channel with a well established track record in MMA.
If Santos had dropped out of a No. 1 contender fight in any other fight company, officials could have just subbed in somebody else, stubbornly insisted that the fight would still determine Konrad's next opponent and called it good. When you brand something as a "tournament" however, you can't really do that.
In a tournament, fans naturally expect there to be a beginning, a middle and -- in a perfect world -- an end. In other words, they expect some modicum of consistency. When you're dealing with MMA and especially with the heavyweight division (a weight class that is constantly pioneering new and interesting ways to screw up) consistency is awfully hard to come by.
Because of that, it might be better for Bellator to drop the tournament format entirely moving forward. Doing so would give it more matchmaking freedom and would never again put it in a position where it has to admit it can't finish what it started.
At the very least, it's clear that Bellator needs to have contingency plans in place for when disaster strikes. Having alternate fighters at the ready at all times might be a good start.
On the bright side, perhaps incidents like this one give Bellator the chance to pinpoint what's wrong and make the appropriate changes before next year, when (hopefully) more of the MMA world will be watching.
July, 19, 2011
7/19/11
1:57
PM ET

By Chad Dundas
ESPN.com
Archive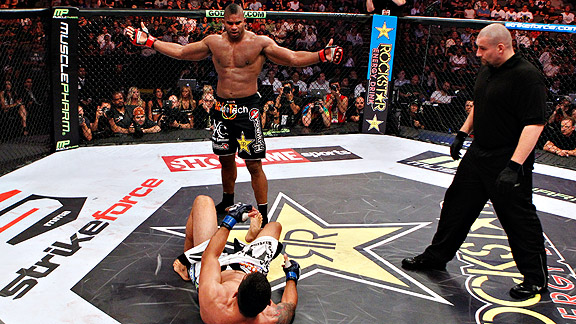 Esther Lin/Getty ImagesDown and out: The Strikeforce GP never managed to get off the ground.
We knew this would never work.
From the moment of its unveiling back in January, the Strikeforce heavyweight grand prix tournament struck us all an ambitious, shoot-the-moon gambit from a company best known for organizational chaos. The bracket looked admittedly epic, but before a single fight had been staged the doubters were lining up to point out the many ways it might fail.
Conventional wisdom said there was simply no way to get three superstars as notoriously flighty as
Fedor Emelianenko
,
Josh Barnett
and
Alistair Overeem
to sit still for a tourney that would take at least three events and a full year to finish. No way Strikeforce could avoid disaster long enough to pull off a gesture this grand. No way, no how.
Score one for conventional wisdom. With the sudden removal of Overeem from the field on Monday, it's clear we were right to be suspicious of this tournament, even after Zuffa's purchase of Strikeforce brought an added aura of legitimacy and even feasibility to the proceedings.
Prior to this year, Overeem had fought just once in Strikeforce since winning the promotion's heavyweight title back in 2007, so it should come as no real surprise that after just one appearance in the grand prix, he's already talking about bolting to chase a fanciful fight with a Klitschko brother or go back to kickboxing or some other endeavor that could conceivably make him more money.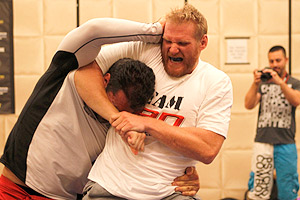 Ric Fogel for ESPN.comLocked down: Josh Barnett might be the only person with reason to smile about Strikeforce's misfortune.
We should also not be shocked that with the ink barely dry on the quarterfinals, the grand prix now appears damaged beyond repair. We hate to say we told you so, but just about everything that could go wrong with this tournament, has.
The opening round took four months to complete and even though Strikeforce stacked one side of the bracket with Emelianenko, Overeem and
Fabricio Werdum
-- ostensibly because not even the company believed it could get two out three all the way to the final -- Emelianenko's loss in the first round to
Antonio Silva
scuttled reported plans to put the semifinals on pay-per-view. One of the participants best known to casual fans,
Andrei Arlovski
, got knocked out by
Sergei Kharitonov
in the first round and Overeem's only appearance was an absolute stinker against Werdum in June.
There was also bad news out of the cage. First Shane del Rosario had to put his MMA career on hold after being hit by drunken driver, then
Brett Rogers
was arrested on domestic violence charges just a couple weeks after losing to Barnett in the tournament's first round. All that is to say nothing of the grand prix's very murky "alternate system," or the even murkier "competition committee" we were told was overseeing things. As if that was meant to reassure us.
Officially, Overeem is out owing to an injured toe, though the conspiratorial buzz (about his contract, a possible UFC crossover and whether or not he's using threats to leave MMA for boxing as a
Nick Diaz
-style negotiating chip) has been thick ever since his appearance on AOL's "MMA Hour" on Monday. Zuffa brass moved quickly to quash some of those rumors, confirming that Overeem is still legally bound to Strikeforce for at least one more fight and they're intent on having him fulfill the deal as written. Sounds like "The Reem" won't be going anywhere for a little while.
What he leaves behind, however, is a tournament badly hurt by his withdrawal. Don't get me wrong, Silva is a Top-5 heavyweight,
Daniel Cormier
is a blue-chip prospect and Barnett is more relevant
now
than he has been in years. A tournament win for any of them will still be newsworthy, but after Emelianenko's unceremonious exit, Overeem was the real show here. As the Strikeforce heavyweight champion and the top-ranked fighter still in the field, much of the drama left in the bracket concerned whether he could live up to expectations and make his case as a viable candidate for a world No. 1 ranking.
In a sadly predictable way, Overeem being forced out midstream did in fact live up to our expectations for this tournament. We knew all along it was doomed, and it was.
Sometimes it stinks to be right.