October, 17, 2011
10/17/11
2:48
PM ET

By Franklin McNeil
ESPN.com
Archive
Heavyweight Pedro Rizzo revealed on Monday he has suffered an arm injury that forced him to withdraw from a Nov. 5 fight with
Tim Sylvia
.
"Unfortunately, I got injured training here in Holland, had a partial tear in the triceps tendon of my left arm," Rizzo said via his Twitter account. "I am in the prime of my condition and I'm really very frustrated with what happened."
The 37-year-old Rizzo hasn't fought since July 2010 when he registered a first-round TKO of
Ken Shamrock
in Sydney, Australia. Rizzo (19-9) is currently on a three-fight win streak.
His fight with Sylvia was to headline ProElite 2 at i wireless Center in Moline, Ill. Sylvia will now face Andreas Kraniotakes.
During his most recent fight, Sylvia stopped Patrick Barrentine in the first round on Aug. 20. The former UFC heavyweight champion is 29-7.
The ProElite 2 co-feature pits heavyweight
Andrei Arlovski
against Travis Fulton. Arlovski (16-9) will enter the fight on a high note. He halted a four-fight skid with a third-round TKO of Ray Lopez on Aug. 27.
September, 30, 2011
9/30/11
10:57
AM ET

By Chad Dundas
ESPN.com
Archive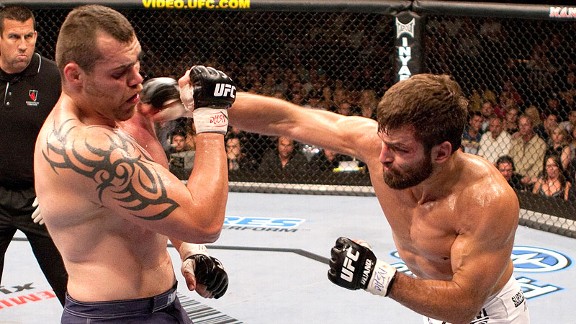 Josh Hedges/Zuffa LLC/Getty ImagesRetreads like Andrei Arlovski, right, and Tim Sylvia aren't the best fighters to build a promotion around.
After some initial confusion, a second scheduled event from the reincarnated ProElite organization began to take shape this week with a flurry of fight bookings reported by multiple sites.
Early rumors had
Tim Sylvia
and
Andrei Arlovski
headed for their fourth meeting on Nov. 5 in Moline, Ill., but now it's believed Pedro Rizzo will meet Sylvia. Meanwhile, Arlovski will fight the prolific Travis Fulton. Lightweight prospect Reagan Penn and well-known female fighter Tara LaRossa are both also scheduled to appear.
In other words, just as you might expect from a fledgling, second-tier organization, it's sort of a mixed bag. Unfortunately, these bouts don't seem to represent a step forward for the company after a fairly successful August debut.
For the second consecutive time since its purchase by the Stratus Media Group earlier this year, ProElite appears to be relying heavily on a bevy of UFC retreads to carry the top part of its card. That's fine for a small-time independent promotion, but it's probably not the right approach if ProElite wants to quickly ascend to the level the Bellators or even the UFCs of the world.
This seems doubly true when you consider that this latest foursome of old school vets is even less relevant than guys like Joe Riggs,
Kendall Grove
and Drew McFedries, who ProElite tabbed for its first show.
Rizzo, after all, is 37 and hasn't fought since he defeated
Ken Shamrock
in July 2010. He talked wistfully of a UFC return during UFC: Rio, but remains some 10 years removed from his fighting prime. For his part, Sylvia has been more active, but hasn't even made the 265-pound heavyweight limit since he got knocked out by
Fedor Emelianenko
in 2008. It's pretty hard to stay on the tips of fans' tongues when you're not fighting in a division they recognize.
[+] Enlarge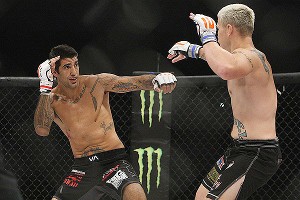 Dave Mandel/Sherdog.comKendall Grove-Joe Riggs proved an entertaining affair for ProElite's first event back in the mix.
After losses in four of his last five fights, we all know the story on Arlovski at this point. And Travis Fulton? He's, well, Travis Fulton. His official record is currently listed at 247-48-10. Enough said.
If ProElite wants to be seen as an up-and-comer on the MMA scene, it might be better off trying to nurture its own stars in the mold of Bellator and the money it spends on recognizable names should go to athletes in their primes -- guys like
Nate Marquardt
and
Paul Daley
-- instead of investing in people who feel like they're fast approaching the end of their careers.
At the very least, the matchups should be compelling. Not sure if Sylvia versus Rizzo and Arlovski versus Fulton quite fit that bill, either.
Not that all the news here is negative for ProElite. There has been talk that the promotion might organize an eight-man tournament of mostly unknown heavyweights, which could be interesting if it's promoted properly. The company also appears to have a couple of good young fighters in Penn and heavyweight Mark Ellis and reports say organizational brass are talking to cable channels about the possibility of putting this second event on TV. All the more reason to create an interesting card.
For a promotion that was dead in the water this time last year, ProElite has already accomplished a lot. You just have to wonder how bright the company's future will be so long as it continues to invest in stars of the past.