October, 15, 2011
10/15/11
9:44
PM ET

By Josh Gross
ESPN.com
Archive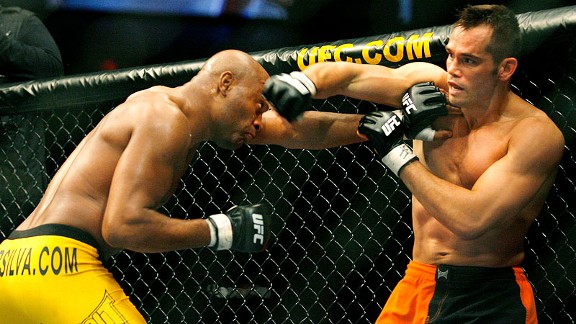 Ed Mulholland/US PresswireWins over Rich Franklin were signs of things to come from Anderson Silva.
Friday marked the fifth anniversary of
Anderson Silva
's hostile takeover of the UFC middleweight championship. He has since defended the title a record nine times, often in spectacular fashion, and at the age of 36 continues to accomplish things followers of mixed martial arts have never seen before.
Though he seems capable of fighting forever, Silva's handlers suggest the long-limbed Brazilian sniper will compete just four times more before calling it a career. If that's true, each remaining contest needs to be regarded as an event, something special. With rare exception, this is not a fighter who takes punishment to win. Just the opposite. He dishes it out in ways that scramble the mind.
In recognition of arguably the best fighter in mixed martial arts history, here are five defining moments of Silva's UFC reign.
Fractured Franklin
Of course it starts here. There's no point in separating Silva's equally violent finishes against
Rich Franklin
. They should be remembered together for their brutal, exacting efficiency. Silva won the UFC belt in his second fight with the organization. Franklin (22-1 at the time of the first encounter in Las Vegas on Oct. 14, 2006) appeared as if he'd never been in a fight before the way Silva treated him. It's quite honestly shocking and a testament to Franklin's resilience that he chose to fight again after having his face rearranged the way it was. In the rematch a year after losing the title, Franklin wasn't any better, and again succumbed to knees from the clinch. The message was clear: don't step in the cage with Silva unless you're willing to suffer the consequences.
Manhandling Marquardt
Sandwiched between the Franklin exclamation points, Silva was tasked with two title defenses. The first failed to materialize because
Travis Lutter
couldn't make weight to secure the biggest opportunity of his career. So it would be the second when Silva affirmed his status as UFC champion.
Nate Marquardt
was thought by some to have a legitimate shot of knocking off Silva. Nope. It wasn't close. Silva toyed with Marquardt and stopped him late in the first.
Hammering Henderson
In terms of perceived threats, none loomed larger over Silva than
Dan Henderson
. If anyone was unconvinced of Silva's greatness when he stepped into the cage to meet the former Pride middleweight champion on March 1, 2008, they could not have remained so afterwards. Silva felt the brunt of Henderson's challenge early, fending off takedowns and, by most accounts, losing a rare round. But when action shifted to Round 2, Silva was typically brilliant. He denied Henderson's takedowns, unloaded with heavy, accurate punches, and secured a capping rear-naked choke. There was no denying it, Silva was putting together a special run.
Stunning Sonnen
Chael Sonnen
didn't care what Silva pulled off in past fights, and he fought that way over the course of four-plus rounds in last year's dramatic championship contest in Oakland. Silva took over 200 punches as he drowned underneath the powerful wrestler. But those struggles didn't indicate a decline in skill or lack of will. Not at all. Not after the stunning truth was revealed late in Round 5 with a triangle choke submission. Silva will have to manage something otherworldly in his next four fights to top what he did against Sonnen, and many will rightly regard this summer night as the finest of Silva's career.
Battering Belfort
As if just to remind us that he's capable of anything, Silva snapped off a front kick to Belfort's jaw in February. It was a brutal finish of a man who had never been knocked cold before, and it said that the Sonnen fight wasn't the start of his decline. Just the opposite. Silva is as dangerous as ever. He reaffirmed that in August against
Yushin Okami
.
October, 13, 2011
10/13/11
4:03
PM ET

By Franklin McNeil
ESPN.com
Archive
Former UFC middleweight champion
Rich Franklin
underwent surgery Wednesday to repair a torn labrum in his right shoulder, according to manager TJ Stewart.
The operation, which took place in Cincinnati, was deemed successful.
"I spoke with Rich; he's feeling great and as soon as the doctor gives him the go-ahead, he's ready to start training again," Stewart said on Thursday. "If everything goes as expected, UFC fans could see Rich Franklin back in the Octagon in late summer [of 2012]."
Franklin, who now competes as a light heavyweight, suffered the injury in September during a grappling practice session.
The injury occurred weeks after Franklin was scheduled to compete Aug. 6 at UFC 133 in Philadelphia. Franklin was slated to face
Antonio Rogerio Nogueira
in the co-feature bout.
But Nogueira was forced to pull out of the fight in July after suffering a shoulder injury. Franklin (28-6, with 1 no contest) was removed from the card shortly thereafter.
Since his TKO loss to middleweight champion
Anderson Silva
at UFC 77, Franklin has struggled to find consistency.
After a TKO victory over
Travis Lutter
at UFC 83, Franklin left the middleweight ranks to compete at light heavyweight. He is just 3-3 fighting above the 185-pound limit; two of his bouts were at a 195-pound catchweight.
Franklin was on the short end of a unanimous decision Feb. 5 against former 205-pound champion
Forrest Griffin
. It is the last time Franklin has competed inside the Octagon.