May, 12, 2012
5/12/12
12:01
AM ET

By Franklin McNeil
ESPN.com
Archive
Daniel Straus
won the Bellator Season 6 featherweight tournament title Friday night in Atlantic City, N.J., with a unanimous decision over
Marlon Sandro
.
Two judges scored the fight 30-27, while the third had it 29-28. ESPN.com scored the fight for Straus 30-27.
Straus was able to keep a majority of the bout standing, where he utilized good footwork and a right jab to avoid Sandro's hard overhand rights.
But Straus also showed that he wasn't afraid to compete with Sandro, a skilled jiu-jitsu practitioner on the ground. He attempted several takedowns.
And in the final round, after surviving a standing submission attempt by Sandro, Straus tossed his foe to the ground and attempted a rear-naked choke. Sandro survived the choke as the horn sounded to end the fight.
Despite the victory, Straus was in no mood to celebrate.
"I'm going to keep improving," said Straus, who upped his professional record to 20-4. "I have to get a lot better. It wasn't the best fight in the world."
The loss snaps a three-fight win streak for Sandro, who is now 22-4.
As a result of capturing the tournament title, Straus secures a shot at the featherweight championship.
He will face either champion
Pat Curran
or top contender
Patricio Freire
. Bellator CEO Bjorn Rebney said Friday night that he is targeting an August bout for Curran and Freire.
Galvao gets job done versus Marx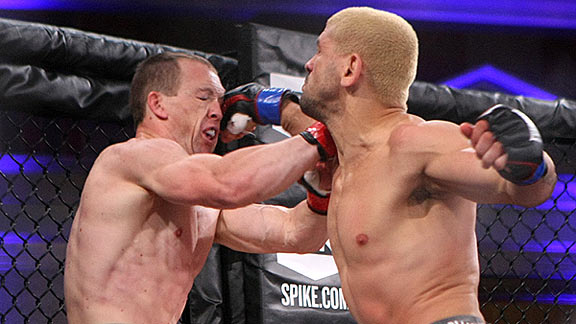 Keith Mills for Sherdog.com Marcos Galvao, right, pushed the pace in a winning effort against Travis Marx.
Bantamweight
Marcos Galvao
took a step closer to fulfilling the promise he made to his dying mother in March.
Galvao rarely took a backward step en route to a unanimous decision over Travis Marx. The win sends Galvao to the Bellator Season 6 Bantamweight finals.
All three judges scored it 29-28 for Galvao, who improved to 12-5-1. ESPN.com also had the bout for Galvao 29-28.
"That win was for my mom," Galvao said. "Her birthday was on Thursday, this is for her.
"It's been my dream since my childhood. I know I'm going to win this tournament. It'll be for my mom."
Galvao impressed the judges with hard kicks to Marx's thigh. He also landed hard right hands and stiffed several takedown attempts.
Marx falls to 19-4.
April, 6, 2012
4/06/12
10:54
PM ET

By Franklin McNeil
ESPN.com
Archive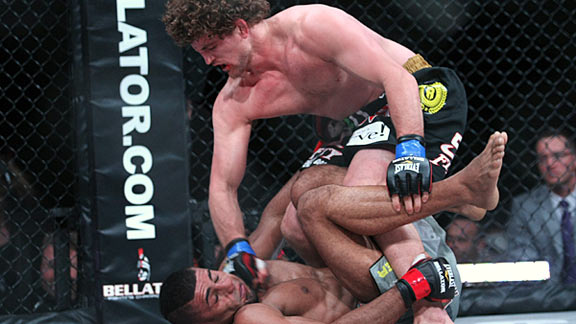 Keith Mills for Sherdog.com It wasn't pretty, but Ben Askren's wrestling proved effective against Douglas Lima.
There is absolutely nothing exciting about Ben Askren's fighting style. But it works.
Throughout his brief mixed martial arts career, Askren easily takes opponents to the ground and smothers them.
And that is exactly what the defending welterweight champion did Friday night against top contender Douglas Lima at Bellator 64 in Windsor, Ontario, Canada.
Askren methodically took Lima to the ground repeatedly during their five-round title bout en route to a unanimous decision at Caesars Windsor Hotel and Casino.
And when he got Lima on the ground, Askren controlled the action. Once in a while Askren would connect with right hands, but none of his strikes did much damage.
It didn't matter. Askren retained his title by winning every round on the judges' scorecard.
All of them scored the fight 50-45 for Askren. ESPN.com also had the champion winning 50-45.
Despite the lopsided scoring, fans inside the arena were disappointed with the lack of action. They booed loudly each time the fighters hit the canvas.
Askren, however, was undaunted and offered a harsh response to fans who did not appreciate his effort.
"I was told you Canadian fans like fighting and I haven't seen anybody look that good in a long time," said Askren, who successfully defended his title for the second time. "If you don't like the ground work, there is a sport they call boxing; that's not as fun, though."
Askren improved to 10-0. Lima slipped to 21-5 after having his win streak halted at nine.
Not everyone inside the arena was down on Askren's performance. Bellator CEO Bjorn Rebney sang the champion's praises after the fight.
"Utter dominance again," Rebney said. "He makes world-class fighters look like they are just beginning."
Sandro beats Bezerra by split decision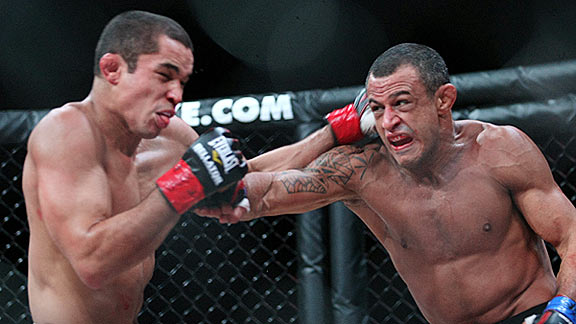 Keith Mills for Sherdog.com Marlon Sandro, right, was made to work in order to earn a place in the Bellator final.
Marlon Sandro
had won two fights in a row since his second-round knockout loss to
Pat Curran
in August 2011.
But a two-fight win streak did nothing to erase the pain he felt after that loss.
Sandro used the pain as extra motivation against Alexandre Bezerra in their Bellator Featherweight Tournament semifinal bout.
The extra motivation allowed Sandro to land hard right hands and avoid counterstrikes from Bezerra in the first two rounds. It also served to help Sandro survive hard punches from Bezerra in the third round for a split-decision win.
Two judges scored the fight 29-28 for Sandro (23-3); while the third had Bezerra winning 29-28. ESPN.com had Sandro winning 29-28.
But while Sandro jumped for joy after his name was announced as the victory, fans inside the arena were not impressed. They booed loudly after the fight became official.
Sandro was not happy with the crowd's reaction.
"This is very hard," Sandro said to the crowd. "He was a tough guy. I came here to put on a good fight for everybody."
Underdog Marx earns spot in semifinals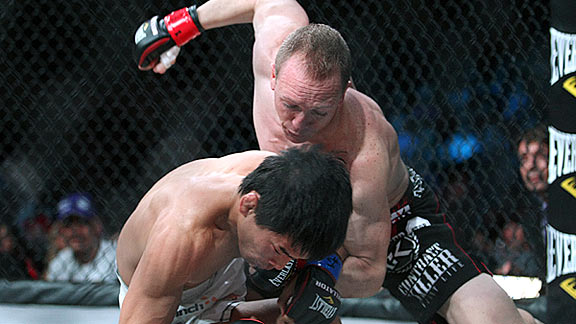 Keith Mills for Sherdog.com Daniel Marx, top, put his wrestling skills to good use in upsetting Masakatsu Ueda.
Travis Marx was the last man chosen to participate in Season 6 of Bellator's Bantamweight Tournament. And he wasn't expected to survive veteran
Masakatsu Ueda
in their quarterfinal match.
But Marx was undaunted by the challenge and used his superior size and wrestling skills to control Ueda on the ground en route to a unanimous-decision victory and spot in the tournament semifinal round.
All three judges scored the fight 29-28, allowing Marx to improve to 19-3.
"I never perceived myself as the underdog," Marx said. "I came out here wanting to win it and that is what I did."
Nakamura hands Lima first pro loss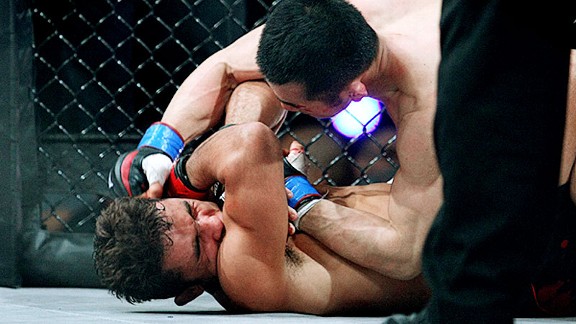 Keith Mills for Sherdog.comHiroshi Nakamura's work from the top helped sway the judges in his favor.
Fighting in North America for the first time and against a young, aggressive opponent was more than enough to give Hiroshi Nakamura butterflies early in his bantamweight tournament quarterfinal bout.
But after taking Rodrigo Lima to the canvas early in the opening round and avoiding numerous submission attempts throughout the fight, Nakamura overcame his initial uneasiness to earn a unanimous decision.
All three judges scored the fight 29-27.
"This is my first time in North America, so I was feeling a little uncomfortable at the beginning," Nakamura said after improving to 15-5-4. "But now I've gotten over that and feel comfortable going into the second round."
Lima had a point deducted by referee Yves Lavigne in Round 2 for a knee below the belt.
Lima entered the bout undefeated and determined to use his aggressive fighting style to offset Nakamura's experience. His pushed hard during standup action, but was taken down repeatedly.
Lima falls to 10-1.