October, 22, 2011
10/22/11
11:52
PM ET

By Franklin McNeil
ESPN.com
Archive
Alexis Vila
was a bit more aggressive early and held on late to earn a split decision Saturday night over
Marcos Galvao
in a Bellator Season 5 bantamweight tournament semifinal in Yuma, Ariz.
Two judges scored the fight 29-28 for Vila while the third saw it for Galvao, 30-27. ESPN.com favored Vila 29-28.
A majority of fans in the crowd at Cocopah Resort and Casino disapproved of the decision.
Galvao showed a lot of respect for Vila's punching power during the first two rounds. He refused to attack Vila aggressively, most likely to avoid opening himself up to hard strikes.
Vila (11-0) has made a name for himself as an aggressive, hard-hitting puncher. He entered the semifinal bout with six knockouts in a row. But Vila picked his spots in this fight, throwing punches only when an opening in Galvao's defense was available. He focused primarily on overhand rights, but connected with a few kicks.
Being the more active fighter in the first two rounds would prove beneficial for Vila.
Galvao, sensing he might be behind on the cards, began to come forward and press Vila in the third round by throwing right kicks and knees.
The strikes were hitting their marks and Vila showed signs of tiring. Vila was slow with his takedown attempts and began breathing hard midway through the round.
But Galvao's third-round aggression was too little, too late. It wasn't enough to overcome his slow start.
Galvao falls to 10-5-1.
Aggressive Dantas edges West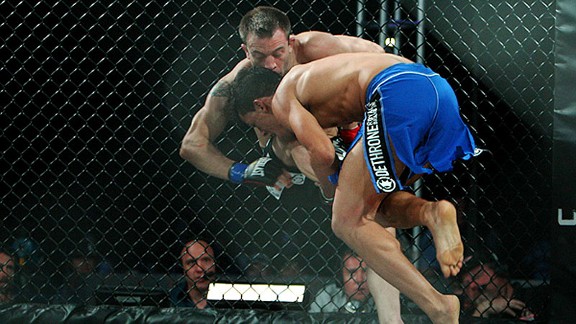 Dave Mandel for Sherdog.comEduardo Dantas became the first bantamweight finalist by outpointing Ed West.
Eduardo Dantas punched his ticket to the bantamweight finals with a split decision over Ed West.
The fight was scored 29-28 for West, 29-28 and 30-27 for Dantas. ESPN.com had Dantas winning the fight, 29-28.
Aggression and power was the difference as Dantas landed several hard right hands, especially during the first two rounds. But Dantas also provided glimpses of his jiu-jitsu ability. He nearly submitted West in the second round by applying a rear-naked choke, but West was able to reverse his position and began landing punches on Dantas.
Despite his aggressiveness, Dantas claimed he was not fighting at 100 percent.
"I felt a little tired at the beginning of the fight," Dantas said. "Something was different.
"I will fight very hard for the next fight. I hope I feel better."
Dantas improves to 12-2. West, a Season 3 bantamweight tournament finalist, falls to 17-6.
Wiuff earns unanimous nod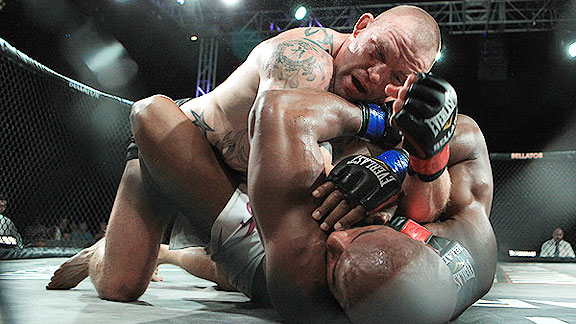 Dave Mandel for Sherdog.comTravis Wiuff's work in the earlier rounds proved the difference against Christian M'Pumbu.
Travis Wiuff used his superior size to register a unanimous decision over light heavyweight champion Christian M'Pumbu in a nontitle fight.
The judges scored it 30-27, 29-28 and 29-28. ESPN.com also scored the fight for Wiuff, 29-28.
Wiuff, whose seven previous fights were at heavyweight, was able to keep the diminutive M'Pumbu to his back for much of the first two rounds.
M'Pumbu fights around 202 pounds in the 205-pound weight class. Wiuff (65-14, 1 no contest) is the biggest man M'Pumbu has fought.
"I'm just a big strong wrestler; he isn't used to that," Wiuff said. "I want a shot at the belt."
After coming up short in the first two rounds, M'Pumbu found his rhythm to start the third. He hurt Wiuff with a right hand.
Wiuff would hit the canvas, but was able to get up. He would take M'Pumbu (18-4-1) to the ground to finish the round strong.
Tirloni finishes Gable in two rounds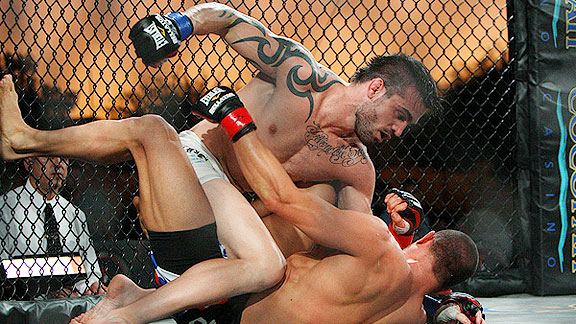 Dave Mandel for Sherdog.comRicardo Tirloni did a good job of softening up Steve Gable before applying the rear-naked choke.
Lightweight Ricardo Tirloni applied a rear-naked choke that forced Steve Gable to tap at 3:54 of the second round.
"Nobody will stop my dream," Tirloni said after improving to 14-1. "I want to fight step by step and get the title one day."
Both fighters were making their Bellator debut.
Whether on the ground or standing, Tirloni would get the better of Gable. He landed several knees that forced Gable to attempt takedowns. But Gable did not find success on the ground.
In the second round, Tirloni landed several right hands that forced Gable to give up his back.
Tiloni landed a few rights then locked in a rear-naked- choke to finish the fight.
Tirloni extended his win streak to 11, while Gable fell to 5-2.
August, 11, 2011
8/11/11
2:08
PM ET

By Chuck Mindenhall
ESPN.com
Archive
It wasn't quite two weeks ago that
Fedor Emelianenko
lost to
Dan Henderson
and had people wondering if that was his unceremonious outro. Almost everybody wanted to know, after his third straight loss, if that was the last time we'd see Fedor compete.
Then almost as suddenly it was determined that Fedor wasn't done yet -- not by a long shot, ya'll! -- and Kevin Randleman's name was running up the flagpole as a possible opponent for a fall card to be held in his native Russia.

Kevin Randleman?
If that's true, well ... at least we have an answer, and that is -- yes, it seems Fedor is done competing.
Here is what his manager and head of M-1 Vadim Finkelstein allegedly told the Russian website Champion AT when asked who Fedor's next opponent would be: "There are many possibilities. I personally want the opponent to be one of the great fighters from Pride's best times. It would be good if it was an interesting and competitive fighter, like for instance, Kevin Randleman. At any rate, we will chose a competitive, globally respected fighter."
Interesting, marginally (in an uncanny resemblance to Grace Jones kind of way). But competitive? That's borderline insulting.
Unlike Dan Henderson, who is 40 years old and looking 28, Randleman is more the usual kind of 40-year-old who loses to guys like Baga Agaev via first round submissions. He has dropped four fights in a row and eight of 10 fights going back to the first time he fought (and was destroyed by) Fedor Emelianenko in Pride's heavyweight grand prix back in 2004. Randleman is cooked. And that's exactly why Fedor's camp is hand-selecting him to get off the skids. A warm body with a subliminal link to the past that Fedor can waltz through. Yet even using the word subliminal in discussing Randleman seems sort of irresponsible. The better words might be "transparent" and "desperate."
Before Randleman's name was raised, others like prolific journeyman Travis Wiuff and Mike Whitehead were mentioned in connection to Fedor. This gives you an idea of the value we're talking for the string of upcoming fights for the "Last Emperor." The idea is to restock his emptied legacy with -- what they hope to be -- an assortment of donated cans. And in the end, maybe that's the best way to go about things when options are down to a scant few. Maybe a couple of wins and some Dutch training and Fedor returns to prominence. At least that's what M-1 is now hinging on. As for Fedor himself, he would likely have no qualms whether you put Randleman in front of him, or
Cain Velasquez
. Fighting is what he knows. He just does what he's instructed to do.
But Randleman is a hard sell as anything compelling. And the idea to revisit "Pride's best times" comes off as a strange piece of nostalgia to roll with in discussing a man who has always been, in the very least, a prideful competitor.
(Note: M-1 has since claimed that the Randleman rumor was a fabrication).