July, 24, 2013
7/24/13
2:26
PM ET

By Chuck Mindenhall
ESPN.com
Archive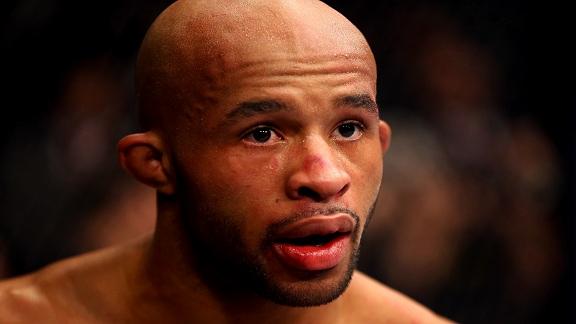 On the one hand, another nationally televised flyweight title fight is just crazy enough to work at Saturday's
UFC on Fox 8
card in Seattle.
After all, if frenetic back-and-forth action is what we want in a main event, this is the formula -- even if the guys fighting in it, challenger
John Moraga
and 125-pound champion
Demetrious Johnson
, are lighter than most sophomores in high school.
But then again, everybody loves a headliner consisting of two loaf-fisted heavyweight monstrosities trying to take each other's heads off. Given these perhaps outdated but still popular appetites, it's risky to trot out the remora instead of the sharks, is it not?
Not that these are the only factors.
By now you know that nobody knows who Moraga is, and that's why so many people are dishing the CliffsNotes. We need to learn
of
the fly
on
the fly. The 5-foot-3 Johnson is better known, but not to the dreaded "casual fans," the ones presumably being tempted toward their television sets. So what we're talking about by making two fairly anonymous fighters the main attraction on a big, widely seen card is that technique, athleticism, skill and speed -- colliding like two angry hummingbirds in a jar -- are more than enough.
The truth is, it might be. Particularly if each has his moments putting the other in trouble. The question then becomes: Does any of this change Johnson's approach? Johnson is holding the flyweight belt in part because he fights smart (a euphemism for "boring" in the minds of some people). He hasn't been involved in a fight that didn't go the distance since 2010, when he fought
Damacio Page
in the WEC. If he fights tactically against Moraga -- which by all rights he should and Moraga expects -- doesn't he make the least of the coveted spot?
That's all left for Saturday night. Drama is sometimes in the smaller details, and those are on display this weekend in Seattle.
FIVE STORYLINES
The introduction of Moraga
Though the flyweights carry an onus of not being able to finish fights, Moraga crushes onuses like a cold monkey wrench. In two UFC bouts, both at 125 pounds, he has finished the guy in front of him. Should he do to Johnson what he did to
Ulysses Gomez
(that is, knock him out), here's guessing that everybody knows exactly who Moraga is come Sunday morning.
[+] Enlarge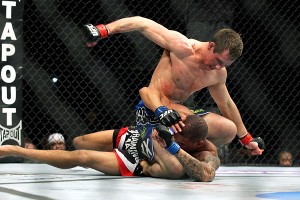 Ed Mulholland for ESPN.comA victory over Jake Ellenberger on Saturday would put Rory MacDonald into imminent welterweight contention.
Flyweights in the floodlights
Aesthetically, the flyweights are fun to watch and almost impossible to truly behold with the naked eye. They require remote controls and liberal use of the slow-motion button. But do we ultimately value that? Should Moraga-Johnson underwhelm, this could be the last flyweight tilt (title or no) we see headlining a big card for a long time.
MacDonald as legit contender
Who has Rory MacDonald fought
, cynics want to know. After all,
Che Mills
isn't in the UFC anymore and
Nate Diaz
is more of a natural lightweight (as is
BJ Penn
). As for
Mike Pyle
? He's awfully long in the tooth. But remember, MacDonald did have
Carlos Condit
on the ropes until the final seconds. And if he beats
Jake Ellenberger
, who has won eight of nine, MacDonald puts his name into imminent welterweight contention.
Ellenberger's chance to make statement
Say that Ellenberger goes in and savagely puts MacDonald away in the first round, as he's known to do. What then? The guess is that such an outcome sets up a fight between Ellenberger and
Demian Maia
as a true No. 1 contender bout while
Georges St-Pierre
-
Johny Hendricks
plays out in November.
Lawler's resurgence
It's crazy, but the last time
Robbie Lawler
won consecutive fights was all the way back in 2007. He traded wins and losses for four years in Strikeforce, coughing up a bit of his mystique. But the upset victory over
Josh Koscheck
in February put a little wind back in his sail, and should he beat
Bobby Voelker
on Saturday, he'll essentially have a clean slate.
FIVE QUESTIONS
Can 'Mighty Mouse' finish a fight?
Truth is, Johnson looks better each time we see him in the cage. He looked good against
Ian McCall
the first time and better against him the second time. Johnson looked great against
Joseph Benavidez
. Ditto
John Dodson
. The knock is that Johnson is a points fighter who does just enough. Does that end against Moraga?
Can Ellenberger win a decision over MacDonald?
You ask people how Ellenberger wins his fight against MacDonald and they'll say via knockout. But what happens if MacDonald stays disciplined and is there all night? Can Ellenberger eke out a win on points? He did fade against
Martin Kampmann
and
Diego Sanchez
, and neither is as big and strong as MacDonald.
[+] Enlarge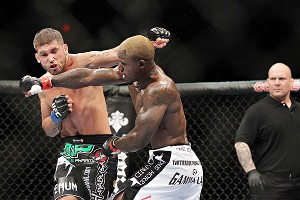 Ed Mulholland for ESPN.comFew UFC fighters are more in love with their own power than Melvin Guillard, right. But is he one loss away from being unemployed?
Which Melvin Guillard shows up?
Realistically, there's only one Guillard, and that's the same one who will show up in Seattle. He switched training camps (yet again) to Denver, where he's been training with Trevor Wittman. Thing is, he loves his power and trusts it to trump everything he'll encounter. Against
Mac Danzig
, who has gone 3-6 in his last nine fights, Guillard will once again sink or swim by his infatuation.
How does Carmouche rebound?
Fate is funny. For a few seconds at
UFC 157
, it looked like
Liz Carmouche
was about to defeat not just
Ronda Rousey
but the very reason for women's MMA in the UFC. It was a tense few moments when she had Rousey's back, but in the end, Carmouche went down gallantly. Facing
Jessica Andrade
, Carmouche -- the biggest favorite on the card -- has to guard against the spiral.
Will MacDonald come around to GSP?
This question is premature, which makes it the kind of question we love to ask. Yet should MacDonald beat Ellenberger, St-Pierre take care of Hendricks in November and the two be asked to fight each other thereafter, we have arrived at the next
Jon Jones
-
Rashad Evans
(and the hunch is MacDonald won't protest for long).
WHO'S ON THE HOT SEAT?
John Albert
-- He has lost three fights in a row since beating
Dustin Pague
in his UFC debut. A loss to
Yaotzin Meza
is almost a guaranteed pink slip. But if Albert wins? Yahtzee! The "Prince" lives to see another day.
Aaron Riley
-- Riley is only 32 years old but has been in 44 fights. He's been around the block a few times. In his last fight against
Tony Ferguson
, in 2011, he suffered a broken jaw. Should he lose to
Justin Salas
, if he doesn't hang up the gloves himself, the next pair he wears might not say "UFC" on them.
Trevor Smith
-- The Strikeforce immigrant takes on an angry
Ed Herman
, who, in a fit of optimism, made a cameo appearance in Strikeforce against
Ronaldo Souza
and lost badly. Tough draw for Smith. Herman's relevance is at stake.
Melvin Guillard
-- Yes, there's a
Leonard Garcia
thing going on here. Guillard always comes to fight, does so on short notice and lets the chips fall where they may. Dana White likes him. But he needs a win badly. Very badly. Then the UFC won't be forced to make any hard decisions on him.
Mac Danzig
-- See Guillard.
WHY YOU SHOULD CARE
Because the flyweights have one speed, which is blue blur ... because Johnson is one of the most underrated fighters to ever carry such mastery to the cage ... because Moraga swings for the fences and is fighting for his late cousin Jay ... because there's not one, but two women's fights, and
Julie Kedzie
versus
Germaine de Randamie
will have your grandmother spitting out her tea ... because
Danny Castillo
does love himself a brawl ... and for that matter so does
Michael Chiesa
... and
Jorge Masvidal
... because Herman can't afford to lose to Smith, and when a "Short Fuse" meets "Hot Sauce," the thing gets flammable ... because MacDonald is fighting Ellenberger, and it won't cost you a dime.
September, 10, 2011
9/10/11
11:40
AM ET

By Chad Dundas
ESPN.com
Archive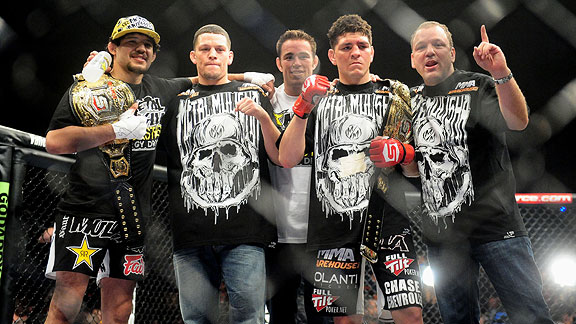 Mark J. Rebilas for ESPN.comTeam Diaz have been through some good times, and some not so good times.
Safe to say, Cesar Gracie earned his money this week.
Heaven only knows what the past few days have been like for Gracie, let alone the past 11 years.
As the longtime coach and manager of one of MMA's most unmanageable fighters, he sounded like he'd finally had enough on Wednesday when he had to admit that after no-showing back-to-back news conferences,
Nick Diaz
got
what he deserved in getting booted out of the biggest fight of his life
against welterweight champion
Georges St. Pierre
at UFC 137.
Certainly he couldn't have been totally shocked. Gracie has mentored Diaz since he was 16, after all. If anyone knows what's brewing inside the talented but troubled fighter's head from one moment to the next, it's got to be him. Yet even after all the incidents of the past -- the positive drug tests and hospital brawls and televised gang beatdowns--– Gracie seemed particularly discouraged after this latest and gravest turn of events.
Yes, he said, he understood the UFC's position. No, he said, he didn't know where Diaz was. Yes, maybe he was finally,
finally
ready to admit that his star pupil has some problems. That maybe the kid should seek professional help.
That was two days ago. Fast forward to Friday and, through surely no small amount of finagling by Gracie, Diaz is back. Back in the UFC. Back on the same card even, now scheduled to fight B.J. Penn on Oct. 29 in the co-main event of the pay-per-view he was originally supposed to headline.
Unbelievable? Insane? Bizarre? You betcha. For an MMA coach? Just another day at the office.
"You mean this crazy rollercoaster that we as coaches ride every day?" a chuckling Trevor Wittman tells ESPN.com when asked about the Diaz situation. "Yeah."
Trainers and managers are perhaps the fight game's most important and least heralded brotherhood. Spend a few minutes talking to any of them -- the Wittmans, Bob Cooks or Greg Jacksons of the world -- and you invariably come away struck by how reasonable they all seem. How unflappable. How
normal
.
Then you consider their charges. Even in the strange, catch-all of professional athletics, the average MMA fighter undoubtedly falls on the more unreliable end of the spectrum. Just as Gracie has done with Diaz, a trainer can work with a particular fighter for his entire adult life. He can put in countless hours, innumerable training sessions and dozens of fights to prepare him in every conceivable physical way for the biggest moment of his career.
Then the guy doesn't make weight. He doesn't fill out his paperwork. He doesn't get on an airplane or, as the case may be this time, three airplanes. Suddenly, all that work seems like it was for naught.
"It is what it is," says Cook, also laughing. "There is a reason why these fighters are driven to step in the cage and challenge themselves. It's my belief that not just your average Joe wants to do that. You've got to have something special in you -- or something special missing, one of the two."
Guys like Cook and Wittman ought to know. They run two of the nation's top MMA gyms -- Wittman at Grudge Training Center in Colorado, Cook with American Kickboxing Academy in San Jose. Both have trained world champions in boxing and/or MMA. Both have lent guys money, let guys live at their houses, loaned them cars or whatever else they needed to survive the months and years leading up to their "big break." They've also both had the bottom unexpectedly yanked out from under them when they least expected it, just as Gracie did this week.
"You work with fighters and you put your time and effort into these guys and you love them like they're your kids," Wittman says. "We kind of take this role of being somewhat of a father figure. [Trainers] take these guys under their wing, they give them all their time, they drive them around, they help them with their outside lives, you put a lot of time into these guys and, when someone makes a decision like [Diaz], it all comes back on you."
What a strange and maddening thing it must be to be the man behind the man. When a fighter is winning, it's typically all about him.
My God, his striking looks great!
, the guys on TV say.
He's really worked hard!
the journalists write.
What a warrior!
When things go wrong? The same fighter had a bad game plan. He looked over-trained or under-trained or he got bad advice from his corner.
What he needs to do
, we all say,
is find a new camp
.
"There's the saying, 'You can lead the horse to water, but you can't make him drink ...,'" Cook says. "All you can do is voice your opinion of what the right decisions are. Sometimes the fighters will agree with you, sometimes they won't. Hopefully they can have enough respect or wisdom or faith to just go with it and do what's in their best interests."
You look at a situation like the one Gracie found himself in this week and you wonder how it could all possibly be worth it. Considering the innumerable ways a fighter can screw up, it's actually surprising it doesn't happen more often. Why put up with the headaches? The answer, the trainers say to a man, is that they really can't help themselves. Most them are former fighters themselves and the fight game has seeped into their blood. They probably couldn't quit it if they tried.
"It doesn't matter how many times I get hurt or fighters step away from me or whatever it is," Wittman says. "I love to see guys earn world championships. I love it. To be able to see a guy get to the highest level of the game and get that belt put around his waist, I mean, those are the moments I'll never forget. Those are the moments I'll take to the grave with me."
Those are the good times. On Wednesday? That was the bad.
All those hours. All that blood, sweat and tears and then your guy misses his flight. He gets cut. He faces what is probably the darkest day of his life. People spend 48 solid hours mocking him, mocking you and mocking your methods on the Internet. The boss is livid, saying your guy will never work in this town again. You know what you do then? You do the only thing you can do. You do exactly what Gracie did this week.
You do whatever you have to do to get him back in.