November, 9, 2012
11/09/12
5:37
AM ET

By Franklin McNeil
ESPN.com
Archive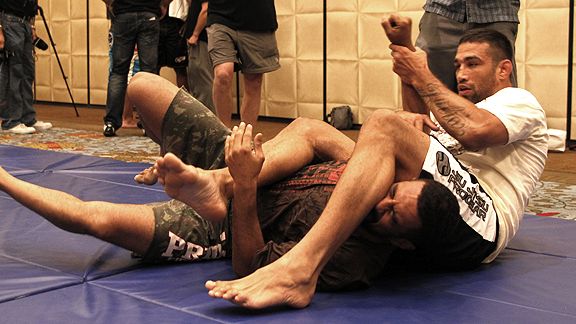 Ric Fogel for ESPN.comRoll with it: Fabricio Werdum's TUF gig also comes with a shot to avenge a previous loss to Antonio Rodrigo Nogueira.
The likelihood of being asked to be a coach on "The Ultimate Fighter" never crossed heavyweight contender Fabricio Werdum's mind.
Werdum received an offer from UFC officials to coach on the promotion's long-running reality series for up-and-coming mixed martial artists. But that wasn't the best part. What Werdum heard next was mind-blowing: He'd get to coach opposite
Antonio Rodrigo Nogueira
.
"I was very happy," Werdum said Thursday during a media conference call to promote "TUF: Brazil 2." "I was in Brazil for Anderson [Silva's bout with
Stephan Bonnar
] just last month and people were talking about the possibility of me being on TUF.
"I thought it would be [light heavyweights] Shogun [
Mauricio Rua
] and Lyoto [Machida], but I'm honored to be coaching in Brazil against Nogueira."
Werdum and Nogueira met in a Pride 2006 Open-weight Grand Prix quarterfinal bout. Nogueira won by unanimous decision.
Entering the July 2006 bout, Werdum had only 10 fights under his belt. Nogueira had fought 32 times, one of which was ruled a no contest.
Experience isn't expected to be an issue when the two meet in a rematch that will take place sometime after the show concludes.
[+] Enlarge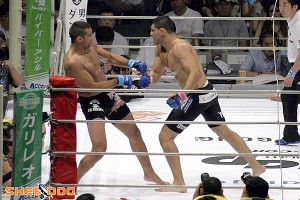 Stephen Martinez/sherdog.comFabricio Werdum, left, didn't have many fights under his belt the first time me faced Antonio Rodrigo Nogueira.
"We fought in 2006 and Nogueira was more experienced then and I got beat up in that fight," Werdum said. "I'm much stronger now."
Werdum will enter the rematch with a pro record of 16-5-1, and a two-fight win streak he hopes to extend.
Nogueira had his right arm broken in the first round by
Frank Mir
on Dec. 10, 2011, at UFC 140. After months of rehabilitation, Big Nog (34-7-1, one no contest) rebounded with a second-round submission of
Dave Herman
at UFC 153 on Oct. 13 in Rio de Janeiro.
"The fight against Herman was a challenge for me," Nogueira said on the media call. "There was a really big amount of damage to my arm. I broke my arm and had 16 screws in my arm. I had to prove to myself that I could go back into the cage and fight and do it in Brazil.
"I'm back again. It was a very important fight for me."
January, 13, 2012
1/13/12
7:23
AM ET
RIO DE JANEIRO -- It's been five months since the UFC's last visit to Brazil, but it's been 14 years since
Vitor Belfort
last fought in his home country.
That means the pressure is on him, according to
Anthony Johnson
, who remains unfazed by the prospect of fighting in front of the passionate Brazilian fans.
"I feel no pressure at all," Johnson said. "I don't have to perform in front of my home country. I don't get nervous about what could happen. I'm just going to do what I do."
What Johnson does in the Octagon is often brutal, and he's promising much of the same for Saturday.
"Vitor is an amazing athlete, very fast hands and very powerful, and you have no choice but to respect him," Johnson said. "I'm not afraid, and I'm willing to accept the challenge. I'm just going in to fight. There's no strategy. It's what's called 'get it done.'"
Chad Mendes will be alone and without much support Saturday night, but he revealed his entire hometown is celebrating his title shot.
"A lot of people are going to have parties back home; they're having a big party at the fairground in my hometown, and thousands of people will watch it on a big TV," Mendes said.
The featherweight challenger shares Johnson's sentiments that he's not the one in the spotlight, pointing to the fact that it's Jose Aldo's first time fighting as a UFC champion in front of his family and friends. And while it might be Mendes' biggest career opportunity to date, he is relishing the experience and claims not to feel any nerves.
"I have tunnel vision," the challenger said. "I have that goal of winning that belt. It's all I'm thinking about. I think I'm going to get booed, as it's Jose's back yard and he's the champion. But I can't speak Portuguese so I can't understand what they say anyway. I'm in the zone, and there's not going to be any problem."
Zelaznik reveals details of 2012 international expansion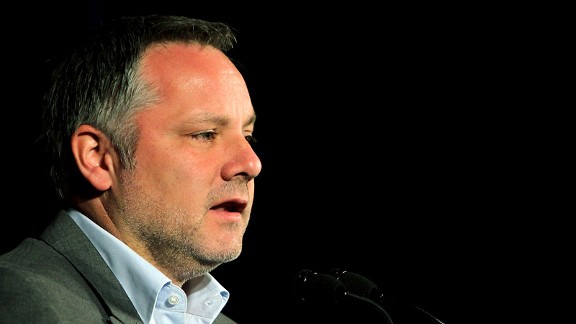 Josh Hedges/Zuffa LLC via Getty ImagesGlobal warfare: Marshall Zelaznek sees the UFC will hosting battles all over the world in '12.
The UFC is gearing up for a world tour of sorts. Events already have been announced for Japan, Australia and Sweden, and Marshall Zelaznik, UFC managing director of international development, has revealed that 2012 could see the UFC head to an additional three or four locations outside the USA and Canada.
A late-2012 show in the U.K. is "definitely" on the list, he said, and there is an "80 percent chance" the UFC will go to an undetermined Asian location that could be any one of Macau, Singapore or the Philippines, but "definitely not" China (
yet
-- the Beijing office is still working with Chinese authorities to settle logistics).
Mexico is high on the list, too, but fans in the Middle East will have to wait. A logjam of concerts in Abu Dhabi means the venues are unavailable, almost entirely ruling out a return to the nation that holds a 10 percent share in the company.
Zelaznik said the UFC's international team is expanding fast, and is eyeing locations for events in Italy and in unspecified Eastern European countries, most likely Poland.
PED testing business as usual despite lack of commission
Strikeforce 145-pound female champion Cristiane Santos' recent positive steroids test and the stripping of her title reignited a fierce debate over the use of performance-enhancing drugs in MMA.
Athletic commissions oversee the testing for athletes on U.S. soil, but outside North America, the UFC has self-imposed a strict system on par with the processes used by the Nevada Athletic Commission, widely seen as the world's leading authority on regulatory matters for combat athletes.
The UFC employs the services of a U.K.-based company called Quest Diagnostics, whose representatives are flown to all locations outside North America. An independent drug-testing body, Quest selects fighters at random as well as testing participants in the main event. The group observes, maintains the samples and then ships them via medical courier to the United States to the same laboratory the state of Nevada uses.
The lack of a commission is no cause for concern, Zelaznik said. "We've had a few issues in the past," he said, referring to the October 2011 positive test of
Chris Leben
following his loss to
Mark Munoz
in Birmingham, England. "People can feel comfort and rely on us -- we've done everything to create a safe environment for the fighters."
Emerging details on 'TUF: Brazil'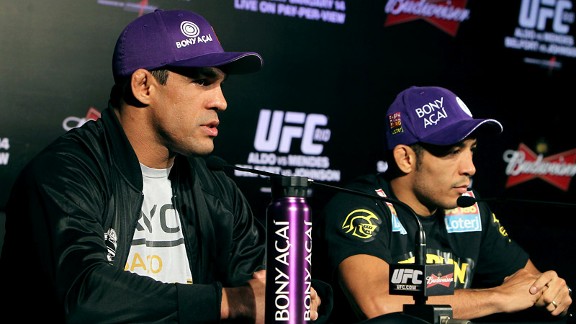 Josh Hedges/Zuffa LLC via Getty ImagesGet TUF: Vitor Belfort, left, will head up a house of "Ultimate Fighter" contestants in February.
February marks the first time the "Ultimate Fighter" series will start filming in a foreign country. "TUF: Brazil" will feature 145- and 185-pound fighters, and the word is that the standard of the fighters is "mind blowing."
"It's more like the early TUFs, where we were skimming the cream of the talent in the U.S.," Zelaznik said. More than 5,000 fighters submitted an application, with 500 auditioning before producers in Sao Paulo.
The show will follow the "traditional" format and not the new look that will debut with "TUF 15" on Fuel TV come March. Sixteen fighters in each weight class will work through an elimination round to get into the house.
"TUF: Brazil" will feature a number of elements similar to those of its American cousin, including a fully outfitted UFC training center and the regular participation of UFC president Dana White, although his travel schedule might mean most of his appearances are made via satellite.
The show will be broadcast weekly on Rede Globo TV, the fourth-largest public TV commercial network in the world. The finale will be in June as part of a large international pay-per-view event, likely but not confirmed to be a stadium show in Sao Paulo. The finalists will fight alongside coaches
Wanderlei Silva
and Vitor Belfort, and
Anderson Silva
versus the winner of Mark Munoz and
Chael Sonnen
.