May, 9, 2012
5/09/12
5:04
AM ET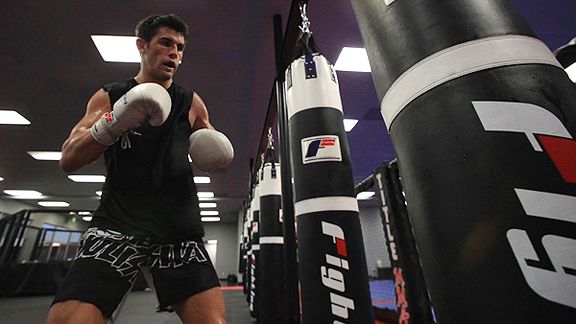 Dave Mandel for Sherdog.com After two knee operations, Dominick Cruz has been cleared by doctors to do some training.
We've already noted that
Dominick Cruz
was the only guy
to truly capitalize on the new live format of "The Ultimate Fighter"
this season. Now, it appears he could become a test case for how the show responds to real, actual drama.
UFC President Dana White confirmed via Twitter on Monday afternoon that the reigning bantamweight champion suffered a torn ACL while filming "TUF Live." The obvious result is, Cruz's upcoming grudge match against opposing coach
Urijah Faber
is off the UFC 148 card and the future of the 135 pound title, the division's first real rivalry and perhaps even Cruz's gig on the show are all in doubt.
So, yeah, pretty much the biggest bummer imaginable for TUF's first run on FX, which was already fetching disappointing ratings.
"Sorry to all the fans out there!" Cruz tweeted after news of his injury broke. "I WILL recover and I WILL be back to put on a show!"
If there's any upside at all to this, it's that now we might get to see how "TUF Live" responds to genuine adversity.
The cancellation of Cruz-Faber marks the third time in the show's last five seasons that some calamity has befallen a proposed fight between the coaches, but Cruz is the first coach to suffer a major injury during filming. Given this season's revamped format -- episodes are shot during the week, edited, then aired on Friday along with a live contestant fight -- that could make this week's installment the most interesting episode of "The Ultimate Fighter" in quite some time. Maybe ever.
If Cruz's injury occurred at the TUF training center, if footage exists of it, we'll all be curious to see how showrunners decide to play it. Considering the high probability that a Cruz injury would also throw the show and the UFC's planning into utter chaos behind-the-scenes, let's hope they give us a quality dose of that action as well.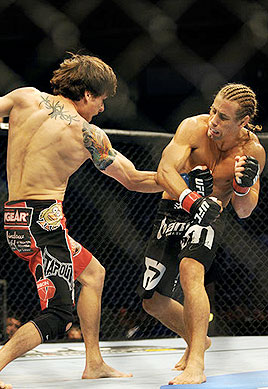 Rodd Mar for ESPN.comHow will the UFC handle Dominick Cruz's injury -- and the matter of finding Urijah Faber a foe?
The smartest way for the show to handle the situation would be to show the impact of Cruz's injury not only on the fighter himself, the TUF contestants and his prospective opponent, but to also show how matchmakers and UFC brass respond to it. Show us the discussions of what to do with Cruz's coaching spot. Show us the efforts to find a replacement for him to fight Faber and UFC 148.
There is already talk of setting Faber up with an interim title bout against
Renan Barao
, who was scheduled to take on
Ivan Menjivar
on the UFC 148 preliminaries anyway. A majority of MMA fans probably think that's the right thing to do -- best that the fledgling bantamweight division avoids delays and stagnation at all costs -- but it'd be interesting to see footage of how the UFC eventually comes around to the decision of how to handle this unfortunate situation.
That would necessarily give this episode of "TUF Live" a different feel and would be appointment viewing for most MMA fans. It might also give the show the kind of ratings boost it's been looking for all along.
March, 27, 2012
3/27/12
5:02
AM ET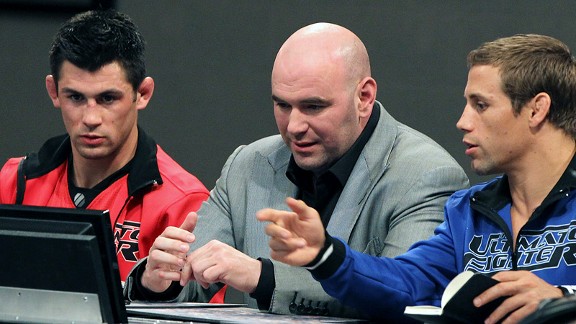 Josh Hedges/Zuffa LLC/Getty ImagesUnfortunately for Dana White & Co., a revamped TUF hasn't improved the show's ratings.
Three episodes into the new "live" incarnation of "The Ultimate Fighter", the only truly memorable and unscripted moment so far has come thanks to UFC bantamweight champion
Dominick Cruz
.
As TUF made the jump from SpikeTV to the FX Network earlier this month to begin Season 15 of its extraordinary run, we were promised (or at least we assumed) sweeping changes.
A few of those have indeed come to pass. Live look-ins to the TUF training center now bookend the show's traditional reality format, quarterbacked flawlessly by former ESPN host Jon Anik and the fights that cap each episode are aired as they happen. Changed as well was the tired new metal opening inviting us to "bear witness to the fitness of the modern warrior," replaced by the Red Hot Chili Peppers' 1989 cover of a 1973 Stevie Wonder song.
Not sure that choice makes things feel any fresher, but whatever; after all these years, the song still works.
Aside from a few tweaks though, TUF is about the same as it ever was. So too, unfortunately, are the ratings, which dipped to a reported 1.3 million viewers during its debut episode, down slightly from the 1.5 million who tuned in a season before. Ratings for episode two were down a bit more, to 1.1 million. Maybe this is to be expected as returning fans find their way across the television dial and new fans (of which, many are expected) take notice. To its credit, the UFC is not panicking. Far from it.
If the first trio of episodes proved anything, however, it's that TUF's live set-up won't be enough to breathe new life into the flagging show on its own. Not without some help from the people involved.
To date, Cruz (who has been
owning it
at every turn in his capacity as coach opposite rival
Urijah Faber
) appears to be the only person to truly grasp the possibilities of TUF's new format. And perhaps the UFC's mischievous 135-pound champ did it without fully realizing it.
The moment came at the end of the season's second episode when -- after seeing his team win the show's first live, two-round elimination bout via unexpected knockout -- Cruz put Team Faber on the spot by tabbing top pick Justin Lawrence to fight the following week and then inviting Faber to pick anybody he wanted to oppose him.
[+] Enlarge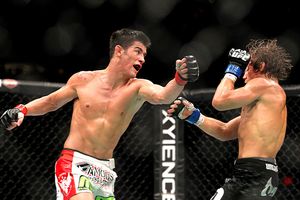 Ed Mulholland for ESPN.comWhen he's back in the cage, don't expect Dominick Cruz to take any tuneup fights.
What followed was a supremely awkward half-minute or so, wherein a surprised Faber froze up, an annoyed UFC President Dana White reddened noticeably and nobody on Faber's squad raised a hand when their coach finally resorted to asking if anybody wanted a piece of Lawrence. To put the icing on what was perhaps the greatest (probably unplanned) piece of sabotage in TUF history, every member of Team Faber found something really interesting to stare at on the floor and ceiling and off in the middle distance for the next few seconds.
Tick ... tick ... tick. Silence. Dead air. Crickets.
Everybody looked nervous, and White looked significantly cheesed off. Not only was Cruz shirking one of the show's primary conventions -- that winning coaches retain "control" by getting to choose the following week's fight matchup -- but here he was, yanking back the curtain to reveal everyone in all their sweaty, uneasy, I'm-on-live-TV-right-now glory. Finally, Faber and White insisted that Cruz pick, and he did.
It was, in a word, awesome. Certainly the most interesting few seconds we've seen on TUF in seasons. Maybe ever, and we have the show's new live format to thank for it.
Well that, and Dominick Cruz.
Frankly, this is exactly what you want if you're running the new, suddenly live season of TUF. Cruz went rogue, and in a moment of genuine and unexpected theater (one untouched by the hands of those meddling editors we're always hearing about) created some actual, honest to goodness drama.
Too bad not a ton of people got to see it.
Too bad we can assume that showrunners probably told Cruz never to do it again, because it's uncomfortable, all-the-way-live moments like that one that might just save this series.
December, 7, 2011
12/07/11
2:39
PM ET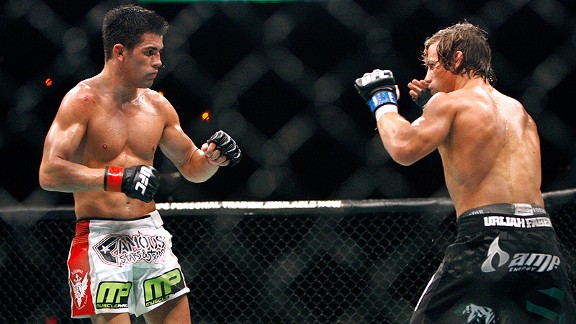 Marc Sanchez/Icon SMIDominick Cruz and Urijah Faber have the right kind of bad blood to infuse new life into the TUF series.
Just a couple of hours after throttling
Brian Bowles
at UFC 139,
Urijah Faber
had already turned his attention back to the real prize.
His win over Bowles had earned him another opportunity to become UFC bantamweight champion and the chance to settle a longstanding grudge with
Dominick Cruz
, but the most marketable and business savvy fighter in the company's lightest weight class was thinking bigger.
"Let me and Dom coach 'The Ultimate Fighter,'" Faber told Dana White at the postfight news conference, after the UFC president had finished answering a question about the significance of the reality show's next season. "We need some fans."
White -- who'd already been forced to reveal more than he probably planned while deflecting questions about the company's future intentions for
Anderson Silva
, upcoming shows on Fox and various other fight bookings -- could only turn and give the gathered crowd of reporters a sort of exasperated, but knowing shrug.
"There you go," White said. It wasn't quite a wink and a nudge, but it was good enough.
Truth is, this decision had probably been made long before Faber publicly put his boss on the spot. The former WEC featherweight champ's coaching spot on TUF 15 was likely solidified the moment he wrapped his arms around the neck of the already battered and defeated Bowles early in the second round of their fight. It'd already been decided because, frankly, having Cruz and Faber coach the biggest and arguably most important season of "The Ultimate Fighter" is a no-brainer.
What you have here is synergy of the highest order. Two of the sport's most compelling personalities involved in the 135-pound class' first real blood feud just as TUF attempts to reshape and revitalize itself for a vastly increased audience on the FX Network? That decision makes itself.
[+] Enlarge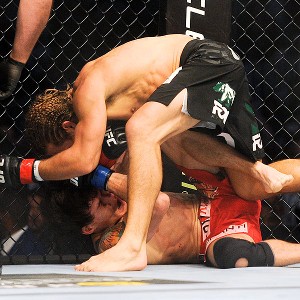 Rod Mar for ESPN.comSubmitting Brian Bowles, bottom, is paying dividends for Urijah Faber.
"This is for the UFC title, but it's a personal vendetta," Faber said. "We're 1-1 now; it's a trilogy and it's to find out who is the man for the rest of our lives. That's important to me."
There can be little doubt that Faber and Cruz are the two best fighters in the bantamweight division right now. Cruz has already defeated much of the top 10 and Faber erased any lingering questions about his fitness as a repeat challenger with the way he handled Bowles at 139. Faber has also proven totally incapable of making peace with his razor-thin decision loss to Cruz at UFC 132 and the two have real, organic beef that dates back to the salad days of the WEC.
Not to mention, Faber is absolutely right. These two do need some fans.
For years, featherweights and bantamweights have been the most consistently exciting fighters in the sport, but have yet to really make an impression on casual MMA viewers. If the company is looking for a duo to give armchair fans a crash course in what the lighter-weight classes are all about, you couldn't ask for better than Faber and Cruz. You also couldn't ask for a better format than having them coach TUF.
Honestly, this is a decision that should have been made sooner, but now we should all be glad it wasn't.
The two were rumored to be on the short list to coach the show last season, before the UFC went outside the box and tabbed Strikeforce's
Jason Miller
to appear opposite
Michael Bisping
. Caught at the tail end of the fight company's relationship with SpikeTV, the season didn't get much promotion to speak of and netted decent ratings only because both Bisping and Miller came in a known commodities. Unfortunately, their fight -- which peaked at 3.4 million viewers -- was a flop after Miller gassed out midway through the second round.
Cruz and Faber won't have that problem, nor will they likely have to worry about drawing a crowd as White himself estimated that each episode of TUF on FX could draw around three million viewers. If he's right, that means great things for the resulting battle between the coaches and great exposure for the bantamweight class as a whole.
There is no telling how much TUF will benefit from its new "live" format, but from where I'm sitting, this kind of reboot could be exactly what the flagging franchise needs.
Now, it'll also profit from having exactly the right coaches at exactly the right time.