August, 19, 2014
Aug 19
9:22
AM ET
The night after a white policeman shot and killed unarmed black teenager Michael Brown in Ferguson, Missouri,
Tyron Woodley
got on a flight headed for the area.
Woodley, 32, didn't go there as a curious onlooker or a celebrity looking to protest. The UFC welterweight calls Ferguson, located in St. Louis County, his home.
Born and raised in the city of approximately 21,000, Woodley says his barbershop is located "two minutes" away from the now-looted and burned convenience store that has become a gathering site for protesters since Brown's death Aug. 9.
[+] Enlarge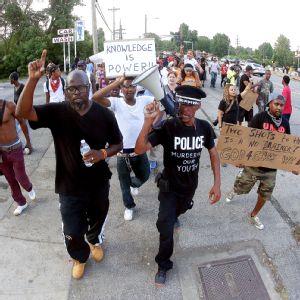 AP Photo/Charlie RiedelThe violence and protests in Ferguson, Mo., have weighed heavily on Tyron Woodley's mind.
Woodley (13-3), who is scheduled to fight
Dong Hyun Kim
at a UFC Fight Night this weekend in Macau, drove past the familiar convenience store on West Florissant Road before he left the U.S. last week and was disheartened by what he saw.
In addition to feeling heartbroken for the victim's family, Woodley was saddened by the extent of rioting that has hit his hometown in the aftermath of the shooting. He still has family in Ferguson and is encouraging those in the area to protest peacefully.
"I think people are trying to protest peacefully now, but the looting really reflected on us in a negative way," Woodley said.
"I drove down that street the next morning. It wasn't just the [convenience store] that got hit. It was [auto parts retail store] Autozone, beauty supply stores and meat markets.
"These are local businesses, many of which are black-owned, with employees that need those jobs. People are ripping them off. How does that do anything positive?"
Woodley is coming off a disappointing performance against
Rory MacDonald
at UFC 174 in June, which has (at least temporarily) cooled his title hopes at 170 pounds. A win over Kim (19-2-1), who has won four in a row, would be a major rebound.
"

These are local businesses, many of which are black-owned, with employees that need those jobs. People are ripping them off. How does that do anything positive?

"

--Tyron Woodley, on the tension and crisis in his hometown of Ferguson, Mo.
To that end, Woodley's coaches have confiscated his phone to prevent the nonstop barrage of updates from Missouri to weigh him down. He flew to Singapore on Aug. 13 and then to Hong Kong last weekend. He will fly to Macau on Wednesday.
With media obligations looming, Woodley knows the situation in his hometown will be a talking point in coming days.
"The bad thing is when I hear [the UFC] needs a last-minute interview, I knew what it was about," Woodley said. "It's about the Ferguson situation. It's not about a fight I have coming up on Saturday, which is tough. Yeah, it's a distraction.
"I'm from the area. I've had to try and block it out and stay positive. At the end of the day, I can't block it out. My whole life, I've spent there."
Simply talking about this weekend's matchup is a welcome distraction for Woodley, who took the fight when Kim's original opponent,
Hector Lombard
, withdrew because of injury in June.
[+] Enlarge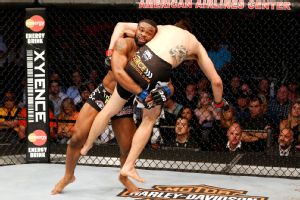 Josh Hedges/Zuffa LLC/Getty ImagesTyron Woodley is doing his best to avoid distractions ahead of Saturday's bout against Dong Hyun Kim.
Ranked the No. 7 welterweight in the world by ESPN.com, Woodley believes his one-sided loss to MacDonald hasn't set him back significantly and a win over Kim would get him back to where he was after knocking out
Carlos Condit
in March.
"I didn't fall too much," Woodley said. "When I started doing my research on Kim, he fought
Karo Parisyan
,
Matt Brown
,
Erick Silva
and
TJ Grant
. He's got a lot of wins on his record. I believe he's a top-five welterweight and the UFC agrees, otherwise it wouldn't make sense for this fight to happen."
Once the fight is over, Woodley plans to put his status in MMA to some positive effect back in the U.S.
For a professional athlete who has dedicated time to teach the youth of Ferguson that they can achieve what they want, it's been frustrating to see those taking advantage of the situation and adding grief to innocent victims.
"To see a riot where I grew up -- it's just crazy to see it being put on the map in such a negative way," Woodley said. "A lot of people have pride living there. It's not riff-raff like it's made out to be.
"I have friends there who are engineers, a pilot -- a friend who just went to France, a Grammy-winning trumpet player. Being from a rough area isn't an excuse to [loot]. This is an opportunity to rise above and do something positive."
March, 25, 2014
Mar 25
11:06
AM ET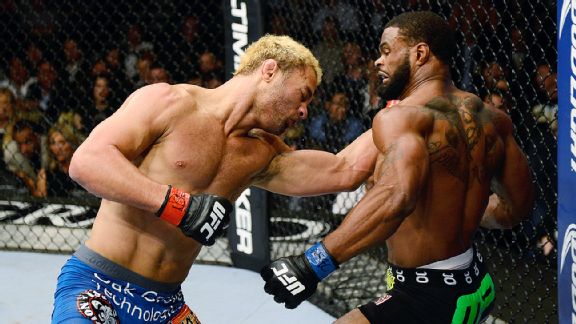 Donald Miralle/Zuffa LLC/Getty ImagesJosh Koscheck, left, found Tyron Woodley's blend of speed and power too much to overcome.
UFC welterweight
Josh Koscheck
plans to fulfill the final two fights of his contract.
Koscheck (17-8) hasn't fought since a first-round TKO loss to
Tyron Woodley
at UFC 167 in November. After the event, UFC president Dana White said Koscheck sent him a text that "sounded a little bit like retirement."
A 23-fight veteran in the UFC, Koscheck is not considering retirement, but he says he has turned down two fight offers from the UFC since his last loss.
"I've been training my whole life," Koscheck told ESPN.com. "I've never had a break. I feel like I need to get away and take some time off and enjoy life.
"At this point, I'm still coming back. I have two more fights on my contract, and I plan on fighting those out and seeing if I want to continue. I'm obligated to two more fights with the UFC.
"I've been called twice for fights, and I told the UFC, 'no.' I'm not ready yet."
[+] Enlarge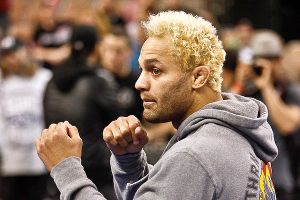 Sherdog.comBreak from the gym have been few and far between for Josh Koscheck.
In terms of when he could be ready, Koscheck said he would likely get back into fight workouts at the end of the month. The California-based welterweight has remained a regular in the gym but sets a higher standard when it comes to fight preparations.
"A lot of fighters have no clue what it takes to get ready for a fight -- the dedication it takes," Koscheck said. "That kind of preparation can take a toll on your body.
"Probably at the end of this month, I'll start focusing more on getting back into fight shape."
Koscheck, 36, is on a three-fight losing streak. Prior to the skid, he had never suffered back-to-back losses in his professional career. He fought twice in 2013 and was finished in the first round in each.
Preparation has never been a problem for the former collegiate wrestler, but Koscheck admits he underestimated the speed of his last performance. He was caught on camera expressing as much to Woodley after that loss in November.
"Woodley was very, very fast, and he closed the distance on me well," Koscheck said. "You know, when you do everything right for so long and you have a bad day at the office, it makes you think about things. You wonder, 'What the hell? Is there more out there? Is there something better I can be putting that much energy into?'"
March, 18, 2014
Mar 18
3:19
PM ET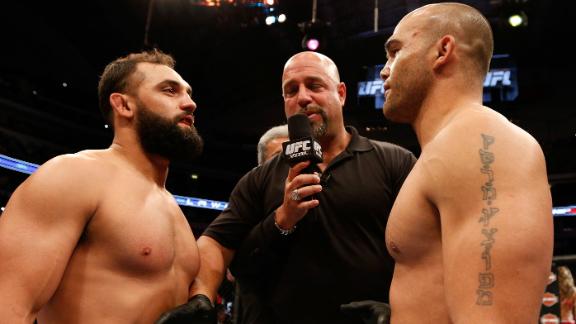 Tyron Woodley
didn't take off for any resort to celebrate his win at UFC 171.
The welterweight contender was at his American Top Team-affiliated gym in St. Louis on Monday morning working. Not working out, but working.
Following the biggest win of his career, a second-round TKO over
Carlos Condit
last weekend, Woodley (13-2) is not content to sit around and hope for a UFC title shot. He made full media rounds, voluntarily, on Monday to plead his case.
[+] Enlarge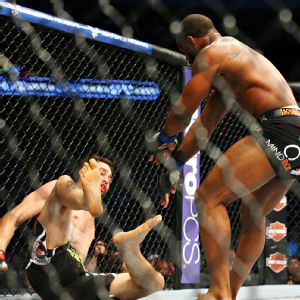 Ed Mulholland for ESPNTyron Woodley, right, feels his fight with Carlos Condit was for a shot at the welterweight title.
He felt inclined to do so, partially because it seems as though many observers aren't willing to give him full credit for the win. The fight ended when Condit suffered a knee injury, which appeared to initially occur during a Woodley takedown.
Woodley can't comprehend why the victory is being tagged with an asterisk.
"I went out there and took the fight to him," Woodley told ESPN.com. "I beat him up.
"I went back and watched film and was like, 'What are people talking about?' He was coming back? Where? Show me where he had me in a bad position. Show me where he had me on the ropes or hurt. He was on his back, remember that?"
Woodley said he was guaranteed a title shot with a win over Condit. If need be, he is willing to sit and wait for it against newly crowned
Johny Hendricks
.
Asked how he would feel about an official No. 1 contender's fight, Woodley responded, "That's the fight I was just in."
"I want the people to hear why I believe I'm next in line," Woodley said. "I think once fans and media hear everybody's story and lay them out across the table, mine should stick out more than the rest."
Woodley on Robbie Lawler:
There was no controversy. One of the judges scored it like an idiot, but everybody, including Robbie, thought it was 2-2 going into the final round. I think he eased up on the gas in the last 90 seconds. I'm bummed for the kid, but it was clear cut. No controversy. Maybe he wins one fight and he's right back there.
On Hector Lombard:
He had a great performance over
Jake Shields
. Granted, he beat
Nate Marquardt
, but I think Nate Marquardt was softened up for him by
Tarec Saffiedine
and
Jake Ellenberger
. I think he's on his way out. He got a victory over Shields, but Shields is ranked No. 6. I think Carlos Condit was ranked No. 2. Based on merit and marketability, I'm ahead of Hector.
On Rory MacDonald:
He lost to Robbie Lawler. He lost to Carlos Condit, who I just beat. He had the opportunity to fight for the world title against
Georges St-Pierre
and didn't take it. I was prepared to fly out and meet with Robbie Lawler [had he won the title], have lunch with him and talk about it. I was prepared to fight not just my training partner, but my friend. I wanted to see him win the title. The willingness to honor my contract as a fighter in the fight business and be willing to fight a teammate under world title circumstances puts me in a better position than him.
On Nick Diaz:
He's never beat a wrestler. If he does get a title shot, I think Johny Hendricks will own him. He hasn't won a fight since 2011. He had the opportunity to fight Carlos Condit, and thank God he didn't because I got a chance to go in and do what he couldn't do, which was beat Carlos Condit. He wants to sit back and watch the drama and then jump back in. This is not like a girl jumping double Dutch rope, step in when you feel like it. This is the fight business. You're either in it or you're not, and he's been out of it.
March, 14, 2014
Mar 14
6:56
AM ET
DALLAS -- Is the UFC 171 co-main event between
Carlos Condit
and
Tyron Woodley
a No. 1 contender bout in the welterweight division? That depends on whom you ask.
During a media function on Thursday, Condit and Woodley both said they've been guaranteed a title shot with a win over the other on Saturday. The vacant belt is up for grabs in the night's headliner between
Johny Hendricks
and
Robbie Lawler
.
[+] Enlarge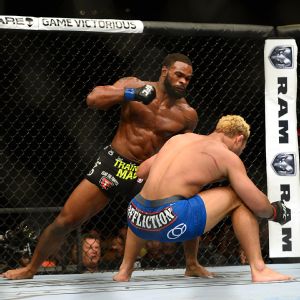 Al Powers for ESPNWith a win, Tyron Woodley could be in line for a UFC title shot.
Moments after Condit and Woodley left the American Airlines Center, however, UFC president Dana White said nothing is ever a guarantee -- especially UFC title shots.
"There are no guarantees anywhere in life," White said. "They're going to have to come out and perform -- and we'll see what happens."
The UFC 171 main card is stacked with elite welterweight talent. Hendricks, Lawler, Condit, Woodley,
Hector Lombard
and
Jake Shields
are all potential titleholders at 170 pounds.
Condit (29-7) lost back-to-back fights to
Georges St-Pierre
and Hendricks but rebounded in August with a finish over
Martin Kampmann
. His primary focus in the past year has been shoring up the wrestling deficiency that led to those two losses.
"I was in tune with the lack of wrestling ability on my part before those fights, but I feel like the guys I've brought in now, the particular coaches, just fit me and my personality better," Condit told ESPN.com.
"I've been told I get a title shot, and I plan on putting on a phenomenal show against Tyron Woodley. I deserve the title shot."
Woodley (12-2) would essentially jump the line at 170 pounds should he get an opportunity to fight for the belt. A member of American Top Team, Woodley is just 2-1 in the UFC and 2-2 in his past four fights.
That hasn't dampened his outlook on the situation, however. Woodley campaigned hard for the Condit fight and believes he's ready to carry the welterweight torch.
"I don't care who is ranked higher or who is next in line," Woodley said. "Nobody will be a better champion than me. I think I'm the full package -- a combination of good, hood and Hollywood. I'm marketable, punch hard and well-spoken."
White, however, apparently hasn't forgotten another fight on the UFC 171 main card between Hector Lombard (33-4-1) and Jake Shields (29-6-1). Shields has a strong case for a title shot with career wins over Condit, Woodley and Lawler.
"I think pretty much anybody on this card who comes out looking great and exciting can get a shot," White said.
As for the man who gave up the belt late last year, White said he "knows for a fact" that St-Pierre will eventually return from retirement and fight whoever has the belt.
"I haven't talked to him, but we've texted," White said.
"Is it fun for Georges St-Pierre to be gone? I wouldn't say it's fun, but the welterweight division is exciting now ... and when Georges does come back, whoever is standing there, it will be a fun fight."
White on Rousey, Carano, Holm
A fantasy fight between UFC bantamweight champion
Ronda Rousey
and former featherweight-turned-actress
Gina Carano
remains just that for now -- a fantasy.
[+] Enlarge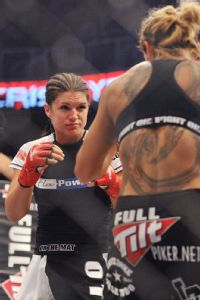 Jon Kopaloff/Getty ImagesDon't expect to see Gina Carano make a return to the cage.
Carano (7-1) has not fought since August 2009 and spent the majority of her career above 135 pounds, but that hasn't stamped out rumors of a potential comeback.
White maintains there is nothing currently in the works regarding an upcoming opponent for Rousey (9-0), who recently vacationed out of the country.
"There's absolutely nothing going on," White said.
White did say that any fight involving Rousey would be done at 135 pounds and not a catchweight, including a bout against Carano. He also confirmed reports of a split between Rousey with her management team, Fight Tribe Management.
The two sides are reportedly involved in a dispute regarding her contract. White said he was aware of it and it would not affect her ability to compete.
"It doesn't affect it in that way at all," White said. "That's between them and has nothing to do with [the UFC]."
White also confirmed he's scheduled to meet with undefeated female bantamweight
Holly Holm
(6-0) for the first time this weekend in Texas. Holm has fought for Bellator MMA and Legacy Fighting Championships.
"I'm meeting with her this week," White said. "I've never met them. We'll see what happens."
November, 14, 2013
11/14/13
6:41
AM ET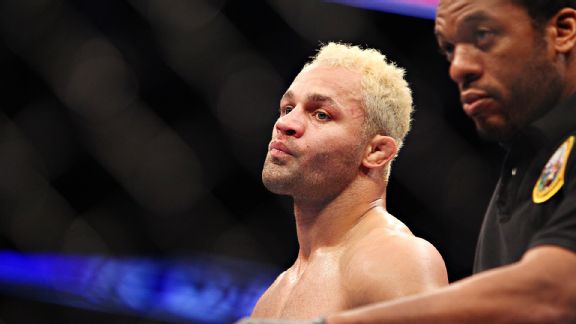 Ed Mulholland for ESPNAt 35, Josh Koscheck says he has a lot of fights left entering Saturday's bout with Tyron Woodley.
Red flags, fair or not, surround
Josh Koscheck
entering Saturday's
UFC 167
card.
He's 35. Plenty of athletes fight past 35, but let's face it: This is, for the most part, a young man's sport. The average age of the current UFC champions, which is presumably something Koscheck still aspires to be, is 28.
Koscheck has lost his last two fights. If you get into how he lost and whom he lost to, it's not the end of the world, but (again) let's face it: Often in this sport, details don't matter. If you're 0-2 in your last two fights, than you're 0-2 in your last two fights.
He withdrew from fights due to health reasons in 2012 and '13. He has already had two shots at the UFC welterweight title. His fight purses are relatively high, while expectations for his performances are potentially on the decline.
When you have all that going on, people are going to talk. In a recent Twitter post of Koscheck innocently holding a bass he had just caught while fishing, some fan responses basically amounted to, "Retire. You're no good anymore."
As Koscheck (17-7) prepares for his 23rd UFC appearance against
Tyron Woodley
on Saturday, which will move him into a tie with
Chuck Liddell
for the fourth-most UFC appearances in history, he discussed where he's at in his career.
When you get to Las Vegas, you'll be asked about two-fight losing streaks, motivation and possibly retirement -- are you prepared for those questions? Are they fair?
I'm sure they are fair questions. You've got to look at it though, my one loss was to
Johny Hendricks
, a questionable loss, and he's fighting for the title. Then I made a mistake and paid the price. With
Robbie Lawler
, you can't make mistakes. Those are all, I guess what you would call, the right questions to ask a guy like me at 35, but I believe I'm in my prime. I believe I have a lot of fights left and I'm not concerned with what anyone says because I know I've put the work in for this fight.
This is your 23rd official fight, in the UFC. You've been through training camps, media obligations and fight weeks. What stands out to you about this one? What's on your mind heading into this fight?
Everything is the same for me, although I finally got my camp settled down in Fresno. That took some time to get adjusted. Getting training partners and coaches -- that type of thing took some time. Johny [Hendricks] was my first fight away from AKA. Realistically, I didn't have one single training partner. It was just me in the gym. I had like
Bob Cook
and my manager with me once a week. I'm not making excuses because I was in shape for that fight, but I think I jumped the gun and took that fight too early.
[+] Enlarge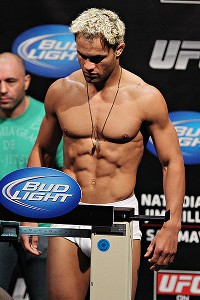 Ed Mulholland for ESPN.comDespite a two-fight losing skid, Josh Koscheck believes he is in his prime as a fighter.
Being in shape has never been an issue for you throughout your career, even in tough fights where there was seemingly little to gain. Why has that always come naturally to you?
I've always been a guy who is never afraid from working hard. My whole life, from the days of working with my grandfather in the hay fields to cutting firewood when I was 4 years old, rolling logs and helping stack. I'm a professional and I have to prepare like a professional. I believe I'm one of the hardest workers in the UFC. That's part of my pride, to know I've worked my ass off to get here and enjoy this.
Even if you're not planning on retiring soon, does it cross your mind? Do you think about how you want to leave this sport?
Absolutely. Every fighter out there thinks about stuff like that. If they say they don't, they're full of s---. It's part of our game. I don't know how many fights I have left. It could be one or two, it could be 10. As of right now, I'm focused on one fight and that is to whoop Tyron's ass.
Win or lose, do you feel comfortable with your standing with the UFC?
I feel I have a good relationship with the UFC. I've been around a long time. At some point, it all comes to an end for everybody in this sport. I've been blessed in that I have a lot of businesses outside of the UFC. I'm not concerned about losing a job. But right now, that's why I train so hard and dedicate myself -- to potentially put a stop to that. I control my own destiny.
You've had to pull out of fights now in back-to-back years. Was that just bad luck or are the miles of a long fight career starting to add up on your body?
It's not the fighting that's the hard part. I could get in a fight every day and be fine. It's the training. I'm never going to retire from fighting. I'm going to retire from training. I had a bulging disk in my lower back [last year] and then a broken right hand when I was supposed to fight
Demian Maia
. I trained on it. I tried to push it. I had injections on it to eliminate pain but I had to pull out. Every time I threw my right hand it hurt. Everything is healthy right now and I'm blessed to be as healthy as I am right now.
March, 6, 2013
3/06/13
5:56
AM ET

By Josh Gross
ESPN.com
Archive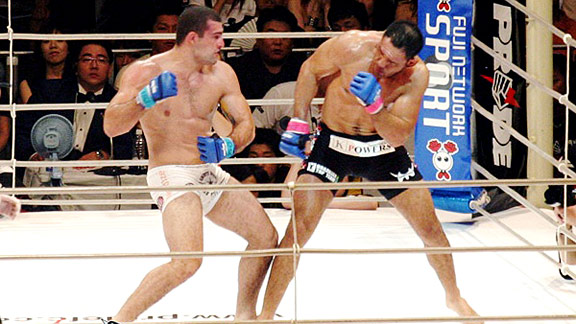 Sherdog.comA bout between Mauricio Rua, left, and Antonio Rodrigo Nogueira could steal the show in Winnipeg.
Winnipeg, hello.
For the first time, UFC announced Tuesday, it will roll into the Canadian province of Manitoba, bringing all the makings of a quality card. On Wednesday ESPN.com reported that interim UFC bantamweight champion
Renan Barao
will fight tough
Eddie Wineland
in the main event. With
Dan Henderson
meeting
Rashad Evans
and Mauricio "Shogun" Rua rematching a spectacular Pride contest against
Antonio Rogerio Nogueira
, Zuffa will have no problem filling the MTS Centre on June 15. Also,
Tyron Woodley
is slated to fight
Jake Shields
at welterweight, which should draw some intrigue considering Woodley's impressive UFC debut.
Winnipeg is the fifth Canadian city to welcome the UFC, and it should probably tip its cap to westerly neighbor Vancouver. Or, more precisely, the Vancouver City Council. Last year around this time, UFC president Dana White said the Octagon wouldn't head back to Vancouver until 2014 at the earliest. In addition to the fact that the council let a two-year trial period for MMA expire, the reality of promoting the sport in Vancouver, even though UFC made money for its two events there, was ridiculous because of indemnification and insurance costs. The powers that be didn't want UFC in town, which they made clear.
Fair to say, as UFC's head for Canada Tom Wright did, Vancouver seemed to think UFC supporters might act a lot like Canucks fans.
Whoops.
Well, Winnipeg's gain.
Barao's summer booking against Wineland signals that bantamweight champion Dominick Cruz is nowhere near being ready to return to the cage. Cruz's trainer, Eric Del Fierro, confirmed as much. In the champ's place, Barao has been an admirable temp. Wineland's speed and power could present challenges for the defensive-minded Brazilian. It's a solid fight.
Even with a title bout on the card, Henderson-Evans may carry the most intrigue. Both men are coming off less than impressive losses. Evans was convincingly worse, and he has a lot to answer for. Is the man mentally broken after Jon Jones? There are people who know him that think he is. Based on Evans' performance -- lack thereof, really -- against Nogueira, something has to give. Henderson is definitely the wrong guy to be timid against, though the 42-year-old wrestler might finally be old. Henderson wasn't sharp or active against Lyoto Machida, but that could have been a symptom of the Brazilian's quickness and countering ability. Henderson matches up well with Evans and I'd peg him the early favorite.
Building up Rua's second fight with Nogueira should be as easy as cutting highlights of the first contest. It was that good. Shogun was at the top of his game in 2005, a year in which he went 5-0 and defeated
Quinton Jackson
, Nogueira,
Alistair Overeem
and
Ricardo Arona
. Of that group, only Nogueira managed to go the distance. This was just a war of attrition, an incredible contest.
Expectations will be high.
Injury bug bites Bellator
It's official: Bellator has caught the injury bug.
Last week it was Daniel Straus' hand. This week, Douglas Lima's. Bellator moved Lima's welterweight tournament final bout against
Ben Saunders
off a March 21 event in Maine (the card features lightweights
Marcin Held
and
Dave Jansen
after that bout was postponed because of injury after originally being slated for this Thursday) and should have it lined up for sometime this summer. Since
Ben Askren
already has a waiting contender in unbeaten 22-year-old Andrey Koreshkov, the news about Lima isn't such a big deal.
It just goes to show, however, that Bellator's good luck streak with injuries and tournaments was bound to hit a rough patch. So it has.
As for Thursday at the Pechanga Resort and Casino in Temecula, Calif., Bellator offers semifinal bouts at 185 and 145.
The featherweights are where it's at.
Marlon Sandro
takes on Magomedrasul Khasbulaev (everyone just calls him "Frodo"). And on the other side of the bracket,
Alexandre Bezerra
fights
Mike Richman
, which should be the best contest on the card.
Middleweights fighting Thursday don't do much for me. Veteran
Doug Marshall
meets 9-0 Russian
Sultan Aliev
. And
Brett Cooper
should go to war with
Dan Cramer
.
Still, compared to Bellator 92's off-TV undercard, the middleweights are world class. Spike.com streams Bellator prelims, and let's just say up front this set isn't worth your time. Most of the fighters are local and not very good. Or, worse yet, long washed up if they were decent to begin with. But if guys such as
Cleber Luciano
and
Shad Smith
sell tickets, hey, alright.
Fight you most want to see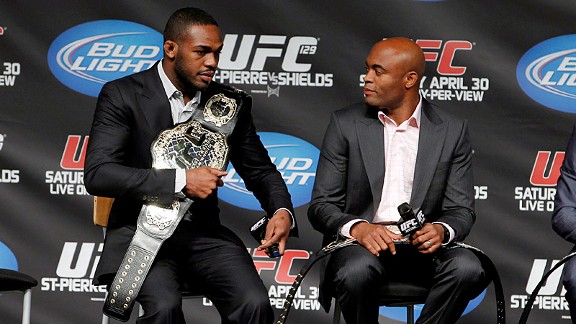 Ric Fogel for ESPN.comA clash between fellow UFC champions Jon Jones, left, and Anderson Silva is a fight fan's dream bout.
SportsNation is asking fans to
rank the best fight MMA can make right now
.
After a day's worth of voting, Jon Jones against
Anderson Silva
is ahead by a wide margin. No surprise, really. Silva versus
Georges St-Pierre
is second. And
Cain Velasquez
taking on Jones currently ranks third.
Topping my group was Silva-GSP. I guess I'm just tired of all the talk. It's been four years since this was first discussed and if GSP beats
Nick Diaz
on March 16 and if Silva handles
Chris Weidman
in July, it really needs to happen.
Silva-Jones, second as I ranked 'em, requires no embellishment. It's a surefire spectacle. But as tremendous as it would be for the fighters, fans and UFC, Jones has work remaining at 205 before he needs to concern himself with Silva.
No. 3 on my list: St-Pierre against
Johny Hendricks
. I love this at 170. If Hendricks and the UFC champion take care of business in Montreal in less than two weeks, I think fans will be clamoring for this contest. They should, but SportsNation suggests it's the sixth most appealing fight behind Jones-
Daniel Cormier
,
Benson Henderson
-
Jose Aldo
and the three previously mentioned.
Curious was the lack of interest in
Dominick Cruz
against
Renan Barao
at 135. Maybe Cruz has been on the shelf too long? I don't know. I like that fight a lot. Barao has been top notch, and possesses everything he needs to beat Cruz. Least interesting to me, for a variety of reasons, is GSP and
Rory MacDonald
.
Zuffa, make 'em happen.
February, 23, 2012
2/23/12
2:24
PM ET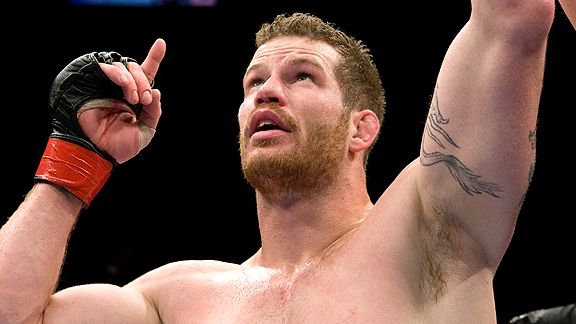 Josh Hedges/Zuffa LLC via Getty Images
The lesson here is a fairly simple one: Never say never.
There was a time, not so long ago, when it seemed like fans had a better chance of hitting the lottery than ever seeing
Nate Marquardt
fight in the UFC again.
Marquardt, we all recall, was released from the world's largest MMA promotion in June during a chaotic, whirlwind weekend that saw the Pennsylvania Athletic Commission yank him from a fight against
Rick Story
(who had already replaced the injured
Anthony Johnson
) when Marquardt's testosterone levels proved inappropriately high during prefight exams.
At the time, it all seemed very final. The news of Marquardt's firing was disseminated to the public via a succinct 12-second Internet video from Dana White. The UFC president later said he was "disgusted" with Marquardt's behavior and likened extending his time in Zuffa's employ to giving him a "fourth chance."
"Nate's done," White said in the days following. "I'm done with Nate."
Fast-forward eight months, after the former King of Pancrase signed and then worked his way out of a deal with the UK-based BAMMA organization without ever fighting there, and Marquardt is back. The middleweight contender turned theoretical welterweight will become the latest addition to the beleaguered Strikeforce roster and will reportedly fight self-proclaimed uncrowned 170-pound champion
Tyron Woodley
at an event to be named later.
A sliver of ambiguity White left surrounding Marquardt last summer -- "I don't know about Strikeforce," White said when asked if the newly unemployed fighter might find a home there. "Don't even ask me about Strikeforce." -- has blossomed into a whole new beginning. What once seemed like a lifetime ban has been duly downgraded to a simple demotion to Zuffa's slightly less popular broadcast platform. Fair enough.
What we don't know, exactly, is why.
We don't know what -- if anything -- has happened behind the scenes to change Zuffa's mind. We don't know if Marquardt has changed the particulars of his medical situation. We're not sure if he is still undergoing testosterone replacement therapy, which last June he credited with, among other things, saving his marriage, or if he's just promised to keep it within the legal limit this time.
Obviously, the circumstances of his dismissal haven't changed. "Facts are facts," White said at the time. Marquardt's history hasn't changed, either. He's still the guy who tested positive for steroids following a win over
Ivan Salaverry
back in 2005. He's still the guy who was already on notice in New Jersey for circumstances involving hormone therapy after his win over
Dan Miller
three months before he showed up to take on Story.
As of right now, we're left to assume the only thing that's changed is the passage of time.
It's eight months later. Everyone has cooled down from that initial burst of activity and anger and realized an MMA world where Marquardt is still under contract to Zuffa suits everyone in the equation better than the alternative.
That's nature of the fight game in 2012, of professional sports, really -- to be wholly uncompromising and yet incredibly transitory at the same time.
If there's one constant in this industry, it's that all things change. They change quickly, irreparably and forever.
Then, given enough time for everybody to get over it, they typically change back.
January, 4, 2012
1/04/12
3:31
PM ET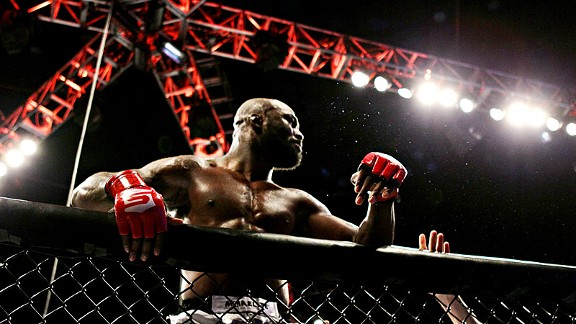 Ross Dettman for ESPN.comThe more things change, the more they must feel the same for King Mo Lawal.
It was just four months ago that
Muhammed Lawal
made the most unfortunate verbal gaffe of his young career, comparing Strikeforce to a "cancer patient" and saying that fighters mired in what everyone thought were the organization's last days were "just waiting for it to die."
As one of MMA's most intelligent and analytical fighters, Lawal must have regretted the choice of words immediately. He's since apologized and backed off the original statement, even though -- aside from the dreadful phrasing -- the underlying sentiment was one most people shared at the time. For much of 2011, we all assumed that Strikeforce was just playing out the string, that it would vanish at year's end and that up-and-coming stars like Lawal would be absorbed into the UFC.
Approximately 120 days later, things look at lot different and, frankly, even more unclear.
With an extended broadcast deal reportedly struck with Showtime, Strikeforce enjoys an unexpectedly bright future as it prepares for its first show of 2012 on Saturday night. While that's great news for the brand itself, it has to be sort of unsettling for fighters the caliber of Lawal, who is slated to fight undefeated prospect Lorenz Larkin on this weekend's televised card.
At least back when it seemed like Strikeforce was about to go the way of the dinosaur, fighters knew where they were headed -- either to the Octagon or the independent circuit.
Now that SF will reportedly live out this year, guys like Lawal,
Luke Rockhold
and
Tyron Woodley
must feel condemned to continued time in limbo. Indefinitely confined to an organization that has seen its end date extended, but has yet to feel any more vital or relevant than it did in September, when Lawal initially pronounced it terminally ill.
[+] Enlarge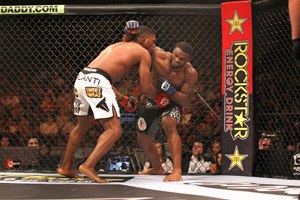 Ross Dettman for ESPN.comIf change is coming, it better come soon for the sake of fighters like Tyron Woodley.
Dana White has promised change, a worthwhile working environment for fighters and a positive experience for fans. That change could well still be coming, but at least on paper, Strikeforce's first offering of 2012 doesn't feel any different.
There are some interesting matchups -- Lawal versus Larkin and Woodley's bout with Jordan Mein probably chief among them -- but Rockhold's middleweight title defense against
Keith Jardine
feels downright nonsensical as a main event and there has been typically little promotional buildup. Stuck as it is between last weekend's UFC 141 and next weekend's UFC 142, this event threatens to get totally lost in the shuffle. Especially with Zuffa planning a show every weekend during January.
For now, fighters and executives alike are putting a brave face on things. If there's one constant in fight sports, it's that you can count on everyone involved in a bad and frustrating situation to insist it's neither bad, nor frustrating until after the fact. Especially when that seems like the best way to continue getting paid.
But if change is truly coming to Strikeforce, well, it needs to hurry up and get here. If it doesn't, it might be tempting to think the organization is still just playing out the string.
A much, much longer but similar looking string.
July, 29, 2011
7/29/11
11:53
AM ET
Paul Daley has told Tyron Woodley that he is not in Josh Koscheck's league, and he will prove it by sinking the undefeated welterweight at this weekend's Strikeforce event.
More »
July, 28, 2011
7/28/11
8:38
AM ET
Strikeforce executive vice president Scott Coker said this week he believes Saturday's card has the potential to be the best show his organization has ever done. Meanwhile, the rest of us stand around whispering about how long the embattled fight promotion can even survive.
In that regard, maybe it's fitting that the future of several of this weekend's competitors appears inexorably tied to the prospects of Strikeforce itself. With the fate of fighters like
Fedor Emelianenko
,
Dan Henderson
and
Paul Daley
-- not to mention the entire women's division -- looking more and more unstable as Strikeforce trends closer to an assumed eventual absorption into UFC, it goes without saying that a lot could be on the line Saturday.
Here's a glance at who has the most to gain and the most to lose at Strikeforce: Fedor versus Henderson:
Most to gain:
1. Miesha Tate:
As
noted earlier this week
, Tate appears to have all the makings of a breakout star in a Strikeforce women's division hurt by the absence of its two biggest stars --
Gina Carano
and
Cristiane Santos
. To fulfill that promise, she'll have to beat
Marloes Coenen
for the 135-pound title. Tate and Coenen have said they hope their performance goes a long way to showing Zuffa brass that female MMA can be a valuable future part of the company. That, along with an opponent whose submission ability could pose a threat to Tate's takedown-oriented style, seems like a lot to heap on a 24-year-old who hasn't fought in almost a year. It'll be pretty impressive if she can pull it off.
2. Tyron Woodley:
Imagine how Woodley's career might have been different had he not reportedly been one of the final cuts prior to filming season nine of "The Ultimate Fighter." Instead, James Wilks won that season's welterweight crown and has since put up an underwhelming 2-2 record in the Octagon. Meanwhile, Woodley has had to build his reputation without a ton of help, netting six straight victories in Strikeforce dating to June 2009. With the welterweight championship vacant after
Nick Diaz
became the first to cross (back) over to the UFC, a win over Daley could do double-duty -- providing his career its first real signature moment while also putting him on the doorstep of a title shot.
3. Dan Henderson:
Henderson could just as easily fall into the "most to lose" category if things get ugly for him against Emelianenko. Especially considering those troubling reports that Zuffa might cut him loose from his bloated contract if he doesn't come out on top. Still, the rewards might outweigh the risks for Hendo against a former heavyweight great considered by most to be in rapid decline. Even with our doubts about Fedor's future in the sport, moving up a weight class and capturing a win over him would still look great on Henderson's already extensive resume. Considering the victory would give him three in a row after back-to-back knockouts over
Renato Sobral
and
Rafael Cavalcante
, it would also put a good bit of distance between him and his loss to
Jake Shields
in April 2010, when it looked like Henderson didn't really want to fight any longer than five minutes.
Most to lose:
1. Fedor Emelianenko:
It won't be unexpected if Fedor loses to Henderson, then retires, but it'll still be sad. After going nearly 10 years and 28 fights without a loss, Emelianenko built an almost mythic reputation in a sport where he is still arguably the greatest all time. Without overstatement, if this weekend is the last time we see him in the cage, it'll mark the end of an era in the hearts and minds of longtime fans. Just goes to show, the adage is true: Time, too much ice cream and a complete refusal to ever alter your approach even as the rest of your industry passes you by will make a fool out of all of us.
2. Paul Daley:
Daley is 8-2 in his past 10 fights, but you still get the feeling Zuffa is just waiting around to fire the guy, don't you? Since severely limiting his career options by punching
Josh Koscheck
after the bell at UFC 113, each of the 28-year-old Daley's moves takes on added significance. The fight against Woodley could mean the difference between a shot at the Strikeforce 170-pound title and having the only thing in his future to look forward to be an as-yet unscheduled BAMMA main event against
Nate Marquardt
. If those are Daley's options, he better hope he's got the wherewithal to choose the former.
3. Robbie Lawler and Scott Smith (tie)
: It seems like a lifetime since a rematch between these two drew an estimated 2.6 million viewers to EliteXC's second show on CBS almost exactly three years ago. Lawler won the doomed company's middleweight strap that night but has since gone 2-3 and faces what amounts to a must-win against the very tough
Tim Kennedy
on Saturday. Likewise, Smith has lost three of his past four and conceded this week he likely won't have a job with Strikeforce if he can't get past 24-year-old prospect
Tarec Saffiedine
. It'd be a shame to see these guys hit the unemployment line, but that could be the reality if either suffers another loss.
June, 26, 2011
6/26/11
10:31
AM ET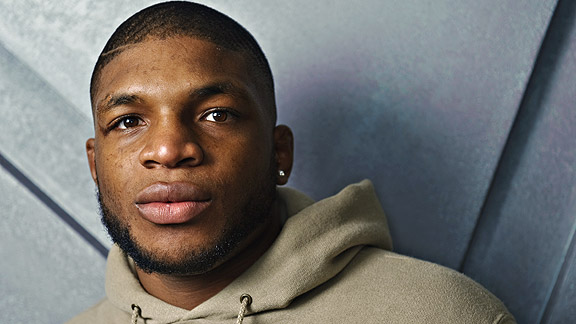 Martin McNeil for ESPN.comPaul Daley's return bout might have gone from difficult to extremely tough in Tyron Woodley.
Paul Daley
's replacement opponent has been found following the withdrawal of
Evangelista Santos
, and it is arguably an even more difficult challenge in the shape of
Tyron Woodley
.
More »
October, 11, 2010
10/11/10
1:18
AM ET

By Jake Rossen
ESPN.com
Archive
Sometimes, ugly is enough to get the job done.
On Saturday, Nick Diaz needed five rounds and another blood-crusted face to best K.J. Noons, nearly three years after a doctor's stoppage gave Noons a win over him. Neither man was particularly graceful in the rematch: Diaz could never quite slide into his volume punching that feels worse than it looks, and Noons was sometimes channeling Leonard Garcia in KO blows that he threw his entire body into.
It's not that it was poor striking; it's that MMA presents too many variables for that striking to ever be as tightly constructed as we see in higher-level boxing matches. Some are going to confuse that for inability, but you do what you have to when takedowns and kicks are part of the equation.
What else did the fight prove? That Noons is probably one of MMA's most skilled boxers, but that he's also undersized for the welterweight division. There's a world of difference between his frame hitting you and that of a 185-pound man who has cut down weight. But what Noons lacks in size he makes up for in speed and technique.
Meanwhile, Diaz posted one of his better career wins Saturday. The bad news? It might be one of the few remaining significant victories currently available to him in Strikeforce.
Next for Diaz: A rematch with Joe Riggs, even though it might be a snooze button of a bout; a middleweight fight with Cung Le, if Strikeforce wants some fireworks for a network show.
Next for Noons: Seeing what he's made of against a takedown specialist like Josh Thomson. (Can't avoid those wrestlers forever.) If he wants more at 170, Maruis Zaromskis would be interesting.
Next for Marloes Coenen: Miesha Tate.
Next for Tyron Woodley: More grooming before anyone brings up the possibility of a title shot.
Awards
Hairy situation award: Shared by Mauro Ranallo and Noons, for spending more time with their bangs than on the task at hand.
Leave the poor guy alone already award: Strikeforce, for cornering Diaz for a backstage interview in which he appeared to be addressing the carpet.
Dead air award: Ranallo (and producers), for introducing at least 10 different ringside fighters in what amounted to one of those Oscar-broadcast dead celebrity popularity contests. (Cung Le: big applause. Another: silence.)
The truthiness in victory award: Thomson, for scolding the judge who awarded him a 30-27 victory over Gesias "JZ" Cavalcante when most sighted observers could see Thomson lost the third round. When a fighter is telling you, the judge, that you've done a horrible job when you've awarded him the winner's share of the purse, it's time to regroup.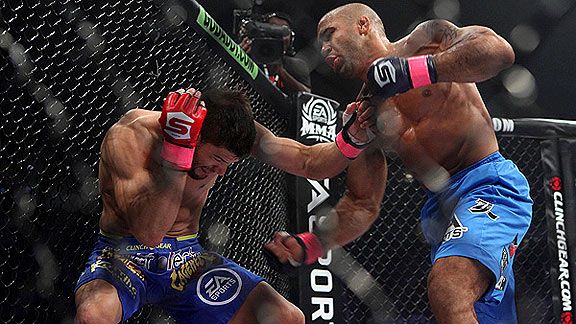 Dave Mandel for Sherdog.comNot even winner Josh Thomson would duck the obvious -- that JZ Cavalcante took Round 3.
New questions: Strikeforce
Is Diaz a better fit in Strikeforce than in the UFC?
Diaz posted an impressive 6-4 record in the UFC from 2003-06. Since leaving the promotion, he has built a 9-1-1 record, with the only loss (to Noons) having been avenged this past weekend.
The difference? The UFC usually puts its fighters in the crosshairs of wrestlers that can stop an opponent's momentum, both literally and figuratively. Outside of the promotion, Diaz has been able to showcase his striking against fighters willing to exchange with him.
Diaz has two bouts remaining on his Strikeforce contract. Between the welterweight and middleweight divisions and the occasional trip to Japan, he probably has the ability to stay busy for years without running into blankets like Jon Fitch and Georges St. Pierre. And between Nate Diaz and Jake Shields, both in the UFC's 170-pound division, a Cesar Gracie pile-up would be inevitable. If he's not hung up on beating top-10 welterweights, Nick Diaz might be one of the few guys for whom a career outside the UFC makes the best sense.
Is Strikeforce going to reward bad behavior?
Showtime's broadcast had barely wrapped up before reports circulated that Diaz and Jason "Mayhem" Miller -- who got into it during a CBS show earlier this year -- were grappling backstage. Strikeforce CEO Scott Coker said he wasn't opposed to matching the two up.
So we're clear: An in-cage mob scene that ended in fines and suspensions, cools CBS on MMA and manages to bleed over into another show months later should result in a payday for the fighters? Where is the incentive for fighters to conduct themselves like professionals?
Will judges ever be accountable?
At the conclusion of the Thomson-Cavalcante bout, judge Susan Thomas-Gitlin scored it 30-27 for Thomson -- an impossible sentiment when you consider that the third round saw Cavalcante throw, mount and strike Thomson without suffering any kickback. Even Thomson was in disbelief at the scorecard.
It's unlikely Thomas-Gitlin will ever be cornered and asked to articulate what she saw Thomson do in that round that earned him a 10-9 victory; some commissions believe a judge should be able to assess bouts without second-guessing media hounding them. It's a nice thought, but when officiating has become so distanced from reality, regular conventions need to be tossed out the window. Judges should be asked to note on the cards why they believed a fighter won a round: "landed more effective strikes," "two successful takedowns" or the like. If that's too much to ask, find someone else to do the job.
Notes
• Noons broke his jaw in the first and his hand in the second. More accurately, Diaz broke his jaw. That Noons kept the fight competitive for five rounds says something about his attrition.
• Sarah Kaufman seemed upset that Coenen, the new 135-pound women's champion, didn't let go of her armbar submission right away -- tension that later cooled in the locker room. The weight class looks like a good fit for Coenen, who has a long, rangy frame that she uses to tie up opponents effectively.
• Nate Diaz sported a UFC hat during his brother's entrance, a small detail that's still indicative that Strikeforce isn't as savagely competitive with the UFC as the UFC is with everyone else.
• Yahoo! Sports' Dave Meltzer reported a crowd of 7,473 fans at the HP Pavilion, a solid turnout for a San Jose, Calif., show that was absent of draws like Frank Shamrock or Cung Le -- and absent their substantial salaries.
• Thomson's win over Cavalcante puts him in line for a third fight with Gilbert Melendez, but it's the kind of fight that might shave a year or two off the already hobbled Thomson's career. The two fighters aren't good for each other from an orthopedic perspective.