August, 9, 2013
Aug 9
5:45
PM ET

By Josh Gross
ESPN.com
Archive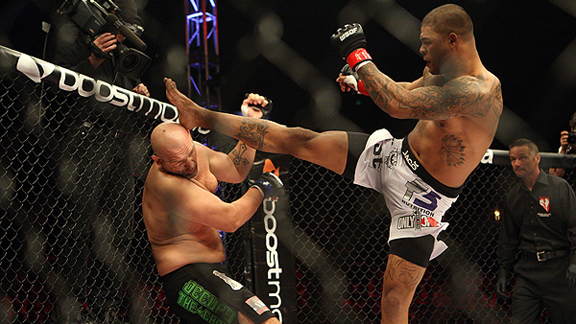 Dave Mandel/Sherdog.comTyrone Spong has excelled in kickboxing and his goal is to do the same in MMA.
BURBANK, Calif. --
Tyrone Spong
stands with a presence. He fights with one, too.
A legit 6-foot-2, Spong's height is aided by good posture. The well-proportioned 27-year-old Surinamese-Dutchman has made good use of his frame, and is reputed to be among kickboxing's best athletes and technically superior combatants.
Spong is well aware of how he's viewed, and is comfortable saying so.
This is why he was driven to YouTube to search for videos of Bo Jackson after media comparisons caught his attention. He hadn't heard of Jackson, though it didn't take more than a few clips for Spong to understand why the iconic hybrid is universally lauded among the dominant athletes of his generation.
"It's not to sound cocky, never, because I'm a real humble guy," the light heavyweight said this week during a media lunch promoting a World Series of Fighting card Aug. 10 in Ontario, Calif. "But some guys are blessed with that ability. And I'm blessed even more."
The "King of the Ring" has lived kickboxing since he was 13 and randomly stumbled into master trainer Lucien Carbin's gym in Amsterdam. Carbin is old-school. Water breaks during an hour and a half of hard training didn't happen. The gym was kept stifling, like a wet sauna. Condensation poured off mirrors and walls. If there wasn't enough steam in the atmosphere, Carbin would dial up the temperature and intensity.
Looking back on it, Spong says this style of training is "not right."
"But," he said, "for me as a young kid at 13 years old, starting like that in a gym, it gave me a mentality like I don't care what situation I'm in, I'm always going to work hard."
Spong split from Carbin a few years ago and now lives in Boca Raton, Fla., where he teamed up with the Blackzilians. Yet the mental fortitude forged at Carbin's remains deeply ingrained in who he is and how he conducts business.
Since he's gifted with the ability to copycat technique, Spong said his progression in MMA and boxing has come quickly.
"Sometimes," he said, "it goes automatically and I surprise myself. I pick it up so good I can probably teach it to somebody, too. That's not the hard part. You have to be able to apply it in that moment, under the pressure, and that's the hardest part."
Spong's focus this week is MMA.
For the second time as a pro, he'll enter a cage this Saturday against Californian
Angel DeAnda
in the main event of World Series of Fighting 4 (NBC Sports Network, 10:30 p.m. ET). Ali Abdel-Aziz, the upstart promotion's matchmaker (among other things), made Spong the headliner because it reflects his potential and the kickboxing convert is "the biggest draw on the card."
[+] Enlarge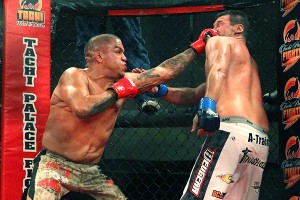 Jeff Sherwood/Sherdog.comAngel DeAnda's experience in MMA could be an advantage against newbie Tyrone Spong.
"Right now this is a step up for me already," Spong said. "[DeAnda] is 11-2; that's not a bad record. For me, I'm 1-0 in MMA. Let's not forget I'm a kickboxer, but I don't want to be labeled just a kickboxer. I'm building my legacy. I want to be an all-around combat sports athlete. I want to be the Bo Jackson of martial arts."
Splitting time between boxing and MMA, Spong has not abandoned kickboxing, though it's less of a priority, he said, because it's as natural as breathing -- all he needs to do is show up in shape. His next contest on Oct. 12, promoted by Glory, is a rematch against Nathan Corbett in Chicago.
"I've been doing it for so many years," he said. "At the same time you need something new to bring a spark. I found that in MMA and boxing."
Spong's commitment included, not inconsequentially, transplanting a life in Holland, where he and two sisters were raised by his mother in a tiny apartment, for Florida. With the chiseled fighter came his three children, six dogs and 15 finches (known for their aggressive tendencies, singing ability and difficulty to breed).
Rashad Evans
,
Vitor Belfort
,
Thiago Silva
,
Alistair Overeem
and others have helped Spong on the MMA side. For boxing, trainer Pedro Diaz took the reins.
Spong should be used to Diaz's M.O. because it's similar to Carbin's -- ritualistic 5 a.m. training sessions replaced hotter-than-hell gyms. Known for his work with Miguel Cotto, Diaz is a perfectionist. Spong is fine with this, and his first attempt at pro boxing could come later this year.
Spong envisions opportunity and enrichment in his chosen trifecta of combat sports.
"For all the sports it comes down to the athlete," he said. "Who are you? How marketable are you? How good are you? So it depends. In all of the sports you can make good money. You see even in all these sports the guys really making the money are the best guys."
World Series of Fighting signed Spong to a nonexclusive deal that allows him the freedom to pursue other things. Abdel-Aziz said because of the light heavyweight's fighting prowess, WSOF "didn't have the right to ask Spong [72-6-1 in kickboxing] to focus only on MMA." Perhaps it wasn't the best business decision, the promoter conceded, but it's how WSOF intends to operate. But, more to the point, Spong will have space to develop his MMA game, which mostly means getting his grappling right.
"Sometimes I ask myself what do the fans want? They want me to fight
Jon Jones
tomorrow? Is that fair? If Jon 'Bones' was 1-0 in kickboxing, would he fight me?" Spong pondered. "I guess not. I'm the champion. So give me some time. I'm working on it."
June, 12, 2013
Jun 12
6:55
AM ET

By Brett Okamoto
ESPN.com
Archive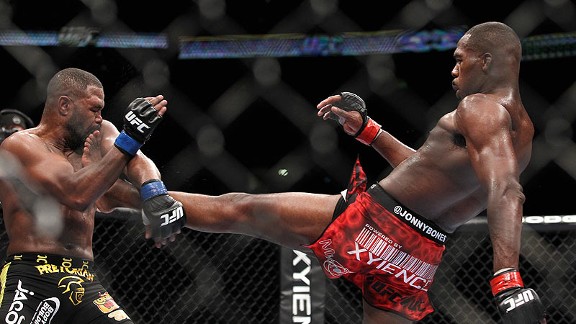 Ed Mulholland for ESPN.comMany dismissed Rashad Evans, left, after a one-sided loss to UFC light heavyweight champ Jon Jones.
The concern about
Rashad Evans
is understandable.
From an outside perspective, Evans has never recovered from that five-round loss to
Jon Jones
in April 2012. He was absent from the cage for 10 months after that, and then looked like a shell of his former self in a decision loss to
Antonio Rogerio Nogueira
.
Evans looked hesitant in that fight -- unsure of himself. Come to think of it, he even looked a little sad.
It might lead us all into thinking that competitively speaking, with the words "UFC champ" already on his résumé and money in the bank, we've seen the best of Evans. He gave it a good try against Jones at UFC 145, but that was the beginning of the end.
If the former light heavyweight champion is going through the motions now, or even if he's just trying to relight a competitive flame on a burned-down wick, it's going to show against
Dan Henderson
at UFC 161 this weekend.
Talk to those around Evans (17-3-1) though, and conversation doesn't revolve around rekindling his love for the sport or rebuilding his confidence.
The Blackzilians actually can't wait for Henderson on Saturday, the start of a title run and, you had better believe it, Jones again.
Glenn Robinson, Evans' manager
: It's crazy to watch. People ask, 'Rashad, are you all right, are you sure you're OK?' Like he's got a sickness or something. He just lost a fight and people are treating him like a kid who lost football tryouts or something. Listening to these people talk, I thought they were going to take him for ice cream.
Tyrone Spong, teammate
: For me, he's the same guy he's always been. He's very hungry. I know what it is to be criticized, but sometimes I'm like, come on. Don't talk stupid. Give the guy a break here. It's two losses -- and it's not like he got his a-- whupped [in the Nogueira fight]. He had less of a night. That's the whole story.
Robinson
: There was a point over the last couple of years where he'd been through a rough time. It's one thing for you to know you're getting divorced (Evans finalized his divorce in 2012), it's another thing when it becomes official. He was with his ex-wife from the time he was really just a kid. That was all going on leading up to his last fight. Every one of us has bad times in life and that was Rashad's bad time. That doesn't mean he's changed as a fighter or a person. He had a fight that didn't go his way. That doesn't mean he's done.
Spong
: People don't know the real Rashad. They see him as a character -- the UFC fighter. What comes first is that we are all human beings with the same emotions as every other person. Not every camp is the same. We all go through different things emotionally and physically. Every camp is different, so every fight is different.
Kenny Monday, Blackzilians wrestling coach
: From the first day I joined the camp (Monday joined the team in April), he's been great. My message right away was, 'How do you want your career to be defined?' I asked about the possibility of being a champion and getting back to the top and he said, 'I want to be defined as one of the best in the sport.' He didn't have to say anything else. I said, 'Let's get to work.'
Robinson
: I'll tell you exactly what happened in the Jones fight. That training camp was a circus. I mean, I love Coach [Mike] Van Arsdale, but he ran that camp like he would have if he was fighting, not Rashad (Van Arsdale parted ways with the Blackzilians in mid-2012). Rashad had, at one point, five different striking coaches.
Spong
: That Jones fight -- even during that camp a lot of stuff happened. It didn't go as planned. He still went out there and fought his a-- off. He has no problem talking about it. If he looks back at it, things didn't go as planned in the camp and he couldn't do everything he wanted, but other than you can't regret anything. He still went out there and gave Jon Jones a hell of a fight.
Robinson
: It's just not true [his confidence suffered after the Jones fight]. Rashad's confidence never wavers. He had a lot on his mind after that, but he never lost confidence on who he was. When you have a bad day as an MMA fighter, you're washed up and this and that but let me tell you -- Rashad completely destroyed the tackling dummy in the gym for this fight. His confidence level is just fine and he'll show that.
Monday
: I've been around the sport a long time and I can see it when a fighter is done. I can see it in their eyes -- see the passion is not quite there. They train, but they don't have that edge. I still see that hunger of wanting to win in practice. When guys stop trying to win in practice, that's when you see them looking for the exit door. Rashad still gets pissed off in practice.
Robinson
: The most important thing for Rashad was he needed to enjoy fighting again, and he does. He's in great shape. He and Tyrone were in my house watching Thiago [Silva] fight and they are flexing their arms to see who has bigger biceps. Rashad's body is ripped. His legs are huge -- you can see the muscle in them. That came from hard work and you can't put that hard work into something unless you enjoy it. That's the biggest change in the last year.
Roberto Flamingo, Blackzilians striking coach
: We expected a better fight against Nogueira. It didn't go as it had to go. That night, Alistair was fighting right before so I walked him to the Octagon and wasn't there to warm up Rashad. The preparation half an hour before the fight wasn't where it needed to be. He has to prepare good before he goes to the Octagon. He couldn't find his range.
Spong
: It all felt good going into that fight. He was strong in everything. He just missed his rhythm and he couldn't get into the fight. He was off the whole time. It was frustrating for me as it was for him.
Monday
: After the Jones fight, he was doing more commentary and after the emotional drain from that fight I think he may have thought about wrapping it up. I don't know, I wasn't here. After that second loss though, I think he said, 'Nah, this is not how I want to go out.' We've talked about leaving a legacy of greatness. He knows in order to set that up, he needs this fight.
Spong
: It's your opinion if you don't think he can beat Jon Jones, but I think it's stupid. Look at Jon's fights in the 205-pound division. When he defends his belt, he's finished everyone easy but Rashad. Rashad is the only one to give him a fight. I know for sure if he had a proper camp he is the one to beat Jon Jones.
Robinson
: The bottom line is who of all these great champions, some of them are in the title hunt right now, can say they went five rounds with Jon Jones? I asked him if he wants that fight again and Rashad told me, 'I'd love to get the belt again, but right now I just want to fight.' He's not going to pressure himself into the belt. If he does the right job, the belt will come.
Monday
: We talked about Jon Jones one time, about his mindset going into the fight and if he wanted him again. Absolutely [he wants him again]. If you don't want that fight, you know, then I think you are done. The guy is the best out there. Who wouldn't want that fight? I want to fight him.
Robinson
: He trained harder for this fight than the [second]
Tito [Ortiz]
fight. Way harder. Rashad excels under pressure. In the Tito fight he had to prove to the world he deserved the title shot. He went into the
Phil Davis
fight with three cracked ribs. He really put 100 percent into this camp. Betting against Rashad because of what happened in the past is a foolish move. Rashad will be dangerous on Monday. Today, people are concerned -- on Monday, Rashad will be dangerous.
October, 23, 2012
10/23/12
11:45
AM ET

By Chuck Mindenhall
ESPN.com
Archive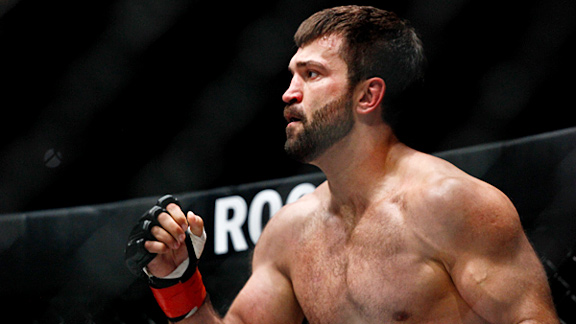 Sherdog.comAndrei Arlovski is just one of several well-known fighters participating in WSOF's debut event.
On Nov. 3, the date originally slated to be Daniel Cormier's big Oklahoma homecoming in Strikeforce against
Frank Mir
, the World Series of Fighting will host its inaugural show in Las Vegas. Strikeforce was canceled in the wake of injuries. That leaves WSOF, which will appear on NBC Sports Network, as MMA's Saturday night showcase.
A bit of serendipity, right?
It certainly can't hurt.
The WSOF is a fledging promotion that 41-year-old kickboxer/MMA fighter
Ray Sefo
is presiding over. You might be familiar with some of the names Sefo & Co. have been gathering to fill up its roster. UFC retreads, mostly -- but retreads with some miles left on them.
There's former WEC champion
Miguel Torres
, who was cut abruptly for mysterious disciplinary reasons. There's the no-longer-shrinkable
Anthony Johnson
fighting at 205 pounds. There's the fanged
Andrei Arlovski
, a requisite Gracie (Gregor) and upstarts like
Tyrone Spong
. On the undercard?
Gerald Harris
,
Josh Burkman
and JZ Cavalcante. Even
Waylon Lowe
will be in the building come Nov. 3.
Not a bad first roll, really.
"The goal for us is to provide another stage," Sefo, who was doing a media tour through New York, told ESPN.com. "There's so much talent, so many fighters out there who don't have a stage to go to. Obviously the mecca of MMA is the UFC. Our goal is to start slowly and then hopefully be as good or as big as the UFC. Obviously that takes a lot of time and you have to crawl before you walk."
If it looks like a lot of eggs in one basket, it is. WSOF is loading the first card to gauge things. Having spoken to people within the company, they're already blueprinting a January card, and there's a tentative goal of doing 10 cards. By card three? That's when they'll start talking title fights, Sefo says. But that's just projection, and in this racket, projection can barely raise an eyebrow.
The New Zealander Sefo knows that, and the idea is to take things slow, build up, and get better along the way. That's why, in a way, the WSOF will launch itself happily as a "fallback" option for guys trickling out of the UFC. They will begin as security.
But this isn't Affliction. They aren't trying to go head-to-head with the UFC. In fact, Sefo and the WSOF backers are fantastic admirers of what Zuffa has done over the years. It's to be an alternative. And it was created, in part, on fighter empathy.
"

... our goal is to make sure that the fighters are looked after. When the fighters are happy where they're at, they're going to come back every single time.

"

-- WSOF president Ray Sefo, on the treatment of his fighters
"This is a rough sport we're in, and it takes a lot of discipline, a lot of dedication, a lot of time away from families," Sefo said. "So being a fighter -- and I have experienced this myself with K-1 owing me so much money, as well as seeing it with other fighters -- our goal is to make sure that the fighters are looked after. When the fighters are happy where they're at, they're going to come back every single time."
Sefo could be a spokesman for fighters being taken advantage of. In fact, by spearheading WSOF, he sort of already is. Sefo recently told MMAFighting that he was owed $800,000 of back pay by K-1. How's that for a catalyst to action? In fact, some might say that WSOF is being overly generous with its pay. Gerald Harris, for instance, will make more in his first appearance with the promotion than he did in any of his UFC fights. And each fighter is signed to three- or four-fight deals.
As for the production of the event? Sefo says that here he takes his cues from the UFC, which operates as a well-oiled machine come fight night.
"I don't think there's much difference at all," he says. "Everything they do, they do it right and they do it big. They are an inspiration for us, to make sure we take the right steps, one step at a time and we do things right.
"But I don't think there's much difference at all [in terms of production]. Being a new company, for us, the next two to three shows is a learning process."
The first one will take place at Planet Hollywood Resort and Casino, and will be a cheap ticket for locals looking to catch the vibe live. "With the economy the way it is these days, we want to put a ticket out there that everyone can afford -- and everybody can afford a $20 ticket," Sefo says.
Beyond that, the feeling with WSOF is "let's see how the first one goes and not get too far ahead of ourselves." Not that there isn't optimism.
"Everybody that we've got on the card is excited," Sefo says. "I'm really excited to see everybody come out and perform. It's such a good card that there's no one particular fight that stands out as a favorite. We're very blessed with the card that we have.
"It's baby steps. Take one step at a time and see where it goes."