December, 11, 2012
12/11/12
6:52
AM ET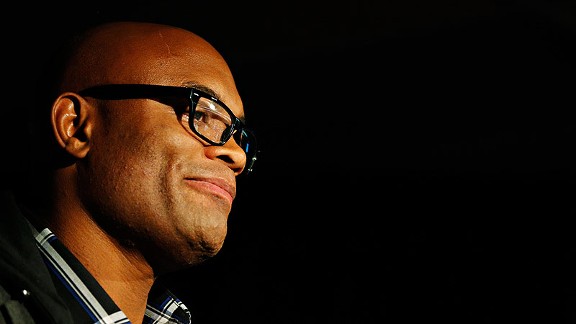 Josh Hedges/Zuffa LLC/Getty Images
Do we underappreciate
Anderson Silva
, or does Dana White underestimate our appreciation of Anderson Silva? Can't be both, can it?
White has pointed out to the media that the media doesn't grasp how great Silva is. Not like he does, anyway. He has reiterated this idea on occasion, but his mystification grows with every Silva victory. That's pretty reasonable. Silva is 16-0 in the UFC. The New England Patriots were 16-0 in the regular season in 2007. People had little trouble grasping that tyrannical bit of greatness (except for the 53 guys from East Rutherford who defeated them in the Super Bowl that season).
Silva's 16-0, however, in a sport where four-ounce gloves are meant to protect the knuckles more than a man's consciousness, is vastly underappreciated. He isn't being treated as the juggernaut he is, and this can't help but feel like a travesty. The question (accusation) seems to be: Don't we see that Silva is a living, active legend on an impossible, unparalleled run?
Why can't we canonize him like proper historians? (Crudely translated: This is a pay-per-view company.)
That's a tricky business because, you know, what's the proper way to treat a juggernaut in a relatively nascent, particularly niche-y sport? Is it a matter of rose petals being thrown in his path? There are puff pieces on Silva galore. He appears at the top of any sane person's pound-for-pound list. There is blind adherence to Silva's myth from Brazil to the U.S. and beyond.
None of that is enough for casual transcendence, unfortunately.
So maybe it's something more basic. Something like Silva not having the charisma to match his fighting (and if charisma didn't matter, there'd be no
Chael Sonnen
on next season's "The Ultimate Fighter"). Silva rarely openly challenges anybody, and he seldom talks smack. There's nothing larger than life about his shyness. That he doesn't speak very good English for a North American-based company doesn't help, either.
Does that affect what we see in the cage? No, but it affects everything we're looking at before the cage doors swing open. In any case, fans and media aren't talking about Silva as a once-in-a-lifetime privilege -- as a world-beating, invulnerable, Mike Tyson pre-Buster Douglas era machine that will mow down all comers -- to White's satisfaction.
And that's tricky too because ...
is
Silva taking on all comers?
People are careful not to say it too loud out of respect for the guy they're essentially disrespecting, but the hunch is
maybe not
. Behind closed doors he may be one thing, but in the public eye, he does appear a little finicky. "Finicky" doesn't easily fit with the kind of appreciation White's talking about (after all,
we
didn't elect to see Silva fight
Stephan Bonnar
,
they
did). Silva didn't want to rematch Sonnen (but was persuaded). He didn't want to fight
Jon Jones
(but will). He doesn't want to fight
Chris Weidman
(and won't, anytime soon). Like it or not, this kind of reluctance causes people to criticize him.
[+] Enlarge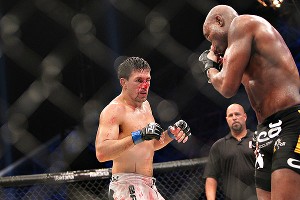 Karim Sahib/AFP/Getty ImagesDemian Maia, left, is one of two fighters to go the distance with Anderson Silva -- and he paid a heavy price doing it.
Yet in the end, because he does and (probably) will end up fighting all comers, criticizing him in itself is superficial. Besides, the people he does fight get blown up. Only two guys in 16 UFC fights have gone the distance with "The Spider" --
Demian Maia
(in Silva's bizarre moment) and
Thales Leites
(in his forgettable moment). Everyone else tapped, bled, faltered or needed smelling salts. He beat Rich Franklin twice, he beat Sonnen twice. He choked out
Dan Henderson
. He punted
Vitor Belfort
like it was fourth-and-long.
And he's done it to bigger guys, too. Bonnar, for instance, who was unnaturally big. He simultaneously punched and spooked
Forrest Griffin
in Philadelphia. He opened a chasm on
James Irvin
that could produce echoes.
Silva
is
special. And that's easy to see. I am sitting here writing about him because I appreciate him as a near impossibility in a brutal sport of too many possibilities. It's hard to fathom somebody being that good. That's why it doesn't require a stretch of the imagination to envision him beating the likes of Jon Jones.
Would beating Jones boost his appreciation?
Now there's an idea. And in that way, White has the power to bring us up to his level of Anderson Silva appreciation.
June, 26, 2012
6/26/12
8:14
PM ET
Anderson Silva
finally let his words do the talking, rather than his sharp appendages.
What a rare moment. So rare that it could more accurately be called a "never" moment.
Silva aired his bad intentions for
Chael Sonnen
on the UFC 148 media call on Monday. If taken out of context of the fight game, these were the kinds of threats that usually end in litigation. He said he's going to break Sonnen's face, careful not to exclude a single tooth from his mouth.
And boom! Just like that, the drama to UFC 148 has two sides. It was a couple of years in the making, but Sonnen finally made Silva want to assault him, which -- as any psychology major would say -- is exactly what Sonnen has wanted all along.
Let's remember how this all started.
In 2009 and early 2010, Sonnen, seemingly from out of nowhere, defeated a couple of high-ranking guys by the names of
Yushin Okami
and
Nate Marquardt
. Before he fought Marquardt at UFC 109, he told those who would listen, "I have no choice but to win this fight." As a 4-to-1 underdog, he talked as if his life depended on overcoming Marquardt, who was the guy most thought would be facing Silva next.
Sonnen was doing real estate at the time in suburban Portland. He had vowed to his late father to become a champion. He had a not-yet-totally public fetish for pro wrestling and a great understanding of how friction can be made of fiction. There were political ventures.
Just before Marquardt, Sonnen hit the switch and embodied all those elements of his biography. What happened next, it seemed, was as close to an example of self-fulfillment as MMA fans will ever see play out in public. Suddenly, Sonnen was a driven fighter, a parody, a fun-loving hypocrite, a one-man marketing campaign, a showman and a legitimate threat to the throne. He was loathed, he was loved.
He was a godsend to a division with MMA's best fighter at the top and no known rival.
And above all else, he was smart.
Leading up to that Marquardt fight was when Sonnen first began casting stones Silva's way. He said harsh things, audacious things and some comically untrue things. Things that felt goofy to hear and impossible to back up. To that point, Silva had been nothing but respected by everybody he destroyed. In fact,
Rich Franklin
enjoyed this kind of punishment so much that he began
training
with Silva. That's a special sort of abuse.
When Sonnen beat the odds and ground Marquardt into a pulp with no-nonsense wrestling, his style looked dangerously like beacon-green kryptonite to Silva's striking. At least it did for those with imaginations and/or cauliflower ear.
You remember the lead-up to UFC 117 -- it was like no other lead-up in UFC history.
Sonnen lambasted Silva for three months in the media. It was a piece of pure cunning, with Silva coming off the worst performance of his career in Abu Dhabi against
Demian Maia
. Sonnen's timing was perfect to be the foil and vindicator of the people who had grown tired of watching Silva dance. He was saying publicly what plenty of people thought.
And that was the first allure -- Sonnen was the guy who would force Silva to fight. He was going to pry the predator back out of him, and this was music to the UFC's ears. And guess what? He did. He backed up every word and brought the fight to Silva, dominating nine-tenths of the bout. Silva stared up at the lights at Oracle Arena in Oakland for nearly 23 minutes, eating elbows and having his ears boxed, all the while with a head burrowing into his chest.
Never had we seen somebody talk the game like Sonnen did
and
back it up ... only to, in the end, leave it at the altar of fruition.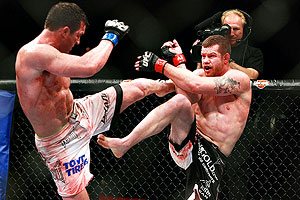 Dave Mandel for Sherdog.comTurning point: A win over Nate Marquardt, right, marked a new stage in Chael Sonnen's career.
Silva persevered, and Sonnen tapped. Then Sonnen got popped for elevated testosterone, was suspended, and pleaded guilty to money laundering. And in the process, became an immense star.
But add this to his list of credits, too: He also awoke Silva, who has gone back to annihilating opponents (
Vitor Belfort
, then Okami). Through it all, Sonnen has continued yapping. The lead-up to UFC 148 began the moment he tapped out back in 2010. For the past couple of years, he's been calling Silva a fake and a coward and poking his finger in the champion's chest. He's done this relentlessly, to the point that it angers him to be the only one in a two-man party selling what is the greatest rematch in UFC history.
Not anymore. Silva finally fired back on Monday.
"He doesn't deserve to be in the Octagon," he said. "And when the time comes and the time is right, I'm going to break his face and break every one of his teeth in his mouth."
It's on.
And you know why this feels so personal? Because other than the two years of fermentation, each guy needed the other as much as the sport needed the rivalry. If Silva had been anything less than a gentleman's champion -- a quiet great who'd been strictly revered -- Sonnen's words wouldn't have meant anything. If Sonnen hadn't come along and provoked Silva, who knows if he'd have lost interest in the fight game? Now, the memories of Maia are as far away as Abu Dhabi.
Sonnen helped bury the memory.
And Sonnen made Silva the canvas of his greatest work. He didn't beat him the first time through, but he has used the platform impossibly well. Without Silva, Sonnen never becomes Chael P. Sonnen from the "mean streets of West Linn." Without Sonnen, Silva retires without a rival -- a rival that helped perpetuate his greatness into his late 30s through two solid years of pride shots. When this is all over, the two should thank each other.
Monday was good. Silva finally broke character and said publicly that he wants to punch holes in Sonnen's face. We all knew this to be the case, but it never hurts to hear it. So what is the public's response?
It can't be anything other than these three words:
It's about time
.
January, 20, 2012
1/20/12
12:20
PM ET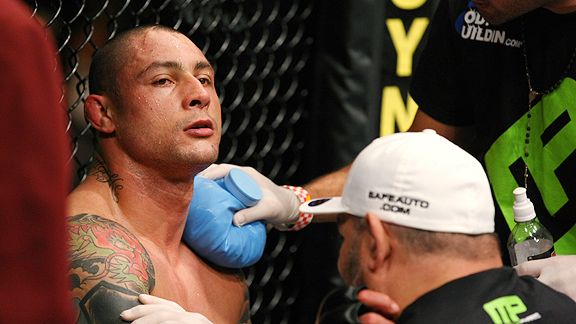 Donald Miralle/Zuffa LLC/Getty ImagesOn ice: Thiago Silva has had over a year to think about why he tried to get one over on the NSAC.
For as memorable a year as 2011 was for Jon Jones, it was the polar opposite for fellow light heavyweight Thiago Silva.
Things started with a bang when Silva put a thorough beatdown on Brandon Vera on Jan. 1 at UFC 125, a fight that left Vera's nose badly broken and reconfigured via an onslaught of open palm strikes. The fight was decisive enough that Vera was unceremoniously cut afterward, and Silva was booked to fight Quinton Jackson at UFC 130, a bout projected to have title implications.
Then things went downhill, and fast.
First, Silva was mysteriously removed from the UFC 130 card. With well-documented lower back problems that began just weeks ahead of his fight with Rashad Evans a year earlier, an injury was thought to be the catalyst. Then we discovered the real reason why: Silva's drug test from the Vera fight came back funny. As in, not hot, but not exactly "human" either. The Nevada State Athletic Commission revealed on March 29 that Silva's sample was inconsistent with human urine, suggesting that he'd altered or substituted his specimen. In other words, he had tried to dupe the commission, and he got caught.
A hearing was held a week later to determine his fate. On April 7, his victory was converted into a no contest, 25 percent of his purse was taken back, and he was made to forfeit $20,000 of his win bonus. He was also suspended for a year by the NSAC.
Now, aside from Brandon Vera being awarded renewed life in the UFC, all of this is unfortunate -- and sadly not all that uncommon. A guy cheats, a guy gets caught, a guy wears a bad-looking asterisk. Yet in a day and age when we're led to believe that PEDs have a way of sneaking into fighter supplements (and therefore their bodies), the novelty of the Silva case was perhaps his honesty when it came time to explain himself.
[+] Enlarge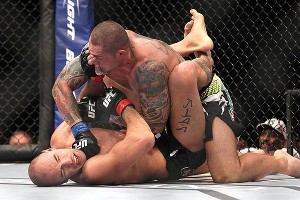 Ed Mulholland/ESPN.comThiago Silva admitted to taking injections in his spine that contained a steroid after reinjuring his back.
Long before all punitive measures were handed down by the NSAC, Silva issued a full confession of what happened, saying, "I used a urine adulterant when giving a sample following my fight with Brandon Vera. I did so in an attempt to alter the results of the test and knowingly broke the rules of the Nevada [State] Athletic Commission." He went on to explain the specifics, that he'd reinjured his back and had taken injections in his spine that contained a steroid, that he didn't want to back out of the fight.
Excuses? Yes, but he was up front about trying to pull the wool over people's eyes and cheating. And this almost felt like brazen, unchartered territory. With so many athletes choosing to be dumbfounded by the wrong kinds of commission findings, Silva simply confessed he made a mistake.
Why?
"After speaking with my manager [Dan Lambert], he made me realize that it was best to tell the truth," he told ESPN.com. "And I'm glad I did."
Silva says his back issues began back in late 2009, just three weeks before he fought Rashad Evans, and that he had taken epidural shots later during his rehab after having backed out of a fight with Tim Boetsch at UFC 117 with three herniated discs. With the injections helping him get through the pain then, he succumbed to that route ahead of Vera when he reinjured his back 45 days before the bout.
"As soon as my fight with Vera was scheduled, I was back at the gym," he says. "Three weeks before the fight, I felt my back was starting to hurt again, I decided to get an epidural shot to help. My doctor told me that there was steroid in it but I just wanted the pain to go away. Afterwards I started to worry about the testing so I decided to buy a chemical masking agent from the Internet.
"When the news broke out about me failing the test, my manager advised me that if I would have reported to the commission that I took the epidural shot, it may have been OK. A lesson learned the hard way."
[+] Enlarge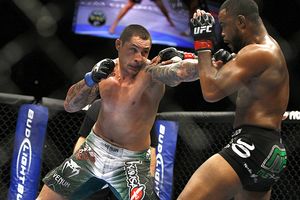 Ric Fogel/ESPN.comThiago Silva's back issues first arose prior to a bout with Rashad Evans, right.
As of Jan. 1, 2012, Silva has served his one-year suspension, but he won't be officially cleared to fight again until he goes before the NSAC to find out if he's met all the requirements. He has turned in his application and medicals to the commission and is hoping to be on their agenda for the next meeting in the first week of February. Barring any setbacks, Silva is looking to return as soon as possible in 2012 and put all the miscues behind him. After all, he is still a top 10 fighter in a light heavyweight division that has a relative dearth of name brand challengers right now.
And on the topic of Brandon Vera -- who felt disrespected from the first meeting and has been openly pining for a rematch ever since the news of urine switcheroo and subsequent suspension broke -- Silva says he'd be cool playing it back.
"Let's do it, I would be more than happy to beat him again," he says. "[The palm strikes] weren't planned or out of disrespect, my hands were starting to hurt from all the punches I was hitting him with. I didn't want to break my hand so I was using my palms and trying to get him to open up because all he was doing was covering up."
Whether it's Vera as the opponent or not, there is a card tentatively planned for June in his hometown of Sao Paulo, where Silva fled his home as a teenager to escape an abusive father. Though most homecomings are sweet, Silva -- who now resides in Florida and has been training at American Top Team -- isn't sure returning to the place he bounced around from one impoverished circumstance to another is best for him.
"I don't know, what I have been through and seen in Sao Paulo, I don't want to remember those days," he says. "Not that it's Brazil or Sao Paulo's fault, it was the circumstances that I was in that led me to those struggles. I'm in a good place right now with my family and I'm grateful for that."
As good of a place as you can be coming off a yearlong suspension and so much chagrin, anyway.
"Man, you don't know how happy I am that 2011 is over," he says. "I really didn't watch that many fights because it would depress me [that] I couldn't be out there fighting. I just concentrated on opening my gym in Doral, Flor., teaching classes, letting my body/back heal, and staying in shape."
January, 6, 2012
1/06/12
6:37
AM ET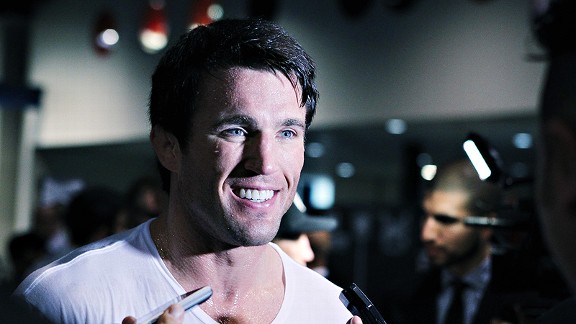 Ed Mulholland for ESPN.comThe perfect mix: Chael Sonnen is part carnival barker, part wrestler and all-round genius.
CM Punk is a professional wrestler, and
Chael Sonnen
was a collegiate one. They'll show up in Chicago together to face
Mark Munoz
, who wears his wrestling pedigree very no-nonsense on his ears.
It's a lot of wrestling, some of it literal and some of it very lucrative lies. And if there's anything that Sonnen has figured out in the last couple of years, it's that we like being lied to. In cases like his, the truth can be so uninteresting.
That's why CM Punk -- who will be in Sonnen's corner on Jan. 28 for UFC on FOX 2 -- may well be the perfect symbol for what Sonnen has become in a relatively short time. That is, an off-stage stage performer where the real and fictive versions clumsily fall into each other. In the cage, he's an otherwise grinding wrestler. Outside, he's cocky, offensive, audacious and sometimes hilarious, who oversteps the line, then erases it and tells you the line never existed. He's so good at one thing (talking) that it distracts us from the other thing he's really good at (fighting). That he wins makes us care about the madcap nature of what he says. It's ingenious, really, and not the easiest thing to pull off.
What is he pulling off, exactly? Versions.
When you deal in Chael Sonnen, you're dealing in versions. And that's a fine thing to be dealing in when the broader picture is entertainment. Sonnen realized this just before he upset
Nate Marquardt
at UFC 109 and began "sticking his finger in Anderson Silva's chest." It was almost like he'd been pulled back on a bowstring for 30 odd years and then let go. Silva, who'd never been disrespected in his fighting life, was the target. Silva still is, unless you believe the latest things coming out of Sonnen's mouth -- that Silva is cold product, and
Georges St. Pierre
and
Jon Jones
had better be on the lookout.
Hey, keep them guessing. And better yet, keep them interested.
[+] Enlarge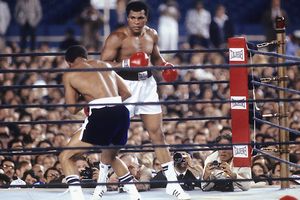 Focus on Sport/Getty ImagesLook out, Ali: Sonnen might have you beat.
And these are reasons why we love him, and that's why we hate him. Sonnen can quip on anything, and you could make a case that he's better than Muhammad Ali in that regard because it's his material (Ali's was largely sourced from Angelo Dundee, the poet who sat quietly behind the curtain like the guys singing for Milli Vanilli). If Ali and Sonnen share something in common, it's that they transcend consequence. To hear him tell it, West Linn, Ore., is a place where a man can get boot-stomped for looking at you the wrong way.
So why the fuss about CM Punk in his corner come fight night? It's not because Sonnen believes a step-up enzuigiri might work effectively against Munoz, but more because it's always something. Sonnen is the author of his own mystique, which has things in common with Chicago's hometown legend, CM Punk. In fact, one doesn't know where the fun starts and the hypocrisy ends. After all, Sonnen was caught red-handed for PEDs after UFC 117, and CM Punk has went on record bashing PED users.
Inexplicable they should come together? Totally. Blur up the reality and it's a match made in heaven.
After all, they both know the value of entertainment -- and also that, when you're in demand, small details in history hold nothing to the blazing present. For the last thing, perhaps Sonnen realizes this more than anybody.
November, 17, 2011
11/17/11
2:26
PM ET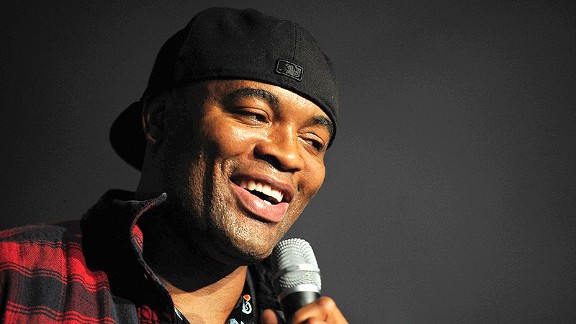 Rainer Ehrhardt/Getty ImagesTerms and conditions: Anderson Silva is coming around to a rematch with Chael Sonnen ... sort of.
The sequel to
Chael Sonnen
/
Anderson Silva
is full of conditions.
First, Sonnen issued a gauntlet ultimatum to Silva for Super Bowl weekend, placing haywire stakes on a possible rematch. You remember: if he wins, Silva leaves the middleweight division, but in the unlikely event he should lose, Sonnen would remove himself (voluntarily) from the UFC forever. He said this after walking through
Brian Stann
at UFC 136. Silva smiled. The whole thing was dramatic, if a little ornery. To make matters worse, Ed Soares was caught joshing around with Sonnen in a photograph taken in a hotel atrium.
Silva wasn't amused.
That all happened six weeks ago. Since then the ultimatum has expired, or gone away, or been modified, or become fiction -- with Sonnen you never really know (and it's OK, because neither does he). As for Silva? He has rankled in private for the most part while recovering from a shoulder injury.
But after further ribbing and pregnant silences, Silva has finally come around to the idea of the rematch Dana White says is happening one way or another. Only this time, Silva is laying down his own conditions -- by inviting Sonnen to come fight him down in his native Brazil.
"I don't like [Chael Sonnen]. This guy [wants to] fight me? Go to Brazil,"
Silva told MMA Nation
. "No problem. Chael talks too much. I'm ready to fight Chael. But you have the chance -- go to Brazil to fight me."
Obviously it's not up to him, nor Sonnen, but the UFC -- so we're dealing in suggestions. Ideas. Compromises. Yet with the UFC's full-court press infiltration into Brazil, this should seem as valid as any scenario. It's an interesting counter by Silva, for a fight he has -- seemingly at least -- been reluctant to take. It looks and feels like leverage.
And the idea of an antihero like Sonnen going down to Brazil to fight one of its biggest stars is captivating stuff whichever side of the Equator you fall on. That's just if you contemplate the rivalry as it stands, going back to the first bout and the improbable way things went down, with all the asterisks that piled around it. There's so much more that goes into the idea.
[+] Enlarge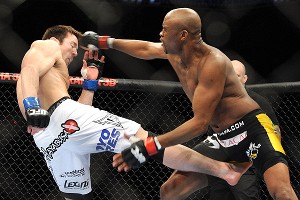 Jon Kopaloff/Getty ImagesImagine the business and hoopla that would surround a Sonnen-Silva bout in Brazil?
Imagine this setting for a minute -- if we thought
Matt Serra
having to rematch
Georges St. Pierre
in Montreal had a Rocky IV feel to it, Silva-Sonnen 2 in Brazil would seem downright sacrificial. Sonnen has never been overly flattering toward Brazil or its fighters (Google it), and he is a detested figure there because of it. To have him fight in Brazil would be pandemonium, chaos and vastly intriguing. It would do enormous, unparalleled business. It could sell out a venue larger than Toronto's Rogers Centre, and it would become a fever to see Sonnen take his comeuppance. It would be a fantastic safety hazard, too, in which the UFC would have to take extreme security measures. That's real. Sonnen would be vulnerable in ways never before seen in the UFC. That's the potential deal-breaker.
But how compelling. Sonnen would be dropped into man's land, and he'd have to fight his way out. There are those who thrive in a "man against the world" setting. Sonnen might be one of them. He'd have to be. After all, he ducks no man. He is a fighter, not a mixed martial artist. He goes out there and fights for public entertainment, for those thirsty for beer and blood. He tells us this stuff all the time. It's black and white. To the point that, if you take Sonnen at his word, he has very few objections available to him.
Knowing this, Silva was smart to throw it out there.
Would the UFC do it? That remains to be seen. They'd have to contemplate Sonnen's position. There would be a lot of discussion as to how it would work. Precautions would have to be taken, scenarios walked through, the most complicated of which goes like this -- imagine if he won.
October, 31, 2011
10/31/11
2:51
PM ET
Anderson Silva has vowed to fight for another six or seven years, but he claims Chael Sonnen's career should be over after he delivered an abnormally high testosterone-to-epitestosterone ratio prior to UFC 117.
More »
October, 21, 2011
10/21/11
6:22
AM ET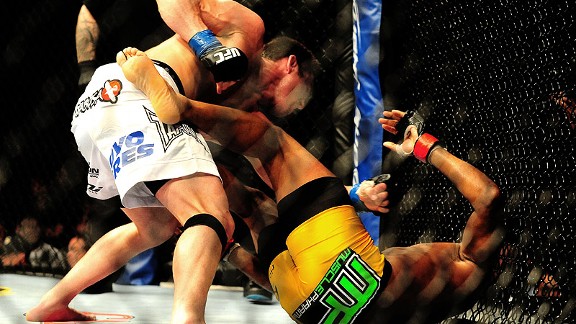 Mark J. Rebilas/US PresswireThe only thing more nail-biting than Silva-Sonnen 1 is whether there will be a Silva-Sonnen 2.
Is
Anderson Silva
ducking
Chael Sonnen
?
It's doubtful. Silva is too good to duck anybody, and, just as the old adage goes, "there's no such thing as a nine-time defending fluke." He beat Sonnen once, and he can do it again.
But if what we're really asking is whether he's reluctant to fight Sonnen a second time, well, that's just obvious. And you would be, too, if your memories of Oracle Arena were of staring up at the lights for four and a half rounds while a sadist buried his head in your chest. Silva still has spangles in his eyes from that night in Oakland; it's not something he cares to revisit. Think the lady who survived in "Friday the 13th Part 2" wants a rematch with Jason after surviving the first time through? No, she takes the "W" and goes about her life in a ruined state of trauma.
Had the final two minutes gone the way the previous 23 did at UFC 117, Silva -- and his handlers -- would be insisting on a rematch. As it stands, that late triangle is the most mysterious piece of geometry since the Bermuda one. It was a close call. Too close. And, if we believe what's coming out of Silva's camp, it was mysterious enough to make Sonnen's rights to a rematch disappear. Where we saw narrow, they want definitive.
[+] Enlarge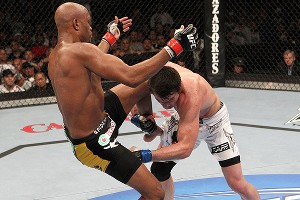 Josh Hedges/Zuffa LLC/Getty ImagesChael Sonnen's wrestling gave Anderson Silva fits during their first bout.
In fact, to hear Ed Soares tell it, Sonnen will need to be on his tippy-toes to see Silva from the back of that long snaking middleweight line.
And that's where the problems start: There isn't a line. Who's out there?
Dan Henderson
? He's just another bothersome repetition (by Silva's standards) who'd be making a cameo at 185 pounds anyway. And Sonnen just walked right through the one viable name in
Brian Stann
using a nightmarish style that speaks directly to Silva's dread. West Linn sort of sounds like wrestlin' to the uninitiated.
Just as you can read body language, you can read into this situation --
Matt Lindland
is enforcing the idea that Silva is scared, and Soares is saying, well, that Sonnen is delusional.
[+] Enlarge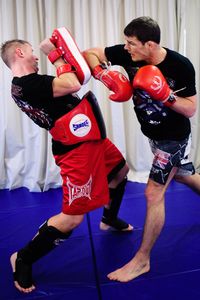 Martin McNeil for ESPN.comA fight with Michael Bisping doesn't whet the appetite like a rematch with Chael Sonnen would.
Technically, he might be right, but that's not exactly, "we'll fight anybody, any time, anywhere, including Chael Sonnen." It reads more like, "Oh, Sonnen? We'd rather not." What we're picking up on is Silva's reluctance.
The fight's going to happen, though. It has to. Dana White wants what the fans want, as has been his long-running motto. Silva may be he hesitant, but he'll never say no. Sure,
Michael Bisping
might look a million times more appetizing to Silva, but to everybody else it looks like a potboiler akin to Patrick Cote's bid. Worse, it looks like a distraction. The other Silva beat Bisping not that long ago (at least officially he did). That doesn't come off like a threat. Besides, he still has
Jason Miller
on his docket anyway come Dec. 3.
And even if he beats Mayhem, he's not in front of Sonnen.
Nobody is ... except for him. That's why Silva will have to trade out any negative UFC 117 flashbacks for renewed visions of dropping him with a knee the first time he shoots. It's an inevitability -- both that the Sonnen will shoot, and that the fight will be made.
The sooner Silva warms to the idea, the better, because right now his response to the situation is confusing people into thinking something otherwise.
April, 19, 2011
4/19/11
8:34
AM ET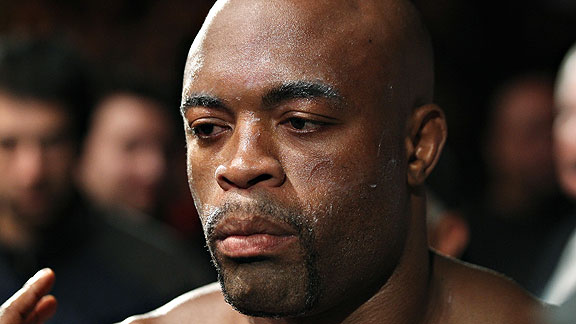 Jed Jacobsohn/Getty ImagesThe real Anderson Silva stands up -- and stands out -- in the documentary "Like Water."
If there's one topic in MMA that never fails to fuel the speculation of media and fans, it's this: What's going on in
Anderson Silva
's head? The language barrier doesn't help with North Americans, and the translations are loose (and usually boring). There are the Dr. Jekyll/Mr. Hyde antics in the cage. There are interconnected associations with such things as Steven Seagal and paintball and Big Macs.
Yet above all else, there's the long-tenured, record-breaking champion with a captivating -- if unintentional -- sense of mystery.
A new film entitled "Like Water" will premiere April 21 in Manhattan at the Tribeca Film Festival, and it pulls the curtain back to reveal (in cussword-included subtitles) Anderson Silva in a context you wouldn't expect. How? Filmmaker Pablo Croce centers on travail. Rather than dog-earring the illustrious side of Silva's MMA career, Croce captures scrutiny and derision in painstaking detail within a three-month window that begins post-Demian Maia at UFC 112 and ends with Chael Sonnen at UFC 117. There are glimpses into other aspects (his family life, training, idling, interacting with fans), but the gravity of the film is based on a walls-closing-in sense of situation. Silva spends a lot of time negating the negative.
It's not that we see Dana White peeved and telling Jim Rome he'll cut the champion if he made a mockery of the Octagon again; it's what you get out of
Silva
watching it, absorbing his own bizarre behavior. It's that you see him lament to Lyoto Machida-san that "everybody wants a brawl." We see self-reflective Silva, dealing in issues of esteem. It's not long before things shift to the montages of Chael Sonnen, who became (what he thought was) the mouthpiece of public sentiment in bashing Silva at every turn. Through the entire lead-up to the epic battle at UFC 117, Silva takes things in while maintaining an opiate calm.
Yet there are glimpses into moods, caught when Silva hangs Soares out to dry with one-word answers during an interview. Or when he tells his friend/teammate, "You're screwed until I forget you're screwed" out of frustration with his fight. You see him in ordinary situations (like at the airport) doing extraordinary things (like putting his belt through security). What you don't see is Silva cracking under surmounting pressure, but the pressure is real and ends up being the star of the film.
And that becomes the documentary's merit; it not only depicts the mettle of Silva on multiple levels, but it peers into the fight game in general through the back door. As much as we are shown Silva in intimate situations, you also see Sonnen intimately. We see the wirework beneath the surface and, as cliché as it seems, a human side to the fighters all too commonly regarded as products.
In other words, you empathize with Silva, which has long been something foreign to us.