October, 24, 2011
10/24/11
6:02
AM ET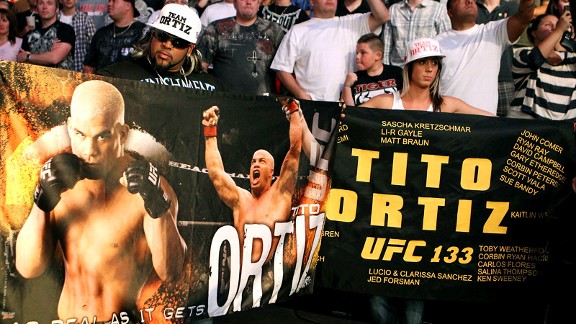 Mike Roach/Getty ImagesEven as a villain, Tito Ortiz had his fans. So what's with the nickname change?
After years of walking around under the menacing handle "The Huntington Beach Bad Boy,"
Tito Ortiz
has re-fashioned himself as "The People's Champ." At UFC 140 in Toronto, Bruce Buffer will call out "Tito 'The People's Champ' Ortiz." This is what's known as a juxtaposition.
Not all that long ago, Ortiz proclaimed deaf people had notoriously soft heads. Today, Ortiz rides on our shoulders.
And as with all the people's champs, the people are the last to know.
Chael Sonnen
is another of "our champions." Neither of them are actual champions. But it's a healthy delusion, and, in Ortiz's case anyway, what's wrong with a little reinvention? Becoming the opposite of what everyone knows of you makes for blown minds and timely storylines, no matter how far-fetched. Hulk Hogan went to the dark side late in his career; Ortiz steps into the light.
What's not to admire?
Besides, this new "reimagining" might be more apt. In the last five years, what Ortiz hasn't gained in victories -- remember that time? -- he's picked up in maturity (presumably). It wasn't he who Tweeted that picture of his noose; it was a common coffeehouse hacker.
[+] Enlarge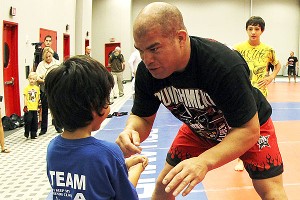 Mike Roach/Getty ImagesCam-pain trail: Tito Ortiz is out to reinvent himself from the ground up.
When Ortiz did return to his winning ways and beat
Ryan Bader
at UFC 132, the place went into ballistics. Every hater clapped for him, even
Chuck Liddell
, who showed his affection for Ortiz on the cover of UFC Magazine by sporting a choice t-shirt where a relieved bladder also factored in. For a moment, Ortiz became a live piece of nostalgia for those who remember the halcyon days in the early-2000s, back when he was defending the UFC's light heavyweight strap again and again.
Right around the time he was doing his grave-digger routine over Bader's prone body, right when people were smacking their foreheads with goose flesh on their arms, precisely at that moment ... that was when he became our champion.
Next thing you know he accepted a short-notice fight against
Rashad Evans
-- after first refusing and a quick change of heart -- and declared, "anything for the UFC." This sent Dana White into raptures. "I like the new Tito," White said. He rephrased this many times. And since then it's perpetuated.
Ortiz showed nothing but respect for Evans, even after the loss. Ahead of his bout with
Antonio Rogerio Nogueira
, he isn't throwing down any verbal judo. On Twitter, he's inviting people to play against him on Call of Duty: Black Ops, and welcomes your trash talk as something "fun." His running refrain has become "just believe."
Not exactly the iconoclastic figure with the nimble middle fingers, now is it?
But hey, when every bout could be your last, and you're still a popular fighter that can get by with about anything, why not? This is one title he doesn't necessarily have to defend, because, whether we like it or not, we are his people. Even if this comes as news to us.
July, 4, 2011
7/04/11
8:24
AM ET
Some are already beating the drum for a rubber match between reigning UFC bantamweight champion
Dominick Cruz
and
Urijah Faber
in wake of their memorable five-round scrap at UFC 132 on Saturday in Las Vegas. Other matchups, however, would allow the promotion to build towards what appears to be an inevitable trilogy.
More »
July, 2, 2011
7/02/11
8:44
AM ET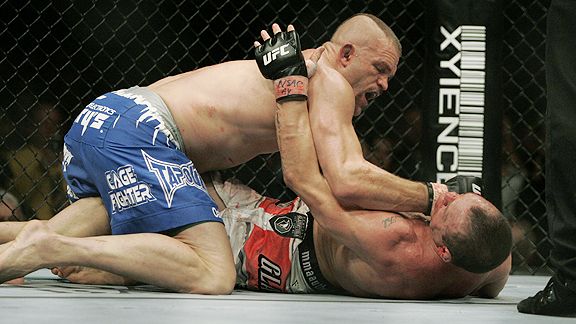 Ric Fogel for ESPN.comCan Wanderlei Silva, bottom, pick himself up and reclaim some of his past glory?
After a 16-month layoff, former Pride Fighting Championships titleholder
Wanderlei Silva
makes his way back to the cage against
Chris Leben
at UFC 131 on Saturday in Las Vegas. Once one of the sport's most feared fighters, the 34-year-old Brazilian icon has resumed training under longtime mentor Rafael Cordeiro.
More »
July, 1, 2011
7/01/11
11:56
AM ET

By Josh Gross
ESPN.com
Archive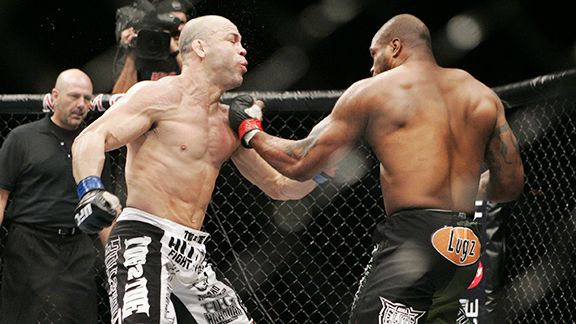 Ric Fogel for ESPN.comGet ready for a whole lot more of this, now that Wanderlei Silva is back in good health.
HUNTINGTON BEACH, Calif. -- This isn't the first time Wanderlei Silva knows pain in a cage. Judging by his discomfort, even an "Axe Murderer" doesn't get used to this sort of thing. That's how little he thinks of the burning sting that accompanies stretching. Shortly after an intense training session at Kings MMA in early June, the former Pride champion's right knee is pulled, pushed and stretched. Surgery to repair a torn ACL is a distant memory, but he hasn't fought on the repaired joint yet and in this business you never know.
A fight with Chris Leben in Las Vegas, Silva's adopted hometown, is fast approaching:
Gross:
What do you think of Leben?
Silva:
July 2nd. It's a really good fight for the fans. After I saw his fight with [Yoshihiro] Akiyama, his style was like my style. He's one exciting fighter. He's a warrior and has good heart. He doesn't give a step back. In that fight, it's good to look at who's going to be the first to step back.
Gross:
What happened when he fought Brian Stann?
Silva:
Brian Stann has heavy hands. Anyone that receive that punch can be knocked out.
Gross:
It must be nice to work with Master [Rafael] Cordeiro again.
[+] Enlarge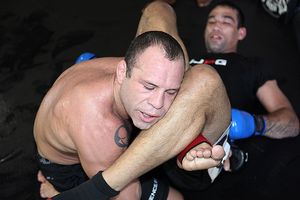 Tom Fowllks for ESPN.comWanderlei Silva is in good hands at Kings MMA Gym.
Silva:
Finally man. I'm an old style student. I need a master. I can't have just a coach. I need a master.
Gross:
What's the difference?
Silva:
The difference ... the guy knows all about me. He knows my movements. He looks at you training and he knows. "You need to do that. You move that leg here. ... " He knows all. We started working in the gym sparring and he said do this, do this, do this. It's a different connection.
Gross:
Because of your history?
Silva:
No, not the history. The connection. Of course, his level of technique. He knows what I need to do. He gives good directions. Last time I trained the wrong things.
Gross:
Is it like traveling back in time? Like being in Curitiba again?
Silva:
Exactly. This gym is looking exactly the same as it does in Brazil. But in Brazil we just had one bag. Here we have five. Now he made it happen again. He's making the same training with 15-20 really good guys.
Gross:
It's a very intense training style.
Silva:
Yeah, it's unbelievable to be back here. I train with [Fabricio] Werdum, Babalu, Shogun, [Mark] Munoz.
Gross:
What's it like training with Shogun again?
Silva:
Really good. He has great energy and his technique is unbelievable. For him it's all about focus. He has the potential to be champion again.
Gross:
What about your career at this point. What are you hoping to accomplish?
Silva:
I want to be champion. (Bellowing laughter.) No, for me just being back fighting right now is an unbelievable thing. I'm back to training with 100 percent with good guys. I have my cardio back. My technique is back. For me I feel like this is my first fight. I feel I debuted again because it's a year and a half I don't fight. (Big, pain-inspired groan as Silva's right leg is stretched.)
Gross:
How do you like being in UFC compared to Pride?
Silva:
That was another time. The Fertittas (owners Frank and Lorenzo) and Dana White put this sport on another level. You fight in UFC today is totally different than fighting in UFC 10 years ago, or fighting in Japan. Totally different.
Gross:
Better? Worse? The Pride period is romanticized by many people. Can you describe what it was like?
Silva:
I watch the fights today, Shyna Aoki and JZ Calvacante in Dream. I saw a lot of chairs around the ring. I remember there used to be a million chairs around the ring and the roar. It's a different energy and different style. In America man it's crazy. The fans are crazy. (He mimics crazy fans, finishing each impression with a roar.) I'm one fighter inside the gym and I'm another fighter in the lights. I love the lights. The fans give me incredible energy. I was asked by a guy, "You are so nice, who are you so aggressive in the fight?" Man, I'm in the ring. The other guy looks at me, comes and punches me in the face. I want to kill him! Of course. I'll be very mad!
Gross:
So Leben should be a very good fight for you.
Silva:
Very good fight. He's the kind of fighter I like to watch. You have a lot of kind of fighters. You have fighters that are safe. Some open their game. My real boss is my fans. My fans put me there. If my fans don't want me, Dana [White] won't put me there. The boss is the fans. And the fans like to watch me, I'll have a job forever. I'm not afraid to lose. No, I like to go in there and do what I want to do. For me, I like the show. Of course I fight to win, but I like the show. If I make my fans happy, I'm happy.
Gross:
Did you always have this attitude, or is it changed since your career took a different path?
[+] Enlarge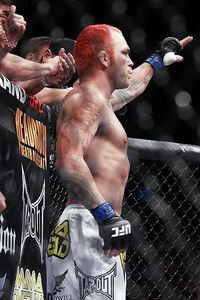 Ric Fogel for ESPN.com No one expects Chris Leben to stand still for long against Wanderlei Silva.
Silva:
For all time I had that attitude. At Pride 8, my second Pride, Mark Kerr, he's the legend at the time, is walking through the hotel. All these guys followed him with cameras. I'm nothing. I'm a young fighter. I think man, after the fights everyone is going to know who I am. They will remember. After my fight with Matsui, everyone says "This kid is good!" I think I was 24 years old. Every time I fought, I wanted the fans to remember my name.
Gross:
Do you have a favorite fight?
Silva:
A lot. With Sakuraba. With Jckson. With Cro Cop. With Hunt. With Liddell. With Henderson.
Gross:
And you think you'll have fights to remember in the future?
Silva:
I'll have good highlights.
Gross:
What do you think about the UFC 134 card in Brazil?
Silva:
Great card. Shogun and Anderson. I haven't watched too many fights of Okami. Do you think he has a chance with Silva?
Gross:
Okami is big, strong. I saw them fight in Hawaii. Anderson was disqualified very early in the fight. He was on his back, Okami was in his guard with his knees on the ground, and Anderson upckicked and knocked him out.
Silva:
Ahh.
Gross:
This was in the first two or three minutes. But in those three minutes it was clear Anderson was a much better fighter. Okami has improved, but for him to win he has to make it a boring fight and tie up a lot. Anderson's too good. Would you ever fight Anderson?
Silva:
Today, no. But they have just one belt in the UFC. I'm too far from the belt right now. I need to fight with a few guys first.
Gross:
How do you like middleweight?
Silva:
Good. I felt good in my last fight. I debuted against [Michael] Bisping. He's top-5 in the world. (Groan from stretching). He's dangerous, really good.
Gross:
How are you feeling? You keep making noises here.
Silva:
Stretching is like torture.
Gross:
Much worse than getting hit in the face.
Silva:
Yeah, yeah, yeah.
July, 1, 2011
7/01/11
8:19
AM ET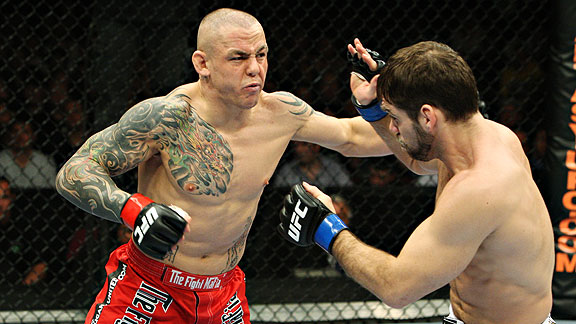 Josh Hedges/Getty ImagesYou can count Ross Pearson as one of Dominick Cruz's believers.
Ross Pearson
has sent a chilling warning to
Urijah Faber
ahead of the UFC 132 main event, warning him that
Dominick Cruz
is "an absolute machine" whose physical capabilities are "unbelievable."
More »
July, 1, 2011
7/01/11
6:29
AM ET
Urijah Faber
was the WEC featherweight champion the first time he met and defeated
Dominick Cruz
in 2007. Now, the two face one another again, albeit in a different weight class, in the UFC 132 main event on Saturday in Las Vegas. Though Cruz holds the gold this time, Faber expects history to repeat itself.
More »
June, 29, 2011
6/29/11
6:13
PM ET
By Tristen Critchfield
Sherdog.com
Archive
Former WEC welterweight champion
Carlos Condit
faces the unbeaten
Dong Hyun Kim
in a featured matchup at UFC 132 on Saturday in Las Vegas. A victor in 11 of his last 12 bouts, Condit believes a win over the Japanese judoka could put him in line to face UFC titleholder and Jackson's Mixed Martial Arts teammate
Georges St. Pierre
.
More »
June, 29, 2011
6/29/11
6:37
AM ET
Bantamweight champion
Dominick Cruz
will defend his 135-pound title against
Urijah Faber
, the only man ever to defeat him, in the UFC 132 main event on Saturday in Las Vegas. Can Cruz avenge his 2007 submission loss to Faber, who was then the reigning WEC featherweight king?
More »
June, 28, 2011
6/28/11
6:32
AM ET
By Tito Ortiz
Special to ESPN.com
Archive
In this three-part blog, former UFC champion Tito Ortiz discusses training, overcoming obstacles and what you can expect when he collides with fellow contender Ryan Bader on July 2 at UFC 132. For Part 1, click here.
I've done over 35 interviews about my UFC 132 fight with Ryan Bader; I also did a SportsNation chat with ESPN.com readers on Thursday, and I want to thank the fans for logging on and talking with me; there was a lot of positive energy and I appreciated it after a hard training session in the gym.
Being 36 and at the stage of my career I am at, doing all these interviews make you look back on your career. Some people are saying I am in a reflective mood but I've always worn my heart on my sleeve and with me what you see if what you get.
Sometimes, I feel like I have been doing this forever and sometimes it seems like only a couple days ago I was sitting in an Augusta, Ga., dressing room waiting for my first ever UFC fight …
It was May 30, 1997 and I'd signed to fight at UFC 13: Ultimate Force against Wes Albritton. I remember looking across the room and going "Wow -- that's Randy Couture, isn't it?" I made my debut the same night Randy made his, but I knew who he was because he was a big deal in wrestling. I remember that like it was yesterday, but I've been through so much and done so much since that night where I got my first UFC win …
I'm proud of what I've achieved in the sport and I'm also proud of the part I've played in helping the sport to grow into the monster it is today.
As I said in my first column, I'm not going anywhere yet but once I do retire, I'd like to stay in the sport which I've dedicated my life to. I love the sport and the UFC and I think I can continue to make a big contribution to both outside of the Octagon, just like I have been doing for years.
I know this sport from all sides. I'm a fighter, a headliner and a champion. I've trained champions. I've run training camps with the best fighters in the world. I've pushed for better acceptance for the sport. I know the media side. I've developed my own brands within MMA … I think I'll always have a lot to offer this sport. This sport and my family are my life and it is always going to be like that.
Doing it for the money?
Josh Hedges/Getty ImagesSwinging for the fences: Win or lose, Tito Ortiz leaves it all in the cage.
I'd like to talk about a couple of the things I read online about me and this UFC 132 fight with Ryan Bader. One of the things that has been said is that I've taken this fight "for the money."
First off, I am a professional fighter. I "do this for the money" like a teacher shows kids how to do math for money. This is what I do to support myself and my family. I have three sons who I love more than life itself. They are getting the father and all the opportunities that I never had, and my career is making that possible.
Sure, I've fought the UFC very hard to get paid what I think I am worth. Yes, I think fighters should be paid whatever they can get, because they are the one taking risks in the Octagon.
But fighters who really only care about getting paid don't fight in the Octagon like I do. I never stop trying to win, I never go in there just to pick up a paycheck and no one can show me a single fight where I did that. Whatever I had, hurt, not hurt, whatever, I gave 100 percent. Whatever I had on the night I left it in the Octagon and that's something I am proud of.
I want to be paid but -- once the contract is signed -- I'll still go out there and promote the hell out of the fight and then I'll fight as hard as I can in the Octagon.
I think even my critics will admit that …
Bader -- bigger, stronger, badder?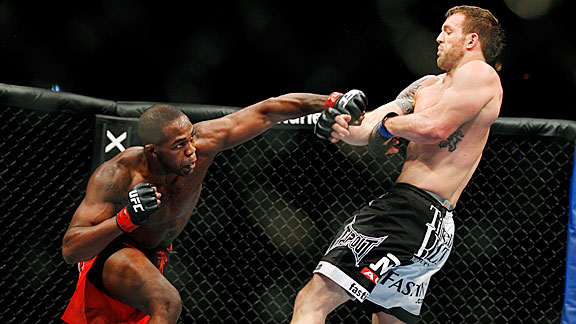 Ric Fogel for ESPN.comBader be ready: Thanks to a few pointers from Jon Jones, Tito Ortiz has a plan for Ryan Bader.
I've got nothing against Ryan Bader. I respect him and his skills. I have no doubt he's going to win the belt one day; he's got heavy, heavy hands and could have finished a lot more people if he used his punches differently. He's got some good kicks and his takedowns are very good. He's very powerful too but my strength is exactly where I want it to be and I will match him for strength, believe me.
But Bader made a mistake saying I am a stepping stone back to Jon Jones. I understand why he said it. When I was 28 I felt indestructible too and I was saying a lot of things about what I was going to do too. But I'm not a stepping stone to anyone. No one has ever had an easy fight against me and he made a mistake in saying that I am a stepping stone. Maybe it was a figure of speech, but even if it was it was a little disrespectful to a former world champion.
Bader is coming off the first loss of his career. He now knows what it is like to have his takedowns stopped. That tested his will and, on that one night against Jones, he showed me that he panics when he can't bully people around with his wrestling. He won't be able to bully me on Saturday and his will is going to be tested again!
June, 24, 2011
6/24/11
8:52
AM ET
If it looked like the rejuvenated
Matt Wiman
could have went 10 rounds against
Cole Miller
in January's UFC "Fight for the Troops," well, then the picture clearly expressed a thousand words.
Before his camp heading into that fight, Wiman relocated from San Francisco -- where he trained with "Skrap Pack" members
Jake Shields
and
Gilbert Melendez
-- for something as conceptual as elevation and as novel as change. He ended up in Colorado, to train with the likes of little-known MMA entities Tyler Toner and Alvin Robinson at East Brazilian Jiu-Jitsu in suburban Arvada. He came out in Fort Hood, Texas for Miller like a wrecking ball, and he appeared just as fresh in the final minute as he was at the opening bell.
"I didn't feel tired in the [Miller] fight because I think I'd been in top position -- that, and training at altitude maybe helped a bit," Wiman told ESPN.com. "But I really think it was that I didn't get put in bad positions as much as he did. If I'm carrying his weight and getting more damage, it's going to wear me out, pushing him away and constantly taking damage. So I think that's why I looked so in shape. That and obviously I trained really hard and tried to be prepared for anything."
That win made it three in a row for the "Ultimate Fighter 5" member Wiman who, believe it or not, could begin popping up in 155-pound top-10 conversation if he duplicates the performance against
Dennis Siver
at UFC 132 in Las Vegas.
In mirroring fashion, Siver has also compiled a three-fight winning streak of his own after (somewhat improbably) thwarting George Sotiropolous at UFC 127 in his native Australia. Before the fight took place, Wiman put a call in to UFC matchmaker Joe Silva to request the winner, knowing full well that getting Sotiropoulos was a long shot. If he'd won that would have been eight in a row and title contention.
But if Siver sprung the upset? Hey, Wiman had himself an opponent. And that's exactly what happened.
"I'm really looking forward to fighting Siver," he said. "I was super impressed with his fight against Sotiropolous. He looked spectacular. He didn't seem to tire very much. He stuck with the gameplan and executed it perfectly. His stand-up looked insane. His wrestling defense looked awesome. So, yeah, that's the guy you want to fight.
"I think stylistically I match-up against him well. He's a tough guy. He's the guy to beat right now. He really is coming into his own where I think he's the best fighter he's ever been and I think I'm the best fighter I've ever been. I think it's going to be a great fight."
Given Wiman's trajectory, it has the makings. His three recent wins versus Miller,
Mac Danzig
and Shane Nelson have been decisive, and the two losses before that -- against
Sam Stout
and
Jim Miller
-- were good enough to win "Fight of the night" bonuses. In other words, Wiman brings it. Every time.
"I guess if you're going to lose the best way to go out is fight of the night versus just going out there and getting finished."
June, 23, 2011
6/23/11
1:31
PM ET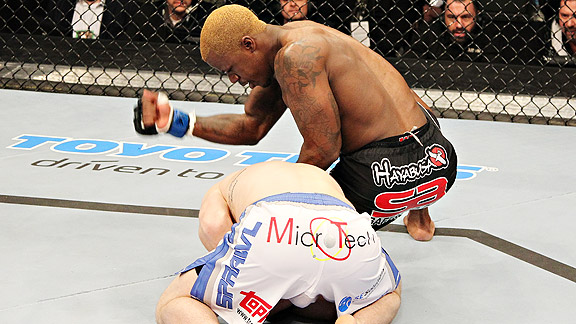 Josh Hedges/Getty ImagesGuess who's come knocking: Melvin Guillard wants in on the lightweight title sweepstakes.
With the fresh transfusion of WEC 155-ers, the UFC's lightweight division is deep enough that guys like
Melvin Guillard
can win seven of eight fights and barely register as a blip on the radar. The problem starts with the bottleneck situation at the top, with
Gray Maynard
and
Frankie Edgar
still with a score to settle and then a backfile of compelling cases like Guillard, his training partner
Clay Guida
,
Jim Miller
,
Ben Henderson
,
Anthony Pettis
,
Dennis Siver
and wild cards like Strikeforce's
Gilbert Melendez
.
What's the UFC to do? According to the always vociferous Guillard, it's time to break out the brackets.
"I honestly felt after the [Evan] Dunham fight that it was going to move me a lot higher," Guillard told ESPN.com ahead of his UFC 132 bout with
Shane Roller
. "But they're still ranking guys like Dennis Siver ahead of me, and I knocked this chump out in less than two minutes. He even called me out again, trying to fight me again.
[+] Enlarge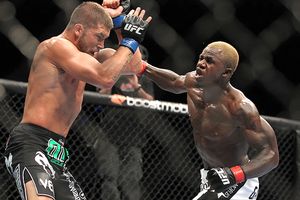 Ed Mulholland for ESPN.comThings don't usually end well for those who choose to strike with Melvin Guillard.
"But a lot of fights aren't making sense, and I don't really have a choice [but to fight Roller] because of the traffic jam with the weight class. Edgar and Maynard still haven't fought again, so right now everybody's at a standstill. The only solution I see is them doing a 155-pound grand prix tournament, and putting everybody in brackets and weeding the losers to giving a true No. 1 contender a fight here in the next year or so."
Guillard filled in for an injured
Kenny Florian
back in January at the UFC's Fight for the Troops card in Killeen, Texas, and soundly beat
Evan Dunham
via a first round TKO. He wanted to fight perennial contender Jim Miller next, but the fight didn't materialize. Then there was the thing with Florian calling him out before he defected to 145, which peeved Guillard enough that even now he welcomes that challenge in any weight class.
"I never thought it mattered to fight Kenny, because he has fought for the title a couple of times, and obviously he hasn't been the champion, so that tells you a lot about him as a fighter. He's a great guy, but as a fighter he kind of chokes in the big show. So at that point, if he was asking to fight me, obviously I must be doing something right. I was like, alright, I'll fight him. So I called Dana up and asked for the fight, but then Dana tells me, 'kid, I like your enthusiasm, but Kenny's going to 145.'
"

If that fight came back around and they asked me to fight Kenny [Florian] again and he came back up to 155 or I went down to 145 -- that's definitely a fight I'm going to be asking for in the future.

"

-- Melvin Guillard, on keeping Florian on his radar after being called out
"If that fight came back around and they asked me to fight Kenny again and he came back up to 155 or I went down to 145 -- that's definitely a fight I'm going to be asking for in the future."
So right now he has the heavy-handed Roller next, one of the WEC imports who is looking to declare himself against Guillard. Roller (10-3) is coming off a big knockout of
Thiago Tavares
in his UFC debut back in March and has that collegiate wrestling pedigree and a little twinkle to his name. The matchup is compelling insofar as any Guillard pairing is (the potential for flash knockout is there) -- but you can spare Guillard the chintzy details.
"Shane Roller likes to come forward and because he's a wrestler he reaches a lot, and that's the kind of guy that's tailor-made to be knocked out," he said. "But this Roller fight really doesn't make any sense for my movement, as far as moving me up the ladder," he said. "I'm going in there to knock Shane Roller out, but it does nothing for my stats.
"Honestly, you guys and all the fans are going to be like, 'well, we kind of knew that was going to happen ... why was Shane Roller even in the cage with Melvin?' So it's just one of those fights where, for me, it doesn't make any sense ... but it always makes sense when you're in there to make a paycheck. As far as I'm concerned that's all it's going to do for me is bless me with another paycheck. But as far as moving me up the rankings and making me more elite? I don't think that's going to do anything."
May, 28, 2011
5/28/11
11:31
AM ET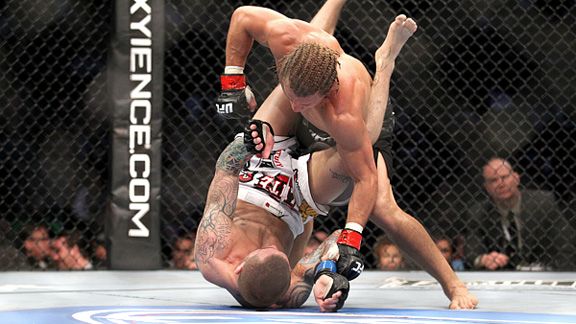 Ed Mulholland for ESPN.comOn top of things: Despite a busy schedule, Urijah Faber isn't letting his training fall through the cracks.
LAS VEGAS -- Between running his own clothing brand (FORM Athletics), keeping up with the media maelstrom at events and fulfilling UFC obligations, appearances, signings and gym openings, there are those who think that
Urijah Faber
is spreading himself a bit thin. His opponent for his headlining bout at UFC 132 on July 2, bantamweight champion
Dominick Cruz
, is one of them.
Cruz has stated that, with all those pokers in the fire, there's very little chance that Faber's training as hard as him.
But the "California Kid" -- in Vegas being shuffled from radio show to radio show, from appearance to appearance, per usual -- would like to remind you of something. He's tireless. He's indefatigable. He is the most laid-back hyperactive guy in the fight game.
"You know, people ask about that quite a bit," he said. "What they don't realize is that, before anyone was covering this sport, I was working two jobs. I had a girlfriend. I had other things going on.
"Before that I was a scholar, meaning I was an athlete and a student and working in college. Before that I was in high school, doing sports and having a personal life and getting good grades. Before that I was acting, and splitting time between two parents. It's just my nature, man. I feel comfortable being busy and I've got a little bit more of a spotlight on me now, but it's more of the same for me."
And as for his myriad enterprises taking away from his training, which some people have attributed to his run of losses between late-2008 and mid-2010?
"The bottom line is, training for me is just something that is part of my life," he said. "I've never, since I can remember, been out of shape in my life."