November, 29, 2011
11/29/11
3:38
PM ET

By Chuck Mindenhall
ESPN.com
Archive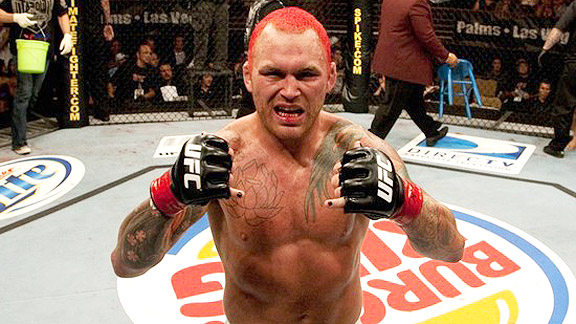 Josh Hedges/Zuffa/UFCChris Leben was suspended for a year after testing positive for painkillers after fighting Mark Munoz.
It's long been known that the fight game caters to fear, and there's more than a century's worth of boxers who confronted it through many means. Anxiety sits in everyone, with some heavier than others.
Georges St. Pierre
has said that before a fight he'd get so nervous that he'd wish the lights in the arena would go out, something beyond his control to let him off the hook from fighting that night.
Matt Wiman
's version was that a friend would pull up in a car in the back, saying, "let's get out of here." These are common fantasies. The idea is that something or someone will intervene to relieve them of the absurd thing directly ahead, a voluntary predicament agreed to in braver times, that scares deepest when thought of in its entire inevitability.
Some fighters fortify resolve by introducing themselves to cowardice. Some fighters fight because of these personal confrontations. All fighters are asked to overcome themselves. It's why meditation and breathing techniques are used.
I don't know Chris Leben's exact reason for taking Oxycodone and Oxymorphone, but I do know he's not uncommon. I did a piece for ESPN.com on
Karo Parisyan
at UFC 123 when the UFC gave him another chance against
Dennis Hallman
. He'd failed a drug test for painkillers after his split decision victory of
Dong Hyun Kim
at UFC 94, and backed out of a fight with Dustin Hazelett at UFC 106 the day before. Dana White banished him from the UFC after the second offense. As White is wont to do, he then gave him yet one more chance based on Parisyan's assurances that he'd changed.
The Parisyan that showed up at UFC 123 in Auburn Hills hadn't changed. He was a mess. He was looking for painkillers nearly the entire time he was in Michigan. On fight night, he pleaded with the athletic commission to help him out, his skin so pale and clammy that it became heroic just to watch him start shuffling towards the cage when Burt Watson came to inform him it was time. In that case, Parisyan was past the point of trying to overcome his anxieties without pills. It was hell to watch him try. And it was impossible for those who cared for Parisyan backstage to remind him that these circumstances once fueled his fire. The original version had long since left. Parisyan couldn't hear anything above the clatter of the world caving in around him.
Leben has been in trouble in the past with a DUI, for using anabolic steroids, and behavioral issues going back well before the original Ultimate Fighter that he made his name on. He has always worn his asterisks, and it seems no matter how many times he talks of reform he ends up back in the same place.
The latest was him testing positive for painkillers after fighting
Mark Munoz
at UFC 138. He is now suspended for a year. His latest offense comes to the surprise of nobody. We don't know how he arrived at it or the level of his intake or if he's an addict, but it'll be a test of mettle to overcome the stigma. It becomes a spiral. Each time Leben gives into a need to cope, the result is he's asked to dig deeper.
Not an ideal situation for a susceptible person.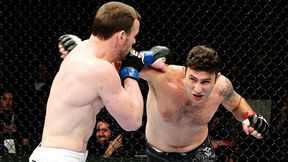 Josh Hedges/Getty ImagesKaro Parisyan was banished from the UFC after his second failed drug exam.
Painkillers in the fight game are problematic, and you can see why. This is a literal will-against-will sport where a ball isn't used as a metaphor to impose it. If there are metaphors to be had, it's usually the opponent. Fighting is, on whole, a hellish encounter with self. Many fighters do it for this very reason -- to overcome themselves. That's the subtext of a fight. We watch because we know it carries those kinds of reserves. It's personal. There is pain.
And there are so many fears that only get magnified in MMA. Fear of failure, fear of exposure, fear of panicking, fear of death. Fear of vulnerability. Going back through fight game literature concerning some of the greats, part of the euphoria a fighter feels after winning a fight -- and oftentimes on the idea of merely having fought in a fight -- is the fact that they went through with it. That's it. No amount of torment, doubt or pressure -- whether coming from the outside or self-induced -- could hold them back.
This is its own triumph that is too easily taken for granted.
Karo Parisyan is what happens when pills become necessary to get through. Leben will have a year to look down that path and ask if that's him. Hopefully, somewhere along the way, he remembers exactly why he does it.
Or, at very least, come around to this -- if there are easy ways to handle hard situations, chances are you're only defeating the purpose.
November, 6, 2011
11/06/11
9:24
AM ET
By Matt Freeman
Special to ESPN.com
Archive
BIRMINGHAM, England -- Carrying a card that had mainly flown under the radar,
Mark Munoz
came into UFC 138 knowing he had to make the main bout exciting. And make it exciting he did.
He did it in his own way, however, using his wrestling to dominate the action. Although
Chris Leben
is skilled at forcing his opponents to engage in bloody brawls, Munoz stuck to his promise, using his self-described "Donkey Kong" ground-and-pound to finish the fight after two rounds.
As highly regarded a wrestler for MMA as Munoz is, few can question his stand-up these days. After dropping to middleweight, the Filipino Wrecking Machine has confronted and defeated some excellent opposition. Against Leben, Munoz again showed his pedigree on the feet and on the mat. Shooting in early to establish control, Munoz surprised no one, least of all Leben, as he secured the double-leg takedown and got straight to work.
Leben, for his part, showed his usual grit and tenacity, searching for a guillotine and making his opponent work before making it back to his feet.
The up-and-down pace of the opening minutes would, however, be the tale of the tape in this bout.
Back on the feet in the clinch, Munoz drilled in heavy body shots, clearly looking to deplete Leben's gas tank. Taking a leaf out of Brian Stann's notebook proved a wise choice as The Crippler began to tire. Although Leben made it a tough contest, scoring his own takedowns and submission attempts, Munoz showed that he could stick to his game plan under pressure and regain control.
While in trouble at the end of the round, taking punishment on the floor, Munoz was by far the fresher man going into the second. Five rounds seemed like a fairy tale when it came to this fight, and with Leben seemingly struggling after the first, Munoz poured on the pressure. But, as ever, Leben seemed to get better the more he got hit, and he continued marching forward.
[+] Enlarge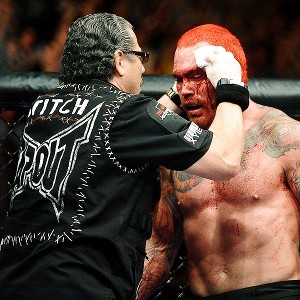 Martin McNeil for ESPN.comMark Munoz's "Donkey Kong" tactics took a heavy toll on Chris Leben's face.
"I hit him so hard. He's got a granite chin, and I wanted to test it and I did," an incredulous Munoz said after the fight. "I hit him so hard, but I'm persistent. I was happy to keep hitting him until he fell over."
It proved unnecessary in the end, as Munoz's shots on the ground opened up a big cut, forcing referee Marc Goddard to halt the action to allow the doctor to check the injury. As promised, Munoz had unleashed his Donkey Kong style with the desired effect. When the action restarted, Leben stalked forward again, but Munoz stuck to the game plan, scrambling out of another guillotine to take his opponent's back and land thudding punches. Leben was done, unable to rise from his stool to go into the third.
The end was testament to Munoz's conditioning and power. He'd proved that he could handle the pressure Leben brought and that his wrestling was superior and damaging. Far from riding out a decision, Munoz was there to finish the fight.
"I'm confident in my hands, but the game plan was to work the angles, get in and out and use my speed and then get on top," Munoz said. "I'm confident in my game, and I know I hit hard on top.
"I don't think I ever rocked Leben; he seemed to just walk through my punches, but it was a great fight."
The postfight news conference was littered with possible title shot contention questions for Munoz, and although the middleweight felt that he'd paid his dues in the division, UFC president Dana White wouldn't be drawn into making a comment. The Filipino Wrecking Machine did, however, put on a stellar performance. Stopping a fighter as tough as Leben and displaying a cerebral approach to a fight that had brawl written all over it showed that Munoz is a professional athlete who, in MMA terms, possesses some of the most brutal ground-and-pound the division has seen (
Chael Sonnen
aside).
Title shot or not, Munoz definitely earned the respect of Leben as well as the fans and put himself firmly in line for any number of big, main-card bouts.
November, 5, 2011
11/05/11
8:04
AM ET
Thiago Alves
encountered yet more problems with weight cutting at the UFC 138 weigh-ins on Friday, failing to hit his target at the first time of asking.
More »
November, 4, 2011
11/04/11
11:38
AM ET
Brad Pickett
insists
Renan Barao
only has to pick up a DVD of the Brit's career highlights to know that he is heading for trouble at UFC 138.
More »
November, 4, 2011
11/04/11
7:21
AM ET
Chris Leben has called on the current champions of the UFC to watch his clash with Mark Munoz to remind themselves of what a proper fight really is.
More »
November, 3, 2011
11/03/11
12:19
PM ET

By Chuck Mindenhall
ESPN.com
Archive
The game plan to stray into people's wheelhouses and eat punches in order to land some is nearing extinction.
This makes
Chris Leben
an endangered species. His is a roadhouse style that demands cranial punishment. Hit him square in the nose, and he starts coming forward on toddler legs throwing bombs. It's what makes him a fun watch -- much in the same way it's fun to watch zombie movies, the parts when people with ordinary motor skills begin to turn.
Knowing this makes Leben extraordinary.
"The Crippler" will be fighting in his 19th UFC bout, this time against
Mark Munoz
at UFC 138. That's 19 times he will have gone in there headhunting. He wins two out of every three fights. A dozen times he's come out on top. A couple of times -- against
Anderson Silva
and
Brian Stann
-- he got blasted into space. He either wins spectacularly or loses that way, and it's enough for his corner to watch the action through their fingers. The last time he fought in England, he took a beating from
Michael Bisping
, and the first words off his lips were, "are you not entertained?"
We were. And partially because game plans are such fleeting things.
But imagine being in 19 brawls and yet, mysteriously, still sitting in middleweight contention. There's simply no accounting for his longevity, nor his success. The recently retired
Chris Lytle
liked to brawl but had fallback options, such as credible jiu-jitsu. Lytle was a career .500 fighter in the UFC. Should Leben beat Munoz this weekend, he'd be 13-6 and his name will start running up the flagpole for Joe Silva to consider in the Anderson Silva sweepstakes. (Think Ed Soares would be open to
that
rematch? His pen would shake with the excitement of a lottery winner signing the lucky card.)
[+] Enlarge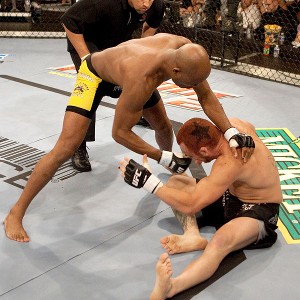 Josh Hedges/Getty ImagesSit tight: If Chris Leben can tie together a couple more wins, he might get a rematch with Anderson Silva.
By comparison,
Tito Ortiz
and
Matt Hughes
, the leaders in Octagon appearances, have 25 UFC fights to their names. Neither one of them brawls the way Leben does. Hughes knew enough to use his wrestling to neutralize danger areas; Ortiz was a ground-and-pound specialist, not a stand-and-bang practitioner (unless he was forced to be).
Leben? He'd be at home if barstools and glass bottles were being flung and crashed over heads. It's a life of hazards, and yet he fights on. He trusts his punch is harder than yours, and that his chin can withstand more. As the old saying goes, you can't teach chin -- but surely you can advise against testing it so frequently.
Then again, does Leben look like the kind of guy to take advice?
The first time I saw him live was at UFC 82, when he was fighting
Alessio Sakara
in Columbus. He'd just eaten something around a couple hundred consecutive punches and somebody yelled out, "Hey Leben, you've got to move your face!" This drew a collective chuckle. Leben didn't move his face. He kept hacking away, his hair the screaming color of a target, until Sakara dropped.
Ahead of UFC 102, on the shuttle ride to the arena in Portland just hours before he was to fight
Jake Rosholt
, he pointed to a bridge crossing the Willamette and said, "I used to jump off that bridge when I was a kid."
Brandon Vera
, the nearest to him, could only shake his head and laugh.
Which is sort of what we do when Leben answers the bell like a blood-dimmed tide. You're going down, or he is. It's not exactly a recipe for a sustained career, but it has worked for Leben for many years, making him the most durable fighter to ever embody the kamikaze way of thinking.
November, 3, 2011
11/03/11
10:57
AM ET
By Matt Freeman
Special to ESPN.com
Archive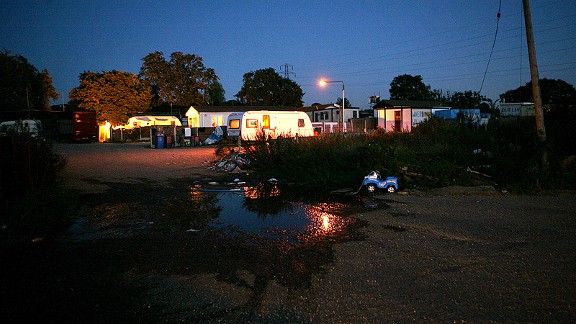 Mary Turner/Getty ImagesThe traveller life is the only life John Maguire has known.
Making his highly anticipated debut for the promotion at UFC 138 in Birmingham, John Maguire is without a doubt one of the most decorated new breed of British fighters to be drafted into the organization. Holding two of the UK's most prestigious domestic titles, Maguire's story is bound up with a rich heritage of fighting and personal sacrifice.
As a traveller, (or gypsy as the culture is better known in the US), Maguire was no stranger to the bare knuckle methods employed to solve family feuds. "Straighteners" are a regular way for the travelling community to settle disputes and deal with issues of pride.
These days, travellers engage in that old pastime of fighting with their fists and only their fists. In the past, "all-in" would also allow wrestling, throws, clinch work, kicks and elbows before becoming reduced to what is now referred to as Queensbury Rules.
Maguire eschewed bare knuckle boxing, preferring to study MMA, giving a brief nod back to those earliest of bouts fought on village greens where anything was allowed.
"Fighting can be big in the community. It is usually more to do with family rows than for money and it's just the way travellers settle problems," the welterweight fighter said. "Travellers prefer the fair-play style or "straightener" than the all-in style. They don't really like the wrestling and grappling and a lot of them are ignorant of MMA. I was brought up around boxing as it is a big deal with travellers, but I love MMA."
Having grown up living "on site" (what travellers term a caravan camp of families, similar to trailer parks), Maguire has never once lived in a house. After travelling extensively around Britain, John settled in Cambridge, where he would eventually find Tsunami Gym.
"I've never lived anywhere else than caravans," Maguire said. "I've been on the current site for about 10 years now and all my family live there. It's a nice, quiet family site and I've got my own caravan; it's a nice big one as well."
It was in Cambridge that Maguire found Tsunami Gym. Under the tutelage of UK fight scene veterans Robbie Olivier and Pierre Guillet, Maguire quickly developed into a formidable competitor. Regularly competing above his own weight class, Maguire defeated all comers using his crushing wrestling game to grind his opponents into an early defeat. After adding an explosive Muay Thai skill set to his tool box and dropping to a more natural 170 pounds, Maguire took back-to-back titles on the UK scene, establishing his dominance in the division.
All of this has culminated into a bout with Justin Edwards in the UFC's return to England on Saturday, and it is an opportunity that he is grabbing with both hands.
"I've been sleeping in the gym for the whole training camp," Maguire said. "I've only been home once. There are no comforts; no TV, no computer or Playstation. I'm sleeping in a store room on the floor."
It's a mark of just how important this fight is for Maguire. The UK standout has pursued his MMA career while also working as a heating engineer, paying for his training and his caravan with his own hard work and graft, a work ethic that is mirrored in his fighting style.
Taking time off for the first time in his pro career, Maguire is doing everything to ensure he is fully prepared.
"I'm training twice a day. I've taken off the last five weeks from work and I'm even adding in a strength and conditioning program," Maguire said. "Everyone at the gym is helping me to prepare and I'm doing loads of sparring and wrestling. My brother Tommy is helping out loads; he tells me how it is if I'm being lazy or crap."
[+] Enlarge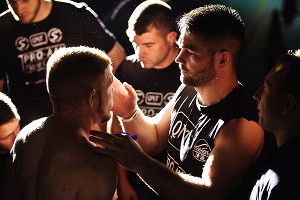 Martin McNeil for ESPN.comTommy Maguire, left, has been an integral part in his brother John's development.
But while camaraderie is clearly important for Maguire, he knows that when the cage door shuts it's all down to him. A seasoned competitor, he's under no illusions as to the task at hand.
"I don't know how I'll deal with the nerves until I get there but this is what I've been working toward," he said. "The UFC is the biggest show in the world and I'm going to take my opportunity."
Taking on Edwards, a man Maguire met in Las Vegas a year back during "The Ultimate Fighter" trials, Maguire has a good idea of what to expect.
"Justin is coming off a win but I've fought guys just as good if not better. I just need to hold my nerves together," Maguire said. "He likes to wrestle but I'm a wrestler with a very active ground game so I'll be happy to trade takedowns with him. More than anything though, I want the win and that's the top to bottom of it. He's a mini-
Randy Couture
and he comes out fast in the first round.
"I'm ready to ride the storm and wait for the openings. Whatever comes, any mistake, I'll capitalize on it ... but to win with my trademark Kimura would be good."
November, 2, 2011
11/02/11
6:41
AM ET

By Chad Dundas
ESPN.com
Archive
This weekend at UFC 138,
Chris Leben
and
Mark Munoz
have been handed an impossible task.
Compete for headlines with the one-man riot that is
Nick Diaz
? Good luck with that. Share the spotlight with the UFC's debut on network television? Yeah, right. Jockey for eyeballs alongside the old-school goodness of
Dan Henderson
versus
Mauricio Rua
? See where that gets you.
Under different circumstances, Leben versus Munoz might make a solid co-main event on a larger show or a compelling addition to almost any pay-per-view undercard. As it stands, however, their fight will air via tape delay on SpikeTV this weekend and will certainly be the least talked about main event of a period where the UFC will do four major shows in as many weeks.
[+] Enlarge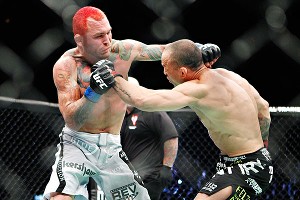 AP Photo/Eric JamisonChris Leben had better do something spectacular if he wants to be noticed this weekend.
Hard not to feel bad for them getting lost in the shuffle like this. Both Leben and Munoz are nice guys and among the sport's fiercest of competitors. They'll say all the right things about being honored to be in a main event and competing for the fans in Birmingham, England, but you couldn't blame either of them if they secretly feel like they deserve better.
Leben enters this bout having won four of his last five and on the immediate heels of his 27-second knockout of
Wanderlei Silva
at UFC 132. Munoz has gone 6-1 since dropping to 185 pounds in 2009, with a first-round KO of
CB Dollaway
in March currently standing in as his own signature win.
There's at least an outside chance that this bout turns out to be a title eliminator, if UFC brass can't convince middleweight champion
Anderson Silva
to rematch
Chael Sonnen
and/or rumors of that pair coaching the first Brazilian season of "The Ultimate Fighter" turn out to be untrue. That makes it feel doubly odd this fight hasn't made much of a dent in our collective consciousness.
There's probably only one hope for Leben and Munoz to truly get noticed this weekend: Fireworks.
They're both capable of delivering them. If they want to stand out from the crowd, they better deliver.
August, 26, 2011
8/26/11
10:41
AM ET
The Birmingham UFC 138 card on Nov. 5 has been bolstered by the addition of known Michael Bisping hater Cyrille Diabate, who will fight Anthony Perosh.
More »
July, 29, 2011
7/29/11
8:36
PM ET
Undefeated heavyweight prospect Philip De Fries now has an opponent for UFC 138, as he will meet fellow Brit Oli Thompson at the Nov. 5 event.
Sherdog.com confirmed Thompson's signing and the matchup with sources close to the event on Friday. Headlined by a middleweight confrontation between Chris Leben and Mark Munoz, UFC 138 will emanate from LG Arena in Birmingham, England. The main draw will air in the United States via same-day tape delay on Spike TV.
De Fries announced his signing with the UFC earlier today. The 25-year-old has been perfect through his seven-fight career, submitting all of his opponents through his two years as a pro. De Fries has made an especially effective weapon of the rear-naked choke, stopping five of his fallen foes with that maneuver. Only his most recent opponent has escaped the first round against De Fries, as the Brit finished Stav Economou in the second round of their July 2 clash.
Thompson has finished all but one of his career victims, knocking out three while submitting five. The ZT Fight Skool export has only tasted defeat twice as a pro and will ride a five-fight winning streak into his UFC debut. Both of Thompson's defeats have come to UFC-caliber fighters, as the heavyweight was bested by Joe Vedepo and Rob Broughton in 2010, a year in which Thompson fought six times. Most recently, Thompson submitted Mark Potter with a rear-naked choke on June 25, finishing his countryman in just 2:55.
June, 22, 2011
6/22/11
9:13
AM ET