February, 13, 2012
2/13/12
12:27
PM ET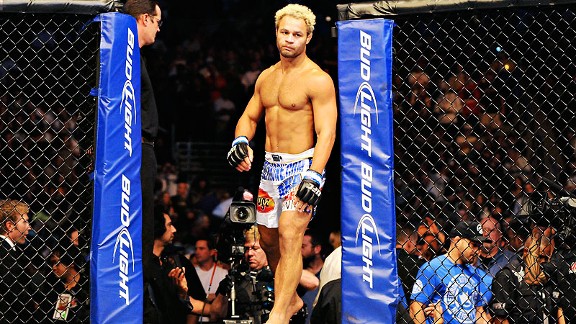 Dustin Bradford/Icon SMIHere he comes again: All that matters to Josh Koscheck is that you keep talking about him.
Josh Koscheck
invites you to hate him. Why? Because he was one of the earliest subscribers to the "as long as you care" camp. If you can't stand him, that's like saying you won't miss the chance to see him get his head smashed in. That's like saying you love him.
But something about Koscheck's heel mode has never seemed right. When he was calling
Chris Leben
a "fatherless bastard" on the first season of the "Ultimate Fighter," he just came off like your ordinary punk. By the time he was coaching opposite
Georges St. Pierre
on the show 11 seasons later, his demeanor had only been tweaked by success -- it was cockiness with actual backing. This version, the entrepreneurial one, had a Ferrari in his garage in Fresno; the first version had just a few trophies from his collegiate wrestling days at Edinboro University.
Does any of this make for a heel? Definitely annoying, maybe shallow. If we're talking
heels
heels, Koscheck is certainly well heeled and open about it. Koscheck has always been hard to know aside from his materialistic desires. Even his close friends, the ones who know the "real" Koscheck, are generally business people where real is often interdistinguishable from the alternative.
But think about that, anyway -- if only specific VIPs know the other side of Koscheck, and it's a circle that's so tight and protected from commoners as to become elitist, doesn't that amount to the same thing?
It's a strange place to have to go in search of a genuine center. But that's Koscheck -- or as much of him as we can glean.
Yet heel or not, he's once again making his way back up the welterweight rungs as a sort of man without a country. He lost his title bid to Georges St. Pierre in December 2010, effectively turning him into the
Rich Franklin
of the welterweight division. As he recovered from broken orbital bones suffered in the St. Pierre bout, his options were limited to this: migrate or guard the gate. By the time Koscheck resurfaced to fight
Matt Hughes
nine months later, he was talking about exclusive "big fights" or a possible run in the middleweight division. This was Franklin all over again (only, you know, he was threatening to sue
Stephan Bonnar
).
Then things changed.
With St. Pierre's knee injury, the introduction of an interim belt, and a victory over
Mike Pierce
at UFC 143, Koscheck appears to be neither gatekeeper nor division-hopper. Instead he appears again as a contender. And just like that he will fight
Johny Hendricks
in May in a bout with significant ties to another title shot.
[+] Enlarge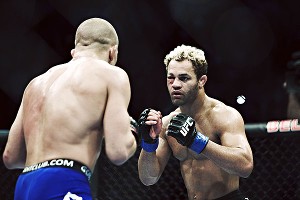 Marc Lecureuil/Getty ImagesLike it or not, Josh Koscheck might be closing in on another shot at Georges St. Pierre.
In this way,
Dan Hardy
might have touched on more than he knew when he said that Koscheck was an "unflushable." Think the idea of Koscheck/St. Pierre III isn't exciting? Kos couldn't care less of what you think. He even went so far as to say he hoped St. Pierre would never fully recover from knee surgery. If you can't beat them, hope for divine intervention.
But here's where things get different -- this time, as Koscheck makes his way back, he'll do it as a lone wolf. He revealed after the Pierce fight that he was no longer training at his long-time hub in San Jose, Calif., the American Kickboxing Academy -- that he was now a full-time member of himself in Fresno. Though this feels like the way it should be, AKA has always been the sweet side of Koscheck's loyalties. This was what kept him from looking like a bounty hunter with peroxide curls -- training partners
Jon Fitch
and
Mike Swick
were his brothers. They were part of his "inner-circle," part of the Zinkin bond.
Now they are separate. And even though they're no longer gymmates, Koscheck still contends that he'd sooner retire than fight Fitch. A little mystery toward the deeper chords of brotherhood? Maybe. But if you listen to what Koscheck has been saying for the last couple of years -- all this braggadocio stuff about being a "gold-digger, baby" -- you'd have to wonder if loyalties would tend toward Fitch or Benjamin Franklin if presented.
Perhaps then we'll know if he's a true heel or a man of very strict guns and principles. Because right now he's a prolific fighter who we love to hate, yet who's smart enough to know exactly how reversible that phrase is.
And the strange thing is, at 34 years old and entering his 20th UFC fight since 2005, Koscheck might finally be coming into Koscheck. Here's a guy who left AKA to go the course alone, who is inviting New Jersey to make like Montreal and give him full-throttle hate, and who, despite it all, is a win away from perhaps forcing a fight on the public that virtually nobody other than he himself wants. Well, you know who he caters to, and it isn't the public.
Only it sort of is. By daring you to hate him, he's ensuring that you at least care. And that's a pretty calculated heel if there's ever been one.
February, 10, 2012
2/10/12
11:52
AM ET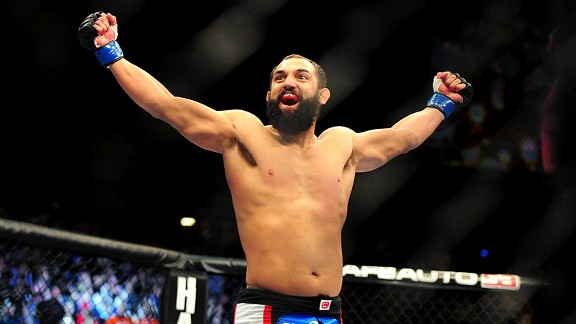 Mark J. Rebilas/US Presswire
It's been a whirlwind week in the UFC's alt-title scene -- and it begins and ends with
Nick Diaz
.
For all his warts, Diaz had achieved a sort of cult status before his fight with
Carlos Condit
at UFC 143, and the terms of endearment were his alone. Innocent people who vaguely associate cannabis with the Donner party of the 1840s were starting to find warmth in his mean mugging. New York Giants quarterback Eli Manning was picking him to beat Condit, saying to the extent of his knowledge, "he's a tough guy."
This happens to be the universal perception that we tinker with. By the time Diaz's second-grade teacher was cameoing on UFC Primetime, we were seeing Diaz in a different light. Or, younger in the same light. Either way, always a tough guy.
The thing everybody was growing to appreciate was this: Here was a truly unyielding person. The subtext was even better: Here was a human being.
None of that has changes in the aftermath of Diaz testing positive for marijuana metabolites after UFC 143. It's the second time he's tested positive in the state of Nevada, with the first occurring after he gogoplata'd
Takanori Gomi
at Pride 33 in 2007. That time, his THC levels were three-and-a-half times over the legal limit. If you are a fan of Nick Diaz, you are a fan of everything that goes into Nick Diaz, whether it's heart, drive, contradiction or exotic subtances.
And if you were a fan of his a week ago and you aren't today, you're verging on hypocrisy.
That's because this latest positive test isn't so much news as it is consistency. Our perceptions may be fickle, but Diaz is still Diaz. His image doesn't get hurt too badly for getting popped for marijuana again, even if his career spirals as a result. It's not considered a performance-enhancing drug (though this can be contested); it's a lifestyle choice that Diaz has never hid from. It's illegal, and that's what matters to governing bodies. What might not matter is the anticipated year-long suspension that the NSAC may impose. When asked, younger brother
Nate Diaz
texted ESPN.com that Nick intends to stay retired.
As crazy as it sounds, maybe Diaz really, truly is "through with this s---." It would be par for the course for a guy who can't be corralled into such nuisances as protocol and rules.
And with Diaz out of the picture, the welterweight division just as suddenly opens back up. Now it's Condit's decision to wait on
Georges St. Pierre
to fully recover from a torn ACL -- and GSP says that could be by November -- or defend the strap. Since Condit fought only once in 2011, it's hard to imagine him catering to St. Pierre's timetable, particularly when you look at how quickly he jumped at the Diaz rematch that was not to be.
Who benefits the most?
[+] Enlarge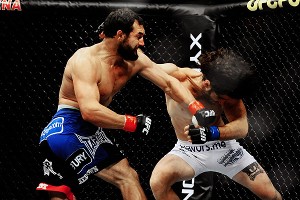 Mark J. Rebilas for ESPN.comJohny Hendricks, left, might be in the right place at the right time again.
It could be
Johny Hendricks
, who has two things on his side -- timing and merit. It doesn't hurt that he knocks people out with his big left hand, like he did to
Jon Fitch
at UFC 141. But Hendricks, who is riding a three-fight win streak, is ready to roll. So is Condit.
The monkey wrench could be
Jake Ellenberger
, who fights
Diego Sanchez
on Wednesday in Omaha. Should Ellenberger win, he too would have a case for a title shot. Remember that Condit and Ellenberger fought in 2009, a split decision so close that it would best Diaz-Condit in controversy if only the stakes had been as high. A rematch would do better business than no fight at all.
If Hendricks-Condit is made, there's a chance that the UFC looks at
Josh Koscheck
-Ellenberger. Before Ellenberger signed on to fight
Jake Shields
, he was publically calling out Koscheck. This could be tabbed a No. 1 contender bout, even as St. Pierre rolls back into the fold.
The bottom line is, the division opens up to contenders that a couple of days ago it looked closed off to. And whomever it is that gets that shot can thank Diaz, who is the game's greatest paradox.
For a guy who refuses to yield, at this point that's all he can do.
February, 9, 2012
2/09/12
6:20
PM ET
The marching orders for
Nick Diaz
's second tour of duty in the Octagon were clear from the start. Before the start, actually.
"The problem with Nick Diaz is, Nick won't play the game," explained Dana White last January, five full months prior to Diaz returning from self-imposed exile in Strikeforce and inking a new deal with the UFC. "When Nick Diaz wants to play the game just a little bit, we'd love to have him back."
There it was, simply put. Play the game. Toe the line. Make even the slightest effort to show us you want to be here, that you're ready for this, and we'll hand you the keys to the castle.
After running off an 11-1-1 record during the near-half decade he spent away, few people questioned Diaz's credentials when he vacated his Strikeforce welterweight title in June and leapfrogged straight to the front of the line of the UFC's 170-pound contenders. His abilities were not at issue; at least, not to those who'd paid attention to his evolution from mediocre mid-card performer to bonafide main event talent. If anyone had proven he belonged among the best fighters in the world, it was Diaz.
The million dollar question was: Could he deal? At 28 years old, was he finally equipped to handle the rigors of life as an MMA superstar?
Sadly, we got our answer on Thursday, as news trickled out that the Cesar Gracie Jiu-Jitsu fighter tested positive for marijuana in the wake of his unanimous decision loss to
Carlos Condit
on Saturday at UFC 143. As a result, Diaz will face disciplinary action from the Nevada State Athletic Commission, effectively scuttling the UFC's frenzied plans to get him an immediate rematch with Condit for its interim welterweight title and give him yet another opportunity to find his way into a lucrative fight with
Georges St. Pierre
later this year.
The answer, emphatically, was no.
Now, perhaps we have final, definitive, comprehensive proof. To absolutely no one's surprise, Diaz is not willing to play the game. Not even a little bit. Not even with the world's largest MMA promoter bending over backward trying to make him one of this sport's biggest attractions.
For those of us on the outside, the most tragic part is that we were all rooting for him.
I would wager that deep down, even Diaz's strongest critics wanted to see him get it right this time. We wanted him to succeed not only because of his immense gifts and because it's a joy to watch him fight, but because we empathize with his obvious personal pain. In a weird way, we relate to this guy who desperately wants to be understood, but can seemingly never find the words to say so.
Much has been written these past few months about why we can't seem to take our eyes off Diaz. The truth is, it's not because he's "crazy" or a "bad boy" or whatever unfortunate words we typically use to describe him. It's because many of us -- even if we don't want to admit it -- see parts of ourselves in him, and that makes it easy to want Diaz to rise above all the pressures and pain, and become the best in the world at what he does.
[+] Enlarge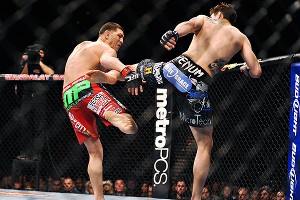 Rod Mar for ESPN.comNick Diaz's time back in the Octagon has been rocky -- and not just in the Octagon.
At least for now, however, that's not going to happen. For now it's easy to imagine that the "demons" (if that's what you want to call them) are getting the better of him. For now, it seems that awkward "retirement" he announced in the cage following his loss to Condit might actually stick; at least a little bit longer than we had hoped.
Diaz has been back in the UFC for all of eight months now and already he's committed two offenses that probably would've gotten a less talented, less popular fighter released outright. He'd already dodged a bullet when the organization granted him a second chance after he no-showed a pair of prefight news conferences for a scheduled bout with St. Pierre at UFC 137. Now, he's tested positive for this particular "drug of abuse" for the second time in his career, for the second time in the state of Nevada.
The first came in 2007 and turned his amazing second-round gogoplata victory over
Takanori Gomi
at Pride 33 -- at the time the biggest win of Diaz's career – into a no contest. That was a little more than a year after he brawled Joe Riggs at the hospital in the wake of dropping a unanimous decision to the journeyman fighter at UFC 57. It was seven months before he began a four-year romp through the competition in smaller organizations, only to re-sign with the UFC in 2011 and notch a record of two major screw-ups in two actual appearances in the Octagon.
At this point you have to wonder how many strikes the UFC will give him. How many missed flights? How many hospital brawls? How many unsuccessful drug tests?
Though we all desperately want the opposite to be true, at this point we must admit that Nick Diaz is not in the lesson-learning business.
And if he isn't ready to play the game by now, will he ever be?
February, 7, 2012
2/07/12
6:16
AM ET
Near the end of the ESPN.com live chat of UFC 143 on Saturday, one of our users called
Carlos Condit
a coward.
Actually, that's not entirely accurate. To be more precise, the guy called Condit a COWARD, in all caps.
This, of course, happened immediately after the scores were read in Condit's slim but unanimous decision win over
Nick Diaz
, awarding him the UFC's interim welterweight championship and -- if all goes according to plan -- the opportunity to face
Georges St. Pierre
in a title unification bout later this year.
To say that emotions were running hot would obviously qualify as a tremendous understatement.
I mention this anonymous user's comment -- which we can only assume was written in a fleeting moment of blind frustration and complete cerebral shutdown -- not to give it any special consideration, but only to underscore how highly charged the Condit-Diaz decision was for nearly everyone involved.
And everyone not involved.
It's hard to remember another judges' verdict in a high-profile bout that spurred as many contradictory opinions and such, uh, furor in the days following.
Clearly, it wasn't the fight many of us expected. We thought we'd get a pier six brawl; instead, we were treated to a tour de force of game planning and strategy. Condit's gambit revealed itself subtly and though he played Diaz like a fiddle during the final three rounds, their bout was excruciatingly close and extremely difficult to score. When Diaz took his back during the final 81 seconds, it felt like things might still be up for grabs.
They weren't. Not according to at least two ringside judges, who gave Condit the nod in all but a single round.
Even to the impartial observer, that seemed a little too lopsided. The problem is, you'd have to look pretty far and wide to find anyone who felt impartial about this fight. Like Diaz himself -- so distraught at the outcome he said he's "done with this MMA" -- many people probably allowed themselves to get too emotionally close to the situation to judge it accurately.
[+] Enlarge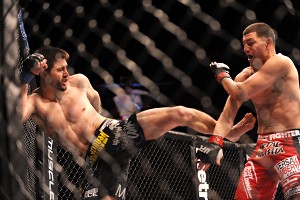 Rod Mar for ESPN.comKicking and screaming: no one seemed satisfied with the Nick Diaz-Carlos Condit result.
Such is nearly always the case with Diaz who, if he truly does walk away for good, will be remembered as a fighter who inspired strong feelings on both sides of the aisle.
And indeed, maybe the way you scored Condit-Diaz has a lot to do with how you view both fighters and how you see MMA in general. If you prefer a more old school approach -- or possibly a more primal one -- and think of MMA first and foremost as a simple "fight" that pits one man's spirit and physical toughness against another's, then you probably believe Diaz's aggressive, unyielding style won the day.
If you believe MMA aspires to be something more than a schoolyard scuffle, if you see it as a nuanced professional sport in which tactics and brainpower can and should be just as important as pure brawn, then Condit was probably your guy.
Personally, I scored it 48-47 for Condit, awarding him each of the final three rounds as he built more and more momentum, became more effective at stifling Diaz's offense and exhibited a kind of "Octagon control" that proved more artful and effective than just senselessly pushing forward. Diaz made it tight with his late takedown and submission attempts, but in my book he didn't come close enough to finishing them to turn the tide in the last moments.
In the live chat, of course, we update our scorecards following every round. After I scored the first two rounds for the former Strikeforce champion, users accused me of unfairly favoring Diaz. After I scored the final three for the former WEC titlist, users accused me of unfairly favoring Condit.
Neither side said it quite so nicely. That was fine. Then somebody accused Condit of being a coward. That was different. That was ugly.
Ultimately, the vehement and varying reactions to the Condit-Diaz decision speak to something both great and terrible about our sport: Everyone is so passionate about MMA that no one believes anyone else could possibly understand it in the same, personal way
they
do.
I love the enthusiasm. But I could probably do without the name-calling.
February, 6, 2012
2/06/12
4:39
PM ET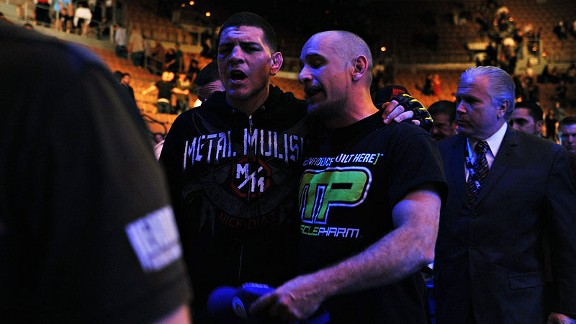 Rod Mar for ESPN.comWalking away: Is it possible we've seen the last of Nick Diaz?
There were those who thought that
Nick Diaz
beat
Carlos Condit
at UFC 143, pointing to his constant pursuit as evidence. Diaz stalked, mocked and talked. He was "Stalkton." He was exactly who we thought he was.
Problem was, Condit wasn't.
Condit went into the nastiest kind of retreat, one that stuck and ducked and moved and circled and landed leg kicks and counter shots with isolated ease. Isolated? Wait -- wasn't Condit supposed to stand in front of Diaz and trade, looking for that big curtain closer? Weren't chins supposed to come into question? Wasn't Condit supposed to be tailor-made for the high-volume striking assault that Diaz is known for?
Condit had a mute button for the volume. He was either brilliant, or he was a high stakes version of Kalib Starnes, depending on your bias. In all circles, it was clear that he consciously avoided a brawl. And this is where feelings got hurt. In the end, Condit wasn't about meeting bloodthirsty expectations so much as winning the fight, and he executed his game plan brilliantly. Good for (or shame on) him. Now he's the interim welterweight champion, and don't expect apologies from Albuquerque.
Yet for all the scorecard dissection that ensued, nobody was as disappointed or disillusioned as Diaz, who sort of retired right after. A totally impromptu retirement -- just a hundred seconds after a stubborn war he could never incite.
"I don't need this s---," he said to Joe Rogan.
He said he'd continue to help train his brother, Nate, but as for him and the whole pack of incompetent judges and all the pressure-filled, bustling hate? Devil take it. He doesn't need the racket.
Which we all of course took with a grain of salt.
Nobody really thinks that the 28-year-old Diaz is walking. He
does
need the racket. All the dude has done since his earliest memories is mean mug whoever gets in his grill, and fight. He went so far as to balance out the street menace early by funneling it into jiu-jitsu in his formative years. These days, he is as much Cesar Gracie as Cesar Gracie. Diaz is known for his fiendish work ethic, and he trains compulsively. It's what he does. It's how he copes, and how he vents. We like it because we see such focused discipline coming out of unknown wilds. Maybe more than anybody, this game is Diaz's lifeblood.
Only it's not a game to Diaz, it's fighting -- and that's why judge's scorecards become absurd to such a literalist.
[+] Enlarge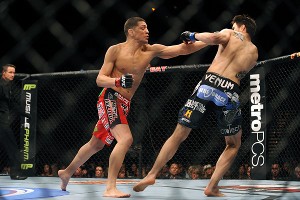 Rod Mar for ESPN.comIt's hard to imagine a competitor like Nick Diaz going out on a loss.
This last distinction is why he'll return to the cage before long. The old Dana White proverb to "never leave it in the hands of the judges" will resonate in him and work as kindling. Losing that way won't sit well in the 209. White senses it, just like you and I. In fact, White was already dangling
Josh Koscheck
out there as a possible next opponent in the postfight news conference. Emotions got the better of Diaz, who has never filtered the urge to say what's on his mind like typical professionals.
It helps that there are possibilities all over the place. Realistically, with
Georges St. Pierre
on the shelf until something like November, a rematch with Condit isn't out of the question. Neither is fighting a
Johny Hendricks
or a
Jon Fitch
or a
Rory MacDonald
to avenge his brother's loss. Or maybe
Jake Ellenberger
, who would love nothing better than to stand and trade heat with Diaz. How about rematch with
Diego Sanchez
, who knows the buttons to push to get Diaz's chest puffing back out?
There will be suitors, some of them equipped with the kinds of mouths that will get to Diaz.
But that's all window dressing. The thing is, Diaz doesn't have it in him to quit, and there's still too much left unresolved and just too many reasons for him to walk away.
And for those who have paid attention to Diaz's competitiveness over the years, the biggest might be this -- he simply can't.
February, 5, 2012
2/05/12
3:45
AM ET

By Brett Okamoto
ESPN.com
Archive
LAS VEGAS -- Everyone watched the same fight. Not everyone saw it the same.
Carlos Condit's unanimous decision win over
Nick Diaz
at UFC 143 is just one of those fights where we'll have to agree to disagree. Condit believed the judges, who scored it 49-46, 49-46 and 48-47 in his favor, got it right. Diaz didn't.
Each side received its share of support. When the fight concluded, fans seemed split on the decision. Diaz continually moved forward throughout the fight; however, Condit was successful in making him miss and countering as he back-pedaled.
At the postfight news conference, UFC president Dana White agreed with the decision.
"I scored the first two rounds for Diaz and the last three for Condit," White said. "This is going to be one of those fights that people are going to score differently. It was a tough one to score."
Regardless of who fans felt won, one thing is clear -- the result is the result. Condit will receive the next shot at defending champion
Georges St. Pierre
if he chooses to wait. The Canadian is expected to make a November return from knee surgery.
Even if Diaz chooses not to retire, as he stated after the fight, it appears he's lost the St. Pierre fight for now.
St. Pierre, who was supposed to fight Diaz at UFC 137 and 143, was sitting cageside alongside White and UFC co-owner Lorenzo Fertitta. According to Fertitta, the 170-pound champion felt the fight was so close it warranted a rematch.
Fertitta responded he couldn't do that to Condit, who was also scheduled to fight St. Pierre at UFC 137 when Diaz was removed from the main event.
"[St. Pierre] was upset. He wanted to fight Diaz," Fertitta said. "He said, 'You have to do a rematch' and I said, 'I can't do that to Carlos.'
"Look, he won the fight. It is what it is. We'll see what [Condit] wants to do. If I were him, I would wait. St. Pierre will be ready some time in the fall so it's really not that long. Fighting for the unified title -- it's worth waiting for."
The question now is, what chance does Condit have? In many ways, although interest in a fight between Diaz and St. Pierre was high, Condit potentially poses a more problematic matchup.
[+] Enlarge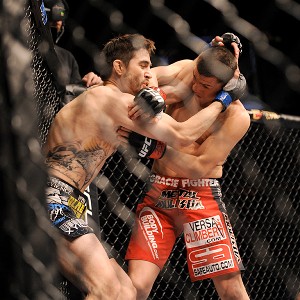 Rod Mar for ESPN.comCarlos Condit, left, did everything in his power to keep Nick Diaz from finding his flow.
For starters, he's incredibly tough mentally. To utilize the style he did against Diaz -- purposefully back up and counter a pressure fighter -- took discipline. He elected to go with a style that could potentially hurt him in the judges' eyes, but he executed it so well, particularly in the fourth and fifth rounds, that they sided with him.
He's also exceptional at understanding range. No one in recent memory has been able to stay at the end of Diaz's jab and avoid damage. Condit understood exactly where he needed to be to pull Diaz in and counter him effectively. If he can do that with Diaz's jab, he might be able to keep St. Pierre's double-leg takedown at a distance.
Finally, in his own words, he creates chaos. He's cautiously wild. At one point, he surprised Diaz enough with a spinning elbow to have him say, "What? We're throwing spinning s--- now?" He's the same way on the ground. He'll use unorthodox strategies to swing the fight in his favor.
Really, that's why so many wanted to see Diaz and St. Pierre fight. Diaz creates chaos with his aggression and talking to his opponent in the cage. Against a "by the books"-type fighter like St. Pierre, that can be an advantage.
In his own way, Condit creates just as much chaos as Diaz does in a fight. Perhaps even more.
"Georges is a very technical fighter," Condit said. "He likes to keep things cut and dry. I like to mix it up. I like to throw from weird angles, hit you with punches and elbows -- even if I'm on the ground.
"I'm trying to not only chip away from you physically, but break you mentally. That's what I do. A lot of guys have had problems with that in the past."
February, 3, 2012
2/03/12
7:23
AM ET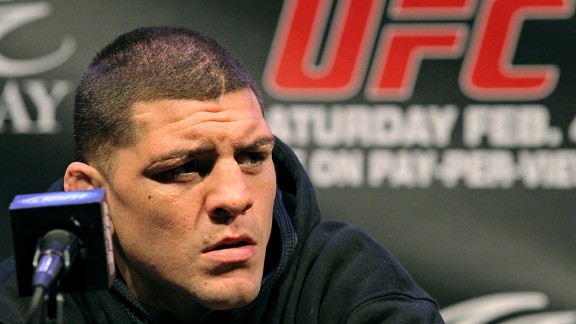 Josh Hedges/Zuffa LLC/Getty ImagesLadies and gentlemen, this could be your next UFC welterweight champion.
What a strange time it is to be a UFC executive.
During these last couple of weeks your product aired on network television in front of a peak audience of 6 million viewers, you were besieged by Internet hackers and, this Saturday at UFC 143, the best case scenario for your immediate future involves
Nick Diaz
becoming interim welterweight champion.
Wild, but true. Somewhere between nearly firing him in September and setting up this weekend's bout against
Carlos Condit
, the UFC has clearly decided to double-down on Diaz's personal brand of unusualness, using some of the lead-up to UFC 143 to lay the groundwork for a possible big money meeting between Diaz and
Georges St. Pierre
later this year.
Somehow, some way, company brass has come to grips with the fact that, as unpredictable as the former Strikeforce titlist can be, he's also their best chance to get the welterweight division back on track.
Long the picture of rock-solid consistency, the 170-pound class has been downright uncooperative during the last six months. The fight company's best laid plans for the welterweight title have been foiled at every turn as of late; first by Diaz's own obstinacy, then by the bum luck of back-to-back knee injuries to St. Pierre, who had typically been one of its most dependable pay-per-view draws.
The plan to get the ball rolling again begins at UFC 143, so long as both main event fighters can actually make it to the cage without injury or without quietly escaping out the back door of Cesar Gracie's house. If they do make it that far -- and engage in a fight that results in one man being crowned interim champion -- Diaz will have the chance to do the unthinkable. Not just win the fight, mind you, but transform himself from the division's biggest outcast into its champion and biggest promotional chip in one fell swoop.
Remember, it was Diaz's utter lack of dependability that threw the weight class into chaos in the first place. His failure to show up at a pair of prefight news conferences in the fall got him yanked from his original title shot at UFC 137 and forced matchmakers into a juggling act they haven't quite worked their way out of yet.
[+] Enlarge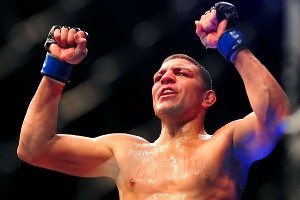 Mark J. Rebilas for ESPN.comNick Diaz can go from outhouse to penthouse with a win on Saturday.
As strange as it must feel for the UFC brain trust to throw their promotional muscle behind a guy who so badly failed them just a few months ago, it's clear that Diaz versus St. Pierre is the fight the paying public wants to see next. If Diaz wins and matchmakers can book it for later in the year, it will not only guarantee the company the kind of substantial payday it sorely needs right now, but it will also give the welterweight division a feeling of momentum it hasn't had for months.
A Condit victory would be fine -- at least the company would have someone to prop up as champion until St. Pierre returned -- but it wouldn't spark nearly the same kind of excitement as the lead-up to Diaz-GSP.
Perhaps the oddest part is that Diaz appears to have transformed himself into arguably the 170-pound division's second-biggest draw without even really trying. Unlike middleweight counterpart
Chael Sonnen
, whose sudden ascension to the upper echelon of his own weight class was obviously carefully scripted, Diaz appears to have forced the UFC's hand simply by being himself. There's just something so compelling about him that, love him or hate him, fans have to watch him. In the fight game, there is perhaps no more valuable commodity than that.
With apologies to Condit, the money, the sizzle and the clear way forward for the welterweight division are all with Diaz here, and right now that makes him the UFC's best hope.
How weird is that?
February, 3, 2012
2/03/12
7:12
AM ET
February, 3, 2012
2/03/12
7:07
AM ET

By Brett Okamoto
ESPN.com
Archive
LAS VEGAS -- It's a simple question with a potentially very complex answer: Is
Nick Diaz
crazy?
The UFC welterweight must be hearing from select groups of fans that he is -- and one can see how the rumor started. He has skipped news conferences in the past. His own trainer, Cesar Gracie, once informed UFC president Dana White that Diaz snuck out of the window in his house just to escape the situation.
He's known for giving awkward, at times off-topic interviews. Apparently, despite being pulled from a main event last year after he was deemed too unreliable by UFC brass, he still managed to miss three flights to Las Vegas for this weekend's fight, according to White.
To Diaz, however, he's not crazy -- the situation is. He's here to fight. What's crazy is before he has to fight, he has to sit at a table and answer questions from media. He has to get in the same room as his opponent and take pictures with him. He has to sit in front of a camera and try to figure out exactly what the UFC wants him to say.
"I'm just being realistic," Diaz said. "People want to say, 'Oh, Nick Diaz is crazy.' I'm like, hey bro, what you see is what you get. I'm not out here trying to put on an act like I'm crazy.
"In my mind, [other fighters] are the ones who are crazy. They're the ones putting on an act, doing what they're told in front of the camera. The camera gives them a line and they say it 10 times. They turn these guys into robots. I'm not going to be that guy."
[+] Enlarge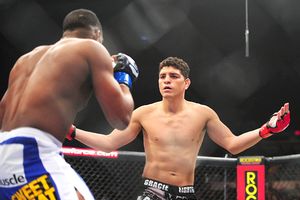 Mark Rebilas for ESPN.comPublic speaking has never been Nick Diaz's forte.
During the UFC 143 prefight news conference Thursday, a fan in the audience asked Diaz what he meant when he said you need to love mixed martial arts so much, you hate it during a promotional video.
Diaz, seeming disinterested in the question, stared ahead for a few moments before answering, 'That pretty much says it all, what I said is what I meant."
It wasn't exactly a memorable moment; however, the UFC President felt it illustrates why Diaz is viewed the way he is. More so than any fighter in the promotion, Diaz is a guy who doesn't want to talk about what he does, even with a fan.
"This kid is fascinating," White said. "You ask him a question he knows the answer to, 'but f--- you. Figure the f---ing answer out yourself. That's how he thinks. 'I don't give a s--- what you think. I'm here to fight. It's almost like he even hates [the UFC]."
While Diaz believes he's the most 'real' fighter in the UFC, a potential opponent of his tends to disagree. For welterweight champion
Georges St. Pierre
, Diaz isn't real and he isn't crazy.
He's putting on an act, trying to intimidate.
"Nick is not crazy," St. Pierre said. "Nick is a very smart guy. He hast to intimidate people. He's like a school bully. I remember people bullying me in school; they tried to make me believe they killed people.
"I don't buy this thing that he's crazy."
White on Overeem: 'I don't think he's in that much trouble'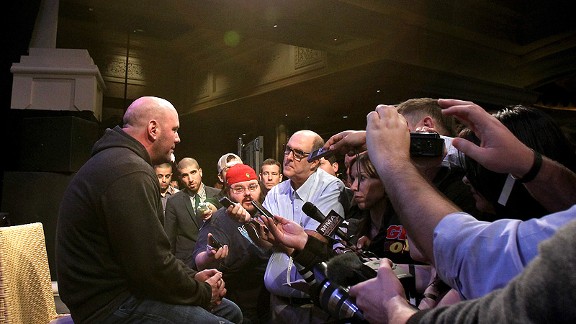 Josh Hedges/Zuffa LLC/Getty ImagesDana White feels Alistair Overeem will still be able to challenge for the UFC heavyweight title.
News broke this week that top heavyweight contender
Alistair Overeem
has been charged with misdemeanor battery, stemming from an incident in a Las Vegas nightclub.
Overeem, who defeated
Brock Lesnar
at UFC 141 in Las Vegas on Dec. 31, was not arrested during the incident but faces a maximum penalty of six months in country jail for allegedly shoving a woman.
The UFC president said Thursday he does not believe the issue will affect Overeem long-term and does not anticipate it interfering with pairing the Dutch fighter against champion
Junior dos Santos
as planned.
"He had to use the restroom, this is my knowledge of what happened," White said. "Security was going to take him but he said, 'I don't need security.' Sure enough, he goes over there and his side of the story is some lady started yelling and swinging at him.
"I don't think he's in that much trouble. This isn't a situation where he beat somebody up."
Hendo waiting on title shot, unclear if Diaz/Condit winner will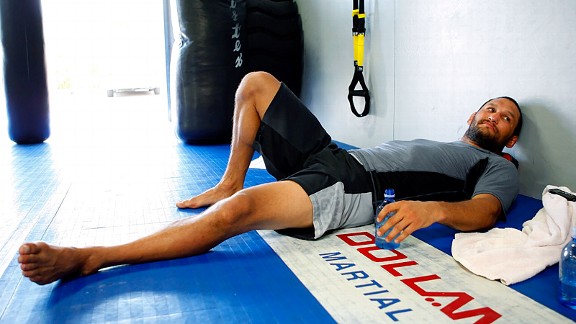 Jody Gomez for ESPN.comLying in wait: There won't be any "stay busy" bouts for 205-pound contender Dan Henderson.
It appears
Dan Henderson
is content on waiting to face the winner of a light heavyweight title fight between
Jon Jones
and
Rashad Evans
in April rather than fight in the meantime.
"Dan Henderson is in a position now where it looks like he wants to wait for Jon Jones," White said. "We'll see what happens with this Rashad fight."
The 41-year-old fighter made a successful return to the UFC from Strikeforce in November, outlasting
Mauricio Rua
in a five-round decision, which many felt was the fight of the year.
While that situation has cleared up, it's currently unknown whether the winner of Saturday's interim welterweight championship between Nick Diaz and
Carlos Condit
would defend that belt or wait for the return of Georges St. Pierre.
St. Pierre is currently ahead of schedule after undergoing knee surgery and expects a return to the Octagon in November.
"It depends on what happens [Saturday]," White said. "Which guy wins, how he comes out of the fight, how he feels after, does he want to wait -- there are so many different factors, so who knows?"
February, 2, 2012
2/02/12
7:56
AM ET
Roy Nelson
has summed up the importance of Saturday's UFC 143 clash with
Fabricio Werdum
, claiming he becomes one of the top four heavyweights in the world with a victory.
More »
February, 1, 2012
2/01/12
1:35
PM ET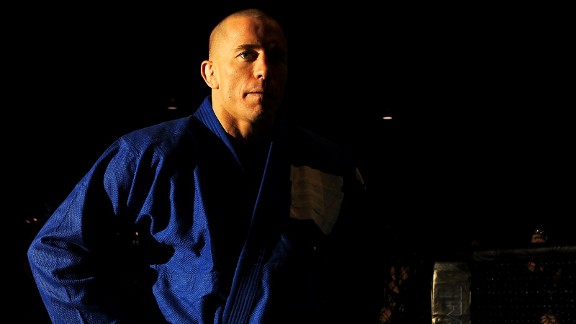 Al Bello/Zuffa LLC/Getty ImagesUnchartered territory: Get ready to see a side of Georges St. Pierre you didn't know existed.
Georges St. Pierre
is actively rooting for
Nick Diaz
to win versus his erstwhile training partner
Carlos Condit
this weekend at UFC 143.
Why? Because, when he returns from his knee injury, he wants to beat Diaz to a pulp himself and maybe teach him some manners along the way. Simply watching somebody else beat up Diaz isn't going to cut it -- St. Pierre wants to lay hands on the man who essentially called him a coward. There's just no satisfaction in doing this thing vicariously.
And as St. Pierre rehabs in California, this becomes his raison d'être -- to drag Diaz from the back alleys of Stockton, and blow him up large and in public under a thousand high-watt bulbs. It just so happens that he's plotting Diaz's comeuppance with boom mics hovering over his head.
All of this is, of course, a little bizarre.
Most diplomatic competitors pretend to have no rooting interest in a game/fight that leads directly to them. Any admission of wanting to play/fight a lesser opponent is a sign of disrespect or some overarching insecurity. Any preferential treatment the other way looks like chest puffing.
But as everybody knows, the fight game is always that much more literal and that much more uninhibited. Guys do not follow protocol, they're not nearly as censored and most have only the vaguest idea of consequences. Maybe it's because there are no metaphors in play. It is literally man against man, and the loudest man need only back it up.
The novelty is that it's coming from Georges St. Pierre. That's GSP, the Hobey Baker of MMA, who once said
Dan Hardy
would be the toughest challenge of his career (and believed large portions of what he was saying). If there's ever been a gentler gladiator outside the cage than St. Pierre, I'd like to know who he is.
[+] Enlarge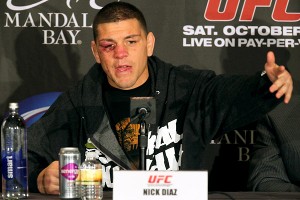 Kari Hubert/Zuffa LLC/Getty ImagesNick Diaz' penchant for rubbing people the wrong way hasn't exactly attracted a legion of sponsors.
Yet in the most recent "UFC Primetime," the producers smartly yanked the plug on the Condit/Diaz spotlight to have the usually reserved St. Pierre weigh in on matters. In it, the French-Canadian did not speak in automaton clichés (as he sometimes does) or work rote phrases (such as, "I just want to the best Georges St. Pierre I can be"). This time, over a montage of him doing specialized training on the road back from knee surgery, he said he was hoping and praying that Diaz beats Condit. His dander is still way up, and he looms over Las Vegas this weekend like a storm cloud.
Which is fitting, because St. Pierre also talked about a dark place inside himself that Diaz couldn't possibly fathom. This was the true revelation. The points were a little loose, but St. Pierre seemed to be saying that Diaz can outcrazy him, but not outblack his moods.
Somehow, in the exchange of Diaz not showing up at news conferences, getting plucked from the title shot and then disrespecting St. Pierre publicly after beating
B.J. Penn
at UFC 137, lasting impressions were made. In fact, the last insult made St. Pierre's pupils turn black, and this is a version of St. Pierre that becomes fascinating.
Move over, Garth Marenghi, we're about to visit Georges St. Pierre's "Dark Place," a place the media has never been able to get at. For once, the inner-workings of the usually stubborn professional are burbling up to the surface. And that counts as a new wrinkle.
It also makes the interim welterweight title fight between Condit and Diaz that much more fun, and it definitely makes GSP's rooting interest the general rooting interest. Who doesn't want to see Diaz-St. Pierre now? Who doesn't want to see St. Pierre fighting with a grudge, against a guy who doesn't give a damn about no feelings?
Now, with the UFC on Fox 2 playing out as the gateway to vastly riveting matchups between
Chael Sonnen
/
Anderson Silva
and
Rashad Evans
/
Jon Jones
, there's this weekend, which joins right in. A supercharged, totally peeved St. Pierre is expediting his return because he wants to smash Diaz into a million afterthoughts as soon as possible. It's another gateway fight that sets up a trilogy of ax-grinding title bouts for mid-2012.
And it's a hard spot for Condit. Lose, and make everybody happy. Win, and snap St. Pierre back into the ordinary light.
January, 30, 2012
1/30/12
11:25
AM ET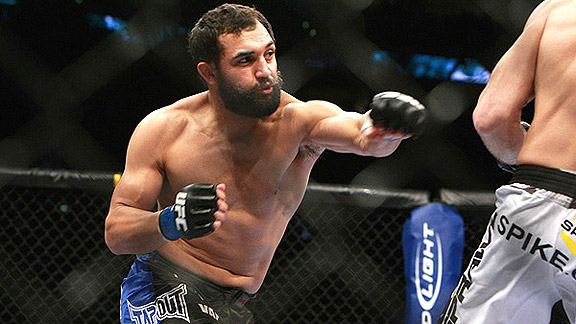 Dave Mandel/Sherdog.com"Speak softly and carry a big left hand"
used
to be Johny Hendricks' mantra.
Jon Fitch
was forever the No. 2 welterweight in the field, even if he was treated like an incredibly successful banality the entire time.
So what happens when Fitch, who never loses, gets knocked out by a guy with fresh marketability and a mean left hand? Does knocking out a perennial No. 2 deliver
Johny Hendricks
to front of the line for the next crack at the interim belt?
That's either very simple or very complicated in the "up in the air" welterweight division.
Start with the premise of just where the UFC's 170-pound division is right now. Next week, a placeholder champion will be named while
Georges St. Pierre
(who's been on top for almost four years) recovers from knee surgery. The fight will be between
Carlos Condit
and
Nick Diaz
, both of whom were booked for dates with St. Pierre before circumstances turned them on each other. After that it's
Jake Ellenberger
, who is fighting
Diego Sanchez
in Omaha on Feb. 15, and
Josh Koscheck
, who just had a title shot a little over a year ago. Koscheck is set to fight
Mike Pierce
at UFC 143.
Given the rapidly changing scene, doesn't Hendricks -- who already beat Pierce and then Fitch in a dozen seconds -- look like the next challenger to the newly accessible interim belt?
He thinks so. And he knows exactly how precious the situation he's in right this second is.
[+] Enlarge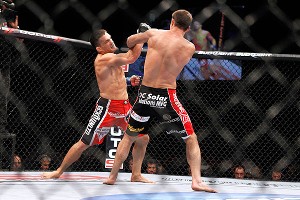 Ross Dettman for ESPN.comJake Ellenberger could leap past Johny Hendricks with a solid performance against Diego Sanchez.
"I've been telling everybody I really want the winner of [Diaz/Condit]," Hendricks told ESPN.com while in Chicago. "You don't get this opportunity too often. Now that I've done it in the ring, I've got to do it outside the ring. If I don't promote myself outside the ring -- I mean, there are great fights going on and now they're happening almost every week. You can be forgotten. So if I don't say in the news that I want that interim title shot -- there's a fight this weekend in the 170 class, and [if Koscheck or Pierce] does good, I might get bumped. So I always got to be out there making my case. I want my goal. My goal is to be UFC champ some day, and I know I'm right there. I just need that shot."
Hendricks has never been one to toot his own horn across media platforms or bad mouth the guy with the strap just to generate hype (they don't call him Happy Bearded Guy for nothing). Yet since debuting at UFC 101, he has won seven of eight fights and four of them by TKO or KO. His left hand is his volume. He said after knocking out Fitch that "the good lord blessed me with a left hand," and it's no longer in dispute.
What might be up for dispute is whether Ellenberger -- who is looking to make it six in a row in the UFC with Sanchez -- might catapult over him.
As far as Hendricks is concerned, it shouldn't. The Fitch knockout, as quick and anticlimactic and unforeseen as it was to witnessing parties, made him an obvious choice to fight the winner of Diaz/Condit. The timing would mesh schedule-wise for matching up with the next week's interim title winner. And if he has to confess everything, the truth is Hendricks doesn't want to roll the dice on fighting an Ellenberger or a Sanchez or a Koscheck in a title eliminator unless he's made to.
"Here's the thing. Unless the UFC says, 'Johny, you have to fight -- we want you to get a shot at the title, but we have some questions, and you need another one first,' then of course I'm not going to bite the hand that feeds me. I'm going to do what they say.
"But if it's up to me, I'd much rather go for the UFC interim belt. I've seen so many people who are right there, right there to get that shot and something happens ... it never fails, something happens, and they don't win. And then it takes them three or four fights to get back, which is a year to a year-and-a-half back, and that's if everything lines up perfectly."
Not that he lacks confidence against any of those guys, but Hendricks feels he's done enough to avoid unnecessary trappings. And after letting his fists do the talking, he says he's going to go full throttle into making his case. The man they now call "Bigg Rigg" is about to launch the happiest campaign to get the title shot. And he started marketing himself by explaining to me that he was going to start marketing himself.
"You've got to," he says. "The best example is Chael [Sonnen]. He'll do it outside the [Octagon], and also sometimes in the [Octagon]. But if you can sell yourself in the ring, the less you have to do it outside the ring. I don't want to be that kind of guy, like Chael. He does it awesome, but that's not me."
This is as good a time as any for a guy like Hendricks to quietly set up that next big left. And whether it's Diaz or Condit, it doesn't matter -- so long as they're carrying the belt, he'll continue to be the Happy Bearded Guy.
December, 7, 2011
12/07/11
4:18
PM ET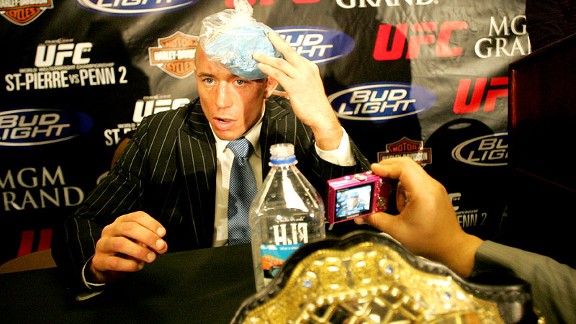 Josh Holmberg/ICON SMIWhat a headache: 2011 has been anything but fair to welterweight champ Georges St. Pierre.
At this point,
Carlos Condit
's opponents are like eye floaters -- he can't focus on them long enough to make out the shapes. This time, Condit had
Josh Koscheck
in his crosshairs for a forebodingly booked Super Bowl weekend. Before Koscheck became the face, he had
B.J. Penn
and
Georges St. Pierre
alternating in his sights ahead of UFC 137, never to fight any. His Koscheck fight was supposed to be a No. 1 contender bout (for him, anyway), but now Koscheck has morphed into
Nick Diaz
, and a theoretical belt is at stake instead of a theoretical chance at an actual one.
It's all been very confusing.
News came down today from Dana White via Twitter that St. Pierre has a torn ACL injury that will sideline him for 10 months. That is lousy information for everybody, not the least of which is UFC matchmaker Joe Silva. We're back to foe-swapping in early 2012, which was a running plague in 2011. With St. Pierre's long-term inactivity now an issue, Diaz/Condit will be for the dreaded interim title in the welterweight division, which is befitting to a guy like Condit who has been stuck in interim situations going on a long while now.
As for the new fight? It looks fantastic. Neither guy knows boring. But right this second, that's merely a silver lining.
The sad wayside belongs to St. Pierre, who with a blown-out knee and a lengthy rehabilitation period ahead, will lose more than a whole year of his prime. When he returns, he'll be 31 years old, and fresh crops of challengers will be knocking. He may never clean out the 170-pound division at this rate. And it means that he and fellow pound-for-pound kingpin
Anderson Silva
-- the superfight forever relegated to supertheory -- are going to miss the bulk of 2012. It means time clicks off the clock for the UFC's longest reigning champions right as the UFC kicks its "take over the world campaign" into fifth gear. It means a lot of hijacked contenders; a lot of new questions. It means more makeshift, and more sentences that start with, "it was originally supposed to be ..."
Luckily, the UFC had a triptych of free fights to announce right after dropping that news. Evans/Davis, Sonnen/Munoz and Maia/Bisping will be fighting in Chicago with title implications rampant on Jan. 28. Time stops for nobody. Except maybe for the current welterweight champion St. Pierre, who will watch the landscape change below him as he comes back from a bitter injury with cruel timing.
And as for Condit? He'll have to keep his fingers crossed that Diaz stays out of trouble, lest he morph back into Koscheck.