June, 21, 2012
6/21/12
2:25
PM ET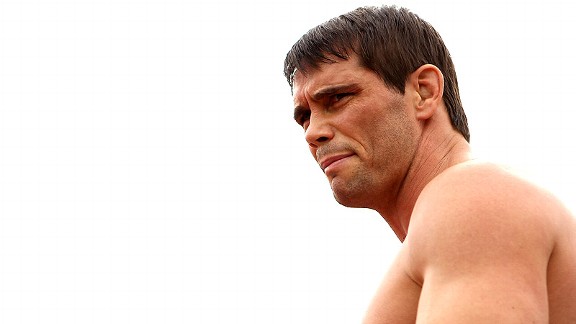 Josh Hedges/Zuffa LLC/Getty ImagesRich Franklin has the not-so-enviable task of fighting Wanderlei Silva in Brazil.
If we're talking volume alone, this is the biggest fight weekend that ever labored so hard to raise an eyebrow.
And out of all the MMA going on this weekend --
Fedor Emelianenko
versus Pedro Rizzo in St. Petersburg (good luck finding a feed) going on today, UFC on FX 4/the kick-off of Bellator season 7 on Friday -- only one card specifically requires your money. That would be UFC 147 in Belo Horizonte, Brazil. This is a pay-per-view card for North Americans, one of the "big numericals" we tend to revere on faith.
Only, this is one that, if the UFC were still using titles, should be called UFC 147: Twilight of the Idols.
Let's face it -- only diehards and incorrigibles are going to purchase UFC 147, and those who are both (like the media). The main event is two guys who are as long out of contention as they are in the tooth.
Rich Franklin
against
Wanderlei Silva
: former champions with the wrong kind of intrigue in 2012. For the 37-year-old Franklin it's "what's left?" For the 34-year-old Silva, it's something more dire. It's "is he a knockout away from MMA extinction?"
If Silva's chinny, the MMA world will be talking about it on Monday like a hunch finally realized. How's that for fun -- we could be 48 hours away from cries of Wandy's overdue retirement, both from fans and Dana White.
That's not exactly the high point of drama and anticipation that you want from a PPV headliner.
Bottom line is, UFC 147 is a salvaged wreck that was once so gloriously thought to be
Chael Sonnen
against
Anderson Silva
II. It went from the most ambitious in design to the most forgettable on paper. UFC 147 was supposed to be held in an attendance-shattering, security-nightmare of a soccer stadium in Sao Paulo. Or, if not there, then in Rio at Joao Havelange Stadium with 60,000 partisans. All of that was a lot of fun to contemplate.
Now it's being held inland at the Mineirinho Gymnasium, which sounds like a place you might go to attend a pep rally.
It morphed from Sonnen/Silva to
Vitor Belfort
against Silva, which would have still been a treat for Brazil until Belfort went down. Now it's a TUF Brazil finale, with
Mike Russow
against
Fabricio Werdum
the second strongest beam in the scaffolding. And of course there's Franklin, who hasn't fought in 16 months and hasn't fought well in two years, back when he used his only available hand -- his non-broken right -- to down
Chuck Liddell
.
And if there's a glint at all to this, we've finally gotten around to it. Franklin felt gutted sending Liddell off into the twilight the way he did at UFC 115. He didn't want to be the one to put the punctuation on Liddell's career, but he did it anyway. Now he might be on the verge of doing that to a second early legend. Maybe Franklin is more than a company man. Maybe he's the UFC's
hatchet
man, where storied careers go to get finalized. Maybe he's a one-man intervention, designed to punch sense into people.
Hey, for this one, we have to extrapolate our storylines.
Or just hope for an epic out-and-out brawl that warrants $50, one of those cards that pans out to be an out-of-the-blue fantastic. You know the ones -- the cards where Dana White reminds everyone afterward that only fools criticize what always looked like ore just under the surface.
Either way, none of this takes away from the free fights on FX on Friday for those who have the channel.
Gray Maynard
versus
Clay Guida
-- two guys near the top of their division and both in their prime -- is a great fight to get for free. If that's not enough, there's Bellator and Fedor, even if it's just highlights and recaps from Russia or video streams from the nosebleeds.
There's plenty of action this weekend. Some of it is free, some of it is hard to find, and some of it requires your disposable income.
And UFC 147 can't help itself from asking -- just how disposable
is
your income?
June, 15, 2012
6/15/12
6:48
AM ET

By Brett Okamoto
ESPN.com
Archive
Following a much needed win over
Cung Le
in November,
Wanderlei Silva
says he no longer feels his back is against the wall as he heads into a catchweight bout against
Rich Franklin
at UFC 147 in Belo, Horizonte, Brazil.
That wall though, he says, still feels close.
"I think I took one step away from that wall," Silva told ESPN.com. "I still need to prove I can fight."
Silva, 35, has proven numerous times he can fight, but the question has become whether or not he can physically hold up in one. The longtime veteran has handed out his share of punishment during a 16-year career -- but taken it as well.
After suffering a knockout loss to
Chris Leben
last year in a fight that lasted just 27 seconds, UFC president Dana White openly questioned whether Silva's fighting career should continue.
The Brazilian fighter responded by undergoing medical evaluations to prove his health, then saved his job with the second-round TKO victory over Le at UFC 139.
Now with wins in two of his last three fights, Silva's career can breathe a little, but he knows he's still walking a fine line. As of now, he says it doesn't only come down to wins and losses. It's how things play out.
"

I'm more healthy now than I was at 22 years because I train and live a really good life. We are not like machines; we can't train as fast after years but I feel really happy and I want to give fans a good fight. When I can't do that anymore, I'll stop.

"

-- Wanderlei Silva
"We'll need to look at the performance," Silva said. "I feel good. I hope to make a good fight that makes the boss and the fans happy.
"I'm more healthy now than I was at 22 years because I train and live a really good life. We are not like machines; we can't train as fast after years but I feel really happy and I want to give fans a good fight. When I can't do that anymore, I'll stop."
Silva (34-11-1) added he's been training for this fight with former UFC light heavyweight champion
Mauricio Rua
and laughed when talking about the shots he's absorbed from "Shogun."
"In that camp, my chin is so good," Silva said. "Definitely, he hit me on the chin and man -- the chin is no problem."
Originally scheduled to fight
Vitor Belfort
, Silva now faces Franklin in a rematch of a fight that took place in Cologne, Germany in June 2009. Franklin won via unanimous decision.
Silva expressed the Belfort fight still means a lot to him and he would like the opportunity to face him in the future. As Silva put it, "the fight isn't cancelled, we'll just wait for it."
He also wouldn't mind appearing in the Octagon inside a soccer stadium, as was originally planned for UFC 147. The promotion hit a snag on booking the Joao Havelange Stadium in Rio de Janeiro and ultimately relocated.
While he's been relatively stubborn to the idea of his career ending in the past, Silva has opened up a little on how he plans to maintain his relationship with the sport when his fighting days are over.
He plans to open several charity gyms in Brazil, which will provide free training to the country's youth and hopefully keep them away from drug use.
"My next step is give opportunities so that guys can train," Silva said. "I watch here in Brazil and we've lost a lot of talent just because guys don't have a membership to the gym. I want to make free gyms in the community.
"If you open one little gym that has some mats and one bag, you can save lives. I'm happy right now. I have my own money. I don't need to make too much more money where I'm at in my life. For now, I want to help others."
June, 1, 2012
6/01/12
4:33
AM ET
Rich Franklin
is 37 years old. He is the former UFC middleweight champion who, when he signed on to fight
Cung Le
at UFC 148, expressed road-weary relief to be headed back home to 185 pounds. It had been too long, and Franklin never felt comfortable at 205 pounds.
But his return route to middleweight has become a scenic detour that now involves fighting
Wanderlei Silva
at UFC 147 in Belo Horizonte, Brazil. These things are always as complicated as they are poetic. As he slowly adapted into becoming a light heavyweight, Franklin fought Silva at a catchweight of 195 pounds at UFC 99 --- a fight he won the fight via unanimous decision. He lost two of the next three, including his last against
Forrest Griffin
at UFC 126.
On the way back down, he's transitioning with -- surprise! – a fight against Silva at a catchweight of 190 pounds. Just to be clear, when Franklin went up before, it was because he was on his way down. Now that he's going back down, he's doing it with designs of heading back up. Silva has stood in his way both directions.
Confused?
So is Franklin. But even in all the confusion, if there's been one constant to his post-champion career, it's this -- dude has a hard time saying "no." When the UFC calls needing a favor, Franklin is on speed dial. He has gotten the UFC out of more jams than he'll ever be able to recount in his rocking chair days. And he did it again when
Vitor Belfort
broke his hand ahead of UFC 147 and left the card without a main event.
The UFC knew just who to call. There's always an "Ace" up matchmaker Joe Silva's sleeve.
[+] Enlarge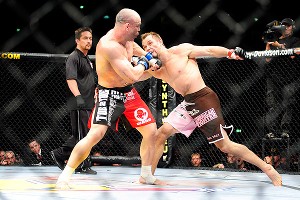 Martin McNeil for ESPN.comFor better or for worse, Rich Franklin has stepped up to face Wanderlei Silva.
And if Franklin's serious about making one last go at the title, this fight makes more sense for a variety of reasons. For one, Franklin isn't buried in the stacked UFC 148 deck. He'll be fighting in his first main event since UFC 115, when he stood in against
Chuck Liddell
when
Tito Ortiz
went down. The math is simple: Being the spotlight of an otherwise weak card is better than being dwarfed by
Chael Sonnen
/
Anderson Silva
II.
And besides, Silva is higher up in the middleweight pecking order than Le. As a matter of fact, Silva just defeated Le at UFC 139. If Franklin were to beat Le it would have been a decent notch, but it wouldn't have helped get a man in his late thirties with three fights left on his UFC contract any closer to gold.
Silva at least does. This is the shrewder mindset that Franklin's camp had to come to grips with in a 24-hour period of contemplation and Skyping while he was in Singapore preparing for Le. It wasn't an easy decision.
What are the cons? Well, he was in Singapore preparing for Le, and Le is a kickboxer that played to Franklin's strengths. Now he'll have to shift focus, come back to America and process a rematch with a three-alarm, stand-up brawler. Franklin's also fighting two weeks earlier than he was expecting to on June 23, so his training camp just got accelerated. This is why he negotiated a catchweight of 190 pounds.
The other thing is he fights Silva, who has everything to gain by beating Franklin in his native Brazil. Go back over the last couple of cards in Rio and see how many Americans actually emerged victorious. (The answer is one --
Mike Pyle
at UFC 142. The overall record for Americans fighting Brazilians in Brazil is 1-8).
Having spoke to Franklin's camp, I can tell you one thing -- it wasn't the most enticing scenario to stomach. Not when you've been on the other side of the globe for a month training Thai boxing for a guy you're being asked to forget about.
But Franklin is the company man, and has dutifully accepted the switch. "No" is a word he hates using. And in this case, his accepting the challenge wasn't just to avoid leaving the UFC in the lurch. Franklin is a competitor who wants to get one more crack at the belt.
And for as crazy as it sounds, if that's Franklin's ultimate destination, then Brazil becomes the better route.
May, 30, 2012
5/30/12
2:05
PM ET

By Chad Dundas
ESPN.com
Archive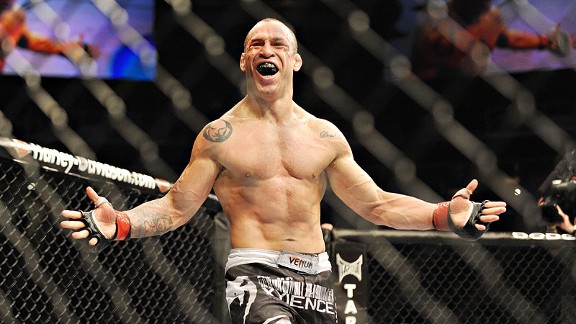 Rod Mar for ESPN.comCome one, come all: Wanderlei Silva is now welcoming all comers.
Apologies in advance for the cliché, but there is simply no better way to describe the fallout from Vitor Belfort's broken hand than by using one of our favorites …
Business as usual.
Another injury, another fight card tossed haphazardly into chaos. It's sort of become a disturbing trend for the UFC over the last couple of years. At this instant we can only assume matchmakers are scrambling back to their bunkers to find somebody, anybody to fight
Wanderlei Silva
at UFC 147.
Keep your phones turned on, opportunistic UFC middleweights.
This time, Belfort's injury scrapped not only the fight company's planned main event for its June 23 show in Brazil, but at best indefinitely postponed a fight that was meant to cap the inaugural international season of "The Ultimate Fighter," on which both Silva and Belfort were opposing coaches.
In the wake of the injury -- and despite the fact he should have been a prohibitive underdog in this bout -- Silva has accused Belfort of being something between a coward and an incompetent. He insists he's still fighting, though his opponent is currently listed as the dreaded "To Be Announced."
To that end, here are five suggestions for good replacements to fill Belfort's shoes, ranging from the very likely to the admittedly very fanciful:
Michael Bisping
.
[+] Enlarge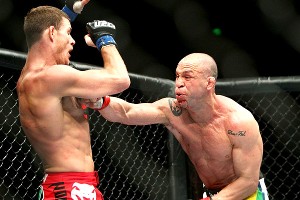 Mark Nolan/Getty ImagesWanderlei Silva's brawl with Michael Bisping was an enticing affair worthy of a rematch.
I'm not a betting man (at least that's what I keep telling my wife), but if I were I'd be willing to lay good money that we ultimately see Bisping injected into this bout. From the start, it felt strange that the UFC followed up his spirited January loss to
Chael Sonnen
by handing him a meeting with
Tim Boetsch
at UFC 149 in July. Boetsch may be riding a three-fight win streak, but Silva just makes more sense for the Brit right now, especially if matchmakers want "The Axe Murderer" to retain his slot in UFC 147's main event. Bisping lost to Wanderlei via unanimous decision at UFC 110 and it's been eating him up ever since. No doubt he'd jump at the chance to swap Boetsch for Silva, even if it meant a truncated training camp.
Especially when you consider that among the crop of other likely candidates,
Mark Munoz
is already expected to take on
Chris Weidman
in July (a cool fight we'd all hate to see scrapped) and
Yoshihiro Akiyama
is injured, Bisping is the odds on favorite to take this fight.
Demian Maia.
[+] Enlarge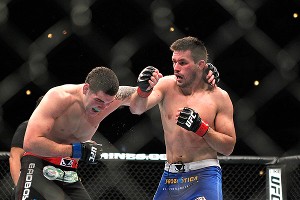 Ross Dettman for ESPN.comDemian Maia, right, would keep the UFC 147 main event an all-Brazilian affair.
Despite losing to Weidman in January, Maia still has a few things going for him if the organization wants him to fight at UFC 147: First, he's Brazilian and the UFC traditionally loves to stock its international shows with local products. Second, he'd make for a credible, but potentially beatable opponent for Silva, just in case the UFC is interested in keeping Wanderlei in the win column until Belfort is healed up. Well, more beatable than candidates like, say,
Hector Lombard
or
Brian Stann
. Third, Maia's already training for a fight against
Dong Hyun Kim
14 days later at UFC 148. Wouldn't take much shuffling to get him on here, if Bisping is unavailable or unwilling.
Alan Belcher.
[+] Enlarge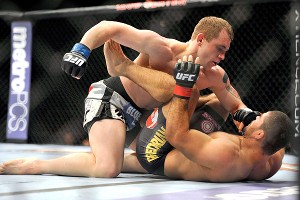 Joe Camporeale/US PresswireAlan Belcher, top, looks the type to answer the call to fight Wanderlei Silva on a moment's notice.
"The Talent" appeared to emerge relatively unscathed from his victory over
Rousimar Palhares
earlier this month and while he's currently riding a streak of four consecutive victories, he seems like the kind of dude who'd let it ride and jump at the chance for a short-notice fight against a name as big as Silva. He'd also give promoters, fans and Wanderlei himself the kind of stand-up war we're hoping for from this bout. So long as he's physically able, the fight makes sense.
Jake Shields
. Shields has decided to return to middleweight after a disappointing 2-2 run through the welterweight ranks and is slated to take on
Ed Herman
at UFC 150 in early August. On the other hand, there'd be no use use facing someone as dangerous and comparatively unheralded as "Short Fuse," if Shields could jump the line into a fight against a much bigger and much more vulnerable fish. His status as the former Strikeforce champ means the company could probably still pass this matchup off as the main event and his underwhelming performances since coming to the UFC in 2010 could make Shields look like an attractive opponent to Silva, too.
Ronaldo Souza.
[+] Enlarge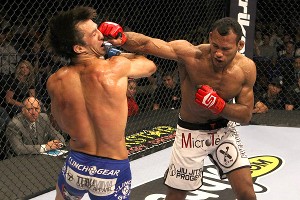 Josh Hedges/Getty ImagesRonaldo Souza would be a worthy fill-in for his injured countryman Vitor Belfort.
Sure, it's a reach, but it's not like "Jacare" has anything else going on. We haven't heard one word from him (also a former Strikeforce titlist) since he defeated Bristol Marunde in March. For all we know, he'd be a serious draw in his home country and it would add some considerable intrigue to the 185 pound division if he could come in and defeat Silva in his UFC debut. To do it though, he'd have to get past Wanderlei's bad intentions and get him on the ground.
Wildcard pick:
BJ Penn
. No, this won't happen, but it sure would be a hoot. The former UFC welterweight and lightweight champ fought in middleweight and even open weight affairs during the 22 months he spent wandering the earth while on the outs with the UFC in 2004-06. Hey, we're doing this thing in Brazil anyway, so why not make it a good, old fashioned vale tudo-style affair pitting the smaller, but more talented grappler against a larger, but fading wildman?
No? No, probably not.
But a guy can dream.
April, 25, 2012
4/25/12
11:47
AM ET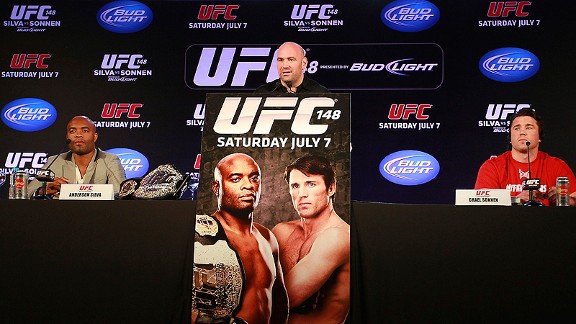 Buda Mendes/Getty ImagesTuesday was all about breaking the news to Brazilian fight fans, and hyping the relocated card.
There's a danger in thinking out loud. And, at this point the UFC must realize this better than anybody.
For the past couple of months,
Chael Sonnen
was assuredly fighting
Anderson Silva
in Silva's native Brazil, and the only thing left was to sort out the nagging details. Those details finally got in the way, and now the fight is headed for Las Vegas, which is a bit of crushing news for romantics.
Yet when you think about it, didn't this thing always feel too good, too tantalizingly ominous to be true? The brazen American getting dropped into hostile territory in an attempt to take the belt from the company's best-ever fighter? This was dramatic overload. It was the "Rumble in the Jungle" -- only it wouldn't be held at a neutral site. This was Sonnen being lowered into a burbling cauldron. It was the odds being stacked so impossibly against him that the situation shared more in common with movies than reality (think "Rocky IV").
And from the American perspective, the sweeteners were Sonnen's motormouth
in conjunction
with the immensity of the setting. The event was targeted for Rio de Janeiro's Joao Havelange Stadium -- a.k.a. Engenhao -- which could feasibly hold a record number of people (between 60,000-80,000).
Sonnen was played up to be the man of risks -- the security risk with an overnight bag of asterisks. Bold enough to walk the plank. Silva was to be the deliverer of comeuppance. The rectifier. Fighting in Brazil
for
Brazil.
For the sport of MMA, it was history in the making, in a setting as big as their rivalry.
[+] Enlarge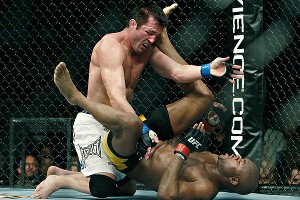 AP Photo/Jeff ChiuNow that the rematch has been moved to Vegas, Chael Sonnen can concentrate more on Anderson Silva and less on audience participation.
Only it didn't get entirely made. The rematch is officially happening on July 7 at the MGM Grand in Las Vegas, the "fight capital of Earth" as Sonnen says. Another way of looking at it is like this: Sonnen/Silva II is happening in a common setting on a big weekend of fights.
In a news conference yesterday from Rio de Janeiro, Dana White broke the news of the switch and explained the problems they had in securing a venue in Brazil. White, Silva and Sonnen showed up in person first and foremost to apologize, and second to redirect hype.
No doubt this whole thing is a bummer for the UFC, who sensed the historical value we're talking about.
It's disappointing to Calgary, the Canadian city that is likely losing featherweight champion
Jose Aldo
to fill the void at UFC 147.
It's disappointing for Silva, who has fought an 11 times in the States, once in Canada, once in Abu Dhabi and once in Rio as a UFC employee. He is 14-0 in those fights, which means he doesn't exactly have any big druthers. But his fifteenth fight -- and remember, every fight these days could be his last -- was meant to be epic. It was meant to shatter the UFC 129 attendance record -- in his native country.
None of that will happen now.
The good news is the fight is booked -- that's the practical thing to remember. UFC 148 now looks like the most loaded card of the year, a card the promoters could easily dub as "Rivals" with all the continuations in play -- Sonnen/Silva II,
Urijah Faber
/
Dominick Cruz
III,
Tito Ortiz
/
Forrest Griffin
III. It's a lot of sequels and trilogies in a city where whatever happens is meant to stay there. And that's a little salt on the wound to Brazilians and romantics and any fan of "Mission: Impossible."
Yet plenty of people will like this switch. There's a lot of foot traffic in Vegas come Memorial Day weekend, and this fight becomes accessible. The American media will rejoice because now they can attend without having to secure visas. This thing becomes a lot more convenient to cover.
But we weren't dealing in conveniences; we were dealing in historic backdrops. We were dealing in extreme
inconveniences
, which is exactly why Sonnen-Silva II in Brazil was so alluring. The "Rumble in the Jungle" wouldn't have been nearly as compelling as the "Fracas in Las Vegas."
And it's disappointing to wave good-bye to what could have been, especially knowing the magnitude of the thing that nearly was.
March, 22, 2012
3/22/12
11:33
AM ET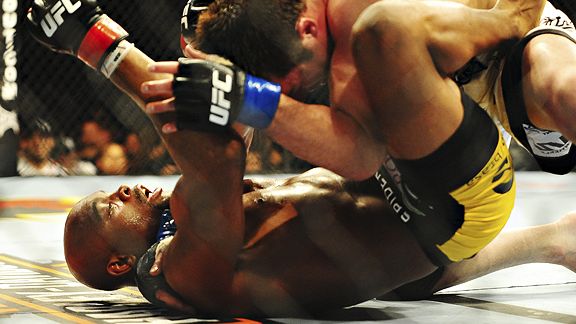 Mark J. Rebilas for ESPN.comAnderson Silva got all he could handle and then some from Chael Sonnen.
If
Anderson Silva
doesn't win his fifteenth straight UFC fight, that means hell will have descended on Rio. That means the man in a foreign land,
Chael Sonnen
, went into Brazil and wrested the most elusive belt from the company's most dominant champion.
How's that for ultimate audacity?
Sonnen/Silva II is almost certain to be held in a Rio de Janeiro soccer stadium that holds somewhere in the range of 60,000-80,000 people.
Having seen firsthand the firestorm atmosphere of UFC 134, I have to think that the tension will be tripled in the larger confines. Partisan? That word fails to capture the loyalty and fervor that the Brazilian crowd exhibits for their own. It will be a high noon gathering of zealots, straining against their civil moorings. The reason? The American Sonnen will be dropped into the center of a cauldron that he alone helped heat to a burble.
This will be his comeuppance.
Or it will be something slightly more unfathomable. It could be the red, white and blue wrestler, Sonnen, getting fitted into a belt that has for so long belonged to MMA's most lasting force. Either way, the scene at UFC 147 will be teetering on the brink of something -- celebration, outrage, relief, finality, disbelief. It's the kind of scene that builds legend in a sport that could desperately use it.
And for this reason alone, it becomes the most dramatic event in MMA history. Think about it: Silva facing his only known rival in front of his countrymen. Sonnen, a journeyman-turned-star in his 30s, the interloper. Sonnen, the biggest threat Silva has known, his potential antidote. The bane of his existence.
Silva, the forever enigma. Possibly solved. Or order is restored, and he's once again triumphant.
It might be hyperbole to start comparing the outdoor fight to the "Thrilla in Manila" or Ali-Liston II or the "Rumble in the Jungle," but maybe only narrowly. Who knows if in 40 years we'll be talking about Silva/Sonnen II?
But as of 2012, it looks like the biggest fight in MMA history, with context filling in every corner. Their first fight, at UFC 117 in August 2010, was so one-sided as to become surreal for nine-tenths of the bout. Then came the late submission that has made Sonnen the butt of geometry jokes worldwide. Once again it's Sonnen's dogged wrestling against Silva's violent grace. What buildup awaits. Sonnen knows what to do with a microphone, just like Ali did -- and he has his own parcel of scandals, too. In a bargain bin way, testosterone replacement therapy is Sonnen's "Vietnam" references. Ali lived in turbulent political times. Sonnen is a politician (as well as real estate agent and author) with an uninspiring overall record.
Somehow, here we are.
Yet the better musical notes are just underneath. Don't underestimate how badly other countries want to score a win over Americans. We see this wherever the octagon goes, whether it's Brazil, England, Canada, wherever. The more benign the people, the more the situation intensifies. At UFC 129, there were 55,724 people at the Rogers Centre in Toronto letting up a deafening roar for
Georges St. Pierre
, their champion ... with an equally heated and communal display of disapproval for
Jake Shields
(possibly the most inoffensive American going).
It's real. Sonnen is everything that people dislike in Americans, even if he's the most exaggerated sample of perceived arrogance we have.
After all the talk, it's time that center stage becomes his ledge. He alone walks it.
Put all together, it's a fantastic clash of elements for a mixed martial arts event. Whether the card is held at the Estadio Olimpico Joao Havelange (a.k.a Engenhao, which can hold generously around 60,000 people) or the better-known Maracana (which is being renovated, and can hold up to 80,000), it doesn't matter. The house will come down figuratively either way. For those who like to fling the word "epic" around loosely, here's a chance for the adjective to stick.
Silva/Sonnen II is an epic event.
Or maybe it's more like this: What's epic is the fact that it's actually happening in such a setting.