June, 13, 2013
6/13/13
7:51
AM ET

By Brett Okamoto
ESPN.com
Archive
Against better judgment, let's talk about UFC 149 one last time.
The pay-per-view event took place on July 21, 2012, at Scotiabank Saddledome in Calgary, Alberta. An interim bantamweight title bout between
Renan Barao
and
Urijah Faber
served as the main event.
It was, by most accounts, a terrible night. UFC president Dana White admitted he was "embarrassed" by the main card. It really was one awkward fight after another.
Cheick Kongo
and
Shawn Jordan
embraced in a tired hug for 15 minutes.
Brian Ebersole
resorted to a series of strange karate slaps to James Head's leg in a dull split-decision loss.
Hector Lombard
stood in place and ate jabs. By the time the main event started, the Calgary crowd had fallen in love with a "refund" chant.
[+] Enlarge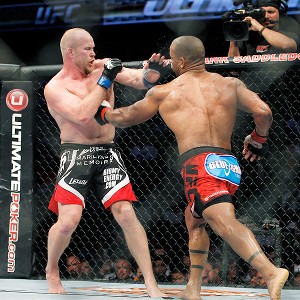 Ric Fogel for ESPN.comThe UFC's last foray into Canada wasn't exactly one for the time capsule.
To this day, White remains apologetic to the entire Canadian city for that event.
Well, meet the ill-fated UFC 149's brother, UFC 161. The similarities between these two events are eerie.
UFC 161 was originally headlined by an interim bantamweight title bout between Barao and
Eddie Wineland
, which fell through due to a Barao injury. Similarly, UFC 149 lost its main event, a featherweight title fight, when
Jose Aldo
was injured.
Mauricio Rua
was supposed to fight at UFC 149 and 161. In both cases, he was removed when his opponent suffered an injury.
Thiago Silva
withdrew from the contest last year. This time it was an injury to
Antonio Rogerio Nogueira
.
Speaking of Nogueira injuries, Lil Nog may have just been following the example of his twin brother. Antonio Rodrigo Nogueira was originally scheduled to fight Cheick Kongo at UFC 149, but he withdrew due to injury.
In both cases, a "name" fight was added by the UFC to give the card more value. At UFC 149, it was Lombard and
Tim Boetsch
serving as the co-main event. This weekend, it's
Roy Nelson
and
Stipe Miocic
serving as ... the co-main event.
Kind of weird, right? Hopefully, the similarities stop come fight night.
FIVE STORYLINES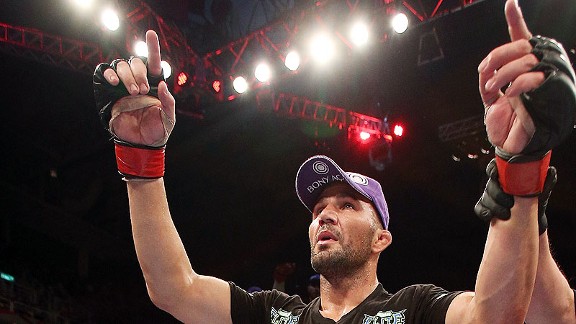 Josh Hedges/Zuffa LLC/Getty Images)If successful Saturday, expect Glover Teixeira to campaign for a bout against Alexander Gustafsson.
Roy Nelson's gamble.
Nelson has long considered himself an underpaid fighter. It's not hard to see why. During his UFC career, Nelson has typically been one of the lowest-paid athletes on PPV main cards. For instance, his purse against
Frank Mir
in the co-main event at UFC 130 was a paltry $15,000. To that point, Nelson reportedly turned down an extension offer by the UFC and will finish out his current contact at UFC 161. A loss would certainly affect his leverage in future contract negotiations.
Glover Teixeira's Twitter account.
It's nice and simple -- @gloverteixeira. You might want to keep an eye on it when the main event goes off. Teixeira has read the writing on the wall and it says "Alexander Gustafsson." Feeling one win away from a title shot, it wouldn't be shocking to see Teixeira comment publicly on the winner of Hendo, Evans.
Alexis Davis' party.
You see this from time to time -- Brazilian fights in Brazil or an Aussie fights in Australia. They don't just look good. They ignite the crowd and win in such a way that you don't forget about it when the next UFC card comes around.
Alexis Davis
is a dark horse in the women's division. She's well-respected, but few fans really know her yet. That could change here. She's fighting on home soil and has a type of charm that once cameras find her, they might stick on her.
The evolution of Stipe Miocic.
Miocic has the athleticism and the intelligence to turn into a legitimate heavyweight -- the question is when will it happen? He has good instincts and he comes with a game plan, but sometimes in martial arts you have to go off script. Can he surprise a guy like Roy Nelson? Miocic has the fundamentals. Has he added that element of unpredictability?
Seriously, don't be UFC 149.
UFC 160 was three weeks ago. UFC 162 isn't for another three weeks. If UFC 161 does end up being the second coming of UFC 149 we can't hide from it. The smell will linger.
FIVE QUESTIONS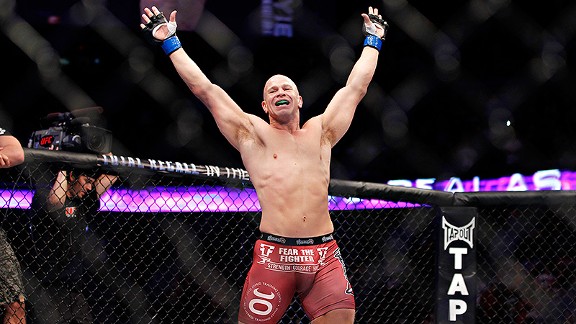 Ric Fogel for ESPN.comIn his last Canadian outing, Ryan Jimmo's celebration dance lasted longer than his bout.
Q: Is Rashad Evans still Rashad Evans?
He and his team would say yes. Certain critics would say he hasn't been the same dating way back to the knockout loss to
Lyoto Machida
in 2009. That might be a stretch, he did dominate
Phil Davis
with three cracked ribs as recently as last year, but no doubt about it, this fight will answer questions about Evans after he didn't look like himself in February.
Q: Is Dan Henderson still Dan Henderson?
It was hard to tell in his last fight. Machida stayed on the outside and refused to really engage with him. Henderson's too smart to just sprint after him, so we were kind of left with a points fight that Henderson came out on the short end of. One right hand is all it takes for Henderson to get right back into title talk -- an opportunity many still feel he deserves. Can he still land it against the elite 205ers?
Q: How good is Tyron Woodley?
He's always been an eye-catching prospect. In the same way a loss to
Jon Fitch
might have gotten
Erick Silva
to turn a corner, maybe a loss to
Nate Marquardt
did the same for Woodley. He destroyed a tough veteran guy in
Jay Hieron
his first time out. If he looks half as good in his second UFC fight against a talent like
Jake Shields
, we might need to get this guy on the fast track.
Q: Can lightning strike twice?
The one saving grace of UFC 149 was Mr. Ryan Jimmo's seven-second knockout over
Anthony Perosh
, followed by a strikingly good robot dance. Perosh was knocked out instantly, so much so that Internet users started Photoshopping his knockout face onto pop-culture images. What will Jimmo do in his Canadian encore?
Q: Is Sam Stout good or just entertaining?
It's OK if it's the latter, but it seems he has potential for more. He's always good for a show. Six times he's taken home bonus money, but he's never set great expectations in terms of racking up wins with an overall 8-7 UFC record. That might be changing, as Stout has won four of his past six.
WHO'S ON THE HOT SEAT?
Jake Shields.
The UFC's acquisition of then-Strikeforce middleweight champion Jake Shields was a big deal in 2010 -- but it's failed to deliver much. Through five UFC appearances, Shields is 2-2 with a no-contest and a drug suspension last August. He can't seem to figure out what weight class he wants to compete in, and his fighting style is such that even when he's winning, he's getting booed. He has little room for error here.
WHY YOU SHOULD CARE
Because even though it's not the most stacked card in the world, it's still Evans and it's still Hendo ... because you don't know Alexis Davis and you should ... because Roy Nelson is rolling the dice on behalf of disgruntled employees everywhere ... because there are sure to be live shots of Winnipeg, Manitoba -- which is quite lovely this time of year ... because Game 5 isn't until Sunday ... because if it does turn into UFC 149 revisited, Dana White's head will turn a bright red that should be visible regardless of what camera angle is being used ... because the H-bomb will be there.
August, 6, 2012
8/06/12
6:24
AM ET
UFC on Fox 4 in Los Angeles proved that interest can be drummed up in retreads, but it was our collective imagination that became the real hero of the night. Let's face it, we were all squinting to see the title picture the way it was being drawn up by Dana White. This whole "he who does best gets the title shot" thing felt something like dramatic abandon.
When a figure finally emerged from the four-man 205-pound showcase it was
Lyoto Machida
, in a reduced 201-pound frame, dishing enigma on
Ryan Bader
. That was a good knockout.
Better yet, the whole main card scored the same. Every fight delivered. A good night of fights like that makes things, if not totally justifiable, at least somewhat rose-tinted. And that beats disaster, if you know what I mean, which is where things left off after the UFC 149 pay-per-view bust.
What a difference a couple of weeks makes. In Calgary, stakes were being tinkered with, too.
Hector Lombard
was vying for a possible title shot with
Anderson Silva
. The interim bantamweight title was up for grabs in the main event between
Urijah Faber
and
Renan Barao
. Things "mattered."
But for all the dangling carrots, something went missing -- and that was enjoyability. Guys didn't "bring it" -- and everyone should know the center of the fight world is all about the "it" -- which had people asking for refunds and complaining about the watered-down product.
Not on Saturday night. As DeMarques Johnson's premonition of a 100 percent chance of a knockout came through via the sudden hands of
Mike Swick
, this thing was off to a roaring start.
Joe Lauzon
, who is incapable of a boring fight, withstood heavy shots by
Jamie Varner
and, when the opportunity presented itself, came on like an incubus to finish him in the third. It's what Lauzon, who has made nearly a half a million dollars in bonus money in his career, does better than anybody. The UFC on Fox Twitter feed called it possibly the "best fight we've ever had."
These were undercard table-setters like we haven't seen on the Fox shows.
And the co-main event raised the bar for the finale. Machida forced Bader's aggression then punished it, downing him with a counter right. It was vintage "Dragon." Machida was once again the abstractionist, doing things with body geometry.
Yet the main event was a crescendo. Here was Vera resurfacing, making it a war, looking like old Vera, the one we thought we lost. Here was Rua proving that his
Dan Henderson
and
Mark Coleman
fights were no flukes, that he can make any fight -- good or bad -- a battle of epic attrition. Rua just about did away with Vera twice in the second round with sallies, but Vera both times responded with big elbows and defiance.
Suddenly it was a storyline of Vera's heart in the poetic sense, not the cardiovascular one. And fights are always more fun when they get like that. When fights transfer "will," the meaning of the transaction comes back into play.
Better still, when fights go down like they did on Saturday night, the question of what's on the line can be answered like this: "Who cares?" The moment transcends the stakes. The "it" factor is all that matters. Guys on Saturday night brought "it."
This was the first Fox card that really delivered far more than it promised. From top to bottom on the main card, every fight delivered the goods. For whatever hung in the balance of the outcomes, it didn't matter to real time. And you know what? That's the kind of drama that you want on live television, especially in a sport still trying to communicate with the casual viewer.
July, 24, 2012
7/24/12
6:27
AM ET

By Chad Dundas
ESPN.com
Archive
Urijah Faber
is rapidly becoming a man without a country.
After years spent comfortably ensconced as the best known and perhaps most talented fighter under 155 pounds, the going has gotten fairly tough as of late. Faber's unanimous decision defeat at the hands of
Renan Barao
at UFC 149 on Saturday dropped the once-dominant champion to 0-5 in title fights across two different weight classes in two different Zuffa-owned promotions dating back to 2008.
Even a guy as charismatic and notoriously cool as "The California Kid" must be feeling the heat after this latest loss. At 33 years old, he's not ancient by any stretch of the imagination, but he's no spring chicken, either. Getting out-pointed by the 25-year-old Barao might not bounce Faber from the 135-pound title picture completely, but by now, even his staunchest supporters have to concede that he won't get an unlimited number of chances to win a UFC championship.
That means the next decision Faber makes about his future may well be the most important one of his career: What now?
What's next for a guy who was arguably as important to the popularization of featherweight and bantamweight as
Tito Ortiz
or
Chuck Liddell
were to the survival of the UFC itself during the early 2000s? What's next for a guy who spent the best years of his career toiling in relative obscurity, before the Octagon finally deigned to allow entrance to some of the sport's most exciting, albeit smallest athletes?
Does Faber stay at bantamweight, hoping nemesis
Dominick Cruz
defeats Barao and the UFC still sees fit to make Cruz-Faber III? Does he go back to featherweight, where
Jose Aldo
still rules with an iron fist? Could he, would he try to make flyweight, where teammate
Joseph Benavidez
is the obvious heir apparent?
Good questions all, and the answers might not come easily.
A pair of losses to Mike Brown in 2008-09 cost Faber not only his WEC featherweight title, but also the aura of invincibility he'd built while amassing a 21-1 record during the previous five years. A lopsided defeat by Aldo in April, 2010 chased him down to bantamweight, but the change of scenery has had little effect on the final results.
Make no mistake, Faber has looked good --
very good
-- while trumping contenders like
Eddie Wineland
and
Brian Bowles
, but has yet to get over the hump when UFC gold is on the line. There should be no doubt over his status as a legitimate title threat, but his innate marketability has also afforded him opportunities that might not have been granted a less popular fighter.
[+] Enlarge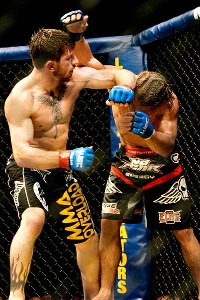 AP Photo/Jeff ChiuThings went out the window as soon as Urijah Faber lost to Mike Brown.
After losing his first 135-pound title fight to Cruz by close but clear cut decision at UFC 132, Faber needed just a single, dominant win over Bowles before UFC brass gave him another crack. Better than that, they also cast him opposite Cruz as a coach on the first "live" season of "The Ultimate Fighter" reality show, giving both fighters and the weight class its best exposure to date.
Cruz's knee injury robbed Faber of his chance to win the rubber match with his rival, but the company went forward with its plans to give him another chance at the belt anyway. For a fifth time, he came up just a bit shy.
The news here is certainly not all bad. Simply getting so many title opportunities in multiple weight classes is a testament to Faber's skill and his overall importance to the sport. It's hard to think of another fighter who's gotten as many chances after so many losses and the guys who are even in the conversation are either already in the UFC's hall of fame, or will be soon:
Randy Couture
went 4-5 fighting for versions of the UFC light heavyweight and heavyweight titles between 2002-07. BJ Penn got six separate shots at UFC gold in the lightweight and welterweight divisions from 2002-10, while going 2-3-1.
Kenny Florian
lost a total of three title fights at lightweight and featherweight from 2006-11.
Marketability and a previous track record of success can only take a guy so far, however, and Faber is now just 5-5 in his last 10 fights.
In 2011, just before his statement win over Bowles at UFC 139, Faber seemed incredulous when asked if he thought he was running out of chances to win a UFC title, saying: "I'll make as many [title] shots as opportunity allows ... There's a reason I've been at the top of the weight class, any weight class, since I started in this sport and that's because there aren't that many guys out there that can beat me."
If we had to guess, we'd say he probably still feels the same way, even after losing to Barao.
Still, while it's not quite time for Faber to hit the panic button, he woudn't be human if he wasn't feeling some significant urgency right now. He likely won't get too many more chances before history adds his name to the list of the best fighters never to win a UFC title.
And that's a list nobody wants to be on.
July, 23, 2012
7/23/12
7:05
AM ET
Where did UFC 149 go wrong? What was the single, biggest offender?
Oh, where to start. What went on in Calgary was one of those perfect storms.
There was the eccentric that didn't go eccentric (
Brian Ebersole
). There was hype that fizzled before our eyes (
Hector Lombard
). There was a passive observer masquerading as the third man in the cage (Yves Lavigne). There were heavy hands that were never deployed (Shawn Jordan/
Cheick Kongo
). There were gavels that ruled all wrong (
Nick Ring
over
Court McGee
). There was a clear body kick that was mistaken for a groin shot (Josh Rosenthal imagining things with Matt Riddle/Chris Clements).
And there was a perfectly decent main event that suffered the residual wrath.
Urijah Faber
and
Renan Barao
needed to turn the main event into
Dan Henderson
versus
Mauricio Rua
to balance this ledger. As it were, it played out like Urijah Faber versus Renan Barao. The bout was doomed by its predecessors.
But the real problem, of course, was this: UFC 149 was a stretch to believe in to begin with, and it required some faith. Or that should say -- UFC 149 became a stretch to believe in by its fifth and sixth iteration.
The injury bug sapped this thing good and plenty before it got off the ground.
Jose Aldo
,
Antonio Rodrigo Nogueira
,
Michael Bisping
, on down the line.
Bibiano Fernandes
wasn't so much hurt as he was never signed.
Aside from the prelims, the people that the UFC were able to book simply didn't (or couldn't) deliver the goods. Shawn Jordan, the former LSU fullback who had a nice glow to his name coming in, was in a battle of leaning pillars with Cheick Kongo. He's still green and didn't know what to do in the big spot. Lombard was tentative. Ebersole was intending to move to lightweight when he got the call on a few weeks' notice to step in. He did. And he looked like a man who wished he didn't.
Of all the patchwork matches, only Riddle from the main card came correct. His arm-triangle on Chris Clements was cleanly executed viciousness that set a false premise for things to come. The thing that followed was disappointment. Disappointment that Lombard didn't live up to billing. Disappointment that Kongo played clinch. Disappointment that the UFC played fast and loose with people's disposable income.
[+] Enlarge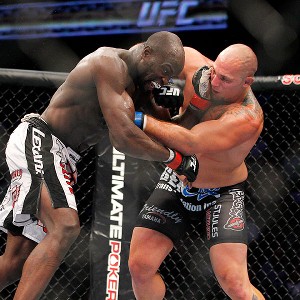 Ric Fogel for ESPN.comHug of war: Cheick Kongo, left, and Shawn Jordan spent more time holding and posing than they did actually fighting.
Even the postfight news conference, where Dana White promised to update us on the bearings of the 185-pound weight class didn't deliver. As for Lombard, who hadn't lost since that
Gegard Mousasi
upkick back in 2006? Nowhere to be found. He wouldn't be made available to scowl at trouble-making media types.
This happens sometimes. Not all cards deliver on the pay portion of the programming. White said it reminded him of UFC 33. Cynics might point to UFC 147. Only difference is, that card was
so
suspect that most people stayed away from shelling out the $50 to watch it. This time, there was an undercurrent of hope that UFC 149 -- for as cobbled and rearranged as it appeared on paper -- could turn into one of those rare gems. You know, one of those cards where White laughs at the people who criticized it beforehand while holding court with the media afterward.
White himself was certain that this card was going to deliver, appearing in Alberta on Thursday as a man who could barely contain his glee. But it couldn't, wouldn't and didn't, which takes turns being nobody's fault with being everybody's fault. When a stinker happens, the people who bought the pay-per-view take it personally, and the crowd on-hand chants "RE-FUND" throughout the main event. The faith of a good product in spite of all the rejiggering came out to $50 and change (more if you ordered in HD). It wasn't what the UFC wanted, nor what the fans wanted.
Everybody is complaining about the same thing from different perspectives.
But we order these fights knowing there's a chance things won't pan out. Look at the response to
Clay Guida
versus
Gray Maynard
on a
free
card. Had that fight been the main event on the UFC 149 PPV, Calgary might have turned into Vancouver after the 2010 Stanley Cup Finals.
It's tricky stuff, this PPV business. The public demands its money's worth. The UFC demands more of its fighters. The commissions demand competence of its referees and judges (or at least should). Everybody demands entertainment. It's a demanding public, and it's a demanding sport, and the UFC is a demanding business.
Yet as we learned on Saturday, demands can be what they want, but there are no guarantees.
July, 22, 2012
7/22/12
2:32
AM ET

By Brett Okamoto
ESPN.com
Archive
CALGARY, Canada -- UFC president Dana White summed up
Hector Lombard
's first night in the Octagon pretty well.
"It's the most unfortunate thing about hype," White said. "When you have a lot of hype behind you and you don't back it up, it goes away real quick."
Following two slow, awkward fights on the UFC 149 main card, the feeling at Scotiabank Saddledome headed into the co-main event Saturday was an unmistakable "at least the next one can't disappoint."
Unfortunately, Lombard's debut ended up doing exactly that. It wasn't just the fact he lost a split decision to
Tim Boetsch
; it was the way it happened.
It was uninspiring enough to prompt UFC commentator Joe Rogan to walk over to White and convey that it wasn't what he had expected. Adding to the weird feel of the fight, the UFC didn't even interview Boetsch after the win. White later said it was due to time constraints.
For a fighter who approaches interviews and the game itself with so much fire -- a guy who has the reputation of alienating sparring partners for going too hard -- Lombard's performance Saturday lacked passion.
"As the card was going on, I thought, 'Thank God Boetsch and Lombard are coming out right now, because this is going to save the show,'" White said.
"It wasn't the fight I expected at all. I don't know if I was sickened by it. It just wasn't what I thought it was going to be."
To be fair, Lombard's deal with the UFC came equipped with heavy expectations. The addition of a middleweight who hadn't lost a fight since 2006 was big news in the mixed martial arts world.
Which is why it was demoralizing to see it develop as it did. The sellout Canadian crowd tried to rally more action out of Lombard during the second round with an encouraging cheer. Boos began prior to the final round and didn't cease until the round was complete.
[+] Enlarge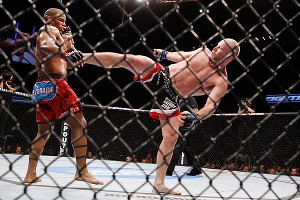 Ric Fogel for ESPN.comFailure to launch: Hector Lombard, left, fell flat in his Octagon debut.
What happened in the fight was an unfortunate pattern of Boetsch wisely moving in and out of the 5-foot-9 Lombard's range and Lombard absolutely refusing to alter his game plan -- which appeared to be based on landing counter right hands.
The frustrating part was Lombard had success when he did decide to move forward. His speed advantage showed when he let his hands go, and he caught a big break in the second round when Boetsch broke two bones in his right foot while throwing a kick.
The trademark Lombard flurry everyone anticipated seeing in the Octagon never happened, though. Even Boetsch, who said he was happy with the way he executed his game plan, admitted he wasn't sure why Lombard never pressed.
"I knew he had potential for a real explosive flurry," Boetsch said. "I don't know if conditioning was a factor. I felt the altitude; the air was thin. Maybe that played a part [in] why we didn't see that huge flurry in him to get the kill.
"I was prepared for it, whatever he threw at me."
The fight played into what was a bit of a disappointing night for the UFC. Fans in attendance chanted "refund" repeatedly during the main event fight between
Renan Barao
and
Urijah Faber
.
Lombard (31-3) certainly will have opportunities to impress again. White was in no mood to announce fight matchups, but Boetsch expressed confidence Lombard will find success. He did allude, though, that his skill set wasn't terribly difficult to prepare for.
"He has knockout power, but it's at a very specific range," Boetsch said. "If you find yourself in that range and stay there an amount of time, you're going to get hurt. I knew that before this fight."
July, 20, 2012
7/20/12
7:05
AM ET

By Josh Gross
ESPN.com
Archive
Urijah Faber
is a respected former mixed martial arts champion. For a time, he deserved to be thought of as the world's best featherweight. If anyone appreciates the sacrifices and rewards associated with wearing a title belt, it's "The California Kid."
So it surprised me at first that Faber (who says exactly what he believes) is operating as though Saturday's interim title contest in Calgary against Brazilian
Renan Barao
is as legitimate as his previous championship bouts (when it's really not).
What's going down at UFC 149? Nothing more than a glorified title eliminator.
Suggesting this weekend will herald a second UFC bantamweight champion, even if Zuffa records the result this way, is insulting to the legitimate champion
Dominick Cruz
, who is recovering from a torn ACL. Cruz described interim title riches as the No. 1 contender belt, and that sounds right to me.
Faber and Barao will fight for an "interim" championship because the UFC train stops for no man. There are pay-per-views to sell, and it helps to have a belt attached.
[+] Enlarge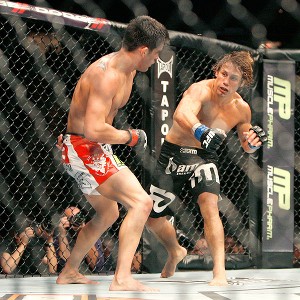 Marc Sanchez/Icon SMIUrijah Faber, right, will have to take the belt for Dominick Cruz if he's to call himself No. 1 at bantamweight.
At the end of the night, presuming a draw isn't in the offing, UFC president Dana White will gleefully button a heavy strap around the waist of the veteran American or the young Brazilian. In appearance, pomp and circumstance, this will look like a historic moment; the emergence of a new champion always is. But pretending either 135-pounder is a champion is like cruising Rodeo Drive in a Ferrari when it's a shiny, loud, expensive
rental
.
Muddling the point even further is confusion about whether the belt will actually be defended. Barao said if he wins, he'll be inclined to wait for Cruz like interim champ (i.e., No. 1 contender)
Carlos Condit
has done with the true welterweight king,
Georges St. Pierre
.
Faber left the door open to defending his top contender status, which is admirable and, for fans, the best option available. But it still won't mean he's holding a meaningful title, especially in light of the fact that Cruz defeated him just one year ago. One might even say it would be the least important title he's won. The feat would stand well behind WEC, which made him a star, and King of the Cage, which put him on the map.
But none of that matters to Faber. He sees symbolism where the rest of us absorb heavy leather and gold. This fight matters because it leads to the next one, and the guy who earns that right also gets a belt. It's more a trophy than anything else. A 33-year-old ex-champ who looked great last time out, taking just his fifth win in nine bouts, is fighting to return at the top. Barao, 25, is fighting to get there for the first time.
That's true in the presence of a belt or not.
Barao (28-1) told MMAJunkie.com this week, "To me, interim or not interim, it's very important. It's a belt, and I don't care if people don't like it or think it's not the real belt. ... It's a dream come true if I get it. I'm very excited about it."
Understandable. The title doesn't make Barao a UFC champion, but it would secure his chance.
Back when UFC didn't promote five-round nontitle main events, there was an actual benefit to creating an interim belt. Under extraordinary conditions it made sense to make championship belts like the Federal Reserve mints dollars. And, hey, we saw two extra rounds for good measure. But now? Just call them what they are and have an opponent ready when the champion returns. That's interesting enough for me without the hardware.
Cruz is the only person to hold a bantamweight title in the UFC. He'll wake up Sunday morning knowing whether it's Faber or Barao who gets next.
July, 17, 2012
7/17/12
11:19
AM ET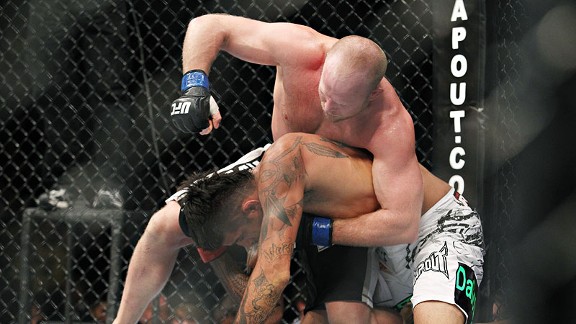 Ed Mulholland for ESPN.comTim Boetsch, top, is quietly gaining momentum with each win at middleweight.
The curiosity in the UFC 149 co-main event isn't
Hector Lombard
. It's
Tim Boetsch
. Nobody saw him coming.
Yushin Okami
still isn't sure what hit him that night in Saitama, when Boetsch came charging out in the third round with a mean salvo of uppercuts.
Boetsch has the "let's see how long this can go" feel to him -- the mark of an overachiever. That's why not very many people are talking about him as a threat to anything. Not to
Anderson Silva
. Not to Lombard. Not even to his original opponent,
Michael Bisping
(back when UFC 149 was a whole different event and people were talking about Erik Koch's tan).
With all the conversation centered on "who's next" for Silva, the focal point has been
Chris Weidman
(because he fought last) and on Lombard (because he can bench press the entire division). You can see why. Lombard has won 20 fights in a row, and hasn't been defeated in 25. He comes from the other side of the partition (Bellator), where he's been ruining careers for the last few years.
If Lombard wins and does it emphatically at UFC 149 in Calgary, he'll look like the most marketable match-up of existing middleweights to get at Silva. Silva might welcome the chance, too. For starters, he's not (necessarily) a wrestler. Weidman, a proud all-American Hofstra man, looks like a stylistic problem for Silva. Lombard, on the other hand, wants to knock you out.
You know what Silva does? He knocks out guys who want to knock you out. It's his forte. This is a fight that would speak to him.
[+] Enlarge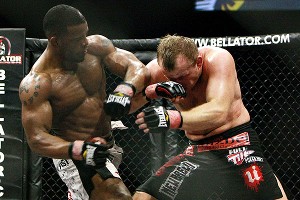 Dave Mandel for Sherdog.comA loud contingent believes Hector Lombard, left, wouldn't be worthy of a title shot after just one win.
And from the UFC's perspective, Lombard/Silva isn't an anticlimax to Sonnen/Silva. It's a fight that puts Sonnen in the rearview mirror and opens up a new slate of intrigues. The "champion versus champion" plot; each fighter with a trail of winning streaks that snake around the block.
The UFC likes that.
Here's the thing, though. People are complaining in advance that a single win in the UFC doesn't merit a title shot. Bisping, who has hovered in contention for years, is leading the chorus on it. He's got a point, but it feels like half of the story.
The full underlying suspicion is that a single win in the UFC -- especially if it's a win over Tim Boetsch -- isn't enough to merit a title shot. The Boetsch factor is strong. If Lombard fought and defeated
Brian Stann
, that's one thing. But you know how it'll be -- if Lombard treats Boetsch the same as he did Trevor Prangley and Falaniko Vitale, he will have added another journeyman to his collection. Nothing will have changed with UFC-centric types who hate on Lombard for not having knocked off name brands.
The spin on all that? Hey, it adds to his mystique.
But Boetsch is the true mystery here. He's been around forever and has only just arrived.
He's a guy who toiled as a light heavyweight, went 2-2 in his first stint in the UFC, beat up some guys in smaller theaters, then went 1-1 in his second UFC stint as a 205-pounder. When
Phil Davis
submitted him with a modified one-arm Kimura -- later renamed the "Philmura" -- Boetsch dropped to middleweight.
[+] Enlarge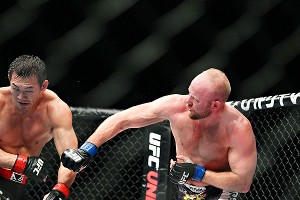 Susumu Nagao for ESPN.comTim Boetsch's come-from-behind win over Yushin Okami proved he's a force at 185.
Since then? Painstakingly quiet reinvention. Two fairly unspectacular wins over
Kendall Grove
and
Nick Ring
and a two-round, one-sided beatdown to Okami at UFC 144 until in the third round in that bout, when he stormed back for what has to be the forerunner for comeback of year.
Just like that, here he is; through circumstance and musical chairs, Boetsch is co-headlining a pay-per-view. And imagine if he
wins
? If Boetsch pulls it off he'll have exposed the greatest masquerade that ever was. In the told-you-so tradition of hindsight, Lombard then becomes grossly overrated. And part of why Lombard would then seem grossly overrated is because there's something about losing to Boetsch that enhances the effect.
What are the stakes in this one? It might just be shaping perception one way or another.
Lombard could use Boetsch as a trampoline to Silva, and Boetsch could take one more step towards something unthinkable. But it's safe to say Boetsch wouldn't get an immediate title shot with a win. Whereas Lombard is marketable enough to do away with merit, Boetsch isn't greatly marketable, and merit is slippery in his hands.
He'll still seem like he's overachieving, and, at some point, that becomes its own neat trick.
May, 1, 2012
5/01/12
4:23
PM ET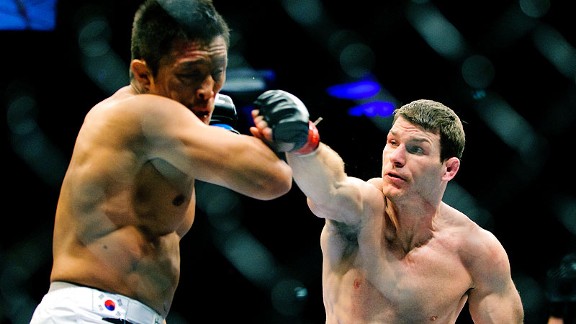 Martin McNeil for ESPN.comA dose of Michael Bisping will surely add some spice to UFC 149.
With Chael Sonnen's rematch against
Anderson Silva
now migrating from Brazil to Las Vegas, UFC 148 becomes the Miami Heat of fight cards. It is stacked, stuffed, loaded and insane.
And let's face it, this annually huge Vegas card had a pot of gold drop in its lap: Sonnen/Silva II is already a big enough fight to tune in. The UFC could have booked Yoislandy Izquierdo against T.J. Grant as the co-main and things would still have been fine on July 7.
But the UFC's July 4 weekend is
all
Roman candles and Saturn missiles, and it's quickly become a countdown of matchmaking franchises. Aside from Sonnen/Silva II, there's
Urijah Faber
versus
Dominick Cruz
III,
Forrest Griffin
versus
Tito Ortiz
II,
Cung Le
versus
Rich Franklin
I. All told, there are two belts in play, a swan song or a UFC pioneer, and a return to middleweight for the former champion Franklin, who is 100 percent guaranteed to put on a features-contorting brawl.
If that weren't enough,
Demian Maia
will see how he holds up against human Velcro,
Dong Hyun Kim
, in his welterweight debut.
To Vegas go all the spoils.
To far off Calgary in the north, just two weeks later on July 21? Smartly,
Tim Boetsch
and
Michael Bisping
.
What was meant to happen in Vegas isn't staying there -- Boetsch and Bisping, a big intrigue pairing of middleweights that was originally slated for UFC 148, is now headed for UFC 149 in Alberta. And this is ultimately a good move by the UFC. Why lose a contender's type bout to a thousand bunched-up storylines at UFC 148 while peripheral PPV cards -- UFC 147 and UFC 149 -- could use the additional heft?
When the first question out of people's mouths is nearly always "what's next," the guys chasing Sonnen/Silva are pretty important to the scheme of things. In the fight game we're dealing in tapestries. The newly resurrected Tim Boetsch and the MMA's "forever contender" Michael Bisping will get a better shake at the Saddledome behind headliners
Jose Aldo
and
Erik Koch
. Let Sonnen/Silva play out, and this fight takes on more significance. It's our duty to talk, after all, and to invent the stakes while playing at what's in Joe Silva's head.
And right now, a lot of people more readily recall Boetsch losing by "Philmura" against
Phil Davis
instead of him storming back against
Yushin Okami
at UFC 144. If he's
really
closing on a title shot at 185 pounds, Boetsch could use the boost of a co-main event type spotlight. Right now he's more journeyman than contender. He's never been the recipient of Zuffa's marketing machine. It's time to gussy him up.
As for Bisping? He believes the same thing he's been believed for years -- that he's the hands down No. 1 contender. Obviously there's still the matter of
Mark Munoz
and
Chris Weidman
out there, but Bisping might actually be on to something this time through. With unpredictable circumstances and injuries and schedule syncing and suspensions and all the things that get in the way in obvious matchmaking, the Briton really might be next in line.
Or he might not. But that we can care sufficiently enough to find out is lucky for him and Tim Boetsch. In this rare case it's better to jump cards than end up lost in the shuffle.
March, 22, 2012
3/22/12
6:30
AM ET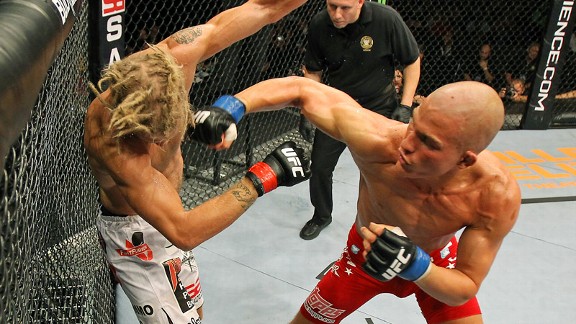 Josh Hedges/Zuffa LLC/Getty ImagesBlast forward: Erik Koch made his presence felt when he decisioned Jonathan Brookins in September.
Jose Aldo
is Calgary-bound for UFC 149 on July 21. Who will he face? As of Wednesday afternoon, this information was not yet disclosed. Just like the injury that forced featherweight contender
Erik Koch
from his fight with
Dustin Poirier
in November, there are mysteries to be found all over the 145-pound landscape.
At least some of them are clearing up a little bit.
Having spoken to Koch, a couple of things stand out. One, he is feeling 100 percent after his strictly confidential injury and is ready to accept a bout. The Duke Roufus pupil was set to stake his four-fight win streak against fellow upstart Dustin Poirier in November before the injury forced him off the card. And two, Koch has a sorted order of preference of the guys he'd like to see.
"If nobody fights Aldo, I'll fight Aldo," he says. "If not, I want the second guy; I want
[Hatsu] Hioki
. He's definitely in the mix. So that's how I want my plan to be. Aldo first, and if not, Hioki as the back-up plan."
Koch's management is still waiting to find out what's next for the man with the premonitory nickname of "New Breed." Aldo needs an opponent for the UFC's maiden trip to Calgary. Koch is willing. Couple that information with the fact that Poirier is scheduled to fight
Chan Sung Jung
on May 15 -- just two months before UFC 149, making for a short turnaround -- and Koch looks like a fun possibility. Koch's training partner,
Anthony Pettis
, was just last week rumored to be contemplating the bout, but was quick to dispel those rumors (in part, maybe, to avoid stepping on Koch's feet). Besides, Pettis himself is now sidelined with an injury.
And then there's also Hioki, who might be in front of Koch on some people's polls, but the Japanese fighter didn't exactly assert himself after beating
Bart Palaszewski
at UFC 144. Everybody knows this is an industry that sneers at modesty.
Koch, on the other hand, brings a stampede wherever he goes.
Before decisioning the "Ultimate Fighter 12" winner
Jonathan Brookins
, Koch had won back-to-back knockout of the night honors against Raphael Assuncao and
Francisco Rivera
in what was Koch's final WEC match. His last (and only) loss was a decision to
Chad Mendes
back in March 2010. Since then, he's been electrifying.
"Chad Mendes did beat me, but you know, I was a completely different fighter then," Koch says. "And Aldo has a good track record against wrestlers. To beat him, you got to beat him at his own game. You've got to stand with him. You've got to know how to do it right. [Fighting Aldo] would be a blast, I can tell you that. You'd definitely get some stand-up war going."
That's the selling point. The very thing that gives some fighters pause when contemplating Aldo gives Koch confidence.
"

I think just having good footwork, good striking and good fundamentals, and just using my size as a featherweight, would give him big problems.

"

-- Erik Koch, on why he matches favorably against Jose Aldo
"It's the match-up," he says. "I think -- nothing against Aldo because he's a beast, he's one of the best in the world for a reason -- but out of anybody in the division, if anybody matches up with him, it's me. I think just having good footwork, good striking and good fundamentals, and just using my size as a featherweight, would give him big problems."
Will it be Koch that the UFC sticks opposite Aldo? We may know very soon. But of all the alternatives, he at least packs some wallop. And he wants to stand and trade with Aldo, which is the right kind of roulette for a featherweight main event.
"For me, now it's about trying to finish fights and making exciting fights," he says. "I definitely want to be the best fighter in the world, but at the same time I want to be exciting. I want to bring something to the table that everybody wants to watch. People don't realize, we're in the entertainment business. I definitely want to give people what they want to see."
Now Koch will sit tight and hope that the UFC wants to see things similarly.