August, 14, 2012
8/14/12
7:15
AM ET

By Chad Dundas
ESPN.com
Archive
If the UFC were still in the habit of saddling its pay-per-views with awkward emotive taglines on the order of
UFC 101: Declaration
,
UFC 97: Redemption
or
UFC 84: Ill Will
(just to name a few, somewhat recent doozies) it might've been apt to dub Saturday night's event something like:
UFC 150: Mixed Feelings
.
Or, if brevity isn't your thing, perhaps:
UFC 150: In Which the Lightweight Title Fight Goes Exactly the Same Way as Every Other Lightweight Title Fight During the Last Two Years.
Both seem equally appropriate, as a few days removed public sentiment remains bitterly divided about
Ben Henderson
's split decision win over
Frankie Edgar
in a bout that only continued the trend of maddeningly close 155-pound championship fights.
At this point there appears to be something inherent in Edgar's scrappy, never-say-die style that breeds outcomes like this. For the former champion, it was his third rematch in six fights and the fifth of those to call upon the ringside officials to decide who won. To put that in perspective, the last time Edgar fought somebody not named Ben Henderson,
Gray Maynard
or
B.J. Penn
was December 2009, when he submitted Matt Veach in the second round of a fight that aired on free TV.
This time, Edgar came up two judges short in his bid to regain the lightweight strap. The decision was not quite a robbery (as has been suggested early and often in the aftermath) but it was not particularly clear-cut, either. Considering he is now just 1-2-1 in his last four fights, this one must seem like a bitter pill to swallow for the New Jersey native and people (like me) who thought he won
both
of his fights against Henderson.
[+] Enlarge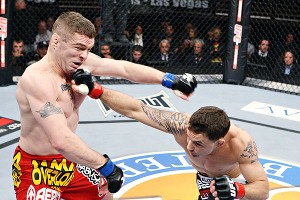 Josh Hedges/Getty ImagesIt's been nearly three years since Frankie Edgar shared the Octagon with someone not named Penn, Maynard or Henderson.
Unfortunately, though, that's just the nature of the sport as it currently exists. At some point, does somebody need to come along and change the rules or the judging criteria or the judges themselves? Certainly; but until that happens, this is our reality.
Now, for the most difficult part of all: Even though the decision was controversial and one that fans and analysts alike will continue to argue about for the foreseeable future, it's time to move on. We need to let this one go. For the sake of both the lightweight division and Edgar himself, we simply can't keep putting the title on hold for rematch after rematch.
There's just too much talent at 155 pounds and too much potential for greatness in both Edgar and Henderson to continue airing these reruns. It stinks that a guy as likable and easy to root for as Edgar has to be the one to (depending on your opinion, I guess) come out on the short end of this situation, but it's time. It's past time.
In Henderson, the UFC has perhaps the prototypical lightweight of the future. He's enormous for the weight class, dynamic on his feet and, among other things, seemingly impossible to submit. Unfortunately, this disputed victory over Edgar did exactly zero to further his reputation, and there is a preponderance of anecdotal evidence to suggest a third fight between the two would only continue to muddy the waters.
In order to know how good he really is, we're going to need to see Henderson -- the new-and-improved UFC version, at least -- fight the rest of the best. We need to see him take on divisional stalwarts like
Nate Diaz
and Gray Maynard. We might even need to see him reboot a couple of old WEC feuds against
Anthony Pettis
or
Donald Cerrone
, who (like the champ) seems to have become a wholly new man now that they've unleashed him inside the Octagon.
For Edgar, who will turn 31 two months from now, he's made his point. For an athlete who would not even be particularly physically imposing at featherweight, he spent the duration of his championship run looking shockingly capable against guys who were essentially junior welterweights (if such a thing existed in MMA).
It would be wrong to suggest that a competitor who's been so successful at lightweight absolutely needs to drop a class, but even for entirely noncompetition-based reasons the truth is clear: The shortest distance between Edgar and another shot at UFC gold is at 145 pounds.
Let Henderson entertain some different foes, let fans sink their teeth into some fresh rivalries and let Edgar (who is so obviously championship material) go where the grass is greenest.
Everyone involved will be better off for it.
August, 12, 2012
8/12/12
2:30
AM ET
DENVER --
Frankie Edgar
raced to the Octagon, sprinted through five rounds of fighting and, in the end, raised his arms in victory. Along with most in attendance at UFC 150 in Denver, Edgar thought the belt was headed back to Toms River, N.J.
But as the decision came out of ring announcer Bruce Buffer's mouth, the words "still" preceded the words lightweight champion and, just like that, there was a new controversy in the lightweight division. Benson Henderson retained his lightweight title via a split decision (46-49, 48-47, 48-47).
But this time, UFC president Dana White, usually vocal about how he saw things go, stayed out of the judging.
"Again, it's one of those controversial decisions," Dana White said afterward at the UFC news conference. "Let me just say this: I'm not a judge.
Ben Henderson
won the fight tonight. He retained his title, and that's the end of it. I know there were a lot of people that scored the fight differently, and I tell these guys all the time, 'If you don't like the way the judges score, don't let it get there.'"
To be sure, the fight was close, perhaps closer than the first fight back in February. Henderson came out whipping leg kicks that hobbled Edgar and finally dropped the challenger midway through. Edgar's calf was bright red by round's end, yet the drama came at the end of the frame when Edgar took Henderson down and applied a guillotine hold. He was able to survive the last 20 seconds to the bell.
"[The guillotine] was tight, you know, I was able to get out of it," Edgar said. "I don't think the round [ending] saved me; I defended well. It was tight at first, but I made the adjustments to get out of it."
The second round saw more leg kicks from Henderson, but reminiscent of the first fight at UFC 144, Edgar began catching the low kicks and countering.
Throughout the fight, Edgar had the last word on breaks. Midway through the second round, Edgar slipped a strike and caught Henderson with a powerful counter that dropped the champion. He transitioned into a front headlock and controlled the rest of the round.
The third round was arguably the closest of the fight. Henderson went away from what had been effective to that point -- the leg kicks -- and settled on more double jabs and isolated shots. Edgar was able to regain his footwork as the threat of the leg kick diminished.
[+] Enlarge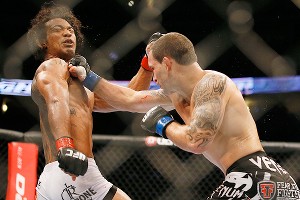 Ross Dettman for ESPN.comBenson Henderson, left, controlled the early rounds only to seemingly fade down the stretch.
"That was a part of the original game plan, going forward and targeting that to get him off-balance and then capitalize," Henderson said of the leg kicks. "But I didn't do a good enough job of capitalizing and getting on top of him when he was off-balance. I think I landed it three or four times where he was off-balance and stumbled a little bit and I wasn't able to quite do what we wanted to do with it."
Henderson turned up the aggression in Round 4. In one moment, after having been knocked down, he landed a head kick from the floor that brought back shades of the upkick from the first fight -- only this time, the kick didn't do any damage and landed to the side of Edgar's head. Once again, Edgar worked a front headlock and the two exchanged late in the round as Henderson taunted Edgar to engage.
"I thought I pushed the pace, and I thought I brought the fight to him," Edgar said. "But here we are."
Most media on press row had the fight 3-1 at this point in favor of Edgar, and the thought was that Henderson might be in need of a finish to retain the title. Edgar raised his arms as he came out for the final bell, and at one point it was the former champion who landed a big leg kick that downed Henderson. Again, the fifth was a close round to score, with each fighter having his moments. In the end, all the judges saw Round 5 for Edgar.
The feeling at the Pepsi Center was that Edgar had wrested back the belt from Henderson.
Then, Bruce Buffer read the scorecards and everyone began questioning what they saw (versus what the judges saw). All three judges also gave Edgar the second round, and it was unanimous for Henderson in the first.
Rounds 3 and 4 were the divisive splits. Two judges scored them for Henderson, while Tony Weeks scored them for Edgar.
"All of Frankie Edgar's fights seem to be controversial," Henderson said in a postfight interview with Fuel TV. And that is definitive. People wanted to know what Edgar himself thought of it afterward.
"It doesn't really matter what I think," Edgar replied. "I could be pissed off, but it's still the decision and it's never going to change, so it is what it is."
Once again a lightweight title fight ends in controversy. Yet, now 0-2 against the current lightweight champion Henderson, the controversy sticks with only Edgar going forward.
And the next question becomes -- does he stick around at 155 pounds, where title fights are no longer part of the equation?
August, 9, 2012
8/09/12
7:27
PM ET
DENVER -- There was an air of "next thing's first" at the UFC 150 news conference at the Fillmore Auditorium. Though
Donald Cerrone
will face his friend
Melvin Guillard
in the co-main event on Saturday night, Cerrone used the platform on several occasions to talk about fighting
Anthony Pettis
.
And Guillard still wants to avenge his UFC 136 loss against
Joe Lauzon
, saying he was overzealous in that bout.
As far as the thoughts on fighting each other? It was all compliments. Guillard told the media he was star struck when he first trained with Cerrone, and that when the call came to fight him he had to accommodate him.
"The first thing I thought was, the least I could do is show up for [Donald], that way he can fight in his home town," he said. Two or three others had turned the fight down [including Pettis], so Guillard wasn't about to leave Cerrone hanging.
"Cowboy" was equally complimentary.
"It's all about money to me and him," Cerrone said. "We're good friends but by no means is that going to hold us back. We're going out to draw blood and to get some and get paid."
This drew applause. The idea of a couple of explosive friendlies going in there to duke it out and then shake hands afterward makes for a lot of fun. Guillard knows Cerrone is capable of taking him down and making it a long night, and Cerrone knows that Guillard throws anvils. Both expect it to live up to the billing, even if there isn't exactly a gentleman's handshake to keep the fight standing. They made it clear that this was a for mercenary kicks.
[+] Enlarge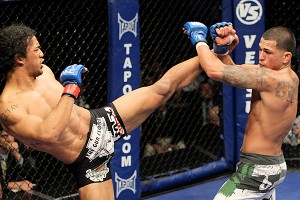 Josh Hedges/Getty ImagesBenson Henderson, left, wants another crack at Anthony Pettis, but he might have to wait until Donald Cerrone gets his turn.
Clearer still is that Cerrone doesn't like Pettis, and Guillard didn't like his performance with Lauzon. Now Guillard and Cerrone stand in each other's way to getting the fight they want. Pettis would be Cerrone's reward, and Lauzon would be Guillard's.
And Cerrone, who's been vocal all week about Pettis ducking him, didn't miss the chance to pour it on when the microphone was hot. When asked if he was even motivated for a title, or if he was content staying busy and making money, he said, "as far as sitting and waiting like Pettis, and hiding, I don't want to do that, I want to keep fighting."
Earlier, when a media member asked lightweight champion Henderson if he thought he had to beat Pettis at some point, Henderson had Cerrone in his ear.
"I think Cowboy said he has [Pettis] first," Henderson replied. "At some point in time we'll meet inside the cage again. Before I retire, we will dance inside the cage again."
Maybe so, but by the end of the news conference, the people in the audience seemed far more excited by the notion of a Cerrone/Pettis showdown than they did of a Henderson/Pettis rematch.
Guillard in familiar territory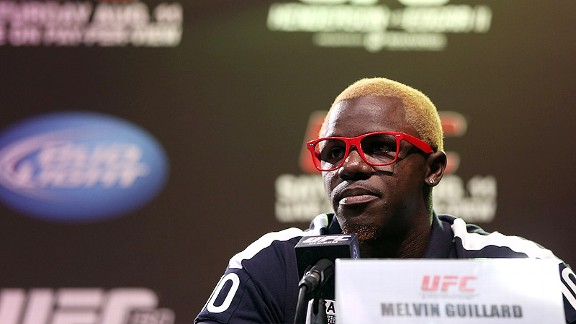 Josh Hedges/Zuffa LLC/Getty ImagesFamiliar role: Melvin Guillard has played the sizable underdog before.
This isn't the first time that Melvin Guillard has stepped up and taken a fight on fairly short notice that he was a sizeable underdog in. There was that business with
Evan Dunham
back in early 2011 in Texas, when Dunham was a sort of
Rory MacDonald
-type figure at 155 pounds.
Kenny Florian
had to pull out of the main event with an injury, and Guillard signed on. He told everybody beforehand that he was going to knock Dunham out, and -- much like is happening here with Cerrone -- there were plenty of wait-and-see snickers.
Where the situation feels even more familiar, though, is in Guillard's demeanor. He has a calm confidence about him heading into this Saturday's fight with Cerrone that is reminiscent of that "Fight for the Troops" card.
"It does has similarities to the Evan Dunham fight," he told ESPN.com. "Going into that Dunham fight, I was the underdog, and people thought he was the next big thing. I'm pretty sure there's a lot of critics out there who think I'm about to go down to Donald, and I just want to come right out of the gate and smack him in the mouth and see where it goes from there. I don't care what anybody says -- I can knock a bull out if I hit it right, so I'm going to go in there swinging."
As far as his frame of mind?
"I'm very loose," he said. "I'm very confident in my skills. I know what I bring to the table. I know I'm a dangerous fighter, and I just want to bring the fight to Donald on Saturday."
Bendo wants to fight everybody -- at 155 at least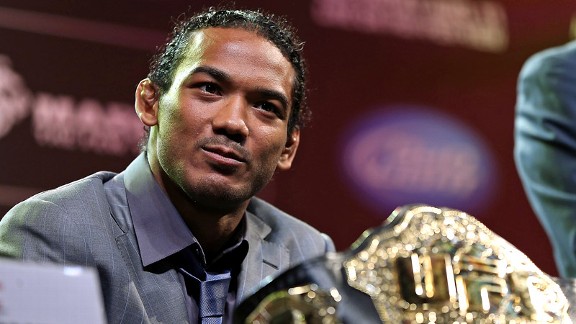 Josh Hedges/Zuffa LLC/Getty ImagesBenson Henderson is gunning for total domination at lightweight, but welterweight is another story.
A fan asked Benson Henderson and
Frankie Edgar
what their thoughts on
Nate Diaz
was, since Diaz is waiting in the wings for the winner.
After much of the news conference was centered on fighters dodging each other, Henderson was quick and to the point.
"Nate Diaz is a tough fighter, he's good, and he brings it every time he fights," he said. "I said it before, and I'll go ahead and say it again so you understand me -- I want to fight everybody in the division. I want to beat everybody. That's it, man."
That's in the division. The next question was if he has ever considered competing as a welterweight.
"No, never really thought about welterweight at all," he said. "For me, 155 is my division. I want my name to be synonymous with 155 for the next 10 years, or five years, or how much longer I fight. And at welterweight -- have you seen those guys? They're huge. They are ginormous. I'm big for lightweight, but have you seen [Georges] St. Pierre in person? Check out
Georges St. Pierre
in person and tell me you want me to fight him. You want me to get beat up? Come on."
August, 8, 2012
8/08/12
7:51
PM ET

By Brett Okamoto
ESPN.com
Archive
DENVER -- With all six of his UFC losses coming by way of submission,
Melvin Guillard
has been exposed to his share of critics, who blast the lightweight for his deficiencies on the ground.
Guillard says those people are pretty silent, though, when he's knocking guys out.
"I check my Twitter quite often, and some people have screen names that stick out," Guillard said. "Leading up to the [Fabricio] Camoes fight, a lot of people were saying, 'He's going to get choked out and he's a choke artist.' Then as soon as I beat the guy, some of those same people were saying good things about me.
"Nobody is crying and complaining when I'm knocking guys out in the first round. People are going to ride the bandwagon. For me, it's about going in there and doing what I do best. I didn't come this long in the UFC submitting guys."
Guillard (30-10-2) faces another strong grappler this weekend in former teammate
Donald Cerrone
. The two will meet in the co-main event of UFC 150.
"

Nobody is crying and complaining when I'm knocking guys out in the first round. People are going to ride the bandwagon.

"

-- Melvin Guillard, on his critics after a rough patch
He might not need his ground skills in this one, though. Cerrone (18-4) has promised fans a stand-up fight, despite acknowledging the risk that comes with that.
"Nobody wants to see people wrestle and roll around," Cerrone said. "They want to see two guys throw down, and that's what I like to do. High risk is more fun."
Guillard, of course, would love nothing more than a stand-up fight but isn't relying on Cerrone to keep his word. The longtime UFC veteran says he's been thrown "under the bus" with high-level, jiu-jitsu black belts since January and his confidence has grown because of it.
"Everybody has an agreement until you get hit with that first hard shot," Guillard said. "I'm expecting him to take me down, of course. He's got good jiu-jitsu, but I train with great jiu-jitsu fighters."
Guillard's spirits remain high, despite watching the free fall of his stock in the past 12 months.
[+] Enlarge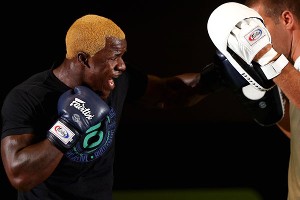 Josh Hedges/Zuffa LLC/Getty ImagesMelvin Guillard is banking on his standup skills coming into play when he meets Donald Cerrone.
In July 2011, Guillard was closing in on a title shot, having posted five straight wins, three of those via first-round knockout. Back-to-back losses to
Joe Lauzon
and
Jim Miller
quieted that title talk immensely.
That's just fine with Guillard, who says he doesn't miss the pressure that comes with a win streak and a widely talked-about title run.
The way he sees it now, it's not about the number of wins he can string together, but the quality of performances he can put together against competition such as Cerrone. He's not going anywhere, and he's certainly not listening to those critics.
"It's better for me [that the title talk is gone] because there's no pressure of chasing a title," Guillard said. "The win streak, it was fun, but I don't think anybody is getting on a win streak anymore. The 155-pound depth chart is so sick.
"It's about picking fights. I want to put my mark on this weight class. Switching weight classes is not my thing. I'm a 155er. I know I can win at 155 and be a champion. I'm going to keep grinding."
August, 8, 2012
8/08/12
1:40
PM ET
All this talk of
Frankie Edgar
and rematches makes for a potentially uncomfortable situation brewing in Denver. What if Edgar wins a close fight over Benson Henderson this weekend at UFC 150? What if it's an egregiously controversial decision, the kind that has Dana White fuming about the judging and Twitter exploding into a million little protests?
If it's indistinguishably close in Edgar's favor, will not Henderson have the same argument that Edgar did in requesting an automatic rematch?
Fair is fair is fair.
As absurd as the notion seems, it's a legit question. Everybody knows that Edgar adjusts and adapts and comes on stronger in repetitions. In his recent history of rematches he's always showed better the second time through. In trilogies, Edgar is 1-0 with a knockout of
Gray Maynard
(who never gets knocked out). Though he's navigated his career as a bargain bin underdog, he brings it doubly in playbacks. He's being slept on a little bit ahead of the Henderson sequel, too. Bendo's too big, too athletic, too strong.
And you know what? Edgar's right at home with that.
Before that late second round upkick at UFC 144, Edgar was very likely leading two rounds to none over Henderson. In the rarified altitude in Denver, where the championship rounds are being contested, it might be Edgar pushing the action at the end. He's been training in Colorado Springs at around 6,000 feet for the last week to acclimate. That doesn't hurt. If he pulls out a close fight, the UFC will be in a familiar situation with what's right, and what's
right
.
It sets up double standards, and it will force hands. It's simply not ideal.
[+] Enlarge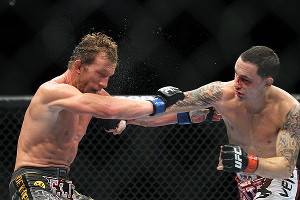 Ed Mulholland for ESPN.comFrankie Edgar, right, consistently fares better in rematches.
And we all know what Dana White would have to do -- he'd have to essentially snub his nose at Henderson, or else leave the lightweight division hijacked for another four months (at least). Worse, be upsetting
Nate Diaz
, who is in the on-deck circle waiting for the winner after beating
Jim Miller
, not to mention all the guys hovering just below -- guys like the winner of
Donald Cerrone
/
Melvin Guillard
and
Anthony Pettis
. Traffic must resume, or we need to strip Edgar of his nickname "The Answer," and use something more apt.
Something like Frankie "The Series" Edgar. Or perhaps "The Monkey Wrench."
The UFC doesn't actively root for any situation, but here's a hunch that life would be easier if Edgar were to drop out of the picture for a little while. As the world's smallest lightweight, he's an unlikely elephant in the room. If he loses, he can begin contemplating how to overcome
Jose Aldo
in the featherweight ranks. Aldo could use some new challenges, and Edgar/Aldo is fun to think about (even over the course of a series). Just about everybody's on board with that.
And White himself has been the ringleader for Edgar competing at 145 pounds. He's said it on more than one occasion. An Edgar loss on Saturday night facilitates the move, and it opens up the 155-pound division for business again.
It's Edgar's job to ignore all of this and do what he does best, which is to win the fights people just assume he'll lose. The UFC will obviously let the chips fall where they may, but if it's Edgar, you can understand the hope being that it's Edgar clean and emphatically.
Otherwise, things will get that much more complicated.