April, 25, 2013
4/25/13
6:31
AM ET
It has been a bit more than eight months since the cancellation of UFC 151, which at the breakneck pace of the MMA news cycle makes it feel as though it happened sometime during the Bronze Age.
Heads have cooled considerably since that bizarre and uncomfortable day last August, which Dana White branded as one of his all-time lows as UFC president. He pulled the plug on UFC 151 just eight days before
Jon Jones
was scheduled to defend his light heavyweight title against consensus No. 1 contender
Dan Henderson
. It marked the first time the promotion had scratched an entire event and White seemed to drown his sorrows by blasting Jones, saying he was "disgusted" with his champion for passing up the opportunity to fight
Chael Sonnen
on short notice once he'd learned Henderson was injured and couldn't compete.
"The one thing that I never thought in a million years would happen, happened ... " said White, during one of the tamer moments of a volatile conference call. "A guy who's a world champion and considered one of the pound-for-pound best turns down a fight."
These days, Jones and White appear back on friendlier terms; but the unexpected removal of UFC 151 from the schedule set off a chain reaction from which the 205-pound division still hasn't fully recovered. For evidence we must look no further than this Saturday, when Jones and Sonnen will finally fight in the gratuitous and likely very lopsided main attraction of UFC 159.
Remember that prior to Henderson's last-minute withdrawal, Jones had cultivated the single greatest 13-month run in MMA history. He'd easily taken the title from
Mauricio Rua
at UFC 128 and then stomped through consecutive bouts against three other former champions, all without suffering so much as a scratch. His fight with Hendo was set to continue that march, because the 42-year-old legend had become a darling of the pound-for-pound crowd by winning the Strikeforce title, beating
Fedor Emelianenko
at heavyweight and defeating Rua in the best fight of 2011.
If the sudden collapse of UFC 151 didn't completely put the brakes on all that momentum, it certainly sidetracked it. After fighting four times during 2011 (all wins), Jones made only two appearances in the Octagon during 2012 and by his own lofty standards the second half of the year was fairly underwhelming. With Henderson out, Jones faced off with
Vitor Belfort
, another former light heavyweight champion (though only on the flukiest possible terms), who'd more recently become a middleweight and whose reputation hadn't recovered from a dramatic front kick knockout at the hands of
Anderson Silva
at UFC 126.
[+] Enlarge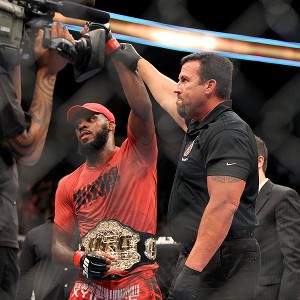 Ed Mulholland for ESPN.comFallout from UFC 151 put somewhat of a damper on Jon Jones' tear through the light heavyweight ranks.
It was a fight that, frankly, nobody wanted to see and smacked of one the UFC booked only because Jones was healthy and the company wanted to put his name on a marquee somewhere. It would have been a total loss had Belfort not almost pulled off a stunning upset via armbar early in the first, before conceding by painstaking and inevitable submission three rounds later.
Now here's where things get extra confusing: In the aftermath of the Belfort fight many expected the UFC to once again match Jones with Henderson. Instead, it opted to go with Sonnen, who had not fought at light heavyweight since 2005 and whose record at middleweight was just 2-2 during the past three years.
Sonnen is arguably a less logical opponent for Jones than even Belfort, and the fact he's getting this bout now only makes sense (and then only vaguely) when viewed through the lens of UFC 151. Simply put, Jones deserves better, but he likely felt he had no choice but to accept this matchup in order to retroactively prove he wasn't ducking Sonnen by refusing to fight him in September.
Unfortunately, the hot feud the UFC may have expected from Jones and Sonnen never materialized and promotional efforts have floundered among hard-core fans who are weary of seeing the best light heavyweight on the planet thrust into nonsensical bouts against middleweights. At least middleweights not named Silva. They are likewise tired of seeing Sonnen trash talk his way into fights they don't think he deserves and there is a palpable sense of simply wanting to get UFC 159 over with, so Jones can get back to real business.
During the months we've all watched Jones and Sonnen perform the sad dance of the uninspired, the decision to mothball UFC 151 also came back to bite Henderson. After twice missing out on the chance to fight for the title he lapsed back into mortality, dropping a tepid split decision to
Lyoto Machida
at UFC 157. He'll now take on
Rashad Evans
at UFC 161 in what is essentially a must-win fight for the future of his career.
If Henderson and Jones never fight, we'll probably always rue the day UFC 151 was canceled and mourn the time wasted having the young champion fight lesser competition. Perhaps the best-case scenario from here might be for both guys to emerge victorious from their current scheduled bouts.
If that happens, perhaps their original pairing can still be resuscitated and then -- maybe only then -- we can finally let UFC 151 rest in peace.
September, 24, 2012
9/24/12
7:05
AM ET
September, 19, 2012
9/19/12
10:40
AM ET
UFC light-heavyweight champion
Jon Jones
has underlined to ESPN the No. 1 reason why he rejected the fight with
Chael Sonnen
at UFC 151, and also explained why the option of a rematch clause did not make a difference to his decision to turn down the fight on eight days' notice.
More »
September, 12, 2012
9/12/12
8:09
AM ET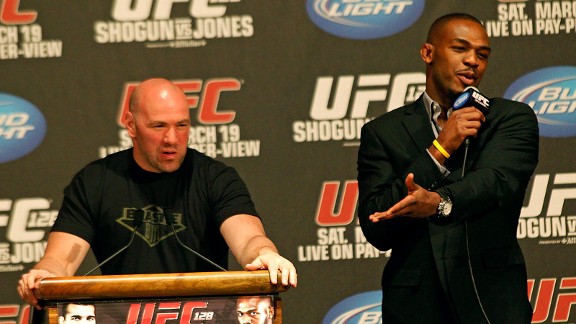 Michael Cohen/Zuffa LLCWith UFC 152 just days away, the White-Jones spat finally seems like water under the bridge.
In professional sports, it is often said it pays to have a very short memory.
Perhaps that explains why nobody seemed particularly excited about rehashing the recent past on Tuesday as the principals of UFC 152 gathered for a conference call in support of this month's reshuffled pay-per-view fight card.
Both the company and the event's participants gave every impression they'd turned the page on the decision three weeks ago to cancel UFC 151 after an injury to
Dan Henderson
scrapped its planned main event. As for any lingering acrimony between Dana White and
Jon Jones
or worries about Jones' makeshift title fight against
Vitor Belfort
on Sept. 22, the organization was fully back on message.
For the record: Nobody regrets anything they said or did last month. Everybody is focusing on the positives here, people. They're all looking to the future.
"The past," the typically philosophical Belfort said during the call, "is a canceled check."
No, Jones assumedly still doesn't regret turning down a short-notice fight with
Chael Sonnen
that might have saved UFC 151. No, White doesn't regret publicly ripping his own light heavyweight champion over that decision, either. No, the two men haven't talked about it in person yet, but they will soon.
Now -- if you don't mind -- everyone involved would feel a lot more comfortable if the rest of us would just move on.
"It just is what it is," said Jones, who has been bombarded with criticism in the wake of UFC 151's cancellation. "I'm in a spot and a position in my career where every little word I say, people hang on it. It's whatever, man -- it's flattering at times. At the end of the day, I get through all the adversity [and] my only job is to stay focused on the goal."
The goal, of course, is defeating Belfort, the middleweight who emerged as the surprise No. 1 contender for the 205-pound title after Henderson tweaked his knee and then both
Lyoto Machida
and
Mauricio Rua
declined to step in at UFC 152. For Jones, who has cast himself as a businessman in recent weeks and eschewed other matchups he didn't believe would sell well, you might assume a bout against a prohibitive underdog who hasn't even fought in this weight class since 2007 would be underwhelming.
Quite the contrary, he insisted.
"

Don't watch it. If you don't like the fight and you don't think it's going to be a great fight, don't watch it.".

"

-- UFC president Dana White, to critics who balked at the UFC 152 main event between Jon Jones and Vitor Belfort
"I think it's going to be great," Jones said. "I think a lot of people are going to get together and watch this fight."
White echoed that sentiment, responding to widespread disapproval of this matchup among fans and analysts in his own classically blunt fashion.
"Don't watch it," White said. "If you don't like the fight and you don't think it's going to be a great fight, don't watch it."
The call marked the first joint public appearance for White and Jones since their relationship seemed on the verge of evaporating over the UFC 151 kerfuffle. Even for the typically outspoken UFC president, White was acutely irate back on Aug. 24 when he quipped via company press release that the canceled show would be remembered as "the event Jon Jones and [trainer] Greg Jackson murdered."
While he didn't retract that or any other statement on Tuesday -- like we said, no regrets -- White's attitude toward Jones appeared to have softened a bit.
"One thing you know about me, in 12 years I don't take anything back," he said. "Jon and I haven't seen each other yet since that whole thing. We'll see each other in Toronto, and he and I need to get into a room, face to face, and talk. I've been in this business for 12 years and I've dealt with just about everybody you can deal with -- good guys and bad guys -- and Jon Jones isn't a bad guy."
For his part, Jones said he was surprised that White would "belittle" him the way he did last month, but concluded: "I'm over it."
As for the bad press he's received during the last few weeks, Jones remained unconcerned. In fact, he was channeling P.T. Barnum.
"Right now there is a lot of buzz around my name," he said. "Whether it's good or bad, I think a lot of people are going to tune in to watch a phenom versus another phenom."
The rest, it would seem, is just ancient history.
September, 4, 2012
9/04/12
1:34
PM ET
Jon Jones finally broke his silence and responded to the tidal wave of new critics he's gained in the last few weeks in an interview with MMA Fighting's Ariel Helwani. It took 41 minutes to explain his thought process and update everyone on his state of mind.

The gist? Sorry about UFC 151, but no regrets. He did what he felt was right, and these things happen for a reason. (And of course, sorry about the plane rebates -- that part sucks.)

Oh, and for all you haters out there, thanks for the free advertising. It's ironic, isn't it, that haters are the ones who care the most?

Otherwise, it's all good. Bring on Vitor!

Obviously I'm making a little light of it, but honestly, what did we expect Jones to say? He said what he had to, and he said what we suspected. He made his fair share of good points.

The situation remains complicated, and it will until time blows it all away. The UFC hitched the blame to Jones for the cancellation of UFC 151 -- a period when the hater mantra switched from cocky and arrogant to chicken and inconsiderate -- when he turned down a short-notice fight with Chael Sonnen. The tide went against Jones. Logic intervened upon reflection. Wasn't Jones still well within his rights to turn down a patchwork bout with Sonnen on nine days' notice, after he'd been training for Dan Henderson for months? He has a "multimillion-dollar career and a legacy" to protect, and he can't just comply with willy-nilly matchmaking to save singular events.

It remains easy to see both sides, just as it's hard to fully understand the conduct of either. The whole thing will be water under the bridge soon enough, but at least now Jones has given his perspective to help clear the air.

Here are a few highlights of the Helwani conversation, with thoughts as to what they might/do/don't actually mean:

Jones didn't know the event was dangling in the balance when he made his decision.
Jones made it fairly clear he didn't know the UFC would cancel the entire card if he turned down the fight. "When I was talking to Dana [White] and Lorenzo [Fertitta] about the situation, they mentioned they had no clue what they were going to do," he said. That's a big reveal. If that's true, then it's safe to say Jones didn't know the whole slate of consequences. Then again, he later said he wouldn't do anything differently, so ... you know ... he's not second-guessing, nor is he playing up fallback revisionist tactics.

Dan Henderson is at least partially to blame for withholding his knee injury from the UFC for three weeks.
We knew that Jones felt this way from his tweet that said, "blame the old man and his knee." Accountability should at least be divvied up, and Jones reiterated that. He signed on to fight Dan Henderson, not Henderson and his (undeserving, busybody) friend. Hard to quibble with the literal reasoning here.

Jones turned down Sonnen, but he wouldn't have turned down everybody on nine day's notice.
If the UFC had come back with Rashad Evans, we'd have had a UFC 151. Evans is so close to Henderson in fighterly constitution (wrestler, heavy orthodox overhands) that the adjustments could have been made on the fly with Jones and his camp. Otherwise, whatever name the UFC pulled out of its hat would have been turned down the same as Sonnen. But the UFC couldn't have come up with Evans again, could it? Not after they just fought in April for five unremarkable rounds. That would be redundant, wouldn't it? And besides, that would be redundant, wouldn't it?

Chael Sonnen can't line jump.
Jones "refuses to be anybody's jackpot." This is the principle. And Sonnen's a different warrior than Henderson. This is the principled. Bottom line is Sonnen didn't deserve the fight in Jones' mind, and he is a different "warrior" altogether than Hendo. Respect goes into preparation, and Jones simply didn't have time to prepare. But beyond all that, Jones clearly said he wouldn't allow Sonnen to jump the line using his mouth. This played an intangible role in him turning the fight down, too. Jones stuck to his guns. In this way, Jones may not be matchmaker, but he's a preemptive matchbreaker.

Sonnen is a "thug" and a "racist."
Jones referred to Sonnen as a racist for his attitude toward the people of Brazil. (The word Jones was fishing for is "xenophobe"; Brazil isn't a race so much as a country ... but his general drift was caught.)

The UFC is also to blame for not having a solid card behind Jones.
"Don't be p---ed at me, I'm not the one who basically said you're not good enough for pay-per-view," Jones said. "That wasn't my decision. I protect me, myself ... not other fighters, and not the UFC's brand." This has been talked about so much in the media that it's refreshing to hear Jones say it. It's still basically unassailable. The UFC didn't have much backing up the main event -- not enough to support a PPV, anyway. It's not fair to cast Jones as a savior, is it?

And speaking of that, the "cross" tweet wasn't a comparison to You Know Who.
Jones said he wasn't likening himself to Jesus Christ in his tweet saying he was "carrying the cross for my company's decision." He was making an analogy, so let's put away all those loaded parallels.

Jones heard the Dana White media tirade and felt like a "piece of meat."
There's some disenchantment going on with Jones and the UFC, but it's not anything that time can't remedy. Though he didn't say it outright, Jones looks at Vitor Belfort as a kind Etch-a-Sketch to erasing these recent speed bumps on his ride to glory. In short: He's a Belfort knockout away from swaying the hordes back into raptures. (This is very easy to imagine).

Jones wonders why nobody is bashing Lyoto Machida.
"What did I do really? I didn't get hurt. I didn't cancel the fight," Jones said. "Then Lyoto goes out and says, 'I'm not going to fight Jon on three weeks' notice,' and no one gives Lyoto crap. There's not one interview or article out there or anything about Lyoto not taking the fight?" He's got a point, though the situations are plainly different.

But wait ... Jones doesn't read articles that come out and sticks to his Twitter feed for information.
Jones also pointed out that he doesn't read the articles. So how he's following along to what the media's saying (or not saying) about Machida becomes as enigmatic as Machida's style. What gives?

Speaking of the Twitter feed ...
"I've heard every insult in the book," Jones said. "I'm starting to become immune to people's opinion about me. And that's really the key to a lot of pro athletes' success[es] is that they don't even do social media. I'm really just contemplating just turning off my relationship with people altogether and just focusing on what really matters -- friends, family, and being the most dominant champion I can be." In other words, haters may have just turned Jones into J.D. Salinger with a seven-foot wingspan.

Although ... Jones also sees haters as free advertizing.
"One thing I do realize is that I have a great support base and then I have a great hate base," he said. "But people who hate me are actually showing me how much they care. They care a ton. They know so much about me. Actually, my haters know more about me than my real fans do. And it's really flattering, almost." Almost is the operative word. Though flattery is a particularly negative word that has a way of duping us into believing otherwise.

Regrets?
None. OK, some. Jones regrets his DWI violation, but not the way he handled UFC 151. He hasn't spoken to White since the incident. When he does, and once UFC 152 becomes an afterthought, and new images of "great" Jon Jones replace images of "selfish" Jon Jones, we'll be back to where we were. That's what he forecasts.

And if haters persist (which he knows they will), so be it. Jones is building his immunities.
August, 29, 2012
8/29/12
2:21
PM ET

By Josh Gross
ESPN.com
Archive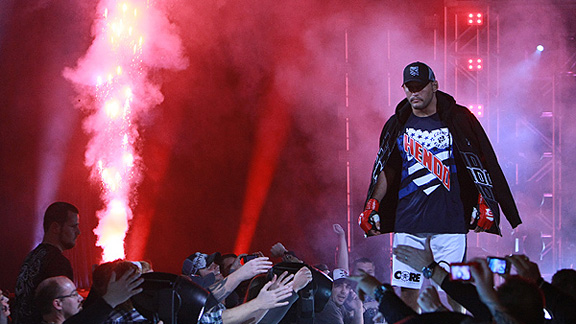 Dave Mandel/Sherdog.comDan Henderson is still coming to terms with UFC 151 going down in flames.
A domino effect of difficult decisions shelved one of the most anticipated fights of 2012. This we know. And although much of the fallout from last week's tumult focused on Zuffa's unprecedented cancellation of UFC 151 and
Jon Jones
' controversial opt-out of an event-saving contest with
Chael Sonnen
, the first shoe to drop was still
Dan Henderson
's.
"This is the first time in 15 years -- or ever, I guess I should say -- I backed out of a fight," Henderson reflected this week.
That is not something to take lightly. Henderson needed a moment to remember the last time he couldn't do what he's always done. (Shoulder surgery kept him from a wrestling world championships a lifetime ago.)
As the former Pride and Strikeforce champion mulled these past few weeks over the extent of a destabilizing knee injury, when the right time was to inform his promoter and what to do if, for as much as he wanted to hang in there, doctors advised against it, Henderson's unflinching mind held out hope he "could still fight and that's all that mattered."
Yet days before his 42nd birthday, Henderson's body had not met the mind-over-matter challenge. It was over. He couldn't engage Jones in Las Vegas on Sept. 1, and down went the first domino. Then another. And another.
"I struggled for a few days but really hard for the last couple days," he said of the final decision. "I tried to get a hold of [UFC president] Dana [White] last Monday. Got a hold of him on Tuesday, and they flew me out to Vegas. That whole two or three days [were] tough to figure out, and even then after I met with his doctors I was still on the fence with it. I went back and really tried and gave it a tougher workout to see where I was at.
"It was tough to come to terms with me not being able to fight."
Henderson had no inclination that his decision would lead to the demise of UFC 151. He figured Zuffa, even on short notice, could do what it's done in the past. Find a replacement. Move a fight around. Something.
Anything.
And although blame was cast like a kid tossing mashed potatoes in a cafeteria lunch fight, Henderson retained no sense of culpability, even if he could have given Zuffa a fortnight to find an alternative.
Rather than tell Zuffa early on, he chose to keep the news sequestered to his camp. Henderson said doctors told him the MCL tear was manageable. A little rest, and he might actually make the date. Being banged up was nothing new to the man, so he treated a structural injury as he might a bump, a bruise or busted-up nose. Also, Henderson didn't want word getting out, which it did not, he claimed, until the UFC was finally brought into the loop.
"The minute I told UFC and went and told Dana is when everyone asked questions," Henderson said. "That's one of the reasons I kept it to myself and my camp only. I have to commend my guys for doing a pretty good job of not opening their mouths knowing I was hurt."
"

I struggled for a few days, but really hard for the last couple days ... It was tough to come to terms with me not being able to fight.

"

-- Dan Henderson, on pulling out of UFC 151
"I didn't feel responsible. I felt horrible that I had to back out. It's not something I wanted. I had no idea what I could have done to change that, other than not get hurt."
Among the most accomplished fighters in MMA history, Henderson (29-8) owes nothing to anyone. Just the same, he doesn't feel as though he's owed much, including the guarantee that, when healthy, a title shot will be waiting for him. That set of circumstances didn't enter his mind, he said, when the decision became inevitable.
"I didn't ask, 'Hey, what's going to happen if I pull out?'" he said. "That wasn't what it was about. It was about whether I could fight or not. I didn't need to know. In my mind, I didn't have the right to know. I didn't want to know if my fight was guaranteed if I pulled out, making it easier for me to pull out. I didn't really want to know what was going to happen. I wanted to make sure I made the decision based on the fact if I could fight or not. Even now it's unknown what will happen with my next fight."
Henderson is expected to return without surgery. He'll undergo two to three weeks of knee immobilization, then rehab. Meanwhile, Jones will fight
Vitor Belfort
on Sept. 22 in Toronto. "I'm not really interested to see the fight, and I'm a fan of both guys," Henderson said. "I don't think the fans are going to be real interested."
Jones' decision to turn down Sonnen isn't the way Henderson would have played it.
"The bottom line is, if I was in shape ready to fight on a date and I'm healthy, I'll fight anyone at that point, especially if I'm supposed to be defending a belt if I'm the top guy in a weight class," he said.
Living at the top is familiar territory for Henderson. For now, though, he'll reside in purgatory, subject to the whims of an aged body, his promoter and the rigors of rehabilitation.
It's fight week, but there isn't a fight to be found.
"I don't know what I'm going to do this weekend," Henderson said. "I might take a little vacation since I didn't really have a summer."
August, 28, 2012
8/28/12
2:44
PM ET

By Franklin McNeil
ESPN.com
Archive
Everything had gone according to plan for
Jake Ellenberger
.
His training camp was flawless. His body was in tip-top condition and mentally there were no doubts he'd leave his rematch with
Jay Hieron
at UFC 151 victorious.
Then the roof fell in.
UFC president Dana White cancelled the Sept. 1 event when light heavyweight contender
Dan Henderson
withdrew due to an MCL injury, and champion
Jon Jones
opted not to fight replacement
Chael Sonnen
on short notice.
The decision to cancel UFC 151 caught every fighter on the card by surprise, including Ellenberger. But the welterweight contender, who is ranked No. 7 by ESPN.com, doesn't foresee a pattern arising.
UFC 151 marked the first time since White and CEO Lorenzo Fertitta took over the promotion, 11 years ago, that a card was cancelled. And Ellenberger believes it will be the last time.
"I'm not worried about this happening again," Ellenberger told ESPN.com. "It's not likely. I was shocked that it happened now. They found a replacement for the main event, but it ended up not working out. And that was an executive decision they had to make. But I don't see this happening again in the future at all."
The cancellation proved to be nothing more than an inconvenience for Ellenberger. His rematch with Hieron is still on, they just have to wait a month to get at one another again.
"My fight got postponed; it really doesn't change a lot for me, other than I'm fighting a few weeks later," Ellenberger said. "It's the same opponent for me. And it gives me more time to prepare.
"I was physically and mentally prepared to fight [on Sept. 1]. But it's not completely a bad thing. There's some good I can take out of this. It allows me to strategize more for my opponent. It gives him more time to prepare for me, too. I'm taking a lot of positives out of the situation."
Their rematch is now scheduled for Oct. 5 at Target Center in Minneapolis.
[+] Enlarge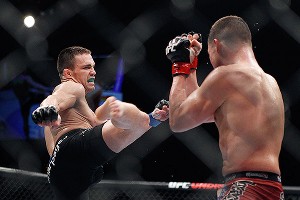 Ross Dettman/ESPN.comWith a new date in hand, Jake Ellenberger, left, can look at the postponement of his rematch with Jay Hieron as nothing more than an inconvenience.
Hieron defeated Ellenberger by unanimous decision on June 3, 2006. It was the first professional loss of Ellenberger's career -- and it still stings a little.
But the pain from that initial setback doesn't remotely compare to the hurt Ellenberger felt for some fighters who were unable to compete at UFC 151. He knows firsthand the financial damage missing a paycheck can have on most mixed martial artists.
"I feel bad for the other fighters on the card, especially the undercard guys," Ellenberger said. "Many are just coming up. I've been there so I know exactly what they are going through, especially the guys at the lower pay scale. Those guys have families and mouths to feed and bills to pay like everyone else. They have coaches to pay. There are a lot of things they have to deal with."
Ellenberger is confident every fighter scheduled to compete at UFC 151 will overcome the setback and be stronger than ever.
They will have more opportunities to fight inside the Octagon. And they won't have to worry about their next UFC bout being cancelled or postponed.
August, 24, 2012
8/24/12
1:11
PM ET

By Josh Gross
ESPN.com
Archive
During 12-plus years covering mixed martial arts, I've never seen a day like Aug. 23.
This is the timeline:
Right around 12:30 p.m. ET, the UFC announced president Dana White would host a conference call an hour-and-a-half later to address the fate of UFC 151. Speculation ran wild that
Dan Henderson
was injured and needed to pull out of his UFC light heavyweight challenge against
Jon Jones
, which turned out to be true. Speculation was equally strong that
Chael Sonnen
had been tabbed to replace the former Pride champion. Also true.
What no one knew was this: Jones wanted nothing to do with Sonnen on Sept. 1, Zuffa would cancel a card for the first time in its history and the champ's next defense would come several weeks later against
Lyoto Machida
in Toronto. Crazy enough. Then
Anderson Silva
reportedly volunteered to fight at 151 in an effort to save the date (it was too late). Machida declined to fight Jones because he wouldn't have enough time to prepare (he'll probably lose his No. 1 contender status). And
Vitor Belfort
stepped up to fight Jones in Canada after the UFC no longer deemed Sonnen an option.
Carnage -- leaving mostly losers and few winners. Here's how it shakes out.
Winners
Chael Sonnen
-- Sonnen nearly talked his way into a "nothing to lose" contest against Jon Jones. As it stands now, he comes off as an opportunist, but that's not a bad thing at all. Sonnen said yes to fighting one of the most dangerous competitors in MMA, a call that would have salvaged an event and probably delivered a better pay-per-view number than Jones-Henderson. Sonnen played this one perfectly and used the moment to redeem himself after losing to Silva last month. The timing of his Twitter attacks on Jones was curious, since it coincided with Henderson's injury, further proof of just how sly the 35-year-old Oregonian can be. Be ready to hear him attack Jones more vociferously than he went after Silva.
Vitor Belfort
-- Out of nowhere Belfort swooped in to get a crack at Jones. He was tabbed to fight dangerous
Alan Belcher
at UFC 153. Instead, he benefits from a "nothing to lose" situation against Jones, should register a big payday on pay-per-view and comes off looking like a guy who will fight anyone, any time. Though Belfort will miss out on fighting in Rio, heading to Toronto (after already having been in camp preparing for Belcher) was a no-brainer.
Anderson Silva
-- Perhaps it was an empty gesture, but Silva looks good for offering to step in to keep the Mandalay Bay event intact. The ship had already left port, but this overture by Silva, accused in the past of not being a company guy, won't be forgotten (in a good way) by the UFC.
Losers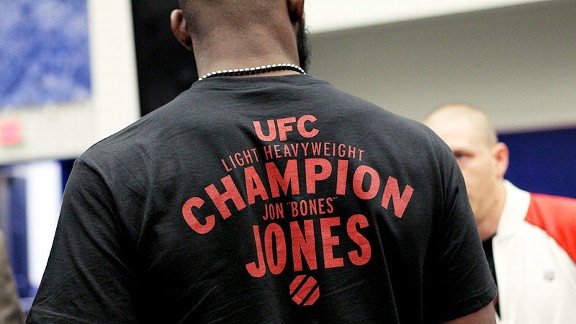 Ed Mulholland for ESPN.comJon Jones turned his back on a bout with Chael Sonnen and sinked UFC 151 in the process.
The fans
-- Pretty obvious that fans lost out big time. From the people who planned to be in Las Vegas next weekend to those who were content watching at home, nothing in the way this played out benefits the consumer. Losing a chance to see Jones fight Henderson was bad enough. Enduring a card cancellation and the subsequent headaches could very well turn some fans off entirely.
The UFC
-- Marketing dollars for UFC 151 will never be recouped. The PR hit associated with canceling an event for the first time is tough to swallow. Having a young stud champion turn down a fight makes for an interesting twist in the promoter-athlete dynamic that has long skewed toward Zuffa. White went after the young star and his camp, leading to a situation that will probably require mending. The cancellation provided more fodder for critics who see recent injury problems and too many events leading to a watered-down product. All in all, an awful day for the people inside UFC.
Undercard fighters
-- Bouts already have been shifted for the weeks and months ahead, but the fact that these guys went through entire training camps only to have the rug pulled simply sucks.
Jon Jones
-- As terrible as this event was for Zuffa, Jones is taking the brunt of criticism for opting against fighting Sonnen, thus leading to the cancellation of Sept. 1's pay-per-view event. Some will say Jones did the smart thing. There was nothing to gain by fighting Sonnen. Jones was only protecting himself. But the majority won't view it that way. They'll see Jones as selfish, as causing major headaches for his promoter as well as fellow fighters. Being hammered by White and Sonnen will only compound that effect. He could have taken a fight against an underprepared Sonnen, whooped the guy, made a payday and been done with him. Instead, Jones will have to cope with Sonnen chirping incessantly -- something he was already tired of.
Lyoto Machida
-- Bye, bye No. 1 contender. Machida's decision to turn down a fight with Jones four weeks from now will put the Brazilian in the crosshairs of fans, pundits and his promoter. In the end, though, it may turn out to be the best decision. Perhaps Machida wouldn't have been prepared on the 22nd (he said he wanted more time to train), and what good would it do him to fight Jones at less than 100 percent? But still, to have been slotted in and then removed from the fight won't ingratiate him to anyone. This means Machida will need another win before getting a title shot. Was the trade-off worth it? Only time will tell.
Greg Jackson
-- Jones' trainer isn't White's favorite guy to begin with. Now White has taken to calling Jackson a "f---ing sport killer." Jackson told Jones he thought it was a bad idea to fight Sonnen on eight days' notice. For that he drew the ire of fans and the UFC. Jackson's defense was simple: He didn't believe the bout was in Jones' best interest. Compared to other options at hand, I don't understand why. Sonnen would have delivered a nice payday, meanwhile he wasn't at all prepared for the light heavyweight champion.
Dan Henderson
-- Look, he was injured, so there's not a lot he could have done. Henderson wanted to fight and, though he basically was forced out of the gym for two weeks, was willing to take on Jones if he could walk in the cage. At Henderson's age, any setback is a major one. He won't require surgery, but who knows if a title shot will materialize again.
August, 23, 2012
8/23/12
6:28
PM ET
UFC 151 will never happen. It disappeared from the UFC's timeline, much like the 13th floor in many elevators.
How did we get here? It all happened in the fog of rumor, very fast and very stealthily.
It began when the main event's challenger,
Dan Henderson
, partially tore his MCL in training at Team Quest this past week, and had to back out of his fight with
Jon Jones
. That left the UFC scrambling (once again) to fill a big spot on very short notice, this time for a main event just nine days removed from touching gloves.
Of course, a quiet disaster ensued behind the scenes, which in 2012 feels like a recurring nightmare for UFC matchmaker Joe Silva. The UFC first asked No. 1 contender
Lyoto Machida
to step in, but he declined. Dana White said he could hardly blame Machida given the circumstances.
But then the UFC asked the barely recovered middleweight
Chael Sonnen
, the most marketable Plan B ever invented, if he'd do it. This was a last-ditch effort. Sonnen not only agreed, he was online booking his flight to Vegas before Jones could even respond.
Then Jones responded. And his response was an unexpected, particularly divisive "no."
Down went UFC 151.
The UFC hosted a media call to explain the ramifications of that "no" today, a moment White referred to as one of his "all-time lows as the UFC president." The long and short: There won't be a UFC 151. The louder, overarching gist was more accusatory: Jones and his trainer Greg Jackson (who advised him) just squandered millions of dollars for the company and left a million people in the lurch. Fans, fighters, media and the promotion alike. Even Joe Rogan had his comedy show canceled at the Mandalay Bay. It was a complete and careless domino effect.
And it meant that UFC 151 disappeared from the Las Vegas Strip as if it were all an epic David Copperfield trick.
Abracadabra. Gone. Kaput.
But for as much as Jones and Jackson are getting blasted for being so inconsiderate, there's room to spread some blame here. Begin with the fact that
Jay Hieron
-- filling in for an injured
Josh Koscheck
-- was in the rickety co-main against
Jake Ellenberger
. A fight like that never stood a chance as a makeshift headliner in a worst-case scenario of a pay-per-view. There was no way the main event could be extracted this late without the whole house of cards falling down.
So it fell.
And this plays into the new and popular criticism that the UFC has been playing fast and loose with words like "event." The depth of 2012 pay-per-view cards is far different from PPV cards of yesteryear. A big part of that is injuries. Koscheck-Ellenberger might have been able to stand on its own, but Hieron-Ellenberger could not. In short, more and more cards are vulnerable, and part of that has to do with the sheer volume of events.
[+] Enlarge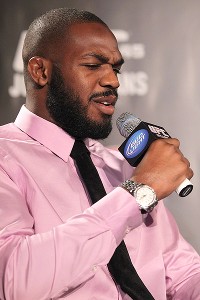 Ed Mulholland/ESPN.comJon Jones turned down a chance to save UFC 151 from extinction. Does that mean he deserves all of the blame?
UFC 147 should never have been a pay-per-view. Had Rich Franklin not been the "company man" one more time, that one might not have been salvaged either. In retrospect, many wished UFC 149 had been scrapped, after they spent $50 to discover their own disappointment.
Sonnen was willing to step up in a pinch because he had nothing to lose in a spot like that. Jones was advised it'd be foolish to accept the fight, and for reasons that make perfect sense -- to the
individual
, that is. To everybody outside of the individual, it felt like the rug was pulled out on something good. Sonnen-Jones had the potential to be
bigger
than Henderson-Jones, and a week was the perfect amount of time to suffer another Sonnen buildup.
As for the magnitude of the bout? If Jones didn't like the idea of a Machida rematch based on poor PPV numbers, he'd have loved the business end of a Sonnen fight. Apparently that logic didn't stack up next to basic preparedness. Jones' penance is that he's being redirected to Toronto (again) to fight Machida (again) on Sept. 22, in a playback bout not too many people were clamoring for. Is it his penance, or ours?
Either way, it's the way the quiet disaster played out behind the scenes.
And for the first time in Zuffa history, a scheduled card had to be scrapped -- unless you count the original UFC 145 in Montreal that was supposed to go down in March. That one was nixed when Henderson turned down a fight with Antonio Rogerio Nogueira, preferring to wait on his title shot with Jones. That one was still in the planning stages; this one was nine days away. Henderson played a hand in both cancellations (one by choice, the other by injury).
Jones played a hand, too. Only his hand had the power to shut down Labor Day weekend.
It all becomes the fallout of UFC 151, which no longer exists.
August, 23, 2012
8/23/12
4:09
PM ET
From the deafening silence that descended over MMA's favorite social media platforms Thursday morning, you could tell something big was about to happen.
You just didn't know it would be quite this weird.
Even as the UFC hastily (and cryptically) organized an afternoon conference call for "a special announcement" about next weekend's UFC 151, news of Dan Henderson's knee injury had been all but confirmed. Befitting the breakneck pace of the sport's news cycle, most of the speculation had already moved on to whom the company would find to replace Henderson in his light heavyweight title fight against
Jon Jones
.
[+] Enlarge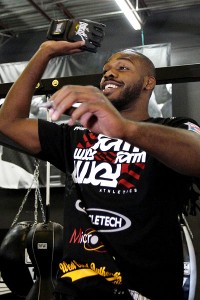 Josh Hedges/Zuffa LLC/Getty ImagesJon Jones might have thrown away a perfectly good opportunity to silence Chael Sonnen.
Those in the know fully expected it to be
Chael Sonnen
and, in that, expected some typically mundane prefight fireworks.
We didn't expect this.
We didn't expect that for the first time in his tenure as UFC president, Dana White would cancel a high-profile pay-per-view event, pulling the plug on UFC 151 just nine days before it was scheduled to go down at Mandalay Bay in Las Vegas. We didn't expect he would also take a verbal flamethrower to the public image of one of his superstars.
White has always been one to wear his emotions on his sleeve, but after Jones reportedly refused a short-notice fight against Sonnen that would have saved UFC 151, the vitriol he unleashed on his 205-pound champion was unprecedented -- at least for an employee. White lambasted Jones and his coaches during the 45-minute call, saying he "didn't know what to expect anymore" from the No. 2 pound-for-pound fighter in the world and labeling Jones' mentor Greg Jackson as a sport killer.
It was awkward, it was ugly, and if you thought Jones was unpopular before, you ain't seen nothing yet.
"This is probably one of my all-time lows as being president of the UFC," White said in one of the tamer, more family-friendly moments. "I don't know why a guy who is a world champion and considered by many one of the pound-for-pound best wouldn't fight somebody. I don't know the answer to that. It's baffling to me. I've never seen it before."
Even by the standards of the unpredictable MMA world and White's acerbic, off-the-cuff nature, this performance may go down as one of the most bizarre happenings in the sport's history. Never before have we seen him this mad at a guy who had previously figured to be one of the UFC's biggest assets in its continued push toward mainstream acceptance.
When asked how much the events of the past 24 hours would affect the UFC's relationship with Jones, White responded, "A lot."
"Jon Jones has been one of these guys who, as much as he's won and all the things he's accomplished in a short amount of time … he's been a champion that hasn't been very popular," White said. "I don't think this is going to do wonders for his popularity. As far as the relationship with us? Me and [UFC co-owner Lorenzo Fertitta] are both disgusted."
Even before today, Jones has been a divisive figure in MMA circles. He breezed through the best competition in the light heavyweight division but has had considerable trouble connecting with the sport's hard-core fan base. It may be the understatement of the year to say this latest turn of events will not help that.
By drawing the ire of the most powerful man in the sport -- rightly or wrongly -- the public relations battle figures to get even more difficult for Jones.
May, 10, 2012
5/10/12
4:10
PM ET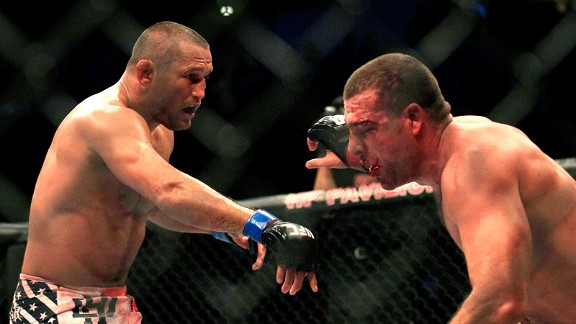 AP Photo/Jeff ChiuDan Henderson's potent right hand could be trouble for light heavyweight champ Jon Jones.
There are at least two kinds of greatness in MMA. Greatness that's current (like
Jon Jones
), and greatness that's always been (like
Dan Henderson
). In a world of immediacy, we warm our hands more quickly to the former.
Henderson now knows the date for his title challenge with Jones, and that'll be Sept. 1 in Las Vegas. He will celebrate his 42nd birthday just a week prior to the fight. In 1987, Jones was being introduced to onesies while Henderson was reciting lines from "Vision Quest" and winning state wrestling championships at Victor Valley High School in California. The vegetation on his ears is older than Jones.
If nothing else, Hendo definitely has the experience edge over the UFC's current light heavyweight champion. He's been at it a long, long time. Yet the books opened in Las Vegas with Jones installed as a 6-to-1 favorite for this UFC 151 clash. The 24-year old Jones would be a huge favorite over anybody in the 205-pound division, so nothing peculiar there. There's no such thing as even money bet with Jones in 2012, unless he borrowed from Anderson Silva's flight of fancy and fought his clone. (Ahem).
Yet what is interesting all these months ahead of the fight is that so many people consider it a foregone conclusion that the prodigy will smash the old ax grinder. In fact, the thing is being discussed as inevitable. Forget about odds,
Henderson has no shot
.
In a game that deals in shaping perception, this becomes the UFC's task to mend for no other reason than this: it's hard to generate buzz on a perfunctory matter. Between now and late summer the idea needs to be that Henderson
does
have a shot. This of course would be best sold as something believable.
And realistically -- why should that be such a tough sell?
Surely over the course of winning simultaneous titles in Pride FC and later taking the 205-pound belt in Strikeforce there should be some love for Henderson here. His list of casualties in the UFC, Pride and Strikeforce -- pan-divisional -- is next to impossible. He was wrecking guys like
Antonio Rodrigo Nogueira
,
Vitor Belfort
and
Wanderlei Silva
during their heydays.
As for his own prime? It's apparently a dozen-year venture. Henderson knocked out
Michael Bisping
with that anvil right at UFC 100. Since then he finished
Renato Sobral
,
Rafael Cavalcante
and
Fedor Emelianenko
, and he decisioned
Mauricio Rua
at UFC 139. He did these things in his late-30s and early-40s. These are feats that, if lost on the media, aren't necessarily lost on his peers.
Last week on MMA Live,
Jorge Rivera
had Henderson in his top five pound-for-pound fighters.
Daniel Cormier
told MMA:30 that he "should be mentioned as one of the greatest fighters of all-time, if not the greatest fighter of all-time, but he's missing that UFC title. He has to be a UFC champion. I think if he is, Dan Henderson will universally be considered the best fighter of all-time."
To be considered anywhere near the greatest of all time you'd have to believe Henderson has more than a puncher's chance to beat the greatest of right now. Yes, Jones' landslide run through the division trumps Henderson's legacy in forecasting how things will play out. If Shogun,
Quinton Jackson
,
Lyoto Machida
and
Rashad Evans
failed to make Jones appear even remotely vincible, what makes Henderson any different? Nothing, it seems.
Jones is not only destroying opponents, but also our sense of imagination.
Yet the other reason that Henderson is unsung goes back to what Cormier was touching on -- he has been decorated as this sort of fugitive champion in other organizations, but not the one that we store greatness by. He hasn't made it to the top of any weight class in the UFC.
And at 42 years old -- or any age, really -- Jones looks like a pretty imposing hurdle to get there. Imposing, that is, not unclearable. Henderson's a guy that fights in squalls and yet has remained a lesson in perseverance for more than a decade. He has a chin, and what he gives up size he makes up for it in leverage, a tangible from his Greco-Roman days. And he has that "H-Bomb" right hand. He's smart on how and when to deploy it.
Does all of that make for a competitive fight with Jones? Not necessarily. It still feels like a reach, as it will continue to feel until Jones is downsized into something human.
Yet given how long Henderson has sustained his own brand of greatness, it doesn't feel like a given he'll lose, either.