December, 30, 2012
12/30/12
2:49
AM ET
LAS VEGAS -- When the first fight between challenger
Junior dos Santos
and UFC heavyweight champion
Cain Velasquez
was made in November 2011, the question was simple: Could dos Santos keep the fight standing?
Knowing what they knew about Velasquez at the time, a lot of people were skeptical that he could.
When they met at the rematch at UFC 155 on Saturday night, 13 months after the belt changed hands, the question became: Could Velasquez get the fight to the ground?
In each case, the challenger carried the burden of answering the question. And in each case, the answer was something not altogether expected.
Velasquez recaptured his heavyweight belt with a one-sided, unanimous decision over Dos Santos (50-45, 50-44, 50-43). Not only did the fight last the entire five rounds -- something that Dana White said he'd have wagered big sums of money against never happening -- Velasquez consistently beat dos Santos on the feet. And he took dos Santos down. And he dominated all phases.
In the world of black and white imagination, this wasn't the fight people expected. Wasn't Velasquez's best chance to take the fight to the floor and work his ground and pound? The thinking was he didn't want to stand and trade with dos Santos, a superior boxer with heavy hands who needed a shade over a minute to knock out Velasquez the first time.
What a difference 13 months and 64 seconds makes.
"A lot of people are always [saying] 'take him down, take him down' -- but it's not like that," Velasquez told ESPN.com after the fight. "If your opponent knows you're going to take him down off the bat, then of course he's going to defend it. But if you throw stuff up top, throw punches, and then go for the takedown? It's a set-up. It makes it so much easier for you.
"So, with him knowing that I wanted to take him down and then throwing stuff up top, it threw him off."
Velasquez crashed home a big overhand right that dropped dos Santos midway through the opening round. From that moment on dos Santos was in survival mode, similar to the position
Brock Lesnar
found himself in against
Shane Carwin
at UFC 116.
Only in this fight, dos Santos never truly recovered. He took a beating -- even through chants of "Cigano" by the Brazilian faithful who were on hand hoping to see him tie the UFC heavyweight record with a second title defense, and even in the first round when he was fresh.
White said afterwards that he thought dos Santos, who demonstrated his heart and mettle in defeat, might have broken his jaw in the second round.
[+] Enlarge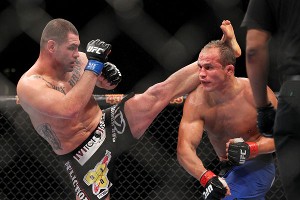 Ed Mulholland for ESPNCain Velasquez, left, silenced any and all doubt by dominating Junior dos Santos over five rounds in the rematch last year.
But that first big right hand changed the course of the fight.
"It was hard, you know, I know I hit him with a good shot," Velasquez said. "He went down. It was hard. I really wanted to keep a lot of weight on him and keep him down, but also throw a lot of power in my punches. And I couldn't get the amount of power that I wanted to knock him out on the ground, so I tried to be smart. When he recovered I slowed down a little bit."
Now Velasquez has regained his title, and it looks like his first title defense could come in a marquee matchup against
Alistair Overeem
. That is, if Overeem gets by
Antonio Silva
in February.
"We'll see what happens," White said when pressed on Overeem as the next challenger. Velasquez called it a "great opportunity" when asked about it himself.
But to be fair, the new (old) heavyweight champ was still putting all the pieces back together on having become a redemption story.
"I keep going in and out of what I just did, and I'm not really believing at this moment," Velasquez said. "That's it, man, just a lot hard work to get back to this point."
And as for the rocky road it took to return to glory?
"Knowing what I can do and knowing that I didn't do it in the first fight, and it being a doubt in so many people's minds, and me hearing it over a whole year or so ... all it comes down to is doing the hard work in the gym and translating that in the Octagon."
How's that for a stand-up reaction to a year's worth of doubt?
December, 30, 2012
12/30/12
1:54
AM ET

By Franklin McNeil
ESPN.com
Archive
Three minutes into their heavyweight title rematch and it was clear that the initial meeting was an anomaly.
Cain Velasquez
pressured
Junior dos Santos
with takedowns and hard punches. His assault was relentless -- so much so that dos Santos looked like a beaten fighter minutes into the second round. His right eye was nearly shut, his lips puffy. But it was the look of dejection on his face that best told the story -- the man beating him up was a familiar face, but that's as far as it went.
The foe dos Santos clashed with on Saturday at UFC 155 was fully healthy, and that made all the difference.
Dos Santos took the heavyweight title from Velasquez with a first-round knockout on Nov. 12, 2011. But Velasquez reluctantly revealed afterward that he fought with an injured knee and other ailments that night.
He wasn't slowed by a bum knee or anything else during the rematch.
"Not being able to work stuff in the gym, it translates into the Octagon," Velasquez said after improving to 11-1. "And that [injury] did. It really got into my head that I can't do the stuff I want. If I can't do the things I want to do in the gym, how am I going to do them [in the Octagon]?
"Being 100 percent physically and mentally, it helps so much."
Now dos Santos is left to explain why he was overwhelmed for five rounds en route to losing his title.
Velasquez wasn't just a fighter reclaiming his crown; he was a man determined to reestablish his dominance in the heavyweight division.
He is indeed the baddest man on this planet. Dos Santos knocked him out the first time they fought, but Velasquez delivered the more impressive beating the second time around.
"

I prepared well for him. We didn't let him get comfortable in there.

"

-- Cain Velasquez, on pushing the pace against Junior dos Santos
"I was envisioning this fight in my head. I just wanted to keep the pace and eventually slow him down," Velasquez said. "I prepared well for him. We didn't let him get comfortable in there."
Despite being pummeled for five rounds, dos Santos (15-2) never stopped trying to win. He showed the heart of a champion and even delivered a few uppercuts in the final round.
Fans, however, booed dos Santos after the fight -- unfair to him, and he was left to wonder why they responded to him in such an unfavorable manner.
"Why are they doing that? Why?" dos Santos said. "He was better than me. He walked forward all the time ... his takedowns, his grappling game, it's very effective.
"Congratulations to him."
When all was said and done, he needed much more than heart to defeat a healthy Velasquez.
December, 28, 2012
12/28/12
2:28
PM ET
LAS VEGAS -- It's been a long 2012 for
Jim Miller
, who lost to
Nate Diaz
in May and was resolved to the idea that he would have to wait to fight again until 2013.
But as has been the case all year with the UFC, one man's misfortune becomes another man's opportunity.
Gray Maynard
, who was expected to fight
Joe Lauzon
at UFC 155, had to drop out with a knee injury. Enter Miller, who'd been in a holding pattern since Cinco de Mayo.
That's a long time to contemplate tapping for the first time in a seven-year career to a guillotine choke.
Must have been a difficult seven months, right?
"For me it's actually pretty easy," Miller told ESPN.com. "I know what I'm capable of. I know that I could have beat either of those guys that beat me on that night had things gone my way. I've had to deal with other things in the past that were out of my control, and you gain a sense of maturity with that, and I know when that door closes it's just me and my opponent. A lot can go right, and a lot can go wrong. I'm just looking to fight to my abilities."
It's not like Miller's recent skid was against slouches, either. He lost a title eliminator to eventual champion
Benson Henderson
while suffering from a kidney infection and mononucleosis. That decision snapped a seven-fight winning streak. His loss to Diaz in a big headlining spot stung, but sandwiched in between was a submission victory over
Melvin Guillard
.
In other words, a fairly normal stretch by any other fighter's standards is a novel experience for Miller. Losing isn't something he's used to (his only other losses in seven years are to
Frankie Edgar
and Maynard). And then again, neither is waiting around.
Maybe that's why Miller says he's "fired up and giddy" heading into Saturday's bout with Lauzon. Being giddy is something you don't loosely associate with a blue-collar grinder like New Jersey's Miller. But the prospect of facing Lauzon, who takes home more end-of-the-night bonus money than everybody not named
Anderson Silva
, is a fun temptation.
"[Lauzon's] a very aggressive fighter, and he comes forward," Miller said. "He's obviously very dangerous with his strikes, and he hits hard. So [for me] it's just fight clean, and not give him those opportunities to do what he excels at. I'm good in the scrambles myself. It's kind of just not getting going too much where he might pull out and advantage, but do what I am good at doing, and just take the fight to him. He's very aggressive, and he's always attacking. I try to do the same things when the fight hits the mat."
As for Lauzon's ability to capitalize on mistakes?
"It's different than most guys because most guys have that little voice that says 'I might end up in a bad spot.' But [Lauzon] really doesn't care about that, because he's going to string another sub off of it," Miller said. "So it's difficult, and you've got to be careful, and if you're worried about a triangle the next thing you know you're in an armbar type of deal, and also every time you attack you leave yourself open for counters and passes and that kind of stuff. I just got to be sharp, let it all go and have some fun in there."
The "fun" Miller's forecasting extends to his coach, Mike Constantino, who can't help noticing the similarities in the styles.
"Lauzon likes to set things up with speed and accuracy from the scramble -- but I constantly instill the guys with scramble ability, and winning the scramble. And as you know with Jim's fights, he's a scrambler-based, too," Constantino said. "I just think this thing's going to be like a dust-up -- like a cartoon -- all over the cage.
"I agree with what Joe has been saying, that the first one to make a mistake will obviously lose, but somebody might graze somebody with a strike to set up the submission and that could be the difference in the fight."
So a frenetically paced fight that will be contested on virtual eggshells, with the first one to make a mistake losing? For a competitor like Miller, the opportunity was too good to pass up, and giddiness comes with the territory.
December, 28, 2012
12/28/12
1:32
PM ET

By Josh Gross
ESPN.com
Archive
Facts exist that make the upcoming statement sort of ridiculous. Nonetheless, this is the prevailing feeling as
Junior dos Santos
readies himself to fight
Cain Velasquez
on Saturday night.
Even though the heavyweights headlined UFC's debut on Fox 13 months ago; even though dos Santos snapped a punch off Velasquez's temple in 64 seconds and returned to Brazil as the newly minted UFC champion; even though Velasquez felt the sting of defeat for the first time in his career; even though their lives over the past year were molded out of what happened in Anaheim, Calif. ... the final UFC main event of
2012 doesn't claim the usual characteristics of a rematch.
This, of course, is mildly interesting for dos Santos (15-1), who at 6-foot-4 and 240 pounds owns all the hallmarks of greatness.
"I don't think I'm wrong, man. It is a rematch for him," the current champion, vying for his second title defense, said with a smile Thursday.
Well, yes, it is. They signed bout agreements last year. They made weight. They showed up to the Octagon. There was a winner and a loser.
All of those are facts, preserved in HD and fight-result databases.
But here's the thing: No more than a month before the fight, Velasquez shredded an ACL. There's video floating around the Internet, which the former champion did not wish to be released, that shows him writhing around on the mat after the accident. (The videographer, Bobby Razak, said it happened two weeks to 10 days before the bout. Velasquez's trainer, Javier Mendez, pinpointed it closer to a month.) His camp hoped for the best -- hey, maybe this ACL thing won't matter! -- but Kinesiology is a scientific study for a reason. It did matter, and by the time fight week rolled around Velasquez still couldn't plant and kick properly, or fire off takedowns, or move so well from side to side.
And dos Santos, it turns out, wasn't 100 percent that night either.
So there's all this junk that wishful thinking perhaps got in the way of a fight that should have been a great heavyweight war between two top mixed martial artists in their prime. This is why, despite what happened in Anaheim, this weekend's year-end headliner at the MGM Grand Garden Arena in Las Vegas might feel more like a mulligan than a rematch.
"All that matters is what happens Saturday night," said the 30-year-old Velasquez.
Stakes are high.
A second loss to dos Santos, no matter how talented or skilled Velasquez is perceived to be, knocks the Mexican-American down several notches in an increasingly deep UFC heavyweight division. It may even make Velasquez the second-best heavyweight at his gym, American Kickboxing Academy in San Jose, Calif., behind Strikeforce titleholder and former Olympic wrestler
Daniel Cormier
, who just inked a deal with the UFC and will debut next year.
"If [Velasquez's] performance looks like the first one, he better start coming up with some options," said UFC president Dana White.
And dos Santos, 28, has no shortage of things to fight for. In the last year he's provided for himself and his family like never before -- "my motivation comes from that," he said -- and, as an example, can boast a sponsorship from Nike. None of that happens had it not been for his knockout of Velasquez.
Reports suggest both fighters are fit for UFC 155, and while history says it's silly to trust that's true, we have to take them at their words. If nothing else, history also says they'll show up to fight no matter what.
As professional fighters, said White, "they both have everything."
[+] Enlarge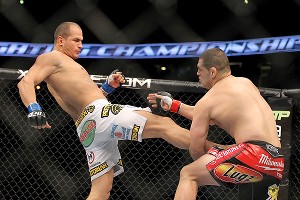 Ed Mulholland for ESPN.comThe first meeting between Junior dos Santos and Cain Velasquez left more questions than answers.
He's probably correct, so it would be wrong to label Saturday's tilt a stylistic affair. Rather, this is a mixed martial arts contest, pitting two heavyweights against each other who can handle themselves in any realm. But mysteries remain, particularly regarding dos Santos, which adds another dimension because the Brazilian was set up to reveal himself one way or the other a little more than a year ago.
"For sure he's going to try and take me down, I know that," dos Santos said. "Well, I train a lot my takedown defense. But I train a lot my jiu-jitsu, too. I'm ready to fight on the ground. If that happens during the fight, I think I will do very well. For sure my intention for this fight is to knock him out again."
Mendez, Velasquez's trainer, said their game plan hasn't changed from the first fight, which before getting caught saw the wrestler stand in front of one of the hardest punchers in the sport. Whether or not the injury had an impact on the outcome is impossible to say, and Velasquez (10-1) refuses to play into it or offer excuses.
"It is a rematch," he said plainly. "We're fighting again. I've been thinking about it for a year."
December, 28, 2012
12/28/12
5:53
AM ET
LAS VEGAS -- There's a theory among heavyweights that
Junior dos Santos
is vulnerable on the ground. It's only a theory because nobody he faces is able to take the fight there. Dos Santos' ground game remains a mystery because he has proved himself to be particularly invulnerable to wrestlers.
Yet wrestlers, as everybody knows, are stubborn optimists.
That's where
Cain Velasquez
is heading into his rematch Saturday night at UFC 155 -- in the "retest phase" of a popular theory. The last time the former champion fought dos Santos he was dropped in 64 seconds in a nationally televised bout and coughed up his belt. It wasn't the showing Velasquez wanted. And yet the asterisks hit the floor just as immediately as he did.
Velasquez, usually a raging bull -- like the one that nearly exsanguinated
Antonio Silva
in May -- had an injured knee coming into that fight. It was thought to be an ACL, and ACLs are necessary to execute singlet-minded game plans. (Or so you might think: Dana White told the media that Ricco Rodriguez once fought without the benefit of his anterior cruciate ligament ... but that's an exception).
Realistically, the subplot of UFC 155's main event boils down this: Would a healthy Velasquez have gone so gently into that good night, or was that first fight a fluke? At the end of 2012 dos Santos finds himself in the business of putting such flukes into reproduction, while Velasquez tries to become the first man in the UFC to make dos Santos fight from his back.
"I'd definitely like to test it out," he told ESPN.com with a sheepish grin.
And if that doesn't work, Velasquez -- who trains with a similarly immovable object in
Daniel Cormier
at AKA -- will just have to improvise.
"I've seen the fight go so many ways in my head," Velasquez said. "A TKO, a knockout, a submission, a five-round, grueling, back-and-forth kind of thing ... I'm going to take it however I can get it."
Theoretically, there's a way to beat dos Santos in there somewhere. It's Velasquez's task to provide the blueprint.
Lauzon and the 'calculated risk'
Joe Lauzon
was expecting to face
Gray Maynard
at UFC 155. Yet Maynard injured his knee and morphed into
Jim Miller
(par for 2012, injury-wise). What does the switch ultimately mean? For those looking closely, it means a battle of excellent, will-dictating scramblers is now on the docket for Saturday.
Lauzon -- one of the game's great opportunists in capitalizing on mistakes -- now fights a guy who rarely makes them. If it sounds like a mean game of the old kinetic chess, it very well could be. An aggressive, cerebral grappler such as Lauzon -- who often sees things unfold in the cage in what he calls slow motion -- against a subtle, hard-nosed grappler such as Miller.
Miller is more of a thwarter; Lauzon a pouncer. Neither lets mistakes pass unpunished. And yet Miller has always been more of a quiet taker, while Lauzon's style of grappling has earned him more end-of-the-night bonus money than anybody other than
Anderson Silva
.
Why is that?
"I think I'm not afraid to lose, that's the big thing," he told ESPN.com. "A lot of guys will be in position, but they won't go for something because they're worried about losing. But if I'm in that position, I'll go for things. I think it really helps to set up my submissions with a lot of punches."
Dos Santos doesn't see 'rematch'
At the UFC 155 prefight news conference, the word "rematch" was obviously hot on media lips -- even if the first match between Junior dos Santos and Cain Velasquez was a 64-second piece of anticlimactic history.
People are enamored with rematches, no matter the context. There's a romance to the idea of rivalry.
Yet, even though Saturday's main event is technically a rematch, the current champion, dos Santos, distinguished the difference of perspectives between himself and the challenger.
"I think it's more a rematch for Cain Velasquez than it is for me," he said. "For me it's another fight, and every fight -- I take my next fight as my toughest fight ever. So I get very well prepared for all my fights, [and] I that's how I am now. I am 100 percent [ready] to go there and keep my belt."
December, 27, 2012
12/27/12
2:08
PM ET

By Franklin McNeil
ESPN.com
Archive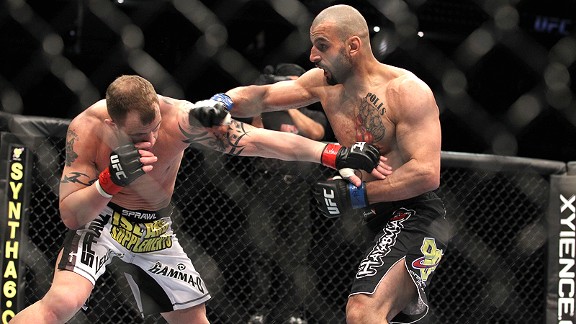 Ed Mulholland for ESPN.comCostantinos Philippou, right, is hoping a win over Tim Boetsch will place him into the title shot picture.
When opportunity knocks, middleweight
Constantinos Philippou
is quick to make the most of it.
Philippou has maintained this approach throughout his brief UFC career and it has served him quite well.
And if his recent history inside the Octagon is an accurate indicator, fight fans will discover Saturday that Philippou is a force to be reckoned with at 185 pounds.
The Queens, N.Y., resident takes a four-fight win streak into his bout against middleweight contender
Tim Boetsch
at UFC 155 in Las Vegas.
It is the type of fight Philippou has been dreaming of since he got an offer from UFC officials to make his promotional debut against
Nick Catone
on short notice in March 2011.
"The first fight [in UFC], I took on five days' notice," Philippou told ESPN.com. "I was thoroughly out of shape. But you can't say 'no' when you get an opportunity like that; you never know if it's going to come again."
Catone won the catch-weight [195-pound] fight by unanimous decision, but Philippou -- who cut his vacation short to take the bout -- didn't drop his head or make any excuses for his performance. Instead, he maintained the positive attitude that has served him well throughout his professional mixed martial arts career. He always believed that if the UFC came calling again and gave him the appropriate time to prepare, he would find success in the promotion.
Philippou
did
get another chance to show what he could do under normal conditions -- four more such opportunities in fact, and he has yet to disappoint. He's found his groove inside the Octagon and was ready to extend his streak to five on Nov. 17 at UFC 154 against
Nick Ring
. But Ring became ill hours before the fight and was forced to withdraw.
Was Philippou disappointed? Of course, but once again he stayed positive knowing that such setbacks have a way of working themselves out. Less than a week after his fight was cancelled, Philippou received some good news -- he'd been offered a fight with Boetsch. He immediately told UFC officials to pencil him in. His big break had come and no way was he going to turn it down.
But the opportunity wasn't completely joyous for Philippou. The fight with Boetsch materialized after an injury forced Philippou's teammate -- middleweight contender
Chris Weidman
-- to withdraw from the contest.
The two train together periodically at under the tutelage of former UFC welterweight titleholder
Matt Serra
on Long Island and have developed a good relationship.
Philippou knows that his teammate will rebound and will be rooting for him to succeed Saturday night. With the support of his entire camp behind him, he is eager not to disappoint. The fight against Boetsch is the highest-profile bout of Philippou's career, and a victory will likely alter the course of his career.
"I will be officially established as a top-10 UFC middleweight fighter," said Philippou, who has a pro record of 11-2 with one no-contest. "A lot of people still doubt my ability to fight.
"Beating a guy like Tim Boetsch will force them to recognize that I am a good fighter. Other than that it will be another great victory -- nothing more, nothing less."
Despite the high stakes, Philippou didn't make any major changes to his game. Striking is his bread and butter, but Philippou won't rule out turning to his submission game if needed. And if matters go to the ground, things could get very interesting.
"

He knocked out [Yushin] Okami and went three rounds with [Hector] Lombard -- and that's no easy feat.

"

-- Constantinos Philippou, on Tim Boetsch's evolving striking game
"I'm sure he's good on the ground like everybody else; it's just that we haven't had a chance to see it yet," Philippou said. "Like me, everybody thinks I don't know how to do anything on the ground jiu-jitsu-wise."
While the ground game could come into play, there is no doubt that the fighter who controls the standup action will have a big advantage during the three-round event.
Philippou is the more skilled striker, but he refuses to sell Boetsch short in that department. Besides, Boetsch (16-4) also has a four-fight win streak under his belt and has yet to drop a middleweight bout.
"He comes from a wrestling background, but if you've seen his last few fights his striking game is way up there," Philippou said. "He knocked out [Yushin] Okami and went three rounds with [Hector] Lombard, and that's no easy feat.
"His striking is up there. We used different techniques, but you can't say he doesn't know how to strike."
Team Philippou is prepared to tackle anything Boetsch throws its way strategically. The lone adjustment Philippou has made is physical preparation.
Philippou was in tip-top physical condition on Nov. 17 for his showdown with Ring. And he was still in solid form when offered the match against Boetsch.
To avoid being overtrained, he slightly altered his pre-fight regimen.
"I was thinking that I was just adding to my preparation and after a few more weeks I will be even more prepared," Philippou said. "But as time went by I realized that [the time before the fight] was too long and going back and forth to the gym every day, and being on a strict diet for five months straight, kind of takes its toll on your body.
"But it's all right. I took a few days off and we worked through it, so [the extra time off] isn't going to be a factor. I'm in pretty good shape and in pretty healthy condition. I'm ready to fight; I can't wait."