February, 21, 2013
2/21/13
4:13
PM ET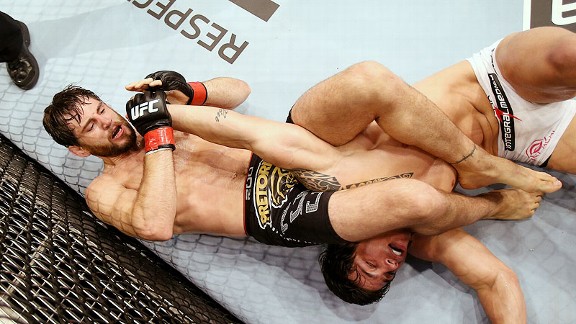 Josh Hedges/Getty ImagesNow with WSOF, Jon Fitch promises to be a more aggressive and exciting fighter.
What does it say when
Jon Fitch
-- one of the winningest welterweights ever to roll off the assembly line -- gets cut by the UFC? Primarily that the UFC doesn't necessarily view winning "by any means" as an avenue for sustained success.
Not in 2013, anyway. Not with television deals and an influx of Strikeforce talent and so many cards bursting at the seams with so many bouts.
Success is multifaceted and involved and actually very simple. The idea is this: Entertain us. Success is powerful fists and hospital visits and charisma and whatever it is
Cub Swanson
does -- all
supported
with a few wins.
Fitch doesn't do pageantry, and he doesn't do brawls. He shows up disheveled and ready to roll. In fact, he became his own verb in his seven years with the UFC. To be "fitched" was a real and particularly unenviable thing for those who signed on to fight him. It was a form of nihilistic wrestling into ground-and-pound. Fitch "fitched" such commodities as
Thiago Alves
,
Ben Saunders
and
Mike Pierce
. He rained ice picks on
Paulo Thiago
's steel chin, before getting classically "out-fitched" by
Demian Maia
.
He has always been about endurance, and that's the problem. Fitch is the dictator with the snarl, the original "grinder."
Chris Wilson
, who knew the score heading into his UFC 82 bout with Fitch, once said to me with a certain kind of sly reverence: "What's he going to do? Summon the wind?" No. Fitch summons something more physical. At his vintage best, he dishes up 15 minutes of utterly hopeless futility.
And that futility, unfortunately, extends to the spectator -- which is why today he's holding a pink slip with a UFC record of 14-3-1. It's not that he's breaking the bank to get $65,000 in show money, or that he had that whole flare-up back in the day with the UFC over video game rights (though these could be factors). It's that he dominates people in forgettable fashion. He shuts down judo players, slick jiu-jitsu artists, dynamic strikers and kickboxers with industrial cold. Now he's gone (as you and I know) because of it, and we're left theorizing if he and
Ben Askren
are destined to nullify each other for five rounds in Bellator.
[+] Enlarge
Gary A. Vasquez/USA TODAY SportsJon Fitch's ho-hum performance against Demian Maia was the last straw for the UFC.
Fitch, along with such veterans as
Vladimir Matyushenko
,
Mike Russow
,
Josh Grispi
,
Che Mills
,
Paul Sass
and others were cut from the UFC in a roster dump.
Jacob Volkmann
was on that list, too, despite winning six of his last eight bouts as a lightweight. His problem? He bears a Fitch-like resemblance to you know who.
Other than Fitch, these cuts aren't so much unexpected as they are declaratory. The message is get busy thrilling, or get busy Bellatoring. Be something that everybody wants to watch, or be someplace else. If you're not captivating, then you're a problem elite. You are Jon Fitch, the perennial contender who of late has ironically A) begun to lose while B) fighting more excitingly.
That's why, all things considered, the timing is a bit strange. Fitch goes 1-2 in his past three fights, and it becomes a good opportunity for the UFC to part ways. But look at those three fights. There was the knockout he received at the hands of
Johny Hendricks
(which was memorable, particularly as Fitch tried to single-leg referee Steve Mazaggatti as he came to). Then there was the
Erick Silva
barnburner in Brazil, where he appeared rejuvenated and determined to put on a show. That won "fight of the night" honors. And finally the Maia bout, which was a letdown. He was outclassed by a Velcro version of his former self. But before that he was 13-1-1, which screams out for the Hall of Fame.
Did he deserve to be cut? No. The spirit of mixed martial arts is (presumably) to present a gamut of styles in the cage, to see whose is best. Fitch has been solid for a long time. In fact, he's been dominant. His style trumps most others. But he's so good at one-sided full-length fights that we have him dialed in as aggravatingly predictable.
Obviously, the UFC is frustrated with him as well, to the point his name has now taken on a new meaning. "Fitch" in adjective form has become just another word for expendable.
February, 5, 2013
2/05/13
12:18
PM ET
Anthony Pettis
is a man of action. He could have voluntarily waited for his chance at the 155-pound belt. Or he could do what he did, which was text UFC president Dana White to embark on an expedition.
Pettis asked for a chance to fight
Jose Aldo
, the 145-pound champion who just defended his title against
Frankie Edgar
on Saturday night. He wasted no time. His text came just minutes after UFC 156 concluded, as Aldo's feet were still smarting from so many thwacking leg kicks. Pettis knew what he wanted to do, and he went after it.
You know what this is, don't you? This is one of those "match made in heaven" deals -- the explosive Aldo, who at the end of his five-round war with Edgar sprung himself off the fence for one last sally. And Pettis. The Original Matrix. The WEC champion. Mister Ricochet. The Liver Kicka.
The fight will happen Aug. 3, and it's a win-win for everybody. Pettis gets his title shot, and therefore the UFC keeps him rolling. Aldo gets the toughest next challenge.
Gilbert Melendez
and
Benson Henderson
can go about things in focus, rather than have a looming presence.
Ricardo Lamas
can fight Chan Jung Sung for the true No. 1 contender bout. And the UFC gets a fight that is filled with thrill, frill and thrall.
Pettis/Aldo will sit on the calendar until August like a new Ang Lee action movie.
But the greatest part about this isn't the way the fight was made, or even that it
was
made -- it's that the champion, Jose Aldo, never hesitated. It took him less than 48 hours to agree to fight Pettis, who by all accounts represents a very true and live threat to take his belt.
Isn't this how it's supposed to work? The champion seeing no man as an obstruction to his cause? The champion saying, "bring on all comers," not in words by in decisive action? Aldo did what we want our champions to do, which is simply say "yes." This translates a lot better than airing their druthers.
Not that other champions haven't acted the same. Benson Henderson truly doesn't seem to care whom they stack in front of him. Neither does
Cain Velasquez
. But in recent times, we've seen
Georges St-Pierre
insist on
Nick Diaz
(at the omission of
Johny Hendricks
), and
Anderson Silva
request everyone from
Cung Le
to
Luke Rockhold
(at the very conspicuous expense of
Chris Weidman
).
Maybe after absorbing so much finicky behavior in recent months, Aldo's "why hesitate?" attitude shows the right kind of eagerness. Here's what he's saying: If you want the belt, come try to take it. If the UFC wants the fight, so do I. If the fans want it, bring it on. Right on, Jose Aldo.
And right on to Anthony Pettis.
Not that there isn't some logical curiosity in play. Obviously, Pettis fighting in August isn't exactly expediting anything. Had he waited out Melendez/Henderson, which happens in April, August would have been around the time he'd have fought anyway. That's just math.
But that's just nitpicking. Bottom line is he wanted a
guarantee
and to have the fight lined up in front of him. He wanted to zero in on a belt, and this thing played out like an epiphany. He knew there wasn't a definitive contender at featherweight, and he acted on it. And Pettis -- who goes by "Showtime" -- knows a showstopper when he sees one. Think he can't bring the house down in a bout with Aldo?
He can. And kudos to Aldo for inviting him to just go ahead and try it.
February, 5, 2013
2/05/13
10:23
AM ET

By Chad Dundas
ESPN.com
Archive
Antonio "Bigfoot" Silva
seemed to take particular joy in knocking out
Alistair Overeem
on Saturday at UFC 156.
Even though the official stoppage came less than 30 seconds into the third round, it somehow looked like Silva took his sweet time once he had Overeem hurt, as if he wanted to savor the moment. By the time referee Herb Dean jumped in to physically restrain him, Bigfoot had already given the erstwhile No. 1 contender to the UFC heavyweight title a few shots for good measure, including one where he appeared to prop Overeem up with his left hand in order to slip in one final right. Even after Dean pulled him off, the Brazilian wanted more, charging back at his prone opponent and shouting things we can only assume were not compliments.
Was it a tad over the line? Maybe, but put yourself in Silva's size-16s, and it's easy to understand the outpouring of emotion.
For years he's been shortchanged as too slow, too plodding and too predictable to compete with the best in MMA. In the wake of his UFC 156 booking, it's even starting to feel like he's the fighter promoters like to call when they need a fall guy for one of their stars. Take a look at his five most recent fights, and it's hard to find one that Bigfoot was actually "supposed" to win.
He fought
Fedor Emelianenko
in the opening round of the Strikeforce Heavyweight Grand Prix, when "The Last Emperor" was coming off his first loss in 10 years and the pre-fight hype mostly concerned the company's efforts to set up a pay-per-view pitting Fedor against Overeem. Then, after the tournament bracket went kablooey, Bigfoot was tabbed to face
Daniel Cormier
, the hotshot late entry who went on to win the whole thing.
Silva's UFC appearances have been even less auspicious: facing
Cain Velasquez
in the heavyweight champion's first fight after initially losing the title to
Junior dos Santos
; taking on
Travis Browne
in a bout that was supposed to put the Hawaiian on the heavyweight map; and finally, getting the call to serve as the 6-foot-4, 280-pound appetizer to Overeem's run at the title.
For a guy as tough and proud as Silva, his perennial underdog status must sting a bit, and the Overeem situation was likely the most difficult of all. The two were originally slated to fight in the semifinals of the Strikeforce tournament, but then Overeem withdrew (because of a toe injury or because of scheduling conflicts -- it was never clear) and somehow vaulted directly into the Octagon, while Silva was left to languish with the rest in San Jose.
More recently, Overeem displaced him from his normal training camp with Florida's Blackzilians, characterized him as "a big target" during pre-fight interviews and showed him no respect once the bell rang, hanging his hands around his waist as if daring him to take his best shot. None of the six ESPN analysts on our panel picked Silva to win this fight, and after opening as a 2-to-1 underdog, he dropped to 3-to-1 by fight night because nobody else was betting on him, either.
Overeem had been all but preordained as Velasquez's next challenger, the UFC likely already salivating over a big money showdown between the two later this year. Yet, on Saturday night, when the time did come for everybody to throw their best shots, it turned out to be Overeem who couldn't take them.
[+] Enlarge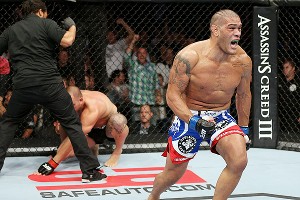 Josh Hedges/Getty ImagesDespite his perennial underdog status, Antonio Silva has continued to turn heads with a series of heavyweight upsets.
Hence, Bigfoot losing his cool a little bit there at the end.
Still, we all got the message: Go ahead, shortchange him all you want due to his ponderous style, his recent back-to-back losses or his physical appearance, but you know what he's really bad at?
Being a patsy.
Turns out Silva is a really terrible fall guy.
All those fights Silva was "supposed" to lose during the last couple of years? He won more than he lost. He's 5-3 in his combined UFC/Strikeforce career dating back to 2009 and now has the same number of wins in the Octagon as were going to fetch Overeem a title shot had things gone according to plan.
Silva won't get one, obviously. Somehow, we're still not buying him as one of the UFC's best heavyweights and, anyway, he just lost a bloody, lopsided bout with Velasquez last May.
A rematch certainly wouldn't go any differently. Just like Silva certainly wasn't going to beat Overeem, Browne or Emelianenko.
February, 4, 2013
2/04/13
2:20
PM ET
Maybe it was a heat-of-the-moment thing for lightweight contender
Anthony Pettis
. Yeah; that's it. He just got caught up in the excitement Saturday night, as many of us did, while watching UFC featherweight champion
Jose Aldo
defend against former 155-pound titleholder
Frankie Edgar
.
That would explain Pettis' decision to send UFC president Dana White a text immediately after the bout stating that he wants to drop 10 pounds and fight Aldo, who defeated Edgar by unanimous decision. Otherwise, Pettis' action would not make sense, right? He's already the next in line for a UFC lightweight title shot once champion
Benson Henderson
and
Gilbert Melendez
settle their dispute April 20 in San Jose, Calif.
On the surface, this would seem to be enough to keep Pettis satisfied for a while. Well, come to find out, waiting around for a lightweight title shot just doesn't cut it for him. While Pettis remains fully committed to becoming lightweight champion, he has been in this holding-pattern position before -- remember when he entered UFC as WEC lightweight champion and was promised a title fight against the Edgar-
Gray Maynard
winner in 2011?
Things didn't work out as planned back then.
"What if the guy who wins the Henderson-Melendez fight gets hurt or it's a close decision, when does [Pettis] fight?" Pettis' trainer Duke Roufus told ESPN.com Monday. "He's been in that situation before. So, he's a little gun shy about that.
"

What if the guy who wins the [Benson] Henderson-[Gilbert] Melendez fight gets hurt or it's a close decision, when does [Anthony Pettis] fight?

"

-- Anthony Pettis' trainer Duke Roufus, on the reason his charge, lightweight contender Anthony Pettis, called out featherweight champion Jose Aldo
"Besides, he's coming into the prime of his life. He wants to fight now. He'd fight next week if [the UFC] gives him a body; that's his attitude. He'd fight three more times this year if you could."
But there's a greater factor at play in Pettis' eagerness to fight for the 145-pound belt as soon as possible. He is bent on winning titles in two weight classes -- lightweight and featherweight.
"He wants both," Roufus said. "He wants to fight Aldo and then fight for the lightweight title. I'm all for it if he wants to do it. I think he matches up great with Aldo."
This has been Pettis' plan for a while; it's just that he has decided to go public with his agenda at this time -- plus, the timing is perfect for him to face Aldo, who has nearly cleared the featherweight contender landscape.
Pettis is 100 percent physically; the injuries he battled the past year have completely healed. And his performance in the cage has been second to none -- Pettis finishes the opposition in exciting fashion.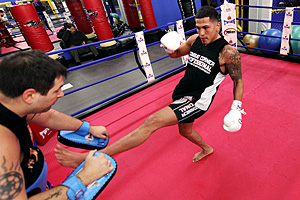 Sherdog.comAnthony Pettis feels the time is right to make a run at both the lightweight and featherweight titles.
He knocked out each of his two most recent opponents --
Donald Cerrone
and
Joe Lauzon
-- in the first round.
"The crazy thing is that in his past few fights, Anthony has been at 25 percent of his potential but he's been able to finish his opponents early," Roufus said. "The guy is on a mission."
Making 145 pounds won't be difficult whatsoever for Pettis. Nor will the weight cut hinder his speed or strength. Aldo would not be fighting a dehydrated lightweight.
"In his last three [lightweight] fights, he hasn't had to go into the sauna to make weight," Roufus said. "He's very meticulous about his nutrition as well as his strength and conditioning. Anthony is a very disciplined individual."
Not to mention that stepping in the cage against Aldo is a fight Pettis deeply wants. There is also no reason to assume that fight fans would be critical of the matchup.
"He has reached that stage of his career and life where he realizes what gets him up are big challenges," Roufus said. "I see the hunger in his attitude and performance daily in training, his lifestyle. He wants big things and he wants them now.
"He wants to put himself up there with guys like [middleweight champion]
Anderson Silva
, who go out there and win big fights."
Pettis has thrown down the gauntlet and, according to Roufus, he has no intention of withdrawing his featherweight title-shot request.
UFC has received the memo, and White is on record expressing interest in the bout.
"It didn't cross my mind until he texted me, but it's crossing my mind now," White said Saturday night. "I like it, and I like Pettis."
Aldo hasn't indicated being reluctant about accepting the challenge. He's a champion in every sense, no way he's turning this fight down.
"It's an interesting fight," Aldo said Saturday night. "I train to fight the best."
Aldo-Pettis: It sounds good. Come on UFC matchmaker Joe Silva, get the deal done. Make this fight a reality.
February, 4, 2013
2/04/13
12:42
PM ET
LAS VEGAS --
Ricardo Lamas
was in Las Vegas for UFC 156 Saturday night. He was the first upset. By the time the smoke cleared and everything we presumed to be the case no longer was, he tweeted out a simple statement.
"What am I, a mirage?"
Lamas was on hand presumably to challenge the winner of the featherweight title bout between
Frankie Edgar
and
Jose Aldo
. But was Lamas really ever there? Aldo earned the decision, yet before Dana White could hit the microphone at the postfight news conference, the UFC president had received a tantalizing text from
Anthony Pettis
saying he wants to come down to 145 pounds and challenge Aldo next.
[+] Enlarge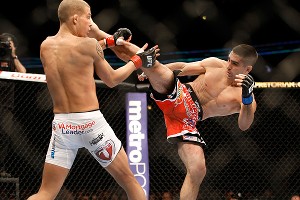 Ross Dettman for ESPNIn the matter of a week, Ricardo Lamas went from "in line for a title shot" to "back in line."
Boom. The UFC owes Pettis a title shot. Bells went off in White's head. We know this because he shared the text with the media. What a sick fight that would be. ... We all thought it.
Benson Henderson
is busy with
Gilbert Melendez
; so, Pettis versus Aldo solves conundrums. Pettis and Aldo turns the neat trick of having last week's UFC on Fox 6 winner, Lamas -- who triumphed over former contender
Erik Koch
-- vanish before our eyes.
And you know what? This was the most
normal
thing that happened Saturday night.
All the other scenarios, dangling carrots and conditional promises didn't go according to plan. In fact, the underdogs and Strikeforce refugees made things downright chaotic.
Let's start with
Alistair Overeem
. He just got too comfortable in there with
Antonio Silva
, just too incautious. A couple of times, "The Reem" exposed his chin and dropped his hands altogether. At the end of the second round he gave Silva a smile and a casual nod. He did everything but blow him a kiss. Minutes later he was converted into a Monday morning GIF, getting chopped down early in the third round by Silva's unmistakable cinderblock hands.
And now matchmaker Joe Silva has to prove that he's good in a scramble.
Just like the middleweight division a couple of weeks ago, when it was Michael Bisping's title shot to lose against
Vitor Belfort
, the scenario was simple: Once Overeem takes care of Silva, he gets to fight
Cain Velasquez
for the title.
Then, like Bisping, he loses (spectacularly), and the question becomes: Who's next for Velasquez? "Bigfoot" Silva
again
? He lost to Velasquez nine months ago while floating in a warm pool of his own blood. That isn't a rematch that people will be (or should be) pining for. But neither does it make complete sense to roll out Velasquez/
Junior dos Santos
III. Too soon.
Daniel Cormier
won't fight his AKA teammate Velasquez.
Fabricio Werdum
is tied up with
Antonio Rodrigo Nogueira
.
Josh Barnett
isn't here or there yet.
Who does that leave?
Roy Nelson
?
[+] Enlarge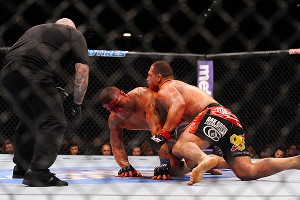 Rod Mar for ESPNIt's hard to imagine fight fans are pining to see a rematch between champion Cain Velasquez and Antonio Silva.
Then there is the ongoing
Anderson Silva
sweepstakes, in which
Rashad Evans
figured he was in the bag. Should he take care of
Antonio Rogerio Nogueira
, he would be considered for a title shot at 185 pounds against Silva. We wondered all week: Can he make the weight to fight Silva? Turns out we should have been wondering if he could make it past Lil Nog.
Nogueira did his Nogueira magic and kept Evans at bay with jabs and straight lefts. He thwarted, he stuck, he toiled. Meanwhile, Evans kept roaring his engine in the garage, yet never came peeling out of it. He was setting up for something that never happened. He was tentative, and he lost. White wondered out loud whether Evans had "lost that hunger."
So, no Evans-Silva. Which means we're looking at contender
Chris Weidman
against Silva by way of attrition. Weidman was the original mirage, but it looks like he's finally materialized as the guy to next face Anderson Silva.
Then again, it's hazardous to take too much for granted.
Bobby Green
choked out
Jacob Volkmann
.
Yves Edwards
lost to
Isaac Vallie-Flagg
.
Demian Maia
"out-Fitched"
Jon Fitch
. This is a volatile, ever-changing, rarely predictable game.
And if UFC 156 taught us anything, it was that Lamas wasn't the only mirage on Saturday night -- turns out everything we expected to be on Sunday was a mirage, too.
February, 3, 2013
2/03/13
12:32
PM ET
LAS VEGAS -- It's never a fighter's intent to give his opponent extra motivation, unless of course you're heavyweight contender
Alistair Overeem
and you just don't respect the other guy.
Lack of respect is almost certain to serve as extra motivation for any fighter, and Overeem's opponent Saturday at UFC 156 -- Antonio Silva -- was no exception. But Silva and fellow Brazilian
Antonio Rogerio Nogueira
, who faced former light heavyweight champion
Rashad Evans
, didn't need antagonism from their foes to give them an extra adrenaline pump. The promotion had done that for them.
Before their main-card bouts at Mandalay Bay Events Center, Overeem and Evans were being offered UFC title shots if they managed to win their respective fights. No such promises were made to Silva and Nogueira.
Whether intended or not, they were on the show as fodder for Overeem and Evans. According to the UFC's master plan, the Brazilians were on hand to take their beatings like men, get paid, go home and wait by the phone to learn of their next fight -- and who knows when that would have been? Silva and Nogueira weren't the stars at UFC 156; that distinction was reserved for the guys standing across the cage from them.
The nerve of UFC: making title-shot plans without first consulting with "Bigfoot" and Lil Nog.
But Silva and Nogueira are proud men. They are also company guys, so neither made any verbal stink before fight night. Each would have his say inside the Octagon, however, and UFC officials weren't going to like the messages being delivered.
It took Silva some time to express himself against Overeem. He was behind after two rounds, in a bout that lacked much excitement up until that point. But in the third, Silva made his feelings known. He delivered a vicious overhand right to Overeem's head, followed by several more hard punches.
The trash-talking, overconfident Overeem slumped to the canvas, virtually unconscious. And while in that feeble position, Silva stood over him, screaming at him to get up.
"Many people did not believe in [me]," Silva said after tossing a monkey wrench into the UFC's heavyweight title plans. "But I believed in me.
"

Alistair did not respect me. But I worked hard on my striking for this fight. I showed the world a lot about me. And I specifically showed Overeem how to respect another fighter.

"

-- Antonio Silva, on defeating a disrespectful Alistair Overeem
"Alistair did not respect me. But I worked hard on my striking for this fight. I showed the world a lot about me. And I specifically showed Overeem how to respect another fighter."
He also showed -- better yet taught -- UFC officials a thing or two about going public with potential title-fight plans before all the ducks are in a row.
In fairness, Silva's knockout of Overeem was highly unforeseeable. But a Plan B should have been in place and made known to the public, at least to save face.
Now UFC decision-makers find themselves in the awkward position of scrambling to find a suitable opponent for
Cain Velasquez
.
Silva's upset win exposes a topic that has been swept under the rug in recent months -- UFC's heavyweight division still has a dearth of title-worthy contenders, despite the addition of Strikeforce fighters. That shallow well has UFC scrambling to find a suitable replacement for Overeem.
White hinted at Strikeforce Heavyweight Grand Prix winner
Daniel Cormier
as the most deserving opponent for current champion Velasquez, but he'll have a difficult time making that fight a reality. Cormier has stated repeatedly that he will not fight his American Kickboxing Academy teammate and close friend.
So determined is Cormier never to step in the cage opposite Velasquez -- and vice versa -- that he's already begun the process of cutting weight for an eventual showdown with light heavyweight titleholder
Jon Jones
. In other words, good luck UFC getting Velasquez and Cormier on a billboard facing one another.
[+] Enlarge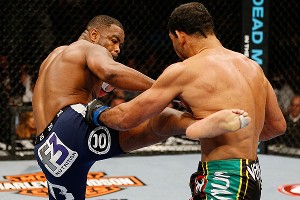 Josh Hedges/Zuffa LLC/Getty ImagesRashad Evans, left, couldn't get out of first gear against Antonio Rogerio Nogueira.
The news wasn't all bad Saturday night for UFC. While Evans was looking at a possible middleweight showdown with that division's titleholder,
Anderson Silva
, top contender
Chris Weidman
is a solid option.
No timetable can be set for that fight until more is known on the progress of Weidman's recovery from shoulder surgery. Silva-Evans, however, was gaining traction and would have generated a lot of fan interest.
Giving Evans hope of a 185-pound title shot seemed like a nice gesture initially. But no one took time to consider Nogueira's feelings. He was the forgotten man at UFC 156. There were no high-profile stories written about him, nor was anyone suggesting that he receive title-shot consideration with an upset of Evans.
Nogueira is a quiet, sensitive man, who used the prefight slight as motivation. And it worked to his benefit as he utilized a stiff right jab, a hard straight left and picture-perfect takedown defense to register a unanimous-decision win.
"[Offering Evans a title shot] motivated me a lot because before he could fight Anderson Silva, he had a big fight against me," Nogueira said. "I worked a lot on my wrestling skills and my boxing. I know I was very ready for this."
Silva and Nogueira might have felt a bit slighted by UFC, but each used it to their advantage Saturday night.
Intended or not, making prefight title-shot plans public can work against UFC's interest. But on second thought, it can also work in the promotion's favor -- an entertaining heavyweight fight developed due to Silva's added desire to silence Overeem.
And Nogueira used his extra incentive to become relevant again. He certainly won't be the forgotten man the next time he's slated to appear on a UFC card.
February, 3, 2013
2/03/13
1:34
AM ET
LAS VEGAS -- UFC 156 was turning into a showcase for upsets when featherweight champion
Jose Aldo
stepped in the Octagon to face former lightweight titleholder
Frankie Edgar
.
Heavyweight contender
Alistair Overeem
showed no respect for
Antonio Silva
and paid a hefty price -- getting knocked out in the third round. The loss ended Overeem's hopes of facing champion
Cain Velasquez
.
But Overeem wasn't the only heavy favorite at Mandalay Bay Events Center pinning a win on a potential big payday. Former light heavyweight titleholder
Rashad Evans
was promised an offer to face middleweight champion
Anderson Silva
at 185 pounds if he defeated
Antonio Rogerio Nogueira
.
To his credit, Evans showed Nogueira much respect leading into their three-round, co-main event. But Nogueira outboxed Evans en route to a unanimous decision.
Two big favorites, two big upsets. Then, it was Aldo's turn. He was favored to retain his title. But with what had taken place in the cage minutes earlier, the arena was primed for one more upset.
But Aldo was having none of it. He refused to be an upset victim. He strolled into the cage beaming with confidence, a huge smile on his face and pep in his step. Aldo also had a tremendous speed advantage, something Edgar could always count on against lightweight foes.
The featherweight champion made Edgar look painfully slow, repeatedly beating him to the punch and kick in the first round. Aldo hit Edgar flush with straight right hands, and a left kick to the ribcage left a bruise on the former 155-pounder's body.
By the end of the opening round Aldo was so impressed with his work, he bore a confident smile on his face as he returned to his corner. The confidence and swagger remained throughout the second round as Aldo controlled the action.
Heading into the third, a stream of blood was flowing from Edgar's nose. And anyone who has ever witnessed an Edgar fight knows things don't begin until the blood flows. Undaunted, Edgar picked up his attack and began landing strikes of his own. He landed punches, kicks and even attempted a few takedowns.
The slight smile on Aldo's face was no more; Edgar had earned his respect. He'd also earned the respect of a large number of fans, who began chanting "USA! USA! USA!"
[+] Enlarge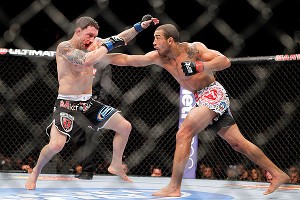 Ric Fogel for ESPNJose Aldo, right, wasn't about to let himself fall victim to the injury bug.
And Edgar gave them reason to be optimistic as he marched forward and gave as good as he received throughout the latter stages of the fight. In the final two rounds, Edgar gave Aldo reason for concern. Edgar was the more aggressive fighter and arguably won each of the championship rounds.
After five rounds of action, more blood was flowing from Edgar's nose and his left eye was nearly swollen shut. He finished strong but wasn't able to join in on the upset party at UFC 156 -- the judges scored the fight for Aldo 49-46, 49-46 and 48-47. Still, Edgar had stated his case: He is a force at featherweight.
He also gained Aldo's full respect.
"Frankie is a great fighter," said Aldo, who improved to 22-1. "He was preparing for my kicks and trying to take me down, so I stopped throwing them."
Like the champion he is, Edgar did not dispute the decision. The fight was close and could have gone his way -- at least on two of the judges' cards, but Edgar has been here before.
"It was a close fight," Edgar said. "I keep finding myself in these positions. He won the fight. Jose is the winner."
Edgar (14-4-1) will learn from this loss against arguably the most skilled fighter he has ever faced and come back stronger and better.
This was Edgar's debut at 145 pounds, and, as usual, he was the smaller man in the cage Saturday night. But that's nothing new. When he fully adjusts to the weight class, expect him to make a serious run at calls capturing that belt.
As for Aldo, the pro-Edgar crowd booed him after the judges' decision was read. But he proved that it will be very difficult for anyone at 145 to dethrone him.
It might also be very difficult for lightweights to upend him when he eventually calls that division home.
February, 1, 2013
2/01/13
1:35
PM ET
LAS VEGAS -- How big a favorite is
Alistair Overeem
heading into his heavyweight bout Saturday night against
Antonio Silva
? UFC president Dana White revealed Thursday that promotion officials have already begun plans for Overeem to face champion
Cain Velasquez
sometime this year.
Those plans are contingent, of course, on Overeem leaving UFC 156 victorious.
The former Strikeforce heavyweight champion is so confident that he will not upset UFC's plans that he is already talking about fights with Velasquez and former UFC titleholder
Junior dos Santos
.
"Those are the two fights [Velasquez and dos Santos] I want most," Overeem recently told ESPN.com. "I have unfinished business with dos Santos."
What about Silva? Overeem seems to be quite dismissive of him. He's even expressed confidence in beating Silva standing or on the ground.
During a prefight photo staredown Thursday at Mandalay Bay, Overeem made a threatening gesture toward Silva and delivered a stern warning. "I'm going to destroy you," Overeem said to Silva, according to White.
Silva was unfazed and told Overeem, "You better start respecting me."
Being the underdog and not receiving respect from his opponent, Silva intends to quash Overeem's title aspirations. Silva believes the outsiders have it all wrong by making him an underdog in this fight.
If they had looked closer at Overeem's losses and the skill set of his conquerors, they would realize that Silva has the tools to win this showdown. Silva is a powerful striker with solid jiu-jitsu skills -- a combination that the Brazilian believes is Overeem's Kryptonite.
"He's fought a lot of Brazilian guys, a lot of jiu-jitsu guys -- [Antonio] Rogerio [Nogueira],
[Ricardo] Arona
and
[Mauricio] "Shogun" [Rua]
. All have good ground games, and he lost to those three guys," Silva told ESPN.com. "If he thinks he's better than me on the floor, OK. Let's go! Put me on the ground, and we will fight on the ground.
"He's a great striker; he's a K-1 champion. I respect him a lot. But this is a heavyweight fight. One punch can determine the fight, and I have heavy hands. So I'm not afraid of his striking."
There is another area that Silva believes will prove to be Overeem's Achilles' heel -- cardio. Since June 2008, Overeem has gone beyond the first round once -- and that came against
Fabricio Werdum
in June 2011.
Overeem won that fight by unanimous decision but struggled with his cardio in the latter rounds, especially the third. Silva expects to be the fresher fighter if Saturday's bout goes into deep waters.
"I've trained to go five rounds," Silva said. "I'm very well. I feel good. My cardio is better than before. I know he is dangerous in the first 2-3 minutes because he comes in fresh and strong. But if this fight goes into the second and third rounds, it will be best for me."
Nogueira unnerved by Silva-Evans talk
He's the forgotten man at UFC 156. With so much talk the past few weeks about former light heavyweight champion
Rashad Evans
possibly moving to 185 and facing middleweight titleholder
Anderson Silva
, no one seems interested in
Antonio Rogerio Nogueira
.
White made it known Thursday that if Evans defeats Nogueira in their co-featured bout Saturday night, he will be offered a middleweight title shot.
The only thing Nogueira can reasonably expect should he beat Evans is another fight inside the Octagon. That's it.
But Nogueira is OK with that. He doesn't feel disrespected and understands the situation.
"[Rashad] is a former champion. That's why he is in position to force a fight with Anderson Silva," Nogueira told ESPN.com. "I'm not in the same position because I'm not a former champion.
"That's why the people are talking more about him and not about me. But I'm going to prove myself Saturday night. I'm going to do my job."
Nogueira, who has not fought since December 2011 when he knocked out former 205-pound champion
Tito Ortiz
in the first round at UFC 140, has worked on improving his takedown technique. He expects the extra work to come in handy against a highly skilled wrestler like Evans.
Quick hits
•&nbspMoving down a weight class doesn't change much for
Frankie Edgar
in the size department. As is usually the case, Edgar expects to be the smaller man in the cage Saturday night when he faces featherweight champion
Jose Aldo
. "I don't think I've ever been the bigger guy in an MMA fight," Edgar said. "From what I understand, he's [Aldo] cutting more weight than I am. So he will probably be a little bit bigger than me but not as big as everyone else."
•&nbspFormer top Strikeforce welterweight contender
Tyron Woodley
is ecstatic about entering the Octagon. But Woodley will enter Mandalay Bay Events Center on Saturday with a sour taste in his mouth. In his final Strikeforce bout, he was knocked out in the fourth round by Nathan Marquardt. Woodley, however, is looking on the bright side. He learned from that loss and vows not to make the same mistakes against Jay Hieron, whom he faces at UFC 156. "When I stuck to the game plan, pressed forward and did what I do best, I had great success," Woodley told ESPN.com. "But when I backed up and relaxed a little bit, that's when he got off. So I have to stick to the game plan, stick to my guns and do what I do best, and if I do that against any welterweight, I will be fine."
•&nbspWhite isn't a fan of catchweight bouts, but he might be willing to make an exception for women's bantamweight champ Ronda Rousey and former Strikeforce featherweight titleholder
Cristiane Santos
, who seems reluctant to cut the extra 10 pounds. "It's not a title fight," White said. "If that's what [Santos] is willing to do go to 140, let Ronda defend her title a few times and see if Ronda wants to go to 140. If I know Ronda, she probably will anyway. Let's see what happens."
January, 30, 2013
1/30/13
12:17
PM ET

By Josh Gross
ESPN.com
Archive
Eight months after the first loss of his mixed martial arts career,
Demian Maia
stood across the Octagon from the sport's best fighter with a UFC title hanging in the balance.
Winning his first 11 contests, including five consecutive UFC bouts by submission, had everything to do with Maia's reputation as one of the top middleweight prospects at the time. Yet so definitive was a 21-second KO loss to
Nate Marquardt
in 2009 that ousting Maia from the title picture could have been justified easily.
Then a shot against
Anderson Silva
materialized out of nothing when Maia, who rebounded from the Marquardt fight with a sloppy decision over unranked
Dan Miller
, was tabbed to replace an injured
Vitor Belfort
-- mostly because there wasn't anyone else.
Like so many fighters before and after him, Maia failed to do a thing against the iconic middleweight champion. Splitting four fights over the next two years, including a lopsided decision loss to
Chris Weidman
in January 2010, Maia was propelled to shed 15 pounds and begin anew at welterweight.
"I needed to be reborn," Maia said over the phone from his hotel room at the Mandalay Bay in Las Vegas, where he'll meet
Jon Fitch
on Saturday during the pay-per-view portion of UFC 156. "I felt when I was hitting guys or going for a takedown at 185, sometimes it was like hitting a wall. Now in this weight division, it's more fair for me."
Seeking his third victory at 170 pounds, the 35-year-old Brazilian would step considerably closer to another title opportunity if he bests Fitch in what should be a compelling clash between two of the most effective grapplers in the UFC.
Said Maia of his American foe: "He's able to mentally break his opponents because his will is big. There are other wrestlers with big wills, but I think he has one of the biggest wills. So you need to be aware because he comes to break you."
Fitch, 34, claimed he's excited to challenge the "monster" Maia after seeing him dismantle
Rick Story
in Brazil last October. "I was surprised at how big he was down in Rio," Fitch said. The pair picked up wins at UFC 153, and Maia mentioned how eager he is to test himself against a battle-hardened opponent.
All this adds up to more humility from Maia at this stage of his career. Fruits of labor, the long road traveled, is what he's getting at. When he entered the UFC in 2007, Maia "knew almost nothing about standing up" to fight. Days away from meeting Fitch, the Brazilian jiu-jitsu world champion can confidently claim his striking, wrestling, submission and transition games are as good as they've ever been.
Competing at his natural weight (around 185 pounds on fight night) also has helped, as has a renewed emphasis on submissions.
[+] Enlarge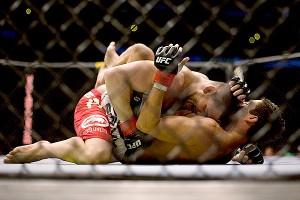 Matthew Williams/ESPNThe closest Jon Fitch, top, came to succumbing to a submission in recent years was against Diego Sanchez in 2007.
"Now that I learned I'm able to do well with boxing, I was able to train more jiu-jitsu again," he said. "I've come back to my grappling."
Tasked with taking on "He Who Never Taps," Maia's MMA submission credentials would hit new heights if he can strangle or entangle Fitch. The closest the former No. 1 welterweight contender came to tapping in the Octagon was during a
Diego Sanchez
triangle attempt almost six years ago.
"I didn't panic so much as worry against Sanchez," Fitch said. "It was late in the fight and I was stuck against the fence, in a position where I couldn't defend properly -- he already had the angle. But he didn't have it on tight and I just postured out."
Maia, of course, presents a higher plane of Brazilian jiu-jitsu than Sanchez (or anyone else Fitch has fought, for that matter). And he'll step into the cage feeling as if he is doing so for "something bigger than myself," namely the grappling art that has molded him as a person and athlete over many years.
"My dream is to take the fight down in the first minute and submit Fitch," Maia said. "That's my dream and I hope it comes true."
If that happens, which would be unexpected even in light of his immense grappling ability, Maia would solidify his status as a top-five welterweight, and would appear a win (or two at the most) away from locking up a shot at the welterweight belt.
"The last time I didn't realize how hard it was to get there, and how big it was," Maia said. "If I get another chance [at fighting for a UFC belt], I understand what it means to be there.
"First, I need to win this fight."
January, 24, 2013
1/24/13
3:23
PM ET
There's a paradox going on for this weekend's Chicago card: People are talking about the flyweights not getting talked about.
In fact, the ever-coveted "casual" viewer has no way of knowing that there is such a thing as the flyweight division, because all those prominent ads leading up -- as you've seen by now -- don't fuss over the details. As far as casuals know, it's a "world title" fight, which is of course one way of putting it. (Saying that two of the best flyweights out of a 15-man roster might play out somewhat less dramatically).
But the flyweights are actual and they are happening, whether this offends you, surprises you, or speaks to your fetishes. And if nothing else, it's novel. If the sword on
Brock Lesnar's
chest cut him in two, you'd get
Demetrious Johnson
and
John Dodson
-- guys with thrice the speed and half the brute power. We'll need to slow down the surveillance tape, but these guys will square off at shutter speed on Saturday night as headliners.
It's Johnson's first title defense. It's Dodson's chance to showcase his own rare blend of levity and levitation.
If it goes as one suspects it might, this will feel like 25 minutes of hydroplaning. What's not to love?
Of course, such a main event only works on a uniquely stacked (totally free) card like UFC of FOX 6. There's
Quinton Jackson's
UFC swan song and
Glover Teixeira's
fashionably late arrival. There's the battle of
Anthony Pettis
-
Donald Cerrone
, which is a cause for hyperbole. That looks like the greatest fight of all time. (You see?)
And then there's the featherweights. And this is where the plot thickens.
Right now the 145-pound division below challenger
Frankie Edgar
and current champion
Jose Aldo
is a free-for-all.
It's about to get some clarity.
Clay Guida
will take on
Hatsu Hioki
in his first drop to 145 pounds, and
Ricardo Lamas
will fight
Erik Koch
. One of these will emerge as the next challenge for the Aldo-Edgar winner. At the very least, one of these four guys will get to fight
Chan Sung Jung
to determine who gets next crack at the Aldo-Edgar winner.
Saturday will give us a featherweight pecking order.
Koch was scheduled to fight Aldo twice in 2012, but both fell through (once because he was injured, once because Aldo was). You'd have to think that a win over Lamas would land him right back to where he was. If Lamas defends his Chicago turf, he'll have beaten 2012's brightest contender, so he'd take that spot.
Guida is making the cut to 145 pounds after he ceded his lightweight title bearings against
Gray Maynard
. Not only that, but he had the audacity to show up with a stick and skedaddle game plan that left a bad taste in fan's mouths. A solid performance in his featherweight debut against the former No. 1 contender Hioki would jump him into the mix pretty quick. If Hioki knocks off Guida, same thing. He'll have beaten one of the UFC's more familiar names, and the recent Lamas loss shrinks in his rearview mirror.
Come Sunday morning, there will be such a thing as the "featherweight title picture." With all the comings and goings at 145 pounds since the division was introduced two years ago, that's been a hard thing to establish.
November, 29, 2012
11/29/12
5:49
AM ET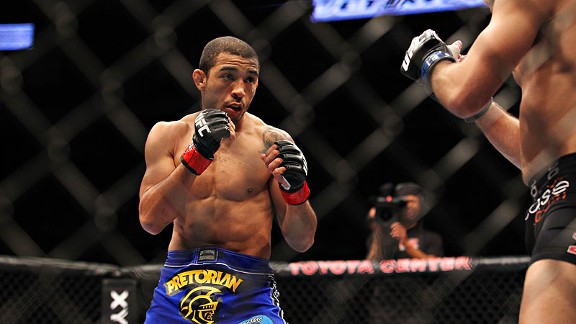 Ed Mulholland for ESPN.comJose Aldo is just the latest fighter considering a move to another weight class.
Now that
Frankie Edgar
has finally been persuaded to fight in the UFC's featherweight division, we can get on with other fresher transplantations.
Next up:
Jose Aldo
, to lightweight.
Go figure. Edgar goes down to fight for Aldo's belt; Aldo goes up, so long as he defends that belt in a satisfactory manner against Edgar on Feb. 2. They're gauging things whichever way you look at it -- just two ships passing in the night.
(Or, you know, two high-powered motorboats).
And if Aldo defends that belt, expect Edgar to return to 155 pounds, too. He's really just dipping his toe in the water. And if Aldo loses at lightweight, he'll whittle his form back down to 145 pounds. And even if he wins at lightweight, he may get greedy and become an exotic collector of belts.
Greatness is not above hoarding.
Why all the division jumping? Because, for one thing, disappearing from a familiar weight class and appearing in a foreign one means reinvention. It means fresh challenges for fighters, and intriguing, previously only imagined match-ups for fight fans. It's rethinking divisional rankings and visible abs. Most of all, it means something new, and in the fight game
new
is always appreciated.
Everybody likes to have a reset button, and these days more and more fighters are using it. Why not? It's usually a smart play, especially as the UFC grows along with our fascination in matchmaking. Some careers need kick-starts, and others just need a little spice.
Others
being
Anderson Silva
, who does it because, so far as most of us can tell, he's bored. Now he's talking about cutting down to something in the range of 178 pounds for a catchweight fight with
Georges St-Pierre
(a fighter whose hands go clammy when he contemplates playing fast and loose with weight fluctuations). For
Nik Lentz
, it's to make a name he couldn't make at lightweight. For
Demetrious Johnson
, it's because he was tired of fighting 135-pound monsters. Ditto
Chris Cariaso
.
It goes on.
Former middleweight
Demian Maia
went from one of the slickest practitioners of human origami ever to enter the Octagon (circa 2007-09) before turning into a nondescript kickboxer who lost a lot. What did he do? He began by dropping down to 170 pounds, and in the process he remembered the jiu-jitsu that
Fabio Gurgel
spent all that time teaching him. Reinvention? More like repentance. He's remembering his roots while on a diet of apples and tuna.
[+] Enlarge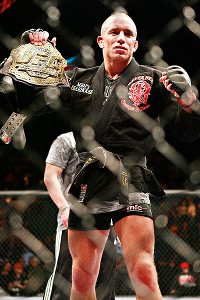 AP Photo/Eric JamisonThese days, welterweight champion Georges St-Pierre's reluctance to move up or down in weight is an exception to the rule.
Tim Boetsch
went from the first-ever victim of a
Phil Davis
"Philmura" to a middleweight contender. He has rattled off four wins in a row at 185 pounds.
Nate Diaz
has similarly re-reinvented himself by going
back
down to lightweight, and is now fighting for the 155-pound title against
Benson Henderson
on Dec. 8. B.J. Penn and
Dan Henderson
will appear in whatever weight class they need to, no questions asked.
Kenny Florian
tried four weight classes, and came up a bridesmaid in most.
Chael Sonnen
? He falls forward into title shots when he goes to light heavyweight. Same can't be said for
Rich Franklin
.
Clay Guida
goes down.
Jon Jones
, one day soon, will go up. We love the idea of that.
And
Anthony Johnson
? He has yet to find the weight class that can contain him. Maybe 205 pounds is right where he needs to be -- but if you've seen him walking around the Blackzilians gym in Delmar Beach, Fla., hulking like a linebacker and dwarfing guys such as
Rashad Evans
, you wouldn't be so sure.
So what does it all mean? That
Mike Dolce
is in business, and that Georges St-Pierre is the new minority. He is at least a little reluctant to fight Anderson Silva because he's (A) not desperate, (B) not bored or (C) not entirely masochistic. He is just dominant. At 170 pounds. Right where he knows he's greatest.
If he declines to fight Anderson Silva at anything other than 170 pounds, he'll not only be blameless in the ordeal, he'll stand as a kind of traditionalist. He won't just be defending his belt as a stubborn champion, he'll become the defender of the weight classes.
And with so much movement between divisions, right now that in itself might feel like something new.
November, 9, 2012
11/09/12
9:01
AM ET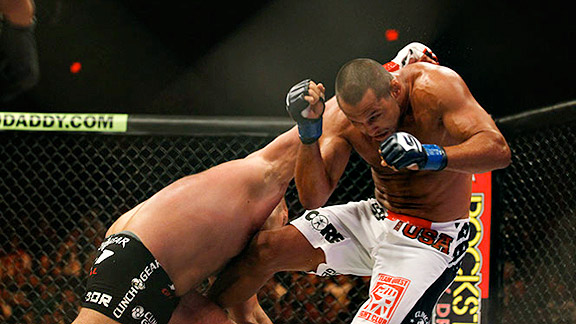 Ross Dettman for ESPN.comLook out! Dan Henderson anticipates fighting Lyoto Machida at UFC 156 in Las Vegas.
Light heavyweight contender
Dan Henderson
said he will face
Lyoto Machida
in February at UFC 156.
Henderson made the statement Thursday night during Spike TV's "MMA Uncensored Live."
UFC, however, has yet to make an official announcement regarding a fight between Henderson and Machida.
A win over Machida could land Henderson a 205-pound title shot. He was slated to face current champion
Jon Jones
on Sept. 1 at UFC 151 in Las Vegas, but an injury forced Henderson (29-8) to withdraw from the fight. UFC 151 would be cancelled after Jones refused to fight Henderson's replacement,
Chael Sonnen
, on eight days' notice. Machida turned down an opportunity to salvage the event, citing a lack of time to prepare.
Jones and Sonnen are slated to coach opposite one another on the upcoming season of "The Ultimate Fighter," with Hendo serving as an assistant coach to Sonnen. Jones and Sonnen are scheduled to fight on April 27 in Newark, N.J.
Henderson, who is currently riding a four-fight win streak, has held 205-pound titles in Strikeforce and Pride. He also once held the Pride 170-pound championship.
Machida, who is a former UFC light heavyweight champion, rebounded from a submission loss to Jones at UFC 140 with a second-round knockout of
Ryan Bader
on Aug. 4. He is 18-3 professionally.