February, 24, 2013
2/24/13
3:19
AM ET
I didn't see much from
Lyoto Machida
on Saturday that makes me think he'll fair better a second time around against
Jon Jones
. Presuming Jones beats
Chael Sonnen
in April,
that fight is up next at 205, UFC president Dana White said following Saturday's card.
Earlier this week "The Dragon" told me that even after Jones strangled him unconscious in Dec. 2011, he's "not convinced." He spoke of wanting a rematch, which is rare for him since he hardly ever speaks of wanting anything.
"I'm living every moment as it comes," he said. "I enjoyed being champion but that it's gone. It's like this conversation. It will be gone in 20 minutes. It's behind, but could happen again."
Well, as of Feb. 23, Jones-Machida 2 is on.
"He's the No. 1 contender," White told ESPN's MMA Live Extra. "Dan was the No. 1 contender. Machida beat him. That makes Machida No. 1."
However if people aren't fired up what are the chances Zuffa finds a way to hold off? What happens if
Alexander Gustafsson
blows the doors off
Gegard Mousasi
? Or if it goes the other way? I bet both fighters would interest fans more than seeing Machida challenge Jones right now. So too
Glover Teixeira
, a teammate of Machida's at Blackhouse, if he tops
Ryan Bader
in May.
Even Machida sounded less than sure of where he stood afterwards.
Said the 34-year-old Brazilian: "I thought I won the fight because I frustrated him and kept the fight where I wanted it."
Machida had an opportunity to assert himself over
Dan Henderson
and undoubtedly claim the shot. Instead, his effort was significantly less than definitive. Machida set out to stay away from Henderson's right hand and keep the contest standing. There was plenty of feinting, some nice movement to diffuse Henderson's pressure, and the occasional punch and kick combinations punches. But nothing in the neighborhood of damage. Nothing that troubled Henderson, who wasn't his sharpest either.
Nothing that made me think Machida was closer to having the right stuff to beat Jones.
Then again, to be fair, who does?
That adds to the point. We've seen Machida try already. He actually gave Jones a fight for the first five minutes, moving well and landing punches. Then Jones found that second round choke and Machida fell on his face. Considering that, Machida deserves credit for finding the courage to remain unconvinced.
February, 24, 2013
2/24/13
3:11
AM ET
By ESPN Stats & Analysis
ESPN.com
Archive
In the first female fight in UFC history, it was a familiar result for
Ronda Rousey
.
The UFC women's bantamweight champion improved to 7-0 in her MMA career with a first-round armbar submission of
Liz Carmouche
(8-3) at
UFC 157
in Anaheim, Calif. All of Rousey's wins have come via first-round armbar submission, but Saturday's was the longest.
This fight lasted 4 minutes and 49 seconds -- 22 seconds longer than her previous longest fight against
Miesha Tate
last March. The total time of all her fights is now 12 minutes, 28 seconds. Her average fight time is 1 minute, 46 seconds.
Rousey -- Fight History
Saturday
Liz Carmouche
4:49
Aug. 2012
Sarah Kaufman
0:54
March 2012
Miesha Tate
4:27
Nov. 2011
Julia Budd
0:39
Aug. 2011
Sarah D'Alelio
0:25
June 2011
Charmaine Tweet
0:49
March 2011
Ediane Gomes
0:25
>>All wins by 1st-round armbar submission
According to Fightmetric, Rousey landed 41 total strikes to Carmouche's 22. She landed seven significant strikes, one fewer than her fight against Tate. However, Rousey also faced a submission attempt for the first time in her Strikeforce and UFC career as Carmouche attempted a choke while mounted on Rousey's back early in the first round.
Meanwhile, former UFC champion
Lyoto Machida
won via split decision over
Dan Henderson
in a light heavyweight bout. Machida won despite landing only 28 strikes -- nearly half as many as Henderson's 54. It was Henderson's first loss in a span of five fights dating back to April 2010. It was also the first time he lost when landing more strikes than his opponent.
February, 24, 2013
2/24/13
1:13
AM ET

By Franklin McNeil
ESPN.com
Archive
The end came as most expected Saturday night: with UFC bantamweight champion
Ronda Rousey
defending her title with a first-round armbar submission of
Liz Carmouche
at UFC 157 in Anaheim, Calif.
It's the way Rousey has finished every one of her mixed martial arts opponents and appearing in the Octagon for the first time proved no different. But Carmouche did something no other fighter had ever done -- give Rousey a scare.
For a brief moment, Carmouche got Rousey's back in a standing position and attempted a rear-naked choke. Carmouche twisted Rousey's neck, and it appeared that maybe, just maybe, one of the biggest upsets (betting-wise) in sports history was unfolding.
Rousey, however, remained cool and eventually freed herself from Carmouche's grip. Shortly thereafter, Rousey would get Carmouche to the ground and submit her at the 4:49 mark.
There would be no upset this evening in the first women's bout in UFC history. Rousey, who refused to accept being called UFC women's 135-pound champion until she won a fight inside the Octagon, can finally breathe easily. She's still the bantamweight titleholder, and she has still not seen the second round. And she still has not been tested in a striking battle.
But Rousey did have to fight extra hard this time. Her takedown attempts didn't come easily, and Carmouche proved that Rousey is very much beatable.
As a result, there is no doubt that the women who refused to accept this fight when UFC officials first offered it -- according to promotion president Dana White, Carmouche was the only fighter to sign on -- will line up for a shot at Rousey now.
[+] Enlarge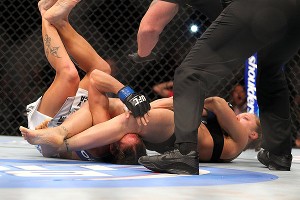 Ed Mulholland for ESPNRonda Rousey eventually secured an armbar, but not before fending off a few of Liz Carmouche's submission attempts.
And the promotion can thank Carmouche for that. The UFC can also thank Carmouche for giving Rousey all she could handle.
This fight didn't last long, as is the case with all fights involving Rousey thus far, but it was entertaining and suspenseful.
"It was a great fight," Carmouche said after falling to 7-3. "I thought I had it. Like everything, you make a mistake, and it turns around."
Carmouche will surely learn from this experience and come back a much better mixed martial artist. But so will Rousey. She must know that every woman who competes in the UFC gained a bit more confidence after seeing her barely escape a very vulnerable situation.
This was only Rousey's seventh professional fight, and during her short career, she's proven to be a quick study. She will examine tapes of this fight and address any flaw that pops out.
"I was saying, 'No way am I going down,'" Rousey said of being in that rear-naked choke. "That's one thing I had to learn in MMA is to take my time."
Now that every woman fighter has seen the look of concern on her face inside the cage, they will come after her with less hesitancy. And that's great for women's MMA.
Rousey is skilled enough to reign for a very long time, but when she enters the cage again no one will consider her a sure thing. Fans might even get to see what she can do standing.
And if she's extended into the second or third rounds, her cardio will be tested.
The true test of a champion is the way he or she handles adversity. Rousey passed Saturday night's test, but there are many more to come.
Carmouche made that point very clear.
February, 21, 2013
2/21/13
2:00
PM ET
On the list of things I have trouble accepting is the notion that
Ronda Rousey
somehow needs protection from other humans.
Despite overwhelming evidence to the contrary, the first female titleholder in the UFC hasn't been immune from this kind of talk throughout her short career.
Hey, haters gonna hate. But this is more than that.
Fighters, members of the media, even insiders at Zuffa ... they've felt compelled to suggest Rousey is currently being handled -- that is, positioned as advantageously as possible without the specter of a real threat.
That
Liz Carmouche
, her challenger on Saturday, is the safest fight the UFC could have made for Rousey.
That real opponents, like
Cris "Cyborg" Santos
, are being kept away for fear of running a potential box office star into the ground.
That UFC president Dana White is such a fan he's willing to manipulate Rousey's career in the cage with the goal of keeping her "safe." (Yet, when has any UFC champion received such treatment?)
Even if there's truth to any of that, is there no worse place to hide than the Octagon? Fighters who aren't good enough will get exposed. That's how it's been. That's always how it will be.
This is part of the reason it's comical to envision a girl with a chainsaw for a mother and a competitive background straight out of Sparta requiring, let alone accepting, a professional life jacket.
If Carmouche isn't up to snuff -- a judgment I'm not willing to make, though Rousey is deservedly a significant favorite -- others will be. The UFC is introducing a new division on Saturday, not just a new champion. It takes time to cultivate serious threats, the type Rousey has always pursued. They'll come and if Rousey is as good as she appears to be, she'll eagerly meet those challenges.
The more Rousey's story has gotten play leading up to her Feb. 23 title defense against Carmouche at UFC 157 in Anaheim, Calif., the clearer it is that she has all the makings of a special breed.
Among the most frequent questions I hear when talking mixed martial arts is: "Why do these people feel compelled to step in a cage and fight?"
There's no such thing as standard definition of a fighter. MMA is a melting pot. Athletes come from troubled backgrounds. Many found the sport because it offered a new level of competitiveness. Many need to make rent, and waiting tables sounds like hell compared to an elbow to the eye socket.
Rousey walked a path marked with tribulation and triumph. Were it not for those highs and lows, she never would have been positioned like she is today.
Losing her father to suicide made Rousey angry. (Fuel.) Losing a father to suicide meant a new life for a struggling family. (Matchsticks.) Losing a father to suicide meant her mom, the grizzly, needed to snap her child out of a funk. (Boom.) At no point was sheltering part of the equation.
[+] Enlarge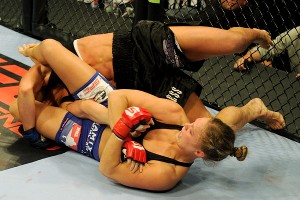 Kari Hubert/Forza LLC via Getty ImagesTo imply that Ronda Rousey would need -- or even desire -- protection from the UFC would be to ignore the experiences that shaped her.
Prior to beating
Miesha Tate
for the Strikeforce 135-pound title last year, Rousey outlined in the Telegraph how lame it was for anyone to label her protected.
When she was 11, doing judo, she broke a big toe. It was her first "serious" injury. Rousey's mother, Dr. Ann Maria Rousey DeMars, a judo world champion, didn't care about her daughter's tears. Rousey was told to run laps around the mat, and she did. The lesson was: "Sometimes you have to fight when you're injured. You need to know you're capable of that."
When Rousey was 15, three broken bones in her foot didn't stop mom from sending her daughter upstate without a coach to a judo tournament hosted by one of her fiercest rivals at the time.
The lesson there, Rousey wrote, "You need to know you can win anyway."
By the time she was 16, having endured smashed noses, cauliflowered ears and black eyes aplenty, Rousey tore an ACL in practice. Mom made her finish training that night and made her return to the gym in the morning. As it turned out the ACL was shredded. So as she recovered from surgery, Rousey found other ways to train, other ways to improve.
Rousey wrote about having her arm snapped at a German judo competition. She mentioned that she wouldn't stop. Refused to stop. She won. She wrote about tearing the meniscus in her knee a week before a major competition, only to soldier on and win bronze. On and on and on.
Three days before her first pro fight, Rousey was bitten by a pit bull and needed nine stitches in her foot. Her response was to ask the doctor if she risked permanent injury by competing. He said no, so she went ahead and won in 25 seconds.
This is the last woman who needs protecting.
To say otherwise is to ignore Rousey's experience on this planet so far.
February, 20, 2013
2/20/13
9:04
PM ET
PALOS VERDES, Calif. -- When
Lyoto Machida
steps into the Octagon Saturday against
Dan Henderson
, this is what he'll tell himself for the 22nd time as a professional mixed martial artist.
"Agora é a hora."
Now is the hour.
In more ways than one, it's an apt phrase for the former UFC light heavyweight champion as he heads into the co-main event of UFC 157 in Anaheim, Calif. At the age of 34, the quick Brazilian stands at the precipice. A win over Henderson, 42, should slot Machida into another UFC title shot. A loss would mean he's lost four of six fights. This sets up with high stakes.
His hope is that it "will happen naturally. I was supposed to be fighting
Jon Jones
when Dan Henderson couldn't do it. Then
Vitor Belfort
, who had nothing to do with anything, stepped up and fought. Now
Chael Sonnen
[gets a title shot]. If I would be thinking about it, it would be a waste of time.
"My philosophy is to sort things out as they come."
This brought Machida, who was sitting inside his living room in front of a large sliding glass door that opens to a backyard exploding with palm trees, back to the fight in front of him.
"I'm not looking past Dan Henderson," he said.
For reasons far beyond philosophical that better be true. The reality is a loss, a legit possibility against the iconic Henderson, would mean that after winning his first 16 contests, Machida and his 18-4 record doesn't sound so hot.
Machida remembers being 18, watching Henderson, and realizing then that fighting was more than a career to the man -- it was in his blood. He said he felt the same. Since 1997, Henderson proved himself against anyone willing to try their luck. No shortage of Brazilians are on that list. Jorge Guimaraes, the jack-of-all-trades Brazilian media personality and manager at Blackhouse, gave me a lift to Machida's new home near enough to the Pacific Ocean that the air was crisp. He remembered being at Henderson's first fight, when the sport was anything goes on all fronts. Henderson won, the promoter freaked and demanded that action restart with a new referee. The entire time, Guimaraes said, the Olympic wrestler stayed loose in his corner, and happily offered to do it again. They did not. Sixteen years later, the former two-division Pride champion still resides on pound-for-pound lists, and is currently enjoying one of the most impressive stretches of his career.
After offering a laundry list of superlatives, Machida didn't bother to mention Henderson's use exemption for testosterone replacement therapy. Machida said it isn't worthwhile to speak of such things. And it doesn't change the fact that Henderson is "a guy that accepts exchanges. He doesn't mind standing up and banging. He's a well-rounded fighter that comes forward. We pretty much have the same style. Wherever the fight is is good for both of us."
Machida appeared trim and fit while relaxing at home the Monday before the fight. He's taken it easy since last Thursday, a hard sparring day at the Blackhouse facility a half-hour away in Gardena, giving him plenty of time to re-enact the closing scene to "Rocky III" with his young son, Taiyo. The youth plays Rocky, and knows enough to stand southpaw like his dad, Apollo. Ding. Ding. The only thing missing was the pair dissolving into a Leroy Neiman painting.
"'Rocky III' or 'Rocky IV,' all day long," said Fabyola Machida, shaking her head at her husband and child. Taiyo even named the Machida family French bulldog puppy "Rocky," though the brindle typically responds to "Hockey."
"It's a different moment in my life," Machida said. "I've always wanted peace of mind. And training in a place that has all the infrastructure. Over here you can focus a lot better than in Brazil. Things work a lot better here."
There are more palm trees too, chuckled Guimaraes. Branches almost reach the inside of the upstairs master bedroom, which has been a point of controversy between the mostly zen karateka and his wife.
"Lyoto wants blackout curtains," said Fabyola. "I said no, have to see the sun everyday."
"Sometimes, even with my wife, we don't agree on everything," he said. "But I don't want to waste a night of sleep over a little discussion."
It took 10 years before Machida agreed to move to Los Angeles, like Fabyola had wished. Machida wasn't prepared to leave his influential father and brothers and Belem, Brazil, the city of the mango trees. But after being choked unconscious by Jon Jones in Dec. 2011, a change seemed appropriate. In May, he and his wife bought the two story house with all the palm trees. Machida said he knew it was the right place the moment he walked through the door. Then last August, Machida looked great against Ryan Bader at the Staples Center.
Machida doesn't recall why he uttered "agora é a hora" to himself the first time he fought. He's not sure why he continues to say it. But he does. "The Dragon" noted that he doesn't think in terms of "now or never." He refuses to dwell on the negative instead of what's in front of him. But if this fight feels like a pivotal contest, that's because it is.
"I'm living every moment as it comes," Machida said. "I enjoyed being the champion but it's gone. It's like this conversation. It will be gone in 20 minutes. It's behind, but could happen again."
February, 19, 2013
2/19/13
7:46
AM ET

By Chuck Mindenhall
ESPN.com
Archive
Liz Carmouche
is not a can. She is a human being with motivation and drive and a world of dreams that can be realized one weekend late in February. But what happens if she realizes her dreams and beats
Ronda Rousey
at UFC 157?
What, in this game of four-ounce gloves and four-leaf clovers, happens then?
The vanguards of women's MMA are being stacked up against each other in the old Washington Generals/Harlem Globetrotters dynamic. No, it's not fixed or choreographed, but it's a foregone conclusion that Rousey wins this historical first women's title fight on February 23. Isn't it? It has to be.
There would be no women's MMA in the UFC if Rousey didn't catch Dana White's eye. Her mere arm-barring presence made up for all the red flags that kept it out so long -- namely, the "lack of divisional depth" that White talked about.
Of course, that was all BR (Before Ronda). Now, the depth of one transcendent fighter is enough to fill out a division. It's the wide world of Rousey, and then everybody else. White has made no secret that Rousey is the reason.
That's why it isn't that Carmouche is a can -- it's that they're
all
aluminum product.
Miesha Tate
(whom she's already beat), Sara McMann (who is in the on-deck circle) and even
Cris "Cyborg" Santos
, who is jettisoning herself from the UFC (and can't/won't make 135 pound besides). All of them. This is Rousey's domain. It was her patent. The future of women's MMA is Rousey's burden in the present tense. The pressure is only to win. And preferably to collect a couple more arms along the way, like she's done a million times before (or six, to be exact).
Make no mistake, this is boom or bust.
And if she doesn't win? Well,
Seth Petruzelli
becomes the second greatest party pooper of all time.
Should Carmouche get her arm raised in Anaheim, this whole thing becomes a Jenga proposition. Rousey, who White admires for being "so nasty, so mean" -- who has broken into larger and more varied media realms than
Georges St-Pierre
,
Anderson Silva
and
Chuck Liddell
combined -- would then slip into more pedestrian ranks. The iconoclast who is potentially inspiring thousands of young girls to give MMA a chance would get hung up in "potentially". I've written in here before that Rousey is the
Royce Gracie
of WMMA. She's the example of broader possibility.
I still believe that.
But how fast a loss leads the chorus to chants of "you've been exposed", even for those with Olympic medals in judo. How fast those six victories would seem incomplete if upended by a single loss. How shaky the idea of women's MMA in the UFC becomes overnight. How fast the eggs would topple out of that single basket.
And if this is all experimentation, you'd have to wonder how long the experiment goes on -- even with the signings of Tate, Cat Zingano and others to fill in the inaugural bantamweight division.
Carmouche's Marine background is cool. It lends to her no-nonsense pluck. That she's the UFC's first openly gay fighter is admirable and perfect for narrative. She's nice, genuine, sincere -- there's not a bad thing you can say about her. But "Girl-Rilla" Carmouche as champion? What on
John Moraga's
green earth would the UFC do then? The most marketable fight for Carmouche at that point would be a rerun of Rousey (because surely the first fight would have been an aberration). Beyond that, it's just a bunch of jacks scattered on the linoleum. Or Jills, as it were.
In any case, it's an awful lot riding on a single fight -- this is a crossroads bout right out of the gate.
Yet it's not Carmouche's place to contemplate the aftermath. It's her job to win, even if that means dealing an indirect blow to the thing that she's fighting for. That's a unique mission. It's at least her job to go down swinging, as that's the scenario we've grown most comfortable imagining. Carmouche volunteered herself for this piece of historic martyrdom. We like that. We expect her to go down valiantly.
But man, can you imagine if things don't go to expectation?
January, 17, 2013
1/17/13
6:23
AM ET

By Chuck Mindenhall
ESPN.com
Archive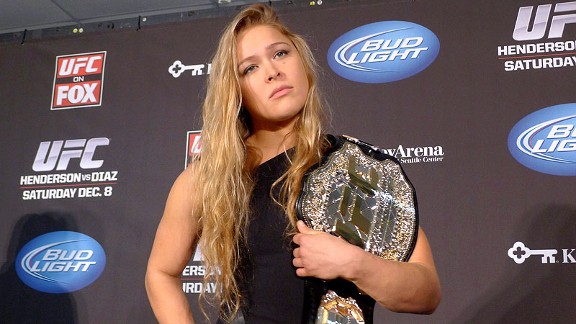 AP Photo/The Canadian Press/Neil Davidson
For starters, Sandy Hook was not a hoax. I live in Sandy Hook, and the week's worth of funeral processions down Church Hill Road was not imagined. The grieving people here are not actors. The ambulances that raced by my house were not props. The kids that have been taken from this community are not coming back. Neither are the teachers.
It'd be nice if
Ronda Rousey
knew better, but you wonder whether she does. Even after her manager Darin Harvey tried to clear things up in an interview with MMA Junkie.
Rousey tweeted an "extremely interesting must watch video" (as she put it) on Tuesday about a government conspiracy in regard to the Sandy Hook Elementary School shooting on Dec. 14 in Newtown, Conn. (a poorly constructed video presenting the whole thing as a staged massacre to boost anti-gun sentiment.) It takes imagination to conjure a wholesale tragedy like that. It takes suspicious minds to help perpetuate the notion, even if Rousey later said she was only trying to present open-mindedness.
There's open-minded and then there's absent-minded.
Perhaps Rousey had to be here. Perhaps she
should
be here. After all, there are plenty of people I could introduce her to who would love to learn that the whole thing was a work of creative fiction, so their family and friends could come home. If only that could really be the case. When my own daughter was on lockdown that morning, it seemed real enough for me.
I am as opposed to high horses as the next guy, but tweets like these come off as senseless. And as a transcendent, historical figure in MMA whose actions take on more intensive scrutiny as she goes along, that's not something the UFC needs. Responsibility remains an issue for some of these fighters who've become overnight celebrities.
Rousey has yet to understand her own sense of bigness. She's still dealing in silly.
And right now she's a long way from being an ambassador of this sport. As a self-proclaimed "Diaz brother" -- a product of her better humor -- maybe she doesn't really need to be. She can be as ornery and candid and as opinionated as befits her job. Her mean streak works well in a sport than ends up in a cage.
But she could stand to add something very important to her arsenal that right now is a glaring weakness -- and that is common sense. The UFC goes over social media protocol in its annual fighter summit, but it apparently still leaves people with vague notions of what passes as proper behavior.
The UFC likes raw. I like raw. I like candid. I like Rousey. I want her to be great for the sport, and I believe she will be great for the sport.
But there's a line of decency. It's not in good taste to post a must-see video that the people all around here -- shattered, bereft and traumatized -- are in on a conspiratorial work. That the unthinkable thing that happened to them didn't happen to them at all.
And that's certainly not the kind of response you want from your superstars. While many athletes are using their status to help, Rousey chose to exacerbate the grief. What is the proper response? There isn't one, but you can pick up cues from the professionals in other sports, where players came at it from a place of empathy rather than paranoia.
New York Giants receiver
Victor Cruz
visited the grieving family of Jack Pinto, one of the first-graders who died on Dec. 14. He was a Giants fan. The Bridgeport Sound Tigers AHL hockey team wore jerseys for a home game with the names of the 20 young victims on their backs. Various NFL teams wore decals. Virginia Tech wore helmets memorializing the tragedy.
Landon Donovan
and other soccer stars visited and held a clinic here in Newtown. The Providence basketball team wore uniforms of green and white, the Sandy Hook colors, with the name of the village across their chests.
These are ways to pay respects. Even
Pat Barry
, who knocked out
Shane Del Rosario
a day after the tragedy, emotionally paid respects to the families.
Was Barry "blindly accepting what he was told," (as Rousey later tweeted) or being a human being? And if you don't want to pay respects, don't say anything at all. What if one of these kids was a fan of Rousey's? What if his or her parents were?
[+] Enlarge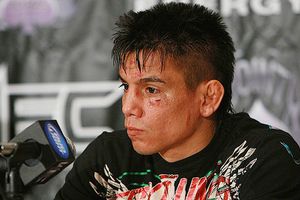 Dave Mandel/Sherdog.comMiguel Torres was released by the UFC in 2011 after posting an offensive comment on Twitter.
Maybe Rousey came to realize something along these lines, and that's why she deleted the tweet and apologized. Or maybe it was the backlash alone that did it, and she just forgave herself on the spot with an "oops, my bad!" Who knows. But she didn't -- and likely doesn't -- fear the consequences.
And that's a little bit maddening. The UFC doesn't exactly reprimand its professionals for actions such as these. Yes, the UFC cut
Miguel Torres
for his "rape" tweet, but it seems like window dressing when he ends up on the roster again so quickly thereafter.
Forrest Griffin
, who made a rape joke of his own, wasn't given much of a slap on the wrist.
More than likely, Rousey won't be either.
She's the first female world champion in the UFC and is about to become the first woman to defend that title in a UFC main event. She's the "big thing" in MMA right now. It's a terrible time for her to dim her own star.
She made a mistake, and mistakes are forgivable. In an ideal world, you'd hope somebody within the company might want to make sure she understands the nature of her mistake.
Then again, in an ideal world, the Sandy Hook massacre would have never happened to begin with. But the truth is, it did.