April, 29, 2013
4/29/13
10:34
AM ET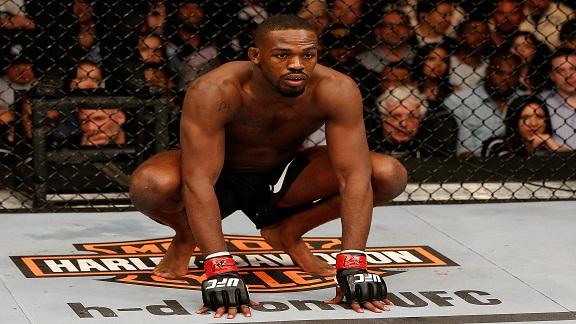 Heading into UFC 159, figuring out ways that
Chael Sonnen
could compete with
Jon Jones
required an active imagination. The leading idea on how to get it done was for Sonnen to put his chin down, stick the crown of his head into Jones' chest and drive him through the cage floor. Once there, things would become adventurous for all parties.
It didn't get there.
In fact, Jones turned the tables on Sonnen and shot in for a takedown of his own just a few seconds into the fight. It was Sonnen staring up at the lights, fending off oncoming elbows. He was able to get up, but Jones, out of a sense of pride and civic duty, became the kind of insistent wrestler who only Sonnen could appreciate. With half a minute to go in the first round, Sonnen's face battered and wits scattered, Jones was pried off of the "West Linn Gangsta" in what was ultimately the most predictable stoppage in the history of ground and pound.
But in a bizarre night where
Ovince St. Preux
won an abrupt technical decision with an eye poke of
Gian Villante
,
Michael Bisping
won a technical decision for an eye poke of the one man whose phobia is eye pokes,
Alan Belcher
, and Yancy Medeiros' thumb was rearranged into something from Picasso's brush, it was par for the course that Jones broke his toe somewhere along the way. By the end of the night, appendages at odd angles were all but the norm.
Now we can focus on "what does it all mean," which is one of MMA's favorite pastimes. Let's try to sort it out.
QUESTIONS ANSWERED
How does Sonnen compete?
Turns out our hunches were right -- he doesn't, not when fighting a stylistic nightmare who has the wingspan of a Cessna and a chip on his shoulder.
Last time we see Jones at 205?
Because he only
tied
Tito Ortiz's record of five title defenses, here's guessing no.
Lyoto Machida
has been promised a rematch, and
Alexander Gustafsson
still has a modicum of appeal on his way up. And if Jones fights
Daniel Cormier
, the likeliest scenario is it happens at light heavyweight.
Can Phil Davis break through?
Davis showed improved stand-up ability from that awkward version of himself a couple of years ago. But this was a one-sided beatdown of
Vinny Magalhaes
, a static fighter whose own stand-up won't swell the orchestra. Davis might be ready for a step up in competition, but he still seems light years away from challenging Jon Jones.
Is Cheick Kongo showing his 37 years?
Kongo is a dapper gentle giant outside the cage, and in his fight with
Roy Nelson
, he became one inside the cage, too. We didn't see any urgency or head-hunting or even any of that rare
joie de vivre
. What we did see was Roy Nelson go into his windup, as if from the pitcher's mound, and deliver a heater of an overhand right that dropped Kongo like a curtain sliding off the rod. In other words, yes, Kongo's days appear numbered.
NEW QUESTIONS
Does Sonnen retire?
Through the last three-year odyssey in which Sonnen has captivated the world of MMA and fought for the belt three times, he made it plain that winning a championship was his singular motivation. Does he want to stick around in a grudge-match capacity to fight the Vitor Belforts and Wanderlei Silvas of the world? (Answer: Hope so. Too many delicious vendettas lingering out there for Sonnen to just walk away.)
Is Pat Healy a top-10 lightweight?
If you subscribe to the theory that divisions are essentially a Netflix queue, where you can drag a title up from the bottom and replace something already in line near the top, then yes (and I know that speaks to more than half a dozen of you). Beating
Jim Miller
in Miller's native New Jersey was enough of a feat, but Healy's pressure game is starting to look scary. At nearly 30 years old, and with 46 professional fights, Healy is just now really coming into his own.
Is Nelson a heavyweight contender?
His right hand says "yes." His surprising agility to climb the fence and do the two-handed Buddha belly rub after victories says "yes." His popularity among fans and mullet connoisseurs says "yes." And realistically, yes. Now everybody is imagining Nelson against
Mark Hunt
, and Nelson against Daniel Cormier, and Nelson against
Alistair Overeem
, and that's a good thing.
What's next for Michael Bisping?
In hockey patois, Bisping was clutching his stick a little tight early against Belcher, but he began to get into a groove with his striking early in the second round. It was a victory that staves off ugly circumstances and gets him rolling toward something again. Bisping has mentioned fighting in October in Manchester, and here's thinking
Cung Le
would be a big draw.
THE FUTURE
For Sara McMann
-- Right now it's wide open, with the Armageddon she brought on
Sheila Gaff
. We know about the Olympic wrestling, but there's something about the
delight
she took in the elbows she was dropping from the crucifix position that has you wondering about how she'd fare against
Ronda Rousey
(and that's where McMann's headed -- but she'll have to stay busy with another fight or two).
For Jim Miller
-- Technically, getting put to sleep isn't a submission so much as a loss of consciousness, but losing a second time in New Jersey (the first to
Nate Diaz
) hurts Miller. Though he's flirted with the idea of moving up to 170 pounds in the past, he might consider a move down to 145. Pastures are always greener in other divisions after losses like the one to Healy.
For Jon Jones
-- He needs to get that toe better, but when that's all said and done, he can officially break Tito Ortiz's record of five light heavyweight title defenses. The dust has to settle, but the forerunners to become his next victim appear to be down to Alexander Gustafsson or Lyoto Machida (particularly if they fight each other while Jones heals to form a super-definitive, no-questions-asked No. 1 contender).
For Chael Sonnen
-- The television booth, at first. But eventually Wanderlei. And Belfort. And the whole block of peeved Brazilians who are smashing their fists in their hands waiting by their phones for Joe Silva to call.
For Roy Nelson
-- Daniel Cormier and great balls of fire!
Matches to make
Jon Jones versus Alexander Gustafsson
-- If you're an all-or-nothing fan, Jones should heal up and wait on Anderson Silva. But more realistically, dial up the Swede.
Chael Sonnen versus Wanderlei Silva
-- Sonnen's already dropping the subliminal tracks toward this fight.
Michael Bisping versus Cung Le
-- The two greatest verbs in MMA are "Cung Le."
Alan Belcher versus Hector Lombard
-- If 170 is too condensed for the Cuban, a run-in with Belcher at 185 might be fun.
Roy Nelson versus Daniel Cormier
-- Twitter wants it. Twitter is all that matters in matchmaking.
STOCK UP/STOCK DOWN
Up
Bryan Caraway
-- Only seven weeks removed from his split decision loss to
Takeya Mizugaki
, Caraway took out
Johnny Bedford
on a week's notice with poise and strength.
Phil Davis
-- He made it through the rebound portion of his career (the
Wagner Prado
series and now Vinny Magalhaes), and it's right back into the kitchen fire of light heavyweight elites.
Cody McKenzie
-- Hey, kudos to McKenzie for not engaging
Leonard Garcia
in a "Leonard Garcia" fight. His restraint was admirable.
Steven Siler
-- This would have been fight of the night had Healy/Miller not turned things into Grappler's Quest Gone Wild. Siler was too much for
Kurt Holobaugh
, and he weathered a big second-round storm to get the job done.
Down
Leonard Garcia
-- Five losses in a row, the latest coming against a fighter who was tailor-made for getting off the schneid? Not good.
Vinny Magalhaes
-- Here's yet another lesson of "be careful what you wish for." It was Magalhaes who called out Davis, but he had nothing for him.
Alan Belcher
-- The eye poke was scary, particularly after having surgery on that same eye not all that long ago. But when you're likely down 2-0 on the scorecards and you come out in the third with smiles instead of flurries? Not the way his corner drew it up.
April, 28, 2013
4/28/13
2:49
AM ET

By Josh Gross
ESPN.com
Archive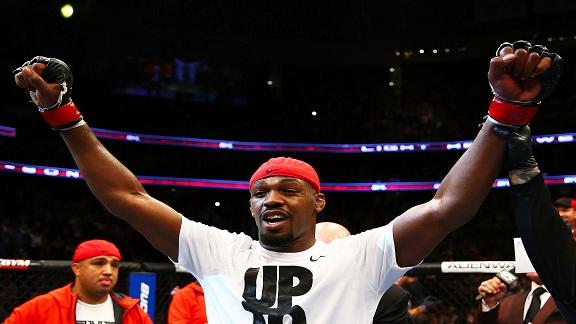 The reality show is wrapped. The spring break title defense against
Chael Sonnen
is in the books.
It's time, is it not, for
Jon Jones
to get back to business?
The 25-year-old UFC light heavyweight champion spun his wheels over the last seven months, and all he had to show for it was a busted up arm and horribly mangled toe. If "Bones" is going to pay a price for stepping in the cage, let it come against a legitimate threat (perceptually, at least) to his title.
Recognizing that fights with
Vitor Belfort
and Sonnen weren't intended, that they were the product of the craziness of the fight promotion business, and that Jones was simply doing what was required of him as champion by taking on these contests, opponents exist who appear capable of forcing the immeasurable talents of such a dynamic fighter to the surface.
Alexander Gustafsson
, the confident Swede, seems to rank at the top of Jones' list.
Anderson Silva
, of course, leads everyone else's.
The last thing Jones has done is clean out his division, though many believe he will, and it's hard to argue otherwise. But there are others: a rematch with
Lyoto Machida
; the ageless wonder
Dan Henderson
; a surging
Glover Teixeira
; an improving
Phil Davis
.
Then there's
Daniel Cormier
, the heavyweight. Maybe Jones meets him there. Maybe Cormier cuts to 205. But this is a bout that seems destined to happen, and can you say with certainty that Jones will walk away with a win? I can't, which at this point is all I'm looking for.
There's no time to waste with frivolous, meaningless contests like Saturday's, which featured Jones pelting a guy that didn't stand a chance. Think of the hysteria that would have ensued had referee Keith Peterson allowed Jones to wail on Sonnen for 30 more seconds; had he deferred to Sonnen's considerable experience, recognized a title fight was ongoing, and given the man a chance to get out of the first.
Just imagine Jones in his corner, his left big toe pointing east while the rest of his piggies looked north, a New Jersey ringside physician seeing this, doing what was required and calling the fight. Sonnen, hands raised, belt around his waist. Bye-bye, consecutive title defense record-tying result. For what? A fluke. Against a guy that didn't belong anywhere near Jones' belt. There's too much that can go wrong in an MMA bout for the UFC to waste Jones on a scenario like that.
No more, thank you.
[+] Enlarge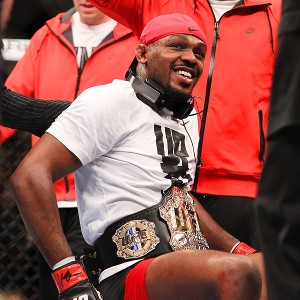 Ed Mulholland for ESPNThink of the hysteria that would have ensued had an undeserving Chael Sonnen survived the opening round, causing Jon Jones to lose his title due to a broken toe.
Thankfully, Jones seems to get it. Look at what he did in 2011, running a gauntlet against
Ryan Bader
,
Mauricio Rua
,
Quinton Jackson
and Machida. Look at how much he improved over that span. He did this while he wasn't nearly the fighter he is today, which isn't remotely close to the predator he'll be in 12 months time. He needs more of that. More challenges. More pressure. More threats. This is the only way Jones will know how good he can be, and this is the only way we'll get to see him at his best.
Jones comes across like a redemptive fellow. He should wish to save himself and his fans from having to pay to watch contests like Belfort and Sonnen.
Give us Gustafasson. Give us Silva. Give us a stud heavyweight. Give us someone whose justification for getting a shot isn't their speaking ability. Give us Jones against a man who might beat him on paper.
That's a start. The rest will take care of itself.
The truth is Jones could turn out to be so good it wouldn't matter if Sonnen or Silva were standing opposite him in the Octagon. And that's why it's high time Bones gets back to business, because there's business to be done.
We're watching, and we're not interested in waiting.
April, 28, 2013
4/28/13
1:49
AM ET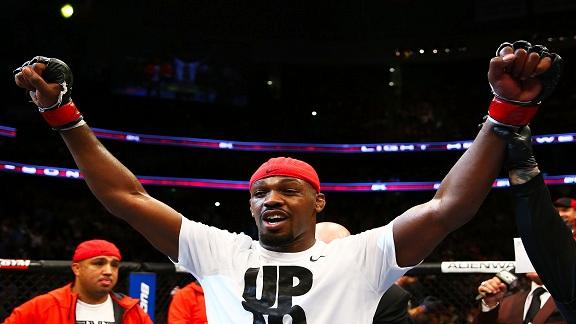 NEWARK, N.J. -- In a night of strange happenings, perhaps the strangest was saved for last.
As most thought he would,
Jon Jones
(18-1) defended his light heavyweight title against
Chael Sonnen
at UFC 159 at Newark's Prudential Center, yet he did it in a prideful way -- by outwrestling the wrestler. Coming into the fight, the one bit of intrigue for the heavy favorite Jones was how he would respond to Sonnen's constant pressure.
Instead, the 25-year old Jones took Sonnen down in the first 10 seconds of the fight, and repeated the process a couple more times before finishing him via TKO with 27 seconds left.
[+] Enlarge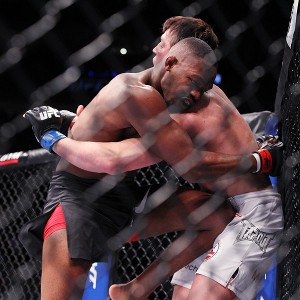 Ed Mulholland for ESPNFrom the beginning, Jon Jones took the fight -- Chael Sonnen's fight -- to the challenger.
It was a dominant performance by the champion, who tied Tito Ortiz's record for most 205-pound title defenses at five.
Then the revelation: In his post-fight interview with UFC commentator Joe Rogan, Jones made a gruesome discovery -- his toe appeared broken.
Jones' left foot was shown on the arean's Jumbotron and it dawned on him and the crowd at the same time that he had a mangled toe. It seemed that Jones broke the toe while pushing off the mat on a takedown attempt.
"I felt it pop," he told ESPN.com afterward. "But I didn't let it slow me down."
Just how long he'll be out, and what this means for the 205-pound division, remains to be seen. Coming into the fight, UFC president Dana White had mentioned that heavyweight contender
Daniel Cormier
might be a possibility for an automatic title shot in the lower weight class. And then there was
Lyoto Machida
, who was in attendance on Saturday night. Machida has also been pinky sworn by White to get a rematch against Jones. But with the injury, everything goes back up in the air.
And as far as Jones is concerned, Cormier isn't on his mind yet.
"I don't want to give Daniel Cormier any hype right now," he said during a postfight interview with MMA Live. "That guy ... I won't even make a comment."
As for Sonnen, who coached opposite Jones on "The Ultimate Fighter" and took a lot of flak for not having the credentials to get the shot to begin with, he was gracious in defeat.
"He's an excellent fighter, I have no problem with the stoppage," he said. "[Jones] is very powerful. When he went for the kill, he never stopped. I thought I was all right, but he is the better fighter."
Sonnen intimated that he may contemplate retiring now that it appeared that he had his last shot at winning a title. But he wasn't definitive on that. Coming in, the thought was that Sonnen's only chance against Jones was to use his wrestling to put Jones on his back, like he did with middleweight champion
Anderson Silva
at UFC 117.
Instead, Jones turned the tables out of defiance.
"[Coach] Greg Jackson, he always teaches me to have a philosophy of 'screw them,'" Jones said. "If people want to say you can't do something, you say, 'screw them.' That's the way I looked at the critics. Screw you guys.
"My wrestling coach told me that that they're going to be watching, they want to see who's the better wrestler, and everyone thinks that you can't wrestle. I said, screw them. Let me show you guys I can wrestle. I take wrestling very seriously."
On a night where two bouts ended in technical decisions for accidental eye-pokes, and another ended when
Yancy Medeiros
dislocated his thumb against
Rustam Khabilov
, Jones' injury felt par for the course. It was yet another "what if" for Sonnen. Though the Jones fight was the polar opposite of Sonnen's first fight with Anderson Silva, he once again came close to becoming the champion.
Had Sonnen survived the first round, it's possible that Jones wouldn't have been able to continue with the injury to his foot. In that case, Sonnen would have backed his way into a title. That would have been different from the Silva fight -- which he dominated for 4½ rounds before getting caught in a triangle/armbar with under two minutes left -- even if the nearness to the gold was the same.
For as close as that might have seemed, it was a million miles away. Jones was his usual dominant self, and he showed he can beat opponents at their own game. UFC 159's main event was never in doubt. The only thing that is in doubt becomes what exactly happens next.
"We'll see what happens with Jones' [injury], and we'll go from there," Dana White said. But, before letting it go at that, he also dropped a bomb in the post-fight news conference. He said that Anderson Silva called -- and was asking for a fight. Was he calling out Jon Jones?
White left it for everyone to speculate, but added that it doesn't really matter right now, with Silva slated to fight Chris Weidman at UFC 162.
How's that for timing?
April, 26, 2013
4/26/13
6:02
AM ET

By Franklin McNeil
ESPN.com
Archive
NEW YORK -- The decision to lift heavyweight Matt Mitrione's suspension in less than three weeks has raised many eyebrows, so promotion president Dana White didn't hesitate to answer questions Thursday about the matter during UFC 159 media day at Madison Square Garden.
"They [fighters] can be suspended for as long as we want them to be," White said. "He was suspended for three weeks, but what does that really mean?
"In other sports a suspension means you lose games. He's not fighting right now anyway. We didn't suspend him for three fights, two fights. He was fined and put on suspension.
"Suspension meant we were going to look into this thing; we were going to talk to him."
White then made it clear he agrees with Mitrione that transgender female mixed martial artist
Fallon Fox
should not be allowed to fight women. White doesn't, however, embrace the harsh wording Mitrione used to make his point.
And White won't force Mitrione to apologize.
"You can't make somebody apologize," White said. "If I have to make him do it, it's not real. He's not really apologizing.
"If that's his opinion on the situation: He doesn't like that somebody who used to be a man and became a woman can fight other women. I don't disagree with him on that. I don't disagree."
Jones comfortable being himself these days
The past year has been quite memorable for light heavyweight champion
Jon Jones
: He was labeled "fake" by former friend and sparring partner
Rashad Evans
before their title bout, had his faith in Christ questioned and got a DWI conviction.
Jones revisited those experiences and concluded that trying to be what others expect of him is a losing battle. So Jones has decided to just be himself.
"I was pretending a lot to be the perfect person, to be super articulate when I'm talking," Jones said. "I tried to be clean-cut and clean-shaven, be the perfect guy to be sponsored by Nike. And be the perfect, perfect poster boy for UFC.
"Now that I've had that whole situation happen to me I'm totally free. I can say what I want; I can be who I want. I'm still trying to be a good person and a good role model. But I'm doing it a little more authentically now.
"And it feels good. It feels good to just be me."
Bisping learns with age, mistakes
Michael Bisping
has a bad habit of coming up short in title eliminators. But it's Bisping's most recent setback, when a title shot was not on the line, that forced him to take a serious look at his approach to being a professional fighter.
Bisping still has images of fighting for the middleweight title and knows that he can no longer allow his weight to become an issue.
"You have to learn from your mistakes," Bisping said. "You have to be honest with yourself. And there were things I was doing wrong between fights. I was putting on too much weight.
"I'm 34 now, the weight is harder to lose. I'm a professional sportsman, I got away with it in the past, but you've got to treat your body with the respect it deserves, especially in this sport."
Nelson poised for a crack at the title?
Roy Nelson
is a top-10 ranked heavyweight, but his name doesn't come up in title conversations. He believes the timing is right to change that with a win Saturday night over
Cheick Kongo
.
"It really comes down to the fans," Nelson said. "And it's about the timing. After UFC 160, which is only a month [following UFC 159], I could definitely get a title shot.
"They're talking about Hunt fighting for a title after he knocked out Struve, and
I
knocked out Struve a little bit easier."
April, 25, 2013
4/25/13
6:31
AM ET

By Chad Dundas
ESPN.com
Archive
It has been a bit more than eight months since the cancellation of UFC 151, which at the breakneck pace of the MMA news cycle makes it feel as though it happened sometime during the Bronze Age.
Heads have cooled considerably since that bizarre and uncomfortable day last August, which Dana White branded as one of his all-time lows as UFC president. He pulled the plug on UFC 151 just eight days before
Jon Jones
was scheduled to defend his light heavyweight title against consensus No. 1 contender
Dan Henderson
. It marked the first time the promotion had scratched an entire event and White seemed to drown his sorrows by blasting Jones, saying he was "disgusted" with his champion for passing up the opportunity to fight
Chael Sonnen
on short notice once he'd learned Henderson was injured and couldn't compete.
"The one thing that I never thought in a million years would happen, happened ... " said White, during one of the tamer moments of a volatile conference call. "A guy who's a world champion and considered one of the pound-for-pound best turns down a fight."
These days, Jones and White appear back on friendlier terms; but the unexpected removal of UFC 151 from the schedule set off a chain reaction from which the 205-pound division still hasn't fully recovered. For evidence we must look no further than this Saturday, when Jones and Sonnen will finally fight in the gratuitous and likely very lopsided main attraction of UFC 159.
Remember that prior to Henderson's last-minute withdrawal, Jones had cultivated the single greatest 13-month run in MMA history. He'd easily taken the title from
Mauricio Rua
at UFC 128 and then stomped through consecutive bouts against three other former champions, all without suffering so much as a scratch. His fight with Hendo was set to continue that march, because the 42-year-old legend had become a darling of the pound-for-pound crowd by winning the Strikeforce title, beating
Fedor Emelianenko
at heavyweight and defeating Rua in the best fight of 2011.
If the sudden collapse of UFC 151 didn't completely put the brakes on all that momentum, it certainly sidetracked it. After fighting four times during 2011 (all wins), Jones made only two appearances in the Octagon during 2012 and by his own lofty standards the second half of the year was fairly underwhelming. With Henderson out, Jones faced off with
Vitor Belfort
, another former light heavyweight champion (though only on the flukiest possible terms), who'd more recently become a middleweight and whose reputation hadn't recovered from a dramatic front kick knockout at the hands of
Anderson Silva
at UFC 126.
[+] Enlarge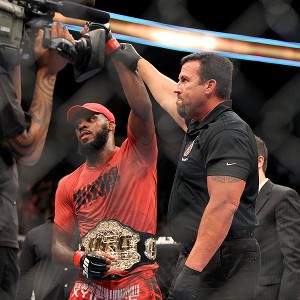 Ed Mulholland for ESPN.comFallout from UFC 151 put somewhat of a damper on Jon Jones' tear through the light heavyweight ranks.
It was a fight that, frankly, nobody wanted to see and smacked of one the UFC booked only because Jones was healthy and the company wanted to put his name on a marquee somewhere. It would have been a total loss had Belfort not almost pulled off a stunning upset via armbar early in the first, before conceding by painstaking and inevitable submission three rounds later.
Now here's where things get extra confusing: In the aftermath of the Belfort fight many expected the UFC to once again match Jones with Henderson. Instead, it opted to go with Sonnen, who had not fought at light heavyweight since 2005 and whose record at middleweight was just 2-2 during the past three years.
Sonnen is arguably a less logical opponent for Jones than even Belfort, and the fact he's getting this bout now only makes sense (and then only vaguely) when viewed through the lens of UFC 151. Simply put, Jones deserves better, but he likely felt he had no choice but to accept this matchup in order to retroactively prove he wasn't ducking Sonnen by refusing to fight him in September.
Unfortunately, the hot feud the UFC may have expected from Jones and Sonnen never materialized and promotional efforts have floundered among hard-core fans who are weary of seeing the best light heavyweight on the planet thrust into nonsensical bouts against middleweights. At least middleweights not named Silva. They are likewise tired of seeing Sonnen trash talk his way into fights they don't think he deserves and there is a palpable sense of simply wanting to get UFC 159 over with, so Jones can get back to real business.
During the months we've all watched Jones and Sonnen perform the sad dance of the uninspired, the decision to mothball UFC 151 also came back to bite Henderson. After twice missing out on the chance to fight for the title he lapsed back into mortality, dropping a tepid split decision to
Lyoto Machida
at UFC 157. He'll now take on
Rashad Evans
at UFC 161 in what is essentially a must-win fight for the future of his career.
If Henderson and Jones never fight, we'll probably always rue the day UFC 151 was canceled and mourn the time wasted having the young champion fight lesser competition. Perhaps the best-case scenario from here might be for both guys to emerge victorious from their current scheduled bouts.
If that happens, perhaps their original pairing can still be resuscitated and then -- maybe only then -- we can finally let UFC 151 rest in peace.
April, 25, 2013
4/25/13
6:13
AM ET

By Franklin McNeil
ESPN.com
Archive
That
Chael Sonnen
guy: He isn't one of the best light heavyweights in UFC. But Sonnen has the gift of gab. He's second to none in that category. His uncanny ability to come up with catchy phrases, primarily derogatory comments targeted at champions, captures the attention of the most casual fight fan.
Like it or not, when Sonnen speaks, everyone listens. And it has earned him some very lucrative paydays the past few years. It was during the months leading to his showdowns with middleweight titleholder
Anderson Silva
that Sonnen added a new wrinkle to his chatter. He took prefight trash talk to new heights, or depths, depending on your perspective. Sonnen questioned Silva's intelligence, hinted at touching his wife in an inappropriate manner and said unflattering things about the champ's native country of Brazil.
His statements could be classified as deplorable, but they served two purposes -- increasing interest in the fights and getting into Silva's head. Sonnen is very skilled at getting in an opponent's head before fight night.
He has employed this tactic again for his light heavyweight title bout Saturday night (pay-per-view) in Newark, N.J., against champion
Jon Jones
. But Sonnen has slightly altered his strategy.
There's still a hint of nastiness -- he raised an issue about Jones' mental capacity. That approach, however, has grown old and Jones is clearly too intelligent to be fazed by it.
So during a recent media call to promote the fight, Sonnen unveiled Plan B: soften Jones up with kindness. Rather than attempt to get under Jones' skin with derogatory statements, Sonnen turned to praise as a way to distract the champion.
"I always find it, you know, as great as Jon is, I don't think that he understands how good he is," Sonnen said. "You know for him to pay tribute to Mike Tyson and Muhammad Ali earlier was a very nice thing for him to do. The reality is Jon Jones could beat up Mike Tyson and Muhammad Ali in the same day.
"And when he says he wants to be the best ever, Jon, news flash, buddy, you are the best."
Talk about taking prefight mind games to extremes.
Is Jones the best mixed martial artist today? Yes, though Silva supporters would surely chime in on this discussion.
The comparison to Tyson is fine. But Sonnen went too far by mentioning Jones and Ali in the same sentence. That's total madness.
Ali was far more than a great boxer, he transcended his sport. Like Sonnen, he talked a lot of trash before fights -- often belittling his opponent -- which served to increase interest in the bout. More often than not, Ali backed up his prefight boasting. But what separated, and continues to separate, Ali from most other great athletes was his unwavering willingness to confront the social injustices of his day.
Ali's positions weren't always met with full approval from the masses, but the man was admired, especially in the African-American community, for staying true to his convictions in the face of overwhelming verbal attacks.
Jones has a long way to go and many more hurdles to overcome in his professional fighting career before comparisons to Ali can be taken seriously. Until then it is unfair, even insulting, to Jones to make such a comparison.
Fortunately, Jones refused to be sucked in to Sonnen's trap. He remains focused on the issue at hand -- retaining his title Saturday night at UFC 159.
"I can't afford to worry or feel any type of feelings of him being kind or anything," Jones said. "The thought of someone taking my name away from me and that nickname is Champ, I take that very personal. I take that with a grain of salt.
"And that's the way I need to keep my attitude. I need to keep my focus. Someone's trying to take away my dream, you know, the thought of going home without my belt, it keeps me angry. So I don't care if someone says something nice about me."
Jones will defeat Sonnen at UFC 159, within three rounds, continuing his journey toward MMA immortality. And maybe one day a young champion will be compared to him, prematurely. That too, of course, will be unfair.
April, 24, 2013
4/24/13
7:59
PM ET
All the
UFC 159
promos can't do away with the most basic question: How did we get here?
The first time
Chael Sonnen
fought
Anderson Silva
, the original novelty was his utter disregard for Silva's legacy. To that point people had only been reverent of the middleweight champion -- even if Dana White was still fuming that Abu Dhabi had been turned into a stage for bad performance art by him and
Demian Maia
.
Along came the stock contender Sonnen, a journeyman who was proud of his singlet, the flag and his real estate license. He'd just taken the pestle to top contenders
Yushin Okami
and
Nate Marquardt
, so he had the credentials. And what a platform it was. Within days of that last victory, he became the game's most infatuating wisenheimer. It was hard to gauge his sincerity, though; did he truly believe he would walk through Silva, the mythological Brazilian who, in Sonnen's active imagination, could speak the King's English?
Turns out he did. And turns out he backed it up for nine-tenths of a five-round fight in Oakland. The other one-tenth, as you now know, is the marker that defines his career.
After the loss, the asterisks piled up as the rematch lolled on the horizon. By the time he made his way back from his suspension for elevated testosterone levels, and made it through mobile obstacles (
Brian Stann
and
Michael Bisping
), we were talking about Sonnen-Silva II as the biggest fight in MMA history. It was Ali-Frazier there for a minute. It was Silva's first real rival. It was all kinds of bandstands, bunting and pageantry.
Yet Sonnen lost the rematch, too, this time less spectacularly. He lost his footing throwing a spinning backfist.
But losing your footing is nothing when you've mastered the art of falling forward. Sonnen now faces
Jon Jones
for the light heavyweight belt on Saturday night. For six months we've debated the matchmaking, with pro wrestling fans calling the protectors of pecking orders anything from "na´ve" to "idiots." Either way, the moment has arrived to see what's what.
And unlike in either of the Silva bouts, this time Sonnen feels like a formality between Jones and bright new ventures, things like "heavyweight" and "superfights." Jones just wants to break
Tito Ortiz's
record for most title defenses at light heavyweight. That number is five; Jones' magic number to tie him is one.
Sonnen is the one.
And so here we are. Sonnen gets the "third time's the charm" treatment for UFC gold. Jones gets a chance to make Sonnen a footnote in history.
FIVE STORYLINES
Bisping in vulnerable spot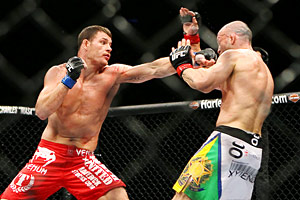 Sherdog.comIf Michael Bisping has any thoughts on finally securing a UFC title shot than his fight with Alan Belcher becomes a must-win.
In his five-year quest to fight Anderson Silva, Bisping has gotten close three times. Yet in three eliminators, he's ended up being the one eliminated three times. Should he lose to
Alan Belcher
to make it three losses in four fights, his middleweight title shot may go away for good. It's not a must-win for Bisping in the roster sense, but it is in the gold-plated accessory sense.
Resurgence of Roy Nelson
As one of the more popular heavyweights,
Roy Nelson's
mullet beefs with Dana White won't keep him from contention. A win over thunder-fisted Frenchman
Cheick Kongo
would make it three in a row. If he knocks out Kongo in the first round? That would be three
emphatic
wins in a row. At that point the jokes about Nelson's belt size will be off the hook.
Jones and history
Everything Jones does in this young sport seems to stack neatly into something historic. Now he can pad his legacy by tying Ortiz's record for 205-pound title defenses against Sonnen. He makes it all seem so perfunctory that you forget the guy is only 25 years old.
Careful what you wish for
That
Vinny Magalhaes
called out
Phil Davis
is shrouded in mystery for those of us in the fight trade. Yes he's strong and has mad grappling skills, but isn't "Mr. Wonderful" an uber-athlete whose "wrestle first" attitude is meant to nullify limb hunters? (Reading between the lines: Vinny's sense of susceptibility is stronger than our sense of conventional wisdom).
Eye on Sara McMann
Before
Cat Zingano
came barging into the women's bantamweight title picture from left field (read: the flatirons of Colorado), the big up-and-coming prospect to watch was
Sara McMann
. Why not? McMann was a silver medalist in wrestling at the 2004 summer Olympics, and is 6-0 as a pro mixed martial artist. She makes her debut against Germany's
Sheila Gaff
, and a win keeps the contender cupboard stocked for the winner of Rousey-Zingano.
FIVE QUESTIONS
How does Sonnen compete?
[+] Enlarge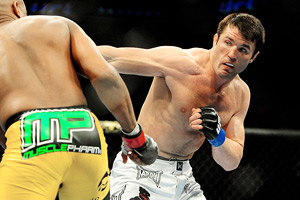 Mark Rebilas for ESPN.comIf Chael Sonnen is unable to become the first fighter to ever put Jon Jones on his back, how else will he be able to have success?
Sonnen is giving up 11 inches in reach. Sure, he can wrestle, but in 16 takedown attempts, Jones has been taken down exactly zero times. There might be an existential crisis awaiting for Sonnen in Newark. How does he compete? Can Sonnen be the maelstrom that overpowers Jones? Or, the "Chaelstrom?" Hey, you know what? The gangster from West Lynn will take off his shoes and give it a go.
Last time we see Jones at 205?
Should Jones defeat Sonnen, the question will become: What now? There aren't a lot of desirable title fights to make at 205 right now (given that a
Lyoto Machida
redux is the best option, and
Daniel Cormier
underwhelmed last weekend). Could Jones sit back and watch the
Chris Weidman
-Anderson Silva bout in July, with designs on a "superfight" to commemorate the UFC's 20th anniversary? Or might he bolt for the heavyweight division?
What becomes of Bisping and Belcher?
Between Belcher (12 UFC fights) and Bisping (13), that's a lot of experience in the Octagon. The winner of this bout will again cycle back towards title contention, but will either ever get over the hump? Career stakes are on the line here.
Can Davis break through?
When Davis was charging up the 205-pound ranks, he looked so raw that we kept imagining him with a couple of more years of experience. But after he got worked by
Rashad Evans
, our minds were no longer as blown. Of course, he spent the last year in the forgettable
Wagner Prado
series, but here we are a couple of years removed from those halcyon days of catching
Tim Boetsch
in a "Philmura." Will the Davis we see Saturday night be the one we projected we'd see a couple of years ago at this point?
Is Kongo showing his 37 years?
The answer is, no, not really. Kongo keeps chipping away, and aside from getting knocked out by
Mark Hunt
he hasn't lost a fight since 2009 (though it still feels like
Pat Barry
knocked him out before that Hail Mary heave in Pittsburgh). How good would a knockout of Nelson look? Probably enough to get him into the cage with a guy like
Alistair Overeem
.
WHO'S ON THE HOT SEAT
Steven Siler
– Losing to
Darren Elkins
is one thing, but following that up with a loss to UFC newcomer
Kurt Holobaugh
is another. It's the way things are during a roster trim -- all deep prelimists have to get used to life on the bubble.
Nick Catone
– Tough draw for Catone against
James Head
in a must-win fight. Yes he's back on his native Jersey soil, but his last big win was against
Costa Philippou
back in spring 2011. Should he lose his third in a row? Close the drapes.
[+] Enlarge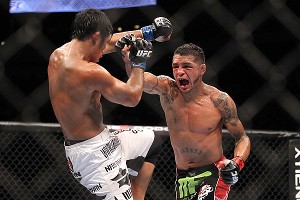 Ed Mulholland for ESPN.comLeonard Garcia, right, is everyone's favorite fun-loving brawler. But how much longer can he keep a job should he suffer his fifth straight defeat?
Cody McKenzie
– When he lets his hair down, he looks like he should be shouting "Figaro!" When he lets his hands down, he turns into a punching back (refer to the
Chad Mendes
fight). A loss against
Leonard Garcia
would make it four of five, which is short for being "made redundant."
Leonard Garcia
– If you were to lift up the cushions to Garcia's couch, you'd find a lot of loose game plans that have fallen through the cracks over the years. We expect him to jettison all that hooey he learned in training when the bell rings, but problem is he keeps getting his bell rung because of it. Dana White loves himself some Garcia, but it's hard to keep around a fun-loving brawler on a five-fight losing streak.
WHY YOU SHOULD CARE
Because "Bones" Jones has out-landed his opponents 330-99 in significant strikes in title fights … because Sonnen is the latest contestant to familiarize himself with the discrepancy … because Bones throws elbows from the pitcher's mound … because Sonnen will move forward until he can't … because Bisping might feel the tattoo of Johnny Cash's face squeezing his trachea ... because it'll be a drinking game challenge to tell
Jim Miller
and
Pat Healy
apart…because Magalhaes doesn't see a muscular athlete in Davis, but a dozen miles of workable limbs and neck ... because Garcia's neck is on the line against McKenzie (and in general) ... because Nelson and Kongo have no need for judges' scorecards ... because Jones is "Angry Johnny" capable of animal's grace ... yet he can do it with precision, or he can do it with gourmet taste.
April, 24, 2013
4/24/13
6:06
AM ET
By Andrew R. Davis
ESPN Stats & Information
Archive
This Saturday, the Prudential Center in Newark, N.J., hosts UFC 159. In the main event, UFC light heavyweight champion Jon Jones will defend his title for the fifth time against Chael Sonnen, who stood opposite of Jones as coach on Season 17 of "The Ultimate Fighter." In the co-main event, middleweight contenders will battle when Michael Bisping takes on Alan Belcher.
Here are the numbers you need to know for Saturday's fights:
4: UFC light heavyweight title defenses for Jones, tied with Chuck Liddell and Frank Shamrock for second most. With a win, Jones would tie Tito Ortiz, who defended the title five times from 2000-2002.
231: Jones has outlanded opponents in significant strikes 330-99 in title fights, a difference of 231. In 12 UFC fights, Jones has never been outstruck (nor has Sonnen in 11 UFC fights).
11: Jones (84.5-inch wingspan) will have an 11-inch reach advantage over Sonnen (73.5-inch wingspan). Sonnen has never faced an opponent with a reach longer than 77.5 (Anderson Silva).
16: Jones has stopped all 16 takedown attempts by his opponents in his UFC career. Sonnen, who is known for his wrestling background, averages four takedown attempts per fight.
38: Sonnen has 38 takedowns in his 11-fight UFC career, including at least one takedown in each of his past seven fights. Sonnen also does a good job advancing his position when getting the fight to the ground. In 11 fights, Sonnen advanced his position on the ground 29 times (2.6 times per fight).
5: Jones has six submission victories in his career, five of which have come by way of choke (four by guillotine, one rear-naked). Eight of Sonnen's 12 career losses are by submission, five by choke (four by triangle choke, one by guillotine).
8: Years since Sonnen has fought at light heavyweight. Sonnen is making his first UFC appearance at light heavyweight since his UFC debut in October 2005 against Renato Sobral.
13: This is the 13th time that TUF coaches will face off against one another inside the Octagon. On six occasions, the coach with the winning fighter(s) also won the fight against the opposing coach.
5: Bisping has landed 854 significant strikes in his UFC career, five away from taking over second place all time behind Georges St-Pierre (1,153). Bisping averages 47 significant strikes landed per fight.
25: Combined UFC middleweight fights between Bisping (13) and Belcher (12). Both fighters are still looking for their first opportunity at the UFC middleweight title. Chris Leben (20) has had the most fights among active UFC fighters at middleweight without a title shot.
January, 21, 2013
1/21/13
6:47
AM ET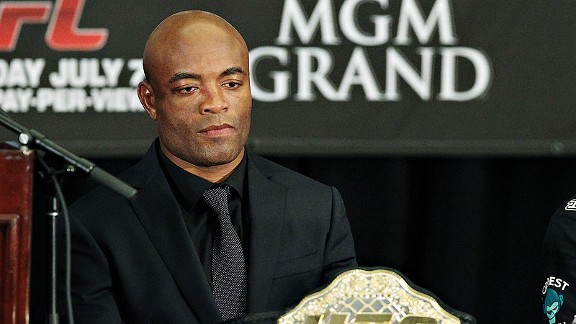 Josh Hedges/Getty ImagesSix months since defending his middleweight title, Anderson Silva is still waiting for a challenger to emerge.
Anderson Silva
has surveyed two potential foes up close, only to have things go haywire.
First he traveled to Montreal for UFC 154 as a prelude to a "superfight" against
Georges St-Pierre
. Then, two months later, he hit Sao Paulo, Brazil, to check out the latest hubbub,
Michael Bisping
.
St-Pierre won, but wasn't interested in a bout with Silva. Bisping lost spectacularly, and now we're right back to where we were long before Silva's thrown-together gimmick bout with
Stephan Bonnar
: Who's next for Anderson Silva?
These are always murky waters.
Silva, whether he admits it or not, wants a rare blend of marketability, worthiness, nonrepetitiveness and beatability in his opponents. He will settle, of course, but Silva's camp is not afraid to air its druthers. And now that the St-Pierre reverie has past, and Bisping -- our modern-day Sisyphus -- has tumbled back down the hill, who's out there?
Vitor Belfort
beat Bisping on Saturday night, and had a long-shot case. Yet (somewhat inexplicably) he chose to call out light heavyweight champion
Jon Jones
, in hopes of a rematch of their UFC 152 bout. Dana White reiterated that Belfort would not get the crack at Jones, anyway, given the dramatic finish of their first fight at UFC 126. So no Belfort.
Alan Belcher
lost to
Yushin Okami
very unspectacularly, so he's out -- and so is Okami, who had his shot at UFC 134 and doesn't do himself any favors with his grinding, unspectacular style. Feel free to exhale, because it won't be Okami.
Hector Lombard
, whom Bisping referred to as a "little poison dwarf" not so long ago, slipped against
Tim Boetsch
in his UFC debut, even if he redeemed himself a little against
Rousimar Palhares
a few months later. He's an option, but he's motivated in strange ways. Besides, he's fighting Okami next, and here's guessing he wouldn't mind Bisping after that.
[+] Enlarge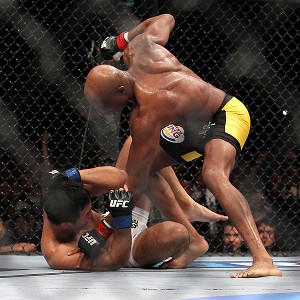 Ed Mulholland for ESPN.comFight fans aren't exactly clamoring for a rematch between Anderson Silva and Yushin Okami.
Mark Munoz
slipped against
Chris Weidman
(badly), and Weidman lacks billboard appeal and experience (according to Silva, and Silva's opinion has echoed down the media chambers). Tim Boetsch lost to Costas Philippou, and Philippou is too green, too new and too unproven.
There are out-of-division intrigues.
Dan Henderson
would do it, but Silva hates repeat customers, and besides, Hendo's got a date with
Lyoto Machida
at UFC 157.
Rashad Evans
is a possibility, but he has business first with
Antonio Rogerio Nogueira
. If
Rory MacDonald
wasn't already locked up with a fight against
Carlos Condit
, maybe he'd use this opportunity to move up a weight class. But that fight is made, and don't even try to talk to MacDonald about foregoing his chance to avenge that Condit loss.
Ronaldo Souza
is interesting, but he's not the reigning Strikeforce champion. That leaves
Luke Rockhold
, who was just a few days ago calling out a cusp top-10 fighter in Philippou. He
is
the reigning Strikeforce champion, but since dethroning "Jacare" he's fought
Keith Jardine
and
Tim Kennedy
. Should he be asked to fight Silva in his UFC debut, it would feel like he was being jumped into a gang.
The most logical name is Jones. Jones fights
Chael Sonnen
in April and, realistically, isn't expected to encounter much turbulence there. Silva could wait it out. But that would be a long time between bouts.
So what is the UFC to do? It would be nice if things were simple, but they're not. It's either pick between Lombard, Rockhold or Weidman, or dredge up another Bonnar-type as a potboiler.
Or, the UFC could think bigger. Have Silva travel
one more time
to check out a potential foe. This time to New Jersey. Put him cageside for Sonnen/Jones, as a looming presence for Jones should he win. With no true No. 1 contender within the division for matchmaker Joe Silva, set the table for the fight people are most curious about.
Convincing Silva might be difficult, but if there's going to be a superfight, then make a superfight already. The timing isn't perfect, but given how complex superfights are to put together, it might be as good as it gets.
January, 16, 2013
1/16/13
6:24
AM ET
It's always a good problem to have two (or three) contenders with strong cases to fight for a belt. That's the perpetual state of the UFC's always-bountiful lightweight division. Ever since
Frankie Edgar
clogged the top with his battery of rematches --
BJ Penn
,
Gray Maynard
and
Benson Henderson
-- the challengers have been consistently two and three deep.
To be a 155-pound contender, all you need to have is continued patience and awesomeness.
And that is the ongoing norm for
Anthony Pettis
, particularly now that it's been confirmed that Benson Henderson is fighting reigning Strikeforce champion
Gilbert Melendez
on April 20 at UFC on Fox 7. Pettis's own fight with
Donald Cerrone
on Jan. 26 in Chicago is all about the sliding stakes. It's for understudy purposes; for the right to be next
next
. In essence, Pettis needs to beat Cerrone to continue his holding pattern. That's not entirely ideal.
Here's the thing, though: Pettis-Henderson II has a nice, long shelf life. The attraction of that rematch will hold.
The same's not necessarily the case for Melendez, who has been ranked on pound-for-pound lists since Henderson was fighting
Diego Saraiva
in Evolution. Until now, he was unavailable to UFC challenges, and we've been pining for just such a scenario as this. Now, in a twist of organized fate, he gets his shot at the UFC belt in San Jose, where Melendez has always been right at home. Strikeforce was headquartered in San Jose, where it did burst the seams of "regional." Melendez was a big reason the thing grew like it did.
Now he gets Henderson and a chance at the UFC strap, and the selling point boils down to one vital thing: curiosity.
[+] Enlarge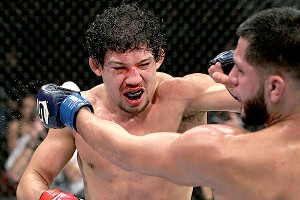 Josh Hedges/Forza LLC/Getty ImagesWe'll find out soon enough if Strikeforce's best lightweight is also the best lightweight in the world.
Is he as good as we think he is? Melendez has won seven bouts in a row. He hasn't fought in anything other than title fights since 2008. All he does is beat the guy in front of him, even if you (or I) dub that guy a step down from the names he'd see in the UFC. Complaints towards the quality of his opposition don't belong at his door. He's always wanted to fight the best there is, even as he's had to settle for the best available.
The bigger issue, though, is that Melendez only has this kind of unique timing on his side once. He's coming to the UFC right when all the inter-promotional intrigue is still intriguing. If the UFC cuts a "champion versus champion" type promo for UFC on Fox 7 -- much like it attempted with
Nick Diaz
versus
Georges St-Pierre
for UFC 137 -- you're catching these confluences at just the right time. Melendez, for so long sequestered in Strikeforce where he was dominant and under-challenged, against Henderson, who has lofty aims of one-upping whatever records
Anderson Silva
leaves behind.
If you stack Melendez against a Gray Maynard first, you run the risk of him being "Lombarded." And if that seems like an exposure point to Melendez's detractors, so be it. The truth is, the UFC operates on hype, in which strong hunches, one way or another, play as key of a role as documented fact.
For Henderson, it's a title defense. For "El Nino," this fight plays closer to justification.
Is Melendez the best lightweight going? That's the question that makes him a polarizing figure for fans. He has apologists, and he has detractors, and he has haters. He has believers, too. Strong ones. Insistent ones. Is he as good as his believers say? There's one way to find out.
And that happens, at long last, on April 20.
As for Pettis, he has history in his back pocket. If Pettis wins at UFC on FOX 6, the much-awaited rematch of WEC 53 looms in the shadows of UFC on Fox 7. There's an active, deep-rooted vendetta in play for that bit of fence magic Pettis punctuated things with in the last fight with Henderson. He can be on hand in San Jose to challenge the winner.
In reality, nothing much changes other than Pettis -- presuming he beats Cerrone -- has three added months to let things play out. Three months isn't that long for a guy so accustomed to waiting.