May, 28, 2013
5/28/13
6:52
AM ET
The thing about Mike Tyson was that everybody saw him coming. From the opening bell it felt as if his opponents were fighting from check, trying to avoid the savage exchange that would end, inevitably, in a violent checkmate. He was cageside for UFC 160, and to this day his celebrity transcends the fight game. When the MGM Grand flashed him on the screen, the place filled with that same old familiar apprehension and awe.
The thing about
TJ Grant
is, nobody saw him coming, apart from a few Nova Scotia residents and prelim connoisseurs. Grant came into his fight with
Gray Maynard
as a slight underdog. He had won four fights in a row at his new weight of 155 pounds, but in a standing-room only division of elites, he was a sort of fringe. When he crashed Matt Wiman's momentum in January, the UFC saddled him with Gray Maynard, who had to drop out of a more profiled fight with
Jim Miller
because of a knee injury. In the interstices, things changed.
Anthony Pettis
volunteered for a fight with
Jose Aldo
at 145 pounds,
Gilbert Melendez
lost to
Benson Henderson
and Miller fought (and lost to)
Pat Healy
.
Somehow, Grant's fight with Maynard became a conditional sort of No. 1 contender bout.
And did he ever make the most of it. Grant stood toe-to-toe with the hard-hitting Maynard, and ate a heater that made his ears ring. But then he got his in. He rocked Maynard with a shot that sent him reeling. As he reeled on the fence, Grant smelled blood on the water and slammed a knee into Maynard's head. He then pursued him with a flurry of big shots that dropped Maynard for good. The win was emphatic enough for Dana White -- on the fence about whether Grant should get the shot or not, given his perpetual prelim residence of yore -- to put Grant's odds of fighting for the lightweight belt next at "100 percent."
You know who else liked it? Mike Tyson. There was something in Grant's kill-switch that rang home for him. Though Junior dos Santos' late spinning wheel-kick knockout of
Mark Hunt
went in for frills, Grant's KO of Maynard was a blood-dimmed tide. So, when White got ready to award dos Santos with a bonus check for knockout of the night, Tyson inserted that it should go to Grant. And so it did.
And so the next title shot does.
FIVE QUESTIONS ANSWERED
Can things be different for Bigfoot this time?
Of course! He lasted a full 17 seconds longer with Velasquez the second time through, but once again the referee was prying Velasquez off of him while screaming "that's enough already!" Silva didn't agree with the stoppage, but at that point in the fight his resistances were down to nothing.
Can Hunt KO dos Santos?
He came awfully close to proving that he could, but could never square the follow-up shot to dos Santos' chin. To his credit, he ate a couple of harrowing shots himself, and still managed to last into the final minute of a three-round fight with a crusher like "Cigano."
Is there still wonder to Wonderboy?
Let's put it this way, what
Stephen Thompson
did to
Nah-Shon Burrell
was passable, but it wasn't spectacular. Yes, he whizzed a couple of kicks by Burrell's head (and landed a couple, too), but it was more of a grind than anything. In our basic Wikipedia sense, though, a win's a win.
Is Cain Velasquez the greatest heavyweight champ ever?
This question was posed before the fights somewhat purposefully prematurely. Though it can be asked with a little more timeliness now, the win over Silva realistically only proves that he can guard against complacency. If he works JdS over again, like he did last time? Gentleman, start you coronations!
Does KJ Noons belong in a fight with Donald Cerrone?
That was a licking that Noons took at the hands of Cerrone, yet he hung around long enough to hear the judge's scorecards tell him what we already knew -- no, he didn't belong in that fight with "Cowboy."
FIVE NEW QUESTIONS
Ready for the big trilogy?
Junior dos Santos
took Cain Velasquez's belt back in 2011 with such an effective, tree-felling punch that it was almost unspectacular. Velasquez responded with a five-round battery to reclaim that belt. Now, with a couple of obstacles out of their way, it's time for dos Santos/Velasquez III. Can you dig it?
Where does Hunt go from here?
There's no shame in the way Mark Hunt lost. There was a moment in that first round where he had dos Santos staggered and was very close to cueing the knell with a couple of bombs that just missed. What now? Could roll out Hunt versus
Josh Barnett
or Hunt versus
Antonio Silva
or, eventually, Hunt versus
Roy Nelson
, and there'd be no complaints.
Teixeira as contender?
With his submission of James Te Huna,
Glover Teixeira
is now 4-0 in the UFC, and 19-0 going back to 2005. If that doesn't scream "Geronimo!" in the UFC's light heavyweight division, nothing will. But with the logjam right now, Teixeira -- no fool -- requested a fight with the winner of
Rashad Evans
/
Dan Henderson
next. Sounds good to us.
Can you see the Forrest, through the trees?
In the aftermath of UFC 160,
Forrest Griffin
announced his retirement, and Dana White announced that he and
Stephan Bonnar
-- the seminal figures who socked each other into our collective consciousness back in 2005 at the original TUF finale -- would be inducted into the UFC Hall of Fame. (Slow clap).
Is Nurmagomedov the next big thing?
The idea of
Khabib Nurmagomedov
missing weight might have had Dana White hissing like Nosferatu in a beam of sunlight, but what a nihilistic thing he did to
Abel Trujillo
. Twenty-one takedowns is a company record. By this time next year, we might be talking about Nurmy as a threat to whoever's holding that lightweight belt (hopefully challenging him at something other than a catchweight).
STOCK UP/STOCK DOWN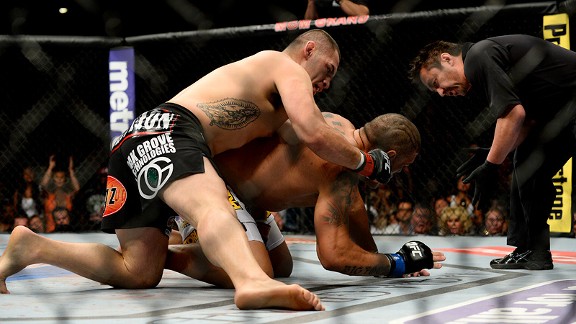 Al Powers for ESPNAntonio Silva's stance as a top-tier heavyweight is under fire following a one-sided loss to Cain Velasquez.
UP
TJ Grant
-- He may have looked like a woodwork contender before Maynard, but afterward he looks like a viable challenge to Benson Henderson. Nova Scotia did not shrink from the spotlight.
Donald Cerrone
-- You know how you make people forget the time you got your liver kicked up through your diaphragm? By doing what Cerrone did to KJ Noons. Looks like Cowboy has another run in him.
Mike Pyle
-- Before we start talking about 37-year-old Mike Pyle ossifying before our eyes, we might want to wait for the judge's decision. Was it a generous scorecard in his split decision victory over
Rick Story
? Definitely. But that's four in a row since losing to
Rory MacDonald
at UFC 133.
George Roop
-- Got to hand it to Roop. He took his lumps early against
Brian Bowles
, but he's resilient -- all 6-foot-1, buck-thirty-five of him is resilient.
DOWN
Antonio Silva
-- When a loss is this one-sided (again), you begin to question the sincerity of the wins to get there. For instance, what happens if
Travis Browne
hadn't been hurt, or if
Alistair Overeem
hadn't been cocky?
Gray Maynard
-- What a tough stretch for the "Bully." He was 11-0-1 heading into 2011, but has since gone 1-2-1. The lone victory in that was the bizarre game of pursuit he played with Guida. For now, Maynard's title aspirations took a bigger hit than anything specific Grant hit him with.
Brian Bowles
-- It had been 18 months since we last saw Bowles, and the WEC champion looked good for that first round. Then the hatch opened up, and Roop was dropping wiry dispatches on him from Tucson.
MATCHES TO MAKE
For Silva
-- A battle with Mark Hunt, or a cruel encounter with Josh Barnett.
For Teixeira
-- Truthfully, if Dan Henderson gets by Rashad Evans at UFC 161, a Teixeira/Hendo fight might require fire marshals and riot units.
For Velasquez
-- That third and most coveted bout with Junior dos Santos, and a chance to become the UFC's greatest heavy.
For Donald Cerrone
-- How fun would a scrap be between Cowboy and Gilbert Melendez?
For Khabib Nurmagomedov
-- Think he could do what he did to Abel Trujillo against Gray Maynard? Only one way to find out.
May, 26, 2013
5/26/13
2:20
AM ET
LAS VEGAS -- Before UFC 160, the world "rivalry" was contained to hushed voices. For former heavyweight champion
Junior dos Santos
to get a another shot at current titleholder
Cain Velasquez
, both had to beat the impediments in front of them.
Guess what happened Saturday night: Velasquez defended his title for the first time, and he needed only 1:21 to knock out
Antonio Silva
. And dos Santos, who took Velasquez's title the first time before giving it back in December at UFC 155, knocked out
Mark Hunt
spectacularly to bring the two biggest forces in the heavyweight division back together again.
So, is it safe to talk about Velasquez-dos Santos III without reservation?
"Yes, it makes all the sense in the world," UFC president Dana White told ESPN.com. "They are without a doubt the two best heavyweights in the world, and that fight needs to happen again. When you talk about trilogies, if there was ever a trilogy,
this is a trilogy
. The first fight, dos Santos knocks him out in the first minute or whatever. Cain comes back and completely destroys him in the second fight, and now we see what happens in the third."
Adding to the heat between the two are the countries they represent. A huge Mexican faction was in attendance at the MGM Grand on Saturday night to watch Velasquez do work, while chants of "Cigano" broke out from the Brazilian fans on hand during dos Santos' fight. "Cigano" is dos Santos' nickname, which means "gypsy" in Portuguese.
"I've had some fights where we've done the third fight and people say, 'Alright, enough already,'" White said. "This fight, people won't say that. People will be pumped for this fight. It's a big Mexico-versus-Brazil rivalry and two big heavyweights who can bang, who can knock people out, who can go to the ground, and they both beat each other in devastating fashion in their first two fights."
White is already in full trilogy mode and was beaming that the rivalry could commence. All of this comes as a relief to dos Santos, who said his mindset in his last meeting with Velasquez wasn't right.
"It was way different [in tonight's fight]," dos Santos said. "My mind was 100 percent confident. It's hard to come back from a loss, but I believed so much in God and I trusted myself and I always try my best."
[+] Enlarge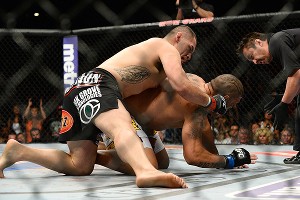 Al Powers for ESPNIn his last bout, Cain Velasquez made short work of a hapless Antonio Silva to notch stoppage No. 8 -- the most in UFC heavyweight history.
It didn't hurt that he put an exclamation mark on his fight with Hunt, who came into the bout riding a four-fight win streak. Throughout the fight there was a tension in the air, reminiscent of heavyweight champion Mike Tyson's heyday in the 1980s.
Both guys were putting everything they had behind their punches, and the thing teetered on the verge of ending. Both Hunt and dos Santos had moments when they put the other in peril. But in the third round, with Hunt slowing down and bleeding from several places, dos Santos threw a spinning wheel kick that crashed into Hunt's forehead. Dos Santos put him away with a big right hand on the ground while the crowd reacted to the unthinkable thing they just saw. It was UFC 160's fight of the night.
"I trained that [kick] a lot in my training camp," dos Santos said. "I don't feel very comfortable to use that using it in my fights because all the time my hands work very well. But this time, I saw the moment to use it and it was perfect. Thank god for that."
With Velasquez, it was second verse same as the first. He needed only 1:04 to beat Silva last Memorial Day weekend when they fought. This time through, it took 17 extra seconds, but the moment felt the same.
"I just came in, I threw a left jab and caught him with the right hand and missed with the hook," Velasquez said. "But I caught him on the ground with some ground-and-pound, and that was it."
That was it, indeed. He handled his business, got his first title defense and is now glancing over his shoulder at dos Santos -- yet again. The rivalry will commence. And when you look at the first two fights and how they went down, there's really no telling how things will go.
"That's what's so fun about the heavyweights," White said. "The heavyweights can finish the fight at any moment and everybody at the edge of their seats waiting for it to happen."
May, 24, 2013
5/24/13
9:33
AM ET

By Josh Gross
ESPN.com
Archive
For the second time in his career, 30-year-old
Cain Velasquez
heads into a fight widely regarded as mixed martial arts' top-ranked heavyweight.
After experiencing a similarly lofty status at the end of 2011, Velasquez went down when Brazilian slugger
Junior dos Santos
clipped him behind the ear. A year later, fully recovered from a torn knee ligament, the Mexican-American managed to avenge his only defeat in 12 professional contests, which is why, this weekend in Las Vegas, he has earned another opportunity to defend the UFC title.
Having this happen on a regular basis is the "most important thing" Velasquez believes he can accomplish in the UFC. That might sound like a modest pursuit for a man of Velasquez's talent and intensity. But consider history first and his desire won't appear so unambitious.
Since its creation in 1997, the UFC heavyweight title has been about as easy to contain as a marlin on a dinghy.
"When you say you want to defend the title for a long time, what does it really mean?" pondered Velasquez's trainer, Javier Mendez.
[+] Enlarge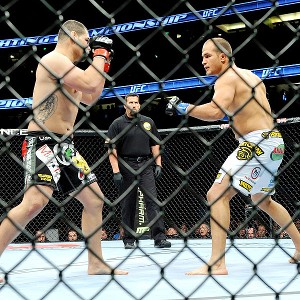 Ray Mickshaw/FOX/PictureGroupJunior dos Santos, right, made certain Cain Velasquez's first title reign was a short one.
"Remember, no one has defended the title more than twice, so if he's talking about wanting to keep defending that title, he wants to be remembered by everybody as one of the greatest, like Fedor [Emelianenko]."
A couple of years atop the division is required if Velasquez is to be sanely compared to Emelianenko. The Russian heavyweight ruled from 2003 until the summer of 2010. He never competed in the UFC and had his share of wins against overmatched competition, but that hasn't stopped most fighters, fans and media from showering the retired Pride champion with praise as the top heavyweight of his era.
This, after all, is what happens when dominance and longevity join together.
"Look at what it's done for GSP [Georges St-Pierre]. Look at what it's done for
Anderson Silva
," Mendez said. "So I think it's humongous if Cain can hold that title. It's huge for the UFC. It's huge for everybody involved. It's huge for me. It's huge for his management. Everyone wins when an individual, a champion, continues to win."
Velasquez, a collegiate wrestler at Arizona State, exudes brute force. His style is relentlessness: a hard-edged mindset coupled with speed and a smaller man's stamina. He calls what he does chain-fighting.
It's an apropos description. Velasquez is a strong enough wrestler to put any heavyweight on his back, but his progression has taken him to a place where takedowns have primarily become setups for other offense. This has some of the champion's supporters suggesting he could overtake Emelianenko in the reputation department despite having fewer than 15 fights on his ledger while never defending a major title -- everything seems to want to happen faster in MMA.
"

It's huge for the UFC. It's huge for everybody involved. It's huge for me. It's huge for his management. Everyone wins when an individual, a champion, continues to win.

"

-- Javier Mendez, on the importance of Cain Velasquez's longevity as heavyweight champion
Emelianenko built mystique in the ring. Reaching that level of success won't have much to do with Velasquez's ability to cut a promo or regale audiences with funny stories -- mostly because he's uninterested in or incapable of pursuing either.
Velasquez simply aims to fight. Like so many great champions, that's what he's built for.
So is the way he goes about his business -- cold, calculated and vicious -- sufficient to leave an impression outside the MMA bubble? Does it matter how good Velasquez is if he's a bore on camera and can't offer the sort of pithy pro wrestling shlock that gets passed off for MMA promotion?
"Cain is not a
Chael Sonnen
," Mendez said. "So he's not going to say those catchy lines. He's just going to take all comers, and he's going to go to war. People will respect him for the humble champion that he is. It's going to take him a little longer to get down that road because he didn't use his mouth. He used his fists. He used his fighting to speak for itself."
Perhaps Velasquez should feel fortunate that winning matters most. It did the trick for St-Pierre and Silva,
Benson Henderson
and
Dominick Cruz
,
Randy Couture
and
Tito Ortiz
. UFC has benefited over the years from entrenched champions across several weight classes, even if some of them are dry as driftwood.
Heavyweight stands out as a class that should have delivered more for UFC than it has. Clearly it's possible.
Brock Lesnar
moved the needle, and for a short stretch packaged the sort of mega charisma associated with the likes of Muhammad Ali (including some political controversy, albeit digs at the Canadian health care system can't be compared with what Ali represented) and Mike Tyson's blood-curdling, black shoes, black shorts, Brownsville intimidation.
This is the type of combination that can propel a heavyweight mixed martial artist into the mainstream, yet don't dismiss what Velasquez's challenger,
Antonio Silva
, said leading up to Saturday's contest, because there's plenty of truth to it:
"There are no superheroes in this sport. Nobody is invincible."
May, 24, 2013
5/24/13
7:34
AM ET
LAS VEGAS -- By now you know that
Mark Hunt
was basically a sort of side effect of the Zuffa/Pride deal back in 2007. Riding a two-fight losing streak at the time, he was an unwanted property that couldn't be easily disposed of.
But even back then, he wasn't done losing. There were all those losses in Japanese promotion Dream. First it was
Alistair Overeem
. Then it was
Melvin Manhoef
at Dynamite!! 2008. Then to
Gegard Mousasi
. All five of his losses were first-round finishes, either by knockout or armbar. He was 5-6 when the UFC, having failed to buy him out of the inherited contract, finally relented and threw him in the Octagon.
Know what he did then? He lost again. This time in 63 seconds to
Sean McCorkle
, now late of the UFC. To say his UFC beginnings were inauspicious would be an understatement. And that makes what's going on with Hunt right now nothing short of remarkable. To be in title contention two years after sporting a 5-7 record in an organization where people generally have career winnings around 75 percent just doesn't happen.
Yet here were are. Hunt faces
Junior dos Santos
Saturday night for the chance to fight for a title.
"I think it's one of the coolest stories in sports right now," Dana White told ESPN.com. "We didn't want to bring him into the UFC. He was older, he was on a losing streak, so we just said, 'We'll buy your contract out. You don't have to fight, we'll just pay you.' He said, 'no, I want to fight in the UFC and earn my money.' And we said no. So he got his lawyer involved, and we went back and forth, and we said, 'Fine, OK. Let's do it.' Now the guy goes on this tear and he's fighting the in the co-main event against the former heavyweight champion in the UFC."
Good thing Hunt had legal representation out there in New Zealand. His resurgence is a story that involves brute power, heart, exhaustion, dual visas, cake, public outcry, cosmological eyes and, in all fairness, a dose of luck. For instance, he's filling in for Alistair Overeem at UFC 160 this weekend. A timely win over dos Santos takes him one step closer to becoming the most unlikely contender the heavyweight division has ever known.
"It would make sense that the winner of this fight gets the next shot," White said. "It's a fun fight, and it's an interesting fight. If you break this fight down, Mark Hunt probably has the bigger punch and the better chin. But, Junior decides to take this fight to the ground, he definitely has the better wrestling and jiu-jitsu."
In any case, if we've learned anything, it's that you can't write off Hunt. Can he continue to buck the odds and fell dos Santos as he did
Stefan Struve
and
Cheick Kongo
? Hey, that's why they take off their shoes. So that we can find out.
Barnett back in White's good graces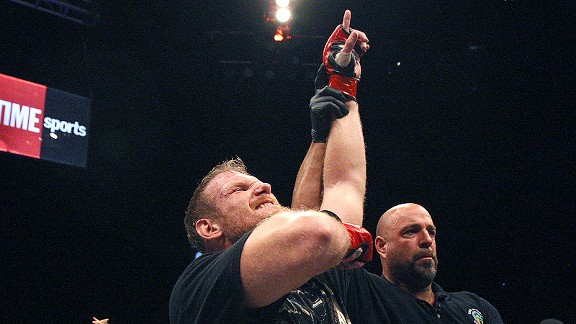 Josh Hedges/Forza LLC/Getty ImagesIt's been a long ride, but Josh Barnett is finally back in the UFC fold -- and Dana White's good graces.
Not long ago, when
Josh Barnett
submitted
Nandor Guelmino
to begin his "Warmaster" second phase, he fell into character when discussing his future.
"I just want to keep killing and keep killing and wading in pools of blood and guts until there's nobody left to kill anymore," he told MMAFighting's Ariel Helwani on that final Strikeforce card. When pressed about which promotion that sort of pillaging could fall under, he said, "It doesn't matter, I'm a mercenary. Something will come up. Somebody will need somebody's head taken off and they'll call me up. In a perfect world, I'd fight everywhere."
That obviously didn't pan out to specification. The UFC, which has been contentious with Barnett going back many years, offered him a contract a couple of months ago that Barnett turned down. On Wednesday, upon realizing the market for marauders of Barnett's stripe (and price tag) was tremulously weak, Barnett signed a multifight contract with Zuffa.
Now it's a case of bygones being bygones. The last time Barnett fought in the Octagon was in 2002, at UFC 36, when he beat
Randy Couture
for the heavyweight title. That's when things got ugly. He was subsequently stripped of the title when it was revealed that he tested positive for steroids.
"Josh and I have had a very interesting past," White told ESPN.com. "He's one of these guys who doesn't really care about much. He'll fight over here, he'll fight over there. But we made an offer to him. He didn't take the offer and went around and shopped for a while, then came back and said, 'I want to sign with you guys.'"
Wrote Barnett on his Twitter account, "The enemy has returned. I've signed w/ the UFC & no heavyweight is safe. They're all due a lesson in violence from the Warmaster."
A perfect first opponent for Barnett is
Frank Mir
, and there are indications that this is the direction the UFC is headed.
Grant granted a second life (and making most of it)
Usually when
Gray Maynard
steps in to fight as a lightweight, he's the massive 155-pounder in the cage. That was especially true in his series with
Frankie Edgar
. It won't be that way against
TJ Grant
, a former welterweight who has reinvented himself in the lower weight classes, going a perfect 4-0 heading into Saturday's tilt.
Just as he was heading into his fights with
Evan Dunham
and
Matt Wiman
, Grant is understated in how he has turned things around, but he does make one key distinction. "I'm getting to fight guys my own size," he says.
And realistically, when you look back at Grant's opponents at 170 pounds and where they are now, that's a big factor. Guys such as
Dong Hyun Kim
and the UFC's No. 1 contender at welterweight right now,
Johny Hendricks
. Remember -- Grant gave Hendricks all he could handle at UFC 113 before Hendricks earned the majority decision.
"I'm glad to see Johny Hendricks doing so well," he told ESPN.com. "We had a close fight, and it was a good fight, very entertaining. I got a lot of experience fighting at 170, and win or lose -- we all learn from losses, right?
Blah blah blah
. But it's true. And if you stay humble and you have the right people talking to you and have a good mind for it, you should learn more from losses than wins, and that's what I always try to do. Every fight is a learning experience."
As for fighting Maynard in a title eliminator, Grant says that he has toiled a long, long time to end up in this spot.
"At this point in my career, Gray's the toughest," he says. "He's tough. He's polished and he's a veteran. He's not raw in any way -- he's definitely the most talented fighter I've fought at this time in my career. I'm ready for it. I've got 25 fights to get me to this point. I've got all the experience I need, and all the skills I need to be successful. I'm ready to rock and roll Saturday."
WAR, what is it good for?
Nick Diaz
has plans to start up his own Stockton-based fight promotion -- the ominously titled WAR -- which has drawn anything from smirks and raised eyebrows to genuine curiosity and support over the past week.
So, what does one of the game's more notorious promoters, Dana White, have to say about Diaz and his latest foray?
"Good luck Nick," White says. "Obviously it looks very fun from the outside, and it looks easy like you're printing money. It's anything but. The fight business is a very tough business that you have to be married to 24/7, and it's not as fun and easy as it looks."
Though White was fairly withheld in how he addressed WAR, he did say that the door is open for Diaz if he elects to keep fighting. Diaz, of course, is right now sort of conditionally retired -- meaning he'll only fight again if it's against somebody that piques his interest enough, somebody like
Anderson Silva
or a rematch with
Georges St-Pierre
.
It's not likely he'll get either of those, but ...
"If Nick wants to fight all he's got to do is pick up the phone and call," White says. "He's under contract. If the promotion thing doesn't work out he can come back and fight."
May, 22, 2013
5/22/13
12:57
PM ET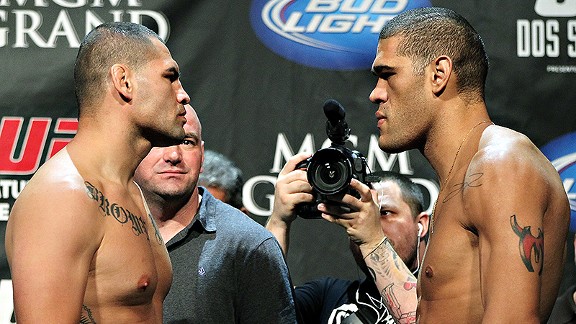 Josh Hedges/Getty ImagesWill history repeat itself when heavyweights Cain Velasquez and Antonio Silva meet a second time?
Heavyweights are now a staple of Memorial Day weekend. Last year,
UFC 146
was to be a heavyweight extravaganza like none we'd ever seen. The whole main card was heavyweights, so the word "unprecedented" was being thrown around pretty dramatically. And why not? The Octagon was going to be littered with dinosaur bones at the end of the night.
You remember the fallout before the fallout, though.
Junior dos Santos
was scheduled to face
Alistair Overeem
-- the one man who could turn that gentle giant's smile into a look of constipation -- for the belt. Then the first domino fell: Overeem's test from his previous fight with
Brock Lesnar
came back with -- to put it gently -- spiked testosterone levels, which meant dos Santos was re-saddled with
Frank Mir
.
Cain Velasquez
, who was supposed to fight Mir that night, was then given
Antonio Silva
. That meant
Roy Nelson
, who was supposed to take on "Bigfoot," ended up fighting
Dave Herman
.
Mark Hunt
, still for the most part a journeyman at this point, was supposed to fight
Stefan Struve
, yet didn't end up fighting at all because he got injured. So Struve fought
Lavar Johnson
-- if we're being generous enough to call what happened that night a "fight."
The players are (basically) the same a year later for
UFC 160
, yet perceptions are slightly different. Overeem again was supposed to appear on the heavyweight showcase, yet again against dos Santos. And once again, he was scotched from the card, this time due to an injury. That means Hunt, and his visa issues, rides an unlikely four-fight winning streak into a confrontation with dos Santos. The winner (likely) will get a shot at the heavyweight belt next.
As for the belt, it's back in the possession of Velasquez, who defends his title on Saturday night against a familiar name: Silva. The stakes are different this go-round, but the memory of Silva's blood covering the canvas floor at UFC 146 is still fresh. One might say too fresh.
And that's your mystery heading into UFC 160: Will history repeat itself? Which, when you think about it, opens up the broader query:
Why
is history repeating itself?
(Answers: Probably; and because history has a wicked sense of humor.)
FIVE STORYLINES
Woodwork contenders
What was a bottleneck situation at the top of the lightweight division is now a mile of open highway. The winner of
Gray Maynard
and
TJ Grant
will get the next shot at
Benson Henderson's
belt. We've seen Maynard in that penultimate spot before. But Grant? Talk about a quiet approach.
Hunt as Cinderella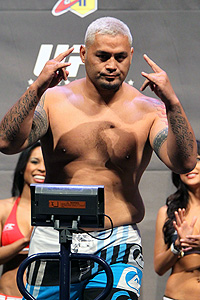 Josh Hedges/Zuffa LLC/Getty ImagesMark Hunt's recent rise from journeyman to heavyweight title contender is something even Hollywood couldn't dream up.
Because you've heard about Hunt's improbable rise from the ashes a million times doesn't make it less amazing. To sum things up: He was inherited in the PRIDE deal, lost to
Sean McCorkle
in his UFC debut, was left for the scrap heap at 5-7 in MMA, and now is a fight away from a title shot. Hollywood couldn't dream up something this unrealistic.
Woodwork contenders II
With a relative dearth of 205-pound contenders to challenge
Jon Jones
,
Glover Teixeira's
name could go from being whispered in polite company to shouted from the mountaintops with an emphatic win over
James Te-Huna
. But let's take it a step further: Can you imagine if Te-Huna wins? Suddenly a
second
New Zealander is on your radar from UFC 160.
Return of Brian Bowles
"Where's
Brian Bowles
?" became MMA's game of "Where's Waldo?" in 2012. So where was he? Finding that drive, baby. Citing apathy as the reason he took some time away from the fight game, the one-time WEC bantamweight champion returns to face all 6-foot-1 and 135 pounds of
George Roop
.
Woodwork contenders III
Right now
Khabib Nurmagomedov
has one more victory in professional MMA than he does letters in his name (19 wins, 18 letters). If he beats
Abel Trujillo
, he'll be a sparkling 20-0. Nurmagomedov is tomorrow's bottleneck at the top of the 155-pound division.
FIVE QUESTIONS
Can things be different for Silva this time?
The more basic question: Can Silva compete this time against the relentlessly aggressive, forward-moving wrestler Velasquez who has cardio for days and a chin made of cinder block? It feels as if we're answering our own question.
Can Hunt KO dos Santos?
Dos Santos has never been knocked out. Knocking people out is what Hunt does. In a fight where the ground is designated for slips and one-way trips, a single punch from either guy ends the co-main. Can it be Hunt on the delivering end? (Smiles and shakes head approvingly.)
Is there still wonder to "Wonderboy"?
[+] Enlarge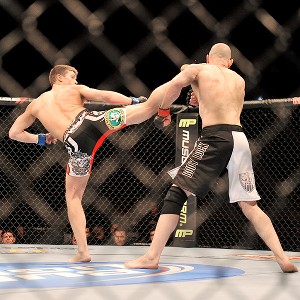 Rod Mar for ESPN.comThe jury is still out as to whether we will see more of the Stephen Thompson who ended Dan Stittgen's night with one kick.
Remember when
Stephen Thompson
had that hot roulette player's moment after knocking out
Dan Stittgen
in his UFC debut with a head kick?
Matt Brown
brought him down to earth in a hurry in April 2012 with a one-sided decision. This bout with
Nah-Shon Burrell
will tell us if it's back to "Wonderboy" or if he's a "one-hit wonder."
Is Cain the greatest heavyweight champ ever?
Take away that glancing moment in the ballyhooed first bout with dos Santos -- a bout that Velasquez should never have been fighting in the first place (knee) -- and the answer is "yup." But what are we talking about? This is the ultimate proving ground, so we'll ask him for more proof. More proof!
Does KJ Noons belong in a fight with Donald Cerrone?
The short answer is no. The correct answer is LOL. Even if you omit the
Ryan Couture
fight (a loss that he actually won),
Noons
still lost three of his previous four fights.
Cerrone
is coming off of that
Anthony Pettis
incident where his liver got rearranged. In other words: Cerrone's the proverbial hornet's nest that Noons is walking into.
WHO'S ON THE HOT SEAT?
Robert Whittaker
He did beat
Brad Scott
in his UFC debut, but a loss to
Colton Smith
, just as the UFC is tightening its belt rosterwise, makes young shakers expendable. (However, if
Robert Whittaker
knocks out Smith like he did Luke Newman on "TUF: The Smashes"? Then it's "Watch out for the Aussie!").
Jeremy Stephens
[+] Enlarge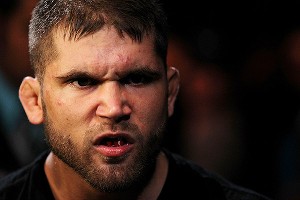 Al Bello/Zuffa LLC/Getty ImagesThe future of Jeremy Stephens' employment with the UFC likely comes down to whether he can snap a current three-fight losing streak on Saturday.
If the fact that he's opening the prelims portion of the card doesn't tip you off, the three-fight losing streak will. This move to 145 pounds is
Stephens'
"all-in" moment. Another loss and it's adios, "Lil' Heathen."
KJ Noons
It would feel a little merciless of the UFC to cut him, particularly because it'd be on the heels of a likely loss to Cerrone, but Noons needs a good showing to remind everyone of the guy who beat
Nick Diaz
in 2007. A fifth loss in six fights, though, is either a red flag or a white one, depending on how you squint.
WHY YOU SHOULD CARE
Because Velasquez might as well dig his hooves in the mat before he charges at Silva as if Silva were a red cape ... because "Bigfoot" has fists the size of pet carriers, yet his gloves weigh 4 ounces, just like everybody else's ... because if you put dos Santos' and Hunt's combined knockouts on a highlight reel, it'd run longer than the average romantic comedy ... because Grant versus Maynard is dog-eared for fight of the night ... because "Cowboy" Cerrone is mad, and Noons, by stepping in with him, is saying "come hither" ... because Grant fights like Ulysses S. Grant ... because Te-Huna and Teixeira will require smelling salts ... because
Dennis Bermudez
was already in one fight of the year candidate (against
Matt Grice
) and
Max Holloway
is a gamer ... because
Mike Pyle
can make it four in a row against
Rick Story
... because what could be more fun than watching Hunt try to stuff his foot into a glass slipper?
May, 21, 2013
5/21/13
7:10
AM ET
By Joseph Kilduff
ESPN Stats & Information
Archive
UFC heavyweight champion
Cain Velasquez
will defend his title Saturday at
UFC 160
at the MGM Grand in Las Vegas against
Antonio "Bigfoot" Silva
, whom he defeated in their first meeting last May at
UFC 146
.
In the co-main-event, former heavyweight champion
Junior dos Santos
will try to get back into title contention as he takes on
Mark Hunt
. In addition,
Gray Maynard
and
TJ Grant
will fight to determine the No. 1 contender for the UFC lightweight title.
Here are the numbers you need to know for Saturday's fights:
22:
The number of combined victories by (T)KO for Silva and Velasquez, which includes Velasquez's first-round TKO of Silva at UFC 146.
28:
The number of significant strikes landed by Velasquez in their first meeting, of which all 28 occurred on the ground. By comparison, Silva was able to land only one significant strike the entire fight. Velasquez was successful in his only takedown attempt while Silva did not attempt to take down Velasquez.
2:
The number of times Velasquez, an All-American wrestler from Arizona State, has been taken down in 17 attempts by his opponents in his 12 fights.
0:
The number of submissions attempted in the first Velasquez-Silva fight. In fact, Velasquez has not even attempted a submission in his past six fights, while Silva has not attempted one in his past four.
6.37:
Velasquez's strikes landed per minute, along with his 4.76 strike differential in UFC fights, are the best in the promotion. The only other heavyweight to rank in the top 10 in both categories is dos Santos, whose 5.51 strikes landed per minute and 2.73 strike differential rank sixth and fourth, respectively.
4:
Hunt's winning streak is the longest among UFC heavyweights and of those four wins, three have come by way of knockout.
6:
Submission losses for Hunt in his career. Dos Santos has never attempted a submission in any of his UFC fights.
85:
Percentage of takedowns defended by Hunt in UFC fights -- the best in the heavyweight division and seventh best in the UFC among those with a minimum five UFC fights and at least 20 takedown attempts by opponents. Dos Santos has three takedowns in five attempts in his UFC fights and has defended 74 percent of his opponents' attempts.
3.17:
Significant strikes absorbed by Grant per minute in his UFC fights. Maynard has landed 2.05 significant strikes per minute in his UFC fights.
86.4:
Percentage of takedowns defended by Maynard -- the best in the UFC lightweight division and fifth best in the UFC among those with a minimum five UFC fights and at least 20 takedown attempts by opponents. Grant, meanwhile, has defended 37 percent of takedowns attempted by opponents in his UFC fights and in his three losses in the UFC has been taken down a combined 18 times. Maynard, an All-American wrestler from Michigan State, has a 48 percent takedown accuracy and at least one takedown in seven of his nine UFC wins.
May, 20, 2013
5/20/13
9:20
AM ET

By Franklin McNeil
ESPN.com
Archive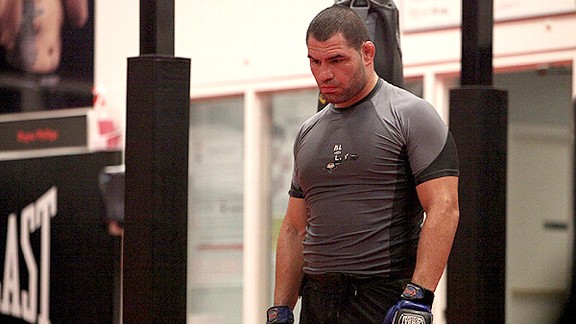 Dave Mandel/Sherdog.comCain Velasquez hopes to make the first successful defense against Antonio Silva.
It's a second opportunity for
Cain Velasquez
-- a do-over, so to speak. For the second time as a pro, Velasquez seeks the first successful defense of his UFC heavyweight title.
Velasquez lost the title to
Junior dos Santos
in November 2011, but reclaimed it from him 13 months later at UFC 155.
He puts his belt up for grabs Saturday night at UFC 160 in Las Vegas against
Antonio 'Bigfoot' Silva
. This will be their second meeting in a one-year span, but Velasquez's first title defense since recapturing it.
The first meeting, at UFC 146 in May 2012, was a one-sided affair; Velasquez pummeled Silva en route to a first-round TKO. The fight was so lopsided that it would be unreasonable to fault Velasquez if he were to take a peek over Silva's shoulder toward a potential rubber match with dos Santos.
But Velasquez would never consider such prefight behavior. The mention of dos Santos these days often brings a sigh, a shake of the head and slight roll of the eyes from Velasquez -- evidence that he is irritated by such a suggestion.
Velasquez didn't reach the mountaintop of his profession by taking anything or anyone for granted. He is a professional fighter in every sense, and Silva is someone Velasquez isn't about to take lightly.
"I have all my energy -- my focus is on 'Bigfoot,'" Velasquez told ESPN.com. "It's all about him; I'm going to fight him. It's the type of thing: Whatever happens after that happens after that.
"I don't like to look forward, to look past somebody and think, 'Well, I'll win this fight and this fight is going to happen.' I can't do that. I just think about the task at hand, and that's 'Bigfoot.'"
You can almost hear the snickers when Velasquez utters these words. Anyone who witnessed the first encounter will find it difficult to imagine Silva offering anything different Saturday night.
Silva is a large, plodding, hard-hitting puncher. He is not going to outmaneuver the opposition, especially something as comfortable on his feet as Velasquez. But Silva has been in the cage with Velasquez and believes if he can get his hands on the champion first, the outcome might be quite different. If nothing else, Silva is confident.
"I like when people underestimate me," Silva said recently during a media call to promote the bout. "It's nice because I get to go out there and [prove] them wrong.
"There are no superheroes in this sport; nobody is invincible. I've been putting in a lot of hard work the past nine weeks. I've been preparing myself, and I'm very confident I'm going to have my arm raised on May 25."
Silva is correct: Too often he has been underestimated. And those who did so paid a hefty price. Just ask former top UFC heavyweight contender and ex-Strikeforce champion
Alistair Overeem
, whose overconfidence against Silva resulted in a third-round knockout Feb. 2 at UFC 156.
But Silva faces a major obstacle Saturday night: Velasquez does not underestimate him -- never has; never will. What happened last year is out of sight and out of mind.
Velasquez already has felt Silva's power. And though Velasquez had no trouble dismantling Silva during their initial encounter, he left the cage with a greater sense of respect for him. Silva won't have the luxury of being underestimated Saturday night.
"In the first fight, I didn't overlook him, and I'm not going to overlook him now," Velasquez said. "He's very dangerous. I'm not following in the footsteps of others who've made that mistake. I'm taking this fight very seriously.
"The last few guys have overlooked him and let him play around on the feet. One thing you can't do is stay in front of him. You have to be quicker than him the whole time."
Silva isn't receiving special treatment; Velasquez approaches every opponent in this manner. He has to. Despite the high-level skill Velasquez has demonstrated inside the cage, he is far from a finished product.
There are aspects of his game, including wrestling, that he believes need additional fine-tuning. If he is to successfully defend his title Saturday night, the holes that crop up in his game from time to time must be plugged immediately.
"There is always room for improvement," Velasquez said. "And I'm always working to improve. I'm not all the way there yet.
"I know how level the playing field is with everybody in this division, with the small gloves. One little mistake can cost you. When you go out there you want to be sharp, you want everything to go right for you.
"I want to keep [the title]. I have to go out there and perform to keep it. This is the most important thing to me right now, to stay here as champion."
Velasquez's refusal to take anything or any opponent, especially Silva, for granted is the reason he will successfully defend his heavyweight title for the first time at UFC 160.
March, 9, 2013
3/09/13
2:24
PM ET

By Chad Dundas
ESPN.com
Archive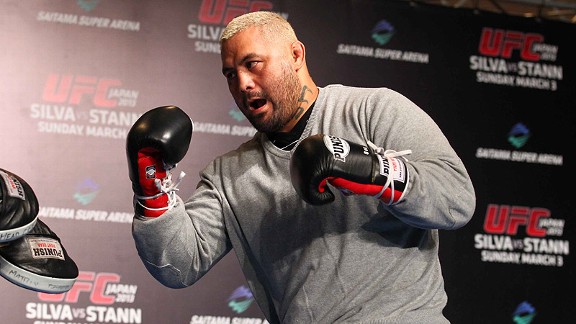 Susumu Nagao for ESPN.comAlistair Overeem's misfortune has officially turned into Mark Hunt's big opportunity.
Times like this, we're reminded of words from the great philosopher Ferris Bueller, who warned us in his landmark 1986 work that, "Life moves pretty fast. If you don't stop and look around once in a while, you could miss it."
Mixed martial arts fans who took an eye off the ball for even a moment this week might've missed the whirlwind saga leading up to Saturday's confirmation that, yes,
Mark Hunt
will indeed face
Junior dos Santos
at UFC 160 in May.
Even by the standards of our sport's frenzied (and often absurd) news cycle, this story was a doozy. It moved so quickly and changed so many times it was hard to track using old-fashioned methods like
the written word.
Believe me, I know, this is the fourth time I've written this blog.
It began on Wednesday, with a vocal faction of fans virtually quaking with excitement at the notion Hunt might step in for the injured
Alistair Overeem
to take on dos Santos, in what might well turn out to be a heavyweight title eliminator. As groundswells nearly always do in MMA, the idea began on social media and the chorus quickly spread to include a handful of journalists who all thought Hunt was perfectly fit for a replacement role.
Things got dicey on Thursday when a short-lived Twitter kerfuffle briefly appeared to put UFC president Dana White and the 38-year-old "Super Samoan" at odds. For the sake of brevity, here's a recap of the situation in fewer than 140 characters: After the UFC announced JDS would wait for Overeem, White said it was because Hunt turned down the fight. Hunt disagreed. Hence: An impasse.
It was all very breathless stuff, especially since just a day before, when the idea of Hunt-versus-dos Santos first began making the rounds online, Hunt told MMAFighting.com's Ariel Helwani to bring it on. "I'm always down for a battle," he said. "I was born down. You know this." After Hunt responded to White's statements with tweets insisting he'd never turned down a fight in his career, it appeared as if we had a veritable MMA soap opera playing out before our very public eyes.
It lasted all of an hour. One of the UFC's specialties has always been putting out fires and this one took just 14 words to diffuse: "Mark Hunt and I just got off the phone and had a GREAT conversation," White tweeted late Thursday night, just as the Internet gossip mavens began to sink their teeth in.
So, crisis resolved. The UFC and the most surprising heavyweight star on its roster were back on the same page. A day or so after that, here we are: Hunt-JDS is back on, too.
Thank goodness.
[+] Enlarge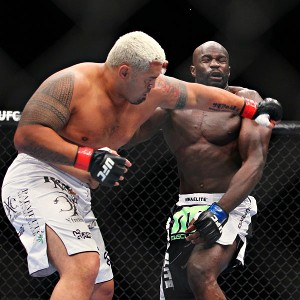 Susumu Nagao for ESPN.comMark Hunt, left, has managed to turn his form around in a way few imagined was possible.
Even though we took a roundabout path to get here, booking this fight was the right move.
There would have been nothing wrong with waiting for Overeem to get healthy, of course. His bout with dos Santos would still have had all the trappings of an epic showdown whenever and wherever it finally happened. Still, elevating Hunt is a slam dunk, especially knowing the UFC's distaste for delays, its fondness for guys who'll "step up" when needed and its track record for giving its fans the fights they want to see.
There can be no denying that Hunt has earned this opportunity. His four-fight win streak is the second-longest in the heavyweight top 10, behind only Daniel Cormier's 11-0 run. He's captured the imagination and support of fans during the past two years by crafting one of the sport's most improbable comeback stories. So far, he's succeeded in a modern heavyweight landscape in which athletes of his particular ilk -- read: plodding and fairly one dimensional -- aren't supposed to be up to snuff.
That's precisely why the ensuing brawl with dos Santos will be so interesting. Because Hunt is such a throwback (and because of the six-fight losing streak that dogged him from 2006-10), there remains some uncertainty about how seriously to take him as a contender.
When he debuted at No. 9 on the
ESPN.com heavyweight Power Rankings
last week following his third-round knockout of
Stefan Struve
, it was the kind of thing that made you look twice. Mark Hunt, a top-10 heavyweight? It just sounded
wrong,
yet there he was on the list -- career .563 winning percentage and all -- sandwiched between
Roy Nelson
and
Josh Barnett
.
In fighting JDS, the perennial underdog Hunt gets his chance to prove that he belongs among the 265-pound division's elite. In a sport where too often it feels like we're trying to sort out who's cheating, who's got beef and who's about to get cut, this is news we can all feel good about.
Now we just sit back and pray it doesn't change again before May 25.
March, 1, 2013
3/01/13
7:11
PM ET

By Franklin McNeil
ESPN.com
Archive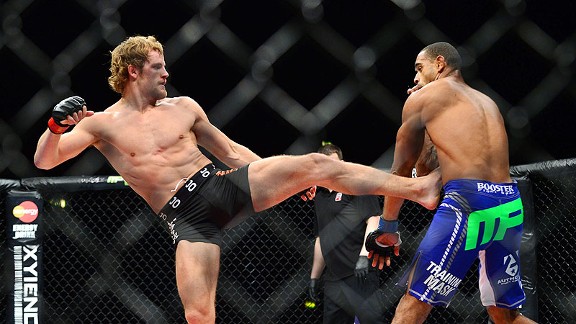 Martin McNeil for ESPNBetween his karate background and efficient ground game, Gunnar Nelson could be a stud in 2014.
After proving to be worthy of the high expectations he's received recently, welterweight
Gunnar Nelson
will make his third appearance in the Octagon on May 25 against
Mike Pyle
at UFC 160, promotion officials confirmed Thursday night.
The fight was first reported earlier Thursday by MMAJunkie.com.
Nelson (11-0-1) defeated
Jorge Santiago
by unanimous decision on Feb. 16 in London. He entered the fight to much media attention, but was unfazed by the spotlight.
Throughout the bout Nelson demonstrated solid grappling, takedown and striking skills. Most important was his poise. At no point in the fight did Nelson appear rattled.
But Pyle is likely to represent Nelson's toughest test in the cage. The veteran has a pro record of 24-8-1, and has won three fights in a row.
Heavyweight champ
Cain Velasquez
defends his title against
Antonio "Bigfoot" Silva
in the UFC 160 main event, which takes place at the MGM Grand Garden Arena.
The bout marks a rematch of their May 26, 2012, showdown that Velasquez won by first-round technical knockout.